| | |
| --- | --- |
| | |
Located southwest of Pittsfield on the northern slope of Lenox Mountain and Yokun Seat, Bousquet Mountain is amongst the oldest ski areas in the country.


Earned Turns on a Farm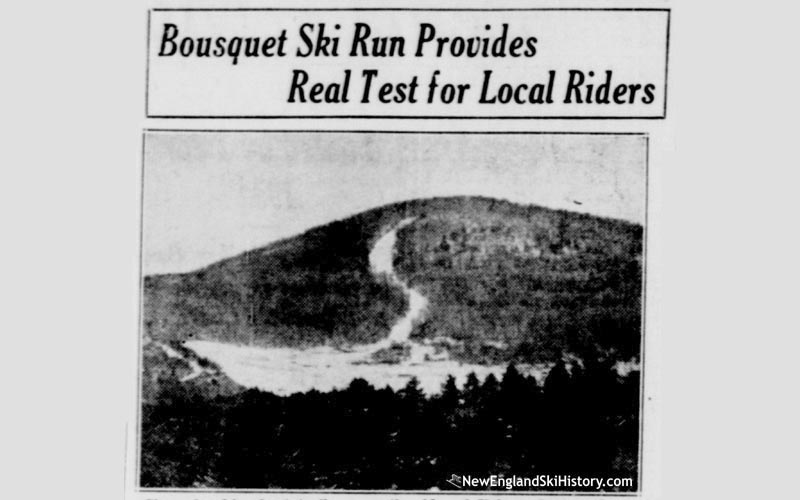 The new Bousquet Run (January 1935)

Bousquet ski area was founded by Clarence J. Bousquet in the mid 1930s at his Pittsfield, Massachusetts farm. A native of Spencer, Massachusetts, Bousquet served in the 329th Battalion Tank Corps in World War I, where he sustained severe injuries when he was blown out of a tank during battle. Dealing with the injuries after the war, he met a Pittsfield nurse named Margaretha Lehmann, with whom he became engaged in 1923. The couple was married for nearly 43 years prior to his death in 1966.

Following the war, Bousquet and his brothers operated a sporting goods store in the city named Charlie & Charlie. Bousquet also started an early airplane service and was involved in the founding of the Pittsfield Aero Club and the Pittsfield Airport.

Circa 1929 or 1930, Bousquet acquired a farm off Tamarack Road in Pittsfield, where he raised mink, which he later described as "a good business," but that he "didn't like farming." The farm made headlines in early 1931, when a cat brought two baby minks into its litter, drawing scores of sightseers.

In the spring of 1934, Bousquet and the Mt. Greylock Ski Club publicized plans to use his mink farm as a slope for the club. Bousquet reportedly hired woodsmen to clear the Bousquet ski run with ski club members helping to haul brush and take out stumps. The Bousquet ski run was the "only modern trail" in Pittsfield with a width of 25 to 45 feet and a vertical drop of 570 feet. The bottom three quarters of the trail was completed in time for winter. Open slopes at the bottom were available for novices.

Adequate snowfall finally arrived in late January, as the trail was inaugurated with an informal race on January 26, won by Mt. Greylock Ski Club president and future Jiminy Peak owner Bartlett Hendricks.

Winter sports in Berkshire County changed forever on February 10, 1935. Roughly five hundred New Yorkers boarded a New Haven Railroad train at Grand Central Station, arriving at Pittsfield at noontime. Locals gathered for the arrival, with some referring to it as a "bathing beauty parade" as skis smashed ceiling light bulbs. A half hour bus ride brought them to Bousquet's property for free skiing. Though slopes became overcrowded with an estimated 3,000 onlookers, the event was considered a success, with Bousquet selling 27 gallons of coffee and 500 hot dogs from a snack shack he had built. Bousquet also opened his house to the visitors, resulting in damage to his floors and some equipment.


Rope Tows and Snow Trains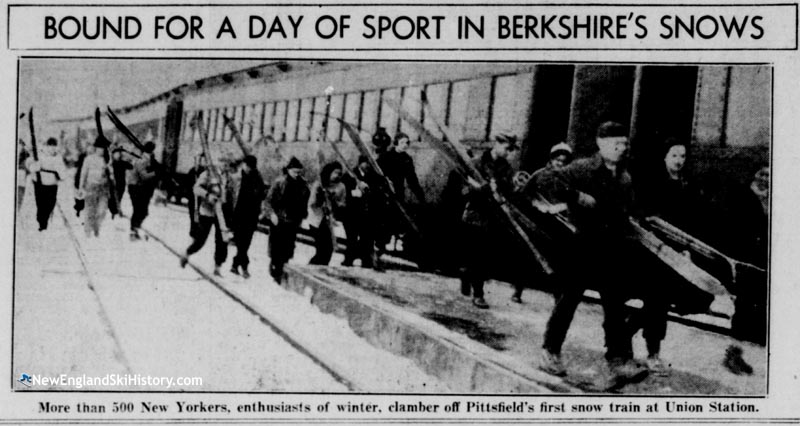 The first snow train unloads in Pittsfield (February 1935)

During that first winter of organized skiing, Bousquet was given descriptions of a ski tow that in Woodstock, Vermont that had begun operation a year earlier. Following the season, plans were announced for the construction of a rope tow at Bousquet, as well as more skiable terrain and possible non-ski activities. The Mt. Greylock Ski Club (including Hendricks and future Jiminy Peak manager George Maynard) was already at work in April, de-stumping the Bousquet ski run, as well as designing a new trail. Work was set to culminate with a Fourth of July bonfire stretching 600 feet down the slopes to be viewed from the city, however the thorn apple brush would not ignite.

The numerous improvements were publicized in November 1935, including plans for tiered rope tows serving much of the vertical drop. The Bousquet Run was extended further downhill with the relocation of a road. Two new upper mountain trails were cleared east of the Bousquet ski run, named the Yokun Trail and the Russell Trail. The latter trail was named after Bousquet's older son, while Paul's Clearing on the lower mountain slope was named after his younger son. In addition to the new trails, the long novice East Trail was improved.

Federal funds were used to improve Tamarack Road, making the ski area more accessible for bus and automobile traffic. A pond on the farm was expanded for ice skating, while a warming hut was constructed with the dual purpose of housing a rope tow engine. Charles Parker, co-founder of the Springfield Ski Club and the Mt. Greylock Ski Club and coach of numerous college racing teams, directed the ski school based out of the Hotel Wendell for the first season.

In constructing the rope tows, Bousquet chose to construct the lower lift first and to learn from that experience. After meager snowfall, there was finally enough base to welcome snow trains on January 12, 1936. An estimated 1,000 skied at Bousquet that day, arriving by train and automobile. The opening was not without issues, as the 1,400 foot rope tow broke down repeatedly and the new warming hut was found to be woefully undersized. Bousquet continued to tinker with the tow, adding a large gasoline engine later in the month to allow for more simultaneous riders.

With fresh snow, the second weekend proved to be even busier, with trains coming from New York and Springfield and automobiles coming from as far as Minnesota. The rope tow was more reliable, providing an estimated 2,500 rides on one day. Local police took notice of the crowds, only allowing busses on Tamarack Road on a busy day in February.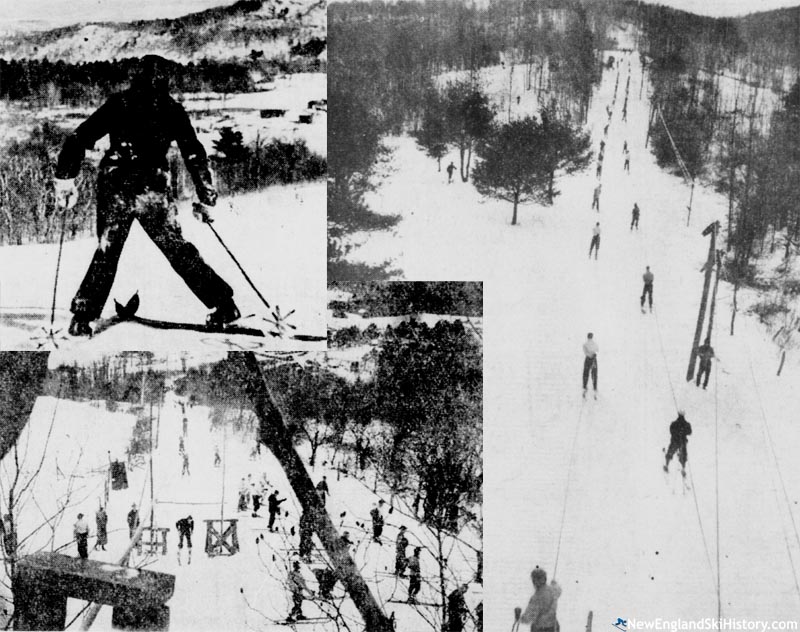 Late 1930s skiing at Bousquet

For the 1936-37 season, Bousquet put a focus on making the trails skiable with minimal snow by removing rocks, growing grass and hay, and planting trees to reduce wind. In addition, the upper mountain rope tow was finally constructed. Bousquet told The Berkshire Eagle, "Next year we will be able to tell them in New York that there's good skiing at Bousquet's after we have the first two inches of snow, and we'll continue to have skiing until all of the snow is off the ground." Unfortunately, the winter of 1936-37 was virtually snow free, as the first skiable snow didn't arrive until the middle of March. Skiing started during a blizzard on March 16, including night skiing under recently installed mercury vapor lights. Though snow was adequate for skiing for a few weeks, Bousquet often discouraged skiers from using the slopes on account of dangerously firm conditions.

A third rope tow was added for the 1937-38 season to serve the growing crowds. With concern for safety, Bousquet installed devices at the top of the lifts to automatically stop the machinery if a skier did not unload in time. At one point in early January, nearly 90% of the vehicles in the parking lot had out of state plates. By this point, Bousquet had a staff of 30 to operate the ski area. Though a late January day attracted 2,500 skiers, the subpar winter season ended on February 22.

A fourth rope tow was added for the 1938-39 season, giving Bousquet the claim of the "most mechanized ski center in the East" with its 7,200 person uphill capacity. The Hartford Courant declared the area "one of America's finest ski developments." The tows consumed 200 gallons of fuel on a typical busy day. In addition to the new lift, the ski area also featured improved parking in conjunction with a Works Progress Administration project that connected Tamarack Road with Barker Road. By allowing the road to be one-way, roadside parking could be allowed so that "no one will be required to walk more than five minutes from their cars to the trails."

Though the 1938-39 season had an early start thanks to a Thanksgiving blizzard, a subsequent lack of snow prevented any skiing until January 30.

A new upper mountain trail was cut for the 1939-40 season with the goal of better distributing skier traffic. The new trail was described as being located in a natural trough with a 22-degree maximum pitch for more advanced skiers. The popular ski area reportedly recorded as many 4,000 skiers in one day.

A fifth rope tow was added for the 1940-41 season, located between the Russell Slope and Paul's Clearing and geared toward improving night skiing operations.


World War II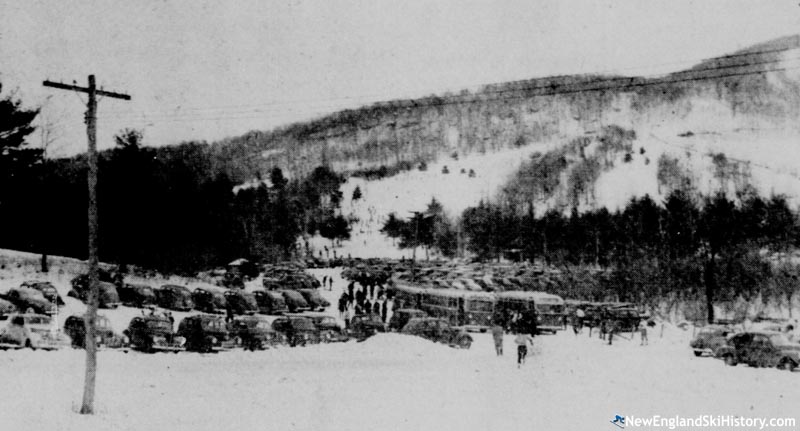 Bousquet circa 1941

Investments continued for 1941, including lengthening the East Slope rope tow and smoothing terrain. The largest investment was a new 41 by 61 foot base lodge, complete with a large fireplace built from bricks from old kilns on the farm. Bousquet was dealt a double-whammy that winter, with the United States entrance into World War II coinciding with poor snowfall.

As the 1942-43 season arrived, Bousquet was fighting to stay in business. Though it appeared he would be able to procure gas for the rope tows after a receiving initial word from the Office of Price Administration and Congressman Treadway, the Pittsfield Rationing Board rejected his application. As a result, Bousquet was forced to significantly scale back operations, running one rope tow on weekends and holidays using what little gas that remained. Meanwhile, with busses shut down and pleasure driving banned, Bousquet improved a cross country ski trail from the railroad station to the ski area. Other skiers arrived on foot, via horse and buggy, and by bicycle.

By this point, Bousquet's oldest son Russell had become his assistant mechanic at the ski area. Upon graduating high school in 1943, Russell Bousquet entered into naval cadet aviation training. He would not return until after the war.

The gas situation improved slightly for the 1943-44 season, as the local fairground loaned Bousquet a generator that ran off non-rationed bottled heating fuel. The area enjoyed another Thanksgiving weekend opening. Later in the winter, Bousquet resumed night skiing at the request of the Mt. Greylock Ski Club. Though pre-war numbers were not achieved, one February day saw 1,300 skiers enjoying four operating rope tows.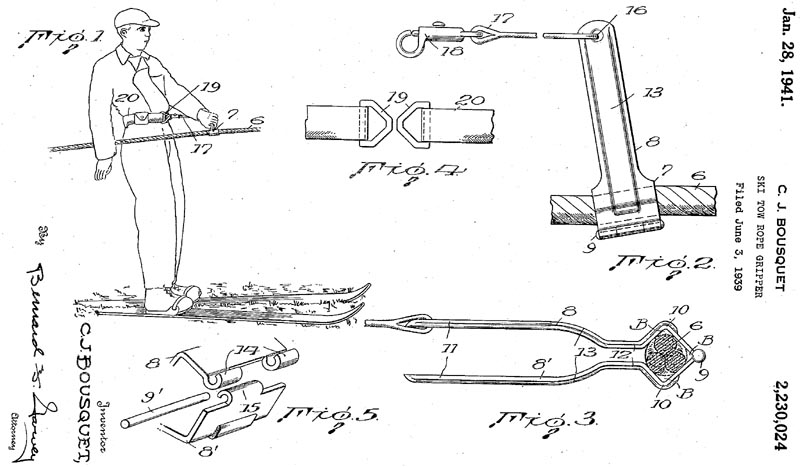 The Bousquet Ski Tow Rope Gripper Patent

Meanwhile, Clarence Bousquet was trying his hand as an inventor, designing a rope tow gripper. His 1939 filing was patented on January 28, 1941, publication number US2230024 A. The C.J. Bousquet Ski Tow Rope Gripper resulted in hundreds of thousands of sales, making rope tow riding dramatically easier for skiers all over.

With the end of the war nearing, improvements were made for the 1944-45 season, including the development of a new beginner area. Twin rope tows were installed, bringing Bousquet's total count to seven. George Maynard directed the ski school.

The first post-war season started with a foot of snow and a December 1 start. A thaw then took away the early snow, postponing subsequent operations until Christmas time. Business rebounded in late January, when the first snow trains since early 1942 arrived, giving Bousquet the opportunity to finally run all seven rope tows simultaneously. In addition to the hundreds of snow train skiers, over 400 vehicles arrived, resulting in 10 minute lift lines at times. Returning from serving in the 10th Mountain Division during World War II, James Snell took on the role of professional ski instructor.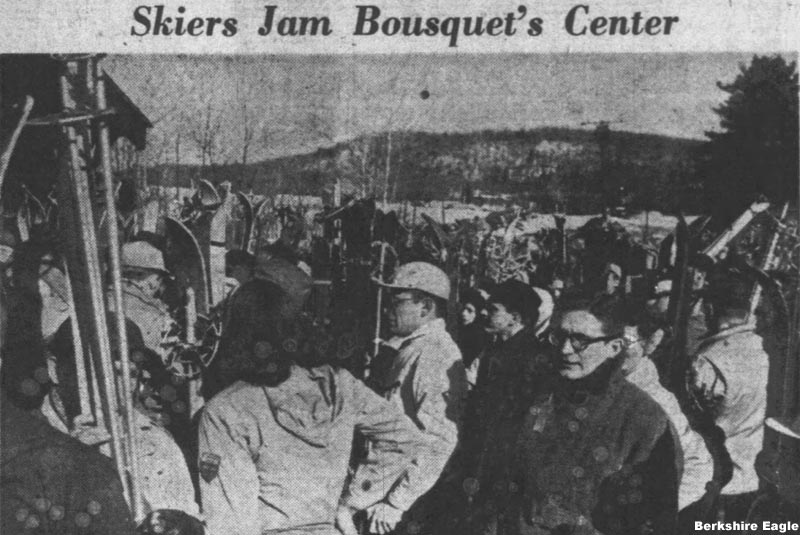 Snow trains return to Bousquet after World War II

Meanwhile, Beartown manager William O. Murthey brought forth a proposal to construct a ski area on an 80-acre tract east of Bousquet, adjacent to the highway. Zoning issues likely halted these plans, though it may have eventually evolved into the short-lived Quarry Ski Slope off South Mountain.

An eighth rope tow was added for the 1946-47 season, while new tow gear and sheave assemblies were developed. Unfortunately the winter was another poor one, with limited operations starting in early-January. Conditions didn't warrant running the new tow until mid-February. Nevertheless, when snow trains finally arrived, Bousquet notched 1,200 visitors in one day.

Two more rope tows were added for the 1947-48 season, giving Bousquet a reported world record of 10. The area even received acclaim in a Ford magazine, since six of the tows featured Ford engines. Crowds declined that winter, as Clarence Bousquet noted new areas in New Jersey and New York were siphoning off skiers. Commenting to the Berkshire Eagle, Bousquet stated, "that's O.K. with me...We'll see them next year, when the Berkshires get a lot of snow and New York doesn't have any."

New trails were announced for the 1948-49 season, however a lack of snow postponed opening day until late January. During these struggles, Bousquet was bolstered by growing sales of his rope tow gripper in the west.

Following the 1948-49 season, Clarence's youngest song Paul graduated from Pittsfield High School and headed to Dartmouth College. He later graduated from the University of Vermont, becoming a noted ski racer along the way.

Maintaining 10 rope tows for the 1949-50 season, Bousquet was surpassed when Catamount expanded to 11 that winter. Growth also continued at areas up north, which were installing chairlifts and T-Bars. Though there was pre-Christmas snow, the first half of the season reportedly had little skiing. When adequate snow finally arrived in mid-February, Bousquet had to hurry to get the rope tows set up. While rushing, he set one of them up backwards, resulting in the Berkshire Eagle joking, "Merrily it ran downhill!" The snow rescued the season, resulting in a late winter day that brought the largest crowd since pre-World War II days.

The stretch of short winters in the late 1940s and early 1950s took its toll on the ski area, particularly because it hastened the demise of the once-popular snow trains. Meanwhile, Bousquet became entangled in a legal battle with the Northeastern Gas Transmission Company. In court testimony, Clarence Bousquet testified that his property lost $35,000 in value when the company secured an easement to run a natural gas pipeline across the ski trails and parking lot. Though a jury agreed that Bousquet had suffered a loss from the taking, only $6,890 in damages were awarded. Due to the change in topography and winds related to the pipeline, Bousquet needed to purchase a snow blower to keep the lower slopes covered.

1952-53 marked the formation of the Berkshire Ski School. Led by Bousquet's ski school director Jimmy Snell and Win Gutmann, the ski school set up shop at Bousquet, Catamount, and Jiminy Peak, offering standard instruction and lesson books across the three areas. The multi-area organization likely lasted for three seasons. Unfortunately, the 1952-53 season was a bust, likely only running from early January to early February. Adding insult to injury, when the ski area was open, Tamarack Road was often impassable due to mud. Russell Bousquet, becoming more involved with the operation, started a petition for the town to pave the road. A manager of a local hotel noted that, "It is possible that after being stuck in the mud for an hour or two on Saturday afternoon the skier would decide to take his business to some place that at least provides good roads to and from the ski slopes."


The Next Generation Becomes Involved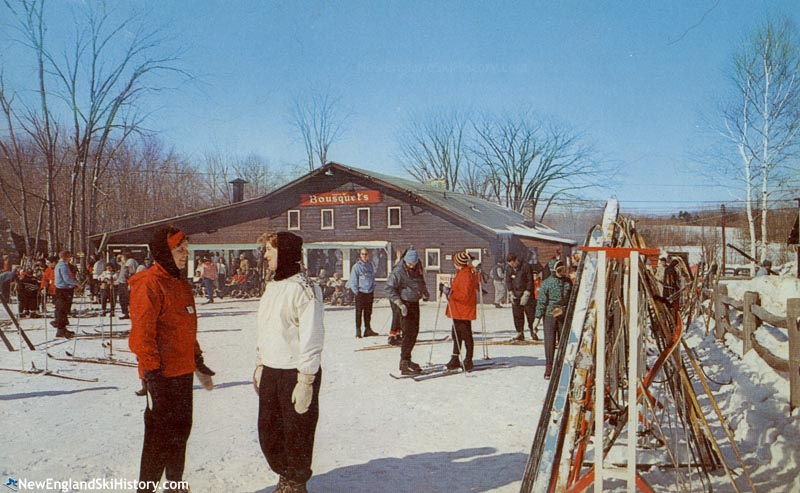 The base area

On June 23, 1953, recently-graduated Paul Bousquet announced that he and his brother Russell were purchasing the ski area and tow gripper business from their father. Slowed by heart problems, Clarence remained involved in the operation, while working on developing inventions for fishing, one of his many hobbies. The poor winters continued, with the 1953-54 season likely running from early January until mid February and the 1954-55 season likely running from late January until late February or early March. Considering Bousquet generally only operated on weekends and holidays, the seasons were only a few operating days each.

After a long run of poor winters, 1955-56 was a strong improvement, with late November snow resulting in an early opening. Bousquet was recognized for its continued commitment to helping people learn to ski, in particular how it stationed employees at novice rope tows to help riders. Though the season extended into late March, business was once again hampered by the poor condition of Tamarack Road. After offering to sell the area to the city, the family announced it was placing the ski area on the market for $140,000, as Clarence was suffering from poor health and Paul was now residing in New Jersey. Though the season could have continued into April, Tamarack Road became impassable.


Bousquet Sells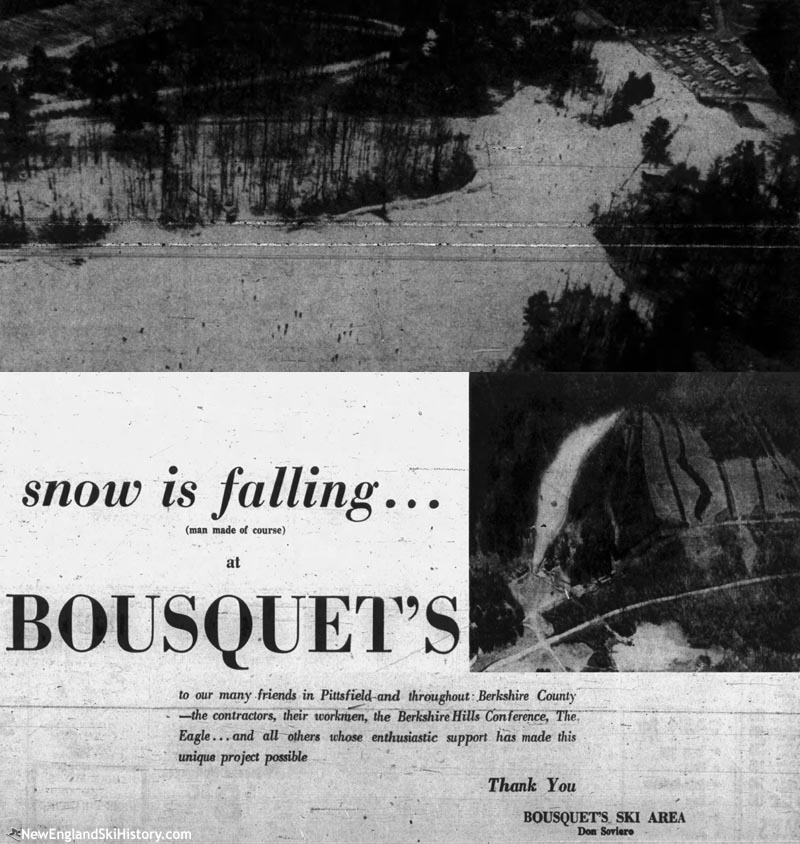 November 1956 snowmaking at Bousquet

On July 18, 1956, Donald Soviero and Stephen Jewett purchased Bousquet ski area (and the Bousquet home) for $90,000. A 28-year-old New York attorney, Soviero had met his wife while visiting Jug End at the turn of the decade. Soviero claimed a variety of careers, including wholesale, travel agencies, real estate, insurance, and being a private detective. Jewett was a 71-year-old New York psychiatrist.

Under the management of Soviero, a massive work effort began immediately, including the installation of a 2,500 foot long gasoline-powered Hall T-Bar (the state's second T-Bar), expansion of the base lodge, and construction of the region's first snowmaking system (on the Russell Slope). The expert Dino's Chute was cut from the top of the T-Bar, named after Soviero's son. The East Trail was widened and renamed Jewett Trail after the co-owner. Overall, including the purchase and improvements, Soviero claimed $250,000 was invested.

During the lead up to the acquisition of the mountain, Soviero claimed that Pittsfield Mayor Harvey Lake promised to pave Tamarack Road to resolve the access issues. The mayor later claimed he had pledged to continue to maintain the road, rather than to rebuild it, prompting a back and forth that resulted in the mayor banning Soviero from his office. Tamarack Road would not be paved for the upcoming season.

As the new ownership made headlines with its expansion and political feud, locals arranged a send-off for the Florida-bound Clarence and Margareta Bousquet. Among the reported 120 attendees included Bartlett Hendricks and Doc Maynard of Jiminy Peak, Henry Cairns of G-Bar-S, Webb Ottman and Madelon Mulroney of Dutch Hill, David Judson of Otis Ridge, and new owner Donald Soviero. In a parting letter to the Berkshire Eagle, Bousquet stated, "The Bousquet family have always felt that each skier, young or old, who visited our Tamarack Road ski slopes was a partner and a helper in the development of the area. To us, the wonderful dinner party was concrete evidence of the loyalty and friendship of the people of Pittsfield. This is something we will always cherish."

Construction progressed throughout the summer and fall, culminating in the operation of the Larchmont snowmaking system in late November. Running 11 snow guns on November 25, a crowd of 1,000 created a traffic jam as they attempted to catch a glimpse of the new technology.

The ski area opened on machine made snow on December 2, though business was once again stifled by the poor condition of Tamarack Road. Walter Stugger, future developer of Carinthia, was named ski school director, while Warren Sears continued as ski patrol director. Thanks in part to the snowmaking, as well as an expanded operating schedule, the area was open for 82 days that season.

Consistently reporting the largest number of skiers of all Berkshire areas that winter, some new concepts did not go as well as intended. At one point in January, the Berkshire Eagle noted, "Startling announcement other late afternoon over Bousquet's ski area address system, 'Tows are closed. Get ready for the Martini run.' Announcer didn't notice 90 per cent of skiers were kids, who wondered what he was talking about..." Papers also noted Soviero's prominent "brand new, plush office" in the lodge.

Bousquet also tried to resurrect the ski train concept by attempting a ski plane concept with Northeast Airlines. The tragic Northeast Airlines Flight 823 crash happened the day before the first scheduled ski plane trip, resulting in mass cancellations and the end to the program.

As the 1956-57 season progressed, rumors began to swirl about a year-round resort being developed at Bousquet. Famed architect Frank Lloyd Wright visited Soviero in March, taking a three-hour tour of the proposed resort property. After presenting his plans for a Sun Valley-like resort, Soviero reported, "Mr. Wright likes my idea and is ready to help." Frank Lloyd Wright passed away in 1959.


Leading the Berkshires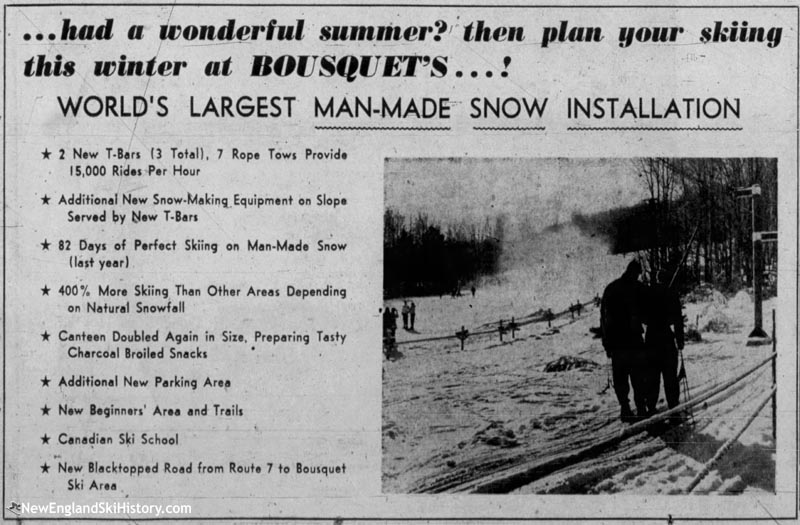 1957 Bousquet advertisement

Though Soviero was initially optimistic for the multi-million dollar development concept, he switched gears by the summer, choosing instead to "concentrate on making the best possible ski area out of Bousquet's." In July 1957, Soviero announced $100,000 of new spending at Bousquet, including two new T-Bars, a lodge addition, an enlarged beginner area, and the expansion of snowmaking onto the East Slope.

Corresponding with the aggressive expansion project, infrastructure to Bousquet was improved in 1957, including the installation of three-phase power (for the T-Bar and two new lifts) and the city finally paving Tamarack Road.

Construction was well underway by the fall, as a new 300 foot by 70 foot snowmaking pond was constructed at the base of the East Slope. Claiming the largest snowmaking system in the world, the pumping capacity was expanded to 300 gallons per minute and augmented with five compressors. Instead of the previously announced T-Bars, the new lifts instead followed the recent Vermont rage of Pomalifts. One of the lifts served the newly expanded East Slope, while the second was located on the upper mountain, serving the Yokum, Osceola, and Bousquet trails, the latter of which was combined with the North Slope and renamed Grand Slalom. The lodge expansion (five feet lower than the existing structure) was 50 feet by 60 feet and came with an improved sewage disposal system. A crowd of 3,000 turned out for an open house on December 1, which was bolstered with thousands of cups of free grog.

The 1957-58 season kicked off in mid-December, but quickly faced challenges as Christmas-week rain wiped out the snowpack. Subpar snowmaking weather furthered the struggles, with the Berkshire Eagle leading a late December story with the quote, "Never have so many people skied on so little snow." Cold weather finally arrived in mid-January, resulting in weekend day attendance of 1,500 to 2,000 skiers. With the season likely extending into the start of April, business recovered and exceeded 1956-57.

Bousquet hosted prominent Democrat political functions during the 1958 off-season, including a picnic for Governor Foster Furcolo and a reception for Senator John F. Kennedy. The latter function also allowed future Senator Edward M. Kennedy to make a splash, as Jackie Kennedy introduced her husband as "Ted's brother, Jack."

Though a new chairlift had been rumored for the 1958-59 season, Soviero focused instead on maintenance and smoothing trails. The season started off well with a December 7 opening, however it soon became a struggle. In January, a judge issued an arrest warrant for Soviero when he failed to appear on a parking violation. It was later revealed that the reason for the failure to appear was that Soviero was hospitalized in Boston and that his wife was running the ski area in his absence. After returning, snowmaking woes resulted in round-the-clock work in late January, when pipes froze, valves blew out, and a pump burned out.

In February, Pittsfield Public Health Department moved to close the lodge, claiming a new chlorination septic system was not functioning properly. As a result of the health department's assessment, victualter's and milk sales permits were not issued. Bousquet was eventually fined $110 for selling food and milk without a permit.


Avaloch

Following the 1958-59 season, Soveiro's Avaloch Realty Trust company acquired the nearby Avaloch Inn for $126,000. Renovations took place that spring, with the resort and associated 5 Reasons restaurant opening in June. Though record business was reported, the resort shut down in mid-August, as Soviero was ordered by doctors to rest before a major operation. Soviero had already undergone three medical procedures during his first months as owner. Later in 1959, Soviero sold Avaloch to Michael Bakwin, who subsequently expanded the resort to include a small ski area.

For the 1959-60 season, Bousquet's snowmaking system was upgraded with larger pipe, more air compressors, and pumping increased to 650 gallons per minute. As part of the upgrade, a used fire engine was purchased to improve pumping. Meanwhile, with Walter Stugger departing to develop Carinthia, R. Courtland "Court" McDermott was named ski school director in September 1959. A native of Great Barrington, McDermott had previously worked as assistant ski school director at Mt. Tremblant.

The 1959-60 season started just before Christmas and lasted until a late March thaw, though it was interrupted by a February rain event. In mid-March, Soviero introduced the Bousquet Cup, a new annual amateur race. With professionals, employees, and employee family members barred from competing, the intent was for the race to appeal to non-experts from Berkshire County. 160 people competed in the race, leading "Doc" Maynard from Jiminy Peak to claim it was the biggest race he could remember in the Berkshires. Pittsfield High School senior Oleg Babikow won the inaugural race.

Following the 1959-60 ski season, Soviero bought the Music Inn, Music Barn concert venue, and the associated Potting Shed restaurant from Philip and Stephanie Barber. Started in the 1950s, the Berkshire Music Barn attracted famous performing artists, such as Louis Armstrong, Duke Ellington, and Ella Fitzgerald.

Meanwhile, Paul Bousquet was named operations manager at Killington for the 1960-61 season.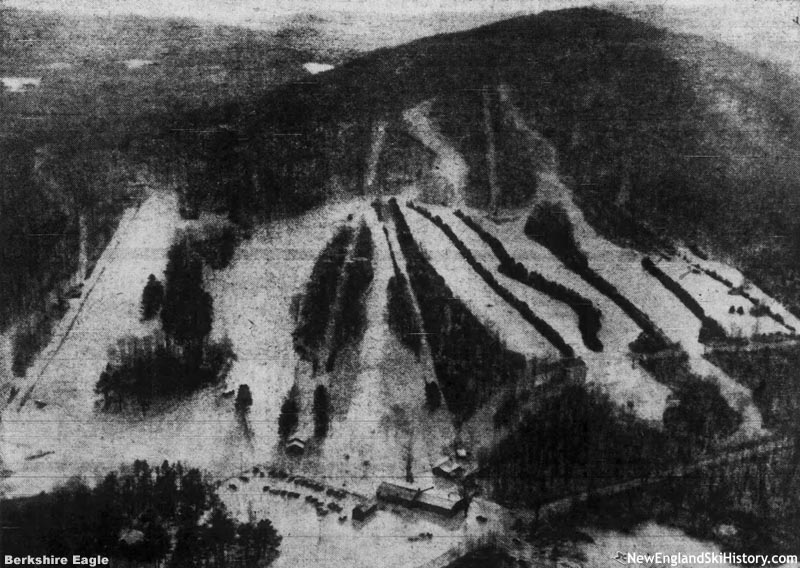 Bousquet in January 1960

Night skiing was expanded for the 1960-61 season, with enough lights being installed for Bousquet to claim it had the largest snowmaking and night skiing operations in the world. A new beginners area was developed and Pauls' Clearing was widened, resulting in the removal of the original dual-tow. One or two new rope tows were installed in the new beginner area. Beyond the changes to the trails, a new sound system was installed to broadcast music on the slopes.

The 1960-61 season had a strong start, as natural snow allowed for Soviero to open for the first time without having to make snow. In addition, season pass revenue increased significantly, as Bousquet continued to be the largest and most popular ski area in the Berkshires. However, vandals put a damper on Christmas week, as the top terminal of the T-Bar was sabotaged, a cable cut on a Pomalift, a rope tow tire punctured, and a snowmaking line compromised. Further lift vandalism occurred in January, at which point an employee was identified as the culprit after bragging to another employee that he could "put the place out of commission" and that he was "going to take what I can get around here." Presenting his New York law license in court, Soviero was allowed to act as prosecutor in the case, which resulted in the now-former employee getting six months in jail.

As the 1960-61 season continued, crowds continued to flock to Bousquet. In late January, Warren Miller visited Bousquet to shoot footage for his next film, "Many Moods of Skiing." Perhaps the pinnacle of the season was a Pittsfield Bicentennial celebration in early February, where noted Canadian ski racer (and Court McDermott's former boss at Tremblant) Ernie McCulloch put on a show and carried a ceremonial flame before an estimated evening crowd of 1,500 people. The great momentum was lost in mid-February, when rain and record warm temperatures ate away at snowpack on the eve of Washington's Birthday. Soviero estimated what became a three-week thaw resulted in a $75,000 loss in revenue. The season ended up extending into March, but overall revenue did not eclipse the prior year.

In April 1961, Donald Soviero was named managing director of the Mt. Beacon, New York development by Herman Dranoff. The $3 million proposal included expanding beyond the existing cable-car railway to include a double chairlift, T-Bars, a large hotel, and other amenities. As part of the agreement, Soviero would be on-site two days a week, while continuing to manage Bousquet and his Music Inn businesses. The proposal did not make it far, as a new group led by Herbert Itkin acquired the options one year later and moved forward with the project. After at least one more ownership change, the proposed ski area eventually became known Dutchess.

Though Bousquet was a premier ski area in 1960-61, massive changes to the ski industry were coming. Not only would the interstate highway system soon carry skiers to large, growing developments up north, but bigger chairlift areas were being planned in the Berkshires. 1961 Western Massachusetts chairlift installations included Catamount, Thunder Mountain, and Mt. Tom. Perhaps as a result, in November 1961, Soviero announced that Bousquet would construct a double chairlift for the 1962-63 season.

The 1961-62 season started with a strong 4,300 skier showing over the three-day New Year's weekend at Bousquet, however chairlift-served Catamount topped 5,000. An early January thaw followed, resulting in Bousquet needing to rely on its snowmaking system for the first time in over a year. The area dealt with an extended closure in mid-January, when a snowmaking compressor caught fire. Though February conditions improved, March started off poorly, forcing the postponement of the annual Bousquet Cup race. Warren Miller visited the area again, filming short ski inventor Clif Taylor and famous news commentator Lowell Thomas. The footage appeared in his next film, "Around the World on Skis."



Chairlift Age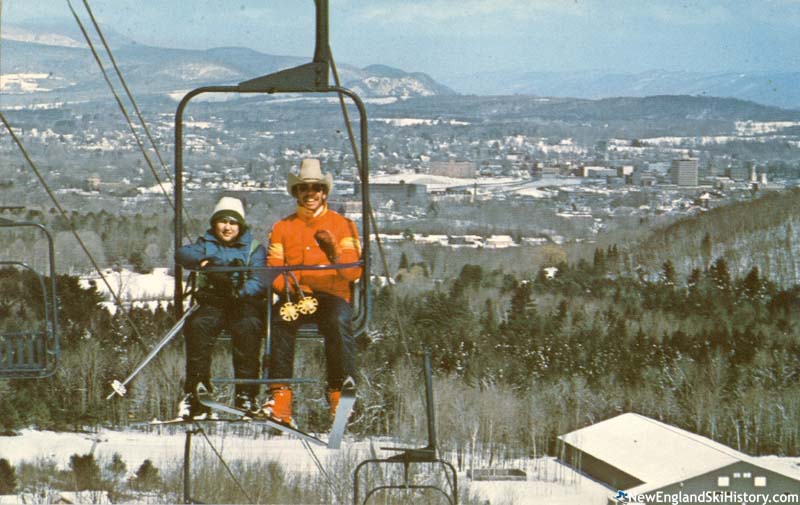 The Summit Double

Following the 1961-62 season, a lift line was cut to a higher point on the mountain in preparation for a new chairlift. Other clearing included new trails from the top, as well as widening of the Yokun and Jewett trails, designed by Court McDermott. A Carelvaro and Savio double chairlift was purchased and Robbins Engineering Company of Westbrook, Maine was hired to install it. With the increase in uphill capacity, bathroom facilities were upgraded and a 400 vehicle parking lot was constructed across the road. Meanwhile, night skiing was extended to the top of the T-Bar via the Yokun Slope.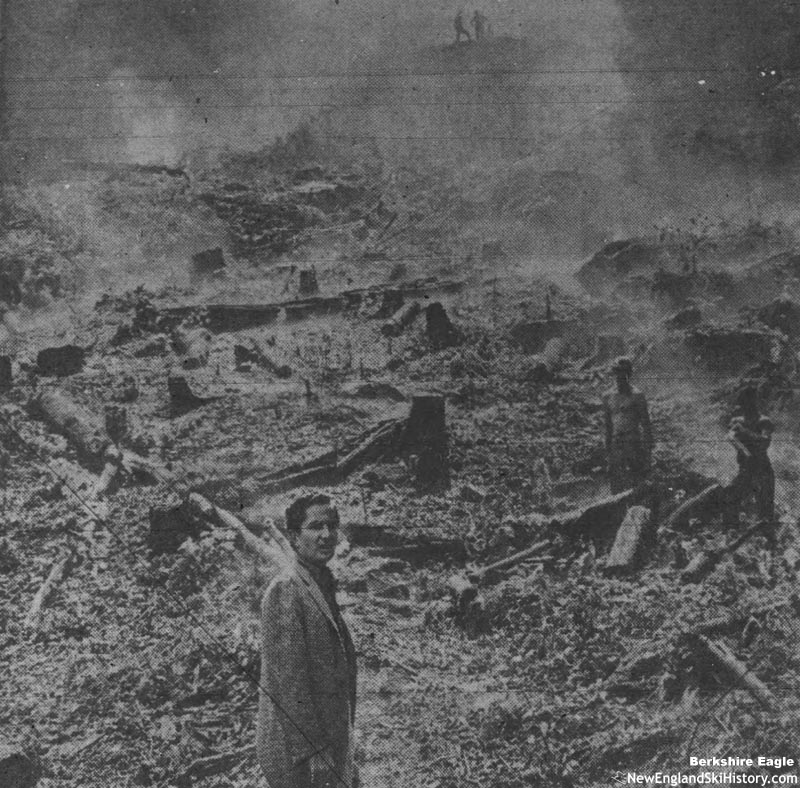 Clearing for the chairlift expansion (July 1962)

Soviero also announced future plans to replace the T-Bar with another chairlift, relocate the T-Bar to the far section of the North Slope, build a lodge on top of the ski area, and construct a skating rink at the base.

With the expansion, adult season pass rates increased by 67%, while day ticket rates went up by 38%. To ease the blow of the sharp increases, surface-lift only day and season passes were offered more in line with prior year rates.

Though lift and trail construction was reportedly going to plan, certain components had yet to arrive by mid-November. As a result, Soviero sent his friend Silvio "Skip" Scarinzi to Italy to investigate. Upon determining that two crates had gone missing, Dr. Ugo Carlevaro personally flew to Pittsfield to ensure the lift was completed. Scarinzi soon developed a business providing electric control panels for United States Carlevaro & Savio installs.

The season started on natural snow in mid-December with only surface lifts, as chairlift terminal components were stuck on piers in New York due to the prelude to the 1962-63 Longshoremen's Strike. Fortunately for Bousquet, the components were eventually loaded onto their waiting trucks before the strike formally commenced. Though it seemed like there was still a chance of meeting Soviero's long-announced Christmas opening date, Dr. Carlevaro discovered the top terminal tower was four inches too high, prompting a rebuild of the top terminal.

The new chairlift debuted on January 5, 1963, but was quickly closed when skiers struggled to unload. Dr. Carlevaro's son Giovanni supervised the modification of the top terminal platform, which was completed later the following week.

Finally in full operation, large crowds enjoyed the chairlift, such as 4,500 during the last weekend of January. One notable guest that weekend was Massachusetts Governor Endicott Peabody. Unlike Senator Ted Kennedy's Berkshire County visits, Peabody insisted in waiting his turn in the long lift lines most of the day. Kennedy made a splash in March, when he skied Thunder Mountain, the Thunderbolt ski trail, and Bousquet.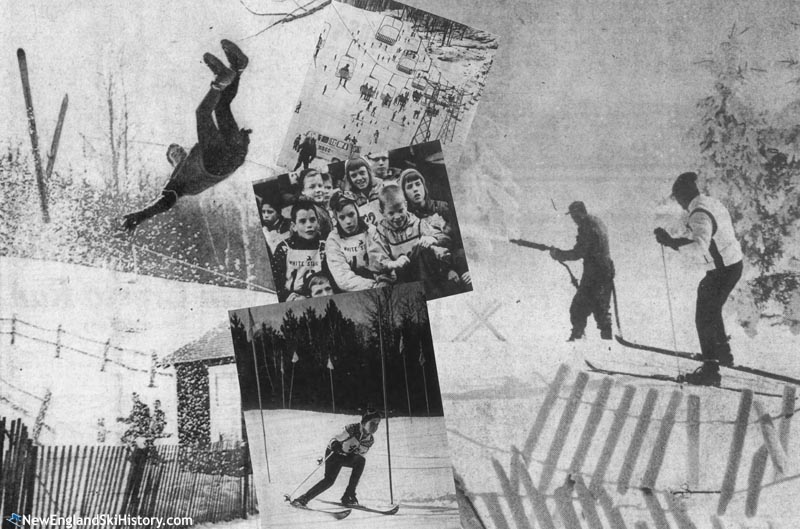 The mid 1960s at Bousquet

A few months after the ski season came to a close in late March, the new chairlift reopened for summer sightseeing rides four days a week with refreshments and picnic tables at the summit.

As the 1963-64 season approached, Bousquet advertised 15 year bonds for sale in effort to reduce the company's debt. For the cost of 10 years of season passes, bondholders would receive free skiing for 15 years. Meanwhile, Petersburg Pass had opened in 1962-63 and Butternut Basin was set to debut.

The 1963-64 season started just before Christmas and was hampered by some unsavory weather, including a postponement of the late winter Bousquet Cup. Despite only operating 79 days, Bousquet still reported yet its financially most successful winter to that point.

Improvements for the 1964-65 season were minimal, with the top of the Easy Rider trail being reworked. Meanwhile, Brodie debuted and Jiminy Peak installed its first chairlift. The season likely had multiple false starts due to warm weather, resulting in Soverio lamenting in early January that "it would take a miracle to recoup the December losses...An extension of the season into March won't make up the deficit now." The season limped to an end in early March with Soviero cancelling the Bousquet Cup and noting, "I haven't seen a season like this in the eight years I've been operating Bousquet's."

After a disastrous season with no significant upgrades advertised for the 1965-66 season, Bousquet announced season pass prices would be guaranteed "from the odd chance that this might happen again." Calvin Cadwell was named ski patrol director.

Like the 1964-65 season, the 1965-66 season had a rough start, opening on Christmas Eve before being washed out by a Christmas rain storm. The chairlift finally started spinning after the first week of January. Though not as bad as the previous season, 1965-66 had multiple thaws that impacted business, resulting in $2,000 being returned to season passholders with the guarantee. Around this time, Soviero likely sold the Music Barn while retaining the Music Inn and purchasing talent agency Shaw Artist Corp.

After a decade of retirement split between Florida and a fishing camp in Maine, Clarence Bousquet passed away in Pittsfield on October 22, 1966 at the age of 77.

After a few subpar seasons, the 1966-67 season kicked off in mid-December and extended past an early Easter, resulting in Bousquet's best in several years.



Soviero Sells Bousquet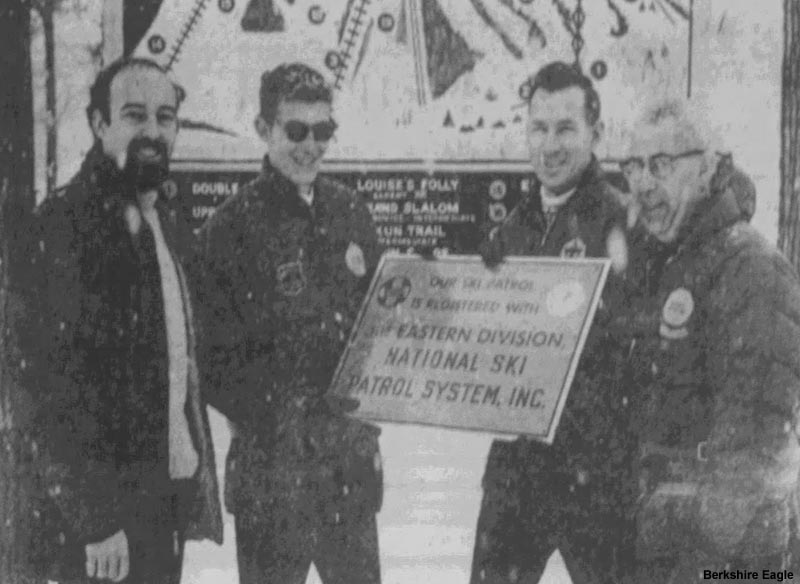 Owner Michael Bakwin, patrol director Cal Cadwell, Huck Finn, and Warren Sears (1968)

In May 1967, Donald Soviero and Stephen Jewett sold Bousquet to a group of local businessmen for $500,000 plus assumption of existing debt. The principal owner in the new group was Silvio "Skip" Scarinzi, whose partners were Michael Bakwin (who had purchased the Avaloch Inn from Soviero and subsequently developed a ski area there) and Richard Borgnis (whose father owned a lumber business), both of which owned land for a potential ski area development near Utica. The transaction was completed in early August. In February 1968, Soviero's Shaw Artists Corp. went out of business.

Meanwhile, Paul Bousquet announced his resignation from Killington general manager. After taking a vacation, he started a job with the Poma lift company.

In September of 1967, the new owners ran ads announcing "there's new life and new ideas at old Bousquet." Improvements included likely relocating the upper Pomalift to the lower mountain, improving Yokun and Easy Rider, expanded night skiing (onto Paul's Clearing and North Slope #1), a new ski patrol and nursery building, and lodge renovations (including replacing the pebble floor with blacktop, new insulated walls, installation of heating, and converting Soviero's "plush private office" into a ski shop). A fleet of snowmobiles was also procured for rental use and to assist with ski patrol. In addition to the physical improvements, the group announced the ski area would be solely referred to as Bousquet, rather than "Bousquet's." A new slogan referred to it as "the big B in the Berkshires."

In March 1968, owner-manager Skip Scarinzi renamed North Slope #1 to Harris Slope, in honor of Ben and Pat Harris. The couple was labelled the "grand couple of skiing" in Berkshire County at a March 11, 1968 ceremony attended by over 100 locals, including Jiminy Peak manager George Maynard and Dutch Hill owners Webb and Madelon Ottman, who awarded them honors from their ski areas. The 1967-68 ski season came to close in mid-March with the chairlift only operating 26 days.

In the spring of 1968, the ownership announced the Bousquet Summer Camp. Directed by Thomas Cinella, the day camp leveraged "the complete use of the Area's numerous facilities." Days later, plans were announced for the opening of a discotheque at the ski area, with hopes of leveraging its proximity to Tanglewood.



Bousquet Buys Back Bousquet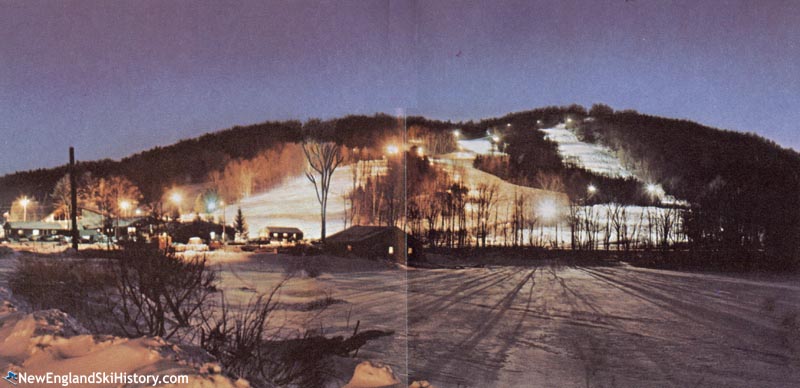 Night skiing cica the 1970s

At the start of August 1968, the City of Pittsfield took tax title to the ski area for failure to pay $10,600 in taxes for the 1966 year. Two weeks later, the First Agricultural National Bank began foreclosure proceedings.

Meanwhile, former owner Paul Bousquet and a group of his former Killington colleagues were searching the country for a ski area to purchase, noting the group had been "shopping for some time for a place where we could pool our talents." Though his group didn't have "any Rockefellers in our midst," he added that "each man is successful in his own right."

Rumors swirled around Berkshire County in the fall of 1968 that Bousquet would not open. In early November, the First Agricultural National Bank announced the ski area would head to the auction block at the end of the month. Complicating matters was another foreclosure action by Pittsfield Cooperative Bank on the house and surrounding land.

On November 29, 1968, Paul Bousquet's Otter Development Corp. purchased Bousquet at auction, bidding $275,000. The ownership of Brodie was the only other bidder, topping out at $226,000. A few days later, Otter Development Corp. paid off the $11,100 Pittsfield Cooperative Bank claim on the property.

Stockholders in the Otter Development Corp. included Olympian and Pittsfield High School alum Verne Goodwin and Bousquet's former Killington colleagues Paul Bessette, Phillip Camp, James Kachadorian, William Blum, and William Wood. The 37-year-old Bousquet noted that "all of the men are about my age."

The new ownership opened Bousquet on December 14, 1968 on natural snow, asking customers for patience, as Paul Bousquet mentioned, "I hope the skiers won't expect miracles from us. We are going to make snow as soon as possible, and when we have the system in working order, we will make snow at every opportunity. However, we aren't quite ready yet." Future plans mentioned included expanding night skiing and snowmaking to the top of the chairlift, as well as constructing a mid-station.

Weather was not particularly cooperative to start, with multiple weekends plagued with rain. In a lighthearted move, ski school director Court McDermott hanged meteorologist George Bulgarelli in effigy. Bulgarelli was reported to be amused by the event as he skied in the rain that day. Things improved in February, when a 20 inch snowstorm rejuvenated conditions. With a 15 foot snow drift blocking Tamarack Road, Bousquet helped the public works department by using its snow cat to remove the drift.

Following a successful end to the 1968-69 season, Bousquet made headlines when it offered to lend its lights to the city to use at Wahconah Park during the summer. At the time, the Pittsfield Red Sox baseball team was asking for lighting, however the city was unwilling to pay for the large expense. The offer was not taken and the Red Sox left the city following the 1969 season.

Improvements for the 1969-70 season included an overhauled snowmaking system, expansion of night skiing to the top of the mountain, and two new beginner rope tows. Boasting 1,320,000 lumens of lighting, Bousquet began offering $1 "Nite Owl Special" sessions. The 25th annual Pittsfield Winter Carnival drew 1,000 spectators in January, who enjoyed a 20 minute fireworks display. The season spanned from mid-December to early April.

That summer, Bousquet hosted the Clyde Beatty Cole Bros. Circus, sponsored by the local Elks lodge.

Taking a cue from Killington, Bousquet instituted the "Head Way" ski instruction method for the 1970-71 season, leveraging the graduated length approach. $20,000 worth of various sized skis were purchased for the program. Meanwhile, Fran Chapman was named ski patrol director, taking over for Cal Cadwell. Five years later, Cadwell was sentenced to life in prison for murder.

The 1970-71 season got underway in mid-December and featured some strong days in February and deep snowpack in March. That month, Governor Sargent visited the area and presented the trophy for the annual Bousquet Cup. Though the season ended in early April, snow remained for weeks longer, with Court McDermott making turns on May 1.

The 1971-72 season had an early start, thanks to a Thanksgiving snowstorm. A subsequent thaw paused skiing for awhile in December, giving way to what Paul Bousquet termed as "one of those damnable winters" and a "frustrating ski season" in which expenses increased by 35% and attendance decreased by 8%. Despite the subpar snowfall, Bousquet was still hosting prominent skiers that winter including news commentator Lowell Thomas and Governor Sargent.

Airport expansion plans heated up during the 1972 off-season, ranging from concerning (such as Bousquet losing part of its base area) to roseate (a hotel at the ski area summit).



Major Base Lodge Renovation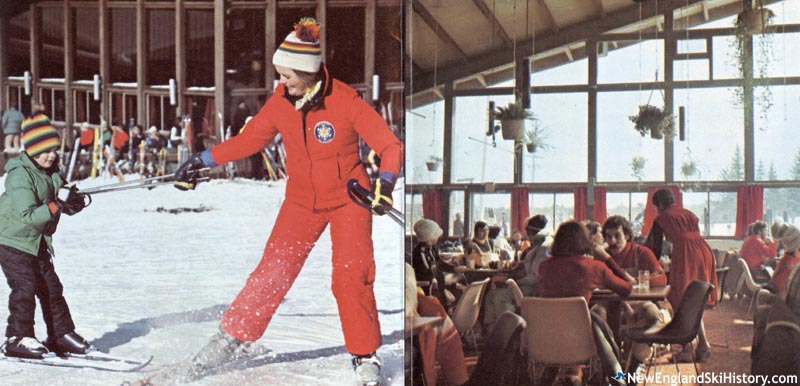 The new base lodge (1970s)

Heading into what was dubbed as Bousquet's 40th anniversary season, a new Hedco fan gun was purchased, while a major base lodge renovation took place. Bousquet and architect Terry Hallock toured various northeast ski areas in 1971 while seeking a design for the project. In the end, they opted for a "flying wing" addition on the southeast corner of the existing base lodge. The 2,600 square foot addition featured two sides with top to bottom windows and red and black carpeting designed to provide a better guest experience. A back wall was augmented with a light show designed by local General Electric engineer Lon Nordeen to "set a mood" for occupants of the lounge and bar. The south corner of the existing canteen was renovated, adding a smaller "flying wing" roof and walls of glass (removed in a subsequent renovation).

The 1972-73 season started in early December, but was soon impacted by rain events, fizzling out in early to mid March. Paul Bousquet later noted that "day traffic was off considerably" and that "we missed a lot of our tour business. It was difficult to plan weekends because of inconsistent snow conditions." Bousquet's mother Margaretha died in February at the age of 75.

One highlight of the 1972-73 season was a 10th Mountain Division reunion. Headlined by Governor Sargent (a 10th Mountain veteran), other prominent attendees included Minnie Dole, Lowell Thomas, and Jim Hadley. Those still enjoying good health put on their white uniforms and packs and conducted an on-slope demonstration.

1972-73 also marked the start of Bousquet's "hot dog" program, led by Jonathan Mahanna. Later known as freestyle skiing, Bousquet's program developed many successful competitors. Bousquet also hosted many early competitions.

Leveraging the improved base lodge, Bousquet began hosting dinner theater events, with McComb's Comedians taking up residence. Meanwhile, Bousquet and John Shea received town approval to construct an indoor skating rink near the mountain.

Struggles continued. A proposed US 7 bypass threatened to destroy the base area and snowmaking ponds. The energy crisis threatened to prevent weekend skiers from being able to obtain gas to get to the area, while also limiting snowmaking operations (cutting by 25%). Finally, the 1973-74 season was extremely unseasonable, with a brief mid-December opening being wiped out by rain. When a reporter reached out during Christmas about a skiing story, Bousquet responded, "you mean you're writing our obituary."




The base area circa the 1970s

Though there were a few strong days in January, there were also ominous signs, including bear tracks. With the season fizzling in March, Bousquet and other Massachusetts ski areas operators requested disaster loans from the Small Business Administration. Bousquet noted that, "Our fixed costs have gone up. We are paying double for our fuel. We have to meet our payroll and a myriad of other obligations, and all at prices set three years ago."



Bousquet Racquet Club

In the summer of 1974, construction began on an indoor fitness center across from the ski area. Bousquet's Otter Development Corp. leased the land to William Feeley and Dana Bray, who built the $300,000 structure that included 6 indoor tennis courts, saunas, whirlpools, a pro shop, and a lounge. Plans for the indoor skating rink were put on hold. Ski school director and tennis player Court McDermott was hired to manage the Bousquet Racquet Club when it opened in the fall.

North Two and North Three were likely merged with the removal of a tree island for the 1974-75 season. Though the season started at the end of November with free skiing, subsequent wet weather slowed momentum. Conditions rebounded for Christmas week.

In mid-February, Ted Kennedy and his entourage made a splash by hitting multiple Berkshire County ski areas. According to one Berkshire Eagle writer, Kennedy had to share the spotlight at Bousquet, as Lowell Thomas also happened to be on the slopes. Kennedy was said to have "grown a little paunchy." Bousquet received even more press later that year, when President Gerald Ford stated at an event, "I wish I was up there skiing at Bousquet's," telling a group of mayors (including Pittsfield Mayor Evan Dobelle) that he had skied there in the 1930s.

In the fall of 1975, Bousquet hosted a Haunted House, benefitting a children's services organization called The Junior League. 17,571 customers attended over the course of two weeks.

Facing financial troubles as the 1975-76 season arrived, Bousquet's Otter Development Corp. made arrangements to sell the Racquet Club at Bousquet's to operator Tamarack Tennis Associates. In February 1976, the ski area defaulted on a loan from Berkshire Bank and First Agricultural National Bank. In addition, the corporation had not paid its property tax bill. Berkshire Bank sued First Agricultural, leading to a settlement in which First Agricultural bought out Berkshire Bank's share of the loan and provided arrangements to the ski area to remain open and making snowmaking and trail improvements for the 1976-77 season.

After the struggles of the early 1970s, Bousquet rebounded with two good seasons in 1976-77 and 1977-78, though the latter required twice as many snowmaking hours. In a 1977 Boston Globe article, Paul Bousquet noted that, in comparison to northern ski areas, "since we're smaller and in a more compact area, the skiers know one another better. Our repeat business is very high, both among locals and out-of-towners."

Another mile of pipe was installed for the 1978-79 season as the ski area advertised 75% snowmaking coverage. The season was not as kind to skiers, with rain and freeze-thaw events hurting operations and making Tamarack Road so bad that buses were getting stuck. One city councilman even pronounced the road to be "unsafe at any speed." Warm weather led to an early end to the season.

Following the 1978-79 season, the city finally repaired Tamarack Road by installing a crown and reconfiguring the shoulders.



Bankruptcy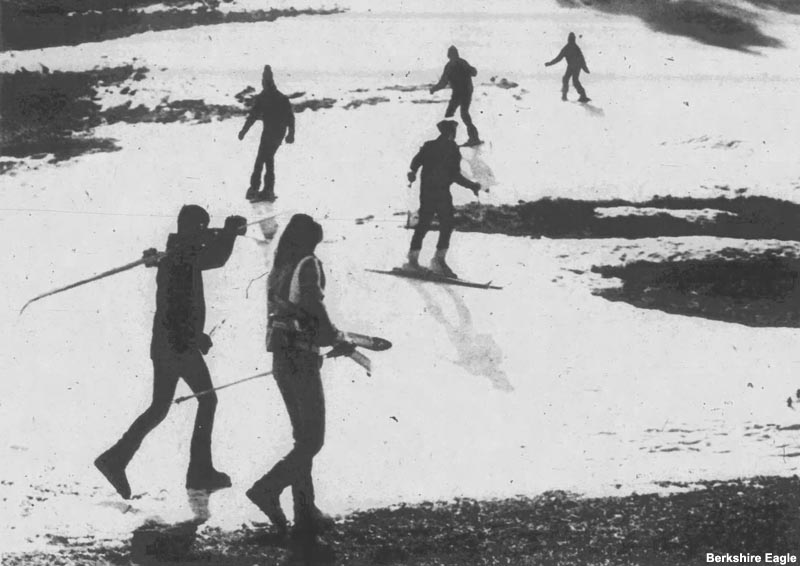 Skiing patches of snow on New Year's Day 1980

Though the 1979-80 season started off in mid-December, it was devastating. By New Year's, some skiers were golfing and skiing on the same day. By mid-January, Bousquet had declared, "it's going to be a losing season. It's just a question of how bad the losses are." Bousquet joined other ski areas in the region in seeking federal loans to stay solvent, noting that sales were 50 percent less than normal. A snow storm in March was too little, too late, as Bousquet was unable to attract a big turnout, despite its best conditions of the season.

Following the season, a group of local residents formed Bousquet Leasing to provide $300,000 of capital improvements on the mountain. A Hall double chairlift was installed adjacent to the T-Bar on an expanded Paul's Clearing slope, replacing the North Poma (which was tentatively slated for reinstallation elsewhere on the mountain). Court McDermott also supervised the widening of Harris, Yokun, and Lower Jewett. Additional lighting and snowmaking infrastructure were installed, while a modern snowcat was procured.

A mid-November snowstorm seemed like a good omen for the "new Bousquet," however the season was yet another struggle. Because the area opened before the annual lift inspections had been conducted, Bousquet was soon facing state charges of operating a recreational tramway without a license. As February arrived, record warmth resulted in rapid snow melt as Bousquet limped to a mid-March closing.

At the end of April, Paul Bousquet notified his creditors that First Agricultural Bank would be foreclosing on the ski area, as Otter Development Corp. was nearly half a million dollars in debt after the "disastrous last few weeks of the '80-'81 season." Bousquet also told the creditors that, "Because you served us so well, it is with a deep sense of personal regret that I send you this letter." No longer in control of his namesake ski area, Bousquet went on to work at Beech Mountain in North Carolina and Loon Mountain.



The Jervas Era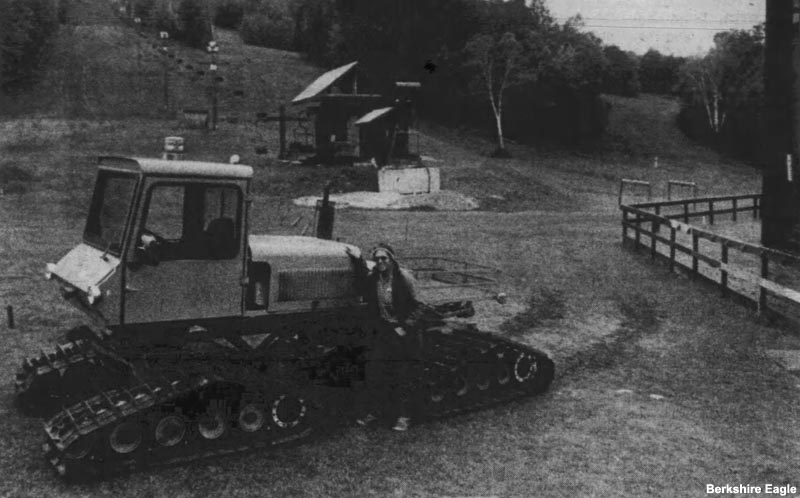 George Jervas (September 1981)

At a May 28, 1981 auction, First Agricultural Bank's FAB Realty Trust acquired the area and equipment for $345,000. On June 29, George W. Jervas signed a purchase agreement for the same amount. A native of Brooklyn, New York and alumnus of Farmingdale College, Jervas had relocated to Berkshire County in the early 1960s to operate a general store with his then-wife, then worked as a foreman at Butternut Basin, sparking his interest in the ski industry. More recently, Jervas had been employed as a nursing home administrator, later reflecting that "Nursing homes were a tough business, highly regulated and depressing," whereas skiing was "a happy business."

On July 15, 1981, the sale was completed, as Jervas's Tamarack Ski Corporation acquired Bousquet. The other owners of Tamarack Ski Corporation were his brother Robert Jervas, sister-in-law Carol Jervas, and partner, Beverly Channey.

That fall, Bousquet hosted its first Octoberfest, featuring competitions, live music, chairlift rides, and beer, attracting a crowd of 1,000.

Jervas's first season at the helm likely started in mid-December and benefited from a strong Christmas to New Year's vacation period. The season extended to mid-March, at which point Bousquet closed due to lack of business. The area reopened following an early April storm, spinning the lifts through April 11. Though he did not have prior Bousquet business records, Jervas suspected 1981-82 was a record season and exited the winter on firm financial footing.

In October 1982, Bousquet's Oktoberfest drew 3,000 people. Attractions included a marathon, a firemen's muster, and free chairlift rides. The biergarten in the lodge was so popular that it ran out of German draft beer in only two hours.

The 1982-83 season did not go as smoothly, as warm temperatures and rain put a damper on the Christmas holiday period. Adding to the struggles, Bousquet relied on snowmaking so much that it ran out of water for awhile. Though there were a few busy days in January and February, the snowpack was zapped by the beginning of March.

Early April skiing returned for the 1983-84 season, thanks to another late snowstorm. Meanwhile, Governor Michael Dukakis was pushing for a US 7 bypass in Pittsfield. As the mid-1980s arrived, plans emerged to construct a connector road from US 7 to the airport, which would result in the dead-ending of Tamarack Road from the north. The proposal would transform the neighborhood, including removing the former Bousquet family house and the ski area's snowmaking pond. Nevertheless, Jervas and his family crew spent the summer of 1984 building new trails. At least one connector trail below the summit was backfilled with old railroad ties.

The 1984 season had a strong start, opening the day after Thanksgiving on man-made snow. A 6-inch snowfall in early December brought additional skiing, with Jervas telling the Berkshire Eagle, "We had happy people, good snow, blue sky and puffy clouds. What more could you ask?" Momentum was lost during the Christmas to New Year's holiday week, as warm weather resulted in Brian Fairbank of Jiminy Peak lamenting, "I've never seen so much snow take a hike so fast in my life." Cold weather returned in January, but after multiple warm rain storms hit in February, Jervas made a similar statement to the Berkshire Eagle, saying "I've never seen snow go like that before."

Following the 1984-85 season, Bousquet attempted to venture into a new off-season activity by purchasing the rights to host a paintball game called Survival. Local complaints postponed the launch of the new sport, as some felt the paintball guns were fire arms. After clearing local governmental hurdles, the attraction opened in mid-April 1985.

In early 1986, Jervas announced plans to construct roughly 50 condominiums, including a complex slopeside off the Drifter ski trail. Meanwhile, Bousquet had a decent 1985-86 season, with Jervas noting "We had a good cover from the start and never really lost it."

Following the 1985-86 season, Bousquet installed a new pump, two new air compressors, and acquired 35 more snowguns, doubling the firepower of its snowmaking system. In addition, a new racing club house was constructed on the Grand Slalom slope, portending increased race activity at the area. With good conditions and more race events, 1986-87 was a good season, with Jervas reflecting, "We needed an upbeat year and we got it."



Dan Fox Drive Drama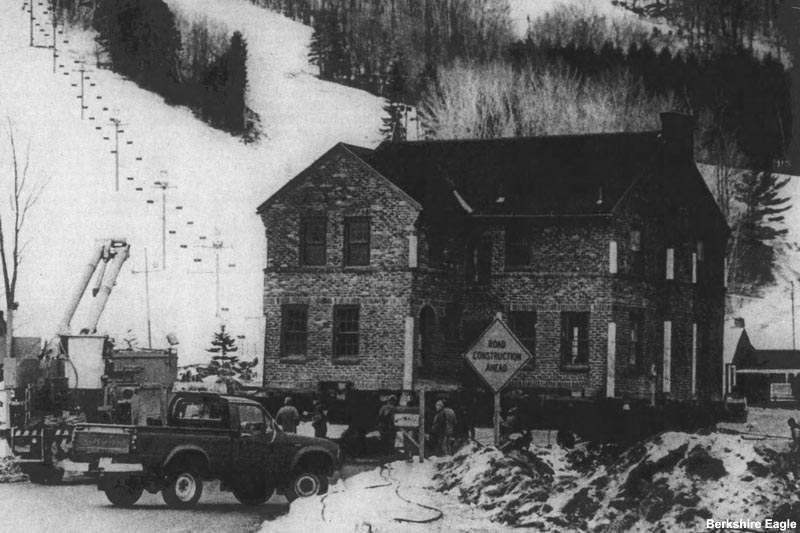 Relocation of the Bousquet house for the construction of Dan Fox Drive (January 1988)

As the mid-1980s progressed, big changes were happening at the bottom of the mountain. Making way for the new US 7 connector, the Guachione family's house and property, the former Bousquet residence, were taken by the state. The family was devastated, as it had acquired the house because of its proximity to the ski area. Following the taking by the state, George Jervas acquired the brick structure for $16,500 and had it moved to a site to the north off Tamarack Road, noting "it's a pretty house and I couldn't bear to see it torn down." Unfortunately for Jervas, major struggles were about to begin.

Meanwhile, Bousquet was an early embracer of snowboarding, providing rentals by the 1987-88 season. Bousquet also served as the ski venue for the 1988 Bay State Games.

As the snow melted in the spring of 1988, construction on the new US 7 connector was in full gear. Named after the inventor of Lexan clear plastic at General Electric, Dan Fox Drive now had a projected cost of $4.5 million. As part of the house removal, the Bousquet well was also removed, leaving the ski area in the crossfire of a Dukakis administration departmental battle. The state Department of Public Works drilled a new well for the ski area, however the state Department of Environmental Quality Engineering subsequently refused to approve it due to its proximity to the parking lot, leaving the Bousquet lodge without water.

Dan Fox Drive opened on October 28, 1988, amidst a demonstration from anti-bypass protesters. Bousquet still had no approved drinking water source as it finished building its new Tamarack Lounge. As a result, Bousquet was forced to truck in water by the tanker load all winter, racking up nearly $40,000 in expenses. As frustrations grew, Bousquet responded by renaming its food menu items, such as "It's a Fishy State" tuna sandwich, "A Quarter Pound of Bull" burger, "All It Takes is a Lotta Green Stuff" salad, and the "We Got Burned" fried food basket. Adding insult to injury, the 1988-89 winter lacked snow, resulting in some skiers opting to hit the golf course instead in February. Pittsfield recorded less than half of its average snowfall that winter.

The water situation was finally resolved in October 1989, when the Department of Environmental Protection (successor to the Department of Environmental Quality Engineering) finally approved the well the state had drilled for restroom use. However, a new source of drama emerged.



Ownership Drama Drama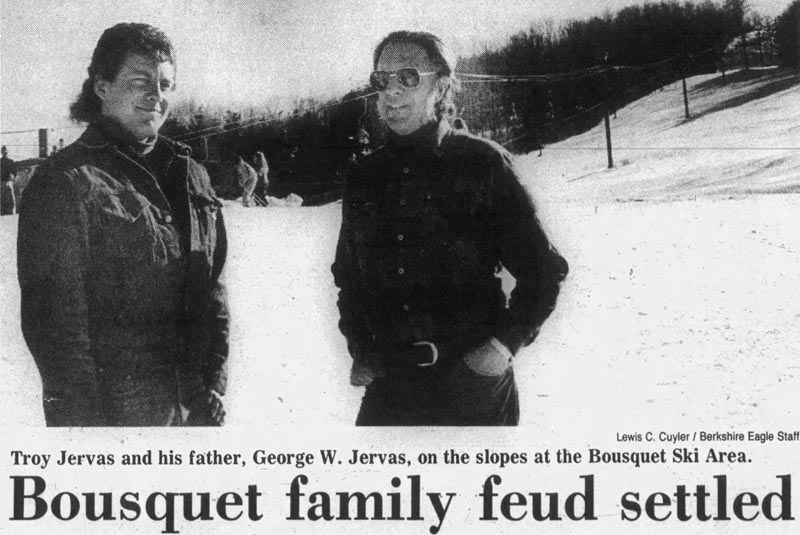 Troy and George Jervas (March 1990)

In September 1988, Beverly Channey sold her ownership stake to George Jervas. Just over a year later, Carol Jervas sold her stake to her husband Robert (George's brother). In February 1990, Robert Jervas sued George, demanding the sale of Bousquet so that he could receive his portion of the proceeds. One month later, George Jervas announced that he and his son Troy has brought out Robert's share for $181,750, ending the lawsuit.

The 1989-90 season saw a return to average snowfall, however the timing of the storms impacted weekend business. Nevertheless, Bousquet announced tentative plans for the installation of a new lift.

In May 1990, Jervas's daughter Tammy launched Tamarack Catering. Based out of an improved lounge, the operation was targeted toward business meetings and large functions.

In order to attract more skiers during the recession, Bousquet slashed its ticket price from $24 to $15 for the 1990-91 season, essentially rolling back a decade of increases. Free weekday rental equipment was also offered.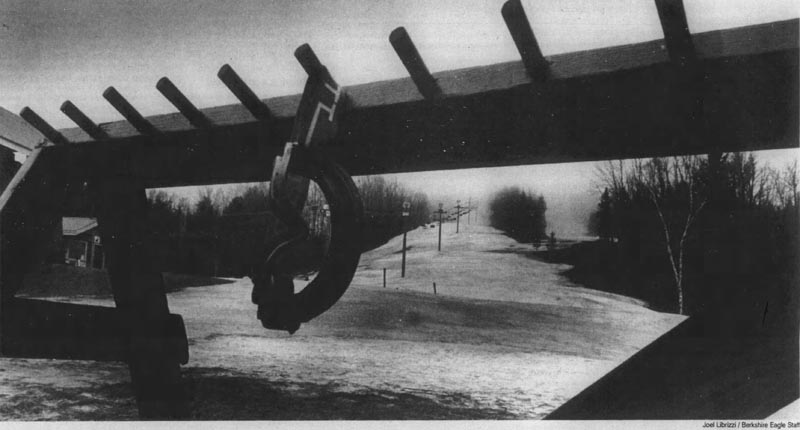 The end of a rough season (early March 1991)

Though the 1990-91 season kicked off in mid-December, rain and warm weather shut down the ski area as Christmas week arrived. The ski condition message service pleaded to "please pray for cold weather." A four-inch snow storm just before New Year's gave Bousquet a bit of a boost, drawing crowds to ski three or four open trails. The season petered out in early March, with Pittsfield once again accumulating less than half of its average snowfall.



Winter Returns After Three Year Slump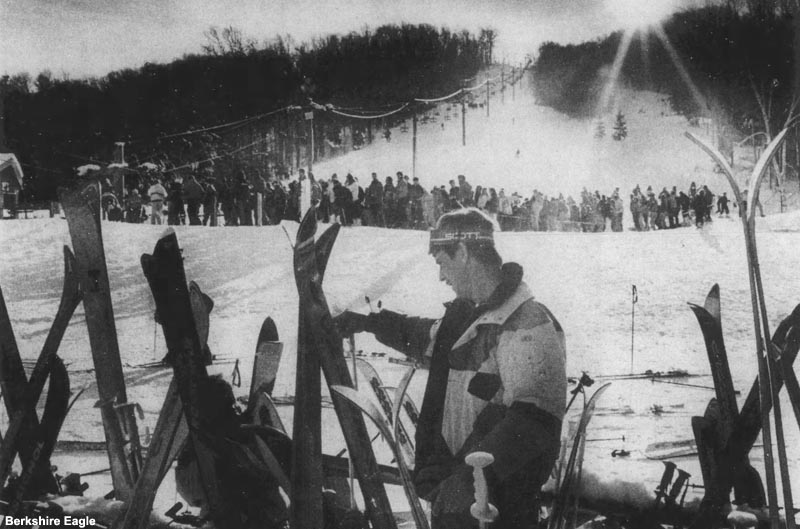 Bousquet in December 1992

Winter returned for the 1991-92 season, as Bousquet was able to open on manmade snow in late November. Apart from a rain event, the area enjoyed a strong Christmas week, with the $15 ticket price being given credit for record days by differentiating Bousquet from higher-end ski areas in the region. Tammy Jervas told the Berkshire Eagle, "We are rough on the edges. We know that. But we have an excellent race program and a great developmental mountain."

Two more trails were lit for night skiing for the 1992-93 season, while a snowboard half pipe was reportedly constructed. The Bous-Care Nursery was opened for daycare on peak days. The low ticket price was held, as Tammy Jervas told the Berkshire Eagle, "Dropping our tickets from $24 to $15 was the best strategy ever developed." A rare pre-Christmas snow storm boosted holiday week sales. Good snowfall and conditions continued for Martin Luther King Day and President's Week, resulting in record days. The 117-day season extended into April, the longest of the ownership's tenure.

Fifty snow guns, seventy-five towers, and two snow cats were added for the 1993-94 season to streamline operations. Snow tubing was also made available to provide non-skiers with an alternative activity. Though a lower-mountain November opening was once again achieved, December rains stifled gains. A good holiday week helped and a subsequent lack of thaws reduced snowmaking expenses as the area enjoyed its third straight April closing.

Snowmaking was improved for the 1994-95 season, while the tubing slope became rope tow served. Mired in an El Nino pattern, Bousquet struggled as Pittsfield faced its warmest January days since 1950. Reached for comment after Bousquet closed for the season in March, George Jervas retorted, "What ski season? It never started."



Summer Attractions and the Late 1990s

Following the devastating season, Bousquet diversified by adding off-season attractions including a pitch-and-putt golf course, a driving range, and a go-cart track.

Former ski school director James Snell passed away on July 18, 1995 at the age of 80.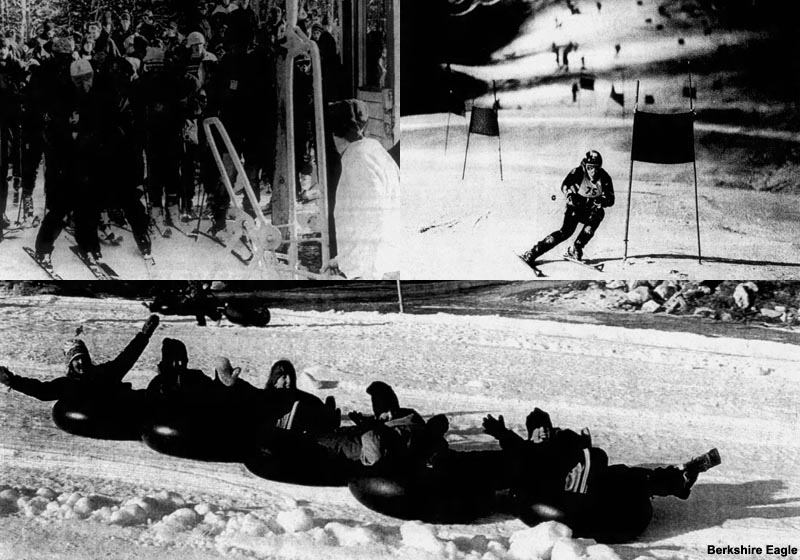 The 1990s at Bousquet

Twenty more snow guns were added for the 1995-96 season, as well as a clock tower on the base lodge. Though the season started in late November, it was not without its struggles weather-wise. As a result, Bousquet doubled down on its summer business, installing three water slides. George Jervas told the Berkshire Eagle that "It made a lot of sense to do it. We had a tough time staffing here when we were just open for the winter. This way we're attracting more stable employees who want full- or part-time work year-round."

Favorable weather resulted in the earliest opening on record for the 1996-97 season, only to be beat by a day for 1997-98 (November 15). Meanwhile, the summer of 1997 saw additional water slides, the purchase of Deval Karts, and the hosting of Independence Day fireworks, the latter drawing an estimated crowd of 15,000 people.

Though eighty snow guns were added for the 1998-99 season, the upgraded arsenal had to wait until December for cold weather, snapping Bousquet's seven-year streak of November openings. Meanwhile, the upper level of the base lodge was expanded to host a ski shop, the first of Jervas's tenure. Bousquet hosted the Jan Kneissl Big Foot Challenge, a national ski-board competition, in January, and Berkshire County's first Rock Maple snowmobile race in February.

Following the tough 1998-99 season, a fire early on the morning of May 6 leveled Bousquet's pump house and machine shop. Since insurance only covered $750,000 of the estimated $1 million in damage and clean-up costs, a group called the Friends of Bousquet hosted a fundraiser. Fortunately for Bousquet, hot weather resulted in record business during the summer of 1999.

Court McDermott announced his retirement in the fall of 1999, ending a 40-year tenure as ski school director. Owner George Jervas told the Berkshire Eagle that "McDermott is a legend. He's a gentleman; he's always been a good friend since I bought the area 20 years ago."



The 2000s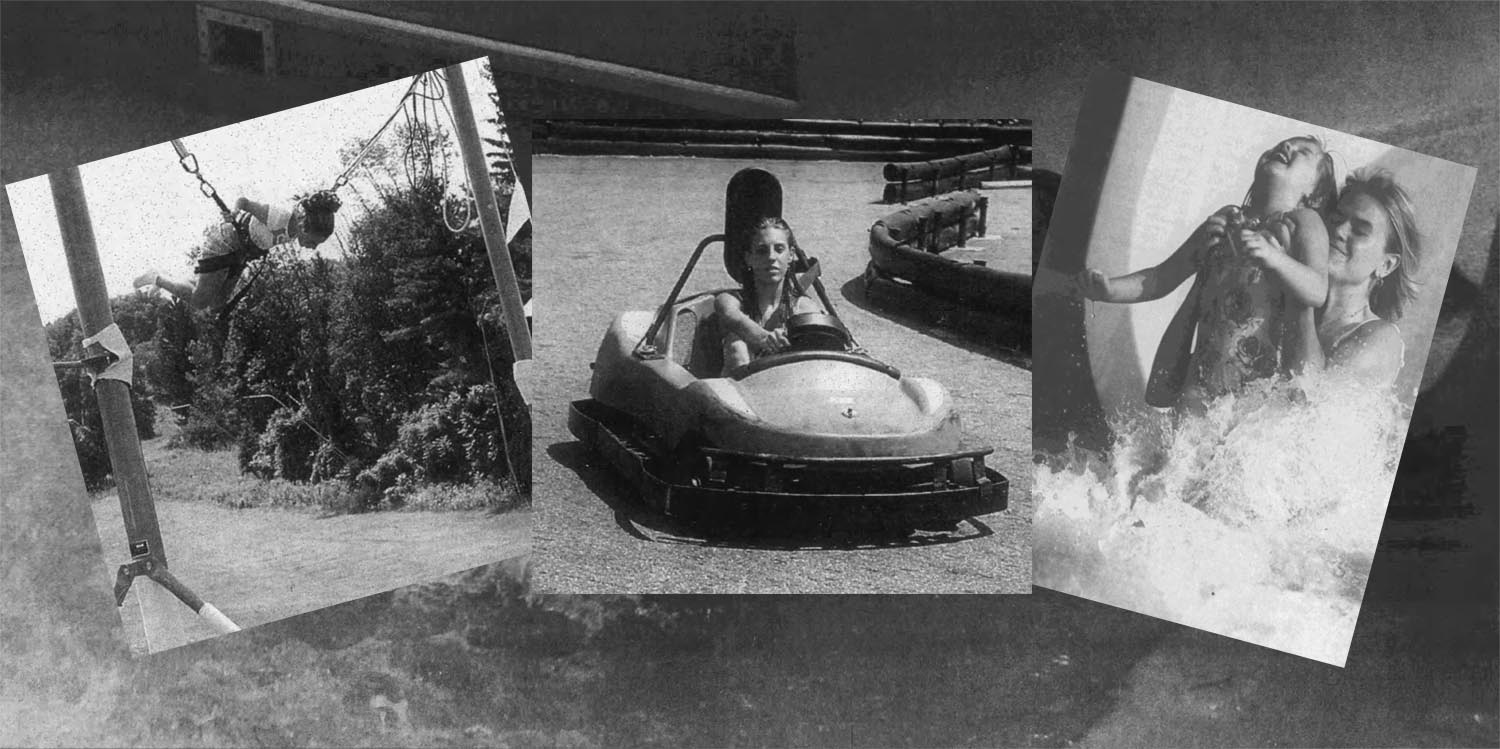 Summer activities at Bousquet during the early 2000s

The snowmaking system was rebuilt for the 1999-00 season, with pumping boosted to 1,000 gallons per minute. Unfortunately, the new-to-Bousquet diesel engine failed after only a few hours of operation, eventually resulting in a lawsuit and forcing Bousquet to rent replacement generators. Meanwhile, for the first time since the 1989-90 season, Bousquet's ticket price eclipsed the $20 mark, landing at $25 for a weekend day pass.

Around this time, land near the ski area was considered as a possible site for a new minor league baseball stadium. Unfortunately for Jervas and Pittsfield, the deal fell through and the Pittsfield Mets (and briefly Pittsfield Astros) relocated to Troy, New York. As the proposal began to fade, Bousquet offered to donate land for the construction of an ice arena.

Bousquet's diesel snowmaking engine was rebuilt in advance of the 2000-01 season, but once again failed during initial operation, sparking another lawsuit.

In 2001, word emerged that Jervas had been meeting with state officials to sell the underlying property to the state for a preservation and lease arrangement. In June 2002, the Massachusetts House Ways and Means Committee recommended a bill that included $3 million for the purchase of a 495-acre Bousquet tract and $2 million in funding for an ice arena. As part of the proposal, the state would provide Jervas with 25-year lease of the ski area. The deal did not come to fruition.

Circa 2002, a Hall double chairlift was purchased from nearby Eastover and was gradually installed at Bousquet.

The 2002-03 season was described by Jervas as "a bonanza year" thanks to above average natural snowfall. In January 2003, a potential condominium and hotel development at Bousquet began to be discussed in city government meetings, thanks in part to a potential water and sewer line extension. Jervas was quoted as saying the development, "was on the back burner after the market collapse, and then 9/11 came along and everyone wanted real estate in the Berkshires." By August, a 36-unit development began gaining local approvals.

Two magic carpet lifts were installed for the 2003-04 season, serving beginner and tubing terrain. Bousquet operated for 112 days, despite below average snowfall.

In May 2004, a new outdoor concert series called Berkshire Music Glen was announced with Bousquet as its venue. Organizers Gabe Fein and Lisa Willey-Fein hoped to replicate Donald Soviero's Music Inn shows from decades earlier, aiming for crowds of up to 5,000. Headlining bands that summer were the Doobie Brothers, KC and the Sunshine Band, the Marley Brothers, and the Neville Brothers. Actual crowds were closer to 1,000 to 2,000 and the Neville Brothers were moved to a smaller venue.

After multiple years of construction, Bousquet finally rolled out its new double chairlift for the 2004-05 season, serving novice to intermediate terrain and a terrain park. Ticket prices increased to $30, after half a decade at $25. Following in his father's footsteps, Steve McDermott was named ski school director.

In February 2005, the proposed condominium development was amended to become The Pines at Bousquet Mountain, to be located below the Drifter trail, with a footprint that included the former Lower Jewett trail and lower East Slope. As part of the proposal, the developer would finally extend municipal water and sewer to the ski area. Bousquet sold the land to the developer later that year for a reported $550,000 and construction started that summer. George Jervas told the Berkshire Eagle that, "Any way that I can keep the place alive, I will. I'm looking to slow down and get somebody to run the place."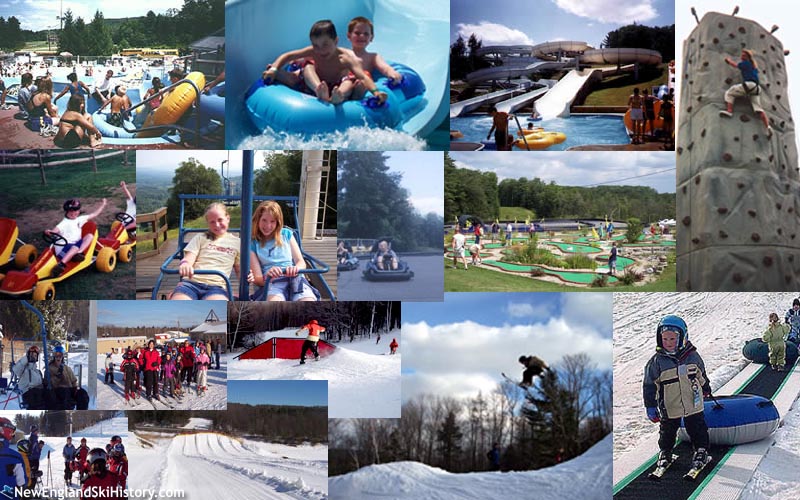 The early to mid 2000s at Bousquet

The 2005-06 season was warmer than normal, resulting in more reliance on snowmaking. The season spanned from early December to mid-March, but "was a different kind of year," according to Jervas. Off-season attractions at this point included the water park, miniature golf, a climbing tower, go-carts, and a new bungee trampoline. The area also hosted the Berkshire Spirit Fest, as well as numerous performances of the Robbins-Zust Family Marionettes.

The 2006-07 season kicked off on December 9th on manmade snow, but warm weather and rain devastated Christmas week business. With one early January day approaching 70 degrees, Bousquet was forced to shut down and wait for the return of snowmaking temperatures. High school racing did not commence until mid-January, while business was 30 to 35 percent worse than the poor 2005-06 season at that point. The season rebounded in mid-February, when a snowstorm allowed natural snow trails to open for the first time in two years. March business was not strong, resulting in Jervas to state, "we're still down 25 to 30 percent from last year, and last year sucked."

During the summer of 2007, Bousquet hosted the "News in Revue" sketch comedy group at what it called the "Mountainside Playhouse."

In September 2007, Patrick Muraca and Geometry Group Inc. entered into a purchase and sales agreement to acquire the ski area for Bousquet for $3 million. The amount was subsequently reduced to $2.7 million when the buyer discovered that the Drifter ski trail was not part of the property. In November, rumors of a mountain top real estate development emerged.

The 2007-08 season had a much stronger start, kicking off at the end of November and seeing 100% of the trails open before Christmas. Meanwhile, another land issue emerged with the planned sale of the ski area, as Bousquet had entered into a separate agreement preserving 80 acres on the ridge. Immediately following Christmas, George Jervas announced Bousquet was on the market again for $3.2 million. Jervas, 72, told the Berkshire Eagle that, "I had a stroke 2 1/2 years ago and I think my body's trying to tell me something. It's time to get out." The pending sale was terminated three days before the scheduled closing, resulting in Patrick Muraca and Geometry Group Inc. filing suit. Bousquet's ownership claimed the deal's $100,000 advance was used for operating expenses to start the season and was not refundable.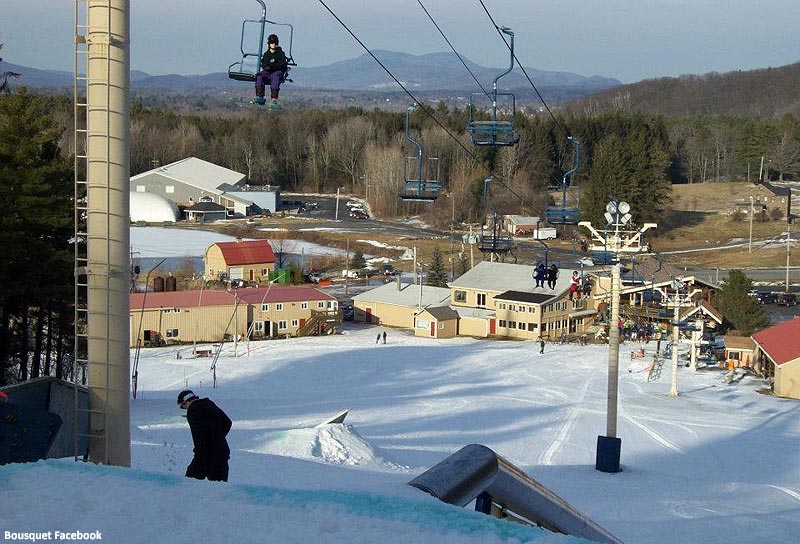 The base area (January 2012)

Bousquet managed to keep all of its trails open for much of the 2007-08 season, which lasted until late March.

Still ensnared in the lawsuit, Bousquet continued its normal summer activities and preparations for the 2008-09 ski season. Improvements included lodge renovations and acquisition of new rental equipment. Despite the uncertainty, season pass sales increased by 20%.

Thanks to a good snowmaking window, Bousquet's pre-Thanksgiving start to the 2008-09 was its earliest since the late 1990s. The first two months were neck and neck businesswise with the strong 2007-08 season.

November 2009 saw the loss of two legendary Bousquet figures. Former owner Russell Bousquet passed away on November 10 at the age of 84. Four days later, former ski school director Court McDermott passed away at the age of 78.

The two-season streak of November openings was snapped in 2009, as Bousquet opened in mid-December. The 2010-11 season started slightly earlier, but saw a 20% increase in business by the end of January.

A $200,000 investment was made in summer offerings in 2011, including an aerial adventure course, a 700-foot zipline, and a disc golf course.

RFID ticketing was added for the 2011-12 ski season, allowing for "flex" passes. A new snowmaking pipeline was also installed.

The 2011-12 season kicked off in mid-December, but was soon plagued by mild weather. The season came to a close over St. Patrick's Day weekend amidst summer-like temperatures, resulting in a 30 to 35 percent drop in business. Following the season, Bousquet obtained a flock of sheep and sheep to graze the ski slopes during the off-season in effort to reduce trail mowing costs.



Jervas Passes Away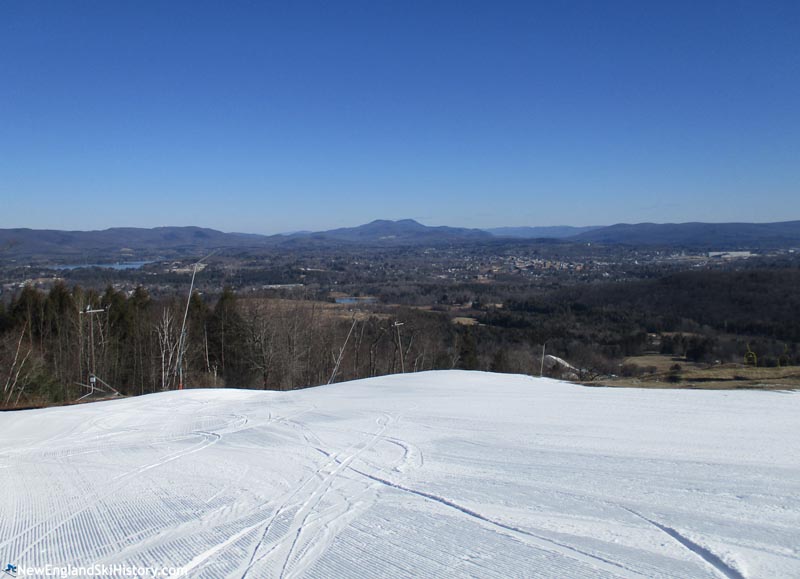 Mt. Greylock as seen from the top of the ski area (2016)

On August 20, 2012, owner George Jervas suffered a fatal heart attack while at work at Bousquet, passing away at the age of 76. Mayor Daniel L. Bianchi stated, "George was a real hands-on owner and operator. This will be a great loss."

His long-time partner Sherry Roberts inherited the ski area and was able to rally the troops to open the ski area for the 2012-13 season. Roberts vowed to keep Bousquet alive, stating, "We're just going to do all we can to make sure his legacy lives on."

The 2012-13 season had another slow start, kicking off just before Christmas. The first snow storm of note hit a few days after the holiday, helping vacation week business but not boosting the trail count out of the single digits.

The 2013-14 season enjoyed a nice start with a mid-December snow storm, but experienced a rollercoaster of temperatures in January.

Former owner Paul Bousquet passed away on New Year's Eve 2015 at the age of 85.

After 26 years at the area, including six seasons since the passing of partner George Jervas, Sherry Roberts put Bousquet on the market in early 2018. Roberts told the Berkshire Eagle that, "My commitment when George left was to keep the ski area running. My hope's that it will continue as a ski area."

The 2018-19 season was a particular struggle, as a snowmaking system issue delayed the area's opening until the second week in January.

Bousquet Rebuilt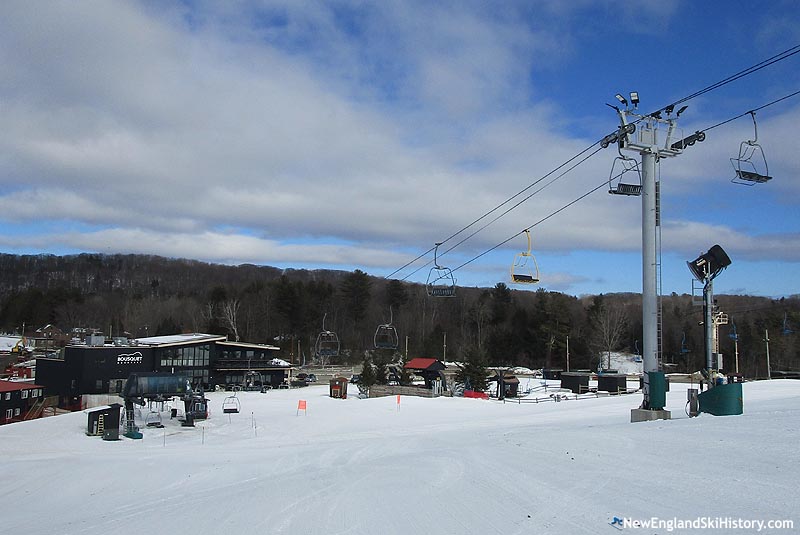 The triple chairlift and new lodge (March 2023)

Like most ski areas across the country, Bousquet shut down in mid-March due to COVID-19 pandemic concerns. In the midst of widespread shutdowns in the spring of 2020, Mill Town Capital acquired Bousquet, keeping the historic mountain in local hands. The owners of Berkshire East and Catamount were brought in to help transform and operate the area. Major investments were made that summer and fall, including massive snowmaking improvements and the replacement of the aging Summit Double with a more modern triple chairlift. Engineering issues delayed the lift's debut until February 15, 2021.

Major improvements continued in 2021, as a brand new base lodge was constructed. The area enjoyed its longest season in years in 2022-23, as it operated from November to April, despite struggles with mild temperatures.



NewEnglandSkiConditions.com Reports

Month
Average Percent of Terrain Open
January
48% (2 reports)
March
57% (3 reports)

-- start conditions table -->

Recent Conditions Reports

Mar. 8, 2023 by brianna
Packed Powder, Spring Snow
Mar. 8, 2023 by rocket21
Spring Snow, Spring Snow
Jan. 27, 2023 by indyskier29
Loose Granular, Ice
Jan. 2, 2023 by rocket21
Spring Snow, Spring Snow
Mar. 6, 2016 by rocket21
Loose Granular, Frozen Granular

Bousquet Mountain Ski Area on NewEnglandSkiConditions.com
NewEnglandSkiIndustry.com News
Recent Articles
Western Massachusetts Construction Ramps Up - Jul. 28, 2021
Mill Town Capital Continues Investments in Bousquet, Pittsfield - Jun. 15, 2021
Bousquet to Construct New Lodge - Apr. 22, 2021
New Bousquet Lift Opens; New Magic Lift Delayed Again - Feb. 18, 2021
Lift Construction Continues Mid-Season - Jan. 16, 2021
Lift Construction Season Heading into Home Stretch - Oct. 8, 2020
Hayfever Triple at Haystack to Be Removed - Jul. 27, 2020
Bousquet Mountain to Install Triple Chairlift - Jun. 15, 2020
Bousquet Mountain Sold - May. 29, 2020
Multiple Ski Areas Remain Closed as the New Year Approaches - Dec. 27, 2018
Bousquet Mountain Ski Area NewEnglandSkiIndustry.com News Page
Image Gallery
Lifts
Click on lift name for information and photos
Maps
Year by Year History
Adult Weekend Full Day Lift Ticket; Adult Full Price Unlimited Season Pass

2020s
Ticket Price
Season Pass Price

Pass Payback

Opening Day

Closing Day

Skier Visits

2022-23
$75.00
$599.00
8.0 days
November 25
April 2
2021-22
$72.00
$469.00
6.5 days
December 10
March 20
2020-21
$67.00
$449.00
6.7 days
January 9
March 21
2019-20
$47.00
$399.00
8.5 days
December 19
March 14
2010s
Ticket Price
Season Pass Price

Pass Payback

Opening Day

Closing Day

Skier Visits

2018-19
$47.00
$399.00
8.5 days
January 8
March 17
2017-18
$47.00
$399.00
8.5 days
December 20
March 31
2016-17
$45.00
$399.00
8.9 days
December 15
March 26
2015-16
$45.00
$399.00
8.9 days
January 6
March 13
2014-15
$45.00
$389.00
8.6 days
December 3
2013-14
$45.00
$375.00
8.3 days
December 12
March 29
2012-13
$42.00
$350.00
8.3 days
December 22
2011-12
$42.00
$350.00
8.3 days
December 14
March 18
2010-11
$37.00
$325.00
8.8 days
December 9
April 3
2009-10
$37.00
December 12
2000s
Ticket Price
Season Pass Price

Pass Payback

Opening Day

Closing Day

Skier Visits

2008-09
$40.00
$325.00
8.1 days
November 21
2007-08
$37.00
$325.00
8.8 days
November 30
March 29
2006-07
$32.00
$325.00
10.2 days
December 9
2005-06
$32.00
$325.00
10.2 days
December 8
2004-05
$30.00
$325.00
10.8 days
March 26
2003-04
$25.00
$325.00
13.0 days
December 6
March 28
2002-03
$25.00
November 29
March 30
2001-02
$25.00
December 23
2000-01
$25.00
November 24
1999-00
$25.00
$325.00
13.0 days
1990s
Ticket Price
Season Pass Price

Pass Payback

Opening Day

Closing Day

Skier Visits

1998-99
$20.00
1997-98
$20.00
November 15
1996-97
$20.00
November 16
March 23
1995-96
$20.00
$295.00
14.8 days
November 26
1994-95
$15.00
November 26
March 26
1993-94
$15.00
$275.00
18.3 days
November 27
April 3
1992-93
$15.00
November 21
April 11
1991-92
$15.00
November 30
April 5
1990-91
$15.00
December 15
March 10
1989-90
$24.00
November 25
1980s
Ticket Price
Season Pass Price

Pass Payback

Opening Day

Closing Day

Skier Visits

1988-89
$24.00
December 10
1987-88
$22.00
March 27
1986-87
$21.00
$290.00
13.8 days
1985-86
$18.00
December 6
1984-85
$16.00
November 23
1983-84
$16.00
April 1
1982-83
$16.00
March 6
1981-82
$15.00
April 11
1980-81
$15.00
$198.00
13.2 days
November 18
March 15
1979-80
$12.00
$180.00
15.0 days
December 15
March 23
1970s
Ticket Price
Season Pass Price

Pass Payback

Opening Day

Closing Day

Skier Visits

1978-79
$11.00
$165.00
15.0 days
December 16
March 11
1977-78
$10.00
$150.00
15.0 days
December 6
March 26
1976-77
$9.50
$150.00
15.8 days
December 17
March 27
1975-76
$9.00
$150.00
16.7 days
March 21
1974-75
$9.00
November 30
March 23
1973-74
$8.00
$125.00
15.6 days
December 15
1972-73
$8.00
$125.00
15.6 days
December 2
March 11
1971-72
$7.50
$100.00
13.3 days
November 27
1970-71
$7.00
December 12
April 4
1969-70
$7.00
December 16
April 6
1960s
Ticket Price
Season Pass Price

Pass Payback

Opening Day

Closing Day

Skier Visits

1968-69
$6.00
$75.00
12.5 days
December 14
March 30
1967-68
$6.00
$75.00
12.5 days
December 29
1966-67
$6.00
$75.00
12.5 days
December 17
March 31
1965-66
$6.00
$75.00
12.5 days
December 24
1964-65
$5.50
$75.00
13.6 days
March 6
1963-64
$5.50
$75.00
13.6 days
December 21
March 22
1962-63
$5.50
$75.00
13.6 days
December 15
1961-62
$4.00
$45.00
11.3 days
December 17
March 29
1960-61
$4.00
December 17
March 26
40,000
1959-60
$4.00
December 21
March 27
1950s
Ticket Price
Season Pass Price

Pass Payback

Opening Day

Closing Day

Skier Visits

1958-59
December 7
March 29
1957-58
$4.00
$40.00
10.0 days
December 14
April 5
35,000
1956-57
December 2
March 8
30,000
1955-56
November 27
March 31
1954-55
January 22
1953-54
$2.00
January 9
1952-53
January 3
1951-52
December 16
1950-51
December 30
1949-50
December 10
March 26
1940s
Ticket Price
Season Pass Price

Pass Payback

Opening Day

Closing Day

Skier Visits

1948-49
January 22
1947-48
December 27
March 14
1946-47
January 4
1945-46
$1.50
December 1
1943-44
November 27
1940-41
November 28
1930s
Ticket Price
Season Pass Price

Pass Payback

Opening Day

Closing Day

Skier Visits

1938-39
November 26
1937-38
$1.00
February 22
1936-37
March 16
April 4
1935-36
January 12
Visitor Memories
"Grew up in Pittsfield 3 miles from the mountain. Learned to ski there in 1969. Pass was 99.00 for season. Took my nephew to the top on chair when he was 2, tomorrow he turns 40 and enjoys jumping out of helicopters. Bousquet was a huge gift in my life for 16 years . I need to visit soon."
David Hunziker, Feb. 28, 2021
"Grew up in Pittsfield 3 miles from the mountain. Learned to ski there in 1969. Pass was 99.00 for season. Took my nephew to the top on chair when he was 2, tomorrow he turns 40 and enjoys jumping out of helicopters. Bousquet was a huge gift in my life for 16 years . I need to visit soon."
David Hunziker, Feb. 28, 2021
"I remember the Ski Trains; the station was down behind Lipton's. My Dad, Jack Seely and Warren Sears would pick up the donuts for Bousquet's and take me along during the asking attain days. I have skied 75 consecutive years at Bousquet's and looking forward to 76 years in January on my 78 Birthday! I certainly remember the Bousquet Tow Gripper and still have one!"
Bill Seely, Oct. 30, 2020
"This is where I learned to ski. We always had a good time. Need to get back out there again, just because....."
Jane Botelho, Feb. 7, 2018
"Wow. Memories. Worked fro Court McDermott , my mentor fro 1963 - 1976 ........had my infamous flip on March 12, 1967.. "
Jon Mahanna, Feb. 6, 2018
"I worked with George from the beginning for eight years and made a bunch of great friends George is missed"
Lawrence Lavelle, Jan. 2, 2018
"I grew up skiing and racing at bousquet, I'm now a back country guide for steamboat Powdercats. Great memories of friends!"
Kyle Pietras, Mar. 8, 2016
"growing up in Pittsfield in the 70's I could see Bousquet from my bedroom window. First place I ever skied and continue to do so to this day. Will always support Sherry and Bousquet."
Bill O'Gara, Mar. 8, 2016
---
External Links
Bousquet Mountain - official site
Last updated: October 10, 2023