Barrett Mountain Ski Area
New Ipswitch, New Hampshire
Proposed in the 1960s

Overview
While Barrett Mountain is perhaps best known for being home of the Windblown Cross Country ski area and the Wapack Trail, it nearly became an alpine ski area in the 1960s.

At the peak of the New England alpine ski boom, 17 year old Al Jenks purchased over 400 acres of land in New Ipswich in 1963 with plans to build an area of his own. Tentative plans included two T-Bars and a rope tow on 1,853 foot Barrett Mountain. Drawing inspiration from Temple Mountain to the north, the ski area would have had a vertical drop in the vicinity of 500 feet.

Jenks' alpine ski area plans were delayed for a few years, however, as he attended Paul Smith's College in New York, where he became involved in cross country skiing. After college, he served in the Army in Vietnam.

Upon returning from Vietnam in 1969, the alpine ski industry had changed dramatically, with chairlifts and snowmaking installations becoming costly prerequisites for sustainable operations. As a result, Jenks decided to pursue building a nordic ski area. The Windblown Touring Center opened in 1972. Jenks and his family have operated the nordic ski area ever since.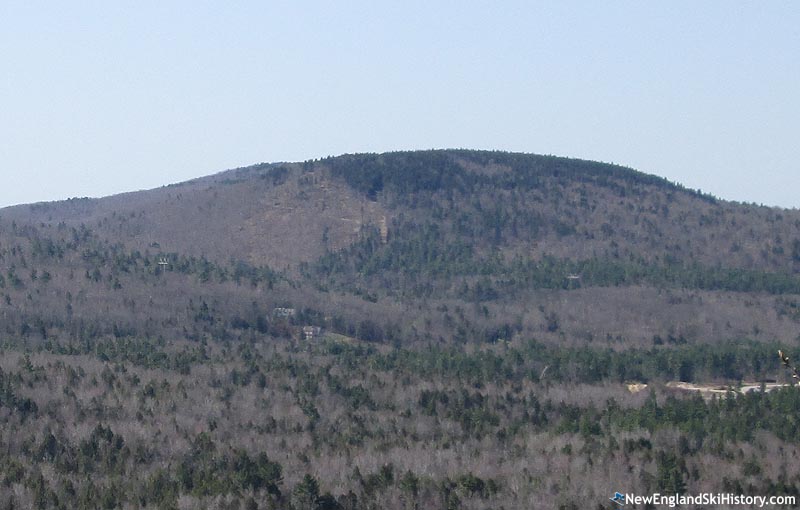 Barrett Mountain as seen from the south face of Temple Mountain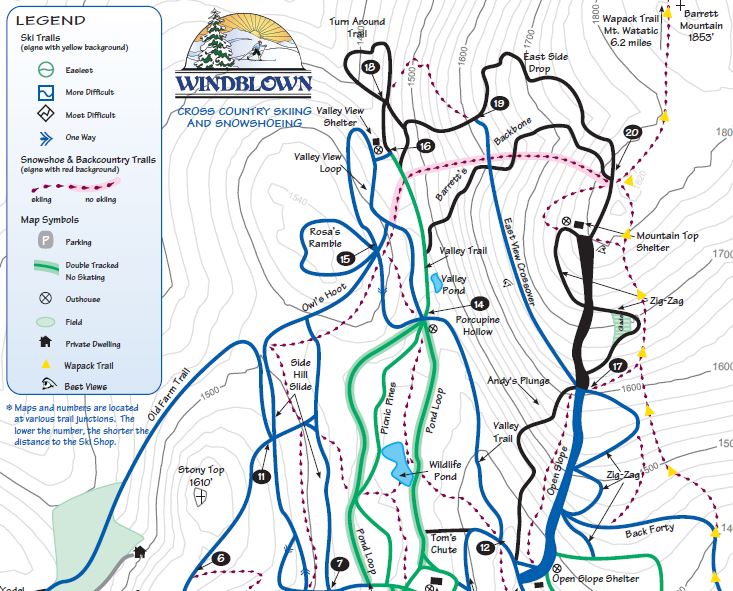 The 2011 Windblown trail map



Today
Many of Windblown's cross country ski and snowshoe trails are located on the side of Barrett Mountain.

Quotes

| | | |
| --- | --- | --- |
| " | The widening base of clientele may be good for business, but it probably isn't anything close to what Jenks envisioned in 1963, when an Acton, Mass., native, then just 17, used what he had saved and what he could borrow from his grandfather to buy more than 400 acres of land in New Ipswich, much of it vertical. | " |
| | Gary Fitz, Nashua Telegraph, January 18, 1987 | |
| | | |
| --- | --- | --- |
| " | Some of it had to do with my Army experience. I wanted to keep it low key, not so mechanized. The other thing is, the small mom and pop ski areas were on their way out. It takes a massive infusion of capital for snow making and heavy grooming equipment just to get started. | " |
| | Al Jenks, 1987 | |
Resources
Windblown Cross Country Skiing and Snowshoeing - official site
Fitz, Gary. "Windblown Touring center's out of the woods and into skiers' hearts." Nashua Telegraph. 18 Jan. 1987.
Last updated: February 15, 2016