Cold Hollow Mountain
Bakersfield, Vermont
Proposed in the 1960s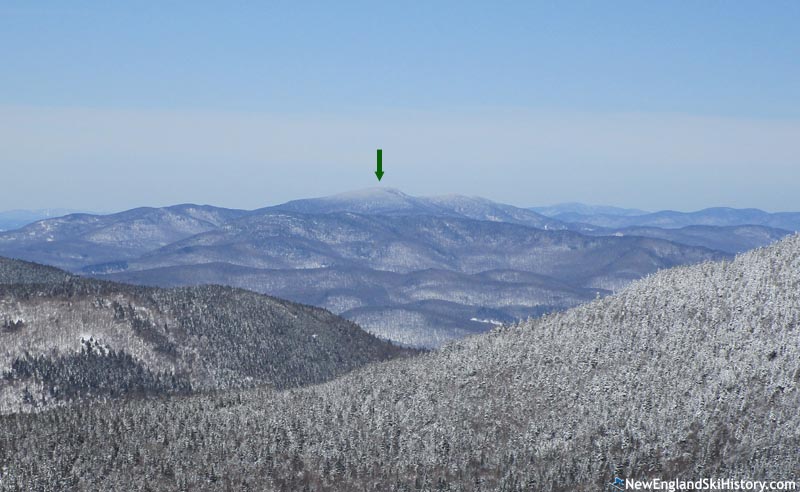 Cold Hollow Mountain as seen from Smugglers Notch (2023)
Overview
Located between Smugglers Notch and Jay Peak, the Cold Hollow Mountain range was the site of a proposed ski area in the 1960s.

Word of the proposed ski area hit the newspapers in early 1961, when Vermont Lake and Mountain Land Company of Montreal Canada announced it had acquired an option to 3,000 acres in the Avery's Gore section of Cold Hollow Mountain, including 2,000 acres owned by Sweat Comings Furniture Company and the 673 acre Malone farm. The land ranged from 1,000 feet in elevation to the 3,327 foot highpoint of the range. Corporate president Benjamin Ferguson stated, "we have had two leading ski experts checking the layout with regard to snow conditions and terrain. They have confirmed it's a most desirable ski location." The consultants were later revealed to be ski pioneer Herman Smith-Johannsen and his son Robert.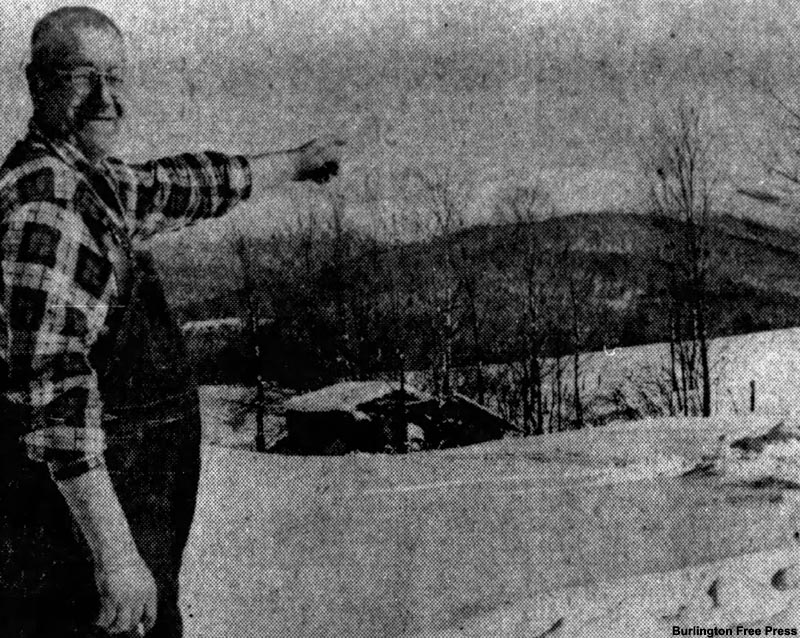 Barney Malone at his property in March 1961

Vermont Lake and Mountain Land Company acquired Barney Malone's 673 farm in March. Company treasurer John Pontbriand travelled from Montreal and stated, "All our plans at this moment are tentative of course. We hope to make this area a year-round sports center. We will cater to summer and winter visitors alike. We hope to eventually have a restaurant atop the highest peak with guests riding to the top in the chair lift. Later, we hope to have a swimming pool in a recreation area at the base of the range. These are our dreams at the moment."

In June 1961, Vermont State Representative Alcide Murcury of Bakersfield introduced a resolution calling for construction of an access road to the proposed ski area. Around this time or soon thereafter, the town of Bakersfield approved a proposal to keep the development's tax appraisal flat for ten years.



1962 rendering of Cold Hollow Mountain ski area

On May 1, 1962, Cold Hollow Corporation was incorporated by Walter Downes of the Canadian Stock Exchange, Montreal investment banker John Pontbriand, Essex Junction Village President George Anderson, former St. Albans mayor James Malloy, and Vermont Forest and Parks Commissioner Perry Merrill. The group stated that its plans were to focus on the Montreal market. Merrill declared, "This should be just about the only ski development in Vermont with four different exposures, giving us good skiing on some slope at all times."

Merrill's involvement created a firestorm, as Vermont Governor F. Ray Keyser made a conflict-of-interest referral to the Attorney General, calling the commissioner's involvement in the corporation "ill-advised." Keyser added that, if a conflict was declared, Merrill "would have to make a choice to continue as an incorporator or as a forest and parks commissioner." Merrill defended his involvement as being in name only for "prestige purposes" to help launch the operation and that he had not invested any money. Developer Walter Downes claimed Merrill joined when the foreign group needed two Vermont citizens to sign the incorporation papers. The Attorney General subsequently cleared Merrill of conflict of interest concerns. Cold Hollow vice president George Anderson fought back, saying Governor Keyser was "acting like a schoolboy" and that the probe had "left a bad taste in the mouths of Canadian financiers."

In August, Downes, Pontbriand, Malloy, and George Anderson incorporated Cold Hollow Estates to acquire, hold, and develop lands in the area.

In October, the Cold Hollow Corporation held an open house, inviting people to walk the woods roads to see the area's potential. Area residents reportedly offered their services in exchange for shares of stock.

In the spring of 1963, legislation moved forward to have the state construct an access road to the new ski area. One requirement was that $300,000 had to be invested in the area and a chairlift ordered before road construction could start.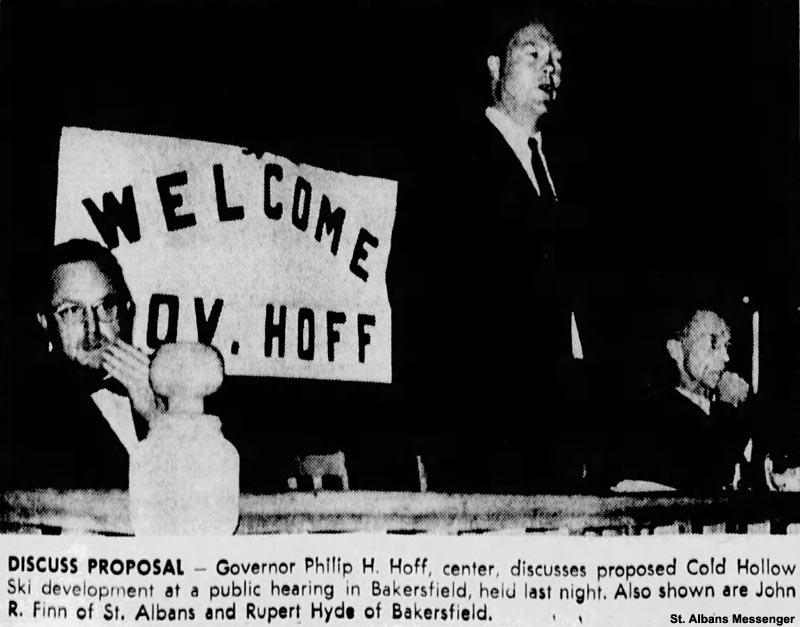 Governor Philip Hoff

In May 1963, Governor Philip Hoff and Perry Merrill spoke to a crowd of 150 people at the initial stock offering, predicting the development would be a successful venture. At a $10 per share price, the offering had to reach $300,000 by July 1964 or else the funds would be returned to investors. At this point, plans for the 3,300 acre development included a lodge, a T-Bar, and a chairlift.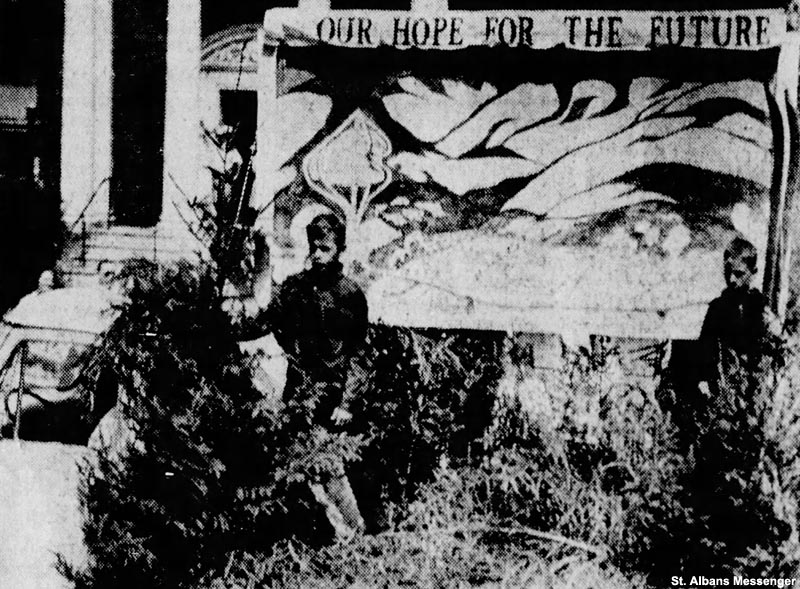 Cold Hollow Mountain parade float in 1963

Local enthusiasm for the project continued, as a Cold Hollow Ski Development float appeared in a July parade in Swanton. Reverend George St. Onge emerged as a force in the project, similar to his involvement in Jay Peak. However, with no visible progress by late fall, cynicism emerged, as the president of the Franklin County Development Association suggested "this Corporation has used us somewhat."

Circa January 1964, director James Malloy was appointed by Governor Hoff to the new Vermont Passenger Tramway Board, despite there being no lifts at Cold Hollow. Meanwhile, legislation was filed to extend the access road offer for another year. Nevertheless, the project was starting to unravel.

Appearing at a Franklin County Development Association meeting in January 1964, George Anderson admitted that only $2,000 to $3,000 of stock had been sold and no ski trail or base area preparation work had been conducted. Concerns were raised about an apparent plan for the principal shareholders to retain the valuable base area land. Word also emerged that Perry Merrill had left the company and transferred his interest to the other partners.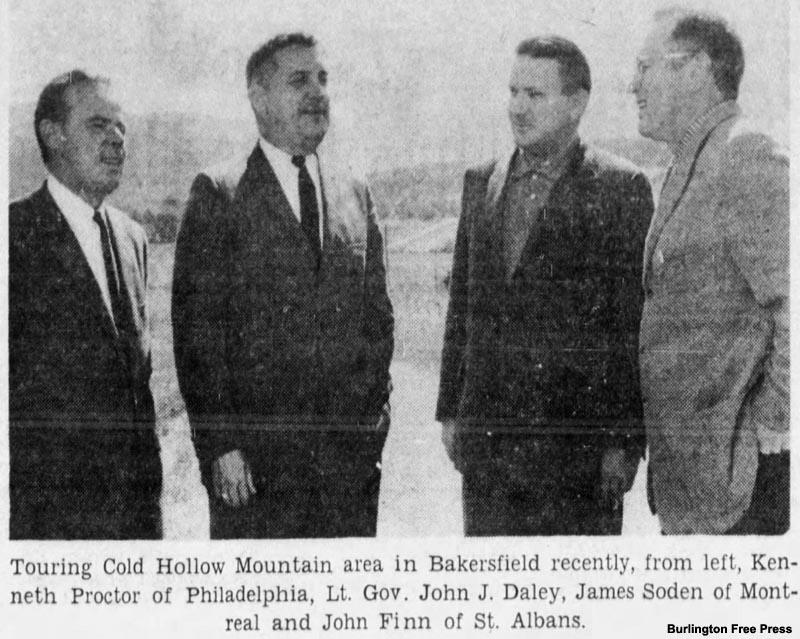 Lt. Governor John Daley

After a period of inactivity, word emerged in March 1965 that new financial partners had been found. Later that spring, the Cold Hollow Conservation Corporation was formed with Frederick Frankel (director of the recently constructed Camelback ski area in Pennsylvania) as president, Kenneth Proctor (assistant to the president of Camelback ski area) as vice president, and James Soden as chairman of the board. Snowden told the Burlington Free Press, "We have no plans for the area. Our first step will be to bring in experts in the recreation field - and I am not emphasizing skiing - to see what the best use will be." The group met with Lt. Governor John Daley at the site that summer.

In January 1966, chairman James Soden announced he had resigned from the corporation. In February, Kenneth Proctor, now serving as president of cold Hollow Conservation Corporation, announced that "the company has no development plans beyond our tree harvest and stand improvement." Proctor added, "An expert has confirmed our conviction that skiing is not feasible on our Cold Hollow property and we are quite content with our holding as it is."

Today
There are no known remains of the Cold Hollow Mountain ski area proposal.

Last updated: March 21, 2023