| | |
| --- | --- |
| | |
Located near the Canadian border, Jay Peak is one of the highest peaks in Vermont at 3,858 feet in elevation.


The Early Years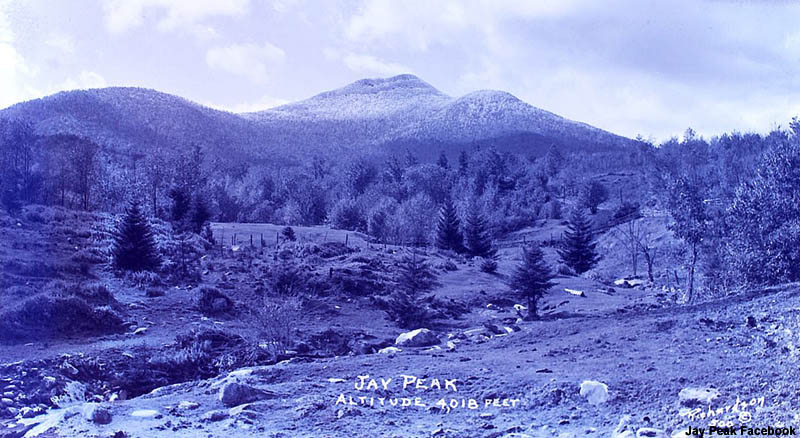 Jay Peak before alpine skiing

Skiing on Jay Peak dates back to at least the winter of 1932-33, when a group of young boys made winter trips to the mountain. Their downhill trip was described as "one mad scramble for when they could not ski, they fell and rolled down till it was possible to make a fresh start."

In 1937, the St. Albans Messenger reported that "Canadians cannot understand why somebody has not opened the Jay Peak slopes to skiing."

The Jay Peak Outing Club was founded circa 1939, with A.C. Utton serving as the first president. A jump and slope were likely in use during the winter of 1939-40, which culminated in a winter carnival. For the winter of 1940-41, a slope was lit for night skiing near the Canadian Pacific Railroad station (known as Huckins' Slope). The second annual winter carnival drew 4,500 people, increasing the momentum of a winter sports development.

Following the 1940-41 season, a committee was formed for the development of a ski tow. Though there was continued talk of developing a ski area on Jay Peak proper, the lack of a proper road deferred action. The Jay Peak Outing Club continued operating during the winter of 1941-42, drawing 4,000 attendees to the winter carnival, but soon dissolved due to World War II.

The concept of a ski area on Jay Peak was kept alive in subsequent years, as the Newport Daily Express editorial page continued to beat the drum, while State Forester Perry Merrill of Montpelier provided motivation.

On May 28, 1953, Governor Lee Emerson approved the creation of a Jay Peak Commission, which was led by Senator Fred B. Crawford of Newport and included Perry Merrill. In June 1954, the state acquired 1,975 acre of land on Jay Peak and Big Jay for $7,850. At the end of the year, the commission recommended a $55,000 appropriation for the development of facilities at Jay Peak, including the construction of a ski trail. In January, Governor Joseph Johnson recommended only $10,000 for the project.



Jay Peak, Inc.

Circa April 1955, the creation of Jay Peak, Inc. was spurred by the North Troy Kiwanis Club, with Harold Haynes serving as President. A native of Poultney, Vermont, Haynes was an alumnus of the University of Vermont who was heavily involved in the North Troy area, including teaching high school vocational agriculture, owning a real estate company, and being involved in civic organizations.

With Burke Mountain preparing for construction, Haynes was able to meet with a representative of Poma in July 1955 to discuss initial lift plans for Jay Peak. Meanwhile, state geologist Charles Doll provided the group with a special map of the Jay Peak area.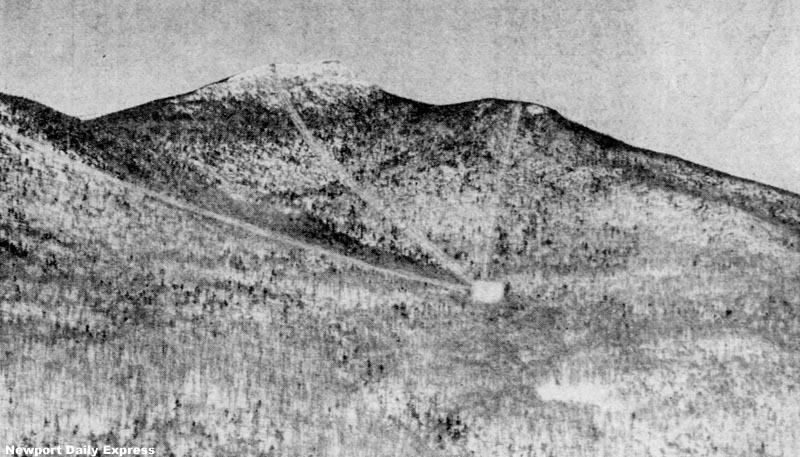 A 1956 rendering of the Jay Peak ski area proposal

Efforts to procure land for a Jay Peak state park moved forward in the fall, when the Choquette family donated an important tract of land to the state. In November, Jay Peak, Inc. announced it would be increasing its capitalization from $5,000 to $50,000 via the sale of stock, and would be hiring Charlie Lord determine the best place to locate ski trails. A native of Stowe, Lord had laid out trails that became the basis for Stowe Mountain Resort and subsequently served as general manager of Mad River Glen before returning to work at Stowe.

Lord's survey cited Jay Peak as having excellent skiing potential with good natural snowfall and favorable topography. The largest problems identified were the lack of roads to the area and subpar housing. Lord's plans called for three ski lifts to be constructed from the present-day Stateside base area, serving a 1,350 foot vertical drop. The project carried a motto: "For Thrills Unique - Ski Jay Peak." Overall plans called for $2 million of investment over five years. Paul St. Marie and Reverend George St. Onge held numerous events to attract stockholders.

In January 1956, six towns (Berkshire, Enosburg, Montgomery, Richford, Troy, Westfield) agreed to fund the reconstruction of a partially-abandoned highway from the south to Jay Peak. Governor Joseph Johnson broke ground on the new project amid 90 degree heat on June 13, 1956.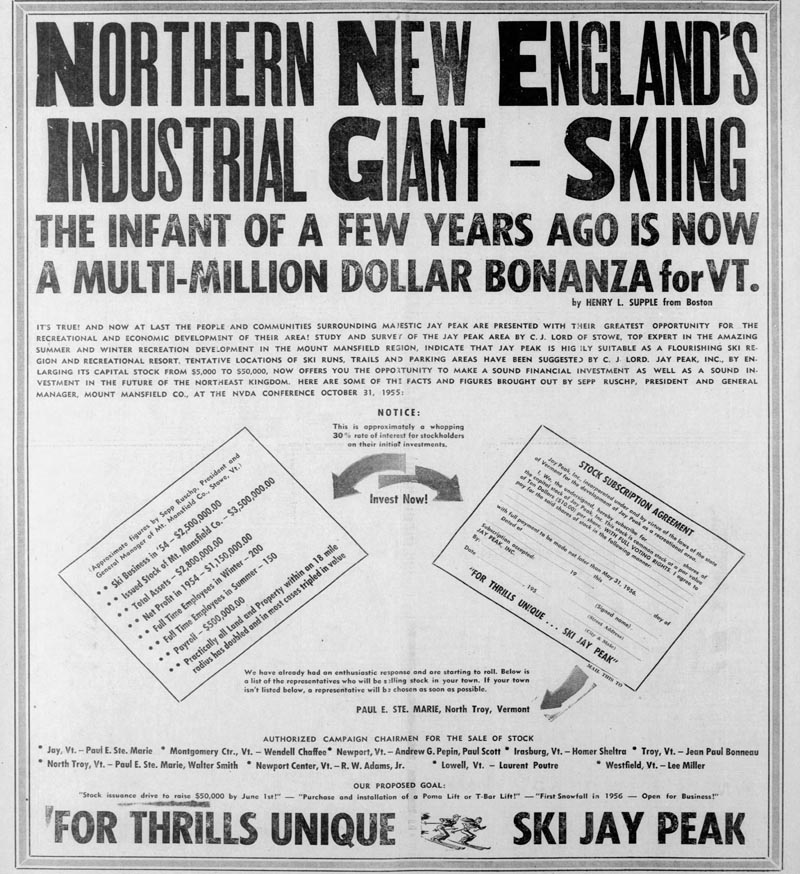 A 1956 Jay Peak advertisement

Passing $40,000 in the sale of stock, Jay Peak, Inc. voted in early February to increase its capitalization to up to $250,000, setting a June 1 goal for $150,000. However, as of early June, only $42,000 had been raised.

Jay Peak, Inc. started signing contracts in July, including a $22,800 agreement with Poma for a 1,800 foot long Pomalift and a contract with Richard Pope to clear the trails. Pope's crew made quick work of the project, completing the liftline and parking lot clearing by mid-July.

As the fall arrived, Avon Atkins Construction Company, which had installed the Burke Pomalift the prior year, began constructing footings for the lift. Don McNally, manager of a local drive-in movie theater, was named general manager of the ski area in mid-October. Soon thereafter, the Pomalift components arrived at Jay Peak. Meanwhile, the state was making progress in the construction of a 20 by 60 foot base lodge.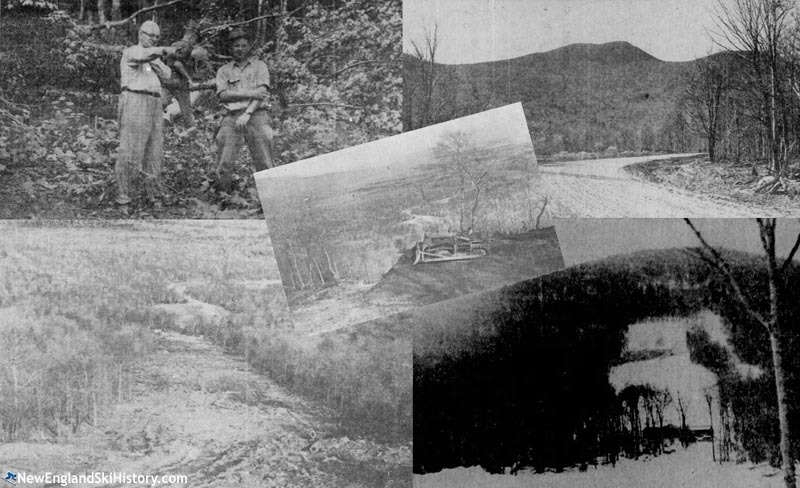 Construction of Jay Peak (1956)

On November 1, 1956, Jay Peak, Inc. announced that 38-year-old former Austrian ski racer Walter Foeger would be operating the ski school. Meanwhile, a battle over electricity erupted when Jay Peak sought to use Citizens Utilities Co. of Newport as its electric distribution utility, even though the adjacent area was served by Vermont Electric Cooperative. The state eventually allowed Citizens Utilities to serve the new ski development, provided it did not compete with Vermont Electric Cooperative in the area.

The new Richford to Jay Peak road was dedicated in the midst of an early snowstorm on November 11, 1956, with Governor Joseph Johnson and Congressman Winston Prouty on hand. A few days later, Bernard Pomagalski arrived to assist with the installation of the Pomalift.



Jay Peak Opens

The electric line extension was reportedly completed in mid-December, though a diesel generator was initially used to power the lift. Though this meant the lift could operate, there was not enough snow. A few inches fell at the end of the month, but blew away before it could be packed. As a result, a makeshift snow fence was constructed from Christmas trees. A few days later, a six inch snow storm provided the base needed, resulting in the lift spinning on January 6. The two trails served by the lift were the practice slope and Sweetheart. Corresponding with the opening of the ski area, the Jay Peak Ski Club was founded.

The area found itself in need of more funds after its initial season, attempting a $30,000 stock sale to pay off debt and continue trail development. By the time its second season rolled around, the Poma lift had been extended (to an advertised 1,500 vertical feet), 5 trails were now open, and plans were developed for night skiing and a chairlift.

The 1960s would be a huge decade for Jay Peak, starting with the installation of its first chairlift, the Bonaventure, for the 1960-61 season. With this chairlift, Jay now sported a vertical drop of 1,700 feet.


To The Summit!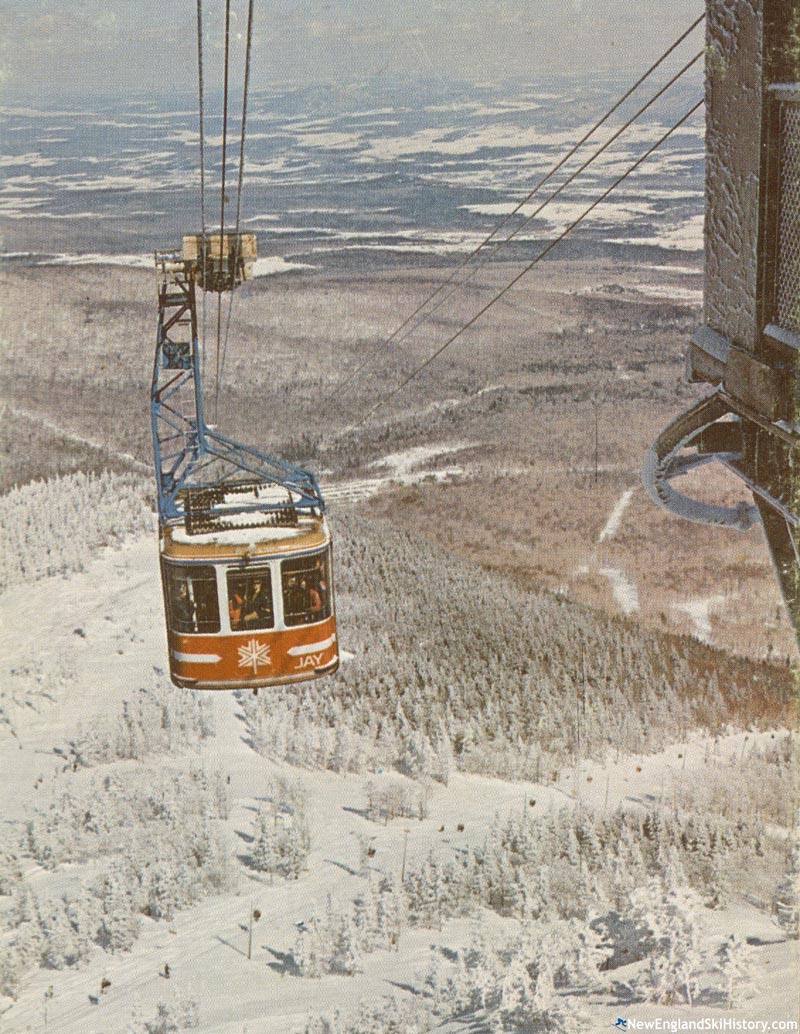 The Tram circa the late 1960s or 1970s

The summit was opened via an upper mountain double chairlift for the 1965-66 season, increasing the area's vertical drop over 2,000 feet. That January, shareholders of Jay Peak, Inc. agreed to sell shares to timber giant Weyerhaeuser Co., in order to finance a large expansion. Shortly thereafter, a $2.5 million expansion project was announced.

The centerpiece of the expansion was a 2,050 vertical foot Von Roll tramway, which ensured major resort status. The 60-passenger tram was advertised as providing a 5 minute ride to the summit. In addition to the tram, a summit lodge was built, as well as a night club in the base area.

Due in part to friction with the new corporate ownership, Walter Foeger formally left Jay Peak after the 1967-68 season and was replaced as ski school director by George Stepanek (who had developed the Natur Teknik ski school at Thunder Mountain, MA two years earlier).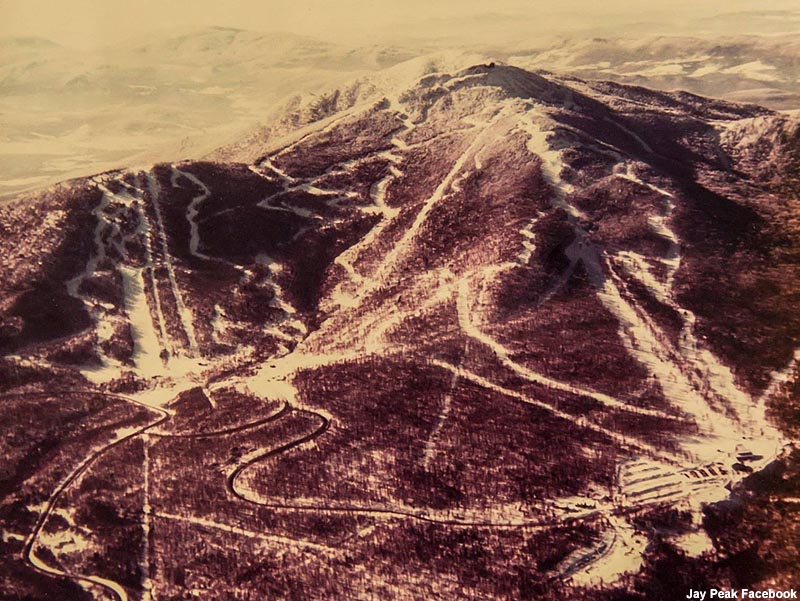 Jay Peak circa the 1970s

The Hotel Jay opened in 1974, providing 48 slopeside rooms for guests.

Weyerhaeuser Co. sold Jay Peak to the owners of Mont Saint Sauver in 1978. In 1985, Mont Saint Sauveur International (MSSI) recruited Jack Frost General Manager Bill Stenger to run Jay Peak.

In September 1996, MSSI announced its intention to sell Jay Peak. In November 1997, MSSI announced it had entered into an agreement to sell the ski area to Lifestyle Resorts International of Ontario, with Stenger remaining the resort's President. The deal fell through in January 1998 due to financing issues.

Seeking to boost the resort, MSSI installed Jay Peak's first high speed chairlift in 1999, The Green Mountain Flyer.



New Ownership and EB-5

MSSI's principle shareholder Jacques Hebert passed away on March 17, 2006, resulting in even more pressure to sell Jay Peak. In December 2006, the $17.5 million Jay Peak Hotel Suites EB-5 project was launched. Under the EB-5 program, a foreigner can invest $1 million in an approved United States business (which must then create jobs), in exchange for a green card. With the Northeast Kingdom labeled a Targeted Employment Area, the minimum investment is cut in half to $500,000, making participating rural businesses such as Jay Peak more attractive.

In 2007, MSSI reportedly reached an agreement to sell Jay Peak to Taihan Electric for $32 million, however the deal fell through. Stenger then reportedly urged Ariel Quiros to purchase the ski resort.

Starting in January of 2008, Stenger operated Jay Peak for Quiros's Q Resorts while a final sale agreement was arranged. In June 2008, Q Resorts acquired Jay Peak for $15 million plus the assumption of $8.5 million in debt. As part of the agreement, Stenger would allegedly earn a 20% ownership stake after five years.



The expanded Jay Peak base areas (2015)

With the EB-5 funds, a $120 million development was started. On December 18, 2009, Jay Peak's first big EB-5 project, the 57-suite Tram Haus Lodge, opened. The following June, the Ice Haus (an indoor skating rink) and Golf Clubhouse both debuted.

Ground was broken for a new hotel and water park on July 7, 2010. That winter, Jay Peak added new snowguns and an RFID lift ticket system.

In December 2011, Jay Peak held the grand opening for its new $27 million indoor water park, called the Pump House. The new Hotel Jay debuted shortly thereafter.

In spring 2012, Ariel Quiros purchased Burke Mountain Resort. That off-season, a new learning center, magic carpet, and fixed grip quad were added at Jay Peak.

Work commenced in the spring of 2013 on a new base lodge and chairlift in the Stateside area. While the chairlift was expected to be a high speed detachable six pack, plans were later scaled back to a slight relocation of the existing fixed grip quad. Phase 2 was later postponed.


The Government Takes Over Jay Peak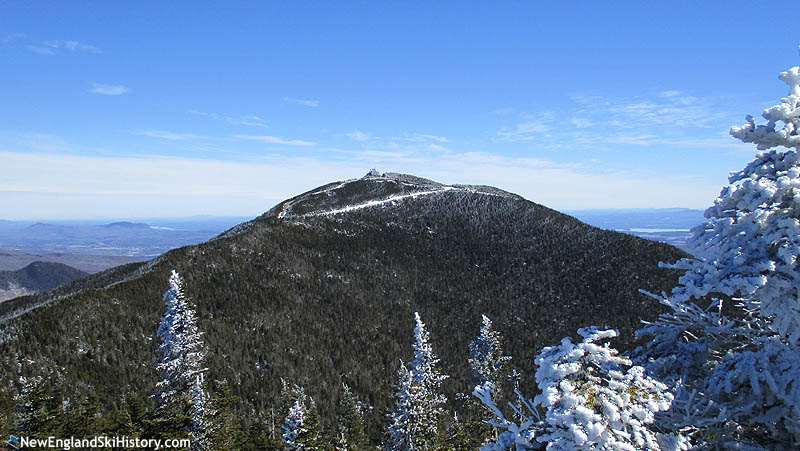 Jay Peak as seen from Big Jay (2016)

On April 13, 2016, the Securities and Exchange Commission took over Jay Peak, amid accusations that owners Ariel Quiros and Bill Stenger ran a Ponzi-like scheme that defrauded EB-5 investors. According to the complaint, some $200 million of EB-5 funding was misused.

Following the SEC raid, the government installed Michael Goldberg as the receiver and Leisure Hotels and Resorts of Kansas City as the operator of Jay Peak and Burke.

After the end of the 2015-16 ski season, the Vermont Passenger Tramway Division closed the Jay Peak Aerial Tramway, citing the need for repairs and upgrades. The lift reopened for the 2016-17 season and underwent a multi-million dollar renovation project in 2017.



NewEnglandSkiConditions.com Reports

Month
Average Percent of Terrain Open
December
50% (2 reports)
January
96% (5 reports)
February
74% (5 reports)
March
100% (3 reports)
April
71% (11 reports)
May
23% (2 reports)

-- start conditions table -->

Recent Conditions Reports

Apr. 21, 2023 by tuckers
Spring Snow, Spring Snow
Apr. 17, 2023 by skiit
Spring Snow, Frozen Granular
Apr. 16, 2023 by rocket21
Spring Snow, Spring Snow
Apr. 16, 2023 by skiit
Spring Snow, Loose Granular
Apr. 15, 2023 by skiit
Spring Snow, Loose Granular

Jay Peak Resort on NewEnglandSkiConditions.com
NewEnglandSkiIndustry.com News
Recent Articles
Pacific Group Resorts Completes Acquisition of Jay Peak - Nov. 2, 2022
Judge Approves Jay Peak Sale to Pacific Group Resorts - Sep. 17, 2022
Pacific Group Resorts Places Highest Bid for Jay Peak - Sep. 8, 2022
Jay Peak Sale Process Kicks Into Gear - Aug. 2, 2022
Former Jay Peak Owner Sentenced to Prison - Apr. 29, 2022
Former Jay Peak CEO to Sentenced to 18 Months in Prison - Apr. 14, 2022
Former Jay Peak CEO to Plead Guilty - Aug. 11, 2021
Former Jay Peak Owner Pleads Guilty to Federal Charges - Aug. 14, 2020
Former Jay Peak Owner to Plead Guilty - Jul. 11, 2020
Former Jay Peak, Burke Owners Indicted - May. 22, 2019
Jay Peak Resort NewEnglandSkiIndustry.com News Page
Expansion History
Image Gallery
Lifts
Click on lift name for information and photos
Maps
Year by Year History
Adult Weekend Full Day Lift Ticket; Adult Full Price Unlimited Season Pass

2020s
Ticket Price
Season Pass Price

Pass Payback

Opening Day

Closing Day

Skier Visits

2023-24
$125.00
$1143.74
9.1 days
November 24
2022-23
$109.00
$1133.14
10.4 days
November 25
May 7
2021-22
$96.00
$1101.34
11.5 days
November 26
May 14
2020-21
$92.00
$1090.74
11.9 days
November 27
May 1
2019-20
$89.00
$1019.00
11.4 days
November 22
March 14
2010s
Ticket Price
Season Pass Price

Pass Payback

Opening Day

Closing Day

Skier Visits

2018-19
$89.00
$1058.94
11.9 days
November 23
May 5
2017-18
$84.00
$1027.14
12.2 days
November 17
May 6
2016-17
$82.00
$974.14
11.9 days
November 25
May 1
2015-16
$79.00
$974.14
12.3 days
November 27
May 1
2014-15
$72.00
$952.94
13.2 days
November 21
May 3
2013-14
$69.00
$952.94
13.8 days
November 23
May 11
2012-13
$69.00
$952.94
13.8 days
April 28
2011-12
$75.00
November 25
April 29
2010-11
$69.00
November 26
May 15
2009-10
$67.00
December 5
May 2
2000s
Ticket Price
Season Pass Price

Pass Payback

Opening Day

Closing Day

Skier Visits

2008-09
$65.00
2007-08
$62.00
May 4
320,000
2006-07
$59.00
2005-06
$58.00
April 22
2004-05
$56.00
2003-04
$54.00
November 22
2002-03
$53.00
$577.50
10.9 days
November 23
300,000
2001-02
$52.00
November 23
2000-01
$49.00
$798.00
16.3 days
November 24
April 29
1999-00
$49.00
$798.00
16.3 days
1990s
Ticket Price
Season Pass Price

Pass Payback

Opening Day

Closing Day

Skier Visits

1998-99
November 27
1997-98
$42.00
$475.00
11.3 days
November 22
1996-97
$40.00
1995-96
$38.00
November 18
190,000
1994-95
$37.00
April 17
1993-94
$35.00
1992-93
$35.00
1991-92
$34.00
1990-91
$32.00
November 15
1989-90
$31.00
1980s
Ticket Price
Season Pass Price

Pass Payback

Opening Day

Closing Day

Skier Visits

1988-89
$29.00
November 24
April 30
1987-88
$28.00
1986-87
$26.00
1984-85
$22.00
$399.00
18.1 days
November 22
1983-84
$21.00
$295.00
14.0 days
November 18
1982-83
$20.00
$379.00
19.0 days
April 17
89,000
1981-82
$18.00
1980-81
$18.00
1970s
Ticket Price
Season Pass Price

Pass Payback

Opening Day

Closing Day

Skier Visits

1978-79
$13.00
December 16
1977-78
$13.00
December 10
1976-77
$11.00
November 25
1975-76
$10.00
$200.00
20.0 days
December 23
1974-75
$9.50
December 20
1973-74
$8.50
1972-73
$8.00
1969-70
$8.00
1960s
Ticket Price
Season Pass Price

Pass Payback

Opening Day

Closing Day

Skier Visits

1967-68
November 18
1966-67
$7.00
1962-63
$5.50
1961-62
$5.00
December 16
April 28
1960-61
$5.00
1959-60
$4.50
1950s
Ticket Price
Season Pass Price

Pass Payback

Opening Day

Closing Day

Skier Visits

1956-57
January 6
Visitor Memories
"I just came across this after spending the afternoon watching ski videos on you tube.I was a Ski instructor at Jay in the early years, but not the earliest. I think I was the youngest in the ranks at 18.George Stepanek was director,or Steponyourneck as we called him.On days when we did not have a class assigned he would March us up the mountain in single file in Czech military fashion.Us cursing his name with every poke of the pole. Then we would ski down the mountain in perfect formation to fly the flag. I met so many amazing skiers in those days. From all,over the world.Kozo,Wolfgang,Dean,Dana,Franz, so many more. I am Canadian,so I have no access at the moment but I hope to return soon. I learned to ski there and hope to return some day. ."
Neil Stewart, Jan. 14, 2022
"My family, led by my dad Dr. William Towle, a Richford dentist, started skiing at Jay Peak in the mid-1960s, maybe even a bit earlier. My older brother Andy and I both raced for the Jay Peak ski team between about 1969 and 1972 as did some other Richfordites, most noticeably David Donahue during the late 1960s. Dave was one of the top racers in the state (also a terrific golfer) and went on to great success at the University of Vermont, where I believe he earned All-American honors as UVM emerged as one of the the top alpine teams in the nation. My younger sister Betsy Towle was on ski patrol at Jay Peak for a number of years. I quit racing after my sophomore year in high school because I just didn't like it that much, wasn't hungry enough to really care (I wasn't that good, haha) and preferred skiing recreationally. Several of my best friends from Richford High School also raced for Jay, including Mike Lavalla, Randy Kidder and Dan Kelly. During that time, we also became good friends with teammates who went to other area high schools, such as Ricky MacDonald and Mary Jo Frawley from North Country in Newport, and Dale and Dean Lumbra from Berkshire who attended Enosburg High School as well as some from the Montreal area, such as Ricky Watson, and Sandy Bonnell, and even from the NYC area (Bruce and David Green). One of our other teammates was Kenny Sowles from the Burlington area, who years later became an agent for some of the USA's top skiers, such as Bode Miller. The Greens owned a ski lodge near Jay and drove up from the NYC area every Friday night so Bruce and David could practice and race along with everyone else. One of my favorite Jay Peak memories was the year before I joined the ski team, when I was among a handful of experienced skiers looking to get even better who took semi-private lessons from gold medalist Anne Heggtveit Hamilton, who had won women's slalom gold at the 1960 Winter Olympics in Squaw Valley and was also a double world champion that year. She was a terrific instructor and one of the nicest people I ever met skiing. In all my years as a sportswriter later on in life, I met dozens of world-class athletes in various sports, and no question Anne ranked at the top of the list in terms of humanity and personality."
Mike Towle, Dec. 19, 2017
"My first time skiing was a year out of college at Jay Peak. Since my buddy saw me outside all winter long, he assumed I knew how to ski and sent me up a chair lift to wait for him while he gave a first-timer some pointers on the bunny slope. The only run off the chair lift was an ice-covered diamond.....oh boy, that was a trip down the mountain I will never forget. I am stubborn and made it a point to make a bunch of runs on my first day. Since then, I have seen the best of Jay.....great deep powder days, the Jay snow vortex dumping powder several days in a row. I introduced my 2 sons to Jay at an early age and hope they do the same with their kids."
Mark Frazier, Oct. 11, 2017
"There was a reason it was called the 'Jet' t-bar...that thing would literally launch you off the ground at the start. If you were lucky enough to make it to the top, then you survived a trip up that was just as thrilling as a run down. Gave a small kid like me a nervous scare and a great sense of accomplishment-which is want skiing is all about, isn't it?"
brandon meyer, Feb. 24, 2015
---
External Links
Jay Peak Resort - official site
Jay Peak - FranklinSites.com Hiking Guide
Last updated: August 17, 2021