Mt. Hunger
Middlesex, Vermont
Proposed in the 1960s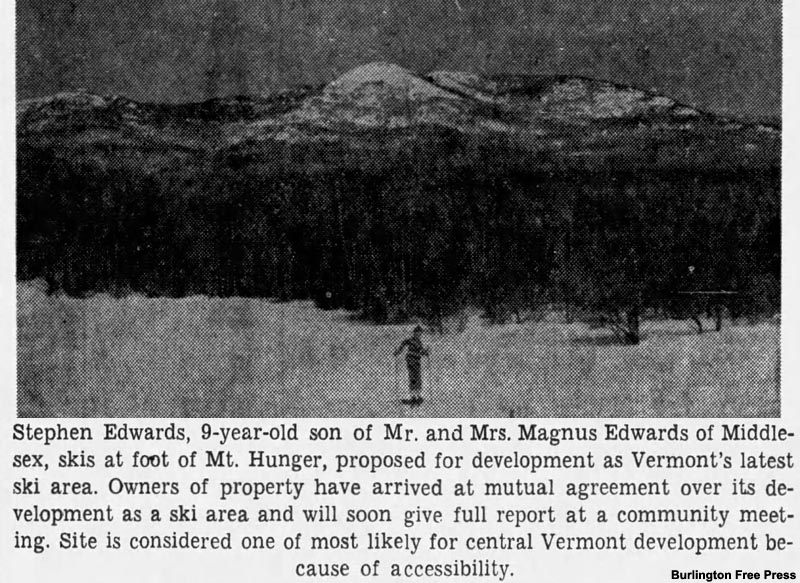 Overview
Located east of Bolton Valley and southeast of Stowe, 3,539 foot Mt. Hunger was the site of a proposed ski area in the 1960s.

According to the Montpelier Monitor, the Mt. Hunger name dates back to an unknown time when a group of men were stranded on the mountain overnight, having to share a small partridge for food. When asked of their whereabouts when they returned, they called it "Mt. Hunger."

Talk of a ski area on Mt. Hunger first emerged during the winter of 1961-62. On March 12, a group of locals met at the Rumney School in the Shady Hill area of Middlesex to discuss the skiing potential of the mountain. William Barber, a Stowe ski instructor, was named was named chairman of a committee to study the feasibility.

Days later, Barber led a team of seven up the mountain, proclaiming "there's no end to what we could develop in that area." Barber saw room to develop in every direction from Mt. Hunger, including as far south as Densmore Mountain, noting "There are several natural ravines and we didn't realize this until we actually got up there. There are natural pockets of snow - a real bowl, and a variety of approaches to put lifts up there."

Two advantages the mountain had were its proximity to the expanding Interstate 89 and to the Barre-Montpelier airport. The property owners reportedly reached an agreement in the spring of 1962 to proceed with development of the ski area.

On July 16, 1962, organizers announced a 1,000 foot J-Bar would be installed that fall and that 15 landowners had indicated 2,600 acres of land would be available for development. Later that month, a public barbeque fundraiser and tour of the mountain were held on the property of Clifton Jarvis.

In September, future Governor Philip Hoff included the development of Mt. Hunger as one of his prospective administration's goals.

In December, twelve landowners formed Mountain Hunger Ski Area Corp. Clifford Jarvis was elected president, Bert French vice president, David Maxham treasurer, and Wayne Davis clerk. The group's meetings were held at Flint Lumber Company offices, as Clarence M. Flint and Nathan W. Flint were part owners of the new company. Jarvis stated, "We are moving very carefully in order to do the best job we can. We believe that Mt. Hunger has a wonderful potential for the Barre-Montpelier area."

In March 1963, Middlesex voters approved a tax break for up to five years for facilities constructed at the prospective ski area.

The ski area proposal remained active a year later, as the Burlington Free Press said it was "now on its way to realization." The paper surmised that the ski area would be boosted with the development of Middlesex College. Two years later, as construction continued on its future Middlesex campus, college president Georges de Nagy told the Time Argus, "Now that we are moving back to Middlesex, I hope the Mt. Hunger Ski Corp. will do something. It would be a boon to the town of Middlesex."

The Mt. Hunger Ski Area never came to fruition.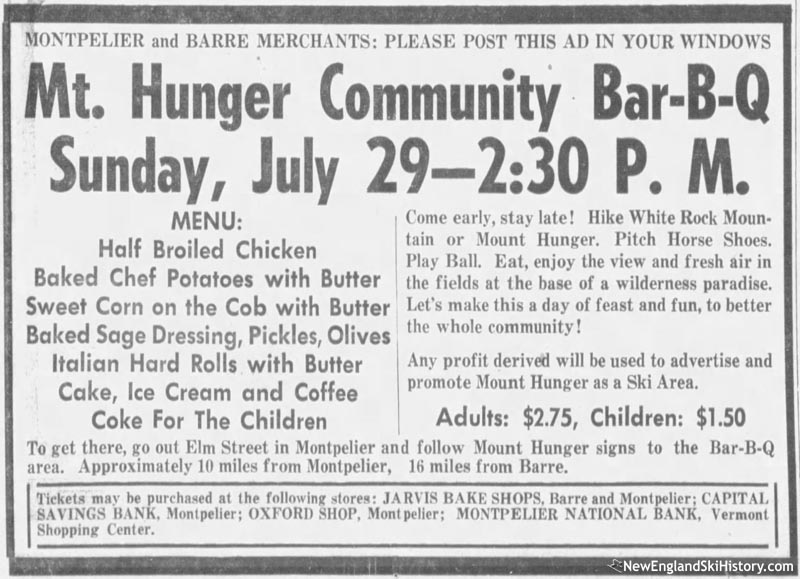 July 19, 1962 Mt. Hunger Ski Area fundraiser advertisement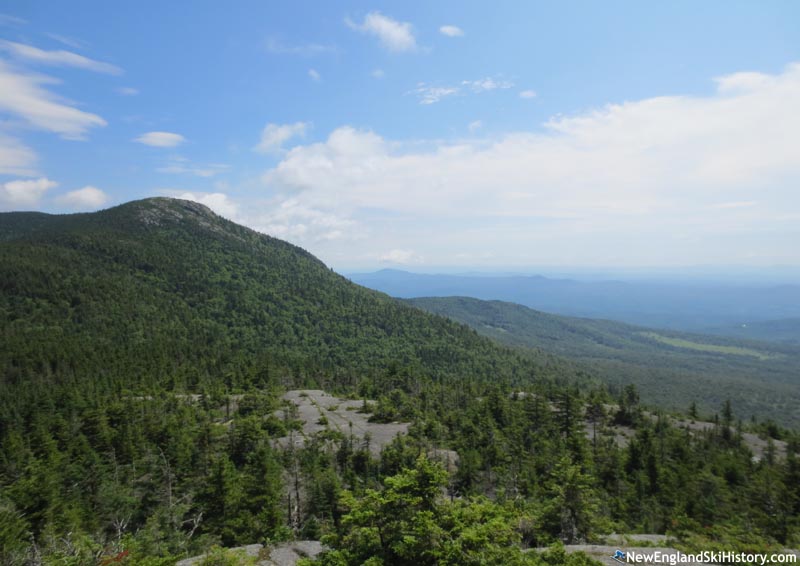 Mt. Hunger as seen from White Rock (2013)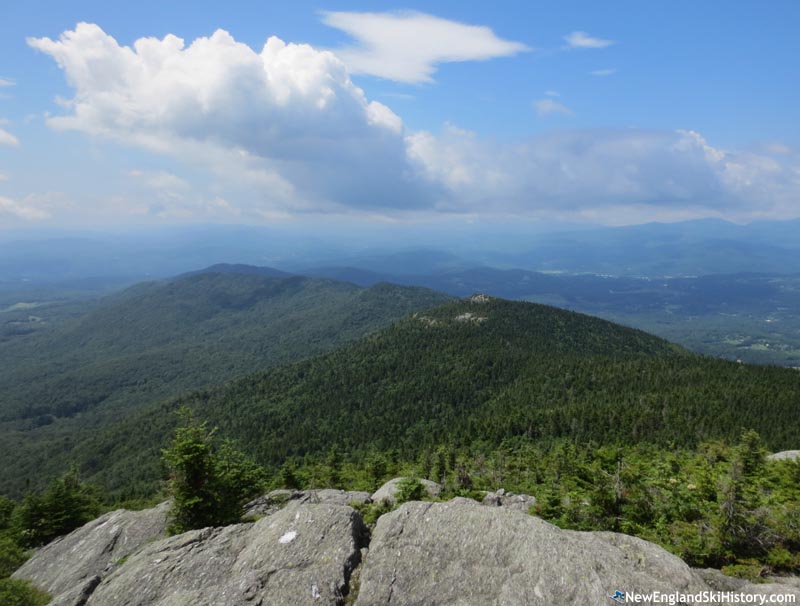 Looking south from Mt. Hunger (2013)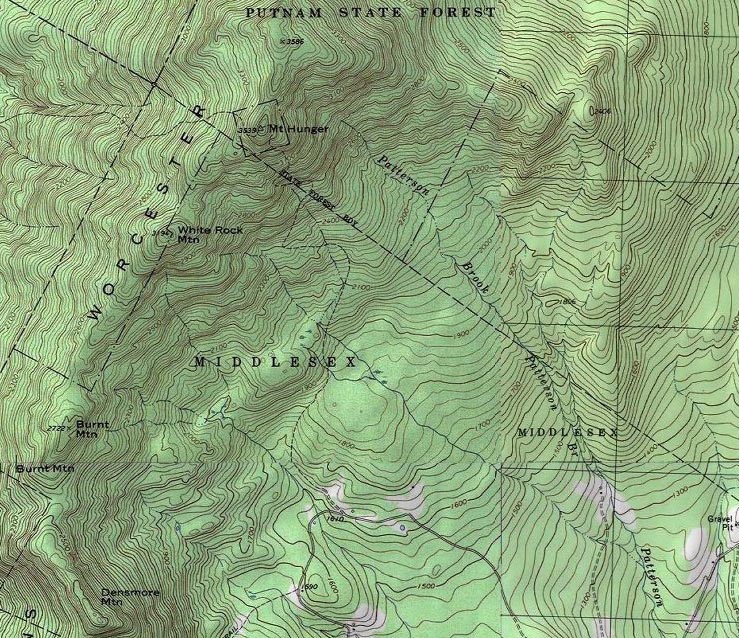 USGS map of Mt. Hunger

Today
There are no known remains of the Mt. Hunger ski area proposal.

Last updated: February 22, 2022