| | |
| --- | --- |
| | |
Located east of Skowhegan, 715 foot Eaton Mountain has been home to skiing off and on for decades.



Early Years

Organized skiing on Eaton Mountain likely dates back to the winter of 1936-37, when the Skowhegan Outing Club was formed with Dr. Alvah Appleby serving as president and Edward Merrill as "second director." The club's first big skiing outing was held in February 1937 on Eaton Mountain via a trail accessed from the Captain Neil Olsen farm. Olsen had granted the club permission to use his land and remove fences for skiing. The location was described in the Waterville Morning Sentinel as "an ideal slope for skiing and tobogganing, about a mile in length. Near the foot of the mountain are two small ponds, excellent for skating. According to information given Mr. Merrill by an out of town expert, these facilities could be developed into one of the outstanding winter sports headquarters in the state. There are ample facilities for a ski tow 3,000 feet in length, two ski trails a mile long and two long winding toboggan slides."

Wallace Lovell, affiliated with the Maine Development Commission, visited the area at the end of February, skiing the "mile-long ski trail in one minute and 45 seconds." Lovell noted his positive opinion of the location and that Eaton Mountain would be an ideal skiing destination if a ski tow were installed.

For the winter of 1937-38, the lineup at Eaton Mountain was described as the East Trail, West Trail, and South Slope. One trail was described as being 20 to 30 feet wide and having a 400 foot vertical drop.

It appears the Skowhegan Outing Club and skiing on Eaton Mountain may have faded away after the 1938-39 season.



Rope Tow Service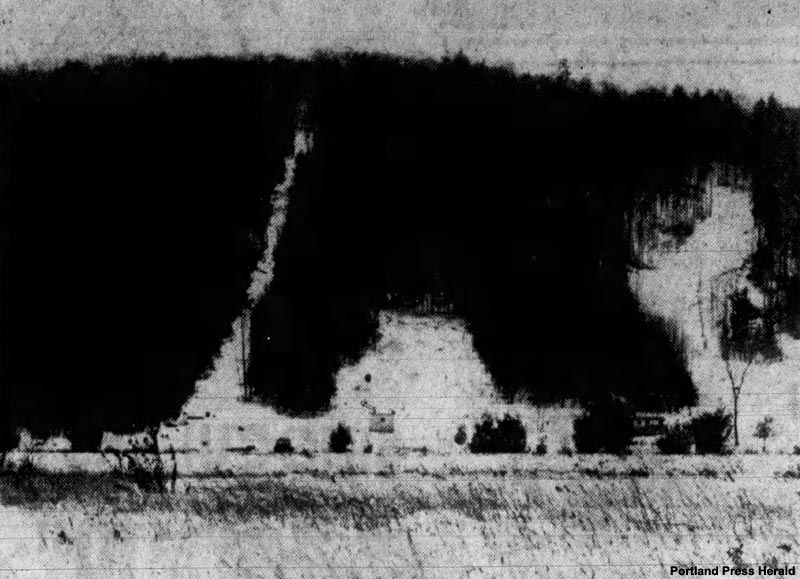 Construction of Eaton Mountain (fall 1961)

In October 1961, Paul Sylvain and his sons Paul and Lawrence acquired a 100 acre plot of land from Evie Davis and announced they were constructing a ski area on Eaton Mountain. Working for their father's construction business, the 22- and 25-year-old brothers had minimal skiing experience, but were looking for "something to do in the winter."

Plans for the 1961-62 season included a T-Bar serving an intermediate trail, plus a novice slope and a lodge. The brothers stated that "It's a good hill and somebody has to do it." Though the planned trails and lift line were subsequently cleared, the brothers announced the opening would be postponed due to wet weather and late November snowfall.

Additional construction took place in 1962, resulting in a total of three trails, served by a 1,200 foot rope tow. The area likely debuted on January 12, 1963.

Trail widening took place for the 1963-64 season, while plans for night skiing were also announced.

The area was listed for sale in 1964, but remained operational. A 2,400 foot rope tow was installed for the 1964-65 season, while one of the trails was improved. A lack of natural snow likely prevented the season from starting until mid-January. Following the 1964-65 season, Lawrence Sylvain acquired his father's and brother's share of the property.



Expansion to the Top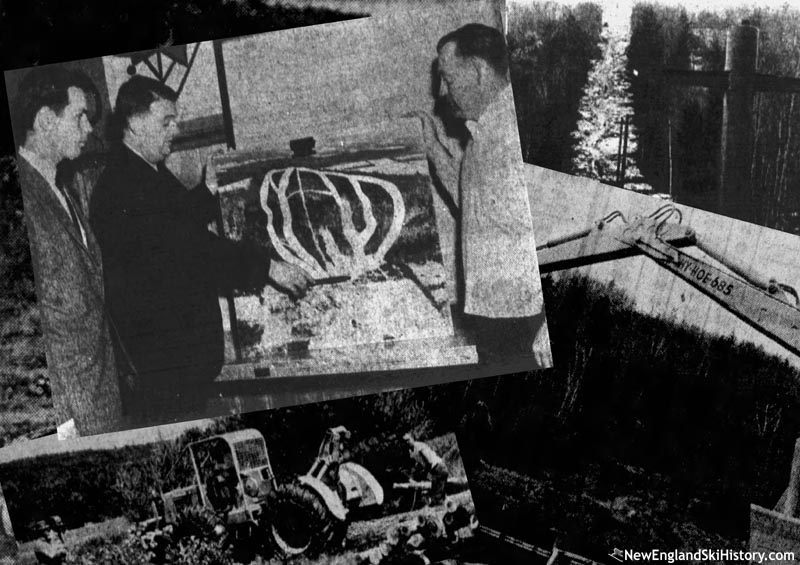 Expanding Eaton Mountain in 1966

New ownership was set in motion in December 1965, as the town of Skowhegan pursued an option to buy the ski area.

In February 1966, the Somerset Recreational Development Corporation was formed, with Skowhegan High School ski coach Francis Knute Paul serving as its president. Plans were announced to purchase the ski area from Lawrence Sylvain, acquire upper mountain land for expansion, cut more trails, and install more lifts. The group started selling stock that month, with Knute Paul telling the Bangor Daily News that "We felt reasonably certain that if we do not buy this area and keep it open for public use that the area will be brought [sic] by private interests and the area will lose its only public skiing facility." Stock sales soon exceeded an early spring $20,000 goal.

The Somerset Recreational Development Corporation acquired the ski area from Lawrence Sylvain on May 27, 1966 and acquired an upper mountain tract from Harry Jewell that same day. In July, Somerset Recreational Development Corporation transferred the land to the non-profit Somerset Recreational Development Company. Subsequently, the corporation agreed to lease the ski area from the company for fifteen years. Knute Paul was named manager.

Trail clearing was completed ahead of schedule in early August. With $30,000 in stock purchased by 200 county residents, the Somerset Recreational Development Corporation decided in September to accelerate its plans and announced the installation of a double chairlift. Plans were subsequently released for the installation of lights to reportedly offer the largest night skiing facility in the state. A 475 foot rope tow and two ski jumps rounded out the planned facilities.

Preparation for tower footings was taking place in mid-November for the "first of its kind" chairlift that was "completely designed, fabricated, manufactured and constructed by Maine firms." Kleinschmidt Engineering designed the lift, Cianbro Manufacturing handled fabrication, and affiliate Cianchette Brothers Construction Company handled the installation. According to the Bangor Daily News, the lift was "hailed by engineers as the finest of its sort and promises to set the stage for chairlifts of the future." Meanwhile, the foundation was poured for a 70 by 40 foot base lodge.

Though chairlift construction was still in progress, natural snow likely enabled a December 31st opening with rope tow service for hundreds of skiers. The chairlift was expected to open in early January.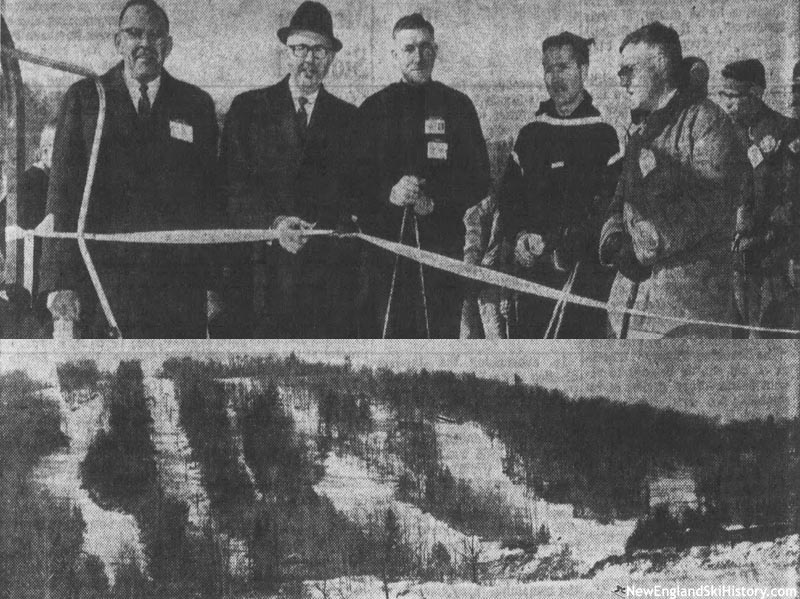 Dedication of the chairlift (February 17, 1967)

Construction dragged on, as the base terminal did not arrive at Eaton until the end of January. After months of delays, the chairlift finally started operation on February 15 and was formally dedicated two days later. Six trails ranging from novice to expert were available, while three additional trails had been cut but not excavated for skiing. Night skiing was also made available.

In early March, Eaton hosted the first Skowhegan Recreation Ski Carnival. Later in the month, an Easter weekend was held that included free skiing, lessons, and rentals.

In advance of the 1967-68 season, director Edmund Branch was named ski area manager. Off-season work included the relocation and construction of a maintenance garage, expanded parking, trail improvements (likely finishing the three partially completed trails from the prior season), and a new rope tow motor (possibly extending the length of the lift to 750 feet). Season ticket sales exceeded those for the debut season of the chairlift. Unfortunately for Eaton, warm, wet weather kept the area closed until New Year's weekend, when natural snow finally arrived. This season likely lasted into early to mid March.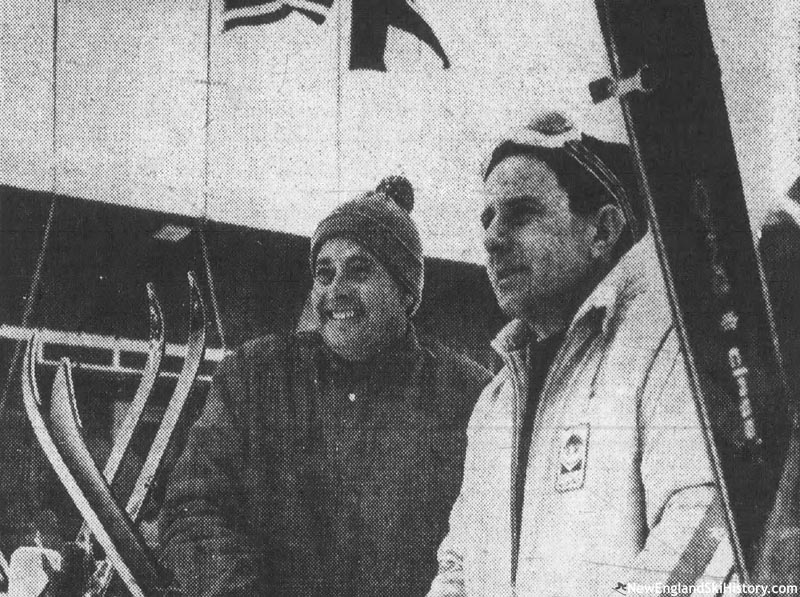 Robert Knowles and Al Coombs, Jr. at Eaton (January 1969)

1968 off-season work consisted of smoothing the trails, while the Somerset Recreational Development Company faced foreclosure by Depositors Trust Company. Robert Knowles, and operator of stock race car tracks, was named general manager in advance of the season. A night-skiing-only season pass was offered for the first time "for the benefit of those who are unable to take advantage of daytime skiing." Night skiing terrain consisted of a novice and expert trail from the summit, as well as two lower mountain slopes.



The 1970s

The ski area was refinanced in late 1969, as Somerset Recreational Development Corporation became Eaton Mountain Corporation on November 26. The property was transferred from Depositors Trust Company to Eaton Mountain Corporation on December 31. Robert Knowles remained on board as general manager, discussing plans to install a T-Bar to improve uphill capacity. Due to a lack of natural snow, the season didn't get underway until the end of January, but even then "a thin seven inch cover of snow wore out under the heavy traffic." Eaton may not have operated again that winter due to lack of snow. Area school program participants were granted a refund.




Eaton Mountain in early 1971

Despite the struggles of the 1969-70 season, the Eaton Mountain Corporation continued onward. Robert Knowles and Peter Young served as co-managers for the 1970-71 season, which kicked off in mid-December. In January, the Kennebec Valley Ski Club was organized, in part to put on races. Eaton Mountain ski school director Allan Laney served as president. In February, Eaton hosted downhill races for the Class B state finals. The season continued into at least mid-March.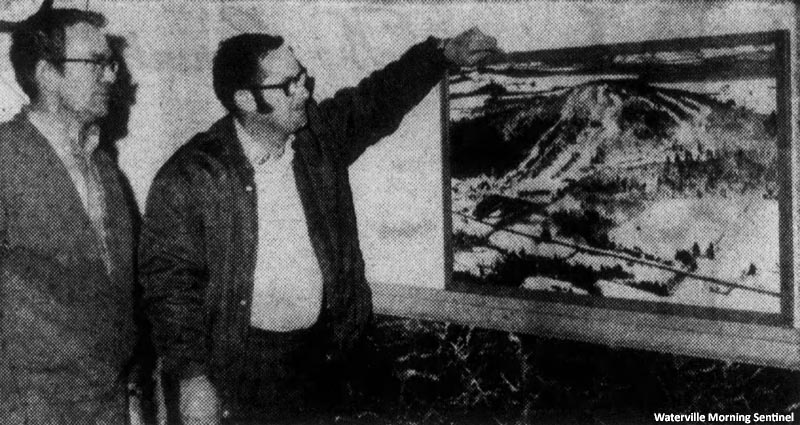 Ken Tozier Jr. and Robert Knowles (January 1972)

Whereas Eaton had been operating weekends and midweek afternoons and evenings, hours were curtailed for the 1971-72 season, as weekdays were limited to one afternoon and three nights. Ken "Babe" Tozier Jr., a contractor and real estate agent, took over as manager. The season likely started on New Year's Eve, but saw operations interrupted by a lack of snow in mid-January. Eaton again hosted the state ski race in February and saw the season extend into March.

Blaine Littlefield, manager of a stock car race track in Caribou, took over as manager of Eaton Mountain for the 1972-73 season. A powdermaker as acquired to improve slope conditions. The season likely kicked off in mid-December, but was impacted by warm weather in late January.



Eaton is Sold

Meanwhile, new Saddleback owner John Christie contacted Eaton Mountain shareholders in December 1972 to initiate discussions of taking over the ski area. In early March, Christie announced he was interested in acquiring Eaton Mountain. Noting that Eaton had "a large amount of people (230 shareholders) who have been underwriting losses and marginal operations," Christie saw an opportunity to stabilize the area with a professional ski area manager. Seeing Eaton as a "store front for Rangeley," Christie suggested that "People could ski at Eaton at night and Saddleback on the weekend and on their vacations." Christie planned to relocate some of Saddleback's snowmaking equipment to Eaton. Meanwhile, there was another suitor.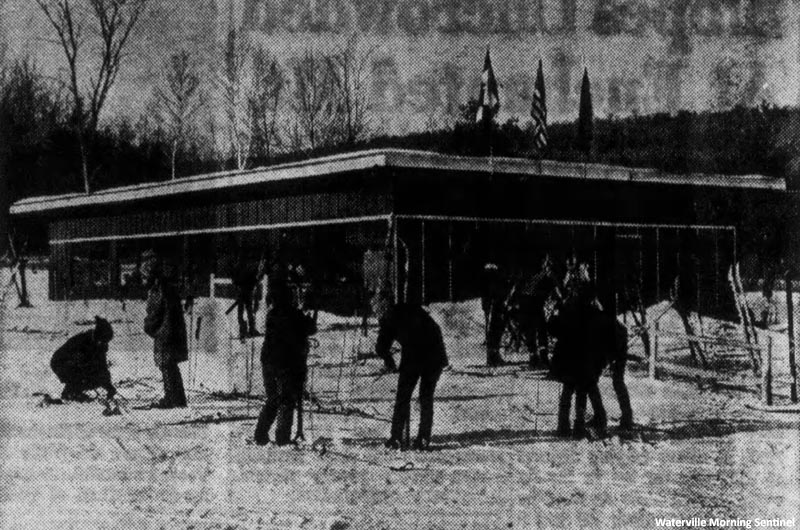 The base area circa early 1972

Word emerged in October 1973 that a deal was in place to sell Eaton Mountain to 30-year-old Pinnacle, New Hampshire owner George LaBrecque for $130,000. With the sale, Eaton Mountain Corp. treasurer John Demer said "All proper existing obligations will be paid. No one is going to have to suffer financially," as LaBrecque would be assuming $54,000 in debt accrued by the area. The corporation would use Pinnacle as collateral, receiving some of the deal's proceeds when LaBrecque was able to sell the New Hampshire ski area. Shareholders approved the sale on November 10, 1973.

LaBrecque announced plans to upgrade the intermediate slopes, improve the ski school, and take over the ski shop. Trails were smoothed with bulldozers (including Fawn) and a Thiokol Spryte snow cat was acquired. Cross country ski lessons were also added. LaBrecque was optimistic that the area would benefit from the gasoline shortage, as "People may not be able to drive long distances to the major ski areas, but it's quite unlikely that they won't be able to get gas enough for just a 10 or 20 mile drive to Eaton."

Unfortunately for the new owner, the 1973-74 season was one of the worst on record. Natural snow arrived in mid-January, but petered out before the end of the month. Limited operations briefly resumed, but likely came to a halt in mid-February, resulting in a 17-day ski season. By March, LaBrecque had put the property on the market for $240,000, noting that it may be attractive to developers, but adding that if it didn't sell that year, he would return to operate it the following winter.

With a lease-to-buy contract in place for Pinnacle, LaBrecque returned to Eaton for the 1974-75 season. Additional bulldozer work was done on the slopes and operating hours were reduced to weekends, holidays, and nights. Return season passholders were given a discount to compensate for poor prior winter.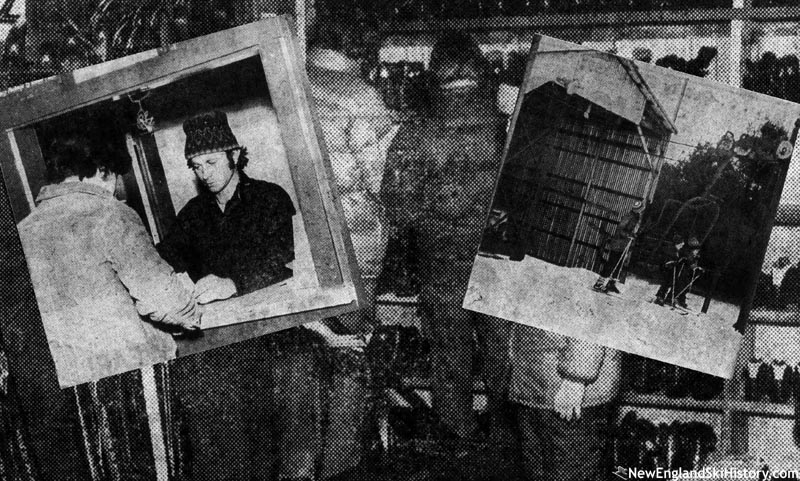 George LaBrecque at Eaton Mountain in 1975

Bad luck struck again, as the 1974-75 season did not kick off until January. LaBrecque told the Waterville Morning Sentinel that, "Last year was terrible...This year, to date, has been just as bad." After a mid-January closure, a late month snowstorm allowed LaBrecque to open all of Eaton's trails for the first time during his tenure. Skiing likely extended to the start of calendar spring.



Foreclosure and Closure

In May, word emerged that there issues with debt payments. Kenneth Cianchette, president of the Eaton Mountain Corp. wrote a letter to shareholders stating the future status of the mountain "is indefinite at this time." With no shareholders attending the annual meeting weeks later, treasurer John Demer told the Bangor Daily News, "it would appear to me that there is not a sincere interest expressed on the part of the majority of those concerned to offer some plan for the continuation of Eaton Mountain." LaBrecque agreed to allow the corporate officers to negotiate a sale on his behalf.

Rumors swirled that summer, including a restaurant operator potentially buying the ski area, the base area becoming a housing development, and the summit becoming the site of a luxury home.

In September, the Maine National bank foreclosed on the $90,000 mortgage. Kenneth Cianchette and Ryan Fendler reportedly paid $42,000 to protect Eaton Mountain Corp.'s stake in the property. Eaton Mountain Corp. was to remain in control of the ski area for the 1975-76 season, with Kenneth Cianchette stating the directors were "morally obligated to operate it as a public ski area." The company looked to find a lessee, as LaBrecque, who reportedly had a right of refusal, did not wish to operate the area that winter. Cianchette opined that, "Eaton should be one of the first places to open. As it is, it is one of the last to open and first to close," adding that the holes and stumps on the trails required significant natural snow to ski.

In October, officers of Eaton Mountain Corp. met with LaBrecque to discuss the 1975-76 season. LaBrecque requested $24,000 in funding to operate that winter, stating "the mountain has been neglected and it has been running on a shoe string. It is not right to open it on a neglected basis." As a result, he refused to allow another party to operate the area that winter, recommending instead that the property be improved and turned over to a non-profit organization.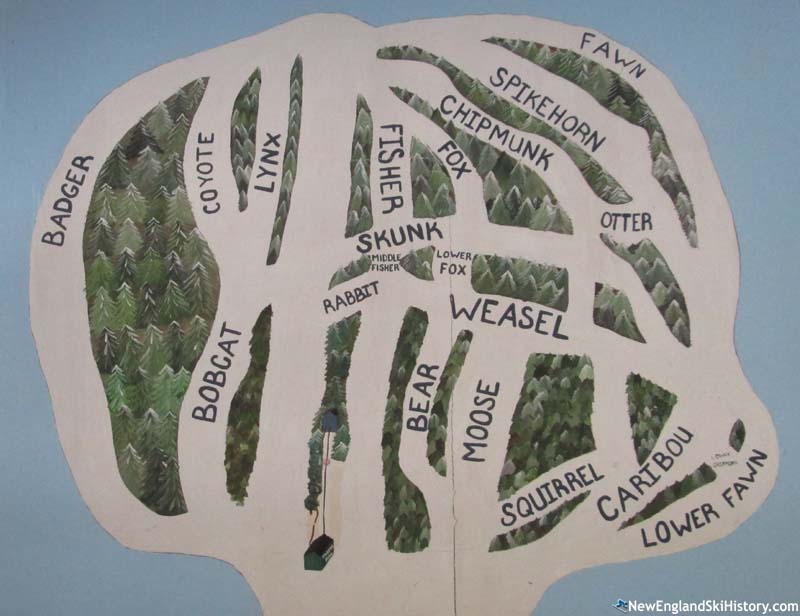 A trail map painted on the lodge wall (2015)

After sitting idle during the winter of 1975-76, two additional owners came aboard, allowing LaBrecque to reopen the area the following season. LaBrecque would assume sole ownership again in 1980.

Taking advantage of a Development Opportunity Fund Grant, a new snowmaking system was installed for the 1984-85 season.

Perhaps to hedge against issues with the double chairlift, a T-Bar was obtained from Sugarloaf circa the 1980s. Installation was not completed.

The ski area's main lodge and maintenance garage burned in January 2005. Regional areas helped provide equipment to keep the area operational.


Closure

The ski area closed after the 2007-08 season.

In the fall of 2008, David and Donna Beers purchased Eaton Mountain. While they had hoped to continue ski operations, the area's lifts and infrastructure was in a state of disrepair, resulting in no winter operations for multiple years.

After significant work, they were able to open a snow tubing area in 2010 with hopes to resume ski operations soon thereafter. A major setback occurred in December 2011 when David Beers was seriously injured while working on a snowcat. As a result of the accident, the area cancelled 2011-12 winter operations.

After a long recovery, Beers was able to reopen the tubing facility for the 2012-13 season. Meanwhile, efforts to resume ski operations continued.


Skiing Resumes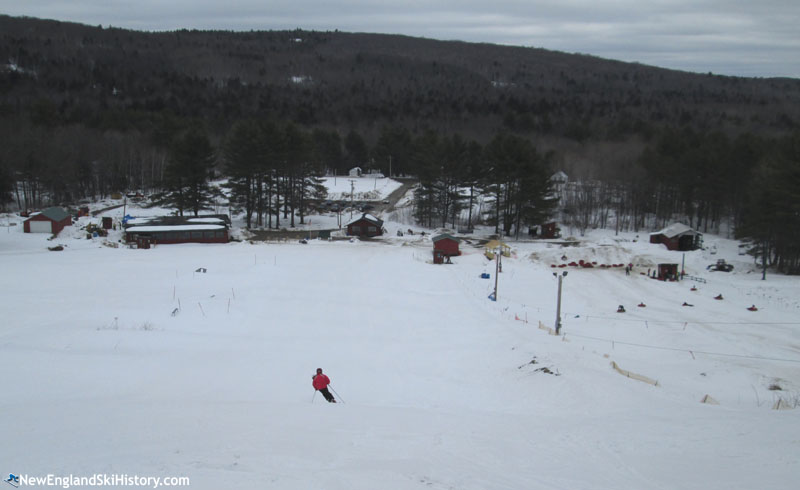 The lower mountain (2015)

Two handle tows were purchased and installed to serve limited skiing operations for 2014-15. Eaton reopened for skiing on January 10, 2015 with the two tows serving a terrain park and novice terrain.



Closed Again

After the rough winter of 2015-16, Eaton Mountain suspended ski operations, but continued tubing for 2016-17. Future plans for the ski area called for a lift to the top of the mountain, serving the network of idle trails that were still maintained. However, all operations were suspended prior to the 2019-20 season. It is not known if or when Eaton Mountain will reopen.





NewEnglandSkiConditions.com Reports





NewEnglandSkiIndustry.com News





Lifts
Click on lift name for information and photos




Maps


Year by Year History
Adult Weekend Full Day Lift Ticket; Adult Full Price Unlimited Season Pass

2010s
Ticket Price
Season Pass Price

Pass Payback

Opening Day

Closing Day

Skier Visits

2018-19
$15.00
January 5
2017-18
$12.00
$100.00
8.3 days
January 27
March 25
2016-17
$15.00
February 11
March 25
2015-16
$15.00
$125.00
8.3 days
January 30
February 15
2014-15
$15.00
$150.00
10.0 days
January 10
March 29
2000s
Ticket Price
Season Pass Price

Pass Payback

Opening Day

Closing Day

Skier Visits

2006-07
$23.00
$310.00
13.5 days
2005-06
$23.00
$310.00
13.5 days
2004-05
$22.00
$310.00
14.1 days
2003-04
$22.00
$310.00
14.1 days
2002-03
$22.00
$310.00
14.1 days
2001-02
$20.00
$310.00
15.5 days
2000-01
$19.00
$300.00
15.8 days
1999-00
$18.00
1990s
Ticket Price
Season Pass Price

Pass Payback

Opening Day

Closing Day

Skier Visits

1996-97
November 29
April 6
1993-94
April 3
1980s
Ticket Price
Season Pass Price

Pass Payback

Opening Day

Closing Day

Skier Visits

1987-88
December 19
1985-86
$12.00
1970s
Ticket Price
Season Pass Price

Pass Payback

Opening Day

Closing Day

Skier Visits

1976-77
$5.75
1974-75
$5.50
$70.00
12.7 days
January 3
March 23
1973-74
$4.00
$70.00
17.5 days
January 12
1972-73
$4.50
December 16
1971-72
$3.50
$70.00
20.0 days
December 31
1970-71
$3.50
$70.00
20.0 days
December 11
1969-70
January 31
1960s
Ticket Price
Season Pass Price

Pass Payback

Opening Day

Closing Day

Skier Visits

1968-69
$3.50
1967-68
$3.00
1966-67
$3.00
December 31
1962-63
January 12
Visitor Memories
---
External Links
Eaton Mountain Ski Area - official site
Eaton Mountain - SmallSkiAreas.com
Last updated: June 13, 2023