| | |
| --- | --- |
| | |
Located east of Keene along Route 9, Granite Gorge ski area was originally known as "The Pinnacle."


The Pinnacle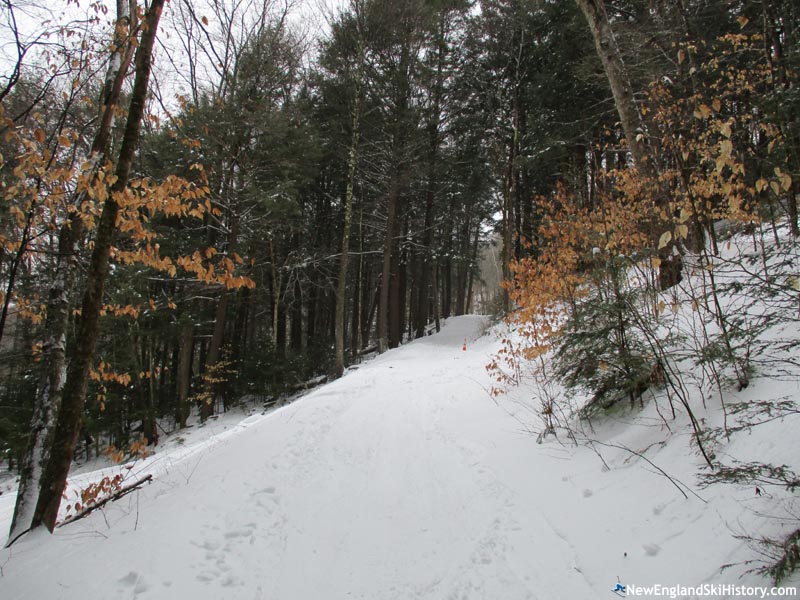 Zig Zag (2018)

Development of a ski area on the lower northern slope of the 1,562 foot Pinnacle in Roxbury likely dates back to 1959, when the Pinnacle Mountain Development Corporation was formed. A small rope tow ski area may have opened as early as the 1959-60 season on land owned by Charles Beauregard & Sons of Marlborough. Three military veterans, John Summers, Ernest Levesque, and Charles Tousley, reportedly constructed the area. Summers, founder of the Summers Backcountry Sports store in Keene, served as manager.

Plans for expansion were publicized in 1961, as Sel Hannah was hired to lay out ski trails for a future expansion to include a chairlift and snowmaking. For the 1961-62 season, an 800 foot rope tow (the area's second) was added, as well as a new skating rink. By this time, the area claimed 10 acres of ski terrain, a 100-car parking lot, a 40 by 20 foot warming hut, and night skiing.

The area stepped up a notch in 1962-63 when it added a 1,000 foot long novice Poma lift on a new 100 foot wide slope. As a result, business increased by 280% over 1961-62. John Summers and Paul Burns directed the ski school.
Pinnacle lost its warming hut to a fire in February 1966. A ski instructor who was trying to rescue some equipment suffered minor burns. Students and staff members at Franklin Pierce College, where John Summers' wife Elizabeth taught, pitched in to help remove the remains and put up a temporary structure within days so that the area could continue to operate. Unfortunately, Pinnacle Mountain Development Corporation's days were numbered.

On December 14, 1966, Charles Beauregard & Sons foreclosed on Pinnacle Mountain Development Corporation. By 1967, George LeBrecque had taken over the management of the ski area. With funding from Maurice Stone, LeBrecque installed a new Poma T-Bar, which likely increased the area's vertical drop by 50 feet to 300 feet.

Pinnacle recorded a record season in 1968-69, with business reportedly up 95%. By the time 1971-72 arrived, Pinnacle featured 4 slopes served by the T-Bar and Poma lift. While the area had night skiing, it still did not have snowmaking. In addition to skiing, Pinnacle also offered camping.

Former Labrador and Song Mountain assistant ski school director Franz Nagy reportedly purchased an ownership stake in Pinnacle for the 1974-75 season. By that point, Pinnacle advertised day skiing six days a week and night skiing five evenings a week, as well as full camping facilities.


Closure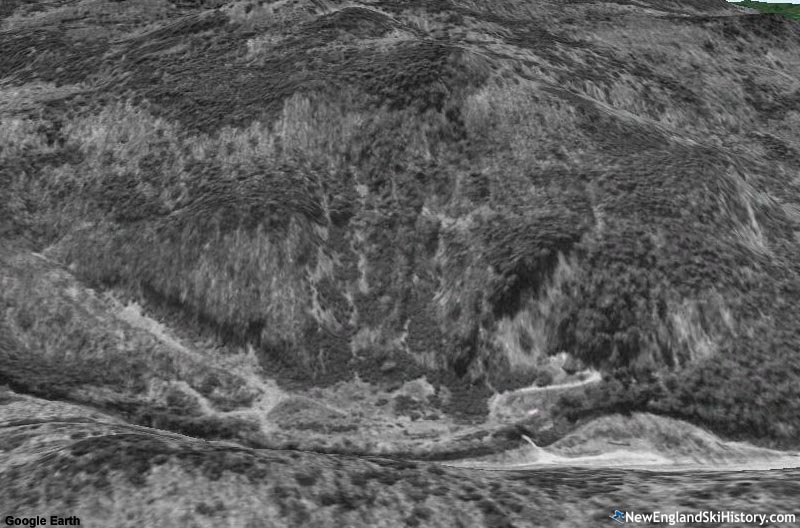 Aerial image of the defunct Pinnacle ski area (1998)

Following the 1974-75 season, George LeBrecque transferred the ski area to Maurice Stone. One year later, Stone sold the area to Paul and Eleanor Jensen of Connecticut. Dealing with subpar snowfall, no snowmaking, and aging infrastructure, the Jensens only operated the Pinnacle for the 1976-77 season. Following the season, when mortgage payments were missed, Stone foreclosed and took back the property. There would be no more lift served skiing at Pinnacle for the rest of the twentieth century.

In November 1980, Stone sold the 94-acre Pinnacle property to Juanita Robinson of Kentucky and her three sons, one of whom lived in Massachusetts. Though "big plans" were teased with skiing to return in 1980 or 1981, Pinnacle remained idle.

In December 1985, the Robinsons sold the property to Bald Mountain Park, Inc. The real estate entity held the property for fourteen years.

Granite Gorge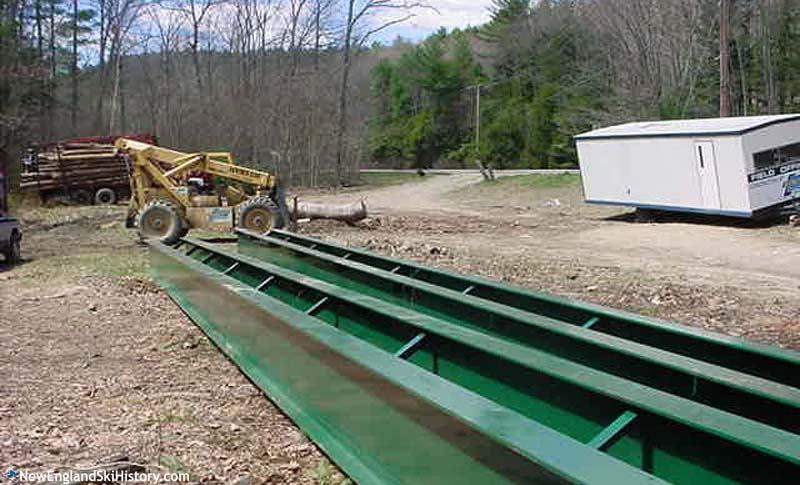 Early reconstruction of the former Pinnacle ski area (2002)

In September 1999, Baybutt Construction purchased the former ski area and commenced studies for a potential reopening. Based out of Keene, the company was founded in 1964 by Richard Baybutt. In 1985, he hired his youngest son Frederick as a field engineer. Within ten years, Fred had become president of the firm, which was one of the region's largest construction companies.

Former owner Maurice Stone passed away on September 26, 2000 at the age of 92.

After a quarter of a century of idleness, the Pinnacle became a work site in the spring of 2002 when a new bridge was built from Route 9 to the base area.

The Pinnacle reopened in early 2003 under the name of Granite Gorge. Former employee Chip Woodbury was brought back as director of skiing. The tiny startup on the Bunny Buster slope featured a rope tow and snowmaking. Providing a tour of the area to the press, Baybutt remarked, "Like many people in the Keene area, we had whole families who learned how to ski here, and I was fond of it. We bought the land because we believed the time was right to revive those family-based ski experiences for the region." Baybutt described the business model as "debt-free" with expansion handled as "pay as we go."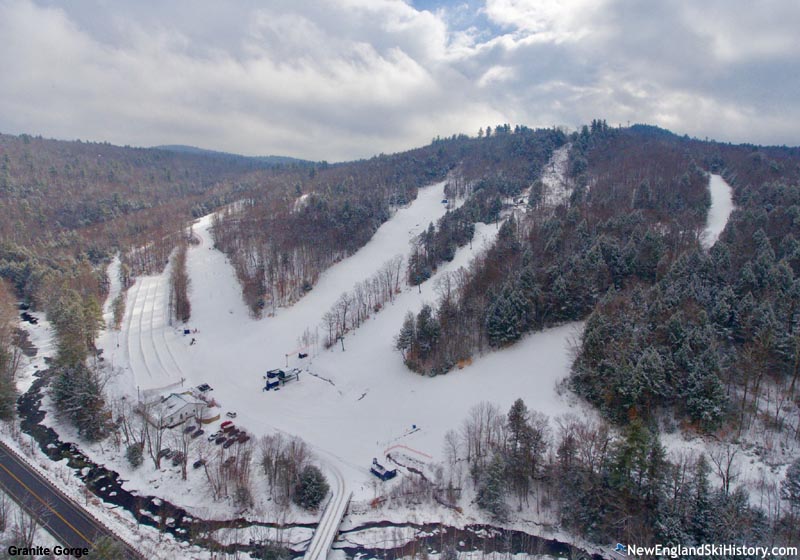 Aerial image of Granite Gorge circa the mid 2010s

After multiple years of planning and decades after the first proposal, Granite Gorge saw a significant expansion in 2005 with the addition of a double chairlift to Spruce Peak.

Snowmaking and night skiing were expanded for the 2006-07, which also featured a new base yurt. Snowmaking was expanded to the top of the chairlift for the 2008-2009 season, while night skiing followed up the mountain for the 2009-2010 season.

In 2010 Granite Gorge was approved for a 300-person lodge, to be built in phases. Portions were completed in 2011 and 2012.

In late 2012, parent company Baybutt Construction was dealing with escalating financial problems. One of Baybutt's lenders, Interstate Electrical Services Corp., arranged for a foreclosure auction of some of Baybutt's properties, including Granite Gorge ski area, for February 1, 2013. The auction was cancelled at the last minute and the ski area remained open. That month, Baybutt Construction Corp. filed for Chapter 11 bankruptcy.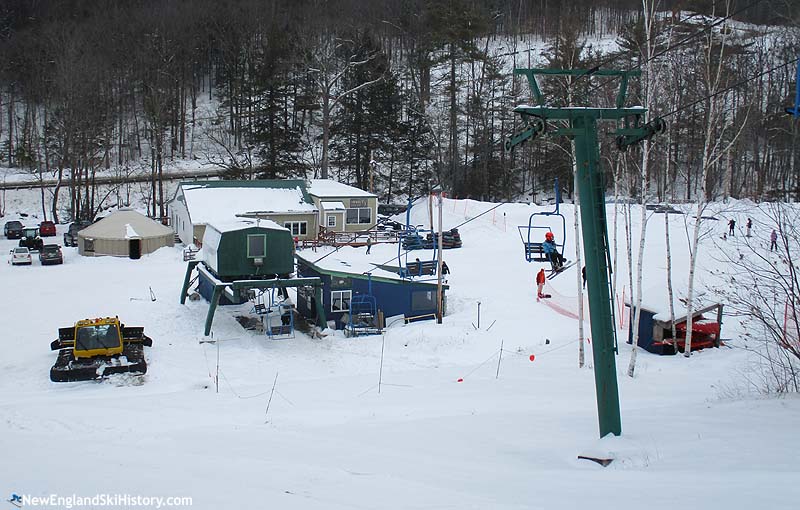 The base area (2018)

Granite Gorge continued to operate and grow in subsequent years, including adding to its off season offerings and events. The ski area made a dramatic cut in prices for the 2017-18 season, slashing the day ticket price by one third in order to draw more skiers.

Granite Gorge scaled back operations for the 2018-19 season, as it ceased operating the chairlift and instead focused on snow tubing and skiing on the Bunny Buster trail. After nearly being auctioned off in the summer of 2019, the ski area continued to operate its surface lifts during the winter of 2019-20.

On August 3, 2020, Fred Baybutt died of a sudden heart event at the age of 60. Following his death, Granite Gorge sat idle.

NewEnglandSkiConditions.com Reports

NewEnglandSkiIndustry.com News

Recent Articles
Reopening Work in Progress at Granite Gorge and Tenney Mountain - Sep. 13, 2022
Granite Gorge Sold at Auction - Jun. 6, 2022
Granite Gorge Facing Auction Again - May. 9, 2022
Defunct Since COVID - Jan. 29, 2022
Granite Gorge to Remain Closed - Dec. 7, 2021
Granite Gorge Owner Passes Away - Aug. 8, 2020
Granite Gorge Auction Cancelled - Jul. 6, 2019
Granite Gorge Auction Set - Jun. 20, 2019
Granite Gorge Open for Skiing - Feb. 27, 2019
Granite Gorge Ski Season in Jeopardy - Oct. 18, 2018
Granite Gorge NewEnglandSkiIndustry.com News Page

Expansion History

Lifts
Click on lift name for information and photos
Maps

Year by Year History
Adult Weekend Full Day Lift Ticket; Adult Full Price Unlimited Season Pass

2020s
Ticket Price
Season Pass Price

Pass Payback

Opening Day

Closing Day

Skier Visits

2019-20
$30.00
December 7
March 8
2010s
Ticket Price
Season Pass Price

Pass Payback

Opening Day

Closing Day

Skier Visits

2018-19
$29.00
2017-18
$33.00
$299.00
9.1 days
December 14
March 25
2016-17
$49.00
$445.00
9.1 days
December 15
March 12
2015-16
$49.00
$445.00
9.1 days
December 23
March 13
2014-15
$47.00
$445.00
9.5 days
2013-14
$47.00
$425.00
9.0 days
2012-13
$45.00
March 31
2011-12
$42.00
$399.00
9.5 days
December 17
27,725
2010-11
$42.00
30,000
2009-10
$45.00
2000s
Ticket Price
Season Pass Price

Pass Payback

Opening Day

Closing Day

Skier Visits

2008-09
$39.00
2007-08
$29.00
$299.00
10.3 days
2006-07
$29.00
$299.00
10.3 days
2005-06
$29.00
2004-05
$20.00
December 18
2003-04
$20.00
1970s
Ticket Price
Season Pass Price

Pass Payback

Opening Day

Closing Day

Skier Visits

1977-78
$6.00
1976-77
$50.00
1974-75
$6.00
1972-73
$5.00
1971-72
$4.75
1970-71
$4.50
1960s
Ticket Price
Season Pass Price

Pass Payback

Opening Day

Closing Day

Skier Visits

1964-65
$3.50
1963-64
$3.00
1962-63
$3.00
1961-62
December 23
March 27
Visitor Memories
"Hi Fred Baybutt co-owner of Granite Gorge here. Great history report; couple things I never knew!An update for you regarding GGs status. The ski area is up and operating and will be fine! Come on up for "
Fred Baybutt , Nov. 8, 2013
---
External Links
Last updated: January 11, 2021