| | |
| --- | --- |
| | |
Located in the Rangeley Lakes region of Western Maine, Saddleback Mountain was home to lift served skiing for over half a century.



Bald and Saddleback Developments

Ski resort fever hit the Rangeley Lakes region in the late 1950s when local businessmen looked to tap into the growing number of skiers in New England. Ski area designer Sel Hannah was brought over from New Hampshire to check out 2,470 foot Bald Mountain in Oquossuc and 4,116 foot Saddleback Mountain near Rangeley. While Hannah saw more potential in Saddleback, both mountains were developed by separate companies.

The first meeting of the Rangeley-Saddleback Corporation was reportedly held on May 12, 1958. Harland Kidder, Superintendent of the Oquossoc Angling Association, served as President of the corporation, which aimed to make the Rangeley region a four season destination. In the summer of 1958, word of the Saddleback development spread all over the northeast. Billed as the Sun Valley of the East, the Rangeley-Saddleback Corp. sought nearly $250,000 via the sale of stock. Securing a 45 year lease on land from Hudson Pulp and Paper Co. (which had just shut down its logging camp there in 1957), the group expected to have a chairlift and T-Bar in operation for the 1959-60 season.

While Bald Mountain opened in 1959-60, Saddleback's development ran behind schedule. In the summer of 1960, two Hall T-Bar lifts were purchased. Trail building work was in full swing as the fall and T-bar delivery dates neared. Meanwhile, a two story lodge designed by Robert Tieger was being constructed.



Saddleback Finally Opens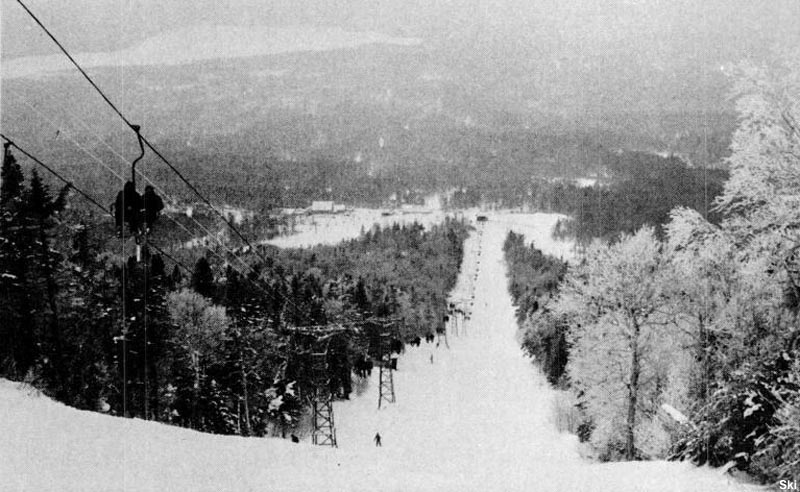 The Rangeley Double Chair in the late 1960s or early 1970s

The lower T-Bar opened on December 31, 1960, serving the Wheeler Slope (named after original stockholder Carl Wheeler). The upper T-Bar, serving Grey Ghost and Hudson Highway, opened in late January.

Shortly after the conclusion of the freshman season, Saddleback's owners announced the addition of three new trails for 1961-62. These new intermediate and expert trails would be called Royal Coachman, Blue Devil, and Parmachenee. Assistant ski school director Ray Brahaney was promoted to manager of the ski area.

Heading into the 1962-63 season, the ownership received a $50,000 Small Business Administration loan, allowing them to make general improvements to the base area.

The Rangeley-Saddleback Corp. made a huge investment for the 1963-64 season, as it installed a nearly 1,200 foot vertical Mueller double chairlift. At 4,600 feet in length, it was Maine's longest chairlift (beating out the only other chairlift in the state at that time at Pleasant Mountain). Opening on January 1, the lift was dedicated by Maine Governor John Reed on January 24. According to Roger Page, General Manager for that season, the group was "in debt up to our eyebrows."

The 1963-64 and 1964-65 seasons were bad for Saddleback. 1963-64 only lasted 5 weeks, while 1964-65 reportedly only had 2 weeks of operations. As a result, James Talcott Inc., lender for the chairlift, put the area on the market in 1965.

In August 1965, a company led by J. Richard Arnzen acquired Saddleback for a reported $140,000. A Naval veteran and Princeton alumnus, Arnzen had come to Maine in 1960 to serve as executive director of the Pine Tree Society for Crippled Children and Adults. A few years later, Arnzen married Jean Gannett, president of the Guy Gannett Publishing Company. Around the time of the Saddleback acquisition, Arnzen became an executive at the Guy Gannett Publishing Company. Future plans were announced for a new snow bowl, as well as construction of a four-season vacation home village.

The double chair was re-engineered for the 1966-67 season, providing more uphill capacity. Two new trails debuted as well.

For the 1967-68 season, a short chairlift was installed adjacent to a new base lodge (constructed due to overcrowding in the original lodge), while the novice T-Bar was moved below it. Parking was also reportedly improved. The season also saw the creation a reciprocal agreement, in which Saddleback tickets were also valid at Sugarloaf and visa versa.

The National Trails System Act was codified in 1968, designating the Appalachian Trail as a National Scenic Trail and establishing an advisory council for it. The act also established parameters for acquiring land or rights of way, specifying that "not more than twenty-five acres in any one mile may be acquired without the consent of the owner." With the Appalachian Trail running along the summit ridge, the taking of land would eventually become a huge issue for Saddleback.

Bruce Johnson took over as General Manager in advance of the 1968-69 season, which was expected to start with a new lower mountain snowmaking system and a new trail named Golden Smelt. Ironically, that winter's early snowfall was so plentiful that the installation was neither completed nor needed.



John Christie Arrives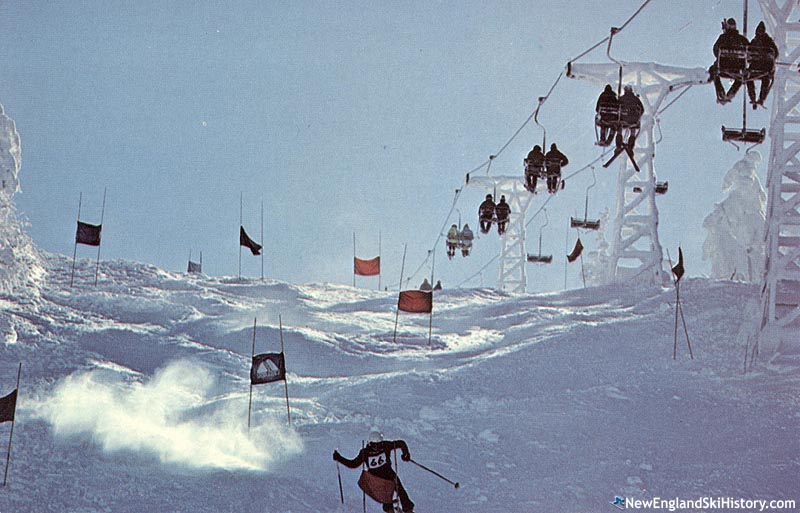 The Rangeley Double Chair circa the 1970s

Richard Arnzen stepped down from his posts in the media company in 1970 when Jean filed for divorce. Though he had plans to focus on Saddleback full time, he was stricken with cancer. Arnzen passed away on June 22, 1972 at the age of 53.

In the fall of 1972, Guy Gannett Publishing Company sold Saddleback to the youthful former Sugarloaf and Mount Snow General Manager John Christie's Big Rangeley Corporation. The company's board of directors included Mount Snow founder Walt Schoenknecht, Ski Industries America CEO Ralph "Doc" DesRoches, and local television host and journalist Ralph "Bud" Leavitt. Much of the land was still leased from Hudson Pulp and Paper Company, which offered to finance a large expansion. Later in 1972, Christie briefly looked into purchasing central Maine's Eaton Mountain with the thought of using it as a 'storefront' for Saddleback.

Not long into his tenure, Christie oversaw the initial development of the new area to the east of the ski area that would have extended to the top of the mountain. In addition, construction started on a new condominium development.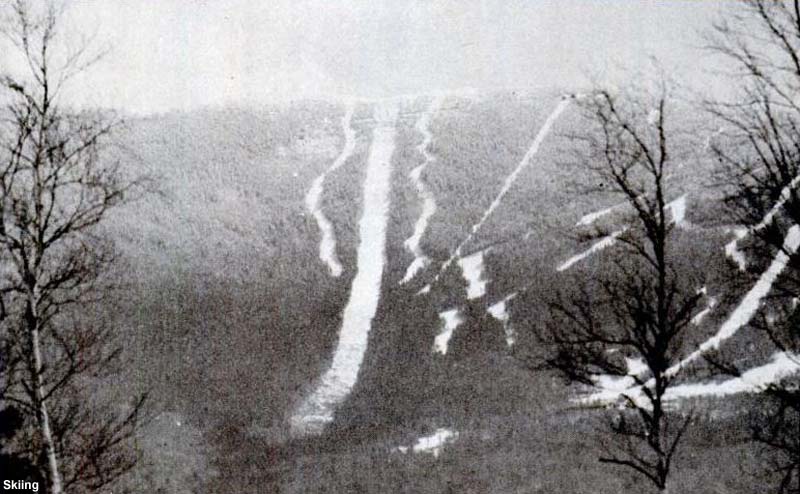 The gondola lift line (Bronco Buster) circa the early 1980s

The 1973-74 season was a disaster across New England, driven by gas shortages and minimal snowfall. In addition, Hudson Pulp and Paper Company sold much of their holdings in Maine, thus taking away Saddleback's planned investment partner in the expansion. One bright spot was in January, when Saddleback hosted the first ever Winter Special Olympics, as a result of Christie's assistance with Sargent Shriver's 1972 political campaign.

While 1974-75 was a better season, it was not enough to rescue Big Rangeley Corporation, resulting in the departure of Christie. In 1975, Casco Bank and Trust Co. foreclosed on the ski area and sold it to a company called Saddleback Kingdom, Inc. ("SKI"). The new ownership included Robert Madsen, Raymond Atwood, and James Howard.

For the 1975-76 season, night skiing was added on the Wheeler slope, served by the short double chairlift.

On March 21, 1978, President Jimmy Carter signed H.R. 8803, which started a land acquisition plan for the Appalachian Trail and also increased the Secretary of the Interior's taking of private land without owner consent authority from 25 acres per mile to 125 acres per mile. Later that year, Massachusetts businessman Donald Breen purchased the assets of Saddleback, as well as the land lease from Hudson Pulp and Paper. Breen was the sixth owner of the ski area in its eighteen years of existence. Breen retained Tom McAllister as General Manager and immediately began investing in the ski area. In early 1979, Hudson Pulp and Paper was acquired by Georgia-Pacific.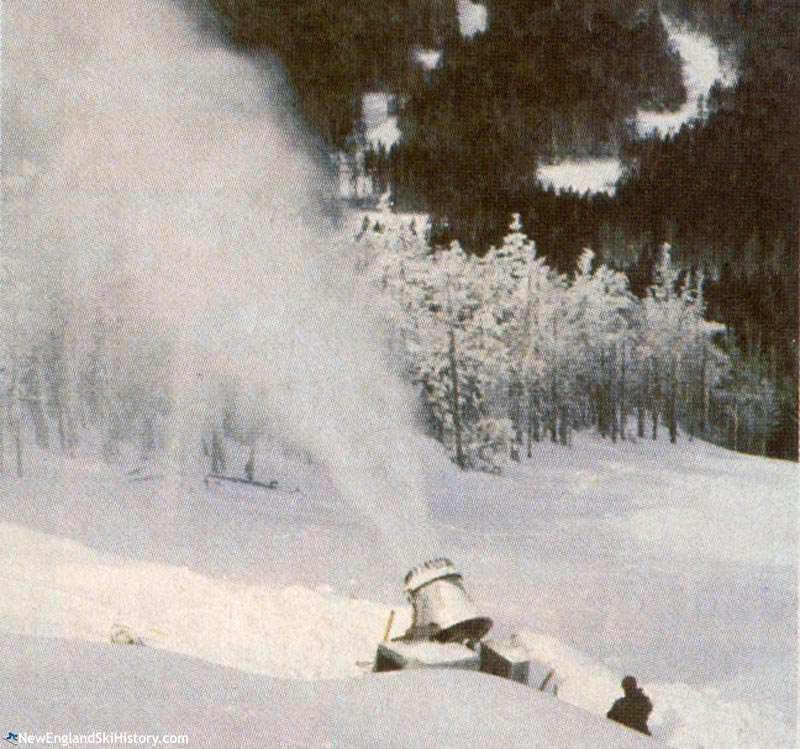 Upper mountain snowmaking circa the 1980s

By the time the 1979 season rolled around, Breen had invested a million dollars in Saddleback, opening the high altitude expert paradise Kennebago Area. The new T-Bar extended above 4,000 feet in elevation, terminating a few dozen vertical feet below the Appalachian Trail. Permitting was also obtained to extend snowmaking to the top of the ski area.

Now sporting some of the toughest sustained expert terrain in the east, Saddleback capitalized on it by introducing the Bronco Buster Challenge, an annual spring event in which three-day tickets were issued to anyone who could make it down the trail non-stop without falling.

Snowmaking improvements continued in the early 1980s, including an $85,000 investment for the 1983-84 season.

In 1984, Breen procured a $1.26 million mortgage from The Federal Land Bank of Springfield and acquired 12,000 acres of land from Georgia-Pacific, including property encompassing the ski area, four ponds, Saddleback Lake. Though a third chairlift was reportedly purchased to serve additional novice and intermediate terrain, a war was brewing.


Appalachian Trail Battle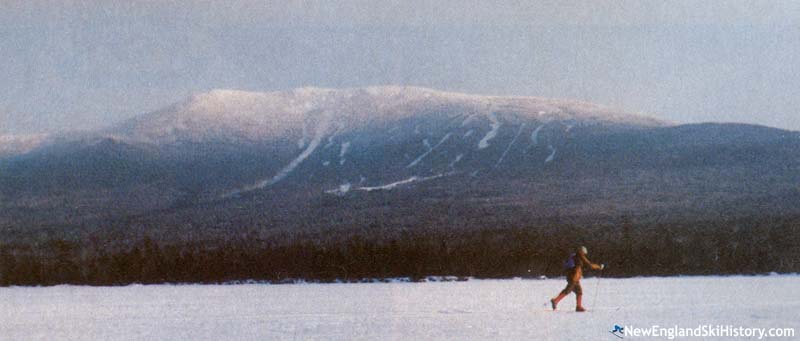 Saddleback Lake

With Saddleback finally financially stable and controlling 12,000 acres of land, Breen sought to tap into its vast potential in the mid 1980s. In 1984, Breen told Ski magazine, "Saddleback has the potential to be one of the largest resorts in this part of the country" and could become "the Vail of the East."

While a massive development was possible, including above treeline skiing as well as a bowl on the back side of the mountain, initial plans were made for a phased $36 million expansion "opening up the entire bowl where the ski area sits with three more lifts and numerous trails."

Working to gain approvals, Saddleback offered to donate a 200 foot easement to the National Park Service for the Appalachian Trail while retaining the ability to have skiers and equipment cross the corridor if needed. Countering the ski area's plans, the National Park Service recommended taking 3,000 acres of Saddleback's land. As a result, instead of investing in the mountain, Breen was forced to spend large sums of money to defend his property from eminent domain.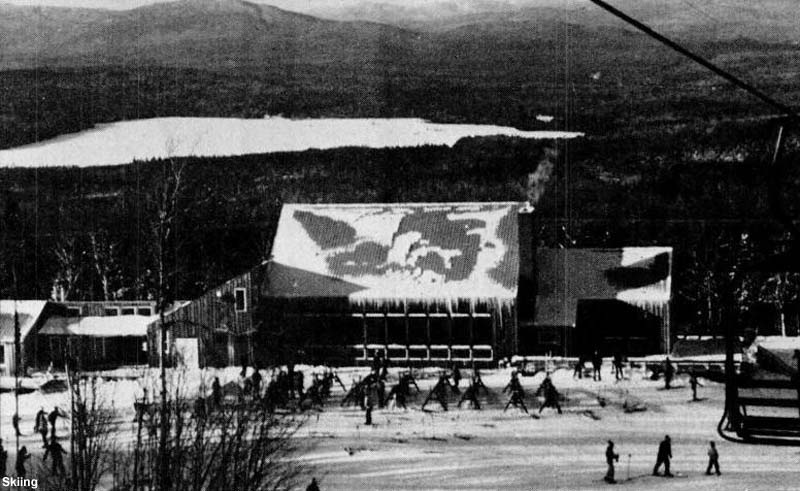 The base lodge circa the early 1980s

Attempting to break the impasse in the early 1990s, Saddleback offered to pare back expansion plans and sell 2,000 acres to the National Park Service. The National Park Service responded with an offer for one sixth of the amount Saddleback wanted from the property.

By the mid 1990s, Saddleback was offering to donate 300 acres of land to the National Park Service, while retaining the right to cross the Appalachian Trail with connector ski trails. The National Park Service once again refused, sticking with its eminent domain plan. Later Congressional testimony revealed that the Breen family was forced to negotiate with and give concessions to the Appalachian Trail Conference, only to have the agreements retracted by the National Park Service. In addition, the National Park Service would refuse to turn over documents relating to its involvement with other ski areas, or to put parameters of potential agreements in writing.

After having spent a decade and a half of his life trying to work with the Forest Service, Donald Breen took a step back from negotiations in 1997, handing the reins over to his daughter Kitty. The Maine Congressional Delegation was brought in to attempt to get the National Park Service to negotiate.

At Senator Olympia Snowe's urging, Saddleback offered to sell the bowl on the back side of the mountain to the Park Service in exchange for being able to develop its Horn Bowl area. The National Park Service rejected the offer, insisting the expansion was not viable, that the ski area could sustain increased skier visits on its existing footprint, and that Saddleback's undeveloped land had little financial value.

Negotiations continued into 2000, at which point Saddleback had increased its donation offer to 660 acres, while the National Park Service still wanted to take 893 acres by eminent domain. Five proposals were put on the table while the National Park Service threatened to turn the matter over to the Department of Justice for condemnation. Finally, on November 2, 2000, the National Park Service and Saddleback reached a deal in which the Breens donated 570 acres along the Appalachian Trail corridor, while selling the 600 acre back bowl for $4 million. While the deal meant Breen could move forward with his development of the resort, the long battle with the government had consumed millions of dollars and nearly two decades of his life. Now in his 70s, Breen was ready to retire. In 2001, the massive resort property was put on the market for $12 million.



Near Closure Followed by Big Investment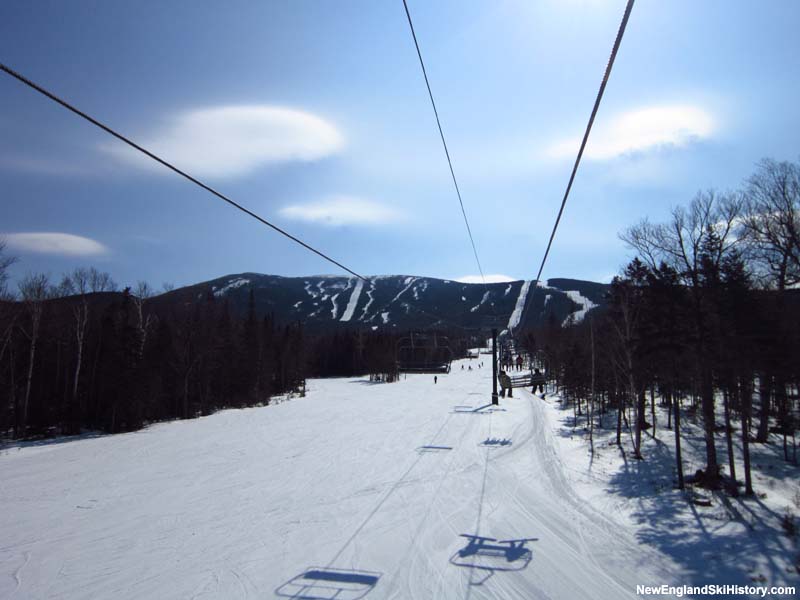 Looking up the mountain from the South Branch Quad in 2012

Following the 2002-2003 season, the Breen family announced Saddleback they would not operate the ski area in 2003-2004, as either they'd either sell the ski area or close it. As the fall approached, it looked like Saddleback would indeed cease operating. In September, a Saddleback skier and condo owner named Bill Berry approached Breen and offered to buy the ski area. A retired University of Maine at Farmington professor, Berry's extended family had recently received a reported $160 million when Berkshire Hathaway acquired the U.S. Investment Corporation. As a result of the meeting with Breen, the Berry family purchased the ski area and the thousands of acres of undeveloped land around it for an estimated $7.5 to $8 million. Tom McAllister was retained as General Manager.

Following their first season as owners, the Berry family started an aggressive expansion plan. For 2004-2005, the main lodge was dramatically expanded, the main chairlift refurbished, and the lower mountain expanded into the novice South Branch Area with a new quad chairlift.

Dramatic long term plans were also released, involving the development of new real estate and multiple new trail pods and lifts. While the original timeline showed much expansion taking place early on, plans were slowed down a bit.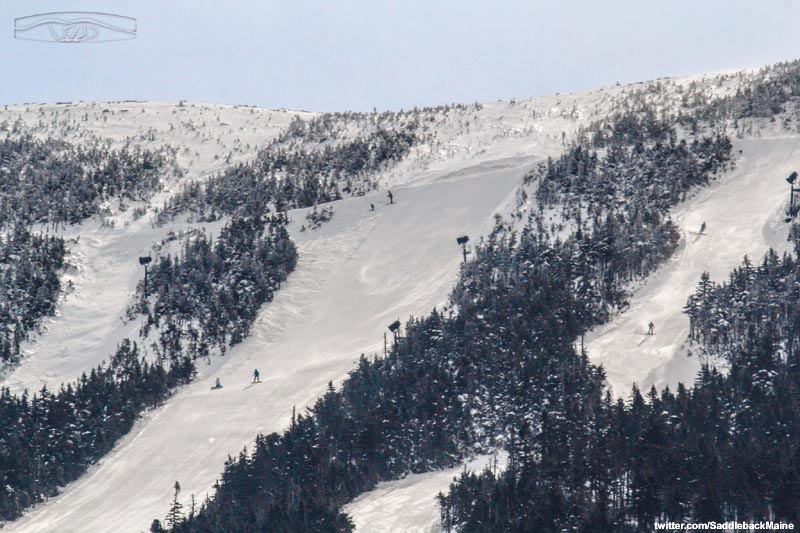 The Kennebago Area in 2015

Prior to the 2008-09 season, former Sugarloaf President Warren Cook was named General Manager. In 2008-2009, the Kennebago T-Bar was replaced with a new fixed grip quad chairlift. In conjunction with a yurt and many new snow guns, the Kennebago area became one of the most impressive expert areas in New England.

Following a 2008-09 season in which skier visits were reportedly up by 22%, Saddleback began planning for the replacement of the Rangeley Double with a quad, as well as the installation of a quad in the Magalloway area. Meanwhile, a massive glade named Casablanca was developed on the upper mountain, garnering attention from expert skiers. In addition, Saddleback took over the Oquossoc Cove Marina on Rangeley Lake.

The 2009-10 season was considered another success, with skier visits reportedly growing by 15%. Citing his family's desire to "become more active in the day-to-day management," owner Bill Berry named Chris Farmer the General Manager of the ski area in the spring of 2010.

On October 11, 2011, the United States Citizenship and Immigration Services approved USA Lifestyles, Inc. as a part of the EB-5 program. Under the EB-5 program, a foreigner could invest $1 million in an approved United States business (which must then create jobs), in exchange for a green card. With the Franklin County, Maine labeled a Targeted Employment Area, the minimum investment was cut in half to $500,000, making participating rural businesses such as Saddleback more attractive. Jay Peak was used as a model for the development of the Maine program.



Closure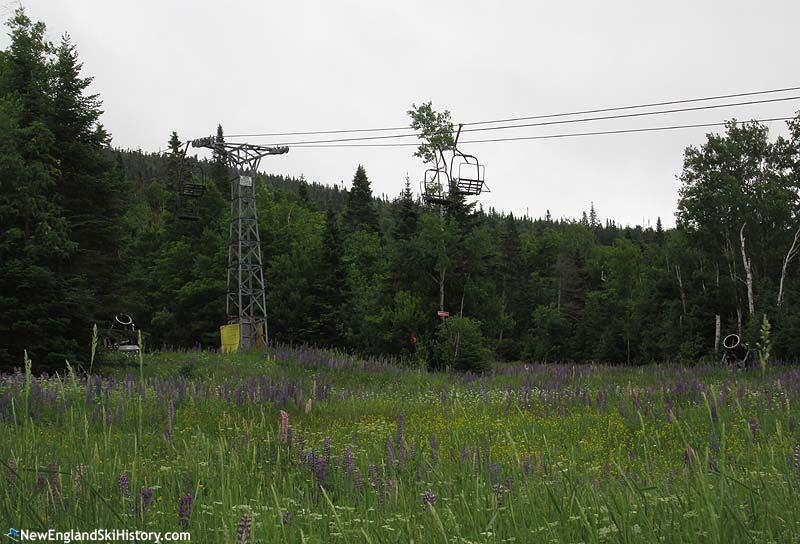 The idle Rangeley Double in 2016

In December of 2012, the Berry family announced Saddleback was for sale. The reported asking price for the 400 acre ski area was $12 million. The family retained the 7,600 undeveloped acres around the ski area.

In July of 2015, the Berry family announced Saddleback would close if they could not obtain financing for a new quad chairlift. In September, the family announced they were in negotiations with multiple potential buyers. In December, the family announced the area would likely reopen in January 2016 under new ownership. While snowguns were set up, lift inspections were not conducted, and the area never opened.

As 2016 progressed, the base lodge continued to host weddings, but no announcements were made about ski operations. Late in the summer, an effort was started to develop a non-profit cooperative to operate the ski area. While a verbal sale agreement was reported, the transaction was not completed, resulting in the area sitting idle during the 2016-17 season.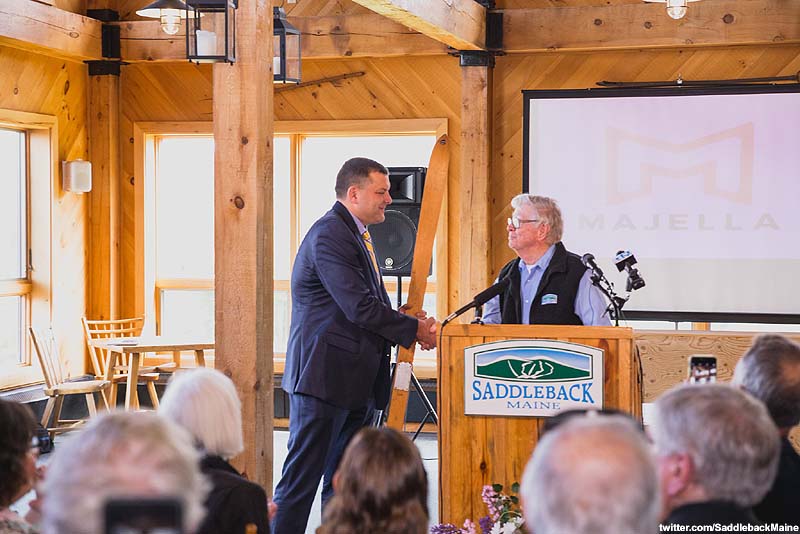 Majella CEO Sebastian Monsour and Saddleback owner Bill Berry in 2017

On June 28, 2017, the Berry family announced they had reached an agreement to sell Saddleback to the Australia-based Majella Group. Grandiose plans were announced, as Majella declared it would be "turning Saddleback into the premier ski resort in North America." Initial plans called for reopening for the 2017-18 season with a new fixed grip quad replacing the Rangeley Double and a new Cupsuptic T-Bar. However, despite announcements that "physical work" had started in September and that the company was "committed to opening in some capacity for the 2017-18 ski season," the area remained idle that winter and the sale was not completed.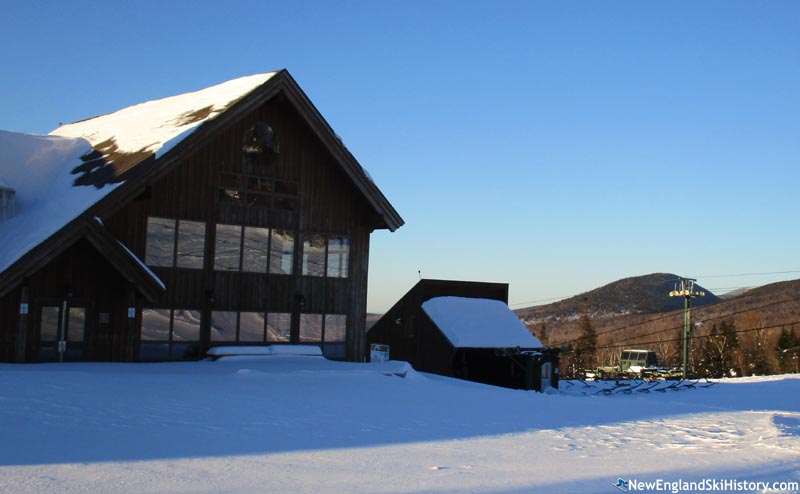 The idle base area in March 2018

Nearly one year after the original sale announcement, the Majella Group CEO Sebastian Monsour was arrested in Australia for alleged investor fraud, revealing a financial house of cards. The Majella branding was removed from the Saddleback web site that fall and the ski area sat idle during the snowy winter of 2018-19.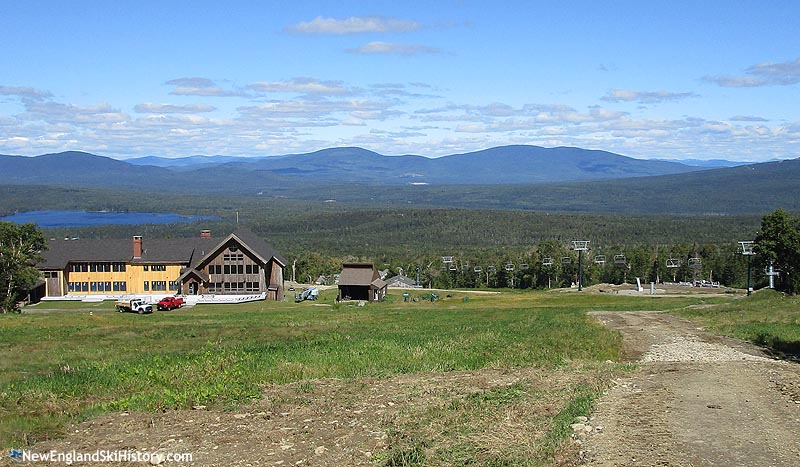 Base area construction in August 2020

New hope emerged in March of 2019, when Arctaris Impact Fund made an offer. Talks continued for months, culminating in the purchase of Saddleback in January 2020. While many other ski areas sat idle during the COVID-19-impacted summer of 2020, Saddleback was a hotbed of activity, including lodge renovations, the removal of three aging lifts, and the installation of a new high speed quad chairlift. After a decade of closure, a rejuvenated Saddleback opened for business on December 15, 2020.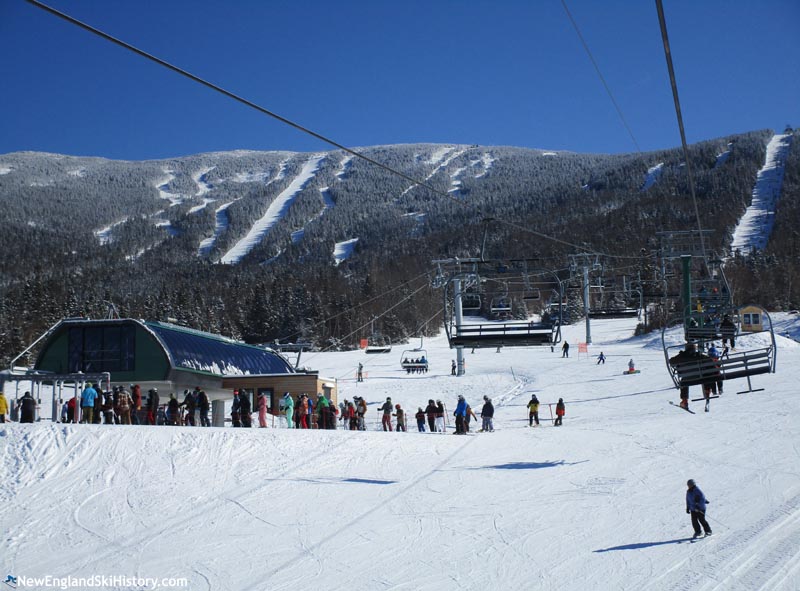 The base area (February 2022)

Investment continued for the 2021-22 season, as a new Doppelmayr T-Bar was installed on the former Cupsuptic T-Bar line. One year later, a Partek quad was installed on the former Sandy double chairlift line. Meanwhile, initial work commenced on an upper mountain lodge in 2021.



NewEnglandSkiConditions.com Reports

Month
Average Percent of Terrain Open
December
43% (2 reports)
January
86% (5 reports)
February
85% (2 reports)
March
82% (5 reports)
April
81% (5 reports)

-- start conditions table -->

Recent Conditions Reports

Apr. 10, 2023 by rocket21
Spring Snow, Spring Snow
Apr. 9, 2023 by alpinevillagepres
Packed Powder, Frozen Granular
Apr. 8, 2023 by alpinevillagepres
Frozen Granular, Spring Snow
Apr. 6, 2023 by tuckers
Spring Snow, Variable Conditions
Jan. 30, 2023 by rocket21
Powder, Packed Powder

Saddleback Mountain Resort on NewEnglandSkiConditions.com
NewEnglandSkiIndustry.com News
Recent Articles
Mid-Fall Lift Construction Continues - Nov. 6, 2022
Andy Shepard Steps Down as Saddleback CEO - Jun. 2, 2022
Lift Construction Continues as August Comes to a Close - Aug. 29, 2021
Saddleback Reborn - Dec. 15, 2020
Lift Construction Season Heading into Home Stretch - Oct. 8, 2020
Saddleback Proposes New Lodge, Solar Array - Sep. 17, 2020
Saddleback Reopening Construction Continues - Sep. 1, 2020
Lift Construction Progressing in Maine and Vermont - Jul. 1, 2020
2020 Lift Construction Season Could Be Worst in History - May. 9, 2020
Details of Saddleback Sale Begin to Emerge - Feb. 22, 2020
Saddleback Mountain Resort NewEnglandSkiIndustry.com News Page
Expansion History
Image Gallery
Lifts
Click on lift name for information and photos
Maps
Year by Year History
Adult Weekend Full Day Lift Ticket; Adult Full Price Unlimited Season Pass

2020s
Ticket Price
Season Pass Price

Pass Payback

Opening Day

Closing Day

Skier Visits

2023-24
$129.00
$949.00
7.4 days
December 2
2022-23
$119.00
$849.00
7.1 days
December 10
April 15
2021-22
$104.00
$849.00
8.2 days
December 4
April 16
2020-21
$84.00
$699.00
8.3 days
December 15
April 17
2010s
Ticket Price
Season Pass Price

Pass Payback

Opening Day

Closing Day

Skier Visits

2014-15
$69.00
December 13
April 19
2013-14
$59.00
$799.00
13.5 days
December 21
April 20
2012-13
$59.00
$799.00
13.5 days
December 15
April 21
2011-12
$59.00
$699.00
11.8 days
December 17
April 15
97,000
2010-11
$50.00
$649.00
13.0 days
December 16
May 1
2009-10
$49.00
$649.00
13.2 days
December 11
April 11
2000s
Ticket Price
Season Pass Price

Pass Payback

Opening Day

Closing Day

Skier Visits

2008-09
$40.00
$450.00
11.3 days
December 13
April 12
2007-08
$40.00
$450.00
11.3 days
December 15
April 20
2006-07
$40.00
$450.00
11.3 days
December 16
2005-06
$39.00
$500.00
12.8 days
December 17
April 16
2004-05
$35.00
$595.00
17.0 days
December 18
April 10
2003-04
$35.00
$700.00
20.0 days
December 19
2002-03
$49.00
$975.00
19.9 days
December 26
15,000
2001-02
$49.00
$775.00
15.8 days
December 22
April 7
16,000
2000-01
$47.00
$725.00
15.4 days
December 16
April 8
1999-00
$45.00
April 2
1990s
Ticket Price
Season Pass Price

Pass Payback

Opening Day

Closing Day

Skier Visits

1998-99
$42.00
November 27
1996-97
November 29
April 6
1995-96
November 24
April 7
1994-95
November 25
1992-93
$29.00
1991-92
$29.00
$350.00
12.1 days
November 29
1990-91
$32.00
$650.00
20.3 days
March 31
1989-90
$32.00
November 24
1980s
Ticket Price
Season Pass Price

Pass Payback

Opening Day

Closing Day

Skier Visits

1988-89
$29.00
April 16
1987-88
$27.00
November 27
1986-87
$24.00
1985-86
$23.00
1984-85
November 23
April 21
1983-84
$20.00
1982-83
$20.00
1981-82
$17.00
1980-81
$15.00
1970s
Ticket Price
Season Pass Price

Pass Payback

Opening Day

Closing Day

Skier Visits

1978-79
$10.50
1977-78
$8.50
1976-77
$7.50
1975-76
$8.00
1974-75
$8.00
April 27
1973-74
$8.00
December 15
28,000
1972-73
$7.50
1971-72
$7.00
1970-71
$7.00
May 16
1969-70
$7.00
1960s
Ticket Price
Season Pass Price

Pass Payback

Opening Day

Closing Day

Skier Visits

1968-69
$6.00
1967-68
$6.00
1966-67
13,000
1965-66
December 17
May 8
1964-65
$4.50
December 11
1963-64
$4.00
December 24
1962-63
December 21
1961-62
December 9
1960-61
December 31
Visitor Memories
"Great memories of skiing the awesome trails of this beautiful mountain. Skies with my ski racer daughter many times on our vacations in Rangeley. Later skied with grandchildren. Hoping it opens again as we winter vacation in Rangeley and prefer Saddleback over that other mountain....LOL."
Kelly McClare , Jan. 3, 2019
"Never skied here for a winter vacation, but went up for my sister's skiing competition. I went up the newly built quad to the very top of Saddleback, and almost got lost! The ski patrol was really lax and don't do a good job of marking unsafe trails. Nonetheless, I took the lift again later in the day and found myself in beautful crusing trail called 'America' or something like that. Anyways, I truly hope this mountain has a better future, for I might ski It once again. "
Tucker Stanton, Aug. 4, 2016
"First skied Saddleback in the early 1970s and thoroughly enjoyed it. My Aunt and Uncle lived in Wilton, ME along with my grandparents in Lisbon Falls, ME. In our visits at Christmas we would ski around Wilton, ME at a local slope and work in a trip to Saddleback when possible. In 2015, I took my son and his buddies to Saddleback and we had an awesome time, almost 45 years later! "
Brett Sulpizio, Nov. 29, 2015
"I skied Saddleback in January 1968. I had never been on a chairlift. When we reached the top, I couldn't make myself get up and ski off the chair. The equipment had to be stopped so that I could drop off and the operation could proceed. It is a life long memory."
Sally Knutson, Mar. 23, 2014
---
External Links
Saddleback - official site
Saddleback Mountain - FranklinSites.com Hiking Guide
Last updated: March 30, 2023