| | |
| --- | --- |
| | |
Located in Auburn, Lost Valley has been serving Lewiston area skiers for over half a century. Over the years, the ski area has been noted for being an early adopter in snowmaking and powdermaker grooming.


Early Years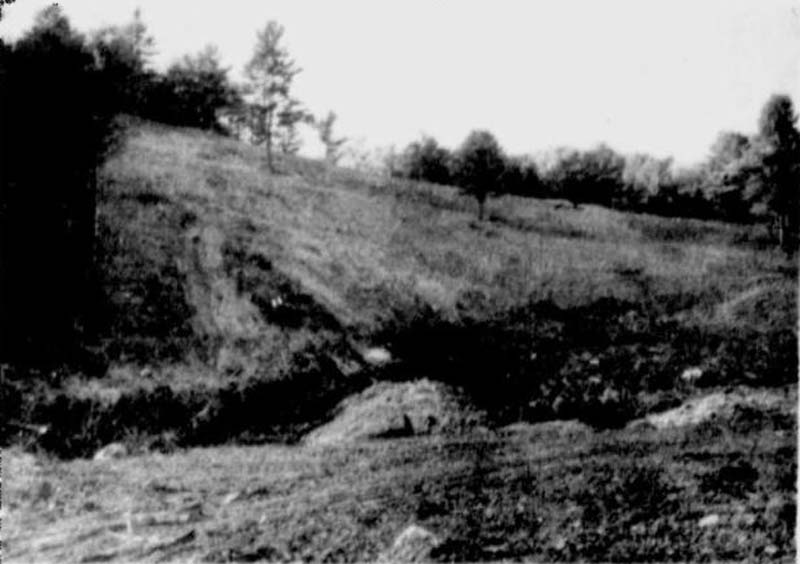 Construction of Lost Valley in 1961

Plans for a new lift served ski area in Auburn were formed starting in the 1950s by local businessmen Otto Wallingford, Dr. Camille Gardner, and Willis A. Trafton. The group settled on hidden plots of land owned by Wallingford and Dr. Gardner's family.

Construction likely started in 1961, when an access road was built, the Lapham Brook rerouted, and numerous trails and slopes cleared. Lost Valley opened for the 1961-62 season as a rope tow served ski area.

For its sophomore season, Lost Valley added three new trails and a T-Bar.


Chairlift Era Begins

Auburn native and nordic skiing Olympian John Bower took over as manager of the ski area for the 1965-66 season, while a double chairlift was added, the base lodge expanded, and a new access road constructed. An early snowstorm ushered in a great holiday season, resulting in 8,000 skiers in just one week.

Snowmaking capabilities were tripled for the 1966-67 season and further improved for the 1970-71 season. Circa 1967, Fern Pontbriand became a partner in the business.

More growth came for the 1971-72 season, as the base lodge was expanded. Meanwhile, 5 new trails were added on a northern peak, serviced by a second double chairlift.

While Lost Valley alumnus Karl Anderson raced in the 1976 Winter Olympics, a young family was developing their skills at the small Maine area. Rob, Julie, and Anne-Lise Parisien all went on to represent the United States in the Olympics.

For the 1978-79 season, the rental shop was tripled in size and a ski shop added. In addition, Lost Valley boasted a "fully-automated ticket-dispensing system."



Ownership Changes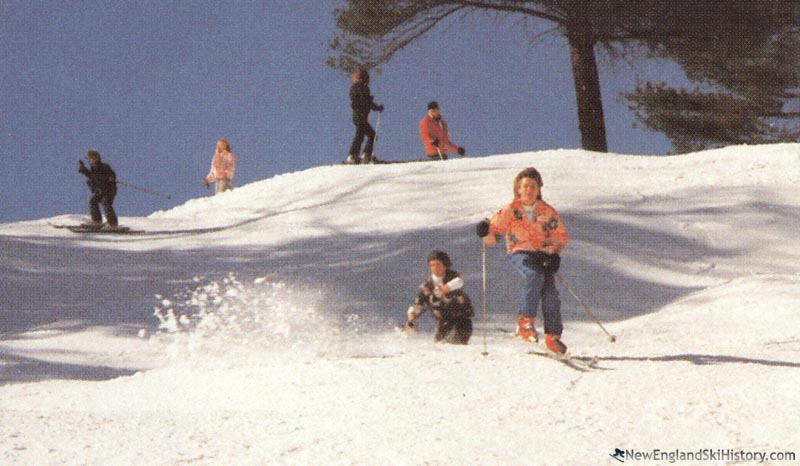 Lost Valley circa the 1980s

Circa 1988, Fern Pontbriand bought out Dr. Gardner and Wallingford.

After a successful racing career that included three World Cup wins and a silver medal at the World Championships, Julie Parisien returned to Lost Valley as a race coach circa 2002. In 2004, Lincoln Hayes, Diane Moreau, and Connie King purchased late owner Fern Pontbriand's majority stake in Lost Valley.


Rescue from Near Closure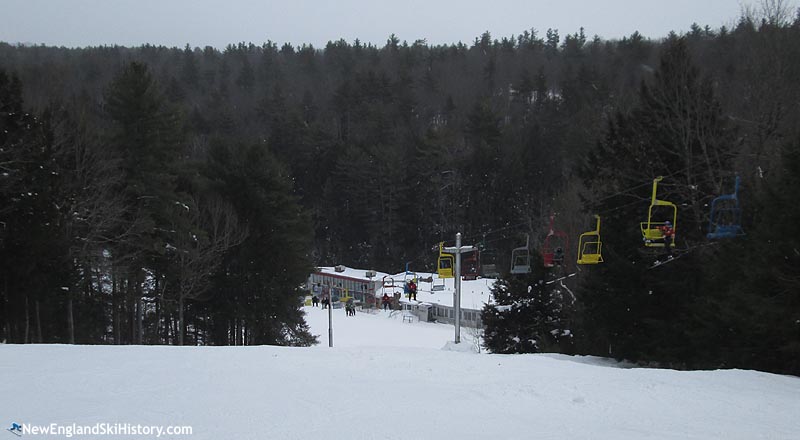 Bull Moose and Chair 1 (2015)

In June of 2014, Lincoln Hayes announced that due to ten consecutive seasons of losses, Lost Valley would not open for the 2014-15 without outside help. Locals soon rallied and raised tens of thousands of dollars, ensuring the area would operate for the 2014-15 season.

In the fall of 2015, Aerial NDT Inspection, Inc. President Scott Shanaman purchased the ski area, easing concerns about Lost Valley's future.

After stabilizing the area and laying the groundwork for future improvements, Lost Valley took major steps forward for the 2017-18 season. Air Force veteran and longtime Lost Valley skier John Herrick was named General Manager as three new trails were opened, including an expert trail on the east side of the area. In addition, the former Spruce Peak Triple from Sunday River was acquired for future use. Finally, in February 2018, the Lost Valley Brewing Company debuted.

NewEnglandSkiConditions.com Reports

Month
Average Percent of Terrain Open
December
35% (2 reports)
January
43% (2 reports)
February
73% (3 reports)

-- start conditions table -->

Recent Conditions Reports

Jan. 13, 2021 by newenglandskier13
Packed Powder, Variable Conditions
Jan. 6, 2021 by newenglandskier13
Packed Powder, Packed Powder
Dec. 23, 2020 by newenglandskier13
Packed Powder, Powder
Feb. 7, 2020 by newenglandskier13
Powder, Powder
Dec. 19, 2019 by newenglandskier13
Golf Balls, Packed Powder

Lost Valley Ski Area on NewEnglandSkiConditions.com
NewEnglandSkiIndustry.com News
Recent Articles
Signs of Uncertainty for the 2020-21 Ski Season - Aug. 2, 2020
Lost Valley Announces Three New Trails - Nov. 6, 2017
Lift Construction Ramping Up Across New England - Jun. 6, 2017
Brewery, Snowcat Development Facility to be Added to Lost Valley - Apr. 11, 2017
EXCLUSIVE: Interview with New Lost Valley Owner Scott Shanaman - Nov. 5, 2015
Lost Valley Sold - Nov. 1, 2015
Lost Valley to Open for 2014-15 Season - Oct. 1, 2014
Sunday River Donates $5,000 to Save Lost Valley Fundraiser - Sep. 26, 2014
Lost Valley Fundraiser Reaches $10,000 Mark - Sep. 23, 2014
Lost Valley Starts Fundraising Campaign to Continue Ski Operations - Sep. 11, 2014
Lost Valley Ski Area NewEnglandSkiIndustry.com News Page

Image Gallery

Lifts
Click on lift name for information and photos
Maps

Year by Year History
Adult Weekend Full Day Lift Ticket; Adult Full Price Unlimited Season Pass

2020s
Ticket Price
Season Pass Price

Pass Payback

Opening Day

Closing Day

Skier Visits

2020-21
$60.00
$595.00
9.9 days
December 19
2019-20
$60.00
$575.00
9.6 days
December 6
March 15
2010s
Ticket Price
Season Pass Price

Pass Payback

Opening Day

Closing Day

Skier Visits

2018-19
$55.00
$549.00
10.0 days
December 14
March 31
2017-18
$49.00
$499.00
10.2 days
December 15
March 31
2016-17
$45.00
$499.00
11.1 days
December 16
April 2
2015-16
$45.00
$499.00
11.1 days
December 30
March 13
2014-15
$40.00
$399.00
10.0 days
January 1
March 29
2013-14
$45.00
$455.00
10.1 days
December 20
March 29
2012-13
$45.00
$455.00
10.1 days
March 17
2011-12
$45.00
$455.00
10.1 days
December 22
March 18
2010-11
December 23
2009-10
December 18
March 14
2000s
Ticket Price
Season Pass Price

Pass Payback

Opening Day

Closing Day

Skier Visits

2008-09
$45.00
$455.00
10.1 days
2007-08
$35.00
$399.00
11.4 days
2006-07
$35.00
$399.00
11.4 days
2005-06
$33.00
$376.00
11.4 days
2004-05
$31.00
$440.00
14.2 days
2003-04
$31.00
$440.00
14.2 days
March 14
2002-03
$31.00
$440.00
14.2 days
2001-02
$30.00
$440.00
14.7 days
2000-01
$30.00
1999-00
$30.00
1990s
Ticket Price
Season Pass Price

Pass Payback

Opening Day

Closing Day

Skier Visits

1998-99
$30.00
$450.00
15.0 days
1997-98
$30.00
$450.00
15.0 days
1996-97
December 26
1993-94
April 2
1980s
Ticket Price
Season Pass Price

Pass Payback

Opening Day

Closing Day

Skier Visits

1988-89
December 16
1987-88
December 20
1985-86
$14.75
1983-84
$12.50
December 23
1982-83
$11.50
December 21
1981-82
March 14
1980-81
$9.75
1979-80
December 20
1970s
Ticket Price
Season Pass Price

Pass Payback

Opening Day

Closing Day

Skier Visits

1978-79
$8.75
1977-78
$8.00
1976-77
$8.00
$110.00
13.8 days
1975-76
$7.00
1974-75
$7.00
$80.00
11.4 days
December 5
1973-74
December 31
1972-73
$6.00
1971-72
$6.00
1970-71
$5.50
December 3
1969-70
$5.50
1960s
Ticket Price
Season Pass Price

Pass Payback

Opening Day

Closing Day

Skier Visits

1967-68
December 9
Visitor Memories
"Worked at Lost Valley from 73-76 than again from 93-03 as part of the lift crew. Like a ball club sometimes it takes a new coach/manager to turn things around. The new owners might just do that. "
Gary Henault, Nov. 3, 2015
"Lost Valley has been in my family since 1963. I hope the current owners can see what it takes to continue I love it here"
Mike Cyr, Jan. 18, 2015
"where I learned to ski in 1978 from Brunswick Rec Department Ski Club. Great fun!!!"
John Paddock, Jun. 7, 2014
---
External Links
Lost Valley Ski Area - official site
Lost Valley - SmallSkiAreas.com
Last updated: January 15, 2018