| | |
| --- | --- |
| | |
Located on 3,343 foot Ludlow Mountain, Okemo Mountain Resort is one of the most popular ski areas in New England. Okemo is said to be a Native American word that means "All Come Home."


Early Years and Okemo Outing Club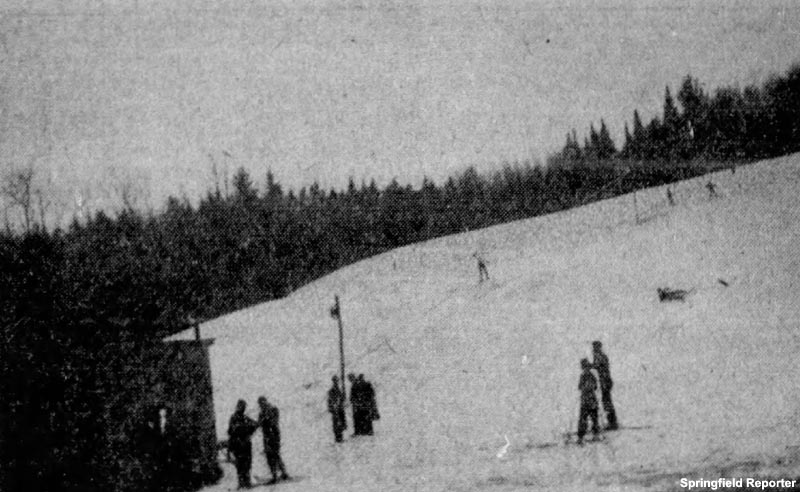 The Okemo Outing Club rope tow circa 1938

Okemo State Forest dates back to June 1935, when the State of Vermont acquired 4,000 acres of land from Parker Young and Company's Woodstock Lumber Company. The $9,250 ($2.31 per acre) purchase quickly drew sharp criticism from state legislators, as the funds had been earmarked for State Emergency Board public works projects. Nevertheless, plans for a major park were formulated by State Forester Perry Merrill using Civilian Conservation Corps ("CCC") labor. CCC crews were soon on-site, constructing an auto road, picnic areas, and various trails.

A big force in the development of the new facilities and activities was Merrill F. Proctor. Born in Rockingham, Proctor's earlier career was spent working in the hardware business in New Hampshire before relocating to Ludlow with his wife Verna in 1921. Proctor purchased Henry Brown's hardware store in town and became increasingly involved with local civic organizations, eventually serving a few years in the state legislature in the late 1920s and early 1930s. With the CCC developing a 1.75 mile ski trail on the Healdville side of Ludlow Mountain and a 700 vertical foot bobsled run in Proctor-Piper State Forest, Proctor helped to organize the Okemo Outing Club to coordinate winter carnivals. More than a thousand spectators were reported over the two-day Black Valley Carnival in February 1936. One point of criticism was that the ski events were so far away from Ludlow.

In January 1937, the Okemo Outing Club proposed installing a rope tow on the Ludlow side of the mountain. Meanwhile, four ski trails were proposed. The club continued to discuss the rope tow in early 1938, but decided not to proceed due to the anticipated cost. This changed later in the winter, when the club obtained permission to construct a tow on the Walter Slack farm north of town near Lake Rescue. The lift debuted on March 7, attracting hundreds. Okemo Outing Club, Inc. was formed around this time to provide facilities and promote winter and summer sports.

The Okemo Outing Club tow was realigned and lengthened for the 1938-39 season, becoming the site of the winter carnival snow events. A ski school was established that winter, operated by Ronald Colby.

The tow was once again lengthened for the 1940-41 season (to 900 feet), with the motor being relocated to the top to operate faster. The tow continued to operate through the winter of 1941-42, continuing to draw local and out-of-state skiers. However, with World War II in full swing, the Okemo Outing Club decided to cease operating the tow prior to the winter of 1942-43. With the CCC now disbanded, the crew's buildings began to collapse. It also seems that the ski trail on Ludlow Mountain ceased to be maintained. Meanwhile, the Okemo Outing Club sold the rope tow equipment, which was set up behind the Ludlow school prior to the 1944-45 season.



Okemo Mountain, Inc.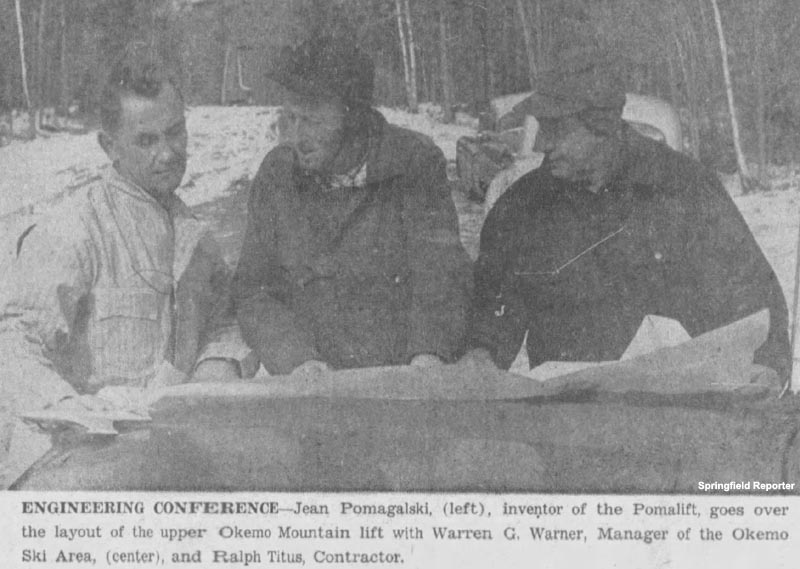 Jean Pomagalski, Warren Warner, and Ralph Titus during construction (1955)

Following World War II, Ludlow did not immediate regain its status as a skiing destination. However, in 1953 a group of Ludlow citizens (including Merrill Proctor) began discussions with Perry Merrill about developing a chairlift or surface lift served ski area on Ludlow Mountain.

On January 7, 1955, Okemo Mountain, Inc. was incorporated by a group of local businessmen. 374 acres of lower mountain land was purchased and plans were made to install tiered double chairlifts to the top of the mountain and possibly tap into the railroad at the base to bring skiers in from Rutland. A commitment was obtained from Perry Merrill that the state would lease 4,500 acres for the project. Donald Ayers, operator of a local gas station, was elected as the first president of the corporation, with Merrill Proctor, Ernest Moore (former Vermont Speaker of the House), and Allen Fletcher Jr. (son of the former Governor) serving as founding directors. Ayers' wife Margaret served as clerk and office manager.

The proposed initial stock offering was for 5,000 shares at $10 per share, only available to Vermont residents (in part to avoid Securities & Exchange Commission jurisdiction). Plans evolved as stock was made available, with a $125,000 estimated price tag (with the stock offering expanding to $200,000). Retired postal employee Philip Delano and banker Floyd Chaffee spent a considerable amount of time selling stock, with the added bonus that a purchase of 100 shares included a lifetime ski pass. The first stockholder was a 9 year old Ludlow resident named Susan Menander. Construction costs and timelines were reduced by using the already-existing auto road as a trail and by choosing to install Pomalifts instead of chairlifts. The Pomalifts were also chosen because of their safety features, as the circular disc minimized the chance of a person getting caught on the lift (as compared to a rope tow or T-Bar). Trails and lifts were laid out by Charlie Lord (Stowe trail designer), Joe Jones, Steven Rostas, and Andrew Titcomb (local architect and Okemo Vice President). Construction began on July 25, 1955 with a projected December opening, though rain and muddy conditions hampered progress.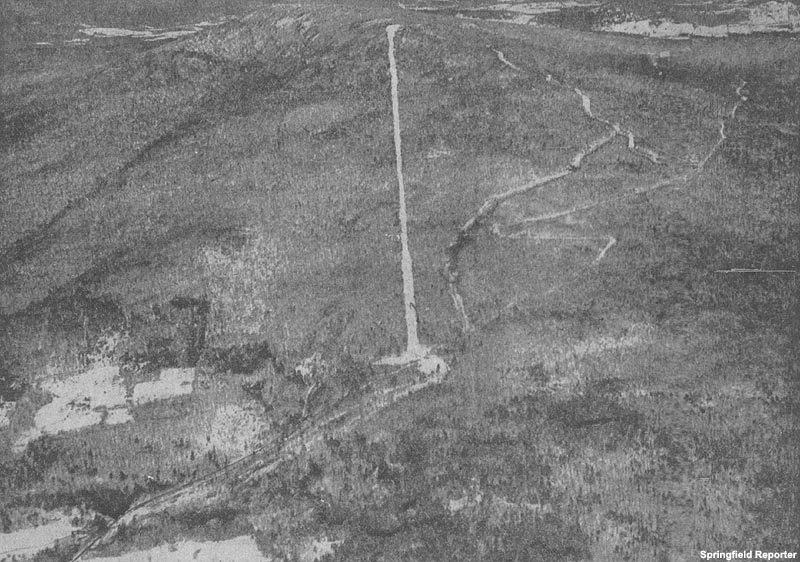 Okemo in 1955

In August, Warren Warner was named general manager. Previously employed as ski patrol director and Spruce Peak construction foreman at Stowe, Warner had two decades of experience as a forester with the United States Forest Service and Vermont State Forest Service.

By November, the corporation had $110,000 in pledged or sold stock. The 40-man construction crew was slowed at the beginning of the month due to an early snowstorm, putting the Christmas Eve opening in jeopardy. Though final lift wiring was completed in early January, there was inadequate snowpack to operate. Jean Pomagalski completed the final inspection of the new lifts in mid-January.



Okemo Opens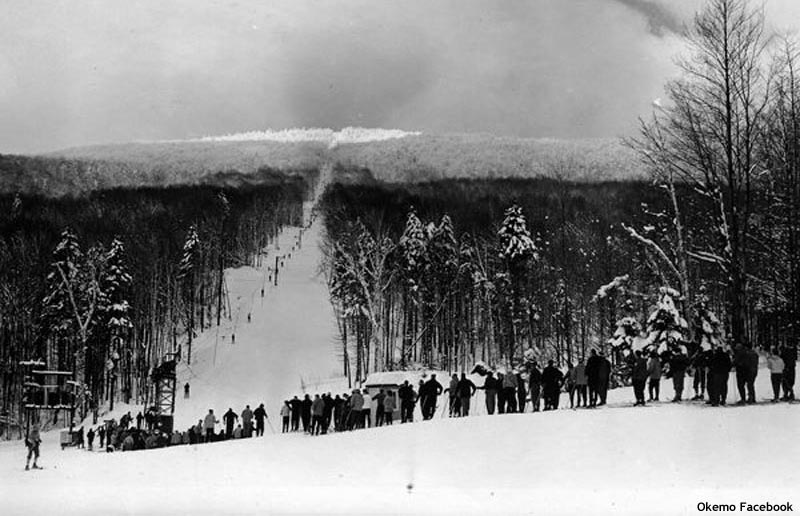 The Red Poma circa the 1950s

An 11 inch snowstorm hit Okemo at the end of January, allowing for the area to finally debut on January 31, 1956. Three trails were served by the longest Pomalift in the country: the novice Squaw, the intermediate-expert Tomahawk, and Mountain Road. The lower Pomalift served the Papoose slope. Atop the paved access road, the state-constructed parking area could hold 800 cars. The state-operated Long House lodge was located at the base of the ski area, while the Wigwam warming hut, designed by Titcomb, was constructed at the top of the upper Pomalift.

An estimated 1,000 people visited Okemo during its debut weekend. The Springfield Reporter proclaimed, "Okemo Ski area was a dream yesterday. Today it is a reality. Tomorrow it will be a strong part of this section's recreation economy."

The inaugural ski school was directed by Karl Bauer, a German instructor who had previously taught at Mt. Snow. Staff included Bill Jenkins, Sandy Gregg, Kermit Upton, Dick Ireland, and Clif Taylor. Allen "Babe" Smith, formerly of Stowe, directed the ski patrol.

As the short debut season progressed, manager Warren Warner began discussing expansion plans, including three new trails planned for 1956-57. Okemo entered April with nearly four to five feet of base. The season likely ended on April 21, reportedly resulting in a slight operating profit.

In June 1956, general manager Warren Warner announced his resignation from Okemo and his family's return to Morrisville so that he could work on the new Smugglers Notch development. Days later, corporation president Donald Ayers announced his resignation.

Andrew Titcomb took over as president of the corporation, hiring Vermont Academy and Dartmouth College graduate Donald Cutter as manager in September. A World War II Pacific theater veteran of the 10th Mountain Division, Cutter had been most recently involved in the construction of Dartmouth Skiway. Jerome Hickson was hired as ski school director.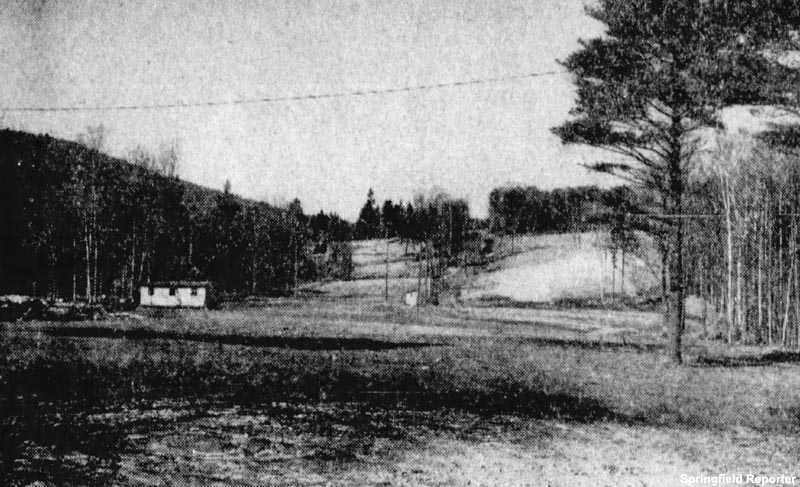 The base area in the fall of 1956

Changes for the 1956-57 season included an improved parking area, the addition of the expert Chief trail, more open slope on either side of the lower lift, and a cutoff of Mountain Road. An additional $50,000 in stock was authorized. Meanwhile, the Board of Directors warned shareholders of an attempted hostile takeover of the company by a firm from Lunenburg Massachusetts, labelling it a "back-door approach to a business matter."

Following an early season snowstorm, Okemo started its sophomore season on December 9, though subpar conditions persisted through Christmas. Nevertheless, Okemo had its largest weekend yet following Christmas, as it filled its parking lot to capacity.

Despite persistently marginal conditions with bare spots often being disclosed in reports, Okemo remained in operation through the subpar winter. In February, a Vermont Junior Ski Council race was held on Tomahawk and Mountain Road. One young competitor was future Olympian Suzy Chaffee. The snow situation continued to deteriorate, as Okemo shut down at the end of February and remained closed until the second week in March, when a sizable storm briefly restored skiing. Skiers reportedly had to be transported to the upper mountain lift for the conclusion of the season on St. Patrick's Day weekend.

Improvements for the 1957-58 season included an improved access road funded by the state and a new warming hut. The season likely got underway with a few inches of snow on Mountain Road in early December. Rain dampened the season, as the Rutland Herald noted Okemo had no snow left by Christmas.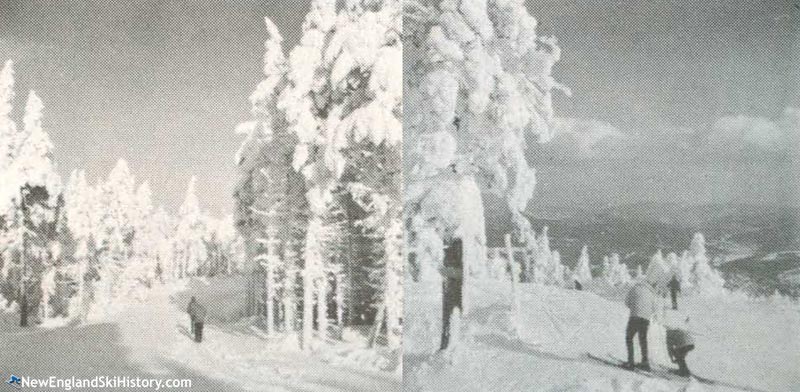 Okemo circa the early 1960s

Pomas, Pomas, and More Pomas!

A third Poma lift was likely installed for 1958-59 season, serving the lower mountain.

Two new Poma lifts were initially advertised for the 1960-61, however it is possible that only Black Poma was installed. Nonetheless, the new lift was opened in conjunction with additional trails, such as War Dance, Bow, and Arrow.

The Blue Poma was extended uphill for the 1961-62 season, providing easier connecting to the upper mountain lifts. In addition, a new trail was cut in the Glades area.

The base lodge was doubled in size for the 1962-63 season, while general trail improvements and expansions also took place. Taking Don Cutter's place as General Manager was Daniel J. Leary, who would later serve as the first manager of Enchanted Mountain in Maine.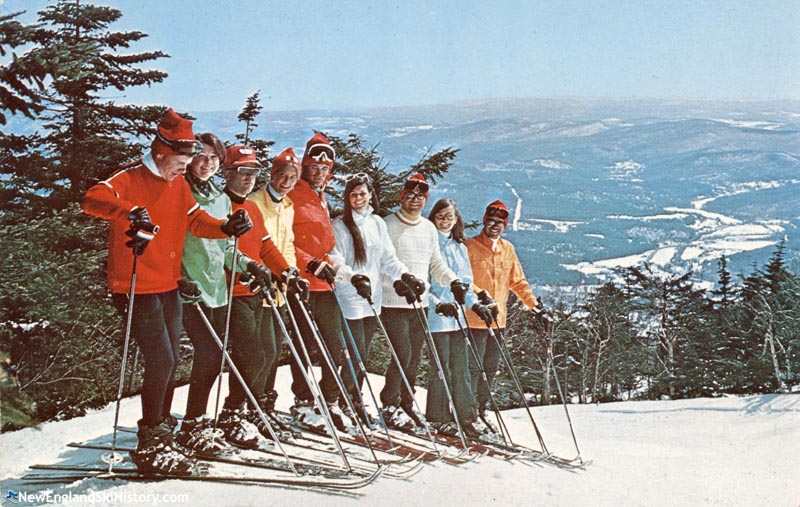 A ski school lesson at Okemo circa the 1960s or 1970s

Finally, a Chairlift

Already considered one of the larger areas in the state, Okemo made advances in the mid 1960s when it cut a 4,600 foot long lift line trail in 1964. The expansion was completed in 1965, when the area's first chairlift was installed, the Sachem Double. Along with the chairlift and the installation of the F 10, Okemo's lift network had grown to 7 Pomas. John S. Anderson was General Manager by this time.

To help the ski area in lean seasons, a new snowmaking system was added for the 1966-67 season, covering 12 acres on the lower mountain's Papoose and ski school slopes. Meanwhile, the Board of Directors was putting together a new financing package.

In July 1967, Okemo announced that directors John Wadhams and Kingsley Smith had obtained financing from investors and local banks. Investments were to be made in a new lodge, more land, expanded parking, new trails, and another chairlift.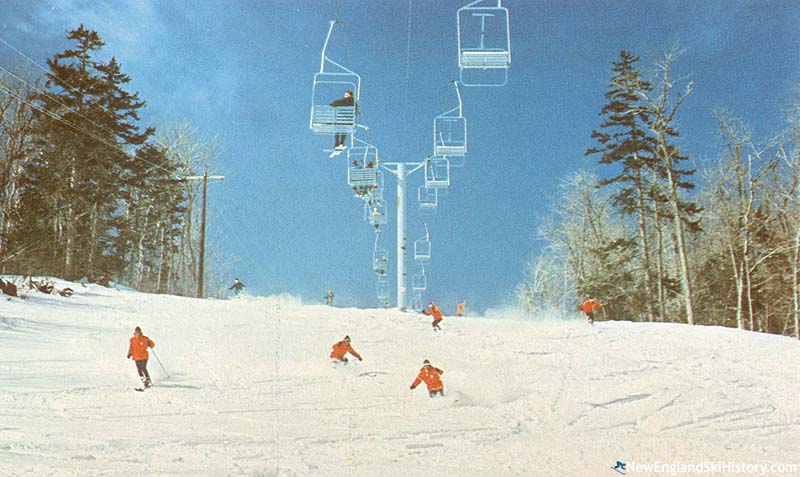 The Sachem Double circa the 1960s or 1970s

A $400,000 base lodge project debuted for the 1968-69 season, to be opened in conjunction with Okemo's second chairlift. Construction on the latter was halted due to an early season snowstorm. Combined with a lean 1969-70 season, the Northwest Summit double chairlift did not debut until February of 1970. John Bassette served as General Manager for the 1969-70 season, followed by David Rock in 1970-71. The Rim Rock Trail likely opened in 1970-71.



Financial Woes

The South Ridge double chairlift, Okemo's third, was installed for the 1971-72. With the new lift, Okemo now had top to bottom chairlift served skiing for the first time. Unfortunately for skiers, it would be more than a decade before the next installation, as Okemo was rolling into financial trouble. While Bromley manager Stig Albertsson attempted to purchase Okemo, he was unsuccessful.



The Muellers Take Over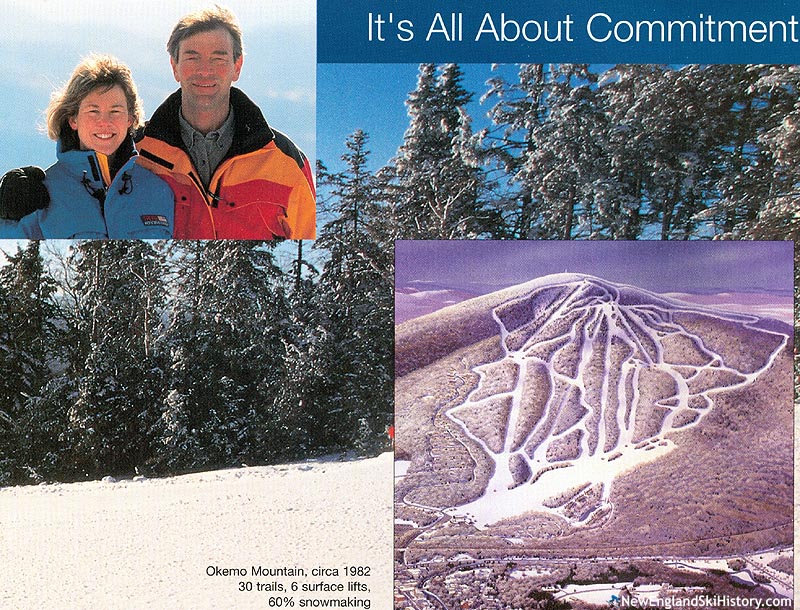 The Muellers

By the start of the 1980s, a planned expansion was shelved while debt increased. On August 2, 1982, Tim and Diane Mueller took a principal stake in the ownership of the mountain and began a campaign of dramatic improvements.

During their first full off season, the Muellers installed the area's first triple chairlift, ushering in an era of repeated record breaking skier visit figures. Tim Mueller later told the New York Times, "Our philosophy has been to improve and maintain a first-class ski resort and ski product, and the rest will come along."

After eclipsing 300,000 skier visits, a sizable expansion took place a few years later with 1987's Solitude development.

Okemo's first detachable quad was installed for the 1992-93 season, advertised as the world's fastest high speed quad. A $1.2 million summit lodge was constructed in 1993. Around this time, the Muellers became sole owners of Okemo.

Aided by a land swap with the state, the ski area expanded again in 1994-95 with the installation of a high speed quad at Solitude, the construction of a 70 million gallon snowmaking reservoir, and the new South Face complex. Skier visits soon surpassed 500,000.

A new snowboard park was constructed in 1996, served by a T-Bar. By the end of the decade, Okemo was launching its new nordic skiing and golf facility. Meanwhile, the Muellers became operators of Mount Sunapee, NH in 1998.


Jackson Gore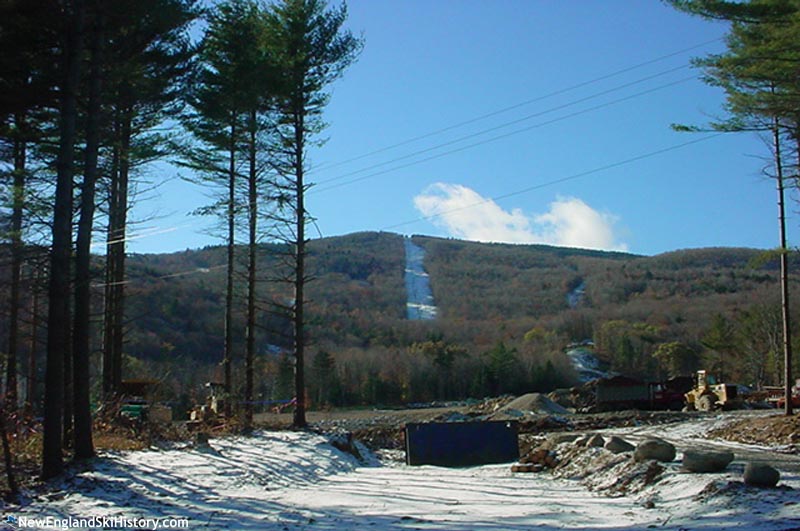 Jackson Gore, under construction in 2002

An ambitious project was rolled out in 2002, when a new base area and trail pod were developed on Jackson Gore. While original plans called for extensive developments such as a gondola, the implementation has been much more gradual. The main lift was installed for the 2002-03 season, whilst the base area and lower mountain lift were added for the 2003-04 season. Longtime departmental manager Bruce Schmidt was promoted to General Manager of Okemo in the summer of 2004.

On December 5, 2008, Okemo parent company Triple Peaks, LLC sold its developed ski area assets (including Okemo) to the Real Estate Investment Trust CNL Lifestyle Properties for $132 million. Triple Peaks, LLC then entered into an agreement to lease its three areas back from CNL for 40 years, therefore continuing operational control.

During the 2010 off season, the Snow Star Poma was replaced with a Magic Carpet lift, marking an end to Okemo's long Pomalift history.

More recently, Okemo has unveiled plans to develop South Face Village below South Face, providing new trails, lifts, and real estate opportunities.


Bubbles!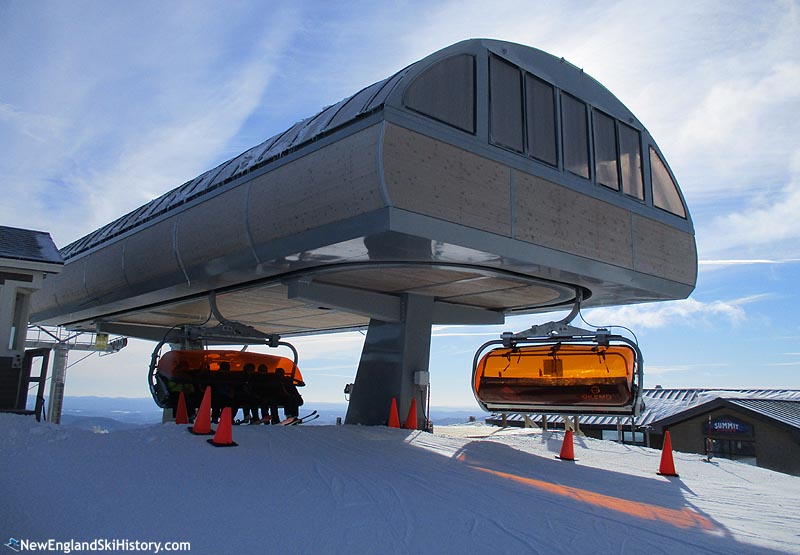 The Sun Burst Six (2016)

During the 2014 off season, Okemo installed a new high speed six pack bubble chair, replacing the Northstar Express Quad. The following year, bubbles were installed on the Jackson Gore Express, which became known as the Quantum Four. As a result, Okemo became the only ski area in New England with two bubble chairlifts.

In June of 2018, the Muellers announced they would be selling their ski areas to Vail Resorts, ending their 36 year ownership of Okemo. In their honor, Vail Resorts renamed the Defiance trail to Muellers' Run. That fall, Bruce Schmidt was transferred to Mt. Sunapee, while Kirkwood General Manager Doug Pierini took over as Okemo General Manager, as well as COO of Vail's Northeast resorts. One year later, following the Vail acquisition of Peak Resorts, Schmidt returned as Okemo General Manager, while Pierini became COO of Vail's Eastern Region.



NewEnglandSkiConditions.com Reports

Month
Average Percent of Terrain Open
November
13% (3 reports)
December
29% (8 reports)
January
71% (9 reports)
February
93% (5 reports)
March
92% (6 reports)

-- start conditions table -->

Recent Conditions Reports

Dec. 2, 2022 by livesforwinter
Packed Powder, Frozen Granular
Nov. 29, 2022 by livesforwinter
Frozen Granular, Loose Granular
Nov. 22, 2022 by livesforwinter
Packed Powder, Loose Granular
Nov. 21, 2022 by livesforwinter
Packed Powder, Frozen Granular
Feb. 9, 2022 by livesforwinter
Packed Powder, Packed Powder

Okemo Mountain Resort on NewEnglandSkiConditions.com
NewEnglandSkiIndustry.com News
Recent Articles
Lift Construction Continues Intra-Season - Dec. 18, 2021
Lift Construction Continues as August Comes to a Close - Aug. 29, 2021
Vail Announces 2021-22 Capital Improvements - Dec. 12, 2020
Vail Resorts Cancels Capital Improvements, Slashes Payroll - Apr. 2, 2020
Vail Announces 2020-21 Capital Improvements - Dec. 9, 2019
Musical Chairs at Vail and Pacific Owned New England Ski Areas - Nov. 26, 2018
Vail Resorts Purchases Okemo and Sunapee - Jun. 4, 2018
Six Major Ski Areas Sold to Hedge Fund - Nov. 3, 2016
Vermont Re-approves Okemo South Face Village EB-5 Investment - Jul. 19, 2016
Vermont Halts Okemo South Face Village EB-5 Investment - Jun. 24, 2016
Okemo Mountain Resort NewEnglandSkiIndustry.com News Page
Expansion History
Image Gallery
Lifts
Click on lift name for information and photos
Maps
Year by Year History
Adult Weekend Full Day Lift Ticket; Adult Full Price Unlimited Season Pass

2020s
Ticket Price
Season Pass Price

Pass Payback

Opening Day

Closing Day

Skier Visits

2023-24
$200.34
$795.00
4.0 days
November 17
2022-23
$157.94
$735.00
4.7 days
November 19
April 16
2021-22
$142.04
$619.00
4.4 days
November 26
April 17
2020-21
$126.14
$849.00
6.7 days
November 25
April 4
2019-20
$126.14
$739.00
5.9 days
November 22
March 14
2010s
Ticket Price
Season Pass Price

Pass Payback

Opening Day

Closing Day

Skier Visits

2018-19
$127.20
$709.00
5.6 days
November 16
April 14
2017-18
$110.00
$1375.00
12.5 days
November 11
April 22
2016-17
$101.00
$1619.00
16.0 days
November 23
April 16
2015-16
$97.00
$1599.00
16.5 days
November 24
April 3
2014-15
$92.00
$1529.00
16.6 days
November 16
April 26
2013-14
$89.00
$1499.00
16.8 days
November 13
April 13
2012-13
$88.00
November 8
April 14
2011-12
$84.00
$1419.00
16.9 days
November 24
March 25
2010-11
$81.00
$1379.00
17.0 days
November 23
April 17
2009-10
$1339.00
December 5
April 9
603,000
2000s
Ticket Price
Season Pass Price

Pass Payback

Opening Day

Closing Day

Skier Visits

2008-09
$77.00
$1299.00
16.9 days
November 21
April 12
2007-08
$74.00
$1249.00
16.9 days
November 16
April 20
640,000
2006-07
$72.00
$1229.00
17.1 days
November 23
April 22
2005-06
$69.00
$1199.00
17.4 days
November 18
April 9
2004-05
$67.00
$1325.00
19.8 days
November 12
April 10
2003-04
$65.00
$1375.00
21.2 days
November 13
April 11
2002-03
$62.00
$1240.00
20.0 days
November 2
April 20
604,000
2001-02
$59.00
$1200.00
20.3 days
November 14
April 14
2000-01
$56.00
$1150.00
20.5 days
November 17
April 29
593,000
1999-00
$54.00
$1150.00
21.3 days
November 11
April 16
1990s
Ticket Price
Season Pass Price

Pass Payback

Opening Day

Closing Day

Skier Visits

1997-98
$50.00
$1110.00
22.2 days
November 14
560,000
1996-97
$48.00
540,000
1995-96
$46.00
April 21
508,000
1994-95
$45.00
April 16
480,000
1993-94
$43.00
November 4
1992-93
$42.00
465,000
1991-92
$41.00
November 9
April 26
446,000
1990-91
$39.00
420,000
1989-90
$37.00
November 5
April 15
400,000
1980s
Ticket Price
Season Pass Price

Pass Payback

Opening Day

Closing Day

Skier Visits

1988-89
$35.00
November 23
1987-88
$32.00
340,000
1986-87
$30.00
320,000
1985-86
224,000
1984-85
$25.00
$543.00
21.7 days
165,000
1983-84
$23.00
$500.00
21.7 days
1982-83
$20.00
$510.00
25.5 days
1981-82
$18.00
November 25
86,000
1980-81
$17.00
95,500
1979-80
$15.00
88,800
1970s
Ticket Price
Season Pass Price

Pass Payback

Opening Day

Closing Day

Skier Visits

1978-79
$14.00
November 23
1977-78
$12.00
December 2
176,000
1976-77
$12.00
$300.00
25.0 days
December 3
1975-76
$11.00
December 6
1974-75
$10.00
November 28
1973-74
$10.00
1972-73
$10.00
1971-72
$10.00
$170.00
17.0 days
1970-71
$8.50
1969-70
$7.00
132,170
1960s
Ticket Price
Season Pass Price

Pass Payback

Opening Day

Closing Day

Skier Visits

1968-69
$7.00
1967-68
$6.00
1966-67
$6.00
1964-65
$5.50
1963-64
$5.00
1962-63
$5.00
1961-62
$5.00
December 19
April 8
39,900
1960-61
$5.00
$65.00
13.0 days
1959-60
$4.00
$55.00
13.8 days
December 19
1950s
Ticket Price
Season Pass Price

Pass Payback

Opening Day

Closing Day

Skier Visits

1958-59
$55.00
November 29
April 10
30,000
1957-58
December 7
April 20
25,300
1956-57
$4.00
$55.00
13.8 days
December 9
March 17
11,800
1955-56
January 31
April 21
3,000
Visitor Memories
---
External Links
Okemo - official site
Ludlow Mountain - FranklinSites.com Hiking Guide
Last updated: December 20, 2022