Mt. Mohawk Ski Area
Shelburne, Massachusetts
Status:
Lost/Defunct
First Season:
1957-58
Last Season:
1980s
Vertical Drop:
450 feet
Standing Lifts:
0
Past Lifts:
2 T-Bars, rope tows
Left: The main T-Bar (2015)
Recent NewEnglandSkiIndustry.com News:
Located off Route 2 between Greenfield and Shelburne Falls, Mt. Mohawk ski area operated for nearly a quarter of a century. After sitting idle for decades, the former ski trails are generally unrecognizable by tens of thousands of Berkshire East and Mt. Snow skiers who drive past them every day.


Mohawk Skiway Opens


The Mt. Mohawk logo in 1958

Lift served skiing at Mt. Mohawk likely dates back to 1957-58, when the Mohawk Skiway opened as a small rope tow area. Located several hundred feet higher than nearby Greenfield, the area could sometimes see more snow and lower temperatures than the populated valley below. The ski area was operated by Greenfield attorney Philip H. Ball Jr. for its first half decade.

The rope tow served ski area was expanded upward in the late 1950s and early 1960s, paving the way for new ownership and larger operations.



Mohawk Skiway is Rebuilt and Renamed Mt. Mohawk

In 1962-63, property owners Walter C. Richardson and his wife Ethel Mae (owners of the adjacent private Roberts School since 1955) took over the operation of the area, renaming it Mt. Mohawk. Two new Mueller T-Bars were installed that season - 650 and 2,000 feet long. The lift parts were reportedly delivered with the new Chair 2 at nearby Thunder Mountain. The lifts were paid off in three years. Some of the trails featured dramatic views of Mt. Monadnock.

As nearby ski areas such as Mt. Snow, Berkshire East, and Mt. Tom grew and modernized, Mt. Mohawk remained firm in its roots. Not only was skiing only available via natural snowfall, but bathroom facilities were limited to outhouses with the claim that 'Indians never used plumbing either.'

Mt. Mohawk likely reduced its operations to just one T-Bar during the late 1970s, opening generally only on weekends and holidays. The area was likely operated by Mt. Mohawk, Inc. starting in January of 1979.



Closure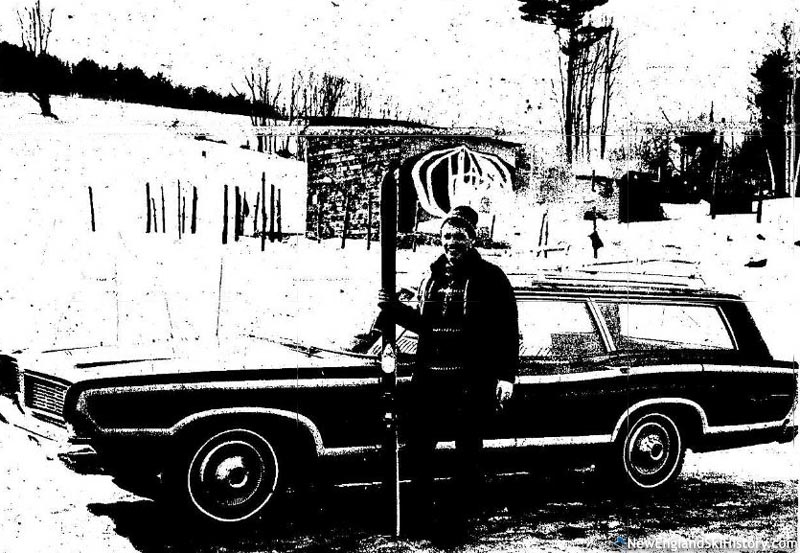 The main T-Bar base terminal at Mt. Mohawk (2013)

Mt. Mohawk likely closed sometime between 1980 and 1982 after one or two snowless winters. Mt. Mohawk, Inc. was dissolved in late 1983. Years later, a new building was constructed adjacent to the main T-Bar, becoming home to multiple businesses. Meanwhile, a sizable portion of the ski area may have been purchased in 1993 by Camille Cosby, wife of comedian Bill Cosby.

While the trails have grown in, both T-Bar lifts remain standing in the woods.

Expansion History

Lifts
Click on lift name for information and photos
Maps

Year by Year History
Adult Weekend Full Day Lift Ticket; Adult Full Price Unlimited Season Pass

1970s
Ticket Price
Season Pass Price

Pass Payback

Opening Day

Closing Day

Skier Visits

1977-78
$4.75
1976-77
$4.50
$45.00
10.0 days
January 8
1975-76
December 27
1974-75
December 27
March 23
1973-74
January 12
1972-73
December 9
1970-71
April 11
1969-70
December 26
1960s
Ticket Price
Season Pass Price

Pass Payback

Opening Day

Closing Day

Skier Visits

1967-68
$3.75
1965-66
January 8
1964-65
$3.50
December 12
1963-64
December 24
March 15
1962-63
March 31
1950s
Ticket Price
Season Pass Price

Pass Payback

Opening Day

Closing Day

Skier Visits

1958-59
$2.00
1956-57
December 18
Visitor Memories
"My grandfather took my brother and sister and I there to learn how to ski around 1970. We took ski lessons from the Richardsons son every weekend for a couple years in the mornings and skiied on our own in afternoons. Great memories. Im still skiing 50 years later and smile every time I drive by on my way up to the bigger mountains these days."
Carl Dunn, Feb. 19, 2019
"My family and I all learned to ski on the Mt. Mohawk trails in the 1960s. It was a terrific family ski area - affordable, just the right size, and, most importantly only a few minutes from downtown Greenfield. This meant we could easily get to the slopes in under 20 minutes. It was a great jumping off point to the larger and more challenging ski areas in NH and VT."
Karen Rea, Nov. 12, 2017
"I was a student ski patroler there during the winters of 74-77 and can say it operated on weekdays as high school students like me skied after school every day. It was a natural only area with fairly decent pitch, rock hard moguls and tight trees. You can still see the t-bar supports as you drive by. It was a great family mountain with a vibe like the current Cochrines in Vermont"
john stobierski, Feb. 23, 2015
---
External Links
Mohawk Mountain - New England Lost Ski Areas Project
Last updated: July 22, 2016