Mt. Mohawk Ski Area
Shelburne, Massachusetts
Status:
Lost/Defunct
First Season:
1957-58
Last Season:
1980s
Vertical Drop:
450 feet
Standing Lifts:
0
Past Lifts:
2 T-Bars, rope tows
Left: The main T-Bar (2015)
Recent NewEnglandSkiIndustry.com News:
5/31/2023: Gerry Seibert Passes Away
Located off Route 2 between Greenfield and Shelburne Falls, Mt. Mohawk ski area operated for nearly a quarter of a century. After sitting idle for decades, the former ski trails are generally unrecognizable by scores of Berkshire East and Mt. Snow skiers who drive past them every day.


Roberts School

The Roberts School was founded in Greenfield circa 1916 or 1917 by Alice Roberts. A few years later, Roberts relocated the school to a location south of the Mohawk Trail, just over the Shelburne line. The school operated for both day and boarding students and included a working farm.

Walter C. Richardson Jr. and his wife Ethel Mae purchased the school in June 1955. A Bronze Star recipient in World War II, Richardson had previously taught at Eaglebrook School. He and his wife were alumni of North Adams State Teachers College. Walter was a North Adams native, while Ethel Mae was from Greenfield.


Mohawk Skiway Opens


The Mt. Mohawk logo in 1958

A small rope tow ski area opened on the property in December 1956 as the Mohawk Skiway. Located several hundred feet higher than nearby Greenfield, the area could sometimes see more snow and lower temperatures than the populated valley below. The ski area was operated by Greenfield attorney Philip H. Ball Jr. for its first half decade.

The rope tow served ski area was expanded upward in the late 1950s and early 1960s, paving the way for new ownership and larger operations.



Mohawk Skiway is Rebuilt and Renamed Mt. Mohawk

The Richardsons took over the operation of the ski area in 1962-63, renaming it Mt. Mohawk. Two new Mueller T-Bars were installed that season - 650 and 2,000 feet long. The lift parts were reportedly delivered with the new Chair 2 at nearby Thunder Mountain. The lifts were paid off in three years.

During its debut season as a T-Bar area, the area was open weekends, holidays, and afternoons on Wednesdays and Fridays. Some of the trails featured dramatic views of Mt. Monadnock. Adequate snowfall resulted in the season stretching to March 31, when owner Walt Richardson pulled ski parents in a sleigh to the top of the mountain via snowcat. Richardson told the Greenfield Recorder Gazette, "They have been patiently sitting at the bottom during the winter while the youngsters skied, so we thought we would show them what it was like up above."

Three trails were added for the 1963-64 season, increasing the ski area's statistics to 5 miles of trails and 45 acres of slopes. Two new snow packers were added to improve conditions. In addition, the spring boxes on the T-Bars were painted green, yellow, blue, red, and purple to "add a festival atmosphere." In addition to the two T-Bars, the area also operated a 450 foot rope tow for ski school sessions.

Following the 1963-64 season, 17 year old Mt. Mohawk Ski Patroller Harris Synder was named the top patroller in the country by the National Ski Patrol.

The 1964-65 season was a tough one, particularly for Mt. Mohawk. While the area was able to open on December 12, mild weather subsequently shut it down and resulted in big losses over the holiday period. Making matters worse, on December 21, Richardson's father was operating a snow tractor when he was thrown from the machine, resulting in a tricky rescue by local ambulance employees. The accident resulted in a broken back.

Apart from the false start, the 1964-65 season likely ran from mid January to mid February, resulting in less than two dozen days of operation. The 1965-66 season started in a similar fashion, with mild weather preventing skiing until January. Improvements for the season included an expanded parking lot and widening/smoothing trails.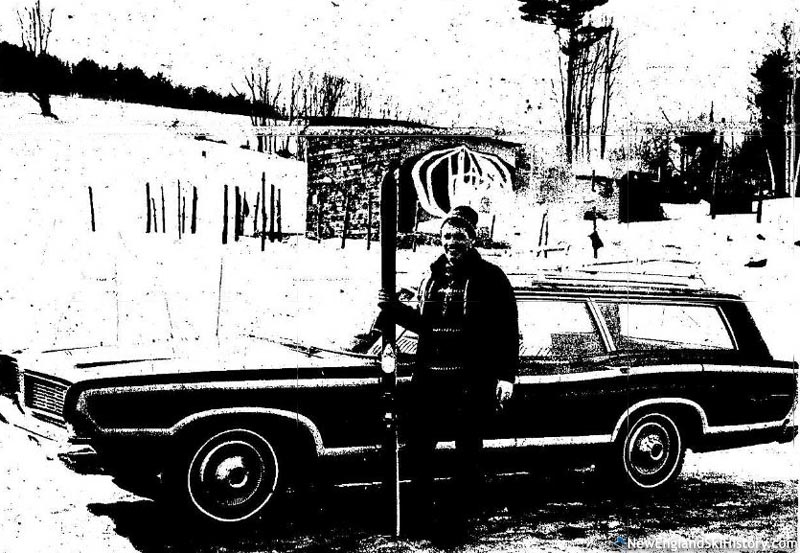 William Sweeney (of Sweeney Ford) at the Mt. Mohawk base area in 1968

When natural snow allowed, Mt. Mohawk was a popular regional sports center. In addition to ski races and YMCA programs, the ski area had a popular winter carnival every February.

During the winter of 1968-69, two of the Richardson sons and a friend rescued a duck frozen into a nearby pond. The duck was named Irving and lived in the ski lodge that winter.

In an announcement that caught some by surprise, Walt and Ethel Mae closed the Roberts School following the 1969-70 school year, stating "It's time we had a family life of our own." Taking public school teaching jobs in Ware that fall, the Richardsons handed over day to day management of the ski area to Francis Garmalo and Ski School Director John Kells.

The new managers added another trail and expanded operations to 7 days a week (when even Berkshire East was still operating weekends and holidays). The duo enjoyed a very strong second half of the season, concluding it on natural snow with an Easter Egg hunt on April 11. Garmalo and Kells remained in charge of the area into the 1971-72 season.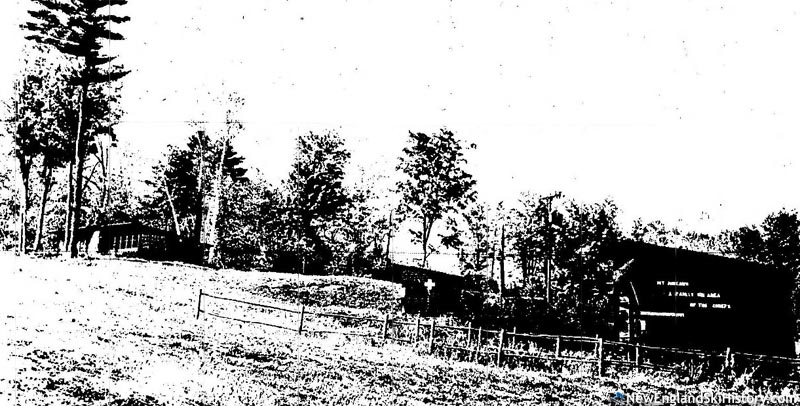 The Mt. Mohawk base area in 1972

While Walt moved to Williamstown and remarried, Ethel Mae remained in Shelburne with her sons. Assuming the title of owner-manager of the ski area for the 1972-73 season, Ethel Mae invested in night skiing lights, which were expected to be on six nights per week covering the lift line, open slope, and two trails. In addition, a sound system was installed for playing audio tapes or the radio. Kells remained as Ski School Director, while John Graves headed up the Ski Patrol. Richardson's four sons helped to operate the area.

Peter Weiss took over as Ski School director in 1973. While things were looking up for Mt. Mohawk, the warm winter of 1973-74 was a disaster. The area was only open for one third its normal season, shutting down in February. Richardson told the Greenfield Recorder, "No doubt about it, this has been the worst season."

The area rebounded with a good 1974-75 season, spanning three months. Nevertheless, as nearby ski areas such as Mt. Snow, Berkshire East, and Mt. Tom grew and modernized, Mt. Mohawk remained firm in its roots. Not only was skiing only available via natural snowfall, but bathroom facilities were limited to outhouses with the claim that 'Indians never used plumbing either.'

Mt. Mohawk likely reduced its operations to just one T-Bar during the late 1970s, opening generally only on weekends and holidays. The area was likely operated by Mt. Mohawk, Inc. starting in January of 1979.



Closure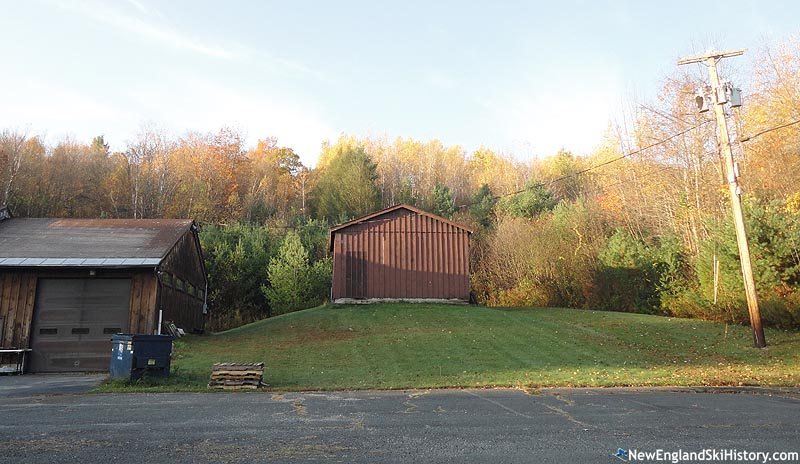 The main T-Bar base terminal at Mt. Mohawk (2013)

Mt. Mohawk likely closed sometime between 1980 and 1982 after one or two snowless winters. Mt. Mohawk, Inc. was dissolved in late 1983. Years later, a new building was constructed adjacent to the main T-Bar, becoming home to multiple businesses. Meanwhile, a sizable portion of the ski area may have been purchased in 1993 by Camille Cosby, wife of comedian Bill Cosby.

Ethel Mae Richardson passed away on March 9, 2000 at the age of 73. Walter Richardson passed away on May 30, 2001 at the age of 77.

While the trails have grown in, both T-Bar lifts remain standing in the woods. It is unlikely that Mt. Mohawk will ever reopen for skiing.



Expansion History





Image Gallery





Lifts
Click on lift name for information and photos




Maps


Year by Year History
Adult Weekend Full Day Lift Ticket; Adult Full Price Unlimited Season Pass

1970s
Ticket Price
Season Pass Price

Pass Payback

Opening Day

Closing Day

Skier Visits

1977-78
$4.75
December 10
1976-77
$4.50
$45.00
10.0 days
January 8
1975-76
December 27
1974-75
December 27
March 23
1973-74
January 12
1972-73
December 9
1971-72
January 1
March 26
1970-71
April 11
1969-70
December 26
1960s
Ticket Price
Season Pass Price

Pass Payback

Opening Day

Closing Day

Skier Visits

1967-68
$3.75
December 30
1965-66
January 8
1964-65
$3.50
December 12
1963-64
December 24
March 15
1962-63
March 31
1950s
Ticket Price
Season Pass Price

Pass Payback

Opening Day

Closing Day

Skier Visits

1958-59
$2.00
1956-57
December 18
Visitor Memories
"I attended kindergarten through the 2nd grade here and have fond memories of ski school being one of my required classes ! My mom taught nursery school there as well ! "
Elizabeth Markie, Jul. 27, 2022
"I was a student at the Roberts school for two years, right after the Richardsons took over the ski area. So I know all the immediate Richardson family except for Bill. I even remember the names of the friends and relative of the Richardsons who helped build the ski area! But I have been living in Florida since 1973. I learned to ski at Mt. Mohawk. Sorry it closed."
John Burr, Feb. 28, 2022
"I remember going to Mt Mohawk for Bement school's skiing afternoons. It was the only downhill skiing I've ever done. Such fond memories! This was back in 1981-1982, not long before it closed I think I read. I even enjoyed the T-bar lift! All around fun!"
Heather Boutte, Feb. 24, 2022
"Walter and Mar Richardson were my aunt and uncle. I went to Mt Mohawk every weekend with my grandfather or Sir Senior as the students called him. He helped operate the ski area. The Richardsons were generous people. We have four cousins I would love to hear from, Randy, Mark, Tom and Bill. So if you see this please send me an email. "
Debbie Tatro, Jan. 4, 2022
"My parents were friends of Mae and Walt, (Catherine/Kenneth Horsfall) visited them often at the school and ski area where I learned to ski. Great days and wonderful memories."
Dianne Brown, Mar. 21, 2021
"I was a student at Roberts School for their last two years 67 and 68. I have fond memories of helping clear brush from the trails in the Fall and being able to ski during the winter. I spent some time catching T at the top of the trail so they could safely rewind. We were all sad the school closed."
John Fitch, Sep. 4, 2020
"I have fond memories of Mt Mohawk, Roberts School and the Richardson family. I attended Roberts School for 5 years. We were lucky enough to learn to ski during school hours. I still remember Mr R making sure we could fall and get up on both flat and steep grades before he taught us to ski. We only wanted to ski so this was frustrating but the first time we fell... we knew why this was important!! My father (Peter Sullivan) actually made the rope tow out of a car with its rear wheel off the ground... the rope went around the wheel and connected at the bottom of the hill to another wheel...When the car was running and in gear, the rope turned and up the hill we went! Pretty clever huh??? Great memories!!!"
Kathy Sullivan, Sep. 22, 2019
"My grandfather took my brother and sister and I there to learn how to ski around 1970. We took ski lessons from the Richardsons son every weekend for a couple years in the mornings and skiied on our own in afternoons. Great memories. Im still skiing 50 years later and smile every time I drive by on my way up to the bigger mountains these days."
Carl Dunn, Feb. 19, 2019
"My family and I all learned to ski on the Mt. Mohawk trails in the 1960s. It was a terrific family ski area - affordable, just the right size, and, most importantly only a few minutes from downtown Greenfield. This meant we could easily get to the slopes in under 20 minutes. It was a great jumping off point to the larger and more challenging ski areas in NH and VT."
Karen Rea, Nov. 12, 2017
"I was a student ski patroler there during the winters of 74-77 and can say it operated on weekdays as high school students like me skied after school every day. It was a natural only area with fairly decent pitch, rock hard moguls and tight trees. You can still see the t-bar supports as you drive by. It was a great family mountain with a vibe like the current Cochrines in Vermont"
john stobierski, Feb. 23, 2015
---
External Links
Mohawk Mountain - New England Lost Ski Areas Project
Last updated: September 19, 2019