| | |
| --- | --- |
| | |
Located just off Interstate 89 southeast of Lebanon, Whaleback's skiing history dates back to a small operation called Snow Crest.


Snow Crest Ski Area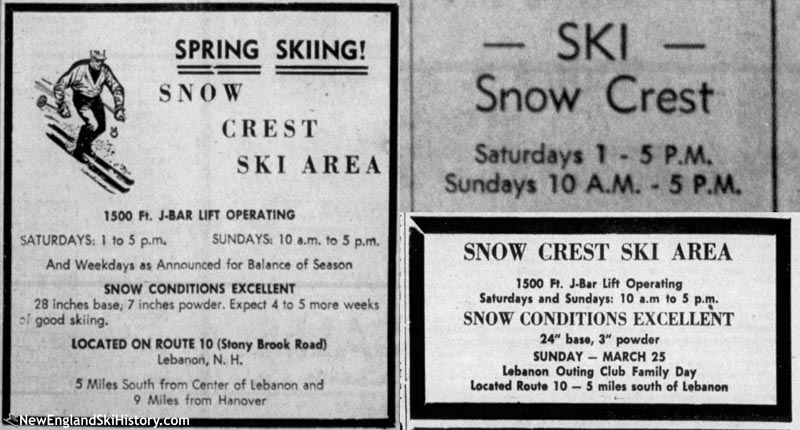 1956 Snow Crest advertisements

Local ski coach Ernest Dion began development of what would become Whaleback in the 1950s. A Vermont native, Dion won many ski racing and jumping championships across New England in his youth. Dion was set to compete in the 1940 Olympics, however the games were cancelled due to World War II. Though he would continue to compete well into his 50s, his focus shifted to coaching and instructing. In addition to coaching at Dartmouth, Dion helped his sons and nephew to become prominent skiers in the 1950s, being featured in national magazines and television shows. Meanwhile, Dion undertook business ventures in ski equipment and ski area development.

In September 1955, Dion acquired property along the Stony Brook in Enfield from Lyle and Irene Prior. Dion announced the construction of the unnamed ski area in mid-October, adding that the planned expert slope was "better than Suicide Six, to me anyway." In describing the new area, Dion stated that, "everything is ideal there. The slopes, the nearness to town. There are two big parking lots, one right next to the blacktop road, and the other just across a small brook. There will be plenty of room for both the expert and the novice - and for the average skier, too."

Assisting Dion were Kimball Union Academy coach Ira Townsend, Lebanon High School coach Al Merrill, and Arthur Pickering. Though it was not known if the area would open for the 1955-56 season, trail clearing commenced, as well as the installation of a J-Bar.

By January of 1956, the name Snow Crest emerged. It is not known when the area opened, but it hosted the slalom portion of the New England Interscholastic Schoolboy Ski Championships in mid-February. More formal operations commenced in March as Snow Crest advertised an expert trail, a novice trail, and an open slope, plus a ski school directed by Dion. Future plans for "more and wider trails," a rope tow, and a base lodge were advertised. Boston's WBZ-TV visited the area on March 10 to capture footage of the new area.

Snow Crest skiers enjoyed base depths in excess of two feet for the remainder of March. The season extended into the first full weekend of April, albeit with limited parking due to issues with mud.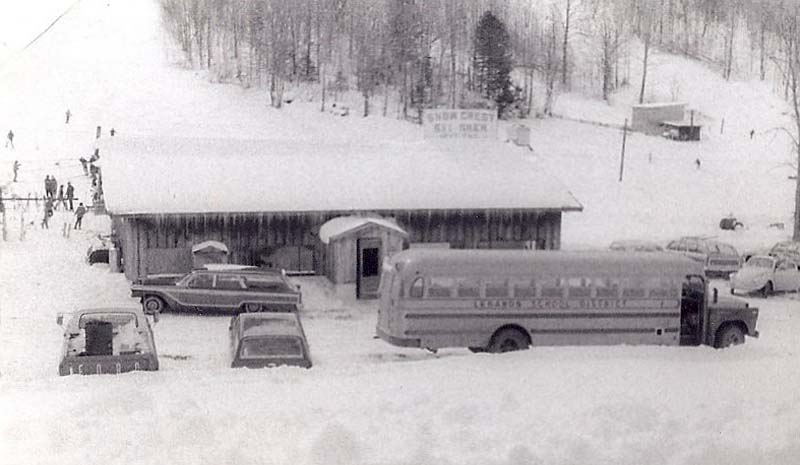 The base area during the Snow Crest days

Snow Crest was advertised as "new" for the 1956-57 season, adding an intermediate trail and a base lodge (called the "Snow Crest Ski Hut"). The J-Bar was likely retrofitted as a T-Bar, which operated on weekends and holidays. Two rope tows were also initially advertised, but it is unlikely that they were actually installed. The season likely started in early January, but generally only had a few inches of base, likely ending at the start of calendar spring. Following the 1956-57 season, Snow Crest began hosting events at its base lodge.

The 1957-58 season did not get off to a good start, as Dion lacerated his leg while working on the mountain in late November, resulting in a multiple-day hospital stay. Improvements for the season included a new power unit for the T-Bar, a new novice trail, and a rope tow. Dick Wood possibly became involved in the business around this time.

Winter finally arrived in January, with Snow Crest likely opening during the second weekend of the month. Unlike the scant snowpack of the previous winter, January ended with two to three feet of base, growing to nearly four to five feet in mid-February. Popularity of the ski school grew, resulting in Sonny Demers and Raymond Kelley joining Dion's staff.

Skiing continued into April, with the Valley News noting "there wasn't a single bare spot anywhere to be seen" yet "the only disappointing thing about it [was] the lack of crowds." Local children enjoyed a costume contest and torchlight parade, presenting Ernest Dion and Dick Wood with a pair of skis with their names etched. The 1957-58 season continued for one more weekend, wrapping up on April 20.

The first Christmas week skiing at Snow Crest likely occurred with the 1958-59 season. Snowpack wasn't as deep as the latter part of the prior year, but events continued to be held, including the "Snow Crest 600" downhill race in early March. The first race to be held on the expert trail, the Snow Crest 600 was named after event's vertical drop.

In advance of the 1959-60 season, Dion announced that he had purchased the lights from the Alto Ski Tow in Norwich and would be installing them on the slope at Snow Crest.

The Spout rope tow was replaced with a 1,000 foot T-Bar circa 1961. Also around this time, Enfield selectmen chose 'Purmont' as the name of the fictional town to be used for a future Interstate 89 exit adjacent to Snow Crest.

The 1961-62 season spanned from Christmas week to April 1 for a total of 45 days of weekend and holiday operations. The area reportedly moved to a six-day-per-week schedule in 1962-63.


First Closure

A group led by Adirondack Timberlock Camps owner Richard Catlin purchased Snow Crest in December of 1967, with Dion holding the mortgage. While Interstate 89 opened in 1968, Snow Crest ski area closed and Dorothy Jean Miles assumed the mortgage. In December of 1968, Catlin sold the ski area to James Griffiths' Whaleback Mt., Inc.


Snow Crest Reopened, Renamed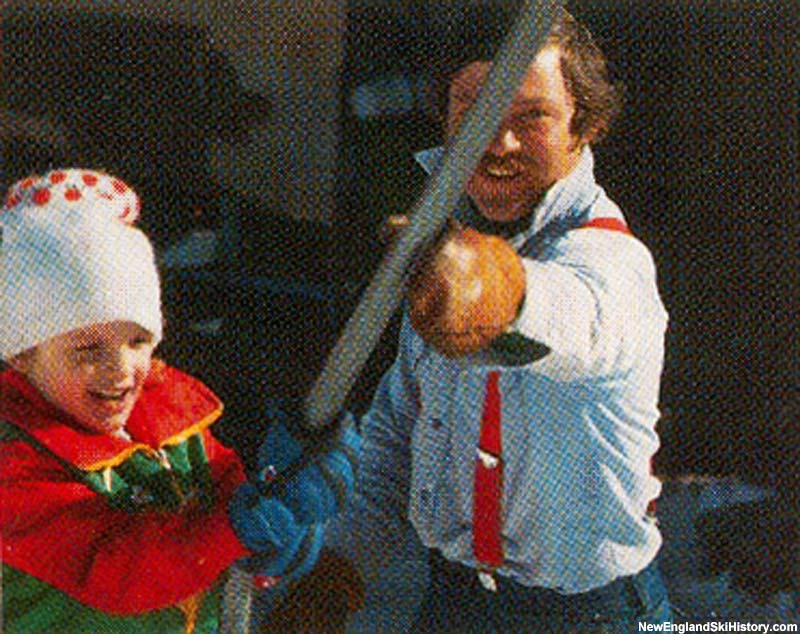 The Poma lift during the 1980s

Snow Crest reopened for the 1970-71 season with a new 2,520 foot long Heron Poma double chairlift. Replacing the original T-Bar lift, the new chair served new upper mountain trails. The ski area was formally renamed Whaleback for the 1971-72 season. Meanwhile, Ernest Dion drove the redevelopment of nearby Storrs Hill.

A lower mountain Poma lift was likely installed for the 1979-80 season, serving Blubber and Lower Ivory Run.

As was the case for many ski areas with little to no snowmaking, Whaleback struggled during poor winters in the early 1980s. The 1982-83 season did not get underway until the second half of January.

Citing a 40 year ski jumping career and his development work in the industry, founder Ernest Dion was inducted into the National Ski Hall of Fame in 1984.

In November 1984, Thomas Kent, David Clark, and Jeffrey Reed's Hephaestus Corporation purchased all outstanding shares of Whaleback Mt., Inc. from James and Martha Griffiths, who issued the group a $700,000 mortgage. Investments were made in snowmaking for the 1984-85 season and in top to bottom night skiing for 1985-86. In addition, a brief experiment with providing a laundromat for busy skiers was started in 1985. The property was transferred to Stoney Brook Trust in December 1985.
In the fall of 1985, the Orca Corporation was formed by David Clark, Thomas Kent, Jeffrey Reed, and Leo Rabinovitz for the purpose of operating the ski area.

In September 1987, Stoney Brook Trust agreed to sell a tract of land (including some of the ski area) to Richard Bueschel and Peter Jordan (later under the name of Methodist Hill Properties) for $730,000. The company's plans included building a hotel or motel at the height of land on Methodist Hill Road. In conjunction with the buyer's plans, the ski area planned to construct a chairlift and from the base of the mountain to the lodging facility, as well as to install snowmaking and lights on Ivory Run.



Second Closure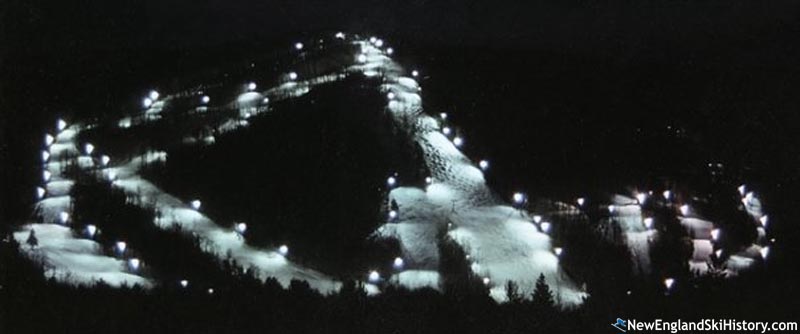 1990s night skiing at Whaleback

While the owners were able to expand Whaleback's operations and skier visits, they found themselves in financial trouble. As the 1980s continued, Whaleback's debts grew. What started as a $500,000 loan from First Twin-State Bank in 1987 escalated to $860,000 by the start of 1989-90. Another note was issued in January 1990, reportedly pushing the debt over $900,000. As a result, the area closed following the 1989-90 season and was placed on the market for $1.3 million. Liens began to add up and foreclosure proceedings commenced.

The winter of 1990-91 started with an auction, as First Twin-State Bank protected its interests by acquiring the property for $575,000 in December. There would be no skiing at Whaleback.

In April of 1993, Jim Griffiths' daughter Sarah and her husband Tim Herbert purchased Whaleback from Green Mountain Bank for a reported $280,000. Instead of trying to compete for the population centers down south, the young couple made a conscious effort to keep advertising local to save money. Apart from mowing the brush on the trails, getting the equipment functional, and replacing the lodge deck, no major changes were made in advance of the 1993-94 reopening season.

The late 1990s did see some changes, however. A half pipe and terrain park were constructed for the 1995-96 season, four glades cut for 1996-97, and snow tubing added for 1997-98. The double chair was converted from diesel to electric for the 1998-99 season, while the base lodge was expanded by 15,000 square feet. The Herberts' Ski Whaleback Ltd. acquired additional land near the base area from Griffiths in 1999.

Founder Ernest Dion passed away near the end of the 1998-99 season at the age of 82.


Third Closure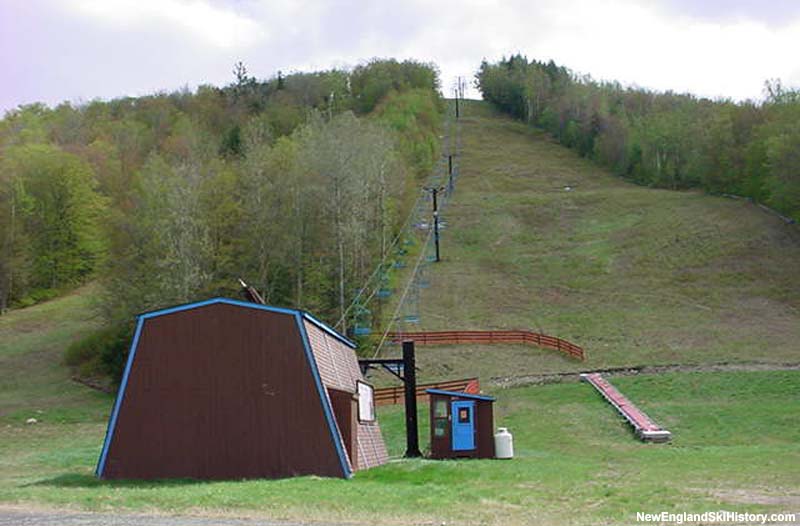 An idle Whaleback during its third closure (2002)

Despite the changes in the late 1990s, operational costs were outpacing operational income. As a result, the Herberts closed Whaleback following the 2000-2001 season.

In September 2005, a group led by Olympian Evan Dybvig named Whaleback Mountain LLC purchased the idle ski area. Ski Whaleback Ltd. held a mortgage. With a new focus on freestyle sports, the ski area reopened for the 2005-2006 season. Year round activities were subsequently developed, including paintball, summer jibbing, and bike camps.



Back to the Auction Block

In March of 2013, owner Evan Dybvig announced that the ownership was over $1 million in debt and would be forced to liquidate the ski area. An auction occurred on August 1, 2013, at which mortgage holder Randolph National Bank placed the only bid, purchasing the area for $848,000.



Upper Valley Snow Sports Foundation Takes Over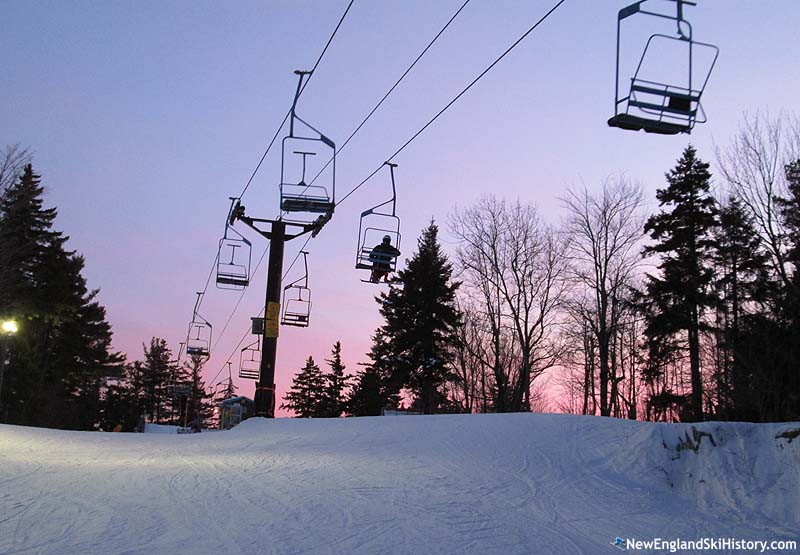 The double chairlift at night (2014)

Meanwhile, John Schiffman created Upper Valley Snow Sports Foundation as a New Hampshire Non-Profit Corporation on June 3, 2013. The organization signed a lease and purchase agreement with the bank in mid-September 2013 and took control of Whaleback in November 2013. An initial $100,000 fundraising campaign was executed in two weeks time, generating enough money to get the ski area up and running for the 2013-2014 season. Last minute base area work, such as a new kitchen, septic system, and well, was conducted to get the facility back up to code. Using some equipment purchased from Balsams Wilderness, Whaleback was able to fire up its snowmaking system and reopen in December 2013.

After a successful 2013-14 season, Whaleback struggled to get out of the gate during mild weather at the start of the 2014-15 season. Though it was unable to open until mid January, Whaleback was able to attain its latest closing day in recent memory, wrapping up operations the last weekend of March.

Following a bad 2015-16 season in which Whaleback was only open for 50 days, the UVSSF completed a fundraiser to reconfigure the mountain's novice area. One year later, a refurbished T-Bar was installed between the two beginner lifts, roughly following the lift line of the former Pomalift.

NewEnglandSkiConditions.com Reports

Month
Average Percent of Terrain Open
December
29% (5 reports)
January
44% (7 reports)
February
53% (5 reports)
March
93% (6 reports)

-- start conditions table -->

Recent Conditions Reports

Jan. 26, 2020 by nhalex
Spring Snow, Variable Conditions
Mar. 12, 2019 by rocket21
Packed Powder, Packed Powder
Jan. 22, 2019 by rocket21
Packed Powder, Packed Powder
Jan. 22, 2019 by nordicgal
Packed Powder, Packed Powder
Jan. 4, 2019 by rocket21
Loose Granular, Variable Conditions

Whaleback Mountain on NewEnglandSkiConditions.com
Expansion History
Project

Season

Methodist Hill
Cancelled

1980s

Upper Mountain
Open

1970-71
NewEnglandSkiIndustry.com News
Recent Articles
Whaleback Season to End Early Due to Lift Issue - Mar. 5, 2020
Upper Valley Ski Areas Struggling - Jan. 19, 2020
Chairlift Chatter - Jan. 8, 2020
Lodge Construction in Progress Across New England - Oct. 16, 2019
Multi-Year Lift Installations: The New Norm? - Aug. 4, 2018
Management Changes Announced at Whaleback - Jan. 23, 2018
Lift Construction Season Enters Final Phase - Oct. 29, 2017
Whaleback Postpones T-Bar Installation - Dec. 7, 2016
Lift Installation Projects Continue as December Approaches - Nov. 27, 2016
Lift Installation Projects Continue as Ski Season Approaches - Nov. 13, 2016
Whaleback Mountain NewEnglandSkiIndustry.com News Page

Image Gallery

Lifts
Click on lift name for information and photos
Maps

Year by Year History
Adult Weekend Full Day Lift Ticket; Adult Full Price Unlimited Season Pass

2020s
Ticket Price
Season Pass Price

Pass Payback

Opening Day

Closing Day

Skier Visits

2021-22
$50.00
$250.00
5.0 days
December 26
March 18
2020-21
$45.00
December 23
March 21
2019-20
$45.00
December 20
March 8
2010s
Ticket Price
Season Pass Price

Pass Payback

Opening Day

Closing Day

Skier Visits

2018-19
$45.00
$350.00
7.8 days
December 14
March 24
2017-18
$45.00
$399.00
8.9 days
December 16
April 1
2016-17
$45.00
$420.00
9.3 days
December 17
March 18
13,000
2015-16
$43.00
$399.00
9.3 days
December 31
February 28
2014-15
$45.00
$399.00
8.9 days
January 13
March 29
2013-14
$40.00
$399.00
10.0 days
December 30
March 16
2012-13
$40.00
$399.00
10.0 days
December 28
March 17
2011-12
$40.00
$370.00
9.3 days
December 26
March 18
10,000
2010-11
$370.00
December 18
March 20
12,000
2000s
Ticket Price
Season Pass Price

Pass Payback

Opening Day

Closing Day

Skier Visits

2008-09
$350.00
2007-08
$39.00
$350.00
9.0 days
2006-07
$39.00
$399.00
10.2 days
2005-06
$35.00
$300.00
8.6 days
15,000
2000-01
$29.00
$379.00
13.1 days
December 15
1999-00
$29.00
$379.00
13.1 days
1990s
Ticket Price
Season Pass Price

Pass Payback

Opening Day

Closing Day

Skier Visits

1998-99
$27.00
$339.00
12.6 days
December 21
1997-98
$25.00
$339.00
13.6 days
December 12
1996-97
$22.00
$319.00
14.5 days
1994-95
$20.00
December 17
March 12
1989-90
$22.00
1980s
Ticket Price
Season Pass Price

Pass Payback

Opening Day

Closing Day

Skier Visits

1988-89
$20.00
December 11
1987-88
$18.00
32,000
1986-87
$16.00
35,000
1985-86
$15.00
1984-85
$13.00
$200.00
15.4 days
December 22
1983-84
$10.00
$150.00
15.0 days
10,000
1982-83
$9.00
$160.00
17.8 days
January 18
1979-80
$8.00
1970s
Ticket Price
Season Pass Price

Pass Payback

Opening Day

Closing Day

Skier Visits

1976-77
$115.00
1971-72
$6.50
1960s
Ticket Price
Season Pass Price

Pass Payback

Opening Day

Closing Day

Skier Visits

1967-68
$3.50
$45.00
12.9 days
December 30
1965-66
$3.75
$40.00
10.7 days
1964-65
$3.50
$40.00
11.4 days
1963-64
$3.50
December 28
1962-63
$3.50
$45.00
12.9 days
1961-62
December 24
April 1
1960-61
December 23
1959-60
December 31
1950s
Ticket Price
Season Pass Price

Pass Payback

Opening Day

Closing Day

Skier Visits

1958-59
December 20
1957-58
$2.75
$30.00
10.9 days
January 11
April 20
1955-56
April 8
Visitor Memories
"I grew up at SnowCrest in the late 50"3 and 60"s. I am presently the Snowsports Director at Cannon Fountain in Franconia NH. I have very fond memories of the ski area."
Irv Fountain, Aug. 15, 2019
---
External Links
Whaleback - official site
Last updated: August 23, 2022