Dartmouth Skiway
Lyme, New Hampshire
Status:
Open
First Season:
1956-57
Vertical Drop:
968 feet
Standing Lifts:
1 quad, 1 double, 1 J-Bar
Past Lifts:
1 double, 1 T-Bar, Surface lifts
Left: Winslow as seen from Don Worden Schuss (2015)
Recent NewEnglandSkiIndustry.com News:
Located northeast of Hanover, Darmouth Skiway is a mid-sized ski area that comprises the lower slopes two mountains, 2,110 foot Holts Ledge and 2,282 foot Winslow Ledge. The ski area is owned and operated by Dartmouth College.

Oak Hill

Darmouth College's first venture into lift served skiing dates back to 1935, when a J-Bar was installed on a small slope at Oak Hill in Hanover. In a time in which most alpine skiing required hiking, the ski area was cutting edge. After two decades of use, the area was upstaged by a new Dartmouth College development at nearby Holts Ledge. Oak Hill likely remained lift served into the 1980s, at which point the focus for the complex was centered on nordic skiing.



Holt's Ledge

In need of more vertical than Oak Hill could provide, Darmouth developed trails on the northeastern slope of Holt's Ledge for the 1956-57 season. Climbing up the new 968 vertical foot complex was a 3,775 foot Poma lift. At the foot of the area, the Peter Brundage Lodge was constructed. Dartmouth College formally dedicated its new Holt's Ledge ski area on January 12, 1957. Legendary skier Howard Chivers, class of 1939, was the area's first manager.

For the 1960-61 season, a new 1,700 foot long Mueller T-Bar was installed at the foot of the Don Worden Schuss, serving the novice Green Pastures slope. The Peter Brundage Lodge was also expanded around this time.



Winslow Ledge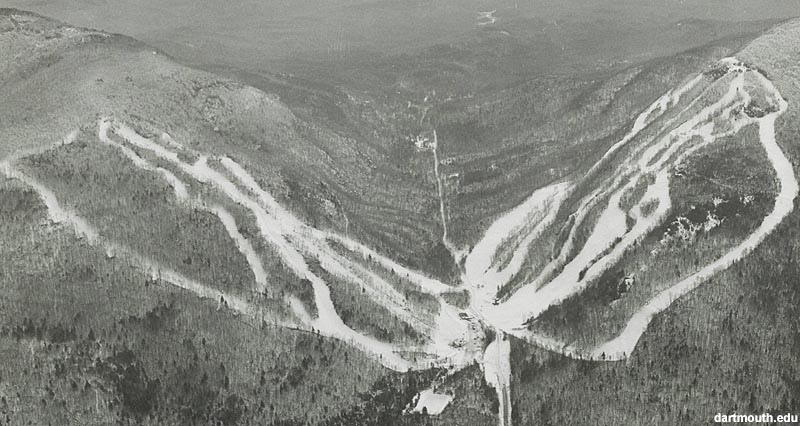 Dartmouth Skiway circa 1970

Looking to market the ski area to families, Darmouth opened a new complex for the 1967-68 season. Located on the northwestern slope of Winslow Ledge, the largely novice-intermediate area featured trail names following the college theme. Serving the complex was a new 3,800 foot double chairlift, climbing some 876 vertical.

Shortly after it reached two decades in service, the original Holt's Ledge Poma lift was replaced with a Hall double chairlift for the 1977-78 season, thus establishing chairlift service on both mountains.

Three weeks after participating in a relay race, area manager Howard Chivers died of cancer in March of 1984.

After dealing with many subpar snowfall winters, $1 million was invested in a snowmaking system for the 1985-86 season, initially covering 43 acres.

A J-Bar was added to the Winslow side for the 1988-89 season. Five years later, the double chairlift on the Winslow side was replaced with a new Garaventa CTEC fixed grip quad chairlift.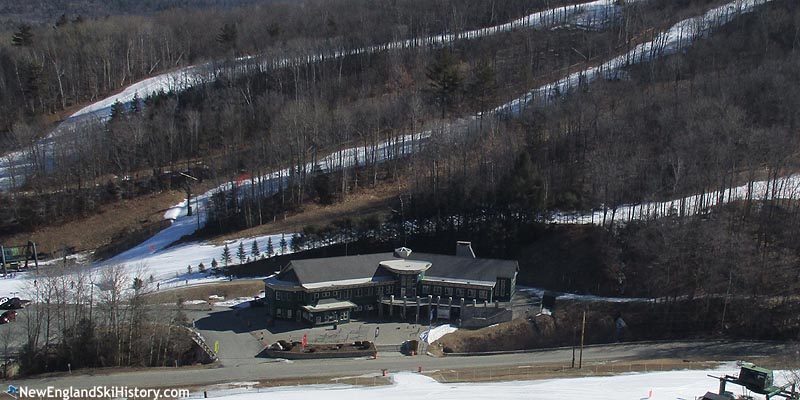 The McLane Family Lodge (2016)

Following the 1999-2000 season, the Peter Brundage Lodge was replaced with the $3.5 million McLane Family Lodge. The new building quadrupled floor space while providing modern base facilities.

In keeping with the classic New England feel of the Holts side of the ski area, the double chairlift was kept in place, but modernized in 2005 when a new Doppelmayr-CTEC overhead drive was installed.

NewEnglandSkiConditions.com Reports

Month
Average Percent of Terrain Open
December
60% (3 reports)
January
70% (3 reports)
February
75% (2 reports)
March
92% (7 reports)

-- start conditions table -->

Recent Conditions Reports

Mar. 10, 2019 by rocket21
Powder, Powder
Mar. 10, 2019 by thefeatheredhat
Powder, Packed Powder
Mar. 10, 2019 by brianna
Powder, Packed Powder
Feb. 18, 2019 by thefeatheredhat
Powder, Packed Powder
Jan. 14, 2019 by newenglandskier13
Packed Powder, Powder

Dartmouth Skiway on NewEnglandSkiConditions.com

Image Gallery

Lifts
Click on lift name for information and photos
Maps

Year by Year History
Adult Weekend Full Day Lift Ticket; Adult Full Price Unlimited Season Pass

2020s
Ticket Price
Season Pass Price

Pass Payback

Opening Day

Closing Day

Skier Visits

2019-20
$53.00
December 20
2010s
Ticket Price
Season Pass Price

Pass Payback

Opening Day

Closing Day

Skier Visits

2018-19
$50.00
$405.00
8.1 days
December 15
March 31
2017-18
$49.00
$449.00
9.2 days
December 16
March 31
2016-17
$48.00
$555.00
11.6 days
December 16
March 26
2015-16
$47.00
$545.00
11.6 days
January 9
March 13
2014-15
$47.00
$545.00
11.6 days
December 13
March 29
2013-14
$45.00
December 14
March 29
2012-13
$45.00
March 24
2011-12
$43.00
December 21
March 18
37,000
2010-11
$40.00
$475.00
11.9 days
December 15
March 27
46,000
2009-10
$40.00
$475.00
11.9 days
December 17
March 14
2000s
Ticket Price
Season Pass Price

Pass Payback

Opening Day

Closing Day

Skier Visits

2008-09
$40.00
$475.00
11.9 days
2007-08
$40.00
2006-07
$40.00
$475.00
11.9 days
2005-06
$40.00
$475.00
11.9 days
March 19
41,466
2004-05
$38.00
$515.00
13.6 days
March 27
41,466
2003-04
$38.00
$510.00
13.4 days
December 13
March 28
2002-03
$36.00
$500.00
13.9 days
2001-02
$34.00
2000-01
$31.00
1999-00
$30.00
March 26
1990s
Ticket Price
Season Pass Price

Pass Payback

Opening Day

Closing Day

Skier Visits

1998-99
$29.00
1996-97
$28.00
March 30
1993-94
$26.00
April 3
1992-93
$26.00
1991-92
$26.00
1990-91
$26.00
1989-90
$24.00
1980s
Ticket Price
Season Pass Price

Pass Payback

Opening Day

Closing Day

Skier Visits

1988-89
$20.00
1987-88
$19.00
1986-87
$17.00
1985-86
$15.00
1979-80
$10.00
1970s
Ticket Price
Season Pass Price

Pass Payback

Opening Day

Closing Day

Skier Visits

1978-79
$9.00
1977-78
$8.00
1976-77
$8.00
$80.00
10.0 days
1975-76
$7.00
1974-75
$6.00
1973-74
$6.00
1971-72
$8.00
1970-71
$6.00
1969-70
$6.00
1960s
Ticket Price
Season Pass Price

Pass Payback

Opening Day

Closing Day

Skier Visits

1968-69
$5.50
1967-68
$5.00
1964-65
$4.50
1963-64
$4.50
1962-63
$4.50
1961-62
December 22
March 30
1959-60
$4.00
1950s
Ticket Price
Season Pass Price

Pass Payback

Opening Day

Closing Day

Skier Visits

1958-59
$3.75
Visitor Memories
---
External Links
Dartmouth Skiway - official site
Last updated: June 13, 2016