Farr's Hill
Randolph, Vermont
Status:
Lost/Defunct
First Season:
1936-37
Last Season:
1965-66
Vertical Drop:
160 feet
Standing Lifts:
Past Lifts:
Surface lift
Left: Farr's Hill circa 2020
Recent NewEnglandSkiIndustry.com News:
5/17/2021: Farr's Hill Reopening in Progress
Located on the southeast shoulder of Sand Hill near downtown Randolph, Farr's Hill was one of the earliest lift served ski areas in Vermont. After half a century of closure, a proposal emerged to reopen the small ski area.



Harold Farr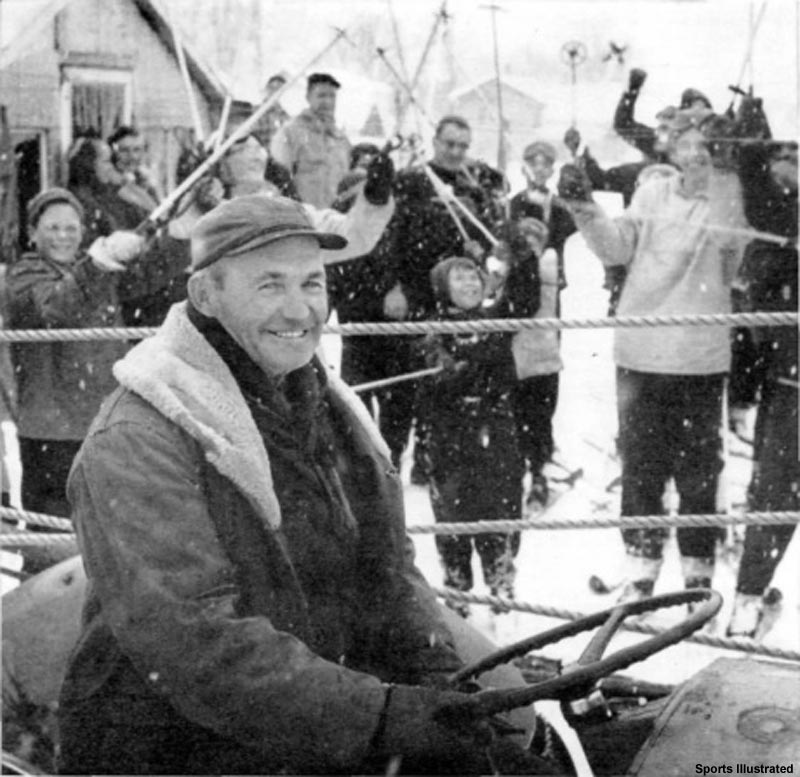 Harold Farr (1950s photo)

Harold J. Farr was born in Brookfield on September 21, 1896. Farr married Grace Tatro in 1917. One year later, the young couple moved to Elm Street in Randolph, where they operated a dairy farm.

During the winter of 1923-24, a group called the Randolph Outing Club attempted to create a skating rink. About a dozen years later, the Randolph Chamber of Commerce created a new subsidiary with the same name. The new organization had the goal of making Randolph the center of winter sports in Vermont, with Jack Lamorder, Kenneth Webster, and Earl Akey tasked with establishing a rope tow.



Farr's Hill Rope Tow

In the fall of 1936, the Randolph Outing Club described ski trails being laid out on Braintree Hill, a slide on Sunset Hill, and a prospective ski tow operation. Harold Farr offered the use of his land where a toboggan chute had previously existed. Farr provided an electric motor, while Cop Webster procured pulleys, gears, and rope.

The rope tow debuted on December 13, 1936 with "a sizable crowd" watching as folks skied and tobogganed. The Burlington Free Press described the area as "unusual in that every kind of slope is available from the top of the tow." Walter Ordway provided ski instruction. The season extended into late March.

Lights were installed for the 1938-39 season, which possibly did not start until early January. Robert Ford, installer of the lights, suffered the first serious accident on the slopes, when he fractured his back in a tobogganing accident. In February, Farr's Hill hosted the first Randolph-Braintree Valley Winter Carnival. Though skating events were cancelled due to warm temperatures, skiing was rescued by a last minute snowstorm.

Following Ford's accident, Harold Farr took over day-to-day operations of the ski area, soon relocating the rope tow slightly to the north of its original location and increasing the length by 400 feet.

The 1939-40 season got off to a slow start, with the Randolph Herald and News pleading in mid-January, "Can't someone exercise a little more influence on the Snow Man?"

The 1940-41 season was also not without its snow struggles, but nevertheless drew decent crowds when conditions permitted. Douglas Wiggett offered ski instruction at the area that winter.

Though many ski areas shuttered due to fuel and labor issues during World War II, Farr's Hill remained in operation at least through the 1942-43 season.

Farr's Hill was still in operation as the 1950s arrived. Eben "Brownie" Brown took over the ski school for the 1951-52 season. Heading into the 1952-53 season, ski swaps were arranged, as well as vehicular transportation to bring kids to the slopes for lessons. Unfortunately, natural snow was again scarce. The ski lesson schedule ended in March at Brown's own tow in South Royalton.

Despite not being a skier himself, Harold Farr continued to be the driving power behind the operation, providing the warming hut, fuel, and slope and tow maintenance. He was reported to receive satisfaction from watching the kids improve their skills, telling the White River Valley Herald, "I can see improvement each week. Some of these youngsters are learning real control over their skis."

The 1956-57 season was another difficult one in terms of snowfall, with the White River Valley Herald pleading in late February, "Snow, Where Art Thou?" Struggles continued into the 1957-58 season, when there wasn't enough snow to run the rope tow until January.

1958-59 had a very early start, thanks to Farr having the tow ready in time for a late November storm. Subsequent skiing was hit-or-miss due to icy and sometimes frigid conditions. Farr's Hill made the pages of Sports Illustrated in February 1959, with Harold telling the magazine, "I do it for the fun of it. I believe I should give more than I receive, especially where children are concerned."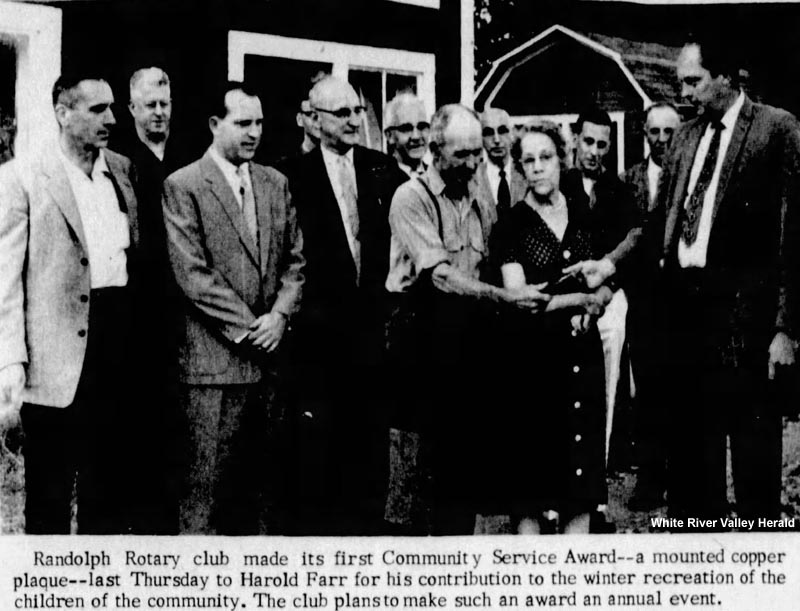 Harold Farr in 1962

Farr's Hill continued to operate as the 1960s started, with Farr's grandchildren spending time skiing and working on the hill. The 1960-61 season had good enough skiing to allow for extra lesson sessions, however conditions were a bit more of a struggle at times during 1961-62. In the summer of 1962, the Randolph Rotary Club awarded its first Community Service Award to Harold Farr for the quarter century of ski operations at the hill.

Mary and Robert "Hutch" Hutchinson took over the ski school in 1962, as Eben Brown focused on a career in real estate. Meanwhile, Farr's arthritis was starting to slow him down. Around this time, the Chamber of Commerce was actively searching for a location to build a more sizable ski area. In June 1964, Pinnacle Ski Ways of Randolph was incorporated.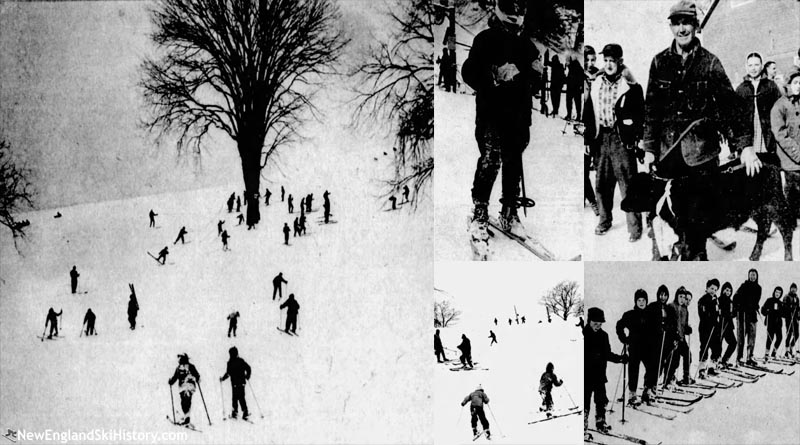 The 1960s at Farr's Hill

After a few years of work, Pinnacle Skiways was constructed for the 1965-66 season, leveraging state funding for a new access road. Two Pomalifts were constructed, the longest being 2,200 feet long by 550 feet vertical, accessing terrain for all abilities. In honor of Farr providing free skiing to the town for decades, the novice area was dedicated that winter as the "Harold Farr Practice Slope at Pinnacle Skiways."


Closure

With Pinnacle Skiways now in operation, Farr's Hill likely closed after the winter of 1965-66. Farr operated his dairy farm until 1968. Pinnacle subsequently struggled financially, ceasing operations in the 1970s.

Grace Farr passed away at the age of 82 in 1979. Former ski instructor Eben Brown passed away in 1985 at the age of 66. Harold Farr passed away in 1986 at the age of 90. Former ski instructor Robert Hutchinson passed away in 1999 at the age of 72.



Rebirth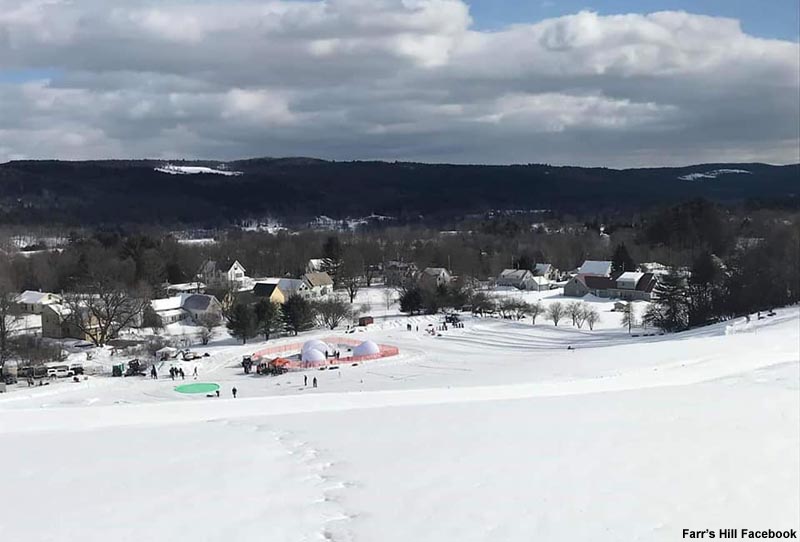 Randolph Winter Fest

Circa 2018, the former Farr's Hill property was put up for sale. After looking at the property, Perry Armstrong and his wife Lynn acquired the twelve acre tract, initially hoping to have a lift in place in time for that winter. A lifelong resident of Randolph and current member of the Selectboard, Armstrong grew up skiing at Pinnacle Ski-Ways and nearby Norwich University ski area, where his father was a member of the ski patrol. Though Armstrong had hoped to reopen Pinnacle years ago, he was unable to acquire the property when it was on the market. Complications related to permitting put Farr's Hill plans on hold, however the Armstrongs were able to host the Randolph Winter Fest in early 2019, drawing an estimated 1,100 people for a variety of winter activities. A PistenBully snowcat, which had been previously used at Quechee, was purchased to groom the slope.

As work continued, Farr's Hill, Inc. was formed as a non-profit in 2019. A TechnoAlpin fan gun and portable pump were procured to make the February 2020 Randolph Winter Fest possible, this time drawing 2,200 people for snow tubing, sleigh rides, and other entertainment. Though the third annual Winter Fest was cancelled due to COVID-19 restrictions, the slope continued to be groomed, attracting local sledders.

In 2021, Armstrong acquired a Hall T-Bar from Oak Mountain in New York. Pending engineering and permitting, the lift could be installed for the 2022-23 ski season. Once operational, Farr's Hill intends to be an inexpensive option for community winter recreation, catering to local elementary school programs.



NewEnglandSkiIndustry.com News



Year by Year History
Adult Weekend Full Day Lift Ticket; Adult Full Price Unlimited Season Pass

1960s
Ticket Price
Season Pass Price

Pass Payback

Opening Day

Closing Day

Skier Visits

1962-63
March 10
1950s
Ticket Price
Season Pass Price

Pass Payback

Opening Day

Closing Day

Skier Visits

1958-59
November 29
1955-56
March 11
1952-53
January 31
1940s
Ticket Price
Season Pass Price

Pass Payback

Opening Day

Closing Day

Skier Visits

1939-40
January 5
1930s
Ticket Price
Season Pass Price

Pass Payback

Opening Day

Closing Day

Skier Visits

1936-37
December 13
Visitor Memories
"I lived across the street from Mr. Farr when I was in grade 1-3. He was a wonderful man and a surrogate father-figure for me. I enjoyed riding on the fender of his tractor and being around as he did chores and tended this herd of about 35 cows. What a wonderful contribution he made to the community. I am grateful for the experience."
Billie Hogerty, Sep. 24, 2023
---
External Links
Farr's Hill - Facebook
Last updated: November 23, 2021