Sunday Mountain Ski Area
Orford, New Hampshire
Partially Constructed in the 1960s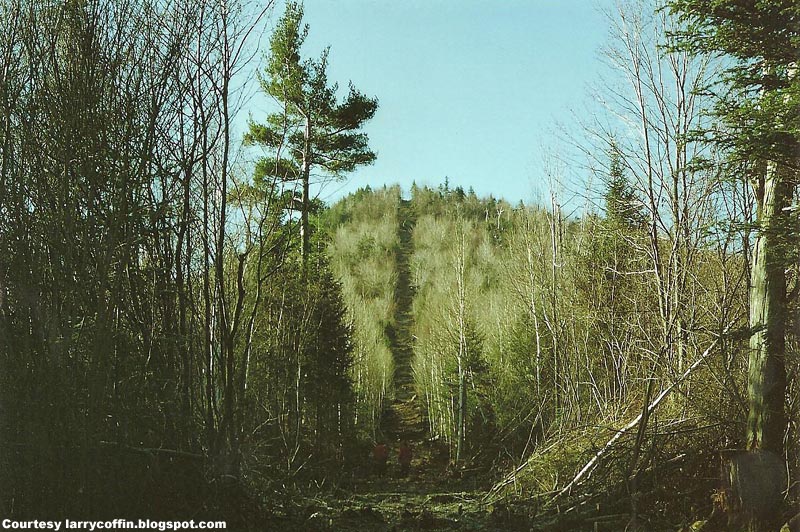 The Sunday Mounatin lift line circa the 1960s

Overview
Located just north of Route 25A in the Upper Valley region of New Hampshire, Sunday Mountain is a 1,823 foot tall peak. According to a Bradford United Opinion article, the mountain was "so named because hunters defamed the Sabbath and one was lost."

In June 1964, Ernest F. Gstell and his son Ernest E. Gstell acquired over 200 acres of land on Sunday Mountain. Gosta R. Truedsson, who also had a stake in the project, designed a ski area and connected real estate development. All three were Connecticut residents with aerospace backgrounds, with many members of the Gstell family working for Pratt and Whitney at some point. The younger Ernest E. "Ernie" Gstell was a Marine Corps veteran was also an accredited ski school instructor.

During the winter of 1964-65, Gosta Truedsson served as general manager of the new Round Top ski area in Vermont.

The project gained momentum in 1966, as many A-frame lots were sold. In addition, the prospective lift line was cut.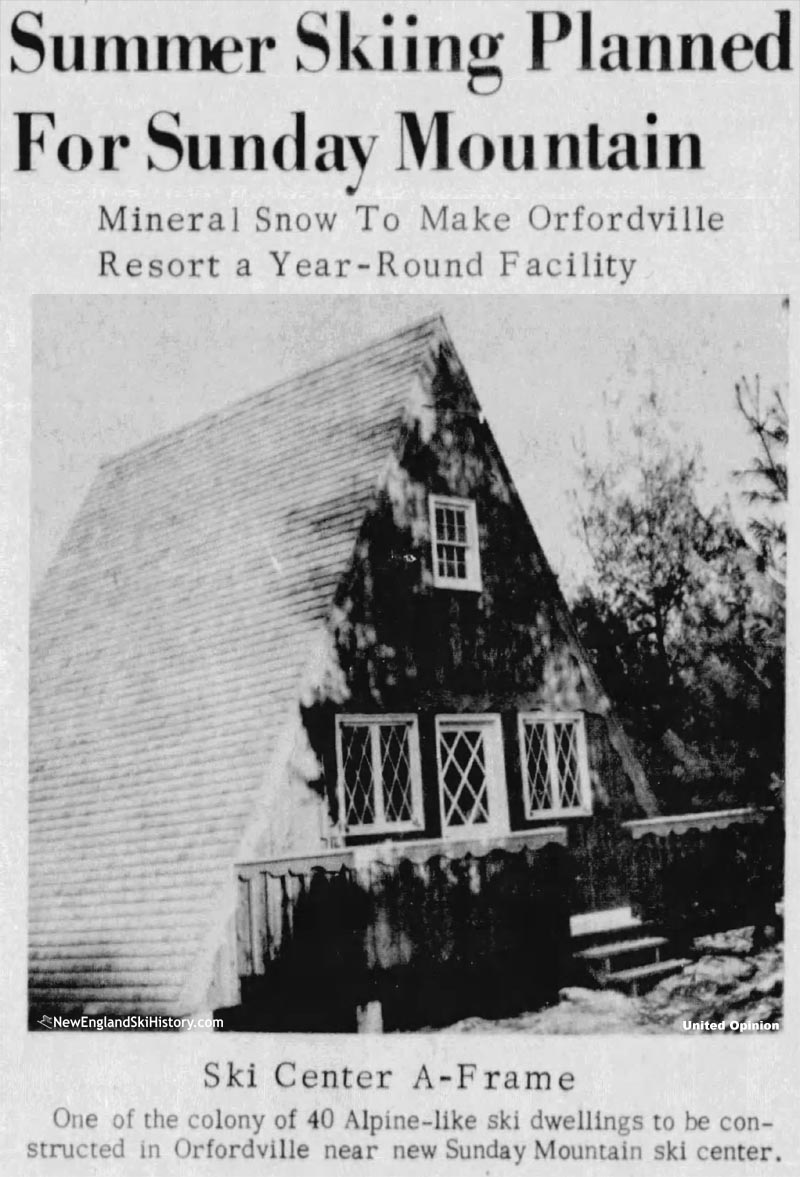 The Sunday Mounatin A-Frame Development (1968)

In December 1966, the Bradford United Opinion announced the plans for the development, which was to include the ski area, a golf course, and pond frontage. Two of the A-frames were under construction, while all of the lots were reported to have buyers lined up, mainly from Connecticut. Construction was said to be limited to weekends.

The ski area was slated to be served by a double chairlift, T-Bar, and rope tows. Eight trails were planned, up to 1.75 miles in length, with a vertical drop of over 1,000 feet possible. Truedsson planned to import "mineral snow" to facilitate year-round skiing, which he said was being used at a private ski area in Germany. The ski area was expected to open by 1968, with possible snowcat or rope-tow served skiing to be offered in 1966-67.

Circa 1967, Sunday Mountain ski area was advertised. According to listings, the area would feature 6 trails of all abilities, served by a T-Bar lift.

According to local historian Larry Coffin, the project stalled when the elder Gstell became ill. In November 1968, Gosta Truedsson listed the area for sale in the Boston Globe, citing "reason for selling is personal and not financial." The description stated that "lift lines and extensive trail system almost finished" and that "terminal structures for chair lift on hand but not installed."

It is not known what lift components were purchased or sold, but Sunday Mountain Associates was formed circa late 1971 was a financial entity for the development. The Gstells likely completed their divestiture of the area in the late 1970s.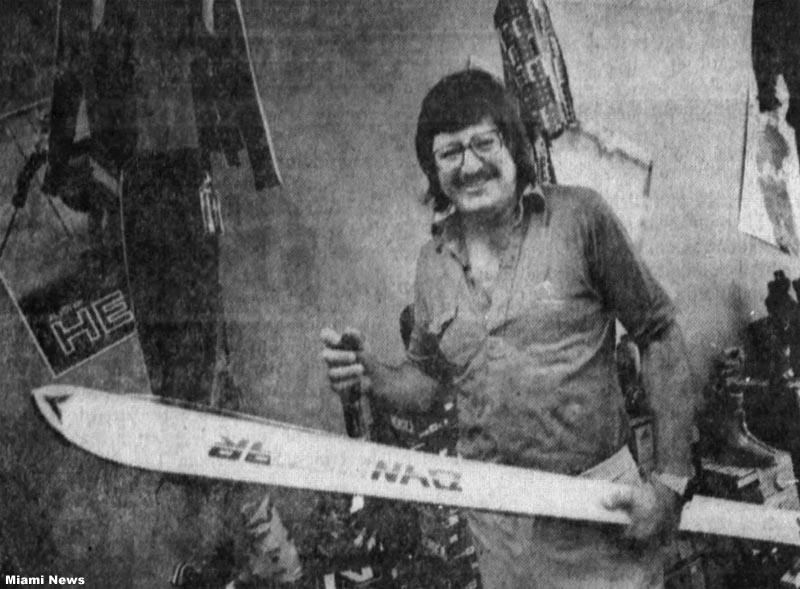 Ernie Gstell at his ski shop in 1974

Ernie Gstell served as ski school director at Beech Mountain in North Carolina during the early 1970s before opening The Top Drawer ski shop in Miami, Florida in 1974. Gstell told the Miami News that "about 20 per cent of the skiers at Beech are from Florida, and they complain they can't find any local ski shops," adding that he'd been a "ski bum long enough. I should settle down a little."

Gosta Truedsson passed away on August 4, 1982 at the age of 73. Ernie Gstell passed away on December 26, 2010 at the age of 75.



Sunday Mountain as seen from Mt. Cube (2014)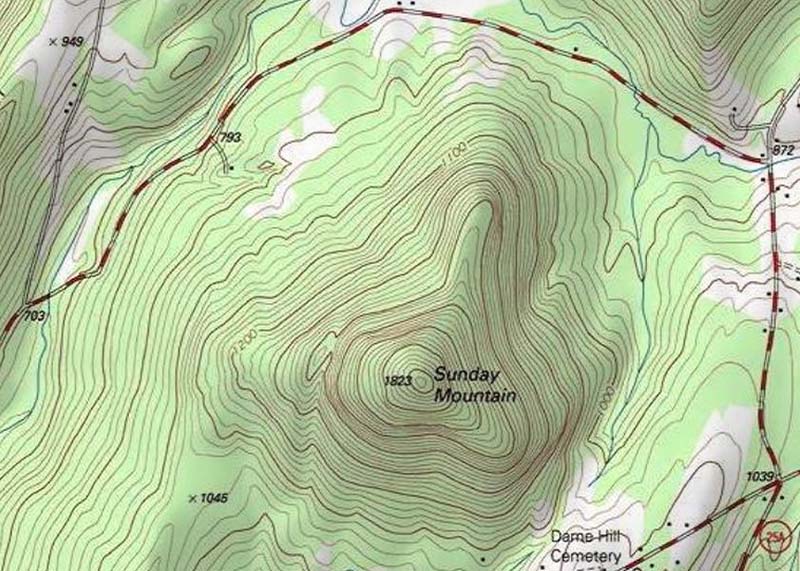 Sunday Mountain topographic map



Today
Sunday Mountain is a wooded peak surrounded by homes and pastures. The Cross Rivendell hiking trail passes over the mountain.

Quotes

"
Sunday Mountain
T-Bar, 6 trails, glade, Novice-Intermediate-Expert, Packer, Ski School, Ski Patrol
"
1968 Eastern Ski Map
Resources
Things That Never Were - In Times Past Blog
Sunday Mountain - FranklinSites.com Hiking Guide
Last updated: June 8, 2021