| | |
| --- | --- |
| | |
Located south of Killington, Plymouth Notch is a private ski area that was originally known as Round Top.

Round Top

The history of Round Top ski area likely dates back to 1958, when Paul Goldman purchased a 400 acre farmhouse property in Plymouth, Vermont to use as a vacation home. Owner of Lawrence, Massachusetts furniture and boat manufacturer Plycraft, Inc., Goldman frequented many nearby ski areas with his family before deciding to develop his own ski area on the property. In choosing a name, Goldman drew inspiration from the look of the wooden arches in homes he was developing.


A Late Opening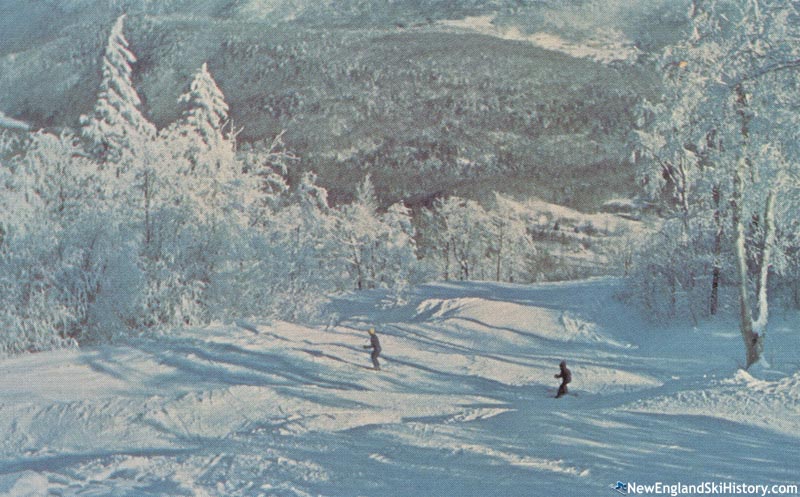 Skiing at Round Top

Word of the development emerged in February 1964, with Round Top Mountain Inc. announcing that the cutting of the Sel Hannah-designed ski trails was more than 60 percent complete. An Innsbruck Olympics inspired village of chalets was planned, each with a curved roof that reportedly provided 50 percent more living space at the same cost as a traditional A-frame. In addition to alpine skiing, other planned activities included ski-joring, ice fishing, swimming, horseback riding, tennis, and golf.

Plans for the 1964-65 season included 2 double chairlifts, a T-Bar, a rope tow, and 80 acres of terrain spanning a 1,200 foot vertical drop. A new stock offering was advertised in October with the goal of raising $300,000. The response was tepid, with only $20,000 of stock being sold before the offering was withdrawn. A financier may have pulled out of the project after the offering failed, resulting in Goldman being forced to provide working capital.

In mid-October, Round Top made regional headlines when Goldman announced he had successfully recruited Olympic gold medalist Andrea Mead Lawrence as ski school director. Originally calling Pico home, Lawrence had been residing in Aspen for the past decade.

The mild 1964-65 season was a struggle for many areas, particularly for Round Top. Equipment delivery delays were reportedly to blame for opening day postponements. Taking her ski school certification course in New York in February, Lawrence told fellow instructors that the area was expected to open in a couple of weeks. In reality, opening day would not arrive until mid-March with a scaled back lift network consisting of a double chairlift and T-Bar.

Round Top finally opened on March 11, 1965, offering free skiing on a 14" base of spring snow. The mountain featured six trails and a Goldman-designed base lodge with a bow-shaped roof, which was integrated into the area's logo. Gosta R. Truedsson served as manager. Weekend operations extended into April.

The base lodge was reportedly expanded for the 1965-66 season.

In advance of the 1966-67 season, Round Top announced it had acquired a large tract of land above the existing ski area, which would eventually result in the area's vertical drop increasing to 1,700 feet. The new area was to be called Goldmine and was tentatively slated for development in 1967.

Improvements for the 1966-67 season included the new Goldbrook Trail (described by new ski school director Klaus Linnemayr as a "very swinging trail"), a remodeled base lodge, and the addition of a mid-station on the double chairlift. Dick Catlin served as manager.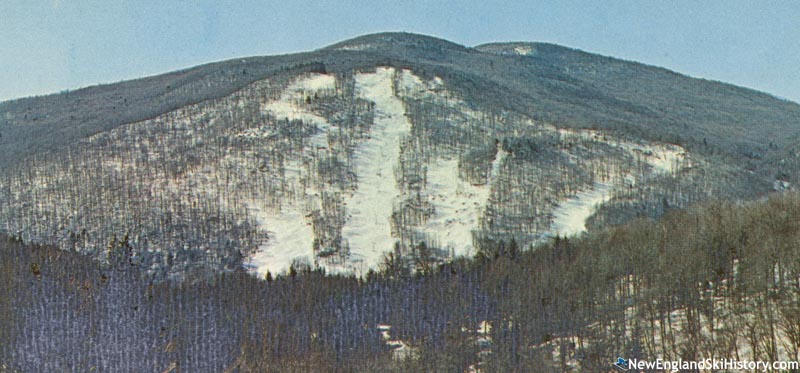 Round Top circa the late 1960s or 1970s

Former Killington employee Robert Rondeau took over as manager for the 1967-68 season, which saw the addition of a novice from the top of the mountain in conjunction with the development of slopeside chalet lots named Wedel Village. Future plans were announced for a second chairlift and the construction of a year-round dude ranch on the summit.

The second double chairlift was finally added for the 1968-69 season. Though original plans called for the lift to extend further up the mountain and be augmented by an upper mountain T-Bar in the Goldbrook area for a longer ski season, the lift ended up serving the lower mountain near the chalet development. Round Top made regional headlines around that time by offering free skiing for anyone aged 65 or older, while also announcing intentions of eventually making the area a private club.

A plan for slopeside apartments at Wedel Village was publicized during the 1969-70 season, built on the concept of a long-term lease for renters. Round Top also promoted free skiing for the first and last hour of the day, with manager Robert Rondeau telling the New York Times, "were convinced that if a skier tries us for the first hour, he'll schuss to our nearest ticket window and become a paying customer. And if he comes for only the last hour, that he'll be back the next day."

Circa 1972, Peter Stames became manager of Round Top.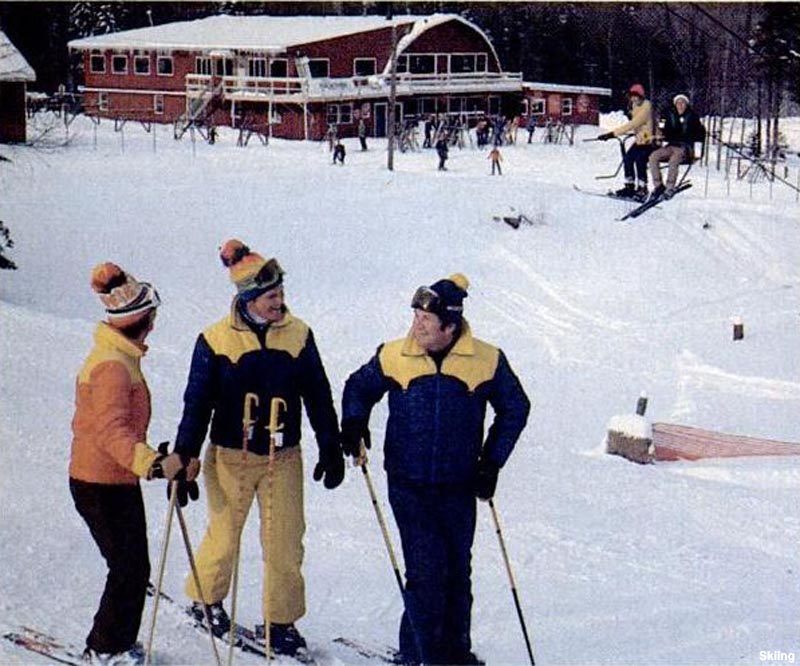 The Round Top base area circa the late 1970s

Lacking snowmaking, the poor 1973-74 winter put Round Top in financial dire straits, with complaints from employees about bounced checks reaching the papers that spring. The area reportedly went bankrupt around this time, with Paul Goldman's son David forming the Plymouth Corporation to take over Round Top for the 1974-75 season. Former Ward Hill ski school director Bill Morrow took over as area manager. Around this time, Round Top attempted to guarantee its season passholders a 100 day season; if it was unable to open for 100 days, 1% of the season pass price would be refunded for each day missed. In the end, this was only a temporary solution, as top to bottom snowmaking was installed for the 1977-78 season, covering the T-Bar area, Boulder Bowl, and Route 100.

Nevertheless, the area ran into trouble in the late 1970s and nearly closed after the 1980-81 season. James W. Steadman reportedly purchased the area out of bankruptcy from David Goldman in November 1981, promising big timeshare plans. The area closed in early March 1982 when Steadman was arrested on charges of being a fugitive from justice for felony theft charges in multiple states. As former ski instructor Donald Cooper later wrote in Skiing magazine, "The lodge, the hills are silent now, the voices of the mountain kids - my kids, who skied two winters to the grammar school at the mountain's base, among them - are distant echoes in the past. Like the girls of yesterday whose beauty faded with their youth, Round Top, my sweetheart, our sweetheart, is gone."

Round Top Emerges From the Lost as Bear Creek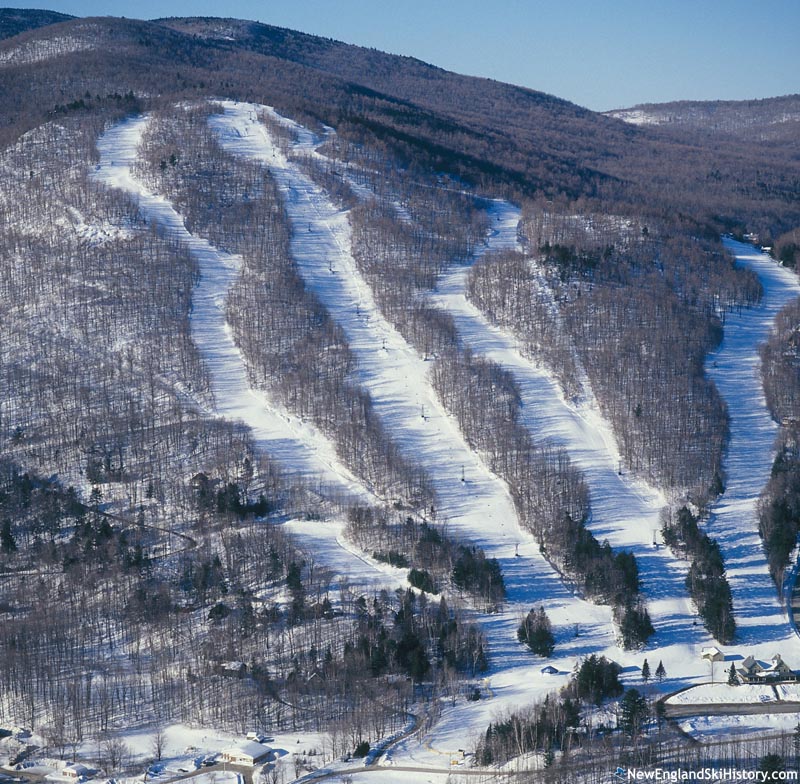 Bear Creek ski area

Under the name Plymouth Properties LLC, David Yurkerwich and John Neal purchased the defunct 800 acre Round Top ski area in 1997 for a reported $250,000. Neal served as facilities manager at the Winterplace development at Okemo, while Yurkerwich worked in finance in New York.

Initial plans called for restoring the original area for skiers, while developing a new complex named "Mt. Ambrose" for snowboarders. After the main chairlift was rebuilt, Round Top reopened as Bear Creek for the 1998-1999 season with the vision to develop it into an elite private club. A new clubhouse was constructed on the old day lodge foundation, starting in 1999.

Round Top founder Paul Goldman passed away on Aug. 12, 2003. Original ski school director Andrea Mead Lawrence passed away on March 30, 2009.

After years of pumping snowmaking water from Great Roaring Brook, Bear Creek was issued a permit to build a 10 million gallon snowmaking pond in 2007. Due in part to real estate market problems, the snowmaking project was postponed in 2009. Bear Creek closed after the 2009-2010 season.

Bear Creek Becomes Plymouth Notch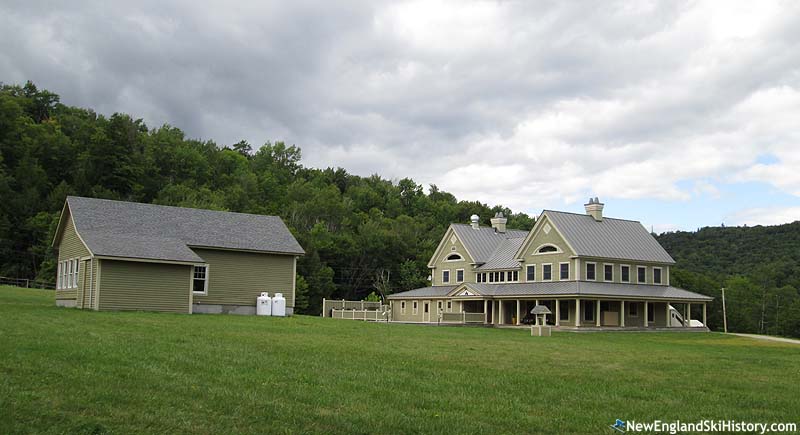 The Plymouth Notch base area in 2014

In November of 2010, a group called Plymouth Notch purchased the ski area from Plymouth Properties. Work on a new exclusive club development commenced shortly thereafter, including initial work on a 13 million gallon snowmaking pond. The area suffered significant damage from Tropical Storm Irene, however, resulting in the cancellation of the 2011-2012 ski season.

Work continued on the snowmaking pond in 2013, with Plymouth Notch reporting the job 70% complete. Meanwhile, the double chairlift passed its state inspection.

With work wrapping up on the snowmaking pond in 2014, Plymouth Notch announced the reopening of the ski area on a private basis for the 2014-15 season. Though members-only, special day pass opportunities were offered for the general public.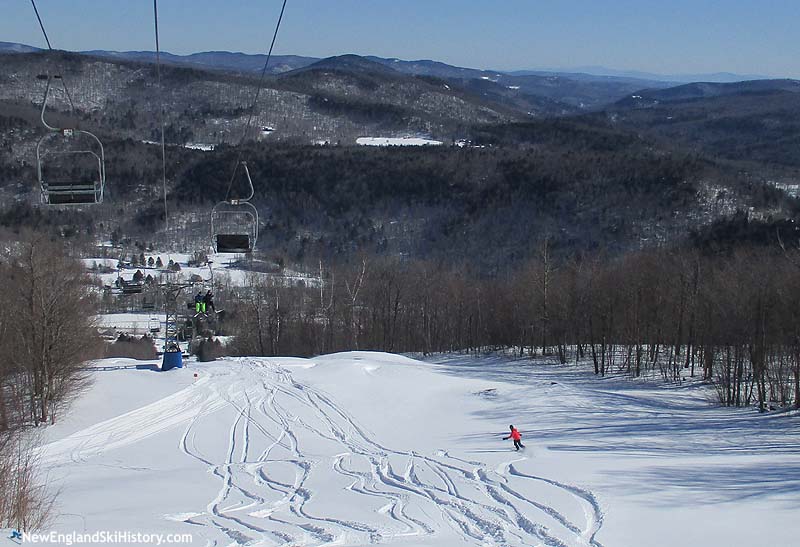 The Salt Ash trail in 2017

New narrow, wooded trails were cut prior to the 2015-16 season.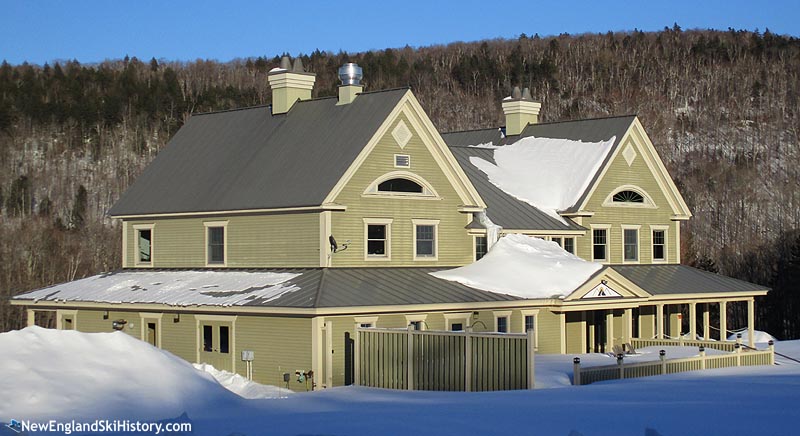 The idle clubhouse (March 2019)

Plymouth Notch ceased operations following the 2017-18 season and was placed on the market in the fall of 2018.



NewEnglandSkiConditions.com Reports





NewEnglandSkiIndustry.com News





Expansion History





Image Gallery





Lifts
Click on lift name for information and photos




Maps


Year by Year History
Adult Weekend Full Day Lift Ticket; Adult Full Price Unlimited Season Pass

2000s
Ticket Price
Season Pass Price

Pass Payback

Opening Day

Closing Day

Skier Visits

2008-09
$75.00
2007-08
$75.00
2006-07
$75.00
2005-06
$75.00
2004-05
$75.00
April 3
2003-04
$75.00
1980s
Ticket Price
Season Pass Price

Pass Payback

Opening Day

Closing Day

Skier Visits

1981-82
March 7
1980-81
$15.00
1979-80
$14.00
1970s
Ticket Price
Season Pass Price

Pass Payback

Opening Day

Closing Day

Skier Visits

1978-79
$12.00
December 16
1977-78
$11.00
December 3
1976-77
$10.00
December 23
1975-76
$9.00
December 24
1974-75
$9.00
December 26
1973-74
$9.00
1972-73
$8.50
1971-72
$7.75
$125.00
16.1 days
November 27
1970-71
$7.75
$125.00
16.1 days
1969-70
$7.50
1960s
Ticket Price
Season Pass Price

Pass Payback

Opening Day

Closing Day

Skier Visits

1968-69
$7.00
$125.00
17.9 days
1967-68
$6.75
$100.00
14.8 days
1966-67
$6.00
1964-65
$5.00
$75.00
15.0 days
March 11
Visitor Memories
"My dad was a member of the Gopher Ski Patrol and we spent nearly every winter weekend at Round Top. I was a member of the Buddy Werner Racing League. We would practice on Saturday and race on Sunday. There were a few families that were part of the ski patrol and the kids would join our parents to do the mountain sweep at the end of the day. One of my ski buddies was from New Jersey and his family had a home on Wedel Village. I spent a few nights at their mountain home. It was a fun place to ski and play. We moved on from Round Top and I ended up racing in VT and NH before moving to Colorado for college. My dad and I made a trip through New England in 2010 and stopped at Round Top for a quick visit. "
Craig Irwin, Oct. 17, 2023
"Love reading all the above comments. RTM was the center of my childhood every winter. My Dad and his brothers built RTM so we graduated skiing from the rope tow on my grandparents farm to a chairlift. The Buffalo Lodge people who had come to the rope tow 'Sailer's Snow Valley' now also skied RTM. After a day at RTM we would go home and ski under the lights at the rope tow. I loved Sundays as I always got my Dad to myself. We would get up early just to ski together. Buddy Warner races every Saturday and then fun family races on Sunday. It was such a fun family mountain. Anytime the word skiing was mentioned I was there. I now live in Utah as I moved here for the great snow. My goal is to ski at 90 and I would love to ski RTM to breathe in the views going up the Saltash chairlift. Summer I would ride horses with Jamie Goldman. No helmets and jumping in western saddles. Memories of a childhood well lived. "
Paula Sailer, Mar. 19, 2023
"Nice kittle area to ski at with hardly no lift lines at all why ski okemo and Pico and wait a long time waiting in lift lines and sometimes a long walk for parking round top had it all when the conditions and the chair lifts worked and a shorter drive home"
Stephen Holmes, Mar. 11, 2023
"I noticed a little mistake in the history. There were two surface lifts: the T-Bar on Tinker and the handle-bar tow on Pushover. The Bear Creek map also places those trail names in different places from where Round Top had them. Pushover was what Bear Creek called "Cub Run" and Tinker was what Bear Creek called "Pushover." Other changes: Bear Creek called the old "Balancing Rock" "Lower Wood Pecker.""
Zeb Landsman, Feb. 25, 2022
"I skied at Round Top through most of the 70s when I was a little kid. What fun! Random memories: * George Brown the lift operator (son of chief mechanic? Homer Brown) letting us warm up inside the operator house at the top of the little chair--and sometimes stop and start the lift, thrilling us little kids. * Mountain Dew in the lodge, which was an exotic beverage unavailable in New York or Connecticut. * Discovering Roller Coaster -- the secret trail that eventually made it to the map. * Non-stop and fast runs down Route 100 to Wedel Village and the base. * Finally mastering Woodpecker. * Skiing the "rope tow" all day when the lines were too long on the chair lifts. * Playing the pinball machines at the top of the stairs to the upper level. * Laughing because they bought the wrong kind of snowmaking equipment yet left the machines on display so it would look like they had it. * When they traded their one big snow cat with Killington for two smaller cats. *Burning hay on the snowmaking pipes, which had frozen. * Watching grownups with their fancy Hanson boots struggling to get them on their feet. * Upper Coolidge to Lower Salt Ash via the cuttoff. * Final run of the day on the serene Goldbrook. * Constantly building jumps. "
Zeb Landsman, Feb. 24, 2022
"What great memories I have of Round Top Mountain! My family owned a ski-in/ski out vacation home on the mountain in the late 60's - early 70's. We travelled from CT to Round Top every weekend all winter long. What a great family place. "
Amy Boynton, Jan. 21, 2022
"My first ever day of skiing at the age of 10 was in 1970 at Round Top. My strongest memory besides frustration at not being able to imitate the locals, was the pain I felt from the leather rental boots.  It was like having your foot clamped between a vice and a razor blade!  Why did I EVER agree to go back for more? Can't really say, but I did and 50 years later I still ski many times a year. BTW, I also remember the Pomas at Okemo! The lift operator would pull down on a handle and ready or not, the poma seat would connect to the moving cable and off you flew! "
Jeff Calhoun, Feb. 5, 2021
"I patrolled there during the Bear Creek years. It was fantastic,, my sons would come and hang with the Clements (also patrol family). There were many great lines cut in the woods. My boys felt like it was their own mountain. Of course "tippy rock" trail was a great spot. Also, since they were only open Thursday to Sunday, and they are in a little snow belt we had a lot of nice Pow days. "
Stacia lapan, Oct. 7, 2020
"I met my husband on the chairlift 33 years ago! We dated for 5 years and got married in Pittsfield, Reception at Trailside Lodge and Honeymooned in Gaysville, VT at cobblehouse Inn with the best Chef Bo and her husband Phil who served the best dinner paired with wines. Steven & I will forever remember skiing Round-Top"
Brenda Hillier, Sep. 9, 2019
"THANK YO for publishing our memories. I actually visualized everything as I was writing it. I enjoyed reading all of the other stories (I can remember the problems with the chair lift. Great pictures of the trails. Time has passed bye, but I will enjoy the fond memories forever. I told it like it happened. I'm sure you will get a laugh at our shennagins. Sparky,his wife and pals have all since passed on, as well as several Buffaloes including Mother Buffalo! There will never be another Round Top! Our memories are inscribed in Round Top History!! Hope that the staff enjoys reading about our experiences, and get a bunch of laughs. Only at Round Top! See you in another world! Thank you again, Richard (aka Ricky)Linnekin"
Richard Linnekin, May. 28, 2019
"Theres more memories The buffalo lodge was comprised of 12 single members who met at Pratt & Whitney Aircraft in East Hartford, CT. The lodge was a converted school next to the sailor farm on Route 100A which slept 24. When we were full up, we could stay with the sailors. The lodge still exists today, but it is a private residence. We were all skiers, but there was one excellent skier who could always ski the edge on Salt Ash top to bottom. When we saw him from the lift, we would yell sooo-eeee! I remember one trail called Chute, which connected lower Woodpecker to Middle Salt Ash. It was steep and short. We always tried to race the slalom course on Lower Bolder Bowl, but Paula Sailor always won. She was a very good skier. We had two chaperones, a Mothers Buffalo and Mothers helper, who made sure we did not get into any trouble. Gruntz was a call for lunch using a plastic bull horn. After skiing, we would stroll up to the Salt Ash, looking for abandoned female skiers. Finding none, we would stroll back to the lodge for dinner with Evie, our cook. After the lodge disbanded, I told you about Ernest (Sparky) Aufiero and his gang. He was a stitch, for his age, always after the young ladies. They were all good skiers and we could schuss Goldbrick and Salt Ash. After a day of good skiing, we all would mosey up to the bar. I was dating a woman called Patty Martin, a stitch in here own right. He used her as a "decoy" to convince ladies finishing skiing, that there was more action at the bar, namely Sparky's gang. What wonderful time we had!! Then it was off to Sparky's lodge on the Tyson-Reading road for a grand dinner with wine cooked by his wife. I always remember the fun time at Round Top, which never can be replaced. I will always have fond memories."
richard linnekin, May. 23, 2019
"My name is Richard Linnekin, a member of the Buffalo lodge from 1964-1980. Our lodge was located on Route 100A next to Pau Sailor. We used to ski Round Top many days for an incredible season pass for $75.00. It was a blast. We used to pack a group lunch, and bring it to the mountain. At approximately 12:00 we would blast on a plastic fog horn the call "gruntz". My favorite trails were Salt Ash (top to bottom), Coolidge, Wood Pecker, and Bolder Bowl. Fond memories of the mountain. From 1980-1988 I was a member of Sparky's gang, a dirty old senior citizen who used to hustle all the young ladies at the Salt Ash Lounge. Other senior citizens of his gang were, Doug Barrows,Paul Privetera, and Paul Goldman, the founder, Paul Sailor. Yes, I will remember all of the fun days I had at Round Top in its earlier days. On one easter sunday we a dressed up as member of the Farkel famiy (circa Laugh-In) and dressed up with red wigs!! I miss it very much. Dis not do much with BearCreek. Sincerely, Richard Linnekin"
richard linnekin, May. 19, 2019
"My then 5 year little brother Jack got his safety strap caught on the footrest of that crazy chair lift and it strung him up upside down as he tried to get off at the unattended mid- station while riding with a stranger. Some quick thinking approaching skiers saw him and heard him yelling the emergency button to stop the lift when he got to the first left tower and then scrambled up the tower to disentangle him. Crazy chairlifts but fond memories of great times with my family learning to ski and race at Round Top"
Bruce Diamond , Mar. 25, 2019
"Played in a band at the Roundtop base lodge in March 1974 during the Arab Oil Embargo. Had to get up at six am each morning to drive out to a gas station and wait in line for two gallons, every day, in order to stock up for the drive home. Had a couple of good ski days early in the week, then three days of rain. We were paid at the end of the week half in cash, half by check. The check bounced."
Jay Bass, May. 8, 2018
"Wow, great memories. As a kid our family would spend a week every winter across the hywy with Rick and Mynor at the Plymouth Village Campground. We would leave our skis up at the lodge and on nice mornings after breakfast cross the road and walk up to the ski hill. I remember "Jack" in the late 70s early 80s. I'm not sure what Jack did there but everybody knew him. Jack taught me sarcasm. "it never rains at Roundtop" is how he would greet disappointed skiers seeking shelter in the lodge during a February rain."
Camp Butterfeet, Apr. 15, 2018
"We owned a house in Quechee (still have it) and Roundtop gave us a discount on lift tickets. My little children (now 43 & 45) learned to ski there. There used to be signs on the post as you traveled up the chairlift. One I remember said "Ice is Nice." I have also never forgotten the double chair safety bar, how it clicked shut on the side and most of the time I had to fight to get it open! I still have a 1977-78 Roundtop brochure, price list, and a reprint of an article about Roundtop that was in Skiing Magazine, Spring 1978. I hung onto these things to remind me of the wonderful family times we shared there. "
Norma Lee, Feb. 13, 2017
"Yesterday I received a vintage 1977 Round Top Mountain poster as a gift. What a blast from the past. I learned how to ski there around 1973...and my parents owned one of two "round houses" at the base of the mountain-it was eventually razed to make room for a lodge or parking as part of Bear Creek. My favorite was Coolidge and Goldbrook in the morning when the sun peeked through. The history should include the '81/'82 ski season with JW Steadman and his time share scheme that untimately shuttered the mountain. "
Kim Shore, Jan. 29, 2017
"Boulder Brook, Wedel Village, Goldbrook, Salt Ash, Route 100 and Rollercoaster! So many great memories of skiing Roundtop in the 70s and early 80s. We were season pass holders and always strived to make the last run of the day. I recall the buses in the parking lot indicating whether it would be a crowded day or not. The T-Bar to ski down Tinkerbell, the rope tow and the chairlift swing. Upstairs in the lodge, a guitar player would sing "I've got Roundtop Mountain in my hands" during apres ski. The safety bars on the double chair that latched in front and frequently froze making for frequent stops due to people having to flag the attendant for help at the unloading zone. Waxing the bottoms of the lunch trays and hoofing up the mountain to have a hell of a slide down after the lifts closed was the perfect ending to a perfect day on the mountain. I'd love to have a day of skiing there again! Great memories!"
Dina Maggipinto, Jan. 4, 2017
"we learned to ski there - my parents and 3 sisters and i, in the late 60s and 70s, and skied there through the 80s too. we did so with other families from our town in ct, so there were often a dozen kids raging on wedel village, rollercoaster, woodpecker ... and while the parents drank in the bar upstairs, we sledded on the cafeteria trays. we too joined the buddy werner races and piled on 5 at a time on the t-bar ( i remember one of the lifties names was roger(. i recall skiing on easter one year and getting chocolate eggs. also, now i'm picturing the a-frame near the t-bar, and a very large pine tree across the run-out.these days i ski alta in utah, and couldn't have done it without that great learning and shredding experience at round top!!"
diane maggipinto, Sep. 23, 2013
"We bought one of the 'townhouses' on the old Roundtop Mountain about five years ago and just love it. Quite a few of the original families still own homes here; in many cases they are the grown children of the original owners, now here with their own families. We have skied Roundtop when it was closed (cars for chairlifts), as well as Bear Creek while it was operating. It is a great little ski mountain. Now we mostly ski Killington, Pico, Okemo and Magic. Looking forward to the next phase of this mountain. "
Phil Gibbs, Sep. 14, 2013
"I grew up skiing at Round Top and have many, many fond memories: -"
Zeb Landsman, May. 31, 2013
"My family skied Okemo during the pomalift days, a much earlier vintage of Killington, and even Round Top during the 1960s and 1970s. A family relative used to own the Gassetts, VT schoolhouse during this period. One memory I have of Round Top happened during the 1972-73 ski season, when my then 12 year old cousin almost fell off of the main mountain chairlift due to an unusual safety bar design. The old chairs were center-pole with crazy safety bars that latched in the center and swung around to the outside on both sides. Anyhow, my cousin, (I was then age 15), had trouble unfastening his safety bar while we were a few hundred feet away from the top unload station, and then when it released, he swung right around with it. I still don't know how I managed to do it, but with just my left hand I reached around the chair center-post, then grabbed him and threw him back into his seat on the chair. This was the same lift that is the only chairlift remaining at Bear Creek.Back then Roundtop had an old Quonset Hut for a base lodge and offered $5 lift tickets midweek, which figured for inflation might be $30 today. I also remember some older near senior skier there who we saw several times ski straight down the main lift line almost straight like a downhill skier, catching huge air off of the rolls on the way down. We always thought that he was probably an old ski racer.Since 1982 I have lived in Colorado where since 2000 my home hill is Eldora ski area west of Boulder, but I'll always remember Round Top, the pomalifts at Okemo, and the Killington that existed then too. I went back to Okemo once in the 1980s but it just wasn't the same as the sheer terror of riding the Red, Green, or Black pomas when you were a kid, getting yanked airborne 50 feet uphill out of the loading station and then maybe landing in the track or maybe not too! "
Mark Richardson, Mar. 2, 2013
"My family owned a vacation house at Round Top in the early 1970's. I learned to ski race there (Buddy Werner League) when I was about 8 to 10 years old. We spent many vacations there in both winter and summer and had great times. It's good to see that the mountain still looks basically similar after all these years."
Ben Farrell, Mar. 1, 2013
---
External Links
Plymouth Notch - official site
Last updated: December 1, 2020