Eastern Novice Area at Pats Peak
Eastern Novice Area Details

Status:
Cancelled
First Season of Operation:
1970s
Lifts:
1 chairlift
Terrain:
Novice terrain

Return to Pats Peak Profile
Following the installation of the Valley Double, Pats Peak was still looking to improve novice offerings. In particular, ownership noted the difficulty novices were having riding J-Bars, T-Bars, and double chairlifts.

From a brief period circa the late 1960s and early 1970s, the Patenaudes considered designing and building a single chairlift to run parallel to the lower portion of the Peak Double. The lift would have been about 1,100 feet long and about 130 feet vertical.

Eventually the idea was forgotten and the Hurricane Triple was installed near the former proposed lift line, whilst a smaller surface lift novice slope was constructed higher up.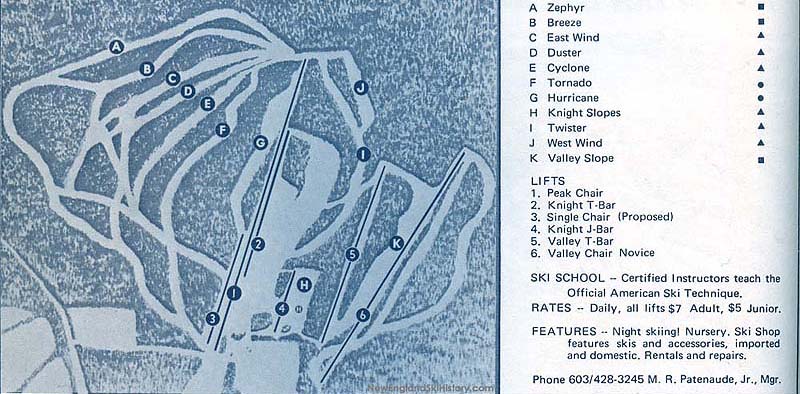 1969-70 Pats Peak Trail Map showing the proposed single chairlift



Last updated: October 2, 2014
CCC Trails Cancelled Ski Areas Expansions Lifts Management Maps News Then and Now Timelines Topics In The Press Links Site Map What's New Feedback

Copyright 2002-2019, All Rights Reserved.