Parker's Gore at Killington

The construction of the Northeast Passage in 1982-83 was considered to be the first phase of a larger expansion into an area south of Killington proper known as "Parker's Gore."

The goal of Parker's Gore was to provide a "wilderness ski experience." According to Pres Smith:

"The backdrop of this 1500 acre bowl was Shrewsbury Peak, South Peak, Little Killington Peak, Killington Peak, Skye Peak, and Bear Mountain. The terrain configuration was such that ski trails would have every desired exposure beginning at the southern most point in this property with N exposure, then NE, E, SE and finally Southern. This backdrop of mountains essentially created a semi-circle with a vast bowl opening to the east. Due to this configuration one's view from any point in the bowl was all mountains (no valleys, no roads or rivers, and no communities or housing in sight) as you descended to the east all you could see were mountains east of Route 100 South. The vital point is that the last 500' of vertical drop to Route 100 South in effect created a visual barrier to any roads, rivers, valleys or villages. All lodging, transportation and ancillary facilities were out of your vision untill you dropped over that last transition. Our idea was to keep it that way as it would have been a unique experience in Eastern skiing (currently only found in the West)."

Killington purchased over 1,000 acres of land in the Parker's Gore area from International Paper Company in 1981. Initial plans called for a trail network served 8 to 10 lifts. According to Pres Smith:

"This bowl had a vertical drop of 3000'+ and lifts would have been configured something like this:

North Face of South Peak; very similar to Bear Mountain Outer Limits, about a 65% gradient, one lift N exposure, one lift NE exposure.
Little Killington; one lift - Long easterly exposure to access South Peak plus beautiful consistent intermediate terrain, one lift servicing high elevation novice terrain.
Killington; one long lift beginning at the top of the southern most access lift, intermediate, exposure ESE.
Skye Peak; one lift moderate to steep, S exposure.
South Valley; one access lift, good lower elevation skiing, mix of moderate to steep.
Northeast Passage; one lift built when we were launching this plan; it was to be the first access to Wilderness Bowl (since dismantled)."

In addition to alpine skiing, a 10 mile high elevation (3,500+ feet) cross country ski trail network was to be developed by Olympian Mike Gallagher. According to Pres Smith, "[b]efore developing Killington our group of founders used to cross country this high ridge top between Killington and Pico. The reason was quite simple-- The low scrub trees were usually laden with snow because of the extra snowfall at that elevation. The combination of that with views of mountains and valleys as far as the eye could see was nothing less than spectacular. It is truly a pity that the public has been denied that opportunity. This program would have been unparalleled in the Eastern United States." Smith went on to add that, "[w]e applied for an Environmental Permit and were summarily turned down."

Short term plans for Parker's Gore called for two triple chairlifts. The plans were approved by the Mendon Planning Commission, however the Mendon Zoning Board of Adjustment would later reject them.

Killington also negotiated an agreement with the National Park Service in 1983, allowing for development in the Appalachian Trail corridor. After strong opposition, the scaled-down agreement was reached in 1989 (which was met with further opposition).

A further roadblock was put in place when the State of Vermont determined the area to be a sensitive black bear habitat.

By the late 1990s, after over a decade of legal challenges, the new ownership (American Ski Company) was acquiring Pico and determined connecting the two areas to be a more important project. As such, 3,000 American Ski Company owned acres in Parker's Gore were exchanged with the State of Vermont for 1,073 acres closer to Killington Peak, reportedly to help spur the developing of a Killington Village.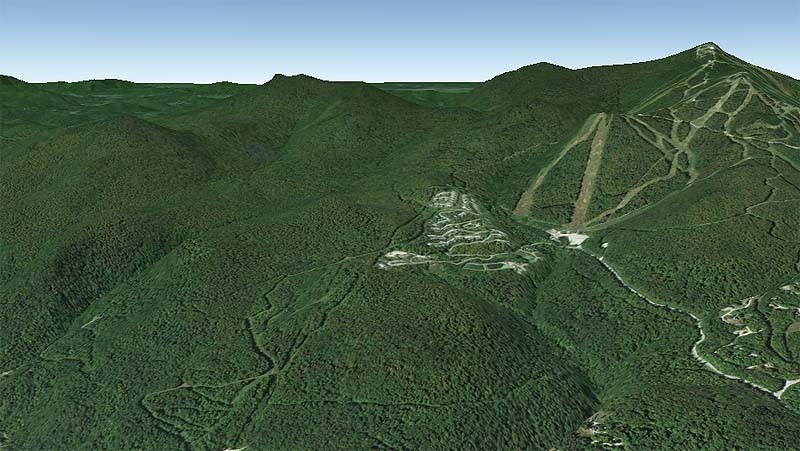 A Google Earth rendering of the Parker's Gore territory



Last updated: August 4, 2015
| | | |
| --- | --- | --- |
| | Copyright 2002-2023, All Rights Reserved. | |