| | |
| --- | --- |
| | |
Located in the northwestern part of the state, Mohawk Mountain has been the cornerstone of the Connecticut ski industry for over half a century.

Mohawk State Forest


The view from Mohawk Mountain circa 1941

Prior to World War I, Alain C. White and his sister May W. White began acquiring land in the Litchfield, Connecticut area. Their father, John Jay White, was a wealthy New York lawyer and real estate magnate who passed away on New Year's Eve 1902. As Alain White began to buy up land, locals started to get suspicious about the nature of the acquisitions. In early 1913, White established the White Memorial Foundation. Circa 1921, White reportedly donated 2,000 acres to the state for public forestry, animal sanctuary, and public recreation. A wooden lookout tower was constructed one year later. Subsequent land donations continued, resulting in the Civilian Conservation Corps ("CCC") naming Camp White in his honor. The CCC constructed roads and picnic areas in the park in the mid-1930s, with a steel fire tower being erected in 1937.

May White passed away in February 1941, while Alain White passed away in April 1951, having reportedly conserved more than 5,000 Connecticut acres during his lifetime.



Mohawk Ski Trail

Downhill skiing on Mohawk Mountain may date back to at least the 1936-37 season, when two CCC trails were cut. The two trails, likely more cross-country in nature, were advertised as "No. 1" (one-half mile long, 12 feet wide, 13 degree maximum grade) and "No. 2" (1.3 miles long, 12 feet wide, 20 degree maximum grade, 200 vertical feet). Little is known about that winter, but it is possible the trails were never skied due to a lack of snow.

In advance of the 1939-40 season, the Connecticut Winter Sports Association cut a new trail on Mohawk Mountain in cooperation with the State Forest Department. Designed by Rolf Holtvedt, the trail was one mile long and 35 to 50 feet wide and was previewed for 100 hikers on November 18, 1939. Snow was yet again a struggle that winter, as a widely anticipated state meet had to be postponed multiple times in February.

Though the trail remained in use into the winter of 1941-42, it is not known if it was maintained during the rest of the World War II. Following the war, the trail was brushed out and was skiable by the start of December 1945, courtesy an early snowstorm. The season sputtered out by mid-February, when there was no longer adequate snow to allow for skiing. Meanwhile, the Addison Ski Club held a fundraiser for proposed ski trails at Mohawk.

In October 1946, state officials in the midst of planning ski facilities at Mohawk Mountain visited Stowe to inspect its ski lifts and operations. On March 16, 1947, Mohawk Mountain hosted its last state championship race as a hike-up ski facility.


Surface Lift Era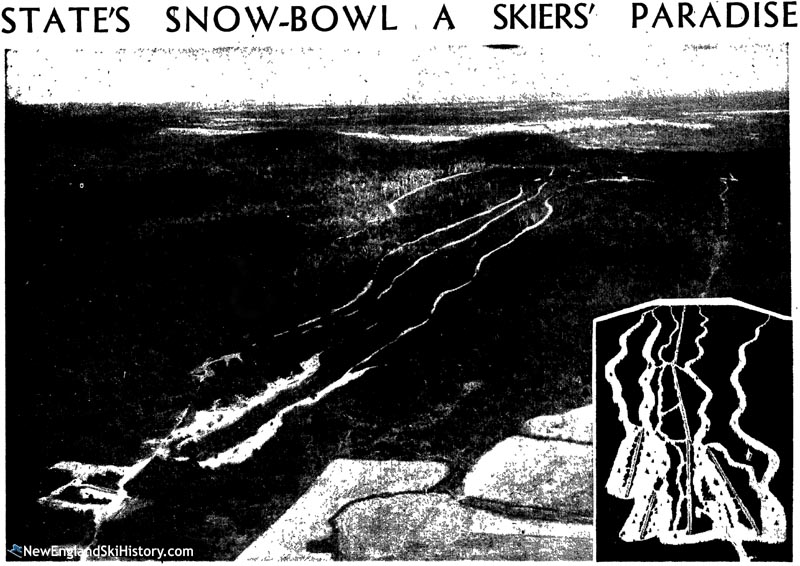 A 1947 rendering of Mohawk Mountain

In February of 1947, six-foot four-inch tall Marine veteran Walt Schoenknecht entered into a lease with the State of Connecticut for about one hundred acres on the northwest side of Mohawk Mountain on a peak known as the Pinnacle. Governor James McConaughy referred to signing the lease for the area (near his house) as a "good cause."

Under the terms of the lease, Schoenknecht could sell lift tickets and food, but not alcoholic beverages. Schoenknecht, his wife, and father reportedly started constructing the ski area around the Mohawk ski trail later that winter. At the time, Schoenknecht was operating Brodie, where he was later quoted by ski writer Lee Leahy as having "lost my shirt" due to competition and unfavorable lease terms. Two of the Brodie rope tows were relocated to his new Mohawk development.

Five new trails and three slopes were cut for the 1947-48 season, served by six rope tows. Trails were designed to minimize exposure to wind and sun for maximum snow retention. Three of the rope tows were tiered to allow access for the full 600 vertical feet, equipped with downhill sloped starts for easier loading. Schoenknecht's New Haven Ski Club assisted with the smoothing and seeding of the new trails.



March 1949 costume party at Mohawk

A "mighty fancy" lodge (now known as the Pine Lodge) was constructed with a large fireplace and a sun deck. Litchfield Hills Outing Club president Franklyn Ellis served as the first ski school director, while Walt's wife Peg, who served as a nurse during World War II, operated the first aid clinic and daycare.

The $45,000 area reportedly debuted the day after Christmas in 1947, operating on weekends, holidays, and the occasional midweek afternoon. The debut season had a strong start, with Schoenknecht stating, "A winter like this probably won't come again for years. We might as well be realistic about it." The December 28 crowd was estimated at greater than 1,200 skiers, bolstered by busloads of ski clubs. Snow cover waned in mid-February, resulting in Mohawk covering lower mountain trails with snow from the woods and a major race being relocated to another mountain. The season likely came to a close in mid-March.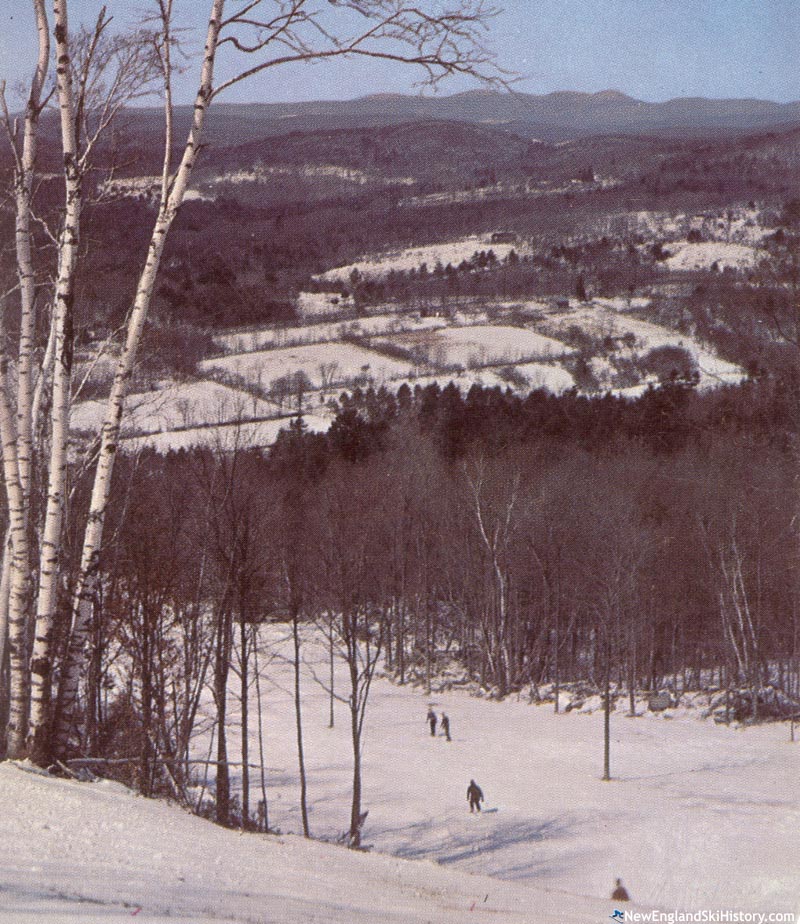 The Timber Trail

For its sophomore season, Mohawk added the Boulder Bowl. Served by tandem tows, the complex was composed of intermediate and expert terrain. With big numbers of skiers visiting, the parking lot was doubled to hold 600 cars, while area lodging facilities announced winter operations. Though the season likely got underway in time for Christmas Eve, snowfall was limited, resulting in minimal January operations. Early February snow provided a rebound, with over 1,500 skiers hitting the slopes on one Sunday. Fortunes took a turn for the worst soon thereafter, resulting in the postponement of a major race and no skiing for much of the rest of the month. Early March conditions were described as "impossible" with "oozing mud in the hollows." A mid-March storm allowed for a few more days of operations before the end of calendar winter.



Early Experiments in Snowmaking


Shaved ice skiing (January 1950)

While the ski area was initially successful, a snow drought in the winter of 1949-50 brought operations to a halt. Though the season was underway in early December, there was no snow by New Year's Eve. After weeks of no operations, Walt purchased an estimated 500 tons of ice from Economy Ice Company and used a massive chipper to create a snow surface, which allowed the area to open the Pinnacle Trail and Pine Slope on January 22. Walt reportedly slept only two hours over the course of three days and spent $3,500 on the project, which reportedly drew 1,500 skiers over the course of two days before being melted by rain. Two weeks later, 250 tons of ice were chipped to reopen the ski area for another few days. After another closure, natural snow finally returned in mid-February, allowing for good skiing for a few days before rain cancelled the planned women's state title race toward the end of the month. A late season storm allowed skiing into late March, followed by a fluke storm in possibly enabling a day or two in mid-April.

Meanwhile, on March 15, 1950, Arthur Hunt of Tey Company announced the invention of snow makers, which could be positioned "at intervals along a trail" using "a pressurized system." Hunt specifically differentiated the system from Mohawk's chopped ice system, adding "To the best of my knowledge, we are the first to convert water to snow in an open field." The system was demonstrated at the company's Milford, Connecticut plant on March 14, 1950, producing "22 inches over a sizeable area" according to the Hartford Courant.

In October 1950, Walt announced plans to experiment with manufacturing his own clouds of mist and seeding the clouds with crystals to produce snow. Pipes were installed on multiple trails for the prospective system. The Hartford Courant speculated that, "If this proves successful, skiers will be in a position to ski ever week end on smooth, well-planned, manicured trails covered with man-made snow providing spring-like temperatures do not prevail."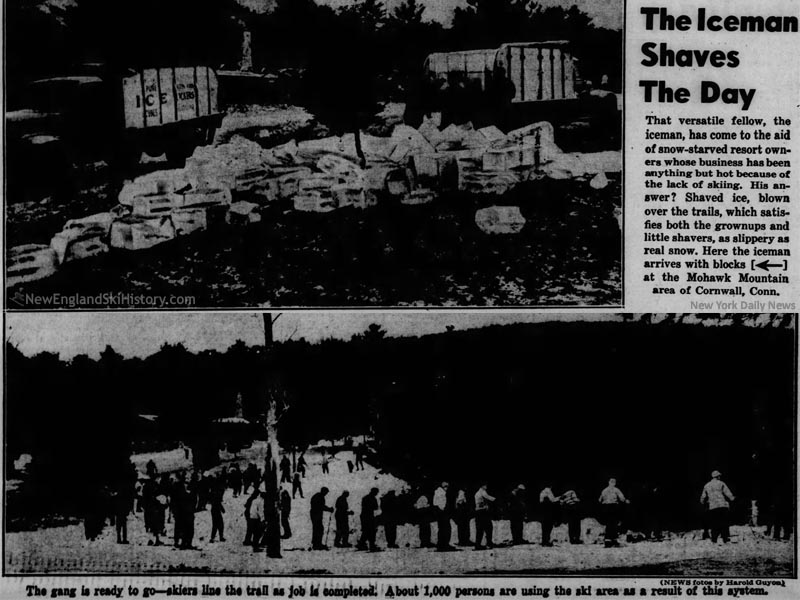 Shaved ice skiing (January 1950)

Another experiment attempted around this time was skiing on pine needles. In early October 1950, nearly three dozen skiers attempted the activity. One year later, a slope was covered with 80 tons of hay for a fall ski gathering of the Connecticut Ski Council.

Meanwhile, ski operators had their eye on Mohawk Mountain due to a lawsuit filed by a skier who had broken her ankle while riding a rope tow at the area in 1948. A Federal District Court jury only needed 15 minutes of deliberation before dismissing the plaintiff's case, setting a precedent in ski area liability.

The 1950-51 season kicked off in mid-December on natural snow that the Hartford Courant described as "the best skiing to be found in New England." Meanwhile, Mohawk and Split Rock (later known as Big Boulder, PA) boasted the first two snowmaking systems using equipment invented by Tey Manufacturing's Wayne M. Pierce Jr. At the time, the installation cost for a 3,000 foot trail was estimated at $50,000. The system was tested the night of December 28, 1950, but "ended inconclusively when below zero cold froze feed lines of the device after only a small amount of snow was produced." Two days later, Mohawk announced three snow-making machines had been in operation all afternoon and would provide excellent conditions. Skiing continued into mid-January, but even the snowmaking system couldn't keep the area on later in the month due to temperatures "well above freezing." Snowmaking temperatures returned at the end of the month, allowing Mohawk to operate for a few days when many areas in Massachusetts, New Hampshire, and Vermont were closed.

February started with no skiing, then was coupled with bizarre weather. The Hartford Courant exclaimed, "Where else in the world, aside from New England, can you find pratically a hurricane and a blizzard on the same day?" Numerous planned races were postponed due to lack of snow.

Mohawk managed to operate in early March for its annual Winter Carnival, with the Hartford Courant requesting that skiers "go completely out of their minds with the ski togs they wear on that day, the zanier the better." The area still did not have enough snowpack to hold races and likely saw the season fade away before the middle of the month.

As the 1951-52 season approached, Walt announced that the snowmaking system had been further perfected and would provide an adequate base if natural snow was lacking. Hundreds of tons of hay was spread to allow skiing with minimal snowpack. By this point, the area had 9 rope tows serving 10 trails and 4 slopes, including cutting the new Slalom Glade through "a grove of large pine trees" that will "protect the snow from sun and wind and thus allow for a longer use by skiers." Regular hours of operation were Saturday and Sunday days and Friday and Monday afternoons.

The snowmaking system was not ready to go at the start of the 1951-52 season, as air compressors were not expected to arrive until later in the winter. Nevertheless, the season kicked off in mid-December in what the Hartford Courant described as a "mixture of snow and hay." A number of races were held during the first half of the season, likely on natural snow. Snowmaking resumed by early February, however rain washed away natural and manmade snow by the second weekend of the month. A snow storm resumed skiing in time for the Washington's birthday holiday, allowing for operations through the end of calendar winter.

The Boulder Bowl was improved for the 1952-53 season, supplemented with a new rope tow. A new snack bar was also added. Walt continued to refine the snowmaking system, which the Hartford Courant said, "still houses many bugs, but, hopes are high for it to be perfected and eventually become positive snow insurance." The season likely didn't start until January, but featured minimal skiing and abundant race postponements. The season may have fizzled out in mid-February.



In Search of (Mount) Snow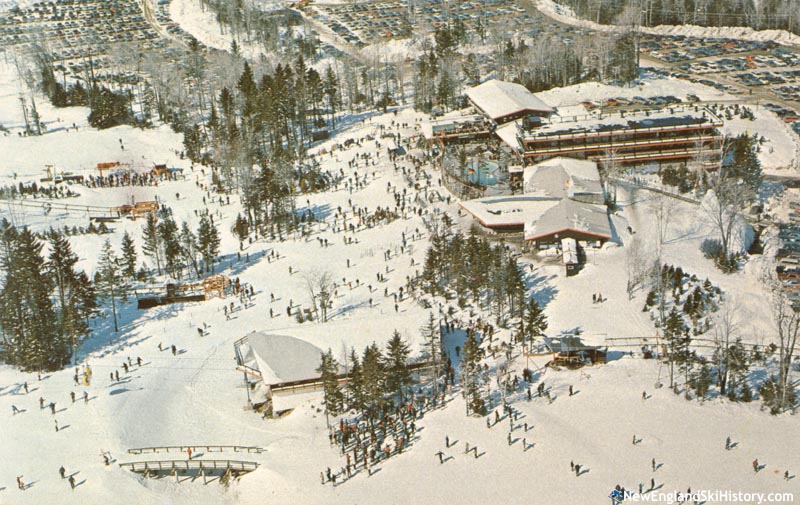 Mount Snow

Circa May 1953, Schoenknecht purchased 500 acres of land on Mt. Pisgah in Southern Vermont. Word soon spread to Connecticut, with Walt telling the Hartford Courant that "The mountain has fantastic possibilities," but assuring readers that he would stick with Mohawk as well.

An eleventh rope tow was likely added for either the 1953-54 or 1954-55 season.

The 1953-54 season likely did not get underway until snow finally arrived in mid-January. Conditions remained poor, with races again being postponed and/or relocated. A few more inches of snow improved early February conditions, but the season may have washed out in mid-February for the second straight year.

Following the 1953-54 season, Schoenknecht announced the formation of the Mount Snow Development Corp, a company he controlled with a group of Connecticut investors. With a stated philosophy that "bigness is the secret of success," Mount Snow opened for the winter of 1954-55 and, like Mohawk before, was always experimenting with new technology.

Though Mount Snow was now Walt's primary focus, Mohawk was to remain open. Once again struggling with natural snowfall, it is not known if Mohawk operated more than a few days mid-February during the winter of 1954-55. According to the Hartford Courant, a planned race in February was cancelled "due to the general lack of interest and snow." Mount Snow soon became a backup venue for races Mohawk couldn't hold due to lack of snow.

The 1955-56 season may have started in mid to late January. Mohawk limped through February with often poor conditions, but saw a positive turn in snow in March. As spring started, the snowpack was one to three feet, the deepest reported in years. The season extended into early April.

The 1956-57 season likely kicked off in January with a few days of skiing before the snowpack was wiped out. Sporadic skiing was reported in February and March.

The 1957-58 season also started in January. Snowpack started to build later in the season, which likely extended to the end of March.

A new trail was cut and the old Mohawk Trail rebuilt in advance of the 1958-59 season, as plans were announced to install a chairlift and snowmaking for the 1959-50 season. Plans were postponed, as 1958-59 was a devastatingly bad winter. The season did not start until mid-March and ended only a few days later.



Chairlift Age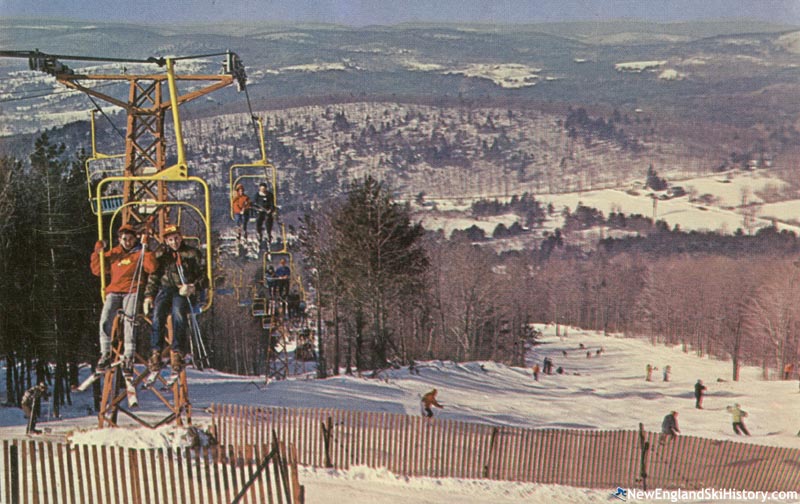 The Mohawk Double circa the 1960s

After years of tinkering with homegrown chain chairlifts at Mount Snow, Schoenknecht ordered multiple Carlevaro & Savio chairlifts for the 1960-61 season, including one for Mohawk Mountain. Channing Murdock was hired to manage the upgraded area, which also sported new mountain-top snowmaking ponds and an improved Pine Lodge. Connecticut's first chairlift likely debuted in January of 1961.

Following the 1961-62 season, Channing Murdock departed to start Butternut Basin. A few years later, he acquired the defunct Satan's Ridge ski area, reopening it as Ski Sundown.

Meanwhile, Schoenknecht focused on improving Mohawk's base facilities, as its lodge was cramped and still sported outdoor privies. He eventually acquired the 23-acre Bennett farm property and built the present day base area.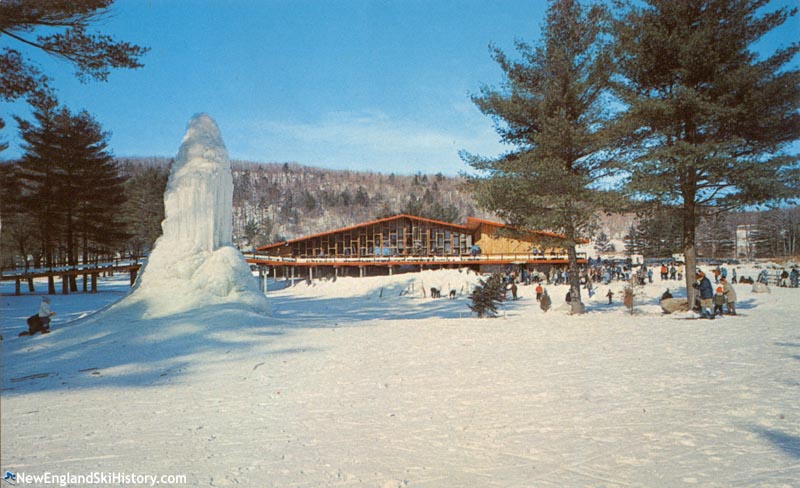 The base lodge circa the 1960s

Circa 1963, Armand Marchand replaced Frank Ellis as ski school director.

On December 15, 1964, Mohawk Mountain Ski Area, Inc. was established. The Nutmeg Double was likely constructed for that season, serving a novice slope. Soon thereafter, Steve Hedden was named general manager. Eventually his father was operating a lift, his mother managing the lodge, and his wife managing the ski shop.

Rounding out the decade, uphill capacity was improved with the installation of the Arrow Head double and likely the Mohawk Poma in 1969.

Cross country skiing was emphasized for the 1972-73 season, with Mohawk adding nordic equipment to its ski shop and rental fleet.

After multiple bad seasons in the early 1970s, Mohawk invested its 1974-75 profits into doubling its snowmaking system, with Hedden commenting, "snowmaking five years ago was a hobby. Now it's do or die." The original chairlift was also reportedly rebuilt.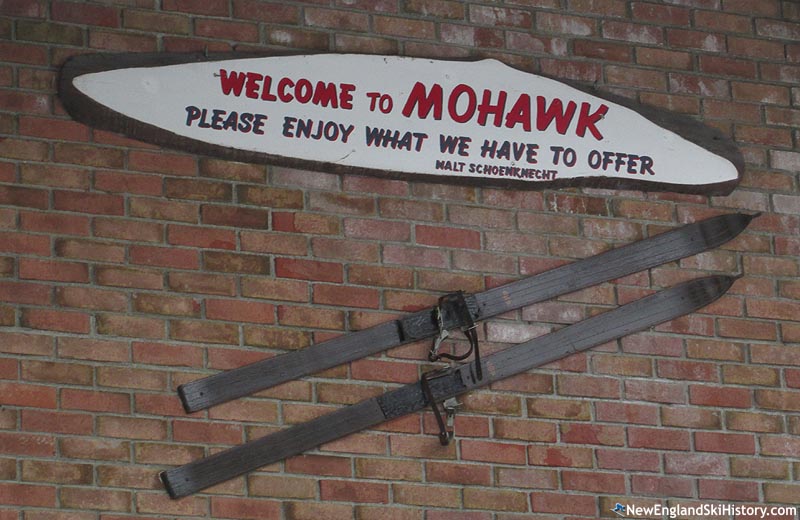 Walt's spirit lives on (2014)

After losing ownership control of Mount Snow during the energy crisis, Walt's focus returned to Mohawk by the mid 1970s. Later that decade, Mohawk installed its first triple chairlift, the Boulder Triple.

After yet another disastrous winter in 1979-80, Mohawk continued to invest in snowmaking, achieving 90% coverage with by expanding the system to two more trails for the 1982-83 season.

Though Walt was still dreaming up new innovations (such as a new beginner lift design) and expansions at Mohawk (new trails, five more chairlifts, and night skiing), he was diagnosed with cancer. His daughter Carol Lugar returned to the area she grew up at and helped him manage it. Setting up the area for the future, Walt signed a new 30-year lease starting in January 1986, with Mohawk providing up to 1.85% of gross revenue to the state. The Deer Run double was likely constructed for the 1985-86 season, spreading out crowds, while the original chairlift was once again rebuilt for 1986-87. Walt passed away prior to the start of the 1987-88 season at the age of 68.


Tornado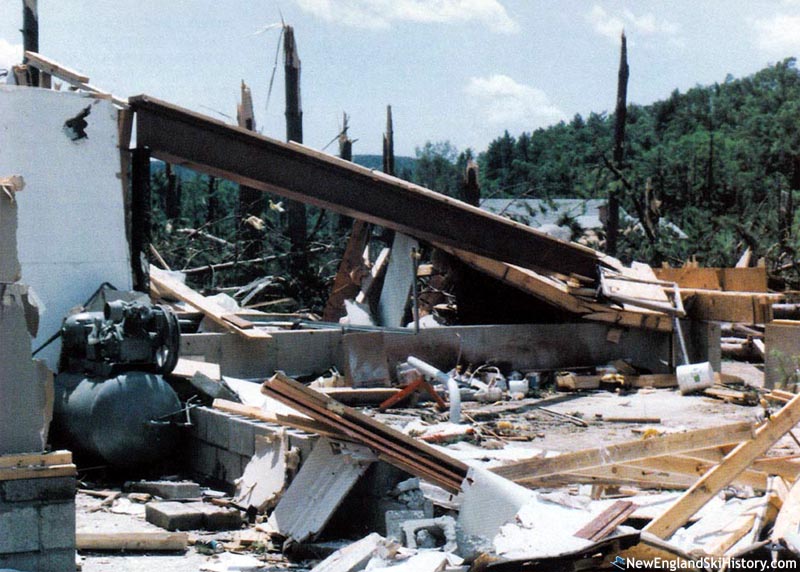 Ruins from the tornado

As the clocks at the mountain struck 4:37 on the afternoon of July 10, 1989, an F4 tornado ripped through Mohawk, leaving $1.5 to $2 million in damage. Pieces of the ski area were later found scattered miles away. Buildings were destroyed and lifts were toppled. Initial industry analysis was that the ski area would not be able to open for at least a year, if ever. However, with the help of ski areas across the country, Mohawk was able to rebuild in time to open for the 1989-90 season. Nonetheless, the financial impact would affect Mohawk for years until it finally received full payment from its insurance company.



Night Skiing Starts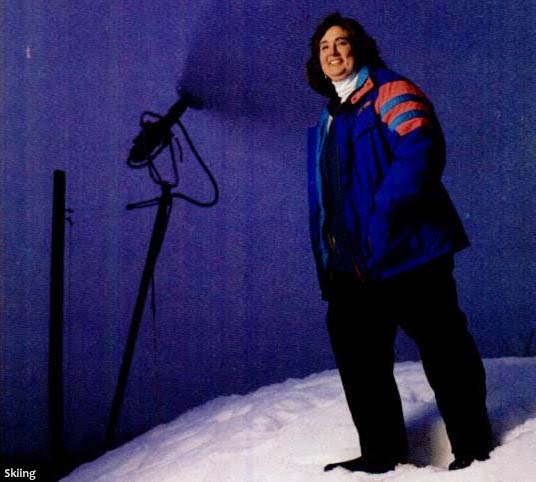 Carol Lugar and early 1990s snowmaking

Despite being located near a large population base, Mohawk Mountain operated as a day-only ski area for decades, due to a prohibition of alcohol on state property and a concern about creating a party-like atmosphere. In the fall of 1991, the state agreed to allow night skiing a Mohawk Mountain, provided that a detailed, fifteen-point list of requirements was followed. Mohawk added night skiing that winter, in part to help pay off tornado related debt. Alcohol remained banned, as Lugar told Skiing magazine, "We don't feel that drinking mixes with skiing any more than it mixes with driving. My child has to ride these lifts." Within two years, night skiing was providing over 25% of the area's skier visits.

Peg Schoenknecht passed away on July 29, 2008 at the age of 90.


Modernization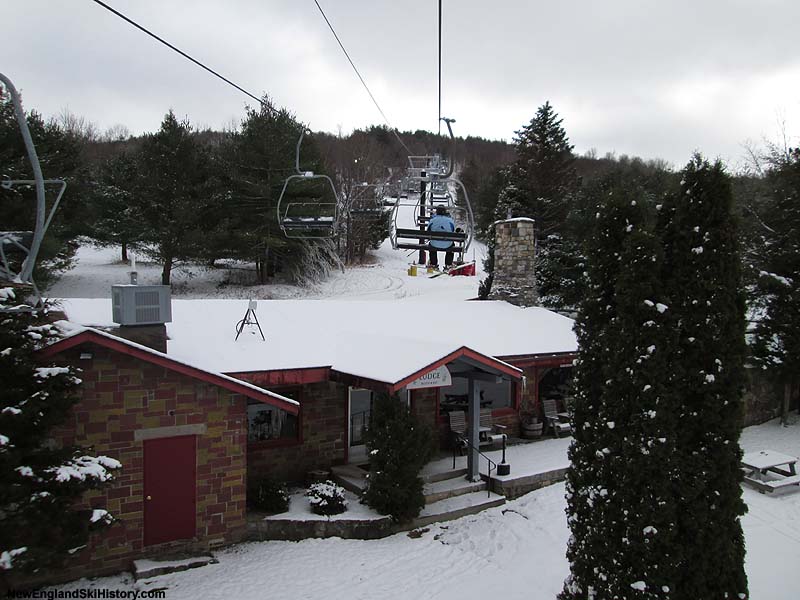 The Deer Run Triple passing over the original Pine Lodge (2014)

A major lift infrastructure initiative took place starting in the 2000s, resulting in the installation of four triple chairlifts. Mohawk's last double chairlift, the Arrow Head Double, was replaced in 2013 with the Arrowhead Triple.

With growing demand for more base facilities, Mohawk constructed a major lodge expansion in 2015, which doubled seating capacity.

A new 30-year lease was started in January 2017, covering 244 acres.





NewEnglandSkiConditions.com Reports

Month
Average Percent of Terrain Open
December
30% (3 reports)
January
90% (1 report)
February
72% (3 reports)
March
99% (1 report)

-- start conditions table -->

Recent Conditions Reports

Feb. 15, 2023 by alpinevillagepres
Spring Snow, Variable Conditions
Feb. 1, 2023 by alpinevillagepres
Frozen Granular, Frozen Granular
Dec. 18, 2022 by indyskier29
Packed Powder, Loose Granular
Mar. 5, 2022 by indyskier29
Packed Powder, Loose Granular
Jan. 22, 2022 by rocket21
Loose Granular, Loose Granular

Mohawk Mountain on NewEnglandSkiConditions.com
NewEnglandSkiIndustry.com News
Image Gallery
Lifts
Click on lift name for information and photos
Maps
Year by Year History
Adult Weekend Full Day Lift Ticket; Adult Full Price Unlimited Season Pass

2020s
Ticket Price
Season Pass Price

Pass Payback

Opening Day

Closing Day

Skier Visits

2022-23
$80.00
$704.00
8.8 days
November 26
April 2
2021-22
$75.00
$684.00
9.1 days
December 3
March 27
2020-21
$67.00
$659.00
9.8 days
December 12
March 27
2019-20
$67.00
$659.00
9.8 days
November 23
March 12
2010s
Ticket Price
Season Pass Price

Pass Payback

Opening Day

Closing Day

Skier Visits

2018-19
$65.00
$639.00
9.8 days
November 23
March 31
2017-18
$64.00
$639.00
10.0 days
December 9
April 1
2016-17
$62.00
$639.00
10.3 days
December 17
April 2
2015-16
$60.00
$639.00
10.7 days
January 2
March 13
2014-15
$60.00
$639.00
10.7 days
November 28
March 29
2013-14
$58.00
$619.00
10.7 days
November 29
March 30
2012-13
$56.00
$619.00
11.1 days
December 15
March 30
2011-12
$54.00
$619.00
11.5 days
December 17
March 11
2010-11
$52.00
December 11
March 27
2009-10
$50.00
$599.00
12.0 days
December 12
March 28
2000s
Ticket Price
Season Pass Price

Pass Payback

Opening Day

Closing Day

Skier Visits

2008-09
$50.00
$599.00
12.0 days
2007-08
$47.00
$599.00
12.7 days
2006-07
$45.00
$599.00
13.3 days
2005-06
$42.00
$599.00
14.3 days
2004-05
$42.00
$660.00
15.7 days
2003-04
$39.00
$690.00
17.7 days
2002-03
$37.00
$690.00
18.6 days
November 29
2001-02
$35.00
2000-01
$32.00
$650.00
20.3 days
1999-00
$30.00
$605.00
20.2 days
1990s
Ticket Price
Season Pass Price

Pass Payback

Opening Day

Closing Day

Skier Visits

1996-97
November 30
1995-96
$25.00
1994-95
$32.00
December 3
1993-94
November 27
1992-93
$29.00
April 8
1991-92
$30.00
1989-90
$28.00
November 24
1980s
Ticket Price
Season Pass Price

Pass Payback

Opening Day

Closing Day

Skier Visits

1988-89
$25.00
1987-88
$24.00
November 28
1986-87
$23.00
1984-85
$18.50
1983-84
$17.50
March 25
1982-83
$17.00
1981-82
$15.00
1980-81
$13.50
1979-80
$12.50
December 22
1970s
Ticket Price
Season Pass Price

Pass Payback

Opening Day

Closing Day

Skier Visits

1978-79
$11.50
1977-78
$10.50
1976-77
$10.00
1975-76
$9.50
1974-75
$8.50
December 21
1973-74
$7.00
1972-73
$7.00
1971-72
$7.00
$80.00
11.4 days
1970-71
March 28
1960s
Ticket Price
Season Pass Price

Pass Payback

Opening Day

Closing Day

Skier Visits

1968-69
$6.00
December 20
1967-68
$5.50
1966-67
$5.50
$35.00
6.4 days
1964-65
$5.50
1963-64
$5.50
1961-62
$5.50
1960-61
$6.00
1959-60
$2.50
December 26
1950s
Ticket Price
Season Pass Price

Pass Payback

Opening Day

Closing Day

Skier Visits

1958-59
March 14
1957-58
January 10
1951-52
March 23
1950-51
$2.25
December 16
1940s
Ticket Price
Season Pass Price

Pass Payback

Opening Day

Closing Day

Skier Visits

1948-49
March 20
1947-48
$2.00
December 26
Visitor Memories
"My first run ever was at Mohawk in 1969. Went up the rope tow, fell off, got back on and snowplowed down. "
bob lyon, Feb. 6, 2023
"Memory for Carol Schoenknecht from her cousins Ramey and Wayne. Both of them have many fond memories of their visits with Carol "
Ramey and Wayne Erickson , Jul. 13, 2022
"I found Mohawk around 10 years ago. It's a fantastic place. The people who work there are the friendliest in the industry. As for the mountain, the terrain is fun and the snow is always great. I've never had a bad day there, and can't wait to get back. "
Fred Burke, Nov. 30, 2018
"I was 17 and a member of the New Haven ski club and repeatedly skied Mohawk. In early 1954, at a club meeting, I remember Walt Schoenknecht saying "I have found a mountain in Vermont the gets a foot of snow when all the surrounding mountains don't get any and I am going to build a ski area there and call it 'Mt. Snow". He hired another member, Andy Andrews, to help him, and sure enough, they made Mt.Snow happen - much to my skeptical teenage mind at the time. I went south to college at Duke that year, and then, eventually out west and the Calif. sierras. I never skied Mohawk again or Mt.Snow, but I do remember reading about amazing growth of the resort and the dearth of snow in New England for so many winters. That was actual "climate change". "
curtis cobb, Jun. 28, 2017
"My second day of skiing was here in 1971. Age 8. I remember wood skis, leather boots and safety straps. I wore jeans over long johns and remember being soaked to the bone at the end of the day, the result of falling dozens of times on the beginner are"
Paul Friedman, Jun. 22, 2017
"I started working at Mohawk the first year it opened. I was 14 and madeSandwiches and helped in the kitchen. I worked there all through highSchool to get spending money. I loved it. "
Suzanne Hedden williams, May. 12, 2016
---
External Links
Mohawk Mountain - official site
Last updated: July 18, 2023