| | |
| --- | --- |
| | |
Located on 1,770 foot Warner Mountain in southwestern Massachusetts, Ski Butternut is a popular mid-sized ski area.

G-Bar-S Dude Ranch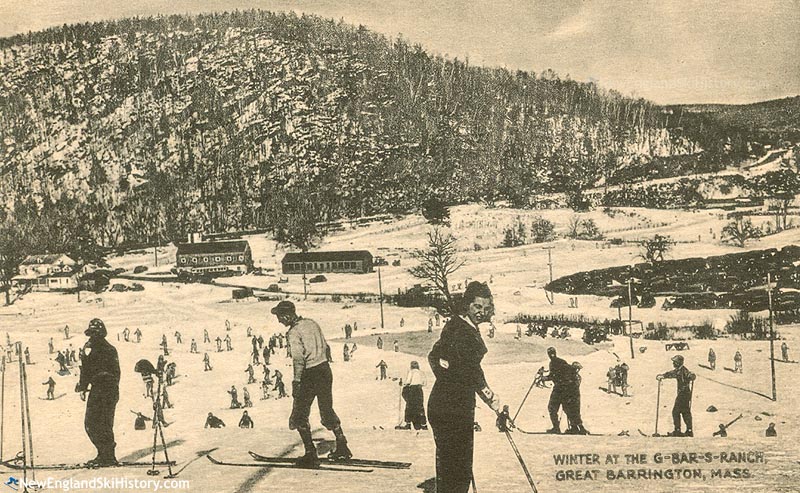 G-Bar-S Ranch

Ski Butternut's rich skiing history dates back to the 1936-37 season, when two trails were cut by the Civilian Conservation Corps. Rope tow service was also in place at that time.

The trails emptied into a large development known as G-Bar-S Dude Ranch. Years earlier, local entrepreneur Henry J. "Pop" Cairns was told he couldn't fish on a pond near Warner Mountain. Described by some as 'stubborn,' Cairns purchased the pond and the land around it in 1929. In 1936, he opened the G-Bar-S Ranch there. A native of Quebec, Cairns moved to the region in the 1920s, eventually owning petroleum distribution, lumber, and real estate businesses. In addition to his businesses, Cairns was involved in many local civil and church groups, as well as co-founding nearby Camp Stevens and Camp Sunrise for the Boy Scouts. Prior to settling on G-Bar-S Ranch name, Cairns called the complex the Great Barrington Sports Center.

By the time the 1939-40 season started, two rope tows were in place, running a combined 3,000 feet up Warner Mountain over a vertical drop of 630 feet. The facility was likely the second most popular in Berkshire County with 14,500 visitors that season.

Four rope tows were in place for the 1941-42 season. While some areas closed during World War II, G-Bar-S Ranch remained in operation. A fifth rope tow was in place when the 1948-49 season started. By this time, the ski area was marketed for beginners. Each trail was claimed to end in a different place, as to avoid potential bottlenecks.

Prior to the 1950-51 season, nearby Jug End Barn, Inc. purchased the G-Bar-S Ranch from the Cairns. General improvements were reportedly made to the area for the first season under the management of Robert Thompson.

The 1952-53 season was a disaster for G-Bar-S, which was reportedly only open for one week.

Following the 1953-54 season, Francis Maher's G Bar S Corp. purchased the facility for about $100,000. G Bar S Corp would operate the ski area for two seasons.



The End of G-Bar-S Ranch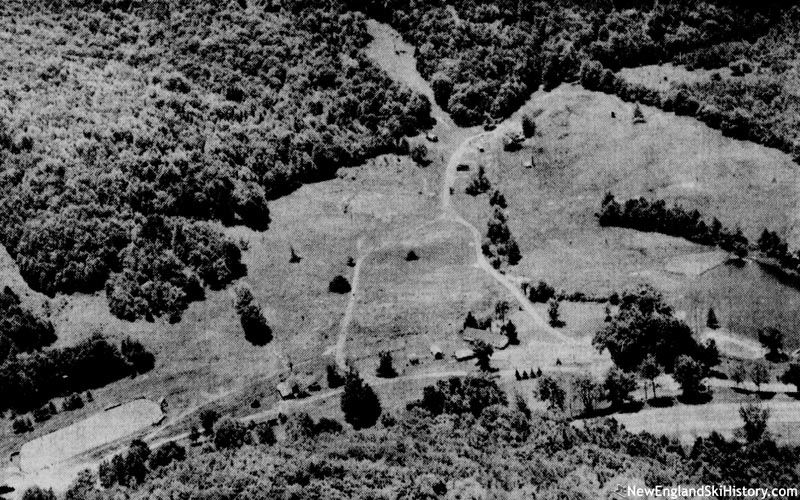 The former G-Bar-S Ranch circa 1962

In June of 1955, the main house of the G-Bar-S Ranch facility was lost in a fire. The ranch headquarters were then moved to the recreation hall, which was subsequently upgraded. In May of 1956, that building also burned to the ground. One month later, the property was sold to Stanley Wincek, owner of the Mountain View Club.

In September of 1956, G-Bar-S Ranch was sold at auction to Robert Wheeler for about $25,000. In addition to being the head of Wheeler & Taylor, Inc. (one time employer of Pop Cairns' daughter Alida), Wheeler was also part owner of Jug End Barn. At the time of the sale, the facility spanned 98 acres and included the ski area, the pond, a swimming pool, 12 cabins, and a bunkhouse. The ski area would likely sit idle after the auction. Wheeler reportedly was hoping to sell the land to the Massachusetts Department of Natural Resources, though the funds were never allocated.

In April of 1960, the old ski area was sold to James and Margaret Joyce of Barrington School, Inc. The school, which opened nearby in the fall of 1960, was purchasing land for a potential campus. Barrington School would quickly run into financial problems.



The Murdock Family Arrives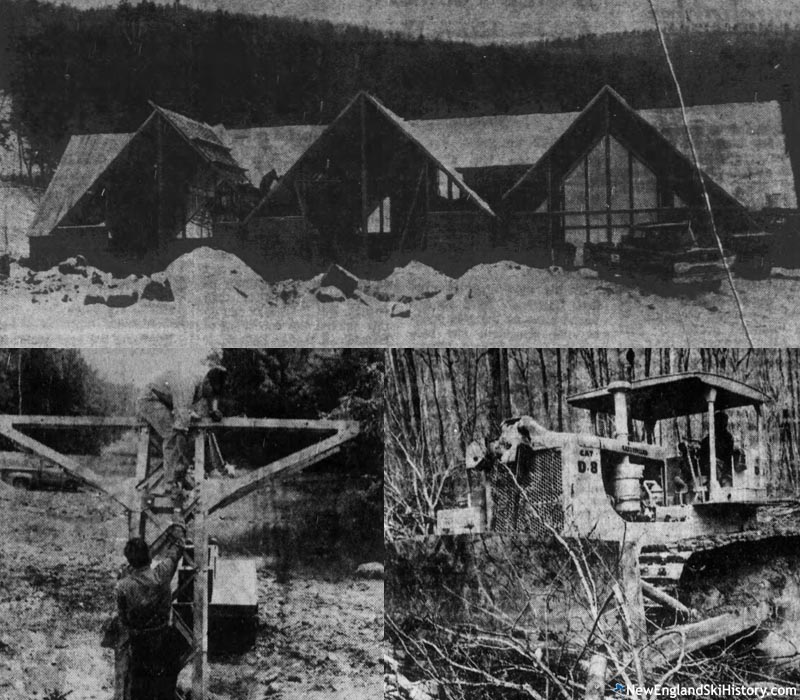 Construction of Butternut Basin (1963)

Meanwhile, Channing Murdock was scouring Southern New England in search of a potential ski development. In August of 1962, Channing and his wife Jane purchased the old G-Bar-S ski area from the Joyces and Barrington School for a reported $60,000. Weeks prior, the Murdocks entered into $100 per year lease for 800 acres of adjacent state-owned property, including multiple ski trails and rope tows. At the time of the purchase, the Berkshire Eagle described the property as "long languished as a clutter of disparate buildings and unfulfilled schemes." Murdock saw the location as being the best combination of location to population centers, topography, and snowfall.

A native of Hastings-on-Hudson, New York, Murdock graduated from Middlebury College and served in the Army before eventually ending up at Mohawk Mountain. Murdock managed the Connecticut ski area for two years, learning the entire operation from snowmaking to lift construction. His wife was a native of Londonderry, Vermont, who also graduated from Middlebury College and was a member of the ski team. Shortly after the purchase was completed, the young family moved into a house on the ski area property.

Murdock's plans called for a $250,000 development with a projected 1963-64 opening as Butternut Basin. Initial plans included 25 acres of new ski terrain in addition to the 10 acres from the prior developments, lower mountain snowmaking, a 4,100 foot long by 1,000 foot vertical double chairlift, a 3,500 square foot base lodge, and the expansion of the parking lot to fit 1,000 cars. An existing acre-and-a-half pond, two springs, and three wells were considered "an unlimited water supply." Murdock planned to develop "the biggest and best ski area south of Vermont."

In October 1962, Murdock formed Butternut Basin, Inc. In January 1963, Murdock was formally named president, his wife Jane treasurer, and Judge George R. McCormick vice president and clerk. Existing trails were being reclaimed at this point, with lift line clearing starting soon thereafter.

In March 1963, the Great Barrington Manufacturing Company announced it would be closing that spring after more than 70 years in operation, resulting in the loss of 125 jobs. The Berkshire Eagle opined that Butternut Basin may "help take up the employment slack left by the mill closing; much of it depends on how it is handled from here on in."

In April, Murdock signed an agreement to purchase a new Carlevaro & Savio double chairlift for $83,585. The lift featured a two-speed gear box to allow for summer sightseeing, as well as a mid-station. Meanwhile, large scale construction kicked off with Peter Argenta supervising the bulldozing of the new lift line and trails. Trail cutting and bulldozing was estimated at $1,000 per acre.

In May, Butternut Basin announced its first stock offering of 100 shares for a total of $100,000. Shareholder perks included free skiing (in lieu of interest) and butternuts.

Work continued through the summer with Channing managing the installation of the chairlift and a crew of six to twelve mostly high school students. Jane handled the bookkeeping and payroll, with Channing telling the Berkshire Eagle, "She does all this work, even though she's expecting our second child soon." Asked by a reporter when their child was due, Channing responded, "Around the first of November, along with the chairlift." Their second son, Timmy, was born just before the ski season started. Both in their mid to late 20s, the Murdocks were the youngest ski area owners around.

The base lodge was conceived by Murdock, designed by architect T. Merrill Prentice Jr., and constructed by a crew led by Rene Burdet. The 250-seat lodge had a $45,000 price tag, of which $4,000 was for glass. With peak motifs in the form of triangles throughout, form outweighed function when it came to the seats Murdock wanted, as the three legged chairs resulted in many falls during the first winter. Perhaps harkening to his former boss Walt Schoenknecht, there were subtle Asian influences, including Japanese-style paper lanterns and doors that were painted 'Chinese Red.'

Two 900-cubic-foot air compressors were rented from Larchmont Snow Engineering to power lower mountain snowmaking.

Paul Brown was named ski school director in advance of the season. An Army Medical Corps veteran, Brown had taught skiing at Dutch Hill and Hogback while attending Marlboro College, then at Mad River Glen, Mt. Snow, and Catamount, in addition to being ski school director at Big Tupper.

Construction continued as December arrived and was "aided by the lateness of the first snow fall," according to the Berkshire Eagle.



Butternut Basin Opens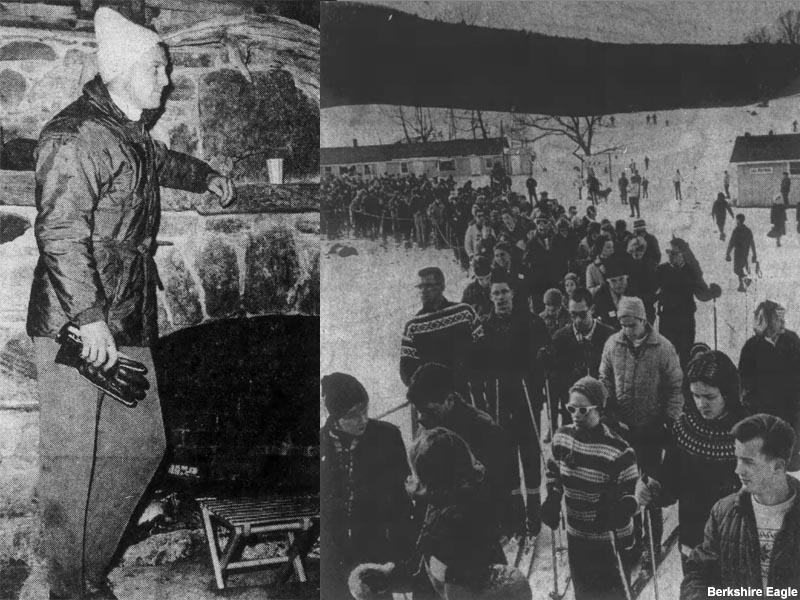 Channing Murdock (left) and freshman season crowds (early 1964)

The Murdocks opened their new ski area on Christmas Eve of 1963. In addition to the new chairlift, five rope tows were operational, including former G-Bar-S tows. Despite subpar snowpack, Butternut Basin reported 500 people per day during its first weekend of operation between Christmas and New Year's. Visiting that weekend, Berkshire Eagle writer Lee Goerlach commented that the staff were "pleasant and accommodating," noting that "Not only does Butternut have the longest chair lift around here but they have the longest hot dogs either of us had seen at a ski area. They were 10-inches long. And they toast their rolls."

The two trails from the top for the debut season were the novice Pied Piper, which the Berkshire Eagle noted "should have tremendous drawing power for the hundreds of new skiers who take to the slopes each year, also for the old timers who prefer their skiing easy," and the advanced Lucifer's Leap. Additional novice and intermediate terrain was accessible on the lower mountain from the rope tows.

Crowds continued to grow was the season progressed. During one weekend in mid-January 1964, Butternut Basin saw 2,300 skiers, including CBS News's Walter Cronkite. The Berkshire Eagle declared the area as "one of the most promising Berkshire success stories in many years." Governor Endicott Peabody hit the slopes in mid-February. A late February weekend saw 2,800 skiers.

A late winter thaw brought Butternut's debut season to an end before the first weekend in March, resulting in 60 days of operation and a net profit.



The Sophomore Season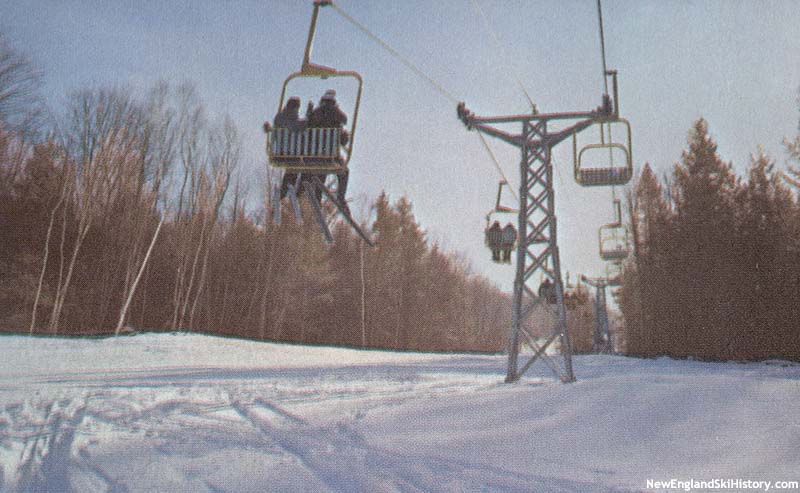 The summit double circa 1963-64

In early April, Channing Murdock announced $50,000 in improvements for the sophomore season, including a T-Bar serving the new East Area. Other projects included enlarging the parking lot and reportedly expanding snowmaking to the top of the mountain. Trail clearing for the new T-Bar slope started that month.

Tragedy struck the night of May 28, 1964, when former G-Bar-S owner Robert Wheeler's vehicle became stuck on Warner Mountain Road. When his secretary Madeline Winn attempted to push the vehicle, it rolled over her and slid down a ski trail, killing her.

G-Bar-S founder Henry Cairns passed away in June 1964 at the age of 73.

Bad luck continued into July, when a tractor working on the new slope ignited a 14-ton pile of hay, which burned throughout the afternoon and night and caused $500 in damage.

As the season approached, other improvements emerged, including a new sun deck for the lodge, a new ticket office, and the addition of the Whip trail from the summit. Off-season improvements totaled $70,000.

The 1964-65 season likely kicked off in early December on the novice rope tow slope, the only terrain Butternut Basin could cover with snowmaking before running out of water. Murdock lamented, "It is the first time in the memory of our Great Barrington neighbors that our pond has been dry. And we have no brooks or springs to draw from." Though the area was able to operate on a limited basis for a few days, it shut down before the end of the month due to a lack of snow.

A small storm in early January restored operations, but Murdock noted "It wasn't great, but at least people could ski. We reported poor to fair. By the end of the day it was pretty bad." Better weather conditions at the end of the month resulted in a 3,100 skier weekend.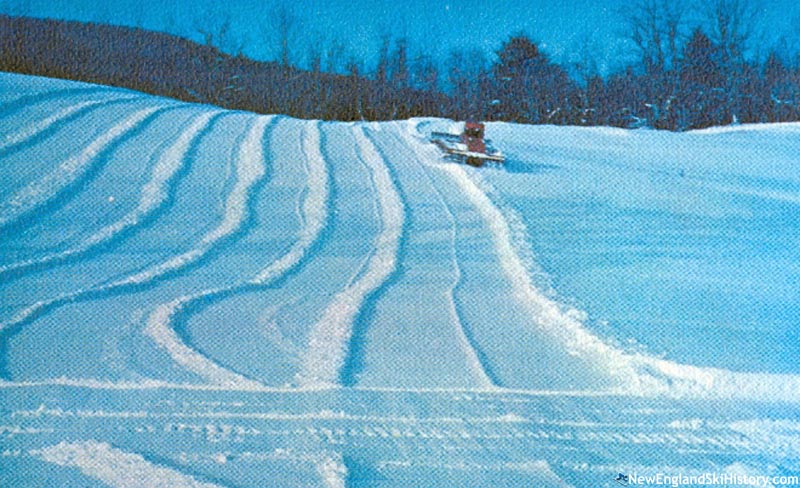 Mid-1960s grooming at Butternut

Butternut limped through the poor winter, often with skiing only on the lower mountain. Newspaper snow reports of the era were extremely limited, leaving no room to denote the lack of summit skiing. One particular ski group attempted to get the Connecticut Ski Council to launch a boycott because of the "fallacious" ski reports, but was subsequently rejected due to its standing and the frequent issue with snow reporting in general.

Snowmaking continued into mid-March, with a subsequent snow storm restoring summit skiing for the first time in more than a month and allowing the season to extend into the first weekend of April. The area operated for 65 days with only 19 including skiing from the summit. Snowmaking took place over the course of 28 nights, increasing operating expenses and resulting in a break-even season.

Due to the poor season, no new trails or lifts were planned for the 1965 off season, as Murdock told the Berkshire Eagle, "we have trails cut which we haven't even skied yet."

Following the 1964-65 season, Butternut Basin announced it was opening a childrens' summer day camp. With a prime location for various summer activities, the camp operated into the 1980s.

Though there weren't any major investments during the 1965 off season, Murdock looked to increase Butternut's snowmaking water supply. At the start of the fall, Murdock rigged up snowmaking pipe between Butternut's pond and a neighbor's pond and temporarily pumped away the water (and relocated the fish). The project was expected to increase Butternut's water supply by 1 million gallons to 5 million gallons. In addition to the increased water supply, Butternut also added snowmaking capabilities to the T-Bar slope.

The 1965-66 season got off to a slow start, initially kicking off just before Christmas with lower mountain terrain. Heavy Christmas rain slowed momentum, limiting skiing to below the mid-station well into January.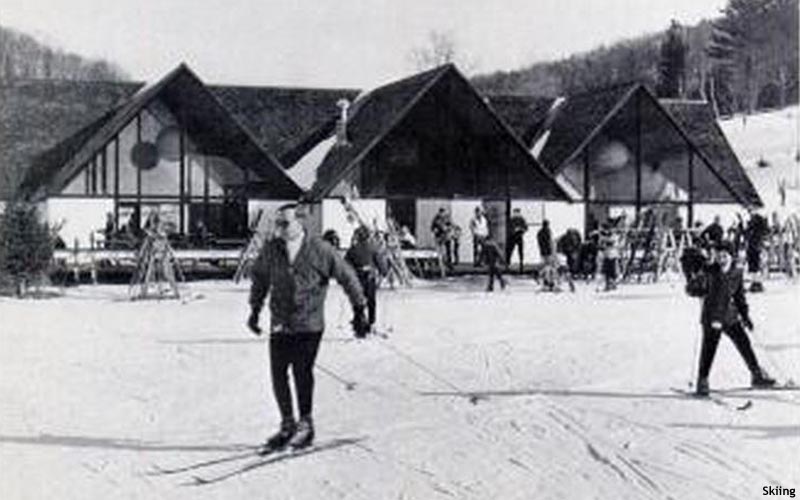 The Clubhouse Lodge circa the mid to late 1960s

In January, a new day care service opened in a "scaled-to-size log cabin" with "a long view of the main trails." Free nursey care was offered to mothers on certain weekdays in conjunction with discounted lift tickets.

The T-Bar opened for one of the first times (if not the first) in mid-January after snow was made using the new pipe on the slope.

A blizzard greatly improved conditions as February started. The rollercoaster continued, however, as warm rain forced a brief closure and retreat to lower mountain skiing. Warmer temperatures and rain continued to be a problem in March, forcing Butternut to make snow into the second week of the month. The subsequent weekend had "the best skiing we have had in three years," according to Murdock, but averaged only a few hundred skiers per day. The season likely came to a wet close just before the end of calendar winter.

Following the 1965-66 season, Butternut Basin became engulfed in state politics, as opponents of the Saddle Ball ski area and Beartown ski resort development proposals cited Butternut as an example of commercial development occurring on public land. Local hunters joined in the criticism, upset that the road climbing across the ski area into the state forest had been gated. The Berkshire Eagle was also dragged into the fray, as publisher Donald Miller was a director of Butternut Basin.

In late June 1966, Murdock donated the use of Butternut's facilities for the Laurel Festival. With events throughout the greater Great Barrington area, Butternut was a focal point with 5,000 people taking free scenic chairlift rides to see the laurel flowers on the ski slopes.

After finally receiving state approval, construction of the intermediate Applejack trail started in the fall of 1966. Snowmaking was installed on the lower portion of the trail.

Norwegian Einar Aus was hired to run Butternut's racing program for the 1966-67 season. The season kicked off just before Christmas and saw a record day after the holiday, as fresh snow drew 1,500 skiers.



New Lifts and a Sister Area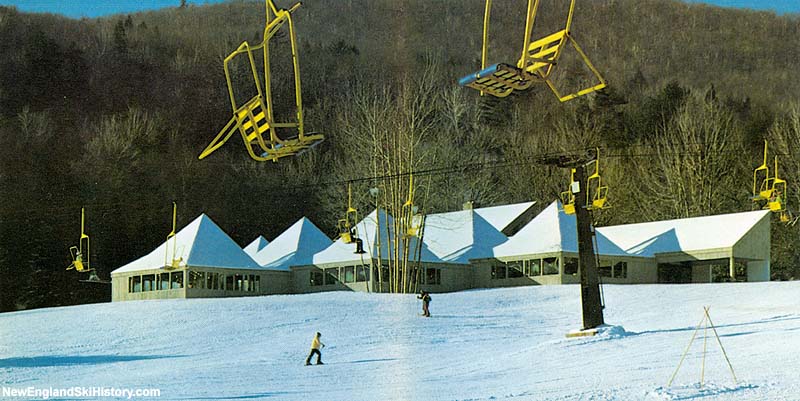 The Upper Lodge

Though Murdock was hoping to expand Butternut in 1967, his proposal was halted by the state as they dealt with the Saddle Ball concerns.

Murdock eventually signed a new lease with the state, which addressed some of the concerns raised by the Saddle Ball developers, while allowing him to expand. As a result, his annual state lease fees increased from $100 to between 2% and 3% of his gross ski revenue, the latter being estimated at about $100,000. In addition, Murdock had to give the state control over any development on his adjacent private property, as well as to agree to a prohibition of alcohol sales.

With the new agreement in hand, a new Carlevaro & Savio chairlift was installed in 1968, serving two new intermediate trails in the Highline Area. In addition, the base lodge was expanded by 2,500 feet and snowmaking was improved. Einar Aus was named Ski School Director, as Paul Brown moved to Hawaii. With ample natural snowfall, the 1968-69 season was described by Murdock as "tremendous," enabling for further ski investment.

A third double was installed for the 1969-70 season, giving Butternut the largest number of chairlifts in the county. In addition to the new beginner chairlift, the base lodge was once again expanded, making it twice the size of the original structure. Meanwhile, Murdock purchased defunct Satan's Ridge in nearby Connecticut. The area would reopen for 1969-70 as Ski Sundown and would remain under Murdock's ownership for a few seasons. Meanwhile, a beginner double chairlift was installed at Butternut.

The next big expansion took place at Butternut in 1975, when the Overbrook Area debuted. Serviced by Massachusetts' first triple chairlift, the new pod initially featured two intermediate trails. The Upper Lodge, designed by Butternut skier Lo-Yi Chan of Prentice, Chan & Ohlhausen, would open in 1979 near the new area.

In November of 1983, the Murdocks purchased 135 acres of land west of the ski area. While they had planned to build a new trail pod, the trails and lifts would not be constructed.

Celebrating their 30th season at Butternut, the Murdocks upgraded their original chairlift for 1993-94. A $750,000 project, the summit lift was converted into Massachusetts' second quad chairlift. While things appeared to be running smoothly, Butternut was about to suffer back to back tragedies.



Tragedies

In June of 1994, founder Channing Murdock was seriously injured in a biking crash. In addition to multiple broken bones, Murdock suffered permanent brain injuries that immediately ended his career.

The 1994-95 season was Butternut's worst in nearly a quarter of a century. In order to save money, new General Manager Jeff Murdock cancelled the area's property insurance. Two months later, in May of 1995, an F4 tornado hit Butternut, heavily damaging lifts, buildings, snowmaking equipment, and the countless trees that had been carefully planted and or saved over the years by Channing Murdock. Thanks to the help of ski areas all over the Northeast, as well as a $1.4 million Small Business Administration loan, Butternut was able to rebuild enough to reopen for 1995-96.



Recovery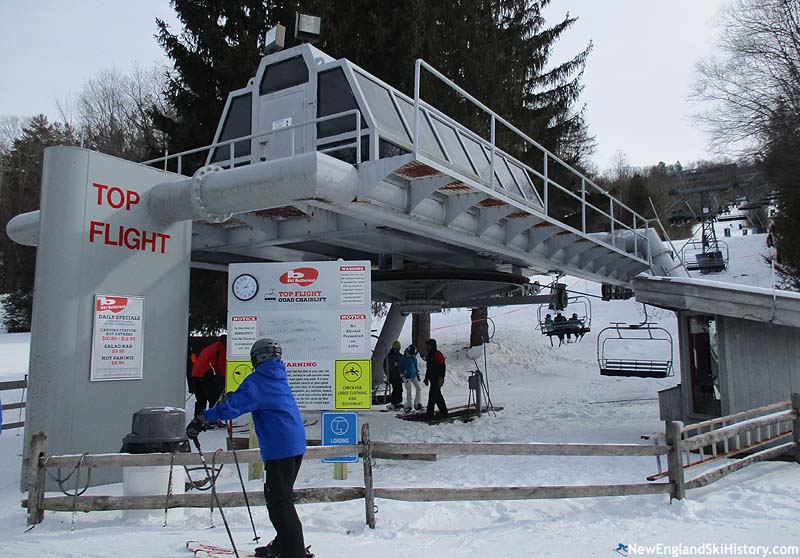 The Top Flight Quad (2016)

Nearly a decade later, Butternut was able to start making sizable investments to its lift infrastructure again. Quad chairlifts were installed in consecutive seasons starting in 2004. As a result, Ski Butternut left the decade with 3 quads and a triple serving its core trails, giving it one of the largest uphill capacities in Southern New England. The last remaining vintage double chairlift was removed in 2021 when the Paddy Wagon quad was installed.



NewEnglandSkiConditions.com Reports





NewEnglandSkiIndustry.com News





CCC Trails





Expansion History





Image Gallery





Lifts
Click on lift name for information and photos




Maps


Year by Year History
Adult Weekend Full Day Lift Ticket; Adult Full Price Unlimited Season Pass

2020s
Ticket Price
Season Pass Price

Pass Payback

Opening Day

Closing Day

Skier Visits

2023-24
$95.00
$599.00
6.3 days
2022-23
$85.00
$599.00
7.0 days
December 17
April 2
2021-22
$75.00
$439.00
5.9 days
December 23
March 27
2020-21
$65.00
$399.00
6.1 days
December 18
March 27
2019-20
$65.00
$399.00
6.1 days
December 6
March 15
2010s
Ticket Price
Season Pass Price

Pass Payback

Opening Day

Closing Day

Skier Visits

2018-19
$60.00
$399.00
6.7 days
December 7
March 30
2017-18
$60.00
$490.00
8.2 days
December 14
April 1
2016-17
$60.00
$455.00
7.6 days
December 15
April 2
2015-16
$60.00
$455.00
7.6 days
January 3
March 13
2014-15
$55.00
$440.00
8.0 days
December 5
April 5
2013-14
$55.00
$440.00
8.0 days
December 7
April 6
2012-13
$55.00
$330.00
6.0 days
December 15
April 7
2011-12
$55.00
$330.00
6.0 days
December 16
March 18
2010-11
$55.00
$330.00
6.0 days
December 10
April 3
2009-10
$55.00
$279.00
5.1 days
December 12
March 28
2000s
Ticket Price
Season Pass Price

Pass Payback

Opening Day

Closing Day

Skier Visits

2008-09
$55.00
$279.00
5.1 days
2007-08
$50.00
$279.00
5.6 days
December 7
2006-07
$49.00
$279.00
5.7 days
April 1
2005-06
$46.00
$199.00
4.3 days
March 31
2004-05
$46.00
$299.00
6.5 days
April 10
2003-04
$45.00
$299.00
6.6 days
December 6
April 3
2002-03
$43.00
$299.00
7.0 days
November 29
April 6
2001-02
$41.00
2000-01
$39.00
$495.00
12.7 days
November 25
April 8
1999-00
$39.00
December 3
1990s
Ticket Price
Season Pass Price

Pass Payback

Opening Day

Closing Day

Skier Visits

1998-99
$495.00
December 18
1996-97
$38.00
December 7
1995-96
December 2
1994-95
December 3
1993-94
$36.00
$490.00
13.6 days
April 3
1992-93
$35.00
November 21
1991-92
$33.00
1990-91
$33.00
1989-90
$30.00
November 24
1980s
Ticket Price
Season Pass Price

Pass Payback

Opening Day

Closing Day

Skier Visits

1988-89
$30.00
November 26
1987-88
$28.00
December 19
1986-87
$25.00
1985-86
$24.00
1984-85
$20.00
1982-83
$18.00
1981-82
$17.00
April 11
120,000
1980-81
$15.00
100,000
1979-80
$13.00
1970s
Ticket Price
Season Pass Price

Pass Payback

Opening Day

Closing Day

Skier Visits

1978-79
$12.00
March 24
1977-78
$12.00
110,000
1976-77
$11.00
$160.00
14.5 days
1975-76
$11.00
1974-75
$10.00
1973-74
$9.00
1972-73
$9.00
December 2
1971-72
$9.00
$120.00
13.3 days
November 26
1970-71
$8.00
November 27
April 11
80,000
1969-70
$8.00
$110.00
13.8 days
December 6
68,000
1960s
Ticket Price
Season Pass Price

Pass Payback

Opening Day

Closing Day

Skier Visits

1968-69
$7.00
March 30
1967-68
$6.50
December 28
1966-67
$6.50
December 18
April 2
1965-66
$6.00
December 23
March 20
1964-65
$6.00
$80.00
13.3 days
December 12
April 4
1963-64
$6.00
$70.00
11.7 days
December 24
March 5
20,000
1950s
Ticket Price
Season Pass Price

Pass Payback

Opening Day

Closing Day

Skier Visits

1952-53
January 4
1951-52
December 16
1949-50
December 10
1940s
Ticket Price
Season Pass Price

Pass Payback

Opening Day

Closing Day

Skier Visits

1948-49
December 26
1939-40
14,500
Visitor Memories
"Skied a good part of my younger days at Butternut.Was on the ski Patrol with Ken Noad, Ski school with Einar, Coached Racing and Freestyle, and jumped over the tourist's heads on Lucifer's Leap. Had some really great days at Butternut...will always remember Jane and Channing. Thanks! BUTTERNUT."
Vic Radzevich, Jul. 9, 2014
---
External Links
Ski Butternut - official site
Ski Butternut - Wikipedia
G-Bar-S Ranch - New England Lost Ski Areas Project
Last updated: May 30, 2023