| | |
| --- | --- |
| | |
Located northwest of Hartford on Ratlum Mountain, Ski Sundown is a popular regional facility for skiers of all abilities.

Satan's Ridge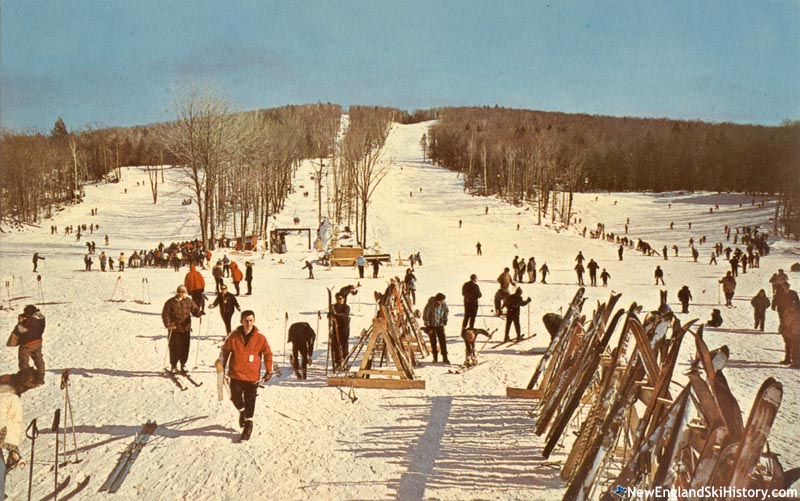 The base area

The inspiration for the development of Ski Sundown reportedly dated back to 1960, when engineer Russell Smith came up with the idea on a hot summer day. An early concept may have been a $20,000 "rope tow and hot dog stand." The land on which the ski area would be developed was owned by Lyman B. Bunnell, minister of music at Immanuel Congregational Church in West Hartford. In the summer of 1962, Smith was able to purchase the tracts of land from the now-retired Bunnell in the New Hartford and Canton region known as Satan's Kingdom.

By 1963, Smith had been joined by fellow Simsbury, Connecticut residents Frank Linnell and Harold Law, Jr.. The group began publicizing plans for a year-round recreational facility that spring as clearing began. Dean Parker and Son out of Lyndonville, Vermont designed and cut the trails. Slated for a 1963-64 opening, the Satan's Ridge ski area was to feature trails of all abilities day and night served by a T-Bar, a rope tow, and snowmaking equipment. Smith's land was transferred to Satan's Kingdom Inc. in August 1963. Former Jiminy Peak ski school director was appointed to the same position at Satan's Ridge in October.

By the time December arrived, a Mueller double chairlift was being installed, as the slope was too steep for the planned T-Bar (footings may have been poured for the aborted lift). By this point, the project cost was up to $250,000. Business manager Harold Law claimed the area would have the longest lighted ski trail in the east and the largest base lodge south of Vermont. The area's skier capacity was estimated at 1,200 to 1,400 per day.

A mid-December snowstorm wreaked havoc on chairlift construction, as the cement mixer could not be hauled up the mountain. As a result, Harold Law and Russell Smith took turns hauling bags of cement and jugs of hot water up via Jeep over a multi-day period and mixing it on site. The final lift tower was raised on December 27, after multiple planned opening days had been missed. The beginners rope tow may have operated in late December and early January while chairlift construction continued.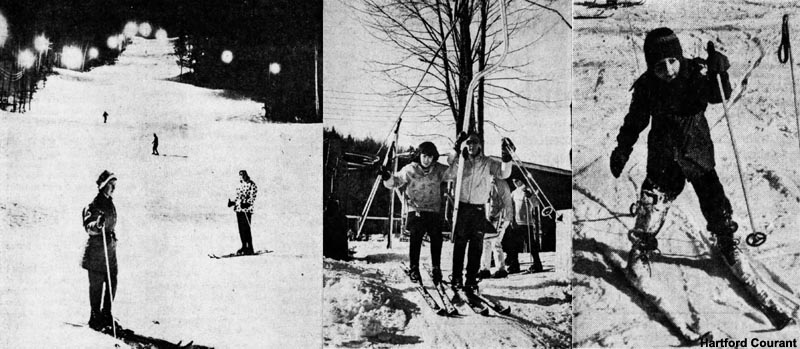 Satan's Ridge during its debut season

Satan's Ridge finally opened on January 11, 1964, with the chairlift (with a mid-station) and rope tow serving three slopes and one trail. The Devil's Den base lodge was described as having "unique radiant heat" and a view of the slopes, though construction was not complete by opening day. Word of the new ski area spread quickly, as 1,000 cars crowded the access road during the second weekend, prompting management to request non-skiers to wait until after the season to look at the area. Frank Linnell served as general manager. The Hartford Courant described the new area as "a little bit of Vermont in your backyard." The season may have petered out at the end of February.

Long-term plans called for two chairlifts, a T-Bar, four rope tows, and additional trails and slopes of all abilities, most of which would be lit.

The chairlift was operated for sightseeing at times during the 1964 off-season.

An 800 foot rope tow was added for the 1964-65 season. Though the season may have started just before Christmas with thin lower mountain skiing, the upper mountain likely didn't open until late January. The season may have ended in late February. That spring, the IRS and the state placed liens on the property for unpaid taxes.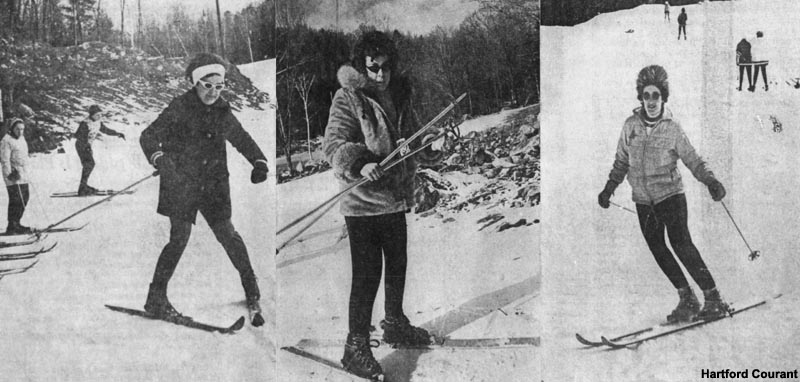 Satan's Ridge circa January 1966

Harold Law may have transitioned into the role of general manager for the 1965-66 season. $100,000 was invested in the mountain, including a lower mountain T-Bar serving an expanded novice area known as Wizard Hill. The Horn trail was also expanded. Skiing started the day after Christmas on manmade snow and continued to rely on it, logging 327 hours of snowmaking by mid-February. The season continued to the end of calendar winter, resulting in more skier visits than the first two seasons combined.

1966-67 improvements included a new steak house and lounge and additional trails, increasing the count to 13. The season likely got underway just before Christmas, but was hit with bad press in late January when a chair fell off the lift, injuring one. Base depths grew as the season progressed, resulting in Harold Law digging a five foot deep hole in the snow and posing with a shovel for the papers in early March. Rare April operations were achieved that season.



Closure

Paul Chichester was hired as general manager for the 1967-68 season. Formerly a ski instructor at Sugarbush, Chichester focused on improving the muddy parking lot, overhauling the lifts, and improving snowmaking. Owner Russell Smith later reflected that Satan's Ridge had "turned into a holding operation...hoping we could sell the place." A warm December likely delayed opening day until just before New Year's. The season likely continued into early March.

Following the season, United Bank & Trust Company foreclosed on Satan's Ridge. Owner Russell Smith told the Hartford Courant that the business failed because "it needed both money and management. We never got enough capital." A former employee told the paper that the area's snowmaking system was inadequate. Unable to find a buyer, the ski area sat idle during the winter of 1968-69.



Butternut to the Rescue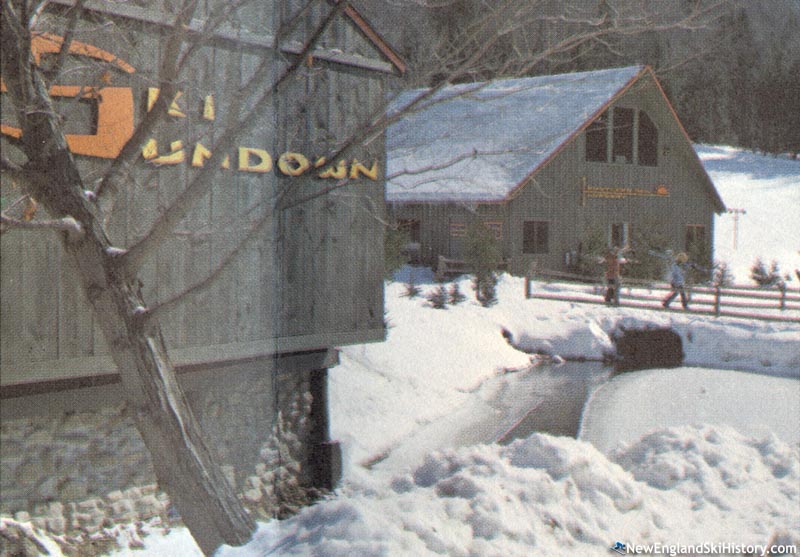 The base area circa the early 1970s

After sitting idle for a season, the 61-acre Satan's Ridge ski area was sold by Harold Law, Russell Smith, and Frank Linnell to Channing Murdock of nearby Butternut Basin and his brother Robert Murdock in mid-1969. In September of 1969, the business was incorporated as Ski Sundown, Inc., shedding its satanic name. When Murdock's first choice for general manager was not a good fit, he recruited a 30-year old former school teacher to run the ski area. According to Richard Carter, when he started after Labor Day, the area has no electricity, drinking water, or working lifts.

The Murdocks invested over $100,000 in Ski Sundown for the debut season, including $45,000 in snowmaking improvements (the original Satan's Ridge snowmaking equipment ended up at the YMCA Camp Jewell Outdoor Center ski area in North Colebrook). Thousands of feet of six-inch snowmaking pipe was buried, while three-phase power was extended to the area. Lifts were overhauled, lighting upgraded, and the parking lots rebuilt with gravel. Operations were expanded to 7 days and 6 nights per week and Jack Harrington was named ski school director. The season likely started just before Christmas and ran through the end of calendar winter.

Ski Sundown's sophomore season saw the cutting of the novice-intermediate Tom's Trail, opening of the lift line to skiing, regrading of the beginner area, renovation of the main lodge with an expanded sun deck, and remodeling of the Rustler's Den lounge. A new ski patrol building was also constructed. Skiing likely started in mid-December.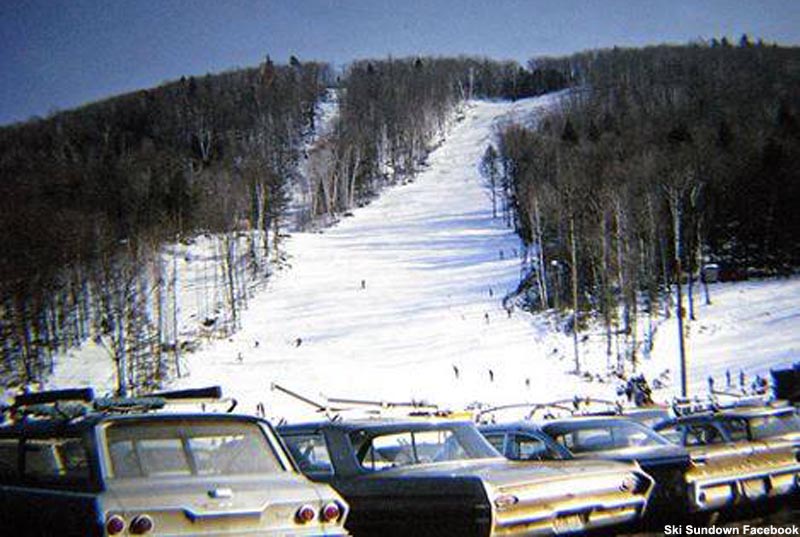 Ski Sundown

To further enhance beginner offerings, a Pomalift was installed for the 1971-72 season. In addition, the top of Gunbarrel was reworked to alleviate a bottleneck. Hans Baumberger was named ski school director. Though the season had a rare November start, mild weather produced bare spots and hampered holiday business, with Baumberger telling the Hartford Courant that, "it just has not been cold enough for long periods of time to allow us to put down a good cover." Adding to the struggles, early on the morning of January 29, a fire destroyed all four of Ski Sundown's snowmaking compressors.

Circa the 1973-74 season, Murdock made general manager Richard Carter part owner of the ski area. Gail Appell was named ski school director.

Following the rough 1972-73 and 1973-74 seasons, Channing Murdock acquired Paucatuck ski area in West Springfield, Massachusetts.

Installing a new $60,000 fan gun snowmaking system, Ski Sundown enjoyed an early December opening in 1975-76. Richard Carter told the Manchester Journal Inquirer, "the airless snowmakers save money and fuel" and "operate at about one-third the cost."



Triple Chairlifts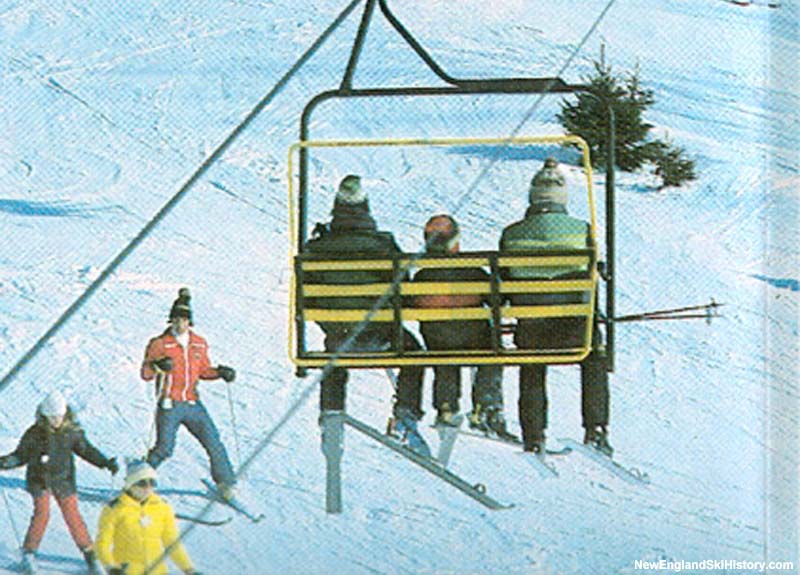 The Exhibition Triple circa the late 1970s

Following a successful 1976-77 season in which revenues increased by 40%, Ski Sundown announced it would be installing the state's first triple chairlift. The Borvig lift was installed next to the original double chairlift. Soon thereafter, Murdock transferred ownership of the area to Carter.

Noting that night skiing represented about 40% of business, Ski Sundown invested $10,000 in lighting for the 1977-78 season. In addition to improving the three existing night trails, lights were installed on a fourth trail.

A second triple chairlift was installed in 1980, serving the new Sunnyside novice area. Parking was improved in conjunction with the expansion. Despite the growth, the early 1980s were a struggle with minimal snow during the 1979-80 season and curtailed snowmaking due to a drought in 1980-81.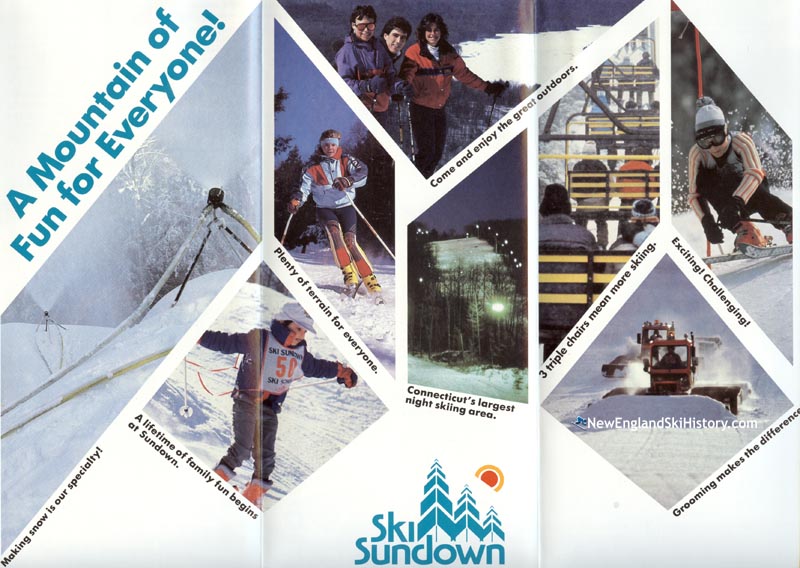 Sundown during the 1980s

Night skiing was expanded for the 1982-83 season. The Big Bend trail was added to the Sunnyside area for the 1983-84 season, while the Papoose and Exhibition trails were regraded.

The 1986-87 season saw further improvements, including the reworking of the Temptor trail and a retrofit of the summit double chairlift. The area was blessed with natural snow that winter, with owner Richard Carter remarking, "I've never known it to be so busy."

Following the successful season, Ski Sundown kept the momentum going by replacing the double chairlift with a new CTEC triple to the summit. in addition, lighting and snowmaking were upgraded. The upgrades were greeted with a 20% increase in attendance.

The Sunnyside complex was overhauled in 1994, when the Pomalift was replaced by the refurbished double chairlift. For advanced skiers, tower snow guns were installed on Gunbarrel.

After over half a dozen years of planning, an 8,000 square foot base lodge addition was constructed for the 1996-97.


New Ownership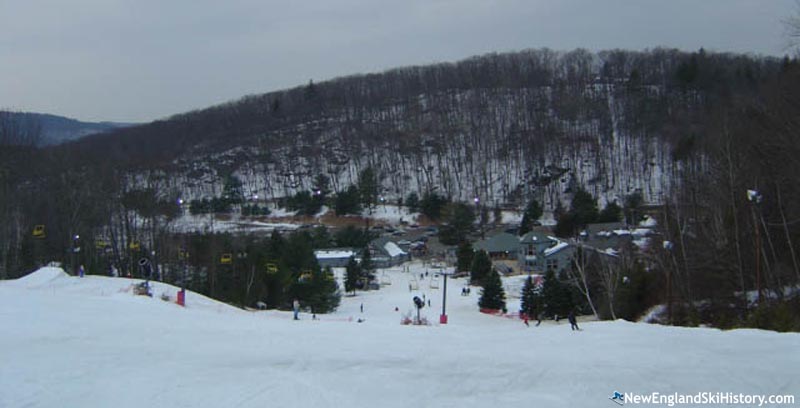 The Exhibition trail (2004)

After owning Ski Sundown for nearly quarter of century, Richard Carter sold the area to general manager and long time employee Robert Switzgable in 2002. According to a press release, Carter chose to sell the area to Switzgable because "it's a small business and because of its unique characteristics, it is best operated by an individual who is the owner. Because I care so much about Ski Sundown, I wasn't willing to just put it on the market."

Half a decade later, Ski Sundown nearly took over the operations of Powder Ridge.

Ski Sundown's snowmaking was significantly improved in 2009 when the pump house was rebuilt. The project gave Ski Sundown the ability to make snow on all trails simultaneously.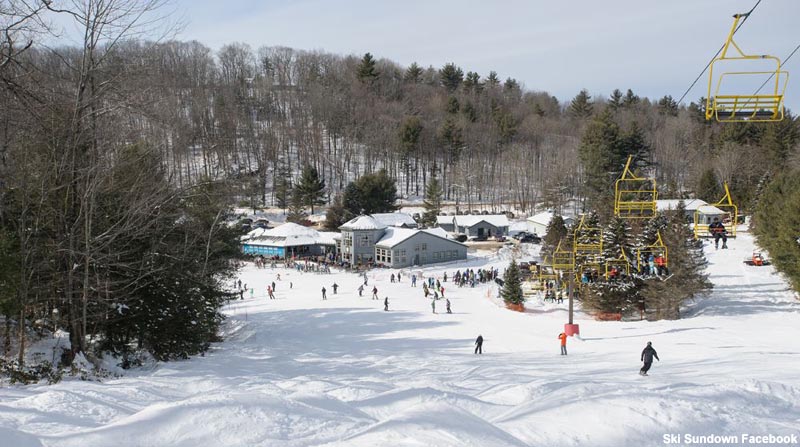 The base area (February 2014)

The Sunnyside complex was once again overhauled in 2013, when the Little Joe Double was replaced with a conveyor lift.

Satan's Ridge co-founder Harold Law Jr. passed away on May 12, 2013 at the age of 82.

A new expert trail was added for the 2014-15 season. Named Satan's Stairway, the steep, narrow trail was equipped with snowmaking and lighting.


NewEnglandSkiConditions.com Reports
-- start conditions table -->
NewEnglandSkiIndustry.com News

Expansion History

Image Gallery
Lifts
Click on lift name for information and photos
Maps

Year by Year History
Adult Weekend Full Day Lift Ticket; Adult Full Price Unlimited Season Pass

2020s
Ticket Price
Season Pass Price

Pass Payback

Opening Day

Closing Day

Skier Visits

2022-23
$68.00
$725.00
10.7 days
December 26
2021-22
$64.00
$675.00
10.5 days
December 28
March 27
2020-21
$62.00
$715.00
11.5 days
December 19
March 21
2019-20
$62.00
$715.00
11.5 days
December 20
March 8
2010s
Ticket Price
Season Pass Price

Pass Payback

Opening Day

Closing Day

Skier Visits

2018-19
$62.00
$715.00
11.5 days
December 8
March 24
2017-18
$62.00
$650.00
10.5 days
December 21
March 25
2016-17
$60.00
$625.00
10.4 days
December 23
March 26
2015-16
$60.00
$625.00
10.4 days
January 8
March 9
2014-15
$58.00
$599.00
10.3 days
December 13
April 2
2013-14
$56.00
$589.00
10.5 days
December 13
March 29
2012-13
$55.00
$589.00
10.7 days
December 26
April 6
2011-12
$55.00
$589.00
10.7 days
December 17
March 17
2010-11
$589.00
December 10
March 27
2009-10
$52.00
$579.00
11.1 days
March 21
2000s
Ticket Price
Season Pass Price

Pass Payback

Opening Day

Closing Day

Skier Visits

2008-09
$50.00
$579.00
11.6 days
November 28
March 28
2007-08
$48.00
$579.00
12.1 days
March 30
2006-07
$46.00
$579.00
12.6 days
December 9
April 1
2005-06
$43.00
$549.00
12.8 days
December 3
2004-05
$40.00
$549.00
13.7 days
2003-04
$37.00
$549.00
14.8 days
December 6
2002-03
$35.00
$549.00
15.7 days
November 30
2001-02
$34.00
$499.00
14.7 days
March 9
2000-01
$33.00
$499.00
15.1 days
1999-00
$32.00
1990s
Ticket Price
Season Pass Price

Pass Payback

Opening Day

Closing Day

Skier Visits

1997-98
December 13
1996-97
December 22
1995-96
December 9
1994-95
December 17
1992-93
$28.00
December 11
1991-92
$27.00
December 7
110,000
1990-91
99,000
1989-90
$26.00
$440.00
16.9 days
1980s
Ticket Price
Season Pass Price

Pass Payback

Opening Day

Closing Day

Skier Visits

1988-89
$24.00
December 11
1986-87
$20.00
1985-86
$19.00
1981-82
December 13
1980-81
$13.50
1979-80
$11.00
December 21
1970s
Ticket Price
Season Pass Price

Pass Payback

Opening Day

Closing Day

Skier Visits

1978-79
$10.00
1977-78
$9.00
1976-77
$9.00
$150.00
16.7 days
1975-76
$8.75
December 5
1974-75
$8.50
1973-74
$8.00
1972-73
$7.00
1971-72
$7.00
$130.00
18.6 days
March 19
1970-71
$7.00
March 28
1969-70
December 19
March 22
1960s
Ticket Price
Season Pass Price

Pass Payback

Opening Day

Closing Day

Skier Visits

1967-68
$6.00
1966-67
$5.00
April 2
1965-66
December 26
March 20
24,000
1964-65
$3.50
10,000
1963-64
9,000
Visitor Memories
"I learned to ski at Sundown and it will always be a place to remember. I went through the JI program and the following year became a ski instructor, completing my PSIA L1 exam and making a lot of friends along the way. I will never forget Ski Sundown."
Shirah Mark, Jan. 17, 2022
"I remember dollar night on Monday evening The place was packed but great fun for a dollar Must have been in 1972 or 1973"
Tim Berge, Aug. 25, 2021
"37 years ago I got my start in the industry making snow with Bob Switzgable.What a blast! Moved to Vermont after two years. Have not made snow in eight years but I am still snow farming for Killington. I told human resources as long as I can climb in a machine I will groom forever. Thank you Ski Sundown for my awesome carrier. "
Jay Hudson, Nov. 14, 2020
"I learned to ski here and feel very sentimental thinking about Ski Sundown. In the late 90's our after school ski program would make the weekly trip from West Hartford to New Hartford and we couldn't wait to return the following week. I am glad to see that this place still operates successfully and has since cut a new trail: Satan's Staircase which runs right alongside the Gunbarrel Trail. It is only moderately steep but extremely narrow, bumped up and shaded by the trees all day making for a challenging descent. It is a great place to bring the family and to teach future generations about the sport we all enjoy. Even though we have all moved on to bigger and less expensive mountains there is something about Ski Sundown that will never let me forget how special it is. "
Rusty Shackleford, Dec. 18, 2017
"I was the ski director of the ski school at Ski Sundown. My wife Maurie was a ski instructor and my two sons Scott and Todd learned to ski there. Both sons became freestyle competitors. We held a freestyle competition at Ski Sundown with Wayne Wong being a competitor."
Jack Harrington, Apr. 4, 2017
"I was Ski Sundown's first female lift attendant in the winter of 1973. My brother Jeff Pratt was already working there, and my parents Rod and Hala were both on the ski patrol. A family affair, you could say. Rick Carter called the house one day to ask Jeff to come in and cover a shift and my mother said, "Jeff's not here, but Sue is." Rick replied, "Put her on." And that was my hiring! Being the first woman to serve as a lift attendant was a responsibility I felt keenly, knowing that to complain about dragging heavy trash cans full of rain-sodden snow up the lift ramps would be the end of future women in the job. I never said a word. I think I saw this as my "gift" of sorts to the women lift attendants who would come along behind. I worked all that winter, and again the next winter during college breaks. It was a huge part of my life and meant (and still does) a great deal. "
Susan Pratt, Mar. 3, 2017
"I was a member of the freestyle team back in the 70's. Learned to ski at sundown. Great memories."
Geoff Shea, Mar. 2, 2017
"I learned to ski at Satan's Ridge in the '60s and skied Sundown many nights when I was in high school. The "hill" was great part of my youth!"
Sue Gentile, Mar. 2, 2017
---
External Links
Ski Sundown - official site
Last updated: October 18, 2022