| | |
| --- | --- |
| | |
Located between Bristol, Waterbury, and New Britain, Mt. Southington is a popular local ski area.



Early Surface Lift Years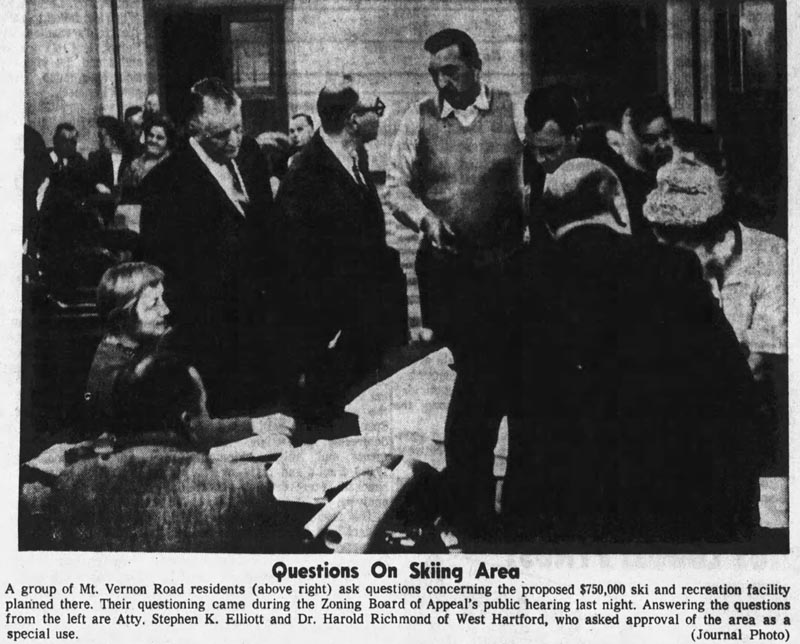 A March 1964 public hearing for the proposed ski area

Circa the early 1960s, Dr. Harold Richman and his wife were inspired to start a local ski area after a trip to Vermont. A native of New Britain, Richman served in the Navy during World War II, graduated Trinity College and Tufts Dental School, and opened an orthodontics practice in the area.

In the fall of 1963, Richman attempted to open a roller skating rink on Center Street in Southington, but was denied by the Zoning Board of Appeals. Meanwhile, Richman sought out real estate agents to find a potential site for a ski area as Interstate 84 came to fruition. After a few false starts, Richman enlisted broker Anthony Mastrianni Jr., who quickly locked up a dairy farm for the location. Mastrianni, who would become part of the ownership group, acquired options from 14 property owners. Two of the parcels had been previously slated for a large home development. William and James Palmisano, as well as Richman's brother George, were also investors in the ski area project.

Plans for Mt. Southington emerged in March 1964, which were to include three surface lifts and a chairlift, serving terrain of all abilities. The 1964-65 season was to feature a beginner slope and temporary base lodge, with the rest of the proposed facilities to follow for the sophomore season. Snowmaking and night skiing were included in the plans and the ski season was projected to last from December through February.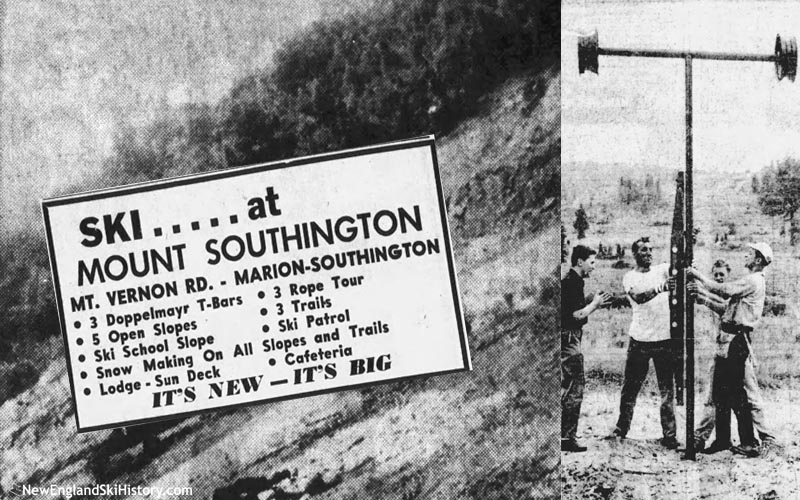 Opening work for Mt. Southington (1964)

Construction was underway in June 1964. In July, Richman announced a Doppelmayr T-Bar would be installed in time for the 1964-65 season and that the former Simons' cow barn would be renovated into a base lodge with a cafeteria, restrooms, and a ski shop, while the farm house would become the office and nursery. Two corporations were formed to own and operate the ski area: Mount Southington Associates and Mount Southington Ski Area. Walter S. Ayre Jr. was named general manager, James D'Anconia operations manager, and Jim Day ski school director.

Further details emerged in November, as Ayre announced that the area would have two Doppelmayr T-Bars and three rope tows serving three trails and five slopes and 300 vertical feet. Ayre added that "personalized service and attention to individual needs will be a goal of the entire Mount Southington staff."

Construction of the $200,000 project was considered largely complete as December arrived. A light snow fall resulted in a press party being held on December 6, 1964 and opening day being planned for December 12, but a subsequent arrival of warm weather postponed the debut. Snowmaking allowed a rope tow-served slope to likely open on Decemeber 20.

A third T-Bar was added for the 1965-66 season.



Upper Mountain Expansion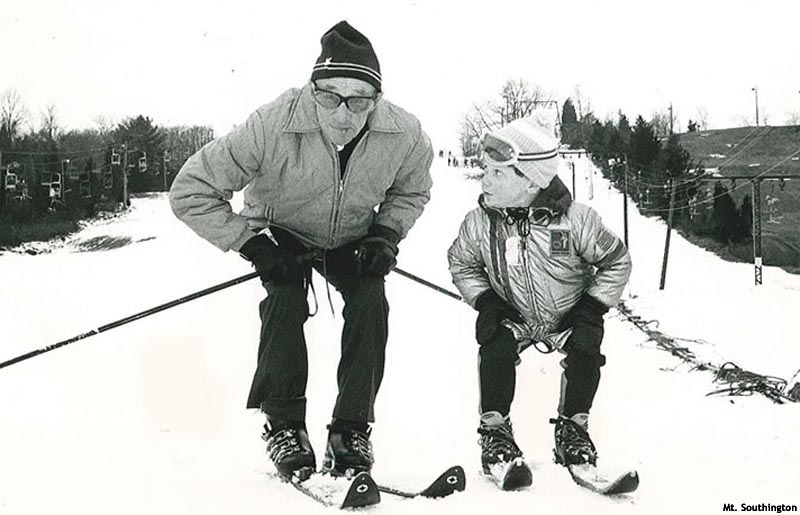 Mt. Southington circa the 1970s

After three years of operating with the lower slopes, Southington began its expansion upward in 1967 by cutting five new trails. While a chairlift line was surveyed at the time, the upper mountain was served by a rope tow for the 1967-68 and 1968-69 seasons. In order to develop more skiers, Southington had special programs such as Ladies Day, in which free babysitting was offered.

The Avalanche double chairlift was installed for the 1969-70 season, giving the mountain its first top to bottom lift.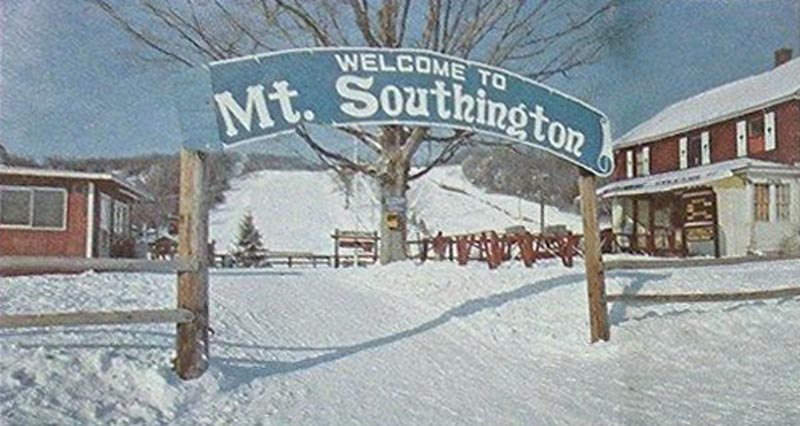 The base area (1970s)

NASTAR racing was added circa 1973-74, reportedly claiming the second highest participation rate in New England.

Southington's next expansion build up took place in the late 1970s, starting with the installation of a J-Bar for the 1977-78 season. The following year, Mt. Southington's first triple chairlift, Stardust, was installed, giving the mountain its second top to bottom lift.

Growth continued in the 1980s, including the night skiing business when a liquor license was procured at the start of the decade. Trails were improved, as were snowmaking capabilities. The expert Tester trail had lights and snowmaking infrastructure installed for the 1982-83 season.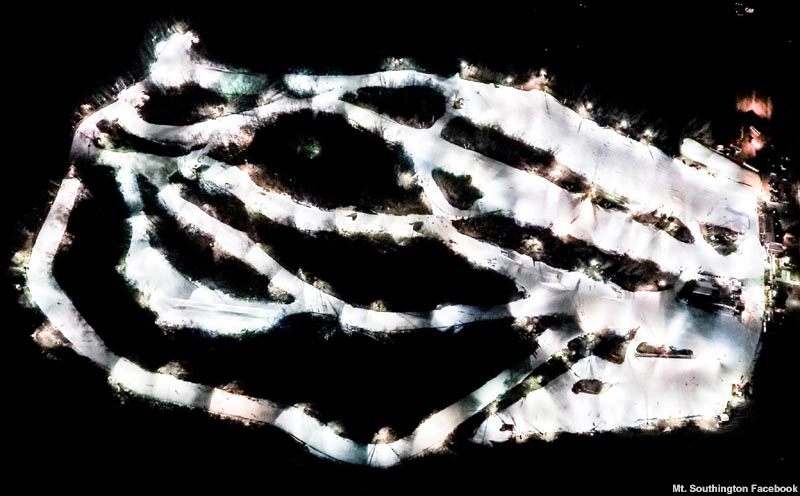 Night skiing at Mt. Southington circa the mid 2010s

Lift improvements resumed in the 2000s, as the Avalanche double was rebuilt and the Northstar double chairlift and Thunderbolt double chairlift were installed.

By the mid 2010s, all of Mt. Southington's trails were lit for night skiing, while the area also featured 100% snowmaking with a 1,800 gallon per minute system served by a million gallon reservoir.



NewEnglandSkiConditions.com Reports





NewEnglandSkiIndustry.com News





Image Gallery







Lifts
Click on lift name for information and photos




Maps


Year by Year History
Adult Weekend Full Day Lift Ticket; Adult Full Price Unlimited Season Pass

2020s
Ticket Price
Season Pass Price

Pass Payback

Opening Day

Closing Day

Skier Visits

2023-24
$70.00
$750.00
10.7 days
2022-23
$68.00
$725.00
10.7 days
December 17
March 19
2021-22
$64.00
$675.00
10.5 days
December 26
March 20
2020-21
$62.00
$650.00
10.5 days
December 18
March 27
2019-20
$62.00
December 12
March 8
2010s
Ticket Price
Season Pass Price

Pass Payback

Opening Day

Closing Day

Skier Visits

2018-19
$60.00
$660.00
11.0 days
December 1
March 24
2017-18
$59.00
$580.00
9.8 days
December 16
March 25
2016-17
$58.00
$560.00
9.7 days
December 17
March 26
2015-16
$58.00
$560.00
9.7 days
January 5
March 11
2014-15
$56.00
$550.00
9.8 days
December 7
March 29
2013-14
$55.00
$550.00
10.0 days
December 1
March 29
2012-13
$54.00
$540.00
10.0 days
December 30
March 30
2011-12
$53.00
$540.00
10.2 days
December 20
March 11
2010-11
$52.00
$535.00
10.3 days
2009-10
$50.00
$535.00
10.7 days
2000s
Ticket Price
Season Pass Price

Pass Payback

Opening Day

Closing Day

Skier Visits

2008-09
$48.00
$535.00
11.1 days
2007-08
$44.00
$524.00
11.9 days
2006-07
$42.00
$499.00
11.9 days
2005-06
$37.00
$469.00
12.7 days
2004-05
$35.00
$459.00
13.1 days
2003-04
$32.00
$449.00
14.0 days
2002-03
$30.00
$439.00
14.6 days
2001-02
$30.00
$429.00
14.3 days
2000-01
$30.00
$389.00
13.0 days
1999-00
$29.00
1990s
Ticket Price
Season Pass Price

Pass Payback

Opening Day

Closing Day

Skier Visits

1998-99
$28.00
1995-96
December 9
1994-95
December 17
1992-93
$26.00
1991-92
$26.00
1989-90
$24.00
$440.00
18.3 days
1980s
Ticket Price
Season Pass Price

Pass Payback

Opening Day

Closing Day

Skier Visits

1988-89
$23.00
1987-88
$22.00
100,000
1986-87
$20.00
$357.50
17.9 days
1985-86
$19.00
1984-85
$17.00
1982-83
$15.00
December 16
1980-81
$12.00
February 18
1979-80
$12.00
1970s
Ticket Price
Season Pass Price

Pass Payback

Opening Day

Closing Day

Skier Visits

1978-79
$10.50
1977-78
$9.50
1976-77
$9.00
$160.00
17.8 days
1975-76
$8.75
$165.00
18.9 days
1974-75
$8.50
November 27
1973-74
$8.00
1972-73
$7.50
November 18
1971-72
$7.50
$140.00
18.7 days
1970-71
$6.50
March 21
1969-70
$6.50
29,000
1960s
Ticket Price
Season Pass Price

Pass Payback

Opening Day

Closing Day

Skier Visits

1968-69
$4.00
1967-68
$4.50
1966-67
$4.50
21,871
1965-66
December 22
1964-65
December 20
18,000
Visitor Memories
---
External Links
Mount Southington - official site
Last updated: April 18, 2023