| | |
| --- | --- |
| | |
Located in central Connecticut on Besek Mountain, Powder Ridge was for many years one of the most popular ski areas south of Massachusetts. After a multi-year closure, Powder Ridge reopened in 2013.

The Zemel Brothers

Louis and Herman Zemel were born in the 1910s in New Haven, Connecticut. In the early 1930s, the brothers opened an appliance store in downtown New Haven, which they developed into a well-known business. By the turn of the decade, Record Centre was featured in industry trade publications for its sales growth and innovative strategies. Herman took a leave of absence from the store during World War II to serve as a radio technician in the Navy, while a second Zemel Bros. Record Centre was opened in Bridgeport. Zemel Bros., Incorporated was established as the formal holding company in 1948.

While the brothers' business continued to grow, Louis's "very different political views" began to draw attention. In 1956, a Zemel Bros. employee was questioned in a House Committee on Un-American Activities hearing, pleading the fifth when asked about Communist Party membership. Six years later, Louis Zemel sued Secretary of State Dean Rusk for denying him permission to visit recently overthrown Cuba. Zemel v. Rusk made it all the way to the Supreme Court, where the decision to deny Zemel access to communist Cuba was upheld.

After operating the business for a quarter of a century, Louis decided he was tired of selling appliances and wanted to start a ski area. The retail business was reportedly sold to the employees in 1959. While Louis had skied a few times, Herman reportedly refused to partake in the sport.



Early Years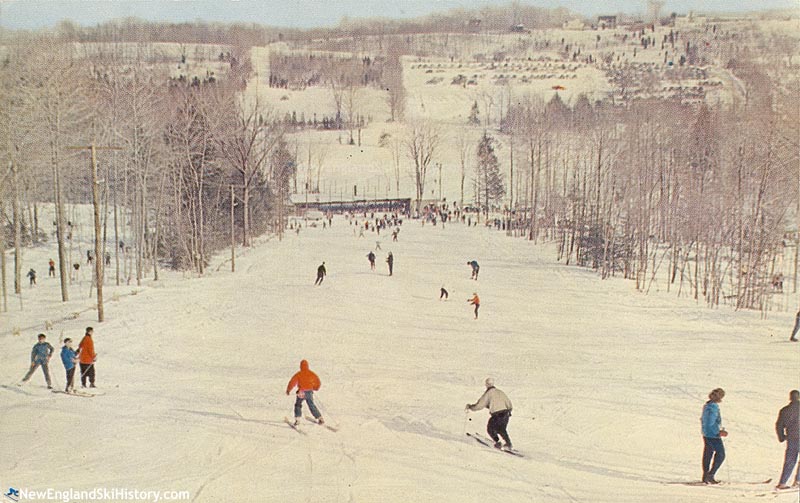 Powder Hill circa the 1960s

While planning a larger development, the Zemels may have opened a rope tow on Powder Hill in Middlefield as early as 1959. In 1960, Louis Zemel proposed developing a ski area on West Peak in Meriden and West Rock in New Haven, both of which were likely rejected by the respective municipal departments. Instead, the brothers focused on Powder Hill.

Little is known about 1959-60 ski operations on Powder Hill. A grand opening was held in early 1961, as more than 2,000 skiers visited the slopes on January 21 and 22. Facilities included a lower mountain T-Bar, three rope tows, snowmaking, night skiing, and a skating rink. Trails included the novice Powder Puff and Middlefield and the expert Beserk. Rhode Island native Frank Weston headed up the ski school.

Within reach of a major population area and aided by snowmaking and night skiing, the ski area quickly entered a growth swing. An upper mountain T-Bar and top to bottom night skiing were added for 1961-62. Karl Kleinops was in charge of the ski school by the time the 1962-63 season was underway.

Three New Chairlifts in the Mid-1960s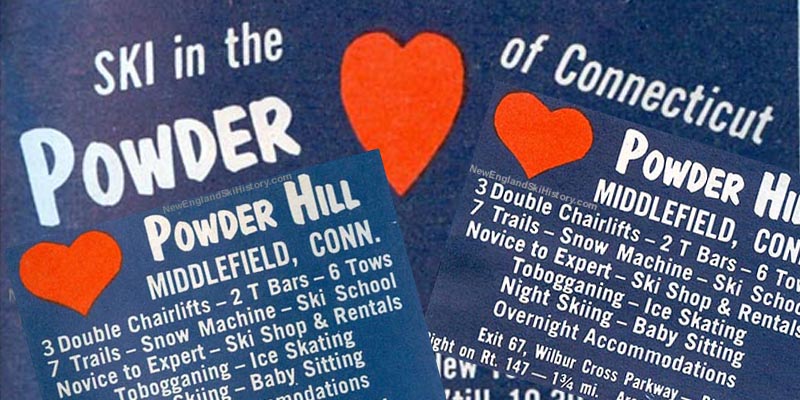 1960s Powder Ridge advertisements

Powder Hill entered the chairlift world for the 1963-64 season, when a 2,600 foot Hall double was installed. The new lift provided access to the top of the ski area. Three slopes were added as part of the expansion.

A second 2,600 foot Hall double chairlift was added for the 1964-65 season, giving Powder Hill 'more uphill capacity in proportion to its size, than any ski area in New England.' A new lodge may have also been constructed.

Also during the mid 1960s, the region's segment of Interstate 91 was completed, improving access to Powder Ridge. However, this also meant access to ski areas further north was improved.

A novice double chairlift, once again a Hall model, was installed for the 1965-66 season. Powder Hill also started an "Early Bird Skiing" program that year, welcoming skiers at 6:30 AM and providing a continental breakfast. Night owl skiing was soon introduced, keeping the slopes open until 3 AM. A motel was constructed at the base of the ski area for the 1967-68 season, while snowmaking was "greatly expanded."



The Powder Ridge Rock Festival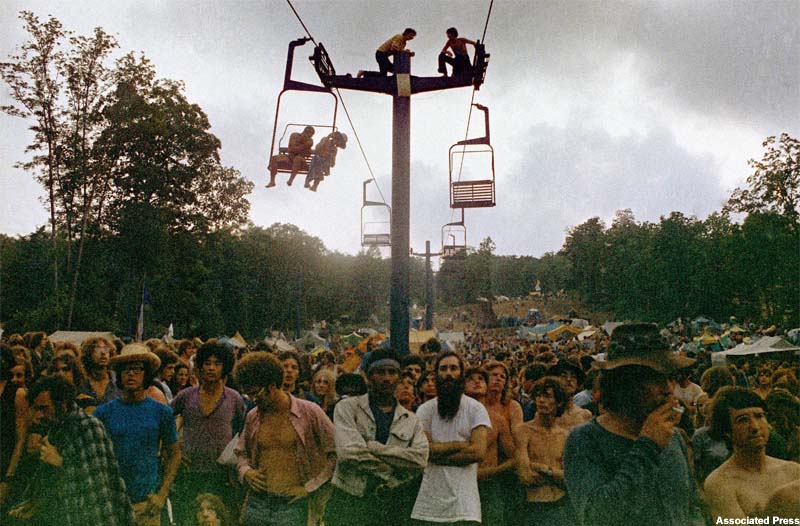 The cancelled Powder Ridge Rock Festival

In 1970, the ski area changed its name to "Powder Ridge" and made headlines as the venue for the Powder Ridge Rock Festival. A three day event one year after Woodstock, many popular artists of the era, including Fleetwood Mac, James Taylor, Joe Cocker, Van Morrison, Jethro Tull, Janis Joplin, John Sebastian, Chuck Berry, and possibly Led Zeppelin were expected to play. Connecticut newspapers projected crowds of up to 50,000 to attend the July 31-August 2, 1970 festival.

After local opposition, the event was halted on July 27, 1970, just days before the projected start. Due to the short notice, up to 30,000 concert-goers showed up and proceeded to trash the area and cause drug-related legal issues that would plague the courts for months to come. Both Louis and Herman Zemel were arrested for violating a court injunction, charges that were later dropped.



New England's First Four Person Chairlift

Also in 1970, the ski area attempted to move forward with the South Area expansion, which included a quad chairlift and a new top to bottom slope replacing the Midland, Shush-ka-Put, and Beserk trails. After gaining a special permit in 1971, construction was halted in the fall due to local lawsuits. Construction resumed the following year and the "747" lift opened for the 1972-73 season, becoming the first quad chairlift in New England. Meanwhile, Powder Ridge experimented with new snowmaking technology from Linde.

Beyond the construction issues, the early 1970s were rough financially for Powder Ridge. A poor 1972-73 season resulted in a 20% drop in sales, while the 1973-74 season saw a drop of 75% after the first month.

Louis Zemel's political leanings once again made headlines in 1972, when a "Communiversity" was opened at Powder Ridge. Run by Willard Uphaus, courses ranged from "the revolutionary humanism of Karl Marx" to "marionettes and puppets."

With its lack of natural snowfall, Powder Ridge continued to focus on snowmaking, developing a "fabulous fleet of Fan-Jet snowmakers," which it offered for sale to other ski areas starting in 1978.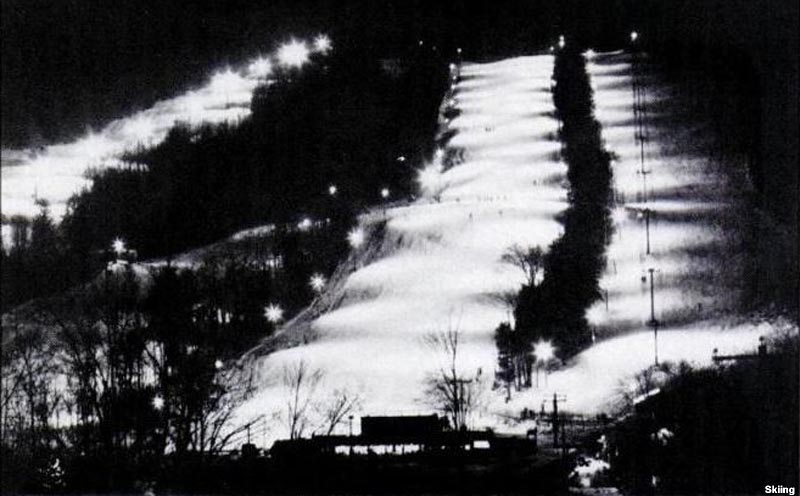 Powder Ridge at night circa the 1980s

Following the retirement of Senator Abraham Ribicoff, Louis Zemel ran for the open seat in 1980 on new left-wing Citizens Party ticket, losing to Christopher Dodd in the general election.

In February 1981, Louis Zemel declared the 1980-81 season was reportedly Powder Ridge's best yet. Ten months later, Zemel passed away at the age of 70. His son David Zemelsky took over day to day operations.

New Ownership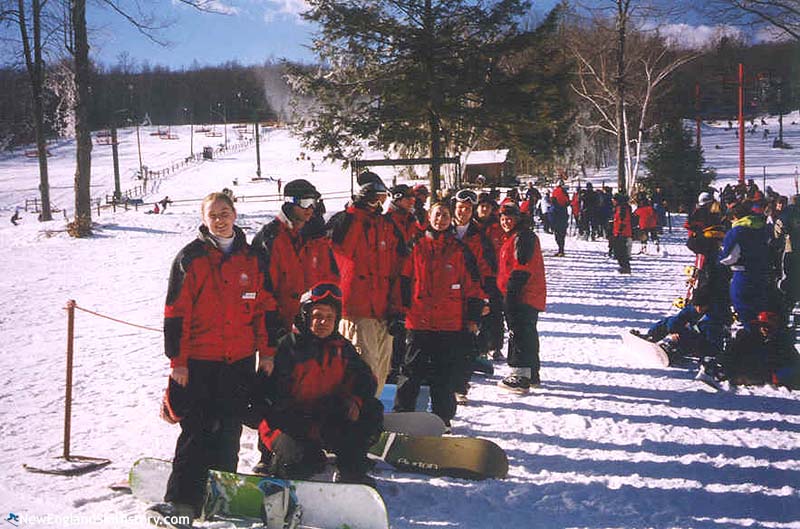 Powder Ridge circa 2000

Circa the early 1990s, Ken Leavitt reportedly acquired an option to purchase Powder Ridge, with the intent of developing a waterpark.

On July 5, 1995, founder Herman Zemel passed away following a stroke. He was 80.

In January 1997, Ken Leavitt announced his company, White Water Mountain Resorts, Inc., had acquired Powder Ridge with the goal of building it into a four season resort. The development leveraged $1.72 million in loan guarantees from the Connecticut Development Authority. Zemel Bros., Inc. was dissolved in June 1997.

Leavitt soon announced ambitious plans for a $12 million waterpark, complete with waterslides, inner tubing, a wave pool, and a top to bottom mountain rafting ride. Though the project was approved by the town in 1997, legal actions from neighbors quickly mounted.

Snow tubing may have been added for the 1997-98 season.

The first major lift investment in decades was made in 2001, when the aging 747 centerpole quad chairlift and South double chairlift were converted to triple chairlifts. In addition, a new trail was opened and new snow guns were procured. With the snowmaking pond running dry in a drought, an intake was added to Lake Beseck. A town commission later decided that all of the necessary permits had not been obtained, rendering a fine on Powder Ridge.



Closure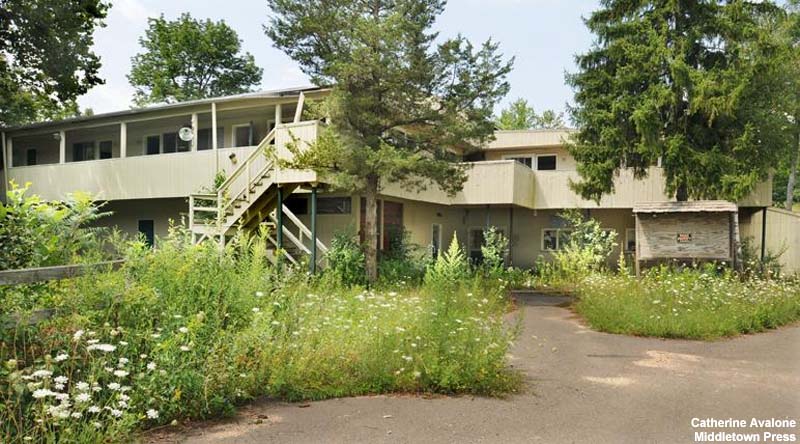 The abandoned Powder Ridge base lodge (2008)

Meanwhile, after half a decade of work, Powder Ridge was no closer to getting its water park. Following a rough 2001-02 season, White Water Mountain Resorts was strapped for cash, resulting in a proposal to subdivide some of the land for housing. A proposal was soon floated for the town to purchase the property and lease it back to White Water Mountain Resorts, to preserve undeveloped land and to provide capital.

Lacking the four season operations integral to the business plan, Powder Ridge hit hard times. At one point in early February of 2006, the ski area announced it was closing for the season. The decision was reversed following a sizeable snowstorm.

In September 2006, the Middlefield Board of Finance rejected the long-sought town buyout plan. With the ski area losing its seasonal line of credit and facing foreclosure from TD Banknorth due to a mortgage reportedly $2.5 million in arrears, Leavitt soon announced Powder Ridge was closing. Bankruptcy soon followed, as did vandalism of the property.



Attempts at Reopening

In the spring of 2007, the town of Middlefield voted to purchase the ski area. It was unable to secure the ski area at a summer 2008 auction, with Middlefield Holdings LLC retaining the property for $2.75 million. Middlefield Holdings soon commenced foreclosure proceedings on Leavitt's home, which had been used as collateral for a 2003 loan for Powder Ridge. Leavitt responded by filing suit against the town, Middlefield Holdings, and two town officials involved with the buyout plan, alleging the defendants had conspired to put him out of business and to drive down the value of the property for the subsequent acquisition. The lawsuit was later dismissed.

On December 29, 2008, the town of Middlefield acquired the ski area from Middlefield Holdings LLC for $2.55 million. Since the time of closure, the property had been heavily vandalized, further complicating attempts at reopening the ski area. Multiple ski area operators were named as interested in helping to reopen and/or operate the area, such as Snow Time, Peak Resorts, and Ski Sundown.

On May 24, 2011, Middlefield voters approved the sale of Powder Ridge to Alpine Ridge LLC. While Alpine Ridge had plans to reopen the ski area for the 2012-13 season, the deal fell through later in 2011.

Powder Ridge Reopens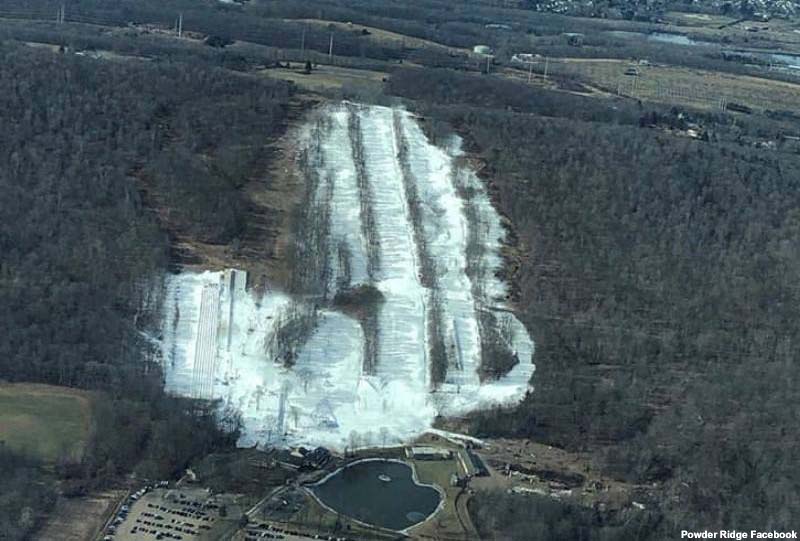 Powder Ridge in January 2019

In 2012, a new group became involved with the ski area and started cleanup work. That September, the Town of Middlefield sold Powder Ridge to Powder Ridge Mountain Park and Resort. Led by Sean Hayes of Brownstone Exploration & Discovery Park, Powder Ridge reopened in late December of 2013. Around this time, former owner Ken Leavitt passed away.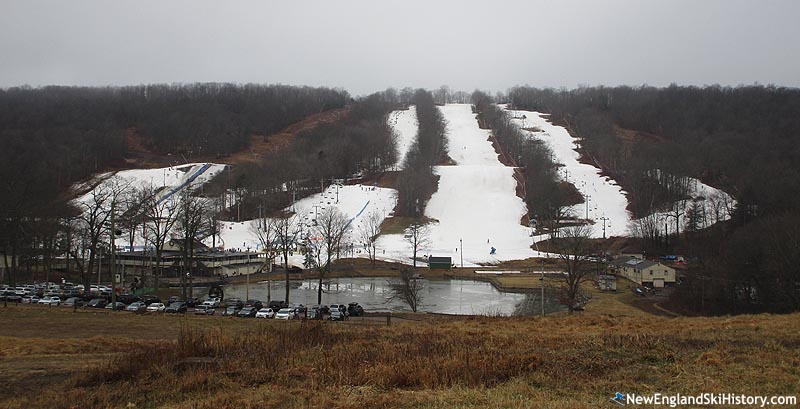 Powder Ridge in February 2020

After restoring ski area and base facility operations, the new ownership added lift served mountain biking starting in June 2016.

Later in the summer of 2017, Powder Ridge opened a synthetic ski and tubing area at the bottom of the 747 slope. With the addition, the area claimed it was the "first full service year-round urban mountain sports park and resort."



NewEnglandSkiIndustry.com News





Expansion History





Image Gallery





Lifts
Click on lift name for information and photos




Maps


Year by Year History
Adult Weekend Full Day Lift Ticket; Adult Full Price Unlimited Season Pass

2020s
Ticket Price
Season Pass Price

Pass Payback

Opening Day

Closing Day

Skier Visits

2023-24
$60.62
November 24
2022-23
$59.00
$649.00
11.0 days
December 24
March 19
2021-22
$57.00
$627.00
11.0 days
December 26
March 20
2020-21
$55.00
December 18
March 21
2019-20
$49.00
$539.00
11.0 days
December 13
March 8
2010s
Ticket Price
Season Pass Price

Pass Payback

Opening Day

Closing Day

Skier Visits

2018-19
$55.00
$605.00
11.0 days
December 8
March 24
2017-18
$55.00
$550.00
10.0 days
December 16
March 18
2016-17
$55.00
$550.00
10.0 days
December 17
March 26
2015-16
$55.00
$550.00
10.0 days
January 8
March 7
2014-15
$55.00
$550.00
10.0 days
December 31
March 29
2013-14
$55.00
$550.00
10.0 days
December 27
March 22
2000s
Ticket Price
Season Pass Price

Pass Payback

Opening Day

Closing Day

Skier Visits

2005-06
$37.00
December 10
2004-05
$35.00
March 26
2003-04
$33.00
$450.00
13.6 days
2002-03
$33.00
$450.00
13.6 days
2001-02
$32.00
$400.00
12.5 days
2000-01
$30.00
$400.00
13.3 days
March 18
1999-00
$30.00
$400.00
13.3 days
1990s
Ticket Price
Season Pass Price

Pass Payback

Opening Day

Closing Day

Skier Visits

1998-99
$30.00
1997-98
December 22
February 23
1995-96
December 2
1994-95
December 16
1993-94
December 12
1992-93
$28.00
1991-92
$27.00
1980s
Ticket Price
Season Pass Price

Pass Payback

Opening Day

Closing Day

Skier Visits

1988-89
$23.00
1987-88
$24.00
1986-87
$20.00
1985-86
$18.00
1983-84
$16.00
1982-83
$15.00
1981-82
$15.00
1980-81
$14.00
1979-80
$13.00
1970s
Ticket Price
Season Pass Price

Pass Payback

Opening Day

Closing Day

Skier Visits

1978-79
$10.50
November 27
1977-78
December 7
125,000
1976-77
$9.50
$150.00
15.8 days
December 2
1975-76
$9.50
November 22
1974-75
$8.50
November 28
1973-74
$8.50
1972-73
$8.50
1971-72
$8.00
$150.00
18.8 days
1970-71
$8.00
$150.00
18.8 days
March 21
1969-70
$7.00
1960s
Ticket Price
Season Pass Price

Pass Payback

Opening Day

Closing Day

Skier Visits

1968-69
$6.50
$85.00
13.1 days
1967-68
$6.50
1966-67
$6.00
1964-65
$5.00
1963-64
$5.00
1962-63
$5.00
1961-62
December 17
March 11
1960-61
January 21
Visitor Memories
"It was called Powder Hill back in the day, late 60s, early 70s. CT skiing at its best. Many good memories of that hill."
bob lyon, Feb. 6, 2023
"MAAAAAN!!!!!....The 70's and 80's..The best years of my life were spent at the Ridge....I was a certified "RidgeRat"...Started in the rental shop followed by waiting on tables while working the lifts and then as a ski instructor. We got to ski free after working 15 hours in a week!..To me it was the greatest place on earth to work as a kid..I was sooooo lucky to have such an experience."
Kris Anderson, Feb. 8, 2022
"My dad helped to build the first ski patrol hut in 1960-61. He then worked as a ski patrol that winter. I was a "junior ski patrol". I was in second grade! I had movies of him ice sailing on the pond with Karl Kleinops. Great memories! We returned four years later for the winter so he could teach skiing. "
Alison Hale, Oct. 7, 2020
"I remember driving from North Conway, NH to New Haven, CT so my dad could talk with Louis Z. about developing the ski area. We had dinner with him at the Three Judges Restaurant. "
Alison Hale, Oct. 7, 2020
"we heard u had 12 inches+ of snow.congradulations.i now live in florida and this brought back memories fro, 1975-1980.i looked on website,read history and it looks like 1975 again.tks 4 keepn tradition. david haniewski, tks 4 the memories.may mother nature bless you."
david haniewski, Feb. 11, 2017
"I grew up less than 10 mi away from powder ridge. My grandparents would take me there at 5 yrs old 1970 to watch the skiers. I skied there regulary from 1976 untill 2006 then moved to vermont . I grew up on that hill learned to ski there on 210cm wooden skis with beartrap bindings and leather boots. My dad would drive me and my friends there in the 70's for night skiing . In my teens and twentys skied the late pass until 3am loved that ski area new everbody if was home many fond memories sad to here of its demise. It was a great ski area it will be missed"
Christopher Pierce, May. 6, 2015
---
External Links
Powder Ridge Park - official site
Powder Ridge - New England Lost Ski Areas Project
Last updated: October 7, 2020