Bald Mountain
Rangeley, Maine
Status:
Lost/Defunct
First Season:
1959-60
Last Season:
1960s
Vertical Drop:
500 feet
Standing Lifts:
Past Lifts:
Surface lifts
Left: The former T-Bar liftline (2014)
Recent NewEnglandSkiIndustry.com News:
Located just outside of the village of Oquossoc in Rangeley, 2,470 foot Bald Mountain was briefly home to a ski area before being overshadowed by nearby Saddleback.


Bald Mountain Ski Development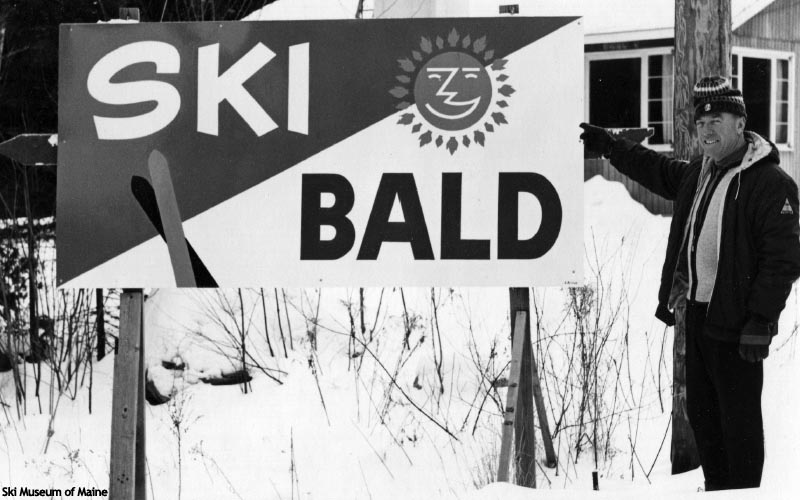 Bald Mountain in the 1960s

Ski resort fever hit the Rangeley Lakes region in the 1950s when local businessmen looked to tap into the growing number of skiers in New England. Ski area designer Sel Hannah was brought over from New Hampshire to check out 2,470 foot Bald Mountain in Oquossoc and 4,116 foot Saddleback Mountain near Rangeley. While Hannah saw more potential in Saddleback, both mountains were developed by separate companies. By spring of 1958, Bald Mountain had already been surveyed and plans for a chairlift were being considered.

The Bald Mountain Ski Corp., led by local developer and State Senator Shelton C. Noyes, pulled together $24,300 from area business owners and commenced work on December 4, 1959 on land leased from International Paper Company. In 45 days time, an access road and 400 car parking lot were built, a train station dragged in for a lodge, a trail cut, and an 800 foot rope tow constructed.


In the Shadow of Saddleback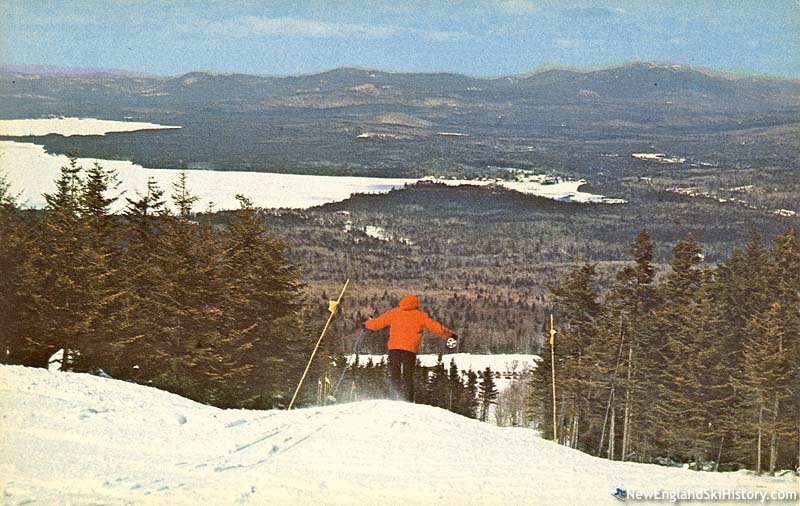 Bald Mountain in the 1960s

Bald Mountain ski area opened at the end of January of 1960 with Governor John H. Reed arriving via dogsled. Future expansion plans were quickly touted.

While plans were made to install a double chairlift for the second season (for both skiing and summer sightseeing purposes), they were eventually scaled back to a 2,300 foot T-Bar. Nevertheless, the new lift provided a significantly expanded vertical drop of 500 feet (occasionally referred to as 1,200 feet) for the area, sometimes advertised as Rangeley Bald Mountain. Popular trails included the Mooselook Warbler and the Rangeley Spinner. Night skiing was introduced, as was ice skating and a larger parking lot. Unfortunately for Bald Mountain, its improvements were overshadowed by opening of nearby Saddleback.

Growth continued leading into the 1961-62 season, as two new trails were cut.

Big plans were discussed in late 1962, including the possibility of installing a gondola for year round use. Unfortunately the ski area's growth was going to slow dramatically as neighbor Saddleback installed a double chairlift that served over twice the vertical drop of Bald Mountain in 1963.

Two ski jumps, 12 and 25 meters, were added for the 1964-65 season.

Saddleback and Bald Mountain worked together to put on a winter carnival during the 1965-66 season, including skiing, skating, dogsledding, and ice boat racing.


Closure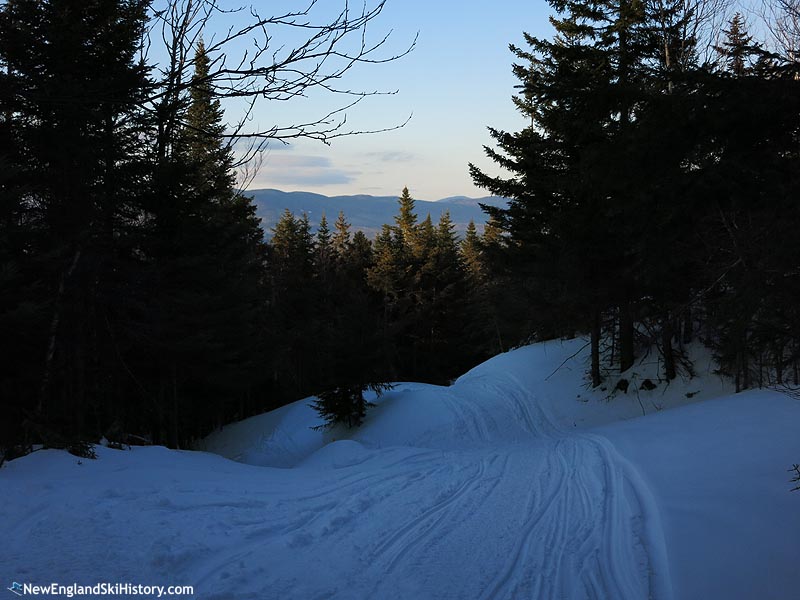 A former ski trail (2014)

Bald Mountain likely shut down following 1967 or 1968. By the time 1969 rolled around, the area was delisted from guidebooks and likely liquated. The T-Bar was likely installed at Titcomb in 1969.

The base area has since become home to the Rangeley Sporting Clays and Trap Range. In 1999, a new summit observation tower was constructed above the ski area, providing hikers wide views of the region, including neighboring Mooselookmeguntic and Rangeley lakes.



Image Gallery





Lifts
Click on lift name for information and photos




Year by Year History
Adult Weekend Full Day Lift Ticket; Adult Full Price Unlimited Season Pass

1960s
Ticket Price
Season Pass Price

Pass Payback

Opening Day

Closing Day

Skier Visits

1967-68
$3.00
1964-65
$3.00
December 11
1959-60
$1.50
Visitor Memories
"I grew up in Oquossoc. The ski lodge was the original train station. My uncle Fay Vaughn had purchased it and moved it down on the lake shore at Vaughns Lakeside Cottages. It was moved from that spot to in front of the beach on the same property. It was then refinished with pine boards to be a 4 unit motel. We used it for entertaining campers and family as it was not partitioned off. It went to be the Bald Mtn. Ski lodge from there. If anyone knows what became of it I'd be interested to know. Tibby my sister and I were on the cover of the October 1961 SKIER magazine siting on the porch railing of the lodge."
Sandra (Vaughn) LeBlanc, Aug. 30, 2022
"Skied there with my dad.around 1966"
Carl Bedard, Oct. 12, 2021
"My dad was best fiends with Tibby my mom was June, I'm Edna, my two brothers Morry and Peter Smith, we used to come stay at their ski house I believe they purchased cabins for vacationers. We skiied on Bald mountain. Email me babebreeze7777@aol.com Im now 68 dad Robert L. Smith passed oct 17 2015, June O Smith passed 1 22 2018 at 99 dad was 93 "
Edna Smith, Nov. 4, 2020
"I grew up in Oquossoc and skied Bald Mountain from the beginning. Tibby gave us first aid lessons and we became a junior ski patrol and skied free. We would also sit in the shack at the top of the lift to watch for problems. They also had night skiing to about 1/2 way up. After the lifts closed, I would ski home through the woods."
Thomas Targett, Dec. 31, 2018
"That picture of the handsome skier holding the bald mt. sign is Gautier Able Thibodeau otherwise known as Tibby or as i called him grampy. Thank you for the picture!"
Jessica Thibodeau DeVries, Dec. 21, 2015
---
External Links
Bald Mountain (Oquossoc) - New England Lost Ski Areas Project
Bald Mountain - FranklinSites.com Hiking Guide
Last updated: December 27, 2018