| | |
| --- | --- |
| | |
Located near the Fairfield border on the north side of Waterville, Maine, the present location of Quarry Road Trails was one of the earliest rope tow ski operations in the country.


Mountain Farm Ski Area

Lift served skiing in the Quarry Road Trails area dates back to the winter of 1937-38, when Mountain Farm (also known as "Dunham's Mountain") was developed near the proposed new Colby College Mayflower Hill campus. A 1,700 foot rope tow was constructed, as well as a 2,000 foot toboggan chute. The new ski area was likely dedicated by Governor Lewis Burrows on January 23, 1938. The Bangor Daily News described the facility as offering "winter sportsman ample opportunity for cross country skiing, slaloms, dashes, and is equipped with one of the best ski tows in the state."

The Colby Outing Club hosted winter carnivals at the Mountain Farm site through 1942, the last one described by the Bangor Daily News as a "snowless winter carnival," noting that "the competition in snow sculptures between the fraternities, usually an attractive part of the carnival, will be out of the question this year unless a heavy snowfall comes before the end of the carnival."

The Colby Outing Club winter carnival was likely suspended or scaled back during World War II, returning circa the winter of 1946-47.

A new 40 meter ski jump was constructed for the 1950-51 season.



Colby College Ski Area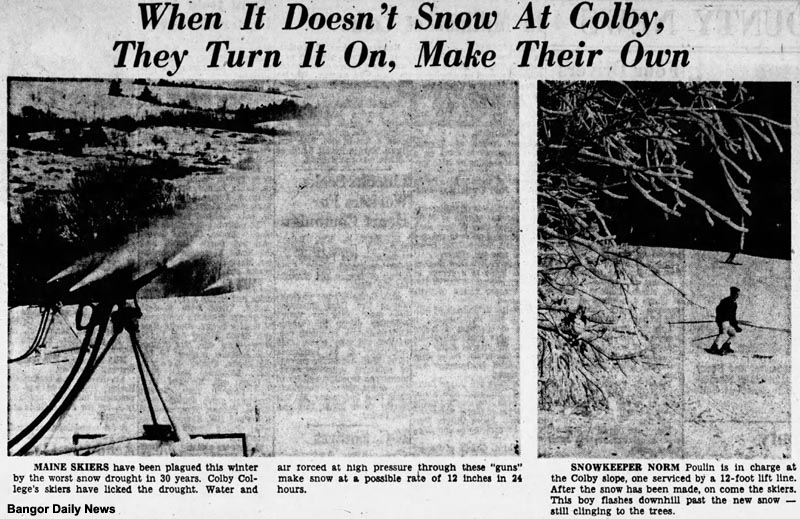 The Colby College ski area in early 1965

On September 12, 1963, Colby College announced it was constructing a new ski area at the Mountain Farm site. Mildred Vigue was identified as "an important factor" in the development, as she donated a portion of the land in memory of her brother, Charles Vigue, Class of 1920. Though the area was expected to be used for some competitions, the majority of races were still expected to be held at Sugarloaf. With an estimated 60% of Colby students owning skis, the new Colby area was expected to be largely recreational in nature. To that end, it would also be open to the general public.

Initial plans called for a 240 vertical foot T-bar serving an "extensive slope" equipped with snowmaking. The Cross brothers from Mt. Abram reportedly installed the lift. The Colby College ski area debuted on January 10, 1964 on manmade snow.

A 32-meter jump built from fill was added for the 1964-65 season, replacing the rotten wooden jump. Night skiing was offered by this point.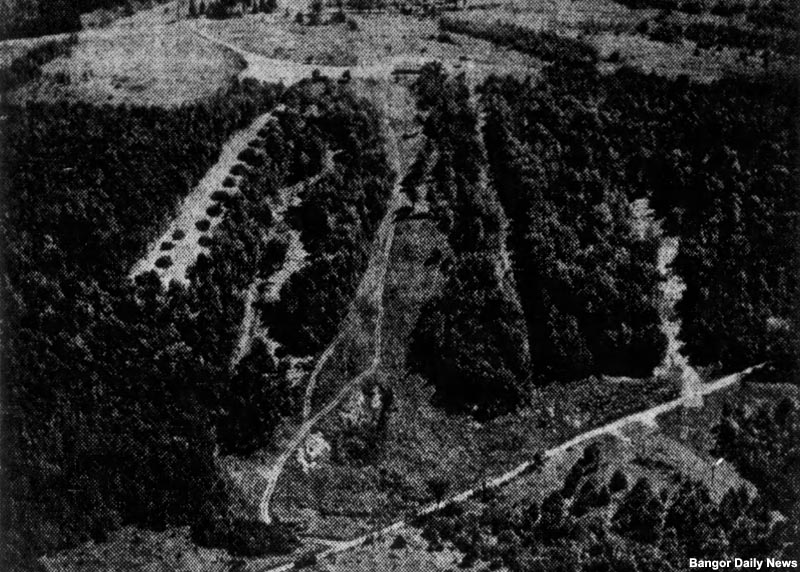 Colby College ski area expansion (fall 1965)

A new beginner slope and expert trail were cut for the 1965-66 season. A 680 foot beginner rope tow was advertised by the 1968-69 season.

In the fall of 1979, Colby College announced it was discontinuing its ski area. Citing the cost to repair the lift and snowmaking equipment, the board of trustees and the director of athletics made the recommendation to cease operations.



Quarry Road Trails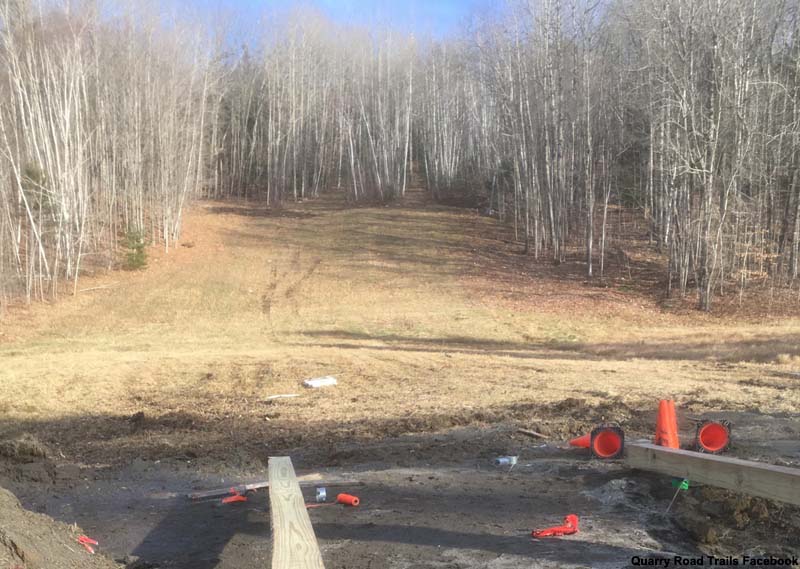 The future rope tow slope (December 2021)

After decades of closure, in 2007 a group of locals commenced a long-term project to reopen the area to skiing. Around this time, the City of Waterville acquired 100 acres of land from Colby College.

Circa 2012, the Harold Alfond Foundation provided a $285,000 grant to move the vision forward. A new snowmaking system debuted in January 2013, consisting of 19 snowguns with the capability of covering multiple kilometers of nordic trails.

Circa 2017, SE Group was brought in to update the master plan for the facility. Additional activities discussed included alpine skiing and snow tubing.

In 2021, the Friends of Quarry Road completed a successful fundraiser that was paired with matching funds from the Bill and Joan Alfond Foundation. With the funds, a 400 foot long by 75 foot portable rope tow was to be installed on a slope that was served by the existing snowmaking system.

Future plans for Quarry Road Trails include the installation of a T-Bar and construction of a lodge.



NewEnglandSkiConditions.com Reports





NewEnglandSkiIndustry.com News





Lifts
Click on lift name for information and photos




Maps


Year by Year History
Adult Weekend Full Day Lift Ticket; Adult Full Price Unlimited Season Pass

2020s
Ticket Price
Season Pass Price

Pass Payback

Opening Day

Closing Day

Skier Visits

2022-23
$10.00
$50.00
5.0 days
January 8
March 19
2021-22
$10.00
$50.00
5.0 days
February 19
March 13
1960s
Ticket Price
Season Pass Price

Pass Payback

Opening Day

Closing Day

Skier Visits

1965-66
December 22
1963-64
January 10
Visitor Memories
---
External Links
Quarry Road Trails - official site
Last updated: January 4, 2022