Boston Hills Ski Area
North Andover, Massachusetts
Status:
Lost/Defunct
First Season:
1948-49
Last Season:
1992-93
Vertical Drop:
320 feet
Standing Lifts:
0
Past Lifts:
1 double, surface lifts
Left: Snowmaking at Boston Hills in the 1980s
Recent NewEnglandSkiIndustry.com News:
1/21/2017: Powder Ridge to Offer Synthetic Summertime Skiing
Located on the Salem Turnpike (Route 114) side of 385 foot Boston Hill in North Andover, Boston Hills ski area was a popular ski area for many decades.


Boston Peak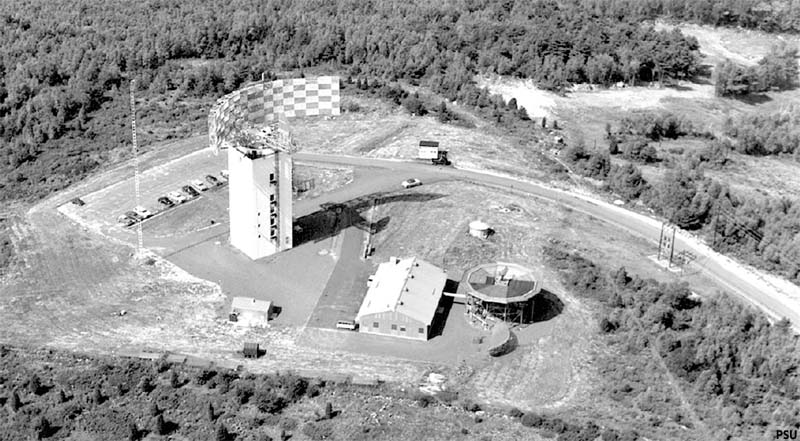 The radar station (left) and ski area (right) in the late 1950s or early 1960s

Boston Hill's skiing history may date back to early 1949, when the Salem Ski Busters likely developed a small facility called Boston Peak. It is not known if or how many rope tows the area had, but it was likely active through 1953.

Boston Peak reappeared as a "new" rope tow served area in 1957-58, making a splash by offering a "snow sprayer" snowmaking system. Local Olympic skier Bob Livermore was part of the ownership team, while a young Bob Dunn was involved with the ski school. While night skiing was not offered for its freshman season, it was soon added.

Dunn soon took over as manager of the small ski area and developed a long working relationship with the Tropeanos and Larchmont Engineering. Many cutting edge snowmaking technologies would be tested at the ski area over the years.

A new novice slope was added for the 1958-59, as well as additional parking. Meanwhile, a radar station was being constructed by the military on the summit of Boston Hill. The operational control station was transferred to the Mitre Corporation in the spring of 1960.

By the time 1959-60 rolled around, the ski area was known as Boston Hill. A new J-Bar was installed for that season, serving novice and intermediate terrain.

Circa 1962, Dunn became owner of Boston Hill. Starting in December of 1962, Dunn started the first in a decades-long series of Boston Globe Ski Clinics at Boston Hill, generating significant press coverage of the ski area.

A new base building was constructed for the 1966-67 season, while the novice and intermediate slopes were expanded in 1967-68. The base lodge was expanded for the 1968-69 season.


Boston Hill Enters the Chairlift Age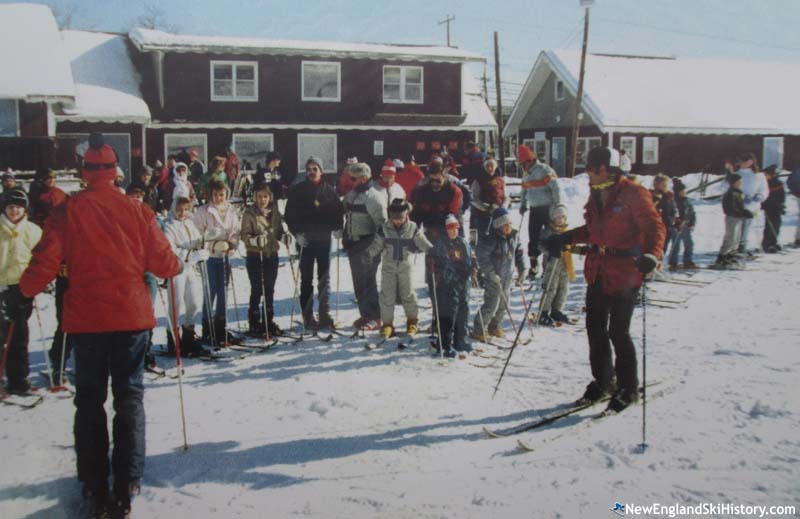 The Boston Hill base area

Slopes were again widened for the 1970-71 and 1971-72 seasons, increasing skier capacity in advance of a larger expansion. For 1972-73, a new Hall double chairlift was installed at Boston Hill, providing top to bottom modern lift service day and night. At this point, the ski area had five slopes and one trail, served by the chairlift and 3 rope tows.

Dunn took over Ragged Mountain, NH starting in 1974-75 and used the opportunity to sell combination passes for both ski areas.

Starting in 1976-77, Boston Hill became known as Boston Hills.

Dunn looked to diversify Boston Hills' offerings beyond the risky ski business when he added an alpine slide in 1977.

Tower snowguns, a relatively new technology, were installed on Dunn's Run for the 1980-81 season. Later that year, Boston Hills started to experiment with Perma-Snow.

A full-fledged, 1,400 foot installation of all season Dendix Perma-Snow PVC skiing surface went opened for the 1982 off-season, complementing the existing alpine slide operation.


Beginning of the End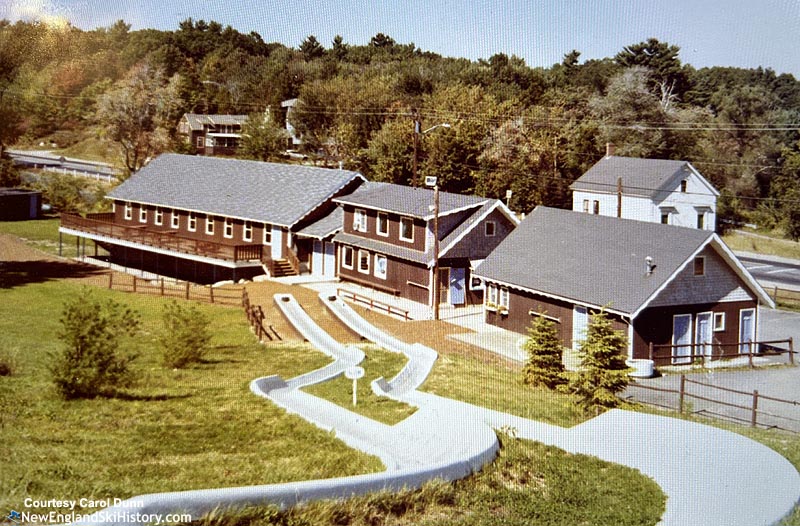 The former ski slopes behind Brightview Senior Living Facility

Things started to wind down through the 80s, beginning with the closure of sister area Ragged Mountain. Dunn sold Ragged in 1987 to future Blue Hills operators, Endriunas Brothers, Inc.. Also in 1987, initial plans surfaced developing senior townhouses on Boston Hill.

Starting with the 1992-93 season, Bob Dunn headed to Bretton Woods to run their ski school. Meanwhile, the Boston Hill Archery Center opened under a lease agreement at Boston Hill in May of 1992. Boston Hills likely operated to some extent during the 1992-93 ski season.

In the fall of 1994, designers of the new Boneyard snowboard park at Waterville Valley Curt Hulst and David Olcott were rumored to be interested in running Boston Hills as a snowboard-only ski area. However, the ski area likely gathered dust instead.

Boston Hills ski area started to disappear in late 1997 when some of the property was sold. The chairlift was removed in 1998, while the base lodge and snowmaking buildings were demolished in the fall of 2008.

The housing development was initially approved in 2002, however legal battles held it up for some time. Construction on the Brightview North Andover development commenced in the spring of 2012. The development was expected to encompass 8 acres, whilst 25 acres of the old ski area would have been protected by a conservation agreement.

The 143,000 square foot Brightview North Andover senior living facility opened at the base of the old ski area on August 26, 2013. The bulk of the ski terrain has grown in and is managed by North Andover for hiking and mountain biking.

Image Gallery


Lifts
Click on lift name for information and photos
Maps

Year by Year History
Adult Weekend Full Day Lift Ticket; Adult Full Price Unlimited Season Pass

1980s
Ticket Price
Season Pass Price

Pass Payback

Opening Day

Closing Day

Skier Visits

1987-88
$12.00
1982-83
$10.00
1980-81
February 8
1970s
Ticket Price
Season Pass Price

Pass Payback

Opening Day

Closing Day

Skier Visits

1976-77
$125.00
1973-74
$6.00
1971-72
$5.00
1970-71
$5.00
March 27
1960s
Ticket Price
Season Pass Price

Pass Payback

Opening Day

Closing Day

Skier Visits

1962-63
$4.50
1961-62
December 14
March 24
Visitor Memories
"Just drove down rt 114 My dad used to bring us up to ski school ( bob Dunn) every Saturday We loved it.. But omg our equipment back then Tied up boots, leather trail runners, spring suspension to hold to boot!! But we learned to ski! Loved it And had fun!!"
Lisa Ulwick, Jul. 29, 2017
"I learned to ski here also in the 70's. I'd load a bus every Saturday for 6 weeks at the Danvers YMCA and have a lesson in the morning and free ski all afternoon. I never skied here again after that first season but I have such fond memories of Boston Hill. "
Steve Sullivan, Aug. 28, 2015
"I drove by this hill many times in my life, but never skied there. Maybe because they seemed to claim a vertical drop of 320' which is impossible since rt 114 is at 170' and lower than the bottom of the ski area (215' max). Anyway, my neighbor tried to learn to ski there and broke his leg on his first lesson. Oops! "
Mark O'Hara, Aug. 27, 2015
"At the ages of 8 and 6 (1975), when we lived in Andover, our boys started their ski lessons on Boston Hill. It was amazing to see them come down the hill after their second lesson!! Amazing! They now continue to ski and one of them has his daughters skiing, also (most recently in Banff). It was a great start for them on Boston Hill! This message is coming to you from Southern California! (We just found an old 'boston hill bugle' and decided to see if the ski area was still in operation.)"
Peter and Joan Jedrzejek, Mar. 31, 2014
"I was on the ski patrol with my dad Raymond I think I was about age sixteen 'jr.Patrolman' I think they sold the J Bar lift to the now closed and not listed on your page, Hamilton Ski Slope. Also ,you have no information for Page's Hill Peabody, or Ferncroft, Peabody/ Danvers. My dad and me were on the National Ski Patrol at these hills too."
Robert Borsetti, Mar. 11, 2014
"I learned to ski at Boston Hill in the 1970's, it was the perfect learn to ski area. I went right through their ski school program. The chairlift used to sport huge huge lines, and the summit rope tow was an quicker way up. I used to face the wrath of my mother, since I went through many pairs of gloves grabbing onto that pretty fast moving rope. My first every chairlift ride was on that Hall Chairlift. My first year of learning to ski was not that enjoyable, but over time, my confidence and skills developed, and I was able to take on all the terrain Boston Hill had to offer with a king size smile on my face. My first 'big mountain' trip was to Ragged which was co-owned with Boston Hill at the time. The alpine slide was pretty good too. Wasn't Attitash or Alpine Ridge, but it fit the bill being reasonably close to home. I get sad everything I drive down Route 114 and show my kids this hill that once resembled a very good learn-to-ski area !"
Jay Gadon, Oct. 8, 2013
---
External Links
Boston Hills Ski Area - New England Lost Ski Areas Project
Boston Hill - FranklinSites.com Hiking Guide
Last updated: November 15, 2016