Boston Hills Ski Area
North Andover, Massachusetts
Status:
Lost/Defunct
First Season:
1948-49
Last Season:
1992-93
Vertical Drop:
320 feet
Standing Lifts:
0
Past Lifts:
1 double, surface lifts
Left: Snowmaking at Boston Hills in the 1980s
Recent NewEnglandSkiIndustry.com News:
4/21/2023: Bob Dunn Passes Away
1/21/2017: Powder Ridge to Offer Synthetic Summerti...
Located on the Salem Turnpike (Route 114) side of 385 foot Boston Hill in North Andover, Boston Hills ski area was a popular ski area for many decades.


Salem Ski Busters and Boston Peak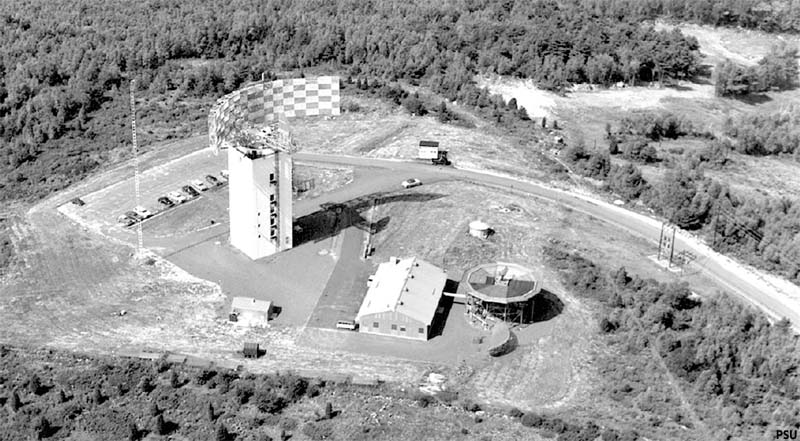 The radar station (left) and ski area (right) in the late 1950s or early 1960s

The Salem Ski Busters group was formed in the mid-1930s, attracting members from all over Eastern Massachusetts. Boston Hill's ski history traces back to this group.

In December 1948, word emerged of two Salem Ski Busters (and former Winnipesaukee Ski School instructors), Johnny Anketel and Ray Pressey, reportedly reopening the Clay Pit Ski Tow. Located northwest of Boston Hill, Clay Pit Hill was first developed with a rope tow in 1938 and had reopened in 1947. Reports soon changed, with Anketel and Pressey announcing in January 1949 that they had installed a rope tow (reportedly from Clay Pit) on Boston Hill. Their Boston Peak ski area likely began operating in late January on a slim 2 inch base. Due to poor snowfall, the area sporadically operated in the late 1940s and early 1950s, likely shutting down after the 1953-54 season.


Boston Peak Reopened as Boston Hill

In 1957, a group including Robert Livermore and David Arnold re-established the Boston Peak ski area as Boston Hill. A Boston native, Livermore graduated from Harvard and became a real estate broker. A member of the 1938 United States Olympic ski team, Livermore was involved in the formation of the National Ski Patrol and the 10th Mountain Division, serving in the 87th Regiment in World War II. Arnold, also an alumnus of Harvard, served in the Army during World War II before embarking in a career in the chemical industry.

Leveraging its proximity to Larchmont Engineering, Boston Hill had a snowmaking system that it was constantly tweaking (initially referred to a "snow sprayer"). Snowmaking operations likely started in early December 1957, though mild weather quickly melted it. The area may have operated on a limited basis just before Christmas with "bare spots in manufactured snow." The Boston Globe described it as "not a golf course slope" since it was "steep enough for some good slalom practice." Trails included the East Slope, West Slope, and Novice Slope, served by two rope tows.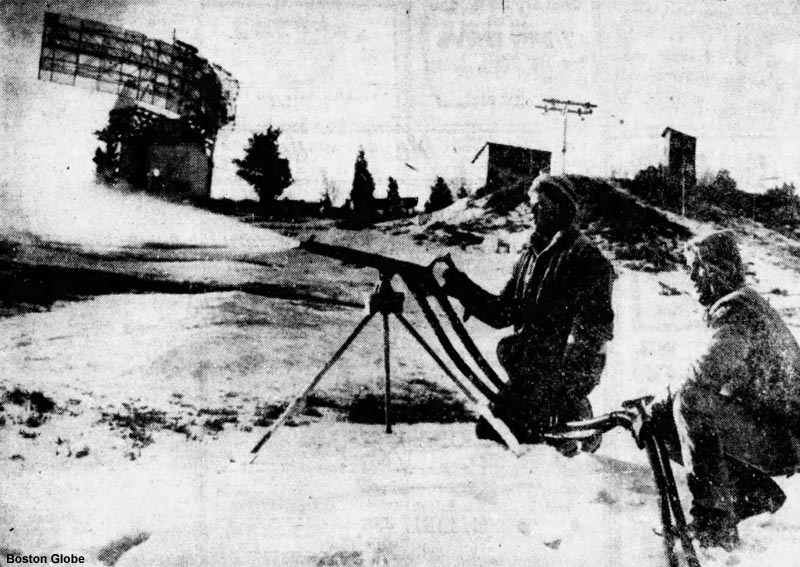 Snowmaking on Boston Hill (January 1962)

An early employee of the ski area was Bob Dunn, likely as a ski instructor. A veteran of the Army Air Corps during the World War II and Korea era, Dunn attended Boston University and taught high school before starting work at Boston Hill. He soon became manager of the ski area, developing a relationship with the Tropeanos and Larchmont Engineering that fostered new snowmaking technologies.

By mid-February, Boston Hill reported pumping 1,100,000 gallons of water for snowmaking. The 1957-58 season likely extended into late March.

A new novice slope was added for the 1958-59 season, as well as additional parking. The 1958-59 season likely started in mid-December with manmade snow on the novice slope. Marco Stefani served as ski school director. Meanwhile, a radar station was being constructed by the military on the summit of Boston Hill. The operational control station was transferred to the Mitre Corporation in the spring of 1960.

For its third season, a 1,000 foot long J-Bar was installed, the first non-rope tow in Eastern Massachusetts. Expanding to seven-day operations, Boston Hill's trails included The Common, Commonwealth Avenue, and Beacon Street. With its snowmaking system and new lift, the Boston Globe declared it "the most expensive little ski area in the East."

Though the 1959-60 season started on manmade snow the day after Christmas, the J-Bar did not begin spinning until mid-January due to the 1959 Steel Strike. The season also marked the start of midweek ladies days, geared toward teaching housewives how to ski.

The 1960-61 season started in mid-December with manmade snow on the novice slope and once again spanned to late March. Johnny Polando served as ski school director for the season, before departing to take on the role at Killington.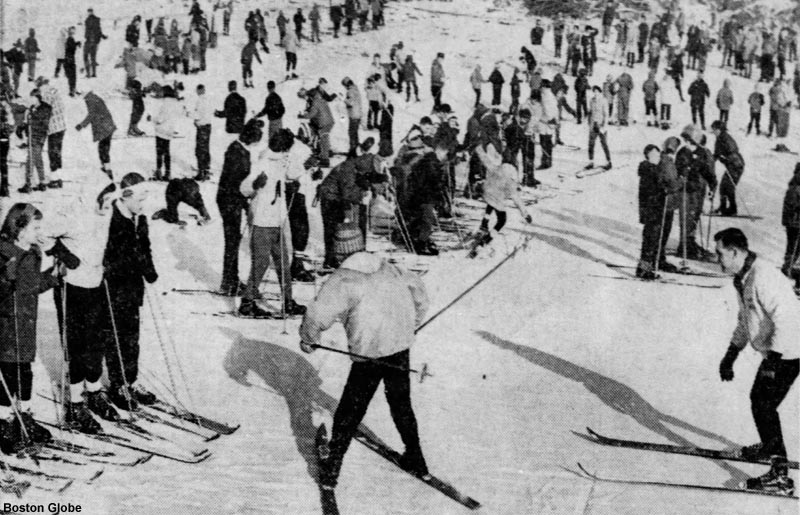 Boston Globe Ski Clinic at Boston Hill (December 1962)

Circa 1962, Dunn took an even larger role at Boston Hill, becoming an owner. David Arnold later reflected on his own years as owner, joking, "our glamorous ski hill idea turned out to have all the problems of a metropolitan transit system." Starting in December of 1962, Dunn kicked off the first in a decades-long series of Boston Globe Ski Clinics at Boston Hill, generating significant press coverage of the ski area and attracting 600 children to the debut lesson. By this point, Boston Hill featured night skiing, the J-Bar, and three rope tows.

On February 13, 1963, Boston Hill hosted an international professional ski race that featured Adrian Duvillard, Ernst Hinterseer, Anderl Molterer, Marvin Moriarty, Toni Spiss, and winner Pepi Gramshammer. Thousands of spectators came to Boston Hill to watch the race and exhibitions.

Following a pre-season session (which would soon evolve to an fall roadshow throughout metro Boston), the December 1963 Boston Globe Ski Clinic drew an even larger crowd, putting 800 youngsters on skis. One month later, Boston Hill hosted a Massachusetts Veterans Slalom, which featured winner Charles Gibson, Franz Schemmel, Wildcat founder George Macomber, and Boston Hill founder David Arnold. In February, Boston Hill hosted another well-attended International Professional Ski Racing Association race, this time won by Adrian Duvillard.

The weather wasn't as great for the 1964-65 season, resulting in a reduced turnout for the Boston Globe Ski Clinic and the cessation of operations in early March. A fluke early spring snow storm may have reopened the area for a day or two at the start of April, as Bob Dunn noted, "We'll operate as long as we have a usable surface. People want to ski and we can use the revenue."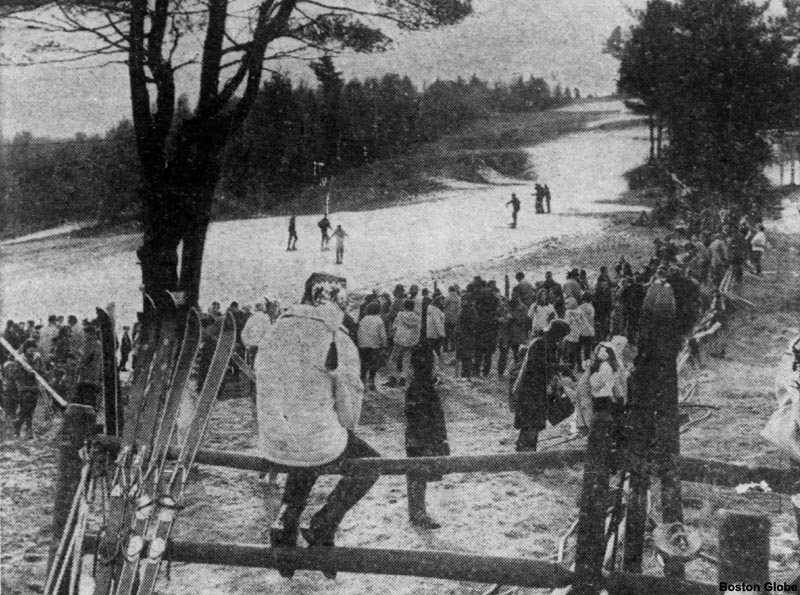 Boston Globe Ski Clinic at Boston Hill (December 1965)

The 1965-66 season didn't get off to a much better start, as the Boston Globe Ski Clinic had to be postponed due to a Christmas rain storm. When dozens of cars still showed up for the original date, Dunn made the best of the situation by showing the youngsters how the snowmaking system worked. Over 1,000 showed up to the rescheduled clinic a few days later. "Machine-made snow continued to shrink with each passing hour," resulting in a "practically bare" main slope by the end of the day, according to the Boston Globe. The first ever Massachusetts Jaycees Junior Ski Tournament was held at Boston Hill in February, "ugly weather and all," resulting in two local boys being sent to the national championship in Minnesota. Meanwhile, Boston Hill's season melted away in early March.

A new base building was constructed for the 1966-67 season, by which point Boston Hill's lift fleet included the J-Bar and four rope tows. Though the season had a better start, with the Boston Globe noting "how unusual it was to have good snow cover right through the Christmas week," by mid-January conditions were described as having "some 'wretched' spots." Meanwhile, Bob Dunn and Boston Hill led the charge to develop a new Buddy Werner race league.

A new advanced intermediate slope was added for the 1967-68 season, which once again saw a tough start. The annual Boston Globe clinic was postponed, then held in the rain and sleet, drawing 600 kids. January conditions improved thanks to multiple snow storms, however February was not as kind, resulting in a reliance on snowmaking, some possible shut downs, and a mid-March close to the season.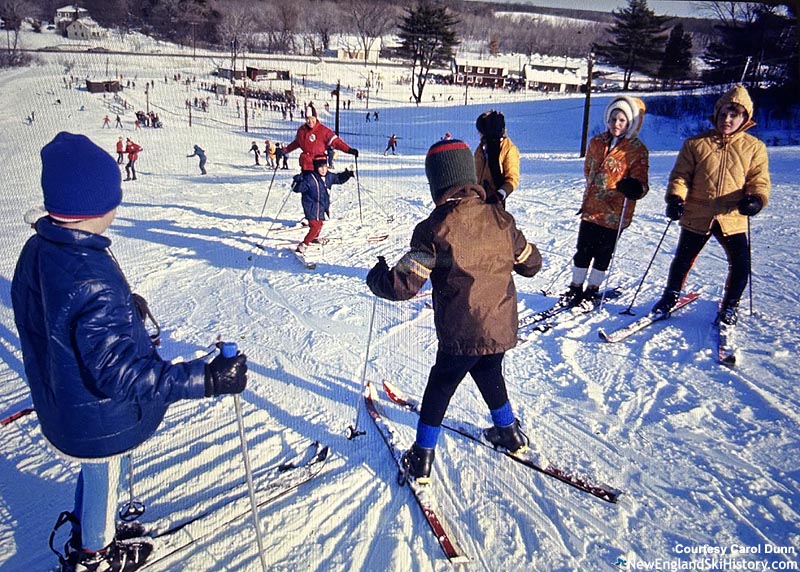 Ski school at Boston Hill

The base lodge was doubled in size for the 1968-69 season, providing cafeteria and lounge space, as well as a sun deck. A significant portion of the structure was reportedly constructed in one day in mid-December. The season got underway just before Christmas, but was halted due to lack of snow in late January. Conditions rebounded in February, pushing the season just beyond the end of calendar winter and resulting in a 15% increase in revenue on an estimated 40,000 skier visits, making Boston Hill one of the most popular ski areas in the state.

Snowmaking was expanded to 10 acres for the 1969-70 season, though Bob Dunn continued to put significant work into smooth trails. Boston Hill would seed the slopes every fall and fertilize in both the fall and the spring. Dunn told the Boston Globe that "we try to keep the slopes in ball-park conditions", noting that "the smoother and better groomed they are, the less snow you need to have to make a good run. Making snow is expensive, so if the slope is smooth, one inch of snow is enough to ski on."

The 1969-70 season kicked off before Christmas, but was not without its struggles, even with the snowmaking expansion. The area was closed for a good portion of the first half of February due to warm, wet weather that the Boston Globe described as a "hint of spring." The season likely ended in mid-March.

Skiable terrain was increased by an estimated 25% for the 1970-71 season, when the J-Bar slope was widened and Dunn's Run was cut above the beginner slope (which may have been served by a new rope tow). The season kicked off about a week before Christmas and saw over 1,000 children attend the annual Boston Globe Ski Clinic a few days later. Building on this success, the first Boston Globe Ski Clinic for Adults was held at the area in January, drawing 300 people. With decent natural snowfall, the 1970-71 season came to a close on March 27 with a shovel race.

Improvements for the 1971-72 season included installing snowmaking and lights on Dunn's Run, as well as reportedly cutting a "glade type trail" in the vicinity of the future Fun Run. Meanwhile, Bob Dunn continued his off-season Boston Globe ski clinics throughout the region, reportedly drawing more than 3,000 participants. Around this time, Dunn was also in charge of the ski school at Prospect Hill in Waltham.

Due to a warm, wet December, the 1971-72 season likely didn't start until December 30, when Boston Hill hosted 600 children for the annual Boston Globe Ski Clinic on a two-acre lower mountain area with a two to six inch manmade base. January's weather was just as tough, forcing Boston Hill to shut down operations for multiple multi-day periods, and to postpone the adult ski clinic three times.



Boston Hill Enters the Chairlift Age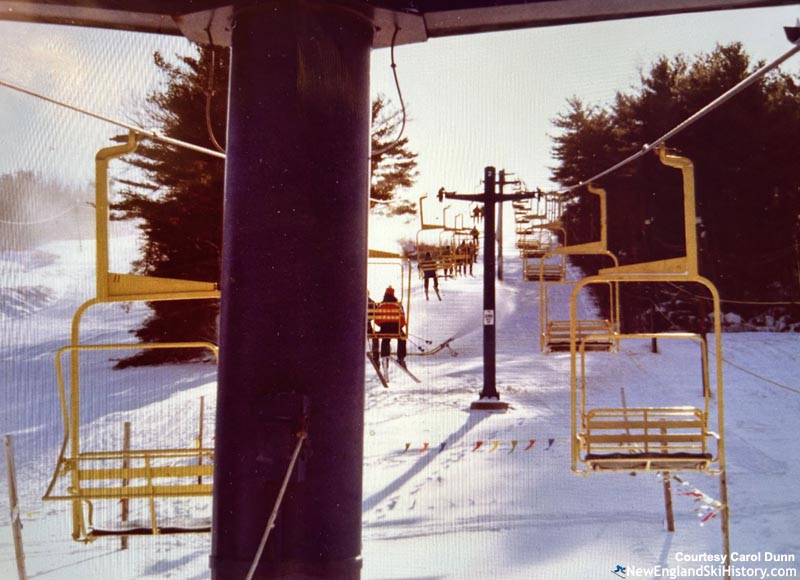 The chairlift

Despite the struggles of the 1971-72 season, a major investment was made that off-season with the installation of a new Hall double chairlift, replacing the J-Bar. In addition, two new trails were advertised: Fun Run (possibly converted from "glade type trail" to "trail") and Last Hurrah. Radar Run was widened and featured snowmaking and night lighting. Rounding up the investment, a new grooming machine was purchased.

Though the 1972-73 season enjoyed early snowfall, Boston Hill likely didn't start operating until after Christmas due to the extensive construction. That season's pair of Boston Globe Ski Clinics drew nearly 1,000 children and 400 adults, respectively. Weather was a struggle yet again, as the area was closed for most of the second half of January, as well as the first week of February, before limping to an early March ending.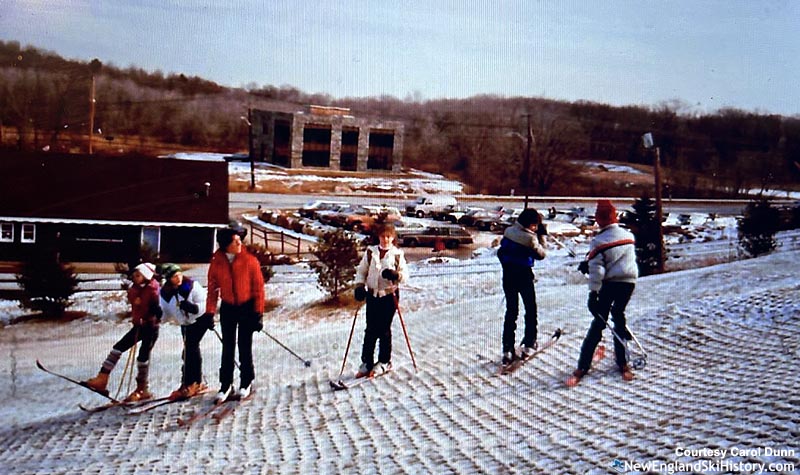 Turf skiing

Looking to venture out beyond snow sports, Boston Hill started "turfskiing" in October 1973, offering lift service and rentals for the wheeled skis. In November, it hosted the Turfski National Championships.

The 1973-74 season was a struggle for New England ski areas and Boston Hill was no exception. The ski season did not start until January 5. Though the following weekend was strong with "an eight-minute waiting line for the chair lift" and snow "so good they skied on Radar Run," a subsequent warm up resulted in a period of non-operation extending into early February. After another idle period later in the month, the short season likely came to a close at the start of March without ever holding the annual Boston Globe Ski Clinic.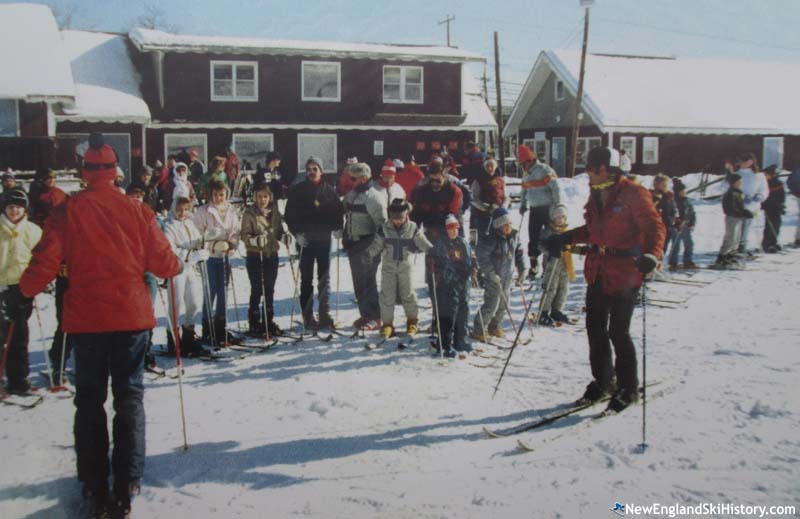 The Boston Hill base area

As a result of the difficult 1973-74 season, a number of areas across New England faced failure. Ragged Mountain in New Hampshire headed to the auction block in July 1974 and was acquired by the New Hampshire Industrial Authority. After receiving approval for a loan from the entity, on August 7, 1974, Dunn formed Ragged Mountain Recreation Area, Inc. with five partners. The acquisition of the area was announced in November, with advertisements describing Boston Hill and Ragged Mountain being a marriage. Combination passes were offered for the areas.

The 1974-75 season kicked off shortly after Christmas and saw a busy Boston Globe Ski Clinic later that week with 1,274 children attending. Despite an early January thaw, the season had a strong start, with Dunn noting that "We had more skiers in three recent days than in the whole of last season."

Boston Hill became "Boston Hills" for the 1975-76 season, which kicked off with a pre-Christmas snowstorm that brought the best early-season conditions in years. The annual Boston Globe Ski Clinic attracted 1,479 children, while the adult program a week later attracted 972, both records.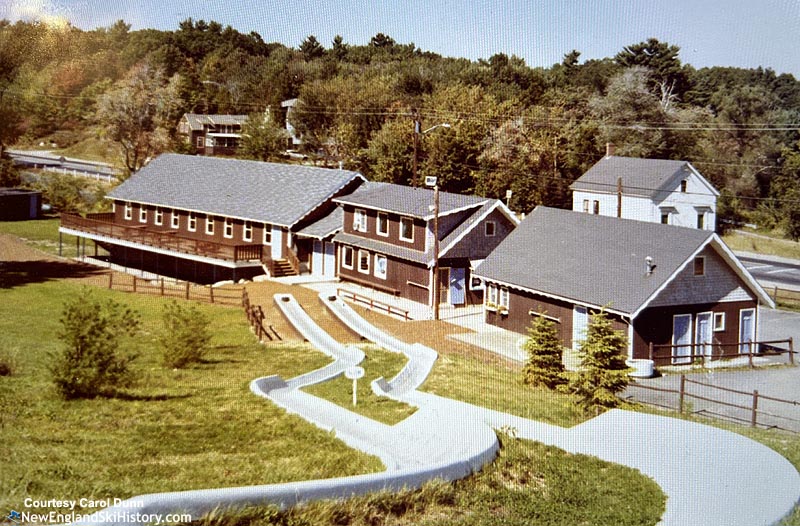 The Boston Hills alpine slide

Looking to diversify Boston Hills' offerings beyond the risky ski business, site work started in 1976 for the installation of an alpine slide. Cutting across Radar Run, the new attraction opened in 1977. The 1976-77 ski season commenced before Christmas and saw another busy Boston Globe Ski Clinic with 1,342 children attending.

Tower snowguns, a relatively new technology, were installed on Dunn's Run for the 1980-81 season. Later that year, Boston Hills started to experiment with Perma-Snow.

A full-fledged, 1,400 foot installation of all season Dendix Perma-Snow PVC skiing surface went opened for the 1982 off-season, complementing the existing alpine slide operation.


Beginning of the End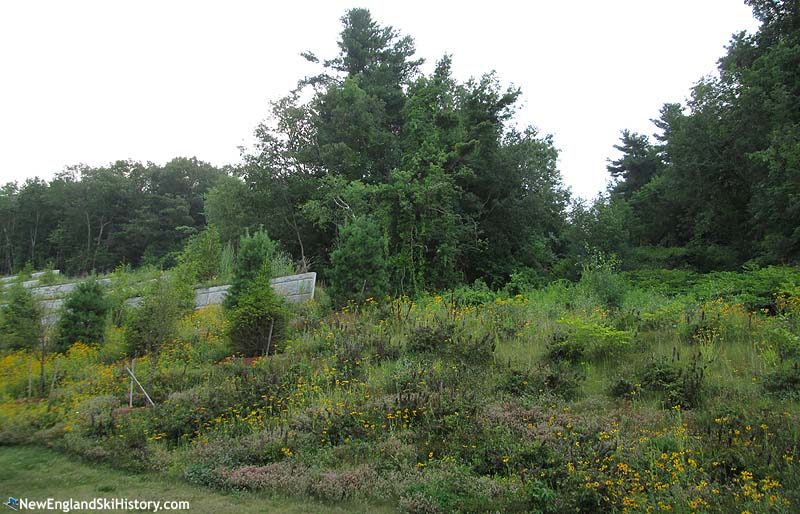 The former ski slopes behind Brightview Senior Living Facility

Things started to wind down through the 80s, beginning with the closure of sister area Ragged Mountain. Dunn sold Ragged in 1987 to future Blue Hills operators, Endriunas Brothers, Inc.. Also in 1987, initial plans surfaced developing senior townhouses on Boston Hill.

Starting with the 1992-93 season, Bob Dunn headed to Bretton Woods to run their ski school. Meanwhile, the Boston Hill Archery Center opened under a lease agreement at Boston Hill in May of 1992. Boston Hills likely operated to some extent during the 1992-93 ski season.

In the fall of 1994, designers of the new Boneyard snowboard park at Waterville Valley Curt Hulst and David Olcott were rumored to be interested in running Boston Hills as a snowboard-only ski area. However, the ski area likely gathered dust instead.

Boston Hills ski area started to disappear in late 1997 when some of the property was sold. The chairlift was removed in 1998, while the base lodge and snowmaking buildings were demolished in the fall of 2008.

The housing development was initially approved in 2002, however legal battles held it up for some time. Construction on the Brightview North Andover development commenced in the spring of 2012. The development was expected to encompass 8 acres, whilst 25 acres of the old ski area would have been protected by a conservation agreement.

The 143,000 square foot Brightview North Andover senior living facility opened at the base of the old ski area on August 26, 2013. The bulk of the ski terrain has grown in and is managed by North Andover for hiking and mountain biking.

Former owner Bob Dunn passed away on April 18, 2023 at the age of 95.



Image Gallery






Lifts
Click on lift name for information and photos




Maps


Year by Year History
Adult Weekend Full Day Lift Ticket; Adult Full Price Unlimited Season Pass

1980s
Ticket Price
Season Pass Price

Pass Payback

Opening Day

Closing Day

Skier Visits

1987-88
$12.00
1982-83
$10.00
1980-81
February 8
1970s
Ticket Price
Season Pass Price

Pass Payback

Opening Day

Closing Day

Skier Visits

1976-77
$6.50
$125.00
19.2 days
1975-76
$6.50
December 21
March 21
1974-75
$6.50
December 27
1973-74
$6.00
January 5
March 3
1972-73
$5.00
March 4
1971-72
$5.00
December 30
1970-71
$5.00
December 19
March 27
1969-70
$4.75
December 20
March 14
1960s
Ticket Price
Season Pass Price

Pass Payback

Opening Day

Closing Day

Skier Visits

1968-69
December 21
March 23
40,000
1967-68
December 27
March 17
1966-67
December 24
March 26
1965-66
$65.00
December 24
March 6
1964-65
December 12
1963-64
December 14
1962-63
$4.50
December 15
March 24
1961-62
December 14
March 24
1960-61
December 12
1959-60
December 26
1950s
Ticket Price
Season Pass Price

Pass Payback

Opening Day

Closing Day

Skier Visits

1958-59
March 29
Visitor Memories
"Marny and I taught skiing at Boston Hills in the late 60s until the early 80s. Our second home was the School House across Rt 114 from the hill. The instructors were like family sharing what we had and looking after the kids who remained when their parents taught. I was there when we tried ROLLER SKIING and then to the Alpine Slide. It was a great place for good family fun Later when Bob bought Ragged Mt we were always welcomed. My son Bo even made the Globe with him jumping off a snow covered rock. Because of the great start the boys got in ski racing at the hill they went on to ski for their High school team setting the record for most wins (Bo) and the. Breaking that record (mark ) both are in the St John's hall of fame now called the wall of fame. Both went on to ski Carnival at Williams and Bates. All started at Boston Hill"
Bill and. Marny Peabody, Jan. 19, 2023
"My family owned and operated Boston Hill for decades. My Dad, Bob Dunn, pioneered snow making and was the ski writer for the Boston Globe while operating and expanding Boston Hill. Many youth groups and adults learned to ski with programs both during the day and at night. The Hill expanded with summer recreation offering the very popular alpine slide, frisbee golf, grass skiing and perma snow skiing. Our Busy Ski Hill was the start of skiing for so many and we had great family fun! Many great memories and stories. "
Carol Dunn, Oct. 28, 2022
"My first job. Also skied there every weekend and spent many a day at the Alpine Slide. My dad, back in the day, was a snow maker there. He would tell me tales of sitting on a shovel and racing down the hill with his co-workers. Later in life my Dad did all the excavation work for installing the chair lift and eventually the Alpine Slide. We ended up in Jackson Hole, Wyoming where Bob Dunn had sent him to build another lift and slide. Lots of great memories and adventures!"
Cindy Mosher McKowen , Oct. 4, 2021
"I grew up less than a mile from Boston Hill on Gray Street North Andover. I have so many fond memories of Boston Hill and watching the skiersand watching them try to get parking spaces on 114 or in the field in the on the farm across the street crossing 114 was a challenge. My brother got his first job working making snow in the middle of the night on Boston Hill he loved it was so much fun. Towards the end we witness people grass sking. Good jmemories of the old days."
Cheryl Reade, Oct. 3, 2021
"I grew up on Boston Street. Along the side of Boston Hill. I have many fond memories of that place. When there was no snow on the roads we would take our bikes up to the radar site and race down that road. One of the kids on the street broke his arm going down that road. There was a trail behind the radar tower that led to the Ward Reservation in Andover. I have probably walked that trail 100+ times. One time we found an old wooden wagon in the woods back there. Not a toy wagon, a big wagon, the early version of a pickup truck. It was mostly rotted away. In the winter we would take our flying saucers or toboggans to the top of the hill and fly down when no skiers were around. We would get to do that two or three times before an adult chased us away. A few days later we would go back again. One or two winters my grandfather worked there in the concession stand. I can not remember how big it was, but I think I remember sitting at a counter drinking hot chocolate. All the years I lived there I never tried skiing. "
Jim Fitzgerald, Aug. 7, 2020
"Just drove down rt 114 My dad used to bring us up to ski school ( bob Dunn) every Saturday We loved it.. But omg our equipment back then Tied up boots, leather trail runners, spring suspension to hold to boot!! But we learned to ski! Loved it And had fun!!"
Lisa Ulwick, Jul. 29, 2017
"I learned to ski here also in the 70's. I'd load a bus every Saturday for 6 weeks at the Danvers YMCA and have a lesson in the morning and free ski all afternoon. I never skied here again after that first season but I have such fond memories of Boston Hill. "
Steve Sullivan, Aug. 28, 2015
"I drove by this hill many times in my life, but never skied there. Maybe because they seemed to claim a vertical drop of 320' which is impossible since rt 114 is at 170' and lower than the bottom of the ski area (215' max). Anyway, my neighbor tried to learn to ski there and broke his leg on his first lesson. Oops! "
Mark O'Hara, Aug. 27, 2015
"At the ages of 8 and 6 (1975), when we lived in Andover, our boys started their ski lessons on Boston Hill. It was amazing to see them come down the hill after their second lesson!! Amazing! They now continue to ski and one of them has his daughters skiing, also (most recently in Banff). It was a great start for them on Boston Hill! This message is coming to you from Southern California! (We just found an old 'boston hill bugle' and decided to see if the ski area was still in operation.)"
Peter and Joan Jedrzejek, Mar. 31, 2014
"I was on the ski patrol with my dad Raymond I think I was about age sixteen 'jr.Patrolman' I think they sold the J Bar lift to the now closed and not listed on your page, Hamilton Ski Slope. Also ,you have no information for Page's Hill Peabody, or Ferncroft, Peabody/ Danvers. My dad and me were on the National Ski Patrol at these hills too."
Robert Borsetti, Mar. 11, 2014
"I learned to ski at Boston Hill in the 1970's, it was the perfect learn to ski area. I went right through their ski school program. The chairlift used to sport huge huge lines, and the summit rope tow was an quicker way up. I used to face the wrath of my mother, since I went through many pairs of gloves grabbing onto that pretty fast moving rope. My first every chairlift ride was on that Hall Chairlift. My first year of learning to ski was not that enjoyable, but over time, my confidence and skills developed, and I was able to take on all the terrain Boston Hill had to offer with a king size smile on my face. My first 'big mountain' trip was to Ragged which was co-owned with Boston Hill at the time. The alpine slide was pretty good too. Wasn't Attitash or Alpine Ridge, but it fit the bill being reasonably close to home. I get sad everything I drive down Route 114 and show my kids this hill that once resembled a very good learn-to-ski area !"
Jay Gadon, Oct. 8, 2013
---
External Links
Boston Hills Ski Area - New England Lost Ski Areas Project
Boston Hill - FranklinSites.com Hiking Guide
Last updated: July 25, 2023