| | |
| --- | --- |
| | |
Literally located in the shadow of Mt. Washington, Wildcat Mountain has long been a New England skiing destination.


Early Years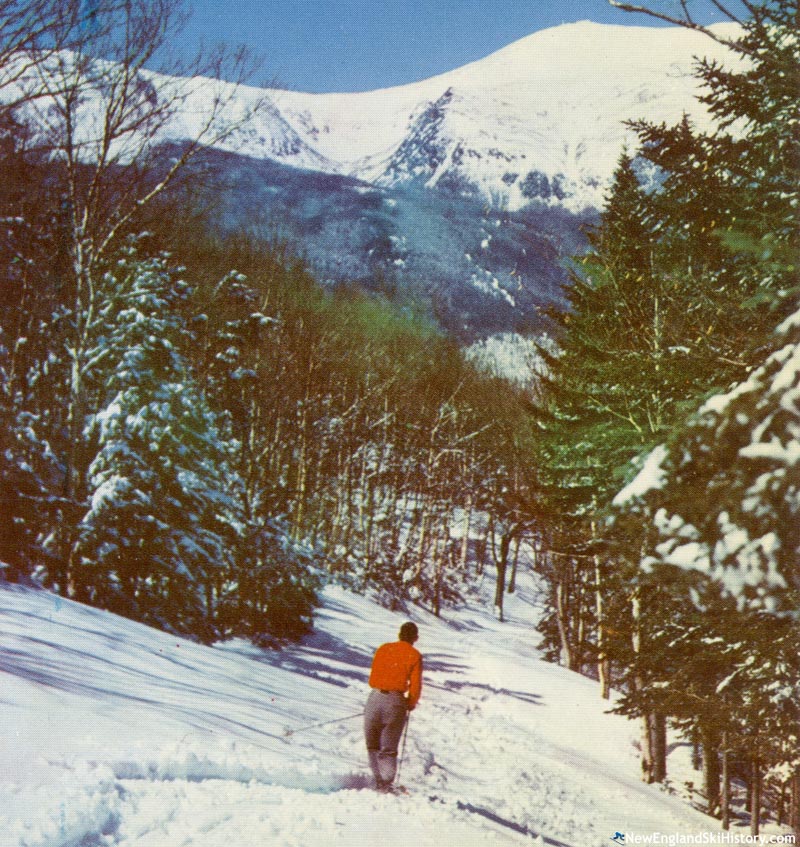 Skiing at Wildcat

The skiing history on Wildcat Mountain dates back to 1933, when the Wildcat Ski Trail was cut by the Civilian Conservation Corps. Designed by Charley Proctor, the trail ran from a warming hut near the summit of "E" peak to the base of the mountain. Prior to the rise of lift served skiing, the Wildcat Ski Trail was one of the top racing destinations in all of New England.



Talk of Development

Word of a potential lift served ski area on Wildcat Mountain began to emerge in the mid-1950s. In January 1955, Boston Globe columnist Pat Harty reported that Joe Dodge "stated today that sometime in the near future, a lift may be built on Wildcat Mountain." In April, United Press reported that a group was about to "organize the Pinkham Notch Development Association," adding, "This group aims to install a lift on the east side of Pinkham Notch to serve the Wildcat Trail and tap high altitude snows on Wildcat Mountain." Two leaders in the group were Ed Hampshire of Jackson and Les Brown of Intervale.

On April 11, 1955, the Wildcat Mountain Lift Corporation was formed by a separate group. Initial officers were reported as president Joe Dodge, vice president William "Mack" Beal Jr., treasurer Brooks Dodge, clerk Malcolm McLane, and George Macomber. Nicknamed the "mayor of Porky Gulch," Joe Dodge established the Appalachian Mountain Club's network of huts and the Mount Washington Observatory. His son Brooks had recently competed at the 1952 Winter Olympics. George Macomber, who had qualified for the 1948 and 1952 Olympics, was involved with his family's prominent construction business. Also an accomplished ski racer, Malcolm McLane was an attorney in Concord, while Beal, yet another ski racer, worked for the New Hampshire Fish and Game Department. Ed Hampshire subsequently became involved with the group. Joe Dodge soon stepped away from the group, with George Macomber taking his place as president.

As the fall arrived, the group promoted plans for a $750,000 development on White Mountain National Forest land. Skeptics noted that no land leases had ever been granted. However, as the winter of 1955-56 arrived, Joe Dodge disclosed that the Forest Service was drafting specifications for a potential lease. Meanwhile, George Macomber noted the group had constructed a scale model of the mountain with lifts and trails, while still trying to determine what type of lift would be appropriate for winter and summer use.

One year later, the group had secured tentative Forest Service approval and proceeded with a $1 million stock offering for the now $1.5 million project. The main lift was to be the first "multi-cabin-gondola type aerial lift in America," which, with a capacity of 600 passengers per hour, was reportedly three times that of Cannon's tramway. A 3,000 foot T-Bar was also planned for a December 1957 opening.



Construction Begins

In February 1957, the Portsmouth Herald reported that "Surveyors, woodcutters and ski artisans already have notched trees, trails and slopes on the northwest side of Mt. Wildcat for what may prove to be one of the finest ski areas East of the Rocky Mountains."

In March 1957, George Macomber announced that construction would commence as soon as $500,000 was raised, with about half of that goal already attained. To help boost sales, a free, non-transferrable lifetime pass was granted for every $1,000 purchase of stock.

In June 1957, George Macomber announced that Lowell Thomas had joined the project as an unofficial advisor, that trail clearing would start that month, and that the gondola was expected to be completed in February 1958.

As ski season approached, the Boston Globe proclaimed Wildcat as "The hottest item of ski news in the Granite State," noting 70 acres of terrain including two 100 foot wide, 2,000 vertical foot trails (including a widened Wildcat ski trail). William Boardman (previously manager of Laurel Mountain, Pennsylvania) was named general manager, Bruce Fenn II ski school director, and Murray Pope ski patrol director, while Toni Matt was to run a Carroll Reed ski shop, the fifth in the chain. In October, George Macomber noted that the dry summer weather had resulted in construction being ahead of schedule for the $800,000 project and that the T-Bar would open in December, possibly followed by the two-person-gondola in January.

New corporate directors elected prior to opening day included former New Hampshire Governor Hugh Gregg, Harvey P. Hood of HP Hood (a regional dairy company), Dudley Orr of Orr and Reno (McLane's law firm), and Lawrence Whittemore of Brown Company (a paper company in Berlin).



Wildcat Opens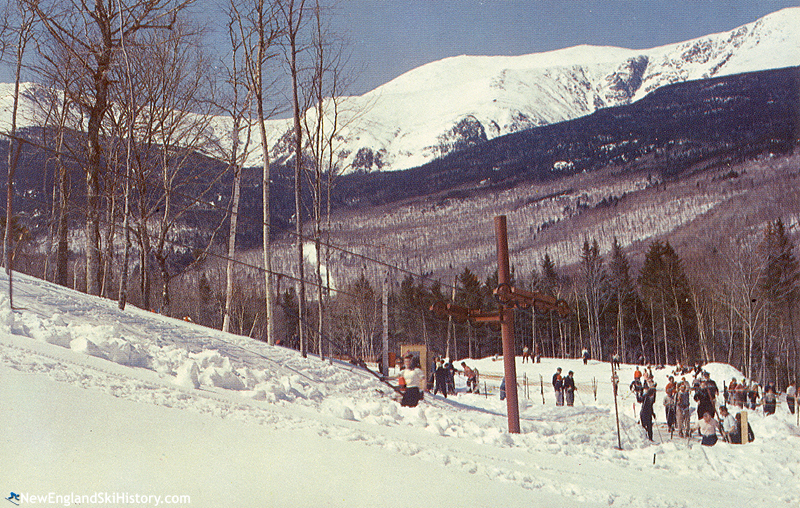 The Bobcat T-Bar circa the late 1950s

As December arrived, Wildcat announced a planned December 21st opening day for the T-Bar, followed by a mid-January gondola debut. However, minimal snowpack and "Rain and exceptionally mild weather" postponed the opening day, with more rain arriving after Christmas Day. Wet snow finally arrived on New Year's, likely putting the T-Bar in operation by January 2. Opening week was reportedly a struggle, with the Boston Globe classifying it as "icy, especially in its lower sections" and noting the T-Bar deroped at one point. The lift was subsequently closed for "adjustments." After a few days of closure, 20 inches of powder restored skiing.

After the slow start, Wildcat had accumulated 2 to 4 feet of base by the middle of January. At this point, Wildcat announced a grand opening ceremony for the gondola lift on January 25. Governor Lane Dwinell and his wife Elizabeth presided over the ceremony with an estimated crowd of 1,000. Dwinell proclaimed, "I commend the able young executives who have built the Wildcat ski area, giving us another milestone and helping New Hampshire retain its leadership in winter sports." Also on hand was Robert King, executive director of the 1960 Olympics, who suggested that Wildcat could be a venue for the 1972 games noting, "These new and improved Wildcat trails may well prove to be the future top proving grounds for United States ski competitors."

The opening did not go according to plan, as rain, sleet, and mechanical issues intervened. Unable to carry skiers, the lift reportedly only operated for an hour for scenic purposes, limiting skiing to the T-Bar. The gondola finally began operating on February 9. Trails were the Polecat (portions of this original version were subsequently rerouted and abandoned) and Wildcat from the top of the gondola and the present-day Bobcat slope from the T-Bar. By the end of February, the ski area was reporting base depths of 85 to 115 inches.



Gondola Incident

Headlines from the March 1958 gondola accident

The Wildcat gondola became front page news following a rollback on March 24, 1958. Lift operators quickly scrambled to get passengers out of the way as seven cabins came through the bottom terminal. A witness claimed the gondola cabins "looked like they were travelling like bullets," while a rider said, "It seemed hours while we were sliding back but nobody panicked. Still, it was a pretty helpless feeling to be confined in that little globule." Two female skiers were hospitalized with minor back injuries.

Following the accident, engineers placed sandbags in the gondola cabins and ran tests. As March came to a close with reported base depths of 60 to 112 inches, the T-Bar remained the only operational lift. The gondola resumed operating on April 4 after a new electric brake mechanism was installed.

Skiing continued with full coverage deep into April, with Joe Dodge remarking there was "more snow in the Bowl than anytime I can remember." Lifts likely closed for the season after the last weekend in April.

On May 1, the Wildcat Mountain Corporation announced George Macomber had been named general manager. The change was made after the United States Forest Service reportedly required the ski area to hire a full-time engineer following the gondola accident.

Summer operations likely commenced in mid-June, focused on scenic gondola rides and a summit snack bar.

In addition to the new summit snack bar and rest rooms, improvements for the 1958-59 season included a new ski school slope (accessible from a mid-station on the T-Bar), the new Cat Track trail (connecting Upper Polecat to the T-Bar slope to provide an easier way down; the trail was not bulldozed or graded in time for 1958-59), opening the upper gondola lift line to skiing, and a new racing start from the top of Wildcat D to Polecat (to be used for the Olympic tryouts and Eastern Alpine Ski Championship races in March). Wildcat also advertised three new braking devices, improved electronics, and new safety circuits that reportedly gave the gondola more safety devices than any other lift. A film titled "This Is Wildcat" was also released, including footage of construction and George Macomber and Brooks Dodge skiing on the mountain. Meanwhile, Wildcat lost its gondola exclusivity, as Sugarbush constructed a three-person model.

Wildcat partnered with Black Mountain to offer a combined seven-day pass that season for only $30. The deal was said to provide "the best concentrated variety of trails, slopes and skiing conditions anywhere in the East."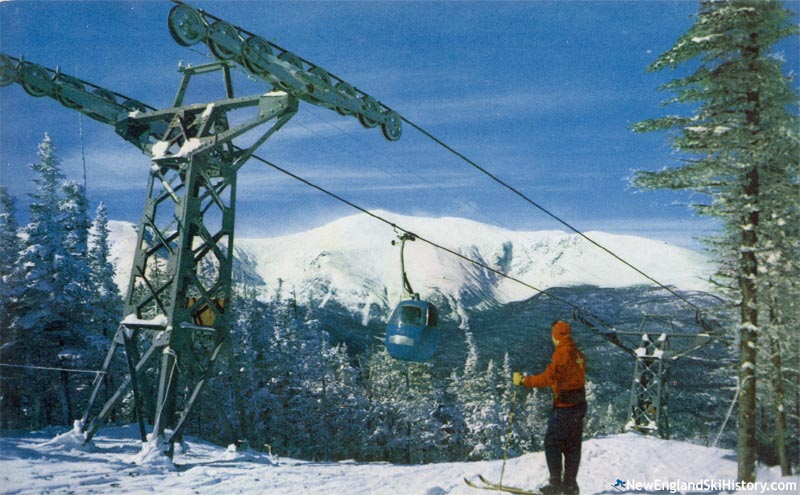 The gondola circa 1958

The 1958-59 season started the weekend following Thanksgiving with the T-Bar, Bobcat, and new ski slope opening after six to eight inches of powder fell, followed by rain. A snow cat was used to break out the slope. The gondola and upper mountain were set to debut on December 20 with reported base depths of over 1 to 3 feet ("with a few rocks showing through"), however 60 mile-per-hour winds confined an estimated crowd of 1,000 to the T-Bar.

In late December 1958, Stan Judge was named general manager effective February 1959, while George Macomber remained president but returned to day-to-day work at his family's construction company. Judge, a graduate of Northeastern University a few years earlier, had been a consulting engineer for Wildcat.

The 1958-59 New Year's Christmas holiday period featured some strong days, including one with a crowd of 1,500.

In January, the Boston Globe announced that Wildcat was working on a ten-year plan that would include "five new mile-long chair lifts and eight one-half-mile T-bars spread all over both faces of Wildcat Mountain."

Mid-January rain put a damper on upper mountain conditions. Additional warm, foggy weather zapped snowpack and shut down the upper mountain until the end of the month. The Boston Globe remarked that "most of the north country was besieged by rain, thaw and snow lack. During much of January, only the most zealous were skiing - and what they were skiing on was largely ice." Ski patrol put in countless hours shoveling snow out of the woods onto trails. It wasn't until mid-February that Wildcat had accumulated at least a foot of base again.



Olympic Tryouts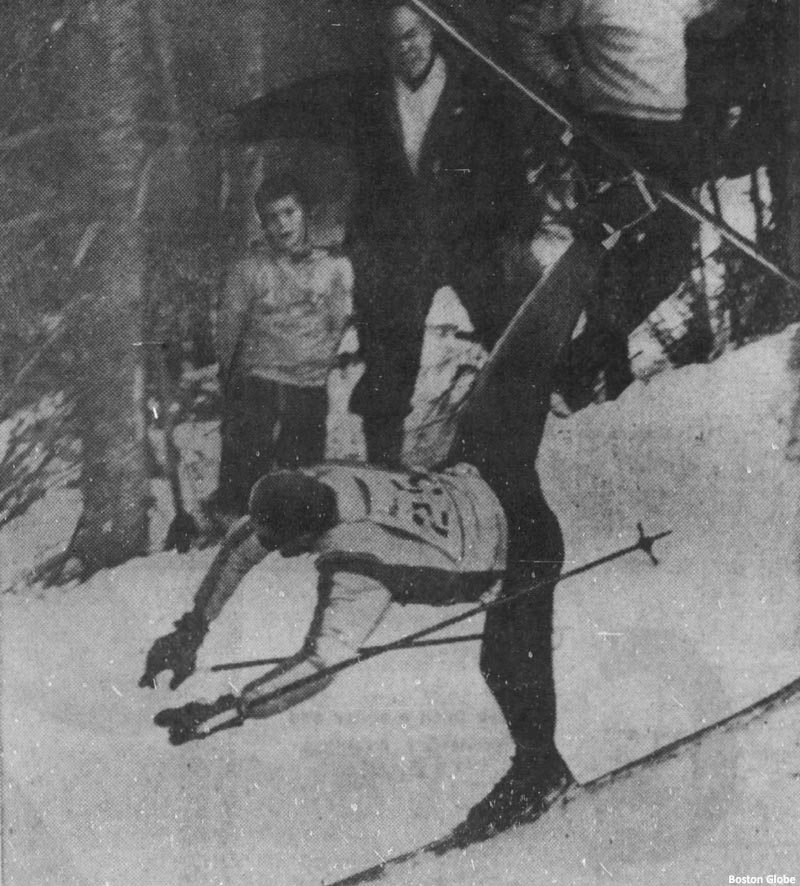 Redmond Wilcox during the March 21 Olympic downhill tryout

On March 21, Wildcat hosted the New England Championship Downhill, the final Olympic tryout. The men's results included Gordon Eaton first, Tom Corcoran third, and Brooks Dodge tenth. The women's results included Betsy Snite first and Penny Pitou second. Temperatures plummeted 40 degrees by the next day, with 75-mile-per-hour wind gusts battering slalom racers on the icy course. Eaton won the men's race, while Penny Pitou won the women's. As a result, the Alpine Combined Championship cups were awarded to Eaton and Pitou, both New Hampshire natives. Pitou went on to win two silver medals in the 1960 Olympics.

What remained of the snow went fairly quickly, as the skiing was quickly described as "limited" and likely concluded before the middle of April.

In August 1959, Wildcat announced the installation of a 1,100 foot novice T-Bar, to serve the Copycat slope and lower Bobcat slope. The Alley Cat trail was also cut, providing an intermediate route from the Bobcat T-Bar. In addition, the upper Catapult lift line was improved, the steeps of the Wildcat trail bulldozed, and the Polecat widened. Stan Judge declared, "Wildcat's claws have been clipped."

The 1959-60 season did not kick off until just before Christmas, when limited lower mountain terrain was opened with 2 to 6 inches of base. Polecat opened soon thereafter, though conditions were poor. The Boston Globe reported that "some 200 adventurers took their chances and negotiated their way down the Polecat Trail" on the weekend after Christmas. A timely snow storm boosted conditions in time for New Year's weekend.



Growing Pains

A rebuilt Route 16 opened in 1961, making for easier travel between Conway and Wildcat. More noticeably for Wildcat, Route 16 was relocated across the Peabody River, resulting in a much larger base area.

While Wildcat's gondola was its major draw, it was also its Achilles heel. Being the only upper mountain lift, lines were often prohibitively long. As a result, the Catapult chairlift was installed on the upper mountain, accessible from the original T-Bar or gondola. Initially advertised for the 1962-63 season, it likely was not completed until 1963-64. Also completed for the 1963-64 season was the Lynx trail, which may have debuted as a rough trail the year before.

While the late 1960s involved lots of grass for some, it meant lots of snow for Wildcat. The 1968-69 season started off with a bang, as the Wildcat trail opened top to bottom in November (General Manager Stan Judge noted it was the first pre-February top-to-bottom opening of that trail in the area's history). One particular storm in February of 1969 briefly crippled the ski area from snow drifting. 10-15 foot drifts clogged the summit terminal of the gondola, while a bulldozer had to be used to clear the T-Bar and chairlift lines.



Snowmaking and More Lifts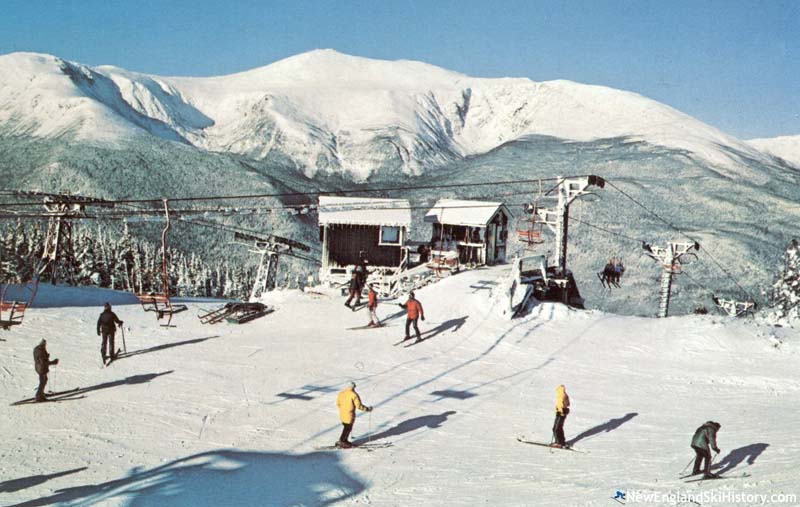 The Wildcat Gondola and Catapult Double circa the 1970s

The Lynx double chairlift was installed in 1970, taking stress off the gondola and lower mountain T-Bars, while also providing top to bottom chairlift service in conjunction with the Catapult. Base operations were also boosted that year, as the first 9,000 feet of the present day main lodge opened.

As was the case across New England, Wildcat was hit hard by the 1973-74 season, failing to open until January 2. A subsequent January thaw, along with the energy crisis, resulted in a 40 percent drop in business.

Despite the rough season, Wildcat invested in its first triple chairlift in 1974, replacing the novice T-Bar. After a successful 1974-75 season, snowmaking was finally installed. Over the next two decades, snowmaking was gradually installed on most of Wildcat's main trails.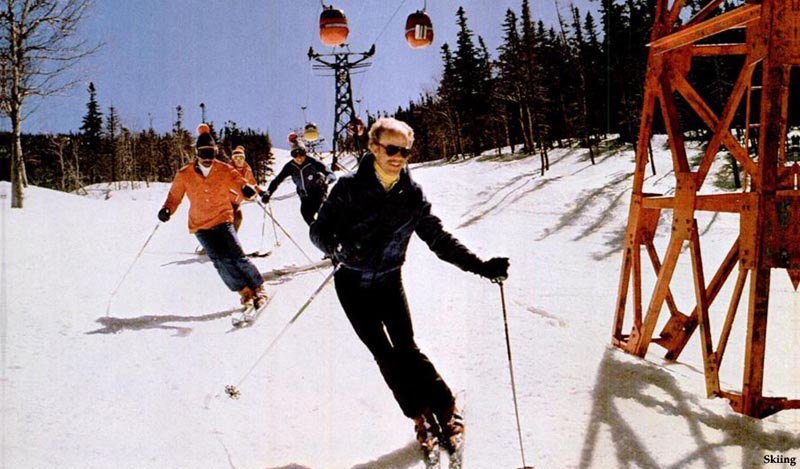 The Wildcat Gondola circa the late 1970s

Another sizable investment took place for the 1982-83 season, when the original T-Bar was replaced with a new triple chairlift.

In 1986, the Franchi family, owners of the Cranmore Tennis Club, purchased Wildcat ski area. The following year, $1.6 million spent on upgrading the Catapult chairlift from a double to a triple, as well as installing the Tomcat triple. In conjunction with this project, the Polecat was reworked.

Wildcat found itself in a dispute with the United States Forest Service in 1989, when the agency recalculated the area's lease and sent a large retroactive bill. Though the Forest Service threatened to shut down Wildcat as the 1989-90 season arrived, the matter was eventually resolved.


The End of the Gondola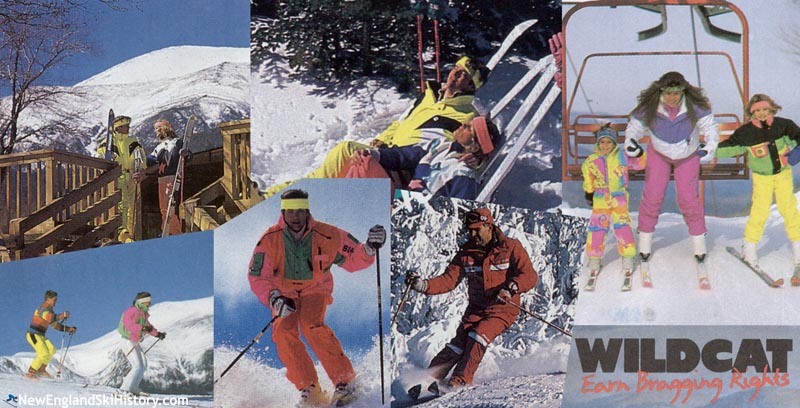 The early 1990s at Wildcat

Snowmaking was installed on Lower Wildcat and possibly Lower Catapult for the 1990-91 season.

Meanwhile, the famed gondola was aging. Prior to the 1991-92 season, 50 of the cabins were refurbished to keep the lift operational. At this point, the two-person lift was operating at 600 feet per minute with an uphill capacity of 500 people per hour. General manager Stan Judge told a writer that the lift could soon be replaced with a new gondola or a parallel high speed chairlift.

Alleycat and Lower Catapult were widened augmented with 6,000 feet of snowmaking pipe for the 1992-93 season. As the season unfolded, the owners of Wildcat found themselves in a lawsuit with lifetime passholders from the prior ownership group.

The 1994-95 season was a struggle, as warm temperatures and rain washed out much of the snow in mid-January, leaving the area shuttered for a week until a high-elevation snow storm resumed operations. Following the challenging season, Wildcat announced an expansion plan aimed at keeping the area in operation in challenging seasons. Vice president of operations Lou Franchi told the Concord Monitor, "Last year helped to highlight our strengths and weaknesses in many areas of our operation. We are excited to meet the challenges of next season." Plans included 18,000 feet of new snowmaking pipe, 30 acres of trail work, relocating the skier development center, working on the race area, and expanding the gift shop.

1995 snowmaking pipe installations reportedly included Star Line, Pussycat, Lift Lion, Hainesville Pass, Al's Folly, Catenary, and Midway, resulting in Wildcat advertising 100% snowmaking coverage. In addition, the Catacomb glade was developed.

The Feline trail and Catacomb glade may have been added for the 1996-97 season.



The High Speed Era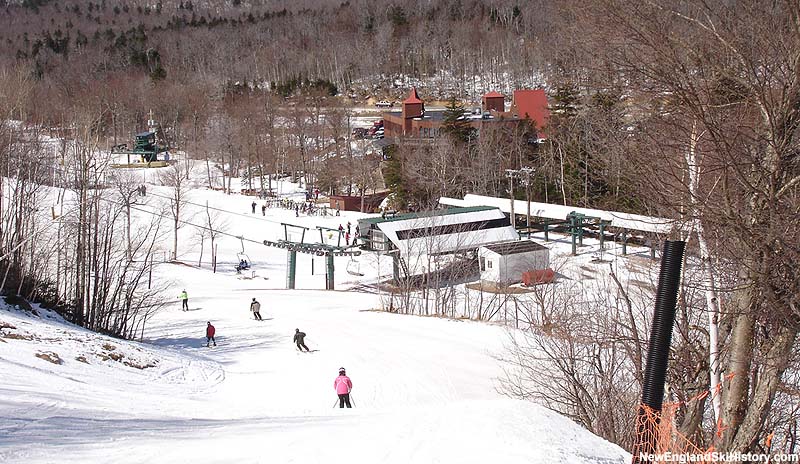 The Wildcat base area in 2006

The ski area was forever changed in 1997 when the Wildcat Express was installed. The Doppelmayr high speed detachable quad cut the 2,041-vertical-foot ride to the summit to 6-minutes. Gondola cars were later purchased for summer use on the new lift.

Following the 1999 fall season, the original gondola was decommissioned. The gondola cars were auctioned in March of 2000. The lift towers, as well as those from the Lynx double were removed during the next few years.

On October 21, 2010, Peak Resorts, owner of nearby Attitash, announced it had entered into a purchase and sale agreement with Pat Franchi to purchase Wildcat. Since the sale, Peak Resorts has worked on developing synergy between the two areas.

After major snowmaking system issues in 2013-14, Peak Resorts overhauled Wildcat's system, installing new pumps, pipe, and snowguns, including equipment procured from the liquidation of Ascutney in Vermont. Following the improvements, Wildcat competed for first and last 2,000-vertical-foot-skiing in New England honors. The area enjoyed a May close in 2015 and an October open in 2018.

On September 24, 2019, Vail Resorts acquired Peak Resorts, becoming Wildcat's new owner. Following the onset of COVID-19, Wildcat was among the first large areas in New England to shut down.

In May 2020, Vail Resorts announced Josh Klevans would become general manager of Wildcat. In October 2021, JD Crichton was named general manager.

Emerging from the initial COVID-19 shutdown, Wildcat struggled to regain its footing. The 2020-21 season was relatively short for Wildcat standards, running from mid-December to mid-April. The following season was plagued with operational and staffing challenges, including COVID-19 vaccine mandates and not having the summit lift open until the end of December. Other than the COVID-19 shutdown, the 2021-22 season was Wildcat's earliest closing date of the 2000s.




NewEnglandSkiConditions.com Reports

Month
Average Percent of Terrain Open
October
10% (2 reports)
November
9% (4 reports)
December
66% (3 reports)
January
75% (2 reports)
February
74% (2 reports)
March
83% (3 reports)
April
64% (20 reports)

-- start conditions table -->

Recent Conditions Reports

Apr. 5, 2023 by tuckers
Loose Granular, Frozen Granular
Feb. 27, 2023 by tuckers
Packed Powder, Loose Granular
Jan. 17, 2023 by tuckers
Loose Granular, Ice
Mar. 7, 2021 by nhalex
Loose Granular, Frozen Granular
Dec. 7, 2019 by rocket21
Packed Powder, Packed Powder

Wildcat Mountain on NewEnglandSkiConditions.com
NewEnglandSkiIndustry.com News
Recent Articles
Lift Incident at Wildcat - Jan. 8, 2022
Vail Curtails Crotched Mountain Operations Amidst New Hampshire Struggles - Dec. 30, 2021
Three New New Hampshire General Managers - Oct. 21, 2021
Wildcat Co-Founder Brooks Dodge Passes Away - Jan. 23, 2018
Ski Season to Start Before End of Week - Nov. 7, 2017
18 Ski Areas Open in Four States Starting on Friday - Nov. 24, 2016
Killington Set to Open on Tuesday - Oct. 23, 2016
Peak Resorts Annual Report Reveals Dire Financial Situation - Jul. 17, 2016
Cash Strapped Peak Resorts May Be Forced to Discontinue Dividends - May. 8, 2016
Peak Resorts Financial Woes Mounting - Apr. 26, 2016
Wildcat Mountain NewEnglandSkiIndustry.com News Page
CCC Trails
Expansion History
Image Gallery
Lifts
Click on lift name for information and photos
Maps
Year by Year History
Adult Weekend Full Day Lift Ticket; Adult Full Price Unlimited Season Pass

2020s
Ticket Price
Season Pass Price

Pass Payback

Opening Day

Closing Day

Skier Visits

2023-24
$129.00
$603.00
4.7 days
November 22
2022-23
$115.00
$557.00
4.8 days
November 24
April 16
2021-22
$99.00
$499.00
5.0 days
December 4
April 10
2020-21
$94.00
$639.00
6.8 days
December 11
April 11
2019-20
$89.00
$739.00
8.3 days
November 15
March 14
2010s
Ticket Price
Season Pass Price

Pass Payback

Opening Day

Closing Day

Skier Visits

2018-19
$89.00
$1129.00
12.7 days
October 27
April 28
2017-18
$85.00
$999.00
11.8 days
November 11
April 29
2016-17
$79.00
$999.00
12.6 days
November 24
April 29
2015-16
$79.00
$859.00
10.9 days
November 25
April 24
57,817
2014-15
$75.00
$829.00
11.1 days
November 9
May 3
85,442
2013-14
$70.00
$799.00
11.4 days
November 23
April 27
64,400
2012-13
$70.00
$799.00
11.4 days
November 22
April 21
76,117
2011-12
$70.00
$799.00
11.4 days
December 18
April 15
53,599
2010-11
$70.00
December 11
April 24
77,100
2009-10
$65.00
$749.00
11.5 days
December 11
April 19
146,884
2000s
Ticket Price
Season Pass Price

Pass Payback

Opening Day

Closing Day

Skier Visits

2008-09
$65.00
$899.00
13.8 days
November 28
April 20
155,325
2007-08
$59.00
$699.00
11.8 days
November 30
April 27
112,139
2006-07
$59.00
$699.00
11.8 days
December 8
May 6
107,185
2005-06
$55.00
$699.00
12.7 days
October 28
April 16
84,360
2004-05
$55.00
$699.00
12.7 days
December 4
84,360
2003-04
$52.00
$1095.00
21.1 days
2002-03
$52.00
$1095.00
21.1 days
2001-02
$52.00
$1095.00
21.1 days
2000-01
$49.00
November 17
April 29
1999-00
$49.00
November 19
April 16
1990s
Ticket Price
Season Pass Price

Pass Payback

Opening Day

Closing Day

Skier Visits

1998-99
$46.00
1997-98
$44.00
November 22
1996-97
$39.00
99,000
1995-96
$37.00
November 25
110,200
1994-95
$36.00
November 26
April 16
95,000
1993-94
$35.00
April 24
116,000
1992-93
$35.00
115,000
1991-92
$34.00
November 29
108,000
1990-91
$33.00
November 16
April 15
108,000
1989-90
$32.00
November 24
April 15
114,000
1980s
Ticket Price
Season Pass Price

Pass Payback

Opening Day

Closing Day

Skier Visits

1988-89
$31.00
April 30
104,000
1987-88
$28.00
November 14
May 1
139,000
1986-87
$27.00
139,141
1985-86
November 27
April 6
103,000
1984-85
$21.00
$450.00
21.4 days
November 23
106,000
1983-84
$20.00
$425.00
21.3 days
November 19
1982-83
$19.00
$425.00
22.4 days
May 1
1981-82
$18.00
November 27
May 1
1980-81
$17.00
November 21
1979-80
$15.00
1970s
Ticket Price
Season Pass Price

Pass Payback

Opening Day

Closing Day

Skier Visits

1978-79
$14.00
November 24
1977-78
$12.50
November 26
April 23
1976-77
$11.75
$230.00
19.6 days
November 13
1975-76
$11.50
November 24
1974-75
$11.00
November 23
1973-74
$10.00
January 2
1972-73
$9.00
November 11
March 30
1971-72
$9.00
1970-71
$9.00
1969-70
$9.00
1960s
Ticket Price
Season Pass Price

Pass Payback

Opening Day

Closing Day

Skier Visits

1968-69
$7.50
$135.00
18.0 days
November 6
1967-68
$7.00
November 18
1965-66
November 27
1964-65
$6.00
1963-64
$6.00
December 7
1962-63
$6.00
1961-62
November 23
April 29
1959-60
$5.50
December 19
1950s
Ticket Price
Season Pass Price

Pass Payback

Opening Day

Closing Day

Skier Visits

1958-59
November 29
April 12
1957-58
January 2
April 27
Visitor Memories
"I remember the Catapult triple. It was a great chair in the spring. No doubt the high speed quad is awesome but loosing that upper mountain chair changed how I see Wildcat. I'd rather stay on the upper mtn in the spring."
Daniel Fillingim, Feb. 14, 2021
"we had 4 life time passes. 3 g3nerations of loyal skiers. we aps dlso have a gondola in out front yard. Beverly and Burt"
burton fineberg, Mar. 15, 2019
"I have been skiing Wildcat for years..I never remember Catapolt double being up grated to a triple...I remember the double, with the pole in the middle of the chair...anyone out there remember riding a Catapolt triple??"
bruce regan, May. 25, 2016
"I grew up skiing Wildcat Mtn. Even bought myself a 'Wildcat Parka' from the Jack Frost Shop in Jackson back in the '60's! Loved the entire area; the whole State of New Hampshire always felt like my second home."
Betsy Geislar, Mar. 6, 2014
"(The press release below was originally released July 25, 2011 and the intent had been to remove the building during the spring of 2012. Because of weather/conditions that season, delays occurred and full removal was rescheduled for spring 2013. A short video marking the occasion and showing the final removal May 18, 2013 can be seen here: http://youtu.be/iAFNzhxnVAQ)After considering all reasonable options, and working with U.S. Forest Service to understand codes and requirements to renovate the existing summit building that once served as the top-station for the original Wildcat Mountain gondola, Peak Resorts has determined that the capital expense is not feasible and instead budget the costs and expense to dismantle, remove, and restore a small, but noticeable, portion of the natural summit."You have to admire and respect the history and the individuals that built what remains of the original, but long neglected, infrastructure here", said Wildcat Mountain General Manager Josh Boyd. "But we're in a different era with extensive building requirements and regulations that the U.S. Forest Service has in place to preserve the natural beauty of the White Mountain National Forest. And I have worked with them to understand and fully study what was possible, but building codes and related costs would require us to rebuild the building almost entirely. At this time, we feel the significant capital expense to build at the summit is better spent to simply remove the structure next spring, restore a bit of the natural beauty at the summit, but leave a defined footprint that may allow the U.S. Forest Service to permit a building in the unforeseeable future, and to allocate any immediate capital expenses to other more pressing improvements here at Wildcat." Boyd went on to say that an expense of this proportion to create a minor profit center that may never fully see a break-even return to simply even operate season-to-season, is just the type of thing that challenges any ski area owner or operator to have to consider increasing the price of lift tickets and season passes.Of note, the Mount Washington Observatory has already taken immediate action to relocate their summit web cam and Wildcat Mountain has worked and cooperated to provide an alternate location. Known for its legendary views of Mount Washington and Tuckerman Ravine, Wildcat Mountain is host to one of many summit cams that the Mount Washington Observatory website shares with its members and general public."
Thomas Prindle, May. 24, 2013
---
External Links
Wildcat Ski Area - official site
Wildcat D - FranklinSites.com Hiking Guide
Last updated: September 5, 2023