Easton Ski Area
Deerfield, Massachusetts
Status:
Open
First Season:
1930s
Vertical Drop:
440 feet
Standing Lifts:
1 double
Past Lifts:
Surface lifts
Left: Easton Ski Area as seen from Route 2 in Greenfield
Recent NewEnglandSkiIndustry.com News:
12/15/2015: George Macomber Passes Away
Located on the Pocumtuck Ridge above Deerfield, Eaglebrook is a private all-boys school for grades 6 through 9. In addition to top notch athletic facilities spread across its large campus, the school features a private ski area served by a double chairlift and snowmaking.


Surface Lift Years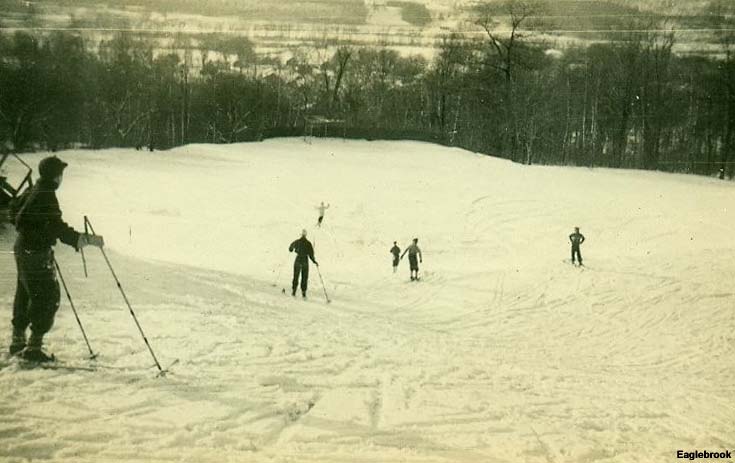 The North Slope circa the 1930s

Skiing has been central to Eaglebrook's athletic program since the school's founding in 1922. Future National Ski Patrol co-founder Roger Langley served as athletic director from 1924 to 1934, developing a ski team, ski trails, and a winter carnival. It is not known when the first rope tow was installed on campus, but it is possible that one could have been in operation in the 1930s or 1940s; a "new ski hill" was reported in 1935. Langley's successor, Douglas Mann, continued the development of the prominent ski program, coaching skiers such as George Macomber of the class of 1941. Macomber cited his years at Eaglebrook as being integral to his ski racing career, which included being named to the 1948 and 1952 US Olympic ski teams and winning the national championship in 1949.

One or two rope tow slopes were possibly in operation in subsequent decades, with Bob Easton (1917-2010) heading up the ski program starting in 1948. Easton remained a force in Eaglebrook's ski program for the next 32 years, leading his students in cutting ski trails by hand. Some trails may have been located above the future Keith dormitory.

A new rope tow was installed for the 1967-68 season, likely on the lower mountain of today's ski area. The 950 foot long tow was called "Mitey Mite."

Circa 1976-77, a J-Bar replaced the Mitey Mite rope tow.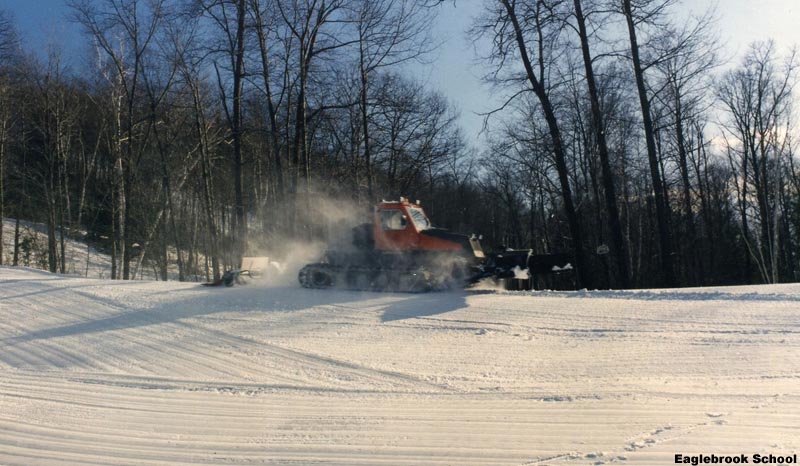 Grooming with an LMC at Eaglebrook circa 1995

After multiple winters of little to no natural snowfall, the ski area was dramatically expanded for the 1982-83 season. The J-Bar was replaced with a T-Bar, likely more than doubling the lift-served vertical drop to 420 feet. A mid-station was installed, allowing for novices to skip the steeper upper mountain terrain. Complementing the new lift, snowmaking was reportedly installed at this time. Alumnus George Macomber (who had founded Wildcat after his time on the US ski team) was a major contributor to the project.


Chairlift Years

The Eaglebrook Campus

A new novice ski trail was added in the mid 1990s, requiring significant blasting to build a switchback just above the dormitories. Snowmaking was also installed on this trail, providing another option beyond the core installation on Big S (later named Amy's Run) and the lift line.

The T-Bar was replaced with a double chairlift in 2000, slightly increasing the area's lift served vertical drop and adding the former liftline as a trail named Macomber Madness.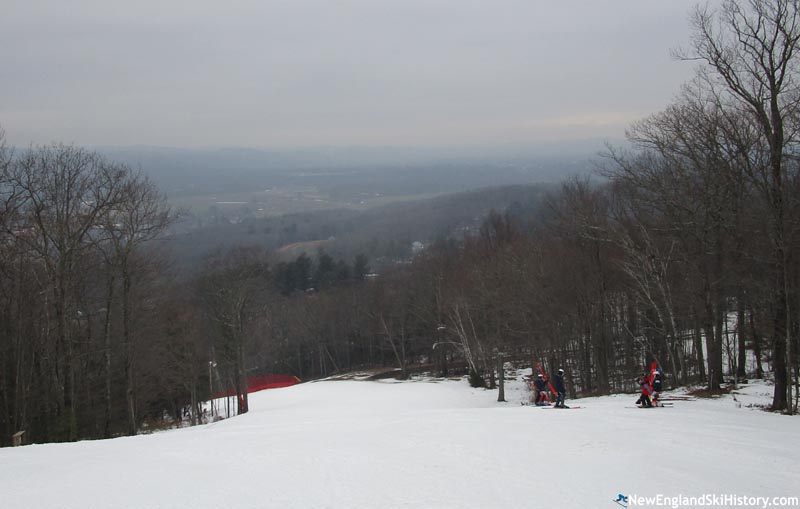 Amy's Run (February 2020)

The ski area continues to operate on weekday afternoons when school is in session, mainly for students and faculty. Students can participate in recreational ski programs, racing, and junior ski patrol. Easton ski area is also a venue for regional alpine ski races.



NewEnglandSkiConditions.com Reports





Image Gallery





Lifts
Click on lift name for information and photos




Maps


Visitor Memories

---
External Links
Eaglebrook School official site
Last updated: March 1, 2021