Moose Mountain
Brookfield, New Hampshire
Status:
Lost/Defunct
First Season:
1961-62
Last Season:
Vertical Drop:
1000 feet
Standing Lifts:
Surface lift
Past Lifts:
1 double, surface lifts
Left: The double chairlift line in 2014
Recent NewEnglandSkiIndustry.com News:
Located east of Copple Crown Mountain in the southeast corner of the Lakes Region, Moose Mountain operated as a ski area for nearly three decades. Two decades after closing, the area began a gradual reemergence as recreational facility.


Early Years

Moose Mountain officially opened to an estimated crowd of 3,000 on December 31, 1961, likely served by a Mueller double chairlift and T-Bar. Popular trails that season included the expert lift line run named Whizbang and the novice Big Moose.

Tom Mahoney took over as general manager for Moose's sophomore season, which ended up 23% ahead of its debut season performance. Despite this, Moose soon found itself in financial trouble.


New Ownership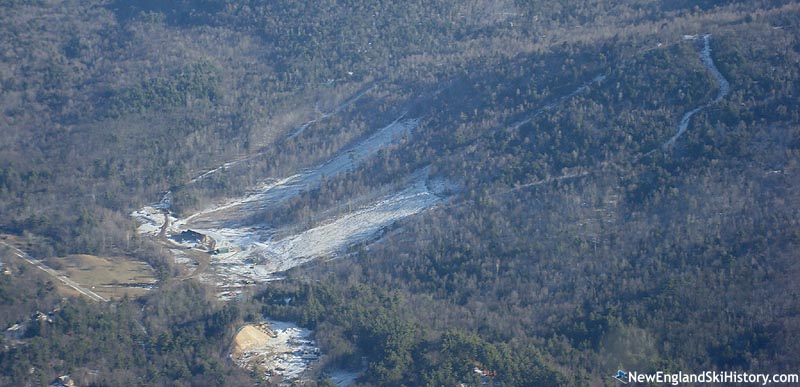 Moose Mountain as seen from above (2008)

Paul Cossette took over Moose Mountain in 1964-65, providing financing and overseeing improvements to the base lodge, parking area, and adding a beginner rope tow.

Copple Crown ski area opened on the opposite side of the ridge in 1965-66, initially enjoying some regional attention. The area eventually fizzled without reaching its full potential.

A second T-Bar was installed at Moose Mountain in 1968-69, serving the Jer-Cee novice slope.

The ski area may have been briefly named Limberlost Club circa 1970. The name was quickly restored to Moose Mountain.

Snowmaking may have been briefly in use during the 1970s.

The main lodge burned down in late March of 1976 and was subsequently rebuilt.


Closure

The area likely closed following a series of ownership structure changes in the late 1980s, perhaps as late as 1988-89 or 1989-90.


Moose Mountain Recreation


Newly recleared Moose Mountain (2009)

Moose Mountain Recreation LLC was registered in June of 2008, sparking hope of changes at Moose Mountain. Starting in 2009, the area has been gradually redeveloped for snow tubing and snowmobile use. The tubing facility, located on the former Lil's Fancy slope, includes a handle tow, lights, and snowmaking.

A new disc golf course debuted during the spring of 2013.

The tubing facility was shut down prior to the 2015-16 season due to high insurance costs.

It is not known if or when lift served skiing will return to Moose Mountain.



Image Gallery





Lifts
Click on lift name for information and photos




Maps


Year by Year History
Adult Weekend Full Day Lift Ticket; Adult Full Price Unlimited Season Pass

1990s
Ticket Price
Season Pass Price

Pass Payback

Opening Day

Closing Day

Skier Visits

1989-90
$15.00
1980s
Ticket Price
Season Pass Price

Pass Payback

Opening Day

Closing Day

Skier Visits

1988-89
$15.00
1986-87
$10.00
1984-85
$8.00
1970s
Ticket Price
Season Pass Price

Pass Payback

Opening Day

Closing Day

Skier Visits

1978-79
$9.00
1977-78
$7.00
1976-77
$7.00
1975-76
$7.00
1974-75
$7.00
1971-72
$5.00
$95.00
19.0 days
1970-71
$5.00
$95.00
19.0 days
1969-70
$5.00
1960s
Ticket Price
Season Pass Price

Pass Payback

Opening Day

Closing Day

Skier Visits

1968-69
$5.00
$75.00
15.0 days
1967-68
$4.00
Visitor Memories
"I grew up just about in the shadow of Moose Mountain in Brookfield, NH. It was a big part of so many people's childhoods in the area, affordable for most everyone. I was a timid skier after taking a few bad spills but kept going back! Skied in the 60s and 70s with one last visit for night skiing in 1985. Paul Cossette, the owner in the early years, was a generous man with a positive, energetic outlook. I went to school with his beautiful daughter CC. So glad her son Alex can see what the mountain meant to so many and that he is still in the ski industry. One thing no one has mentioned is the music - who can forget Herb Alpert and the Tijuana Brass music blasting all over the resort in the 1960s. Very upbeat. Thanks for the memories, all!"
Linda R, Apr. 14, 2023
"My father built the house on the hill across from the mountain. My family lived there from 1978ish until 1990. I learned to ski there, tubed, hiked in the summers and did the things kids do. I have fond memories of growing up there. I loved being able to ski down our hill and be a minute away from the lift "
Michelle Drew, Oct. 1, 2022
"Me and my two boys went snowtubing with Boy Scouts in 2008-09, had a great time, and the place has/had so much potential...It would be a great if they could reopen."
Thomas Laferriere, May. 11, 2021
"I remember Tuesday night was $2 men's night. It was tough back then to come up with the $2. I remember the owners Mary and Wayne would hire kids to help clear trails in the late summer early fall and pay us with season passes. I have so many outstanding memories of Moose Mt from the 70's.. "
Phil Pike, May. 6, 2021
"Moose was such a huge part of our lives back in the 60's & 70's. As a kid, I'd sit on the hearth of the huge fireplace in the lodge to warm up. One time, my mom (taught skiing) was walking by and noticed me sitting on the hearth, she stopped to say hi, next thing you know the back of my jacket had melted off because I was sitting too close to the fire. I think my initials are carved into every chairlift chair at Moose. Mom always made lunch, we never ate at the lunch counter. Dorcas Knight was the cook and made hamburgers one at a time...the line went on forever. Dad was head of the ski patrol, and I remember sweeping the trails at the end of the day. Don't get me started about the ski patrol/ski school after parties in the ski patrol shack. Such great family memories."
Craig Stevens, Apr. 16, 2021
"I have a moose mountain ski pass from I believe I skied for the first time in 1976! "
Kim Reyno, Mar. 25, 2021
"We skied at moose late 70s till early 80s. One week day I remember a guy asking my dad when he wanted him to start the chair because we were the only ones there . We had gotten 6 or so inches of snow the night before . Can we go back to that day?"
Tim Comstock, Jan. 24, 2021
"Found Memories. Moose Mountain was a family mountain where you were part of a large skiing family. Many of the names I remember, the Hicky's, Cossetts, Olimpios, Roches, Frenchs, Nick and many others. The winter of 1969 with the February 9th storm was a time to remember. The snow cat was stuck on the Tricky Hickey trail, you needed to ski the steep trails to break a path. A student season pass in the late 60s was $35. At the beginning of the ski season we would all get together and side step Wiz Bang to pack the snow down, the snow cat could not go down Wiz Bang. Skied there from 1965 - 1973 and eventually became a ski instructor there. Mike Hickey was the director, Nick assistant director, Bea French, Bev, Karen Roche, Jerry Clough, Julio and many others. In the spring we would hike up to the top of the Mountain, the lift did not go all the way to the very top of the mountain. Jerry Clough was the showman with his outfits and skiing style. Later on in 1972/1973 the ski area was sold and Al Shelly became the director of the ski school. The ski industry was changing, Moose Mountain did not have snow making and struggled to compete in the latter years. Many found memories, I continued to teach skiing at Loveland Colorado, Killington Vermont, Okemo and became a Ski rep in the late 70s and into the 80s. When I am in the area I go to take a look at the old ski area and reminisce. It was at moose mountain that fostered my love for skiing. I still ski as much as I can and remember all the fun and great times we all had there."
Jay Hill, Dec. 20, 2020
"Very nice to read these memories before my time. Paul Cossette was my grandfather, Mike Hickey was my step grand father, Joespehine (my grandmother) CC is my mother, and Jerry was my uncle. I now live in Colorado and work for Vail Resorts. These memories put a smile on my face :) thank you all for sharing these fond memories. "
Alex Cefalo, Oct. 28, 2020
"Skiied at Moose thru 1973, my whole family(7 of us) skied every weekend & every vacation for $75-$125/year. A lot of people came up from Winchester, Ma: the MacDonald's, the McPhail's, the Swanson's. There was a guy & his family Duke Duval. Mike Hickey was the head of the ski patrol & his wife was a ski instructor. Paul Cossette was the owner, his daughter CC. There was a group that came from Sanford Maine, Jeff, Steve Brunette & Tiger. There was Jerry Clough, Julio Olimpio, Joe Olimpio, Bill Pennimann & his wife. John Briggs. Patty Lennon Great people. We skied in all kinds of weather, wearing garbage bags if it rained. Moose seemed to be in a snow belt then. There would be no snow on the ground in Winchester but snow on the mountain. I don't think we were a fussy crowd we just wanted to ski. It was absolutely the best place & such a good learning community. Even though the mountain was small it had a diverse terrain, so if you could handle everything on Moose you could ski anywhere. The trail names were Whiz Bang, Geronimo, Big Moose, Tricky Hickey, & I think the was one called Little Moose for beginners. Happy happy times."
Beth Roche-Johnston, Sep. 9, 2020
"It's where I learned to ski....anyone remember Jerry? He was the resident Moose mt showman! He would do helicopters on his way down Whizbang!! Circa 1973-1976"
Bruce Danziger, Mar. 23, 2020
"Moose Mountain I skied after learning at Boston Hill. My first chairlift ride. I was so scared because I got on not knowing about exit ramps. Ski Magazine had a picture of a man jumping off a lift in 1971. Good thing they had a ramp going to the cliff on the Geronimo Trail. A Kid can have a good time at Moose Mountain. I really liked being a Kid."
John Ouellette, Jan. 11, 2020
"Good memories of skiing Moose Mountain almost daily as part of a recreational ski program when a student at Brewster Academy in Wolfeboro from 1977-80. Seems like yesterday."
Mark Ganter, Sep. 16, 2019
"Had a lot of fun skiing at Moose up and down the Mt all day long Good memories That was a long time ago "
Rick Sanfacon, Jun. 15, 2018
"I went to work at moose mtn in 1964 at the age of 10 years old worked there for about 28 year's until 1991 when the area closed"
Chuck Chamberlin, Jan. 5, 2018
"I learned to ski @ Moose in the early sixties. My dad was head ski patrol and mom a ski instructor. I was on the ski team there as well. My family have many great memories of Moose - it was wonderful growing up so close to the Mountain. I would meet friends from high school there for some great night skiing. To this day, I hike Moose on a regular basis. Thank you for the wonderful memories!! February, 2017. "
Suze Stevens Shaw, Feb. 25, 2017
"Learned to ski at Moose in very early sixties. My family had a lifetime pass. Some real characters in the ski world passed through Moose. Happy memories"
Scot Montgomery, Feb. 7, 2015
"Wow...Think i remember skiing there probably late 1970 or 71 or even 69...a couple times, my uncle lived in nearby Milton Mills...Always some good snow in those days especially late in season, (the memorable blizzard of Feb.9, 1969 was what really got us in to skiing..(that and good economy)..Lift tickets incredably reasonable...gas low too....wow what recreation for such a reasonable price...a quiet absolutely commercial-free atmosphere almost with the air of an outdoor saloon/public library with snow, healthy skiing and lodge with a fire place....pleasant indeed...."
Ethan Kibbe, Dec. 12, 2014
---
External Links
Moose Mountain Recreation - official site
Moose Mountain Ski Area - New England Lost Ski Areas Project
Moose Mountain - FranklinSites.com Hiking Guide
Last updated: December 17, 2016