| | |
| --- | --- |
| | |
Located in Southern Vermont, Stratton Mountain is one of the tallest peaks in New England at 3,936 feet in elevation.


Construction and Debut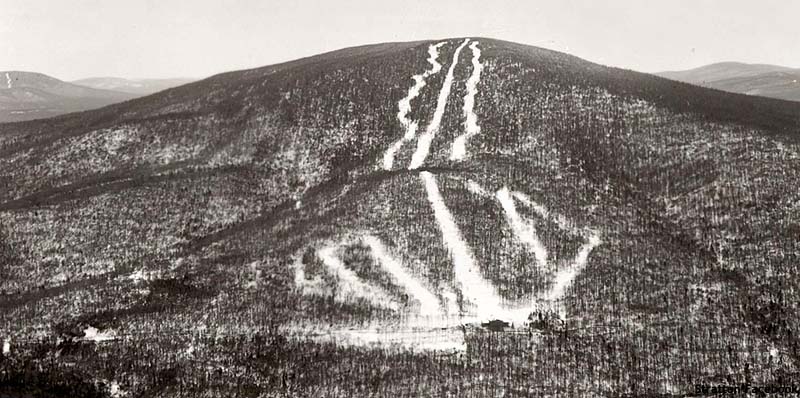 Stratton during the 1961-62 season

The development of Stratton Mountain dates back to the late 1950s, when a group of skiers became interested in constructing a ski area on the then-remote peak. 10th Mountain Division veteran and ski racer Robert Wright met with Frank Snyder, enticing him to visit the mountain in the fall of 1959.

The Stratton Corporation was established as a Vermont corporation on July 5, 1960. An arrangement was made to obtain matching loan funds for every dollar invested by stockholders. Work snowballed in 1961, continuing at a feverish pace through opening day, when the access road to the ski area was still under construction.

Lift served skiing debuted on the northern peak of the mountain when Stratton Mountain ski area opened with 3 double chairlifts (installed using a then-unique helicopter method) in December of 1961. Designed by Gene Gillis of Sel Hannah's Sno Engineering firm, the area also sported a three story base lodge.

While the facilities were top notch, the muddy access road was called a 'tank-proving ground' by the press. The road received much needed pavement in time for the area's second season.

Stratton's uphill capacity was improved for its third season with the installation of two T-Bars.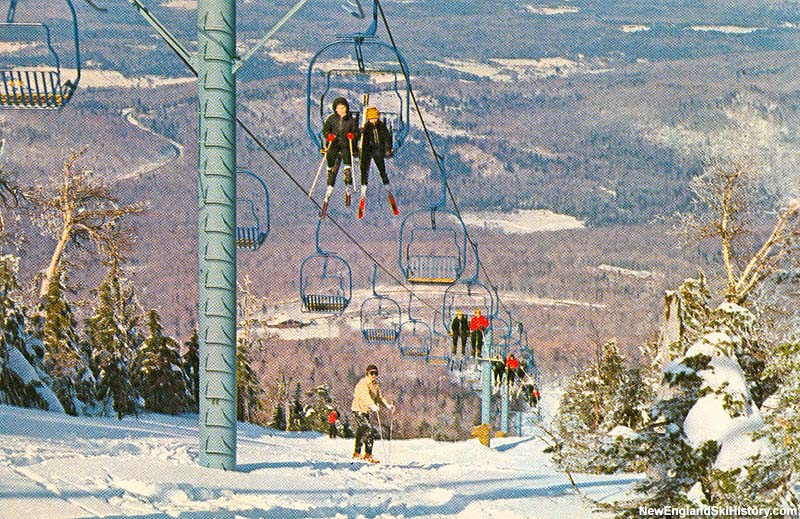 The North American double circa the 1960s

A sizable expansion took place the following season, when 30 acres of terrain, served by a new double chairlift, were opened in the new Snow Bowl.

1966-67 saw an expansion of the base lodge, as well as the installation of another double chairlift. The Grizzly Bear and Polar Bear trails were added for the following season.


A New Base Area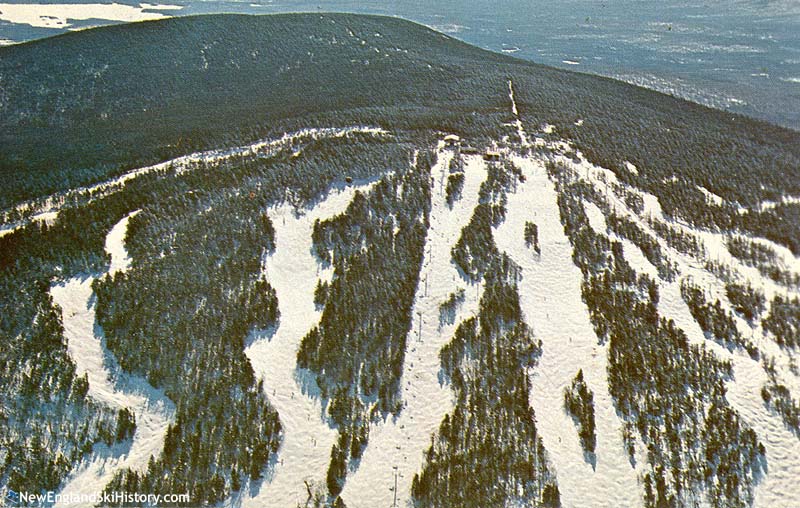 The upper mountain circa the late 1960s

The Sun Bowl was developed for the 1968-69 season, adding a new base area, 5 miles of trails, and a new double chairlift.

An additional two chairlift expansion was planned for the 1971-72 season, however Stratton became one of the first ski areas in the state to run into trouble with the new Act 250 law, when residents of Winhall forced the ski area to first overhaul its sewer system in advance of potential increases in skier vists.

The Main Line pod was partially developed in the early 1970s, however development was halted prior to the installation of a chairlift.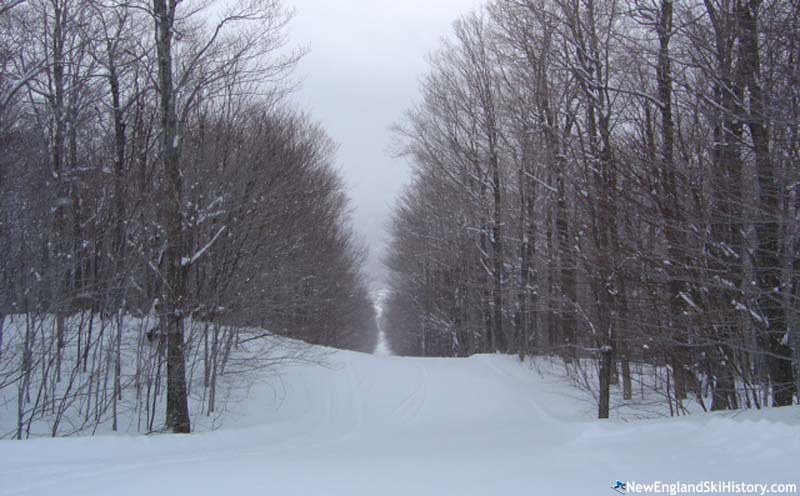 Main Line (2004)

In 1972, Warren Hellman and Donald Tarinelli founded the Stratton Mountain School to help their children advance their ski racing careers while not conflicting with their high school education The school continues to operate to this day.

On February 10, 1974, 20 year old James Sunday was paralyzed after a fall while skiing at Stratton. In a landmark decision three years on June 9, 1977, Sunday was awarded $1.5 million by a Vermont jury. The decision resulted in significant price increases throughout the ski industry, due to skyrocketing liability insurance costs.

Snowmaking was expanded to the summit of Stratton for the 1974-75 season, as pipes were installed on North American and Standard.

In 1975, Donald Tarinelli was named General Manager of the ski area following Harvey Clifford's departure to purchase Glen Ellen. In the spring of 1977, the International Paper Company donated 1,023 acres of land on Stratton Mountain, containing the bulk of the ski terrain, to the United States Ski Educational Foundation, to benefit the United States Ski Team. The USSEF then granted the Stratton Corporation a 99 year lease at 2.25 percent of the ski area's gross ticket revenues. Stratton then used the value of the lease to fund the purchase of two new chairlifts. The Stratton Corporation may have later acquired this tract.


New Ownership, Part 1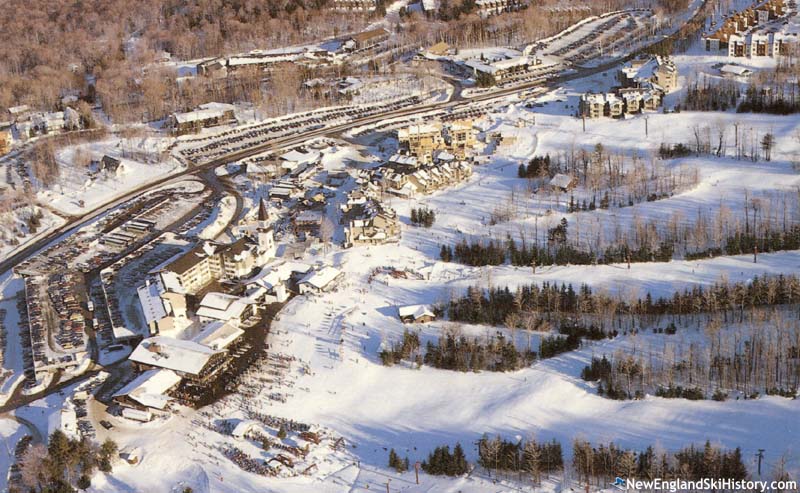 The base area circa the late 1970s or early 1980s

Late in 1979, Stratton purchased nearby Bromley and assumed its multi-million dollar debt. Stratton's debt was now reportedly up to $7 million. Moore and Munger, Inc. came to the rescue and purchased Stratton in early 1980. During during the 1980s, Jake Burton found an ally in Stratton, when it became the first ski area to allow snowboarding. In addition to this, Stratton also became home to the first snowboard school, and would start hosting US Open snowboard races in 1985. Stratton would later become home to the first half pipe and formal terrain park on the east coast.

The US Open snowboard races weren't the only non-skiing event to make a splash at Stratton in 1985. With the Cranmore facility in limbo, the Volvo International Tennis Tournament was moved to Stratton. Tennis star Ivan Lendl became a Stratton skier during 1985-86 ski season, after winning a season pass at the tournament.

In the mid 1980s, in conjunction with the expansion of Stratton Village, the lift network at Stratton was modernized. Four new Poma chairlifts were installed in 1985 and 1986, replacing aging Heron-Pomas.

In the fall of 1987, Moore and Munger, Inc. sold Bromley to the owners of nearby Magic Mountain. The following year, the famous Gondola was installed to the summit of Stratton.


New Ownership, Part 2

In the spring of 1989, Victoria USA, Inc., a Japanese sporting goods company that owned Breckenridge, purchased Stratton. Later that year, the Kidderbrook area debuted. Along with the lift and new trails, a new 12,000 square foot Sun Bowl base lodge, the projects represented a $7 million investment into the resort.



New Ownership, Part 3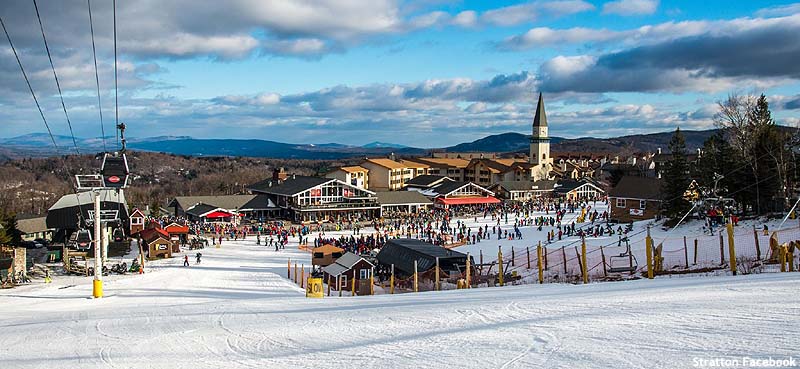 The Stratton base area in 2014

Intrawest purchased the ski area from Victoria USA, Inc. in 1994 and quickly started another round of new lift installations, eventually rolling out four new high speed six pack chairlifts.

With the installation of these new high speed chairlifts, the fixed grip quads of the area quickly lost popularity. With its parent company facing some tough times, Stratton removed the often-idle Kidderbrook chairlift following the 2006-07 season.

The North American trail was renamed in honor of founder Frank Snyder during the 2007-08 season, becoming Frank's Fall Line.

Intrawest announced $6.5 million of projects for the 2013-2014 season, including new snowcats, improved snowmaking, two new glades, and base resort improvements.

Following a fire, a $9 million base lodge expansion took place in 2015.

In 2017, Stratton's parent company Intrawest was acquired by what would become known as Alterra. Its first major investment was a new high speed detachable quad in the Snow Bowl, which debuted in January of 2019.



NewEnglandSkiConditions.com Reports

Month
Average Percent of Terrain Open
November
9% (10 reports)
December
34% (9 reports)
January
74% (4 reports)
February
80% (4 reports)
March
75% (2 reports)
April
5% (1 report)

-- start conditions table -->

Recent Conditions Reports

Dec. 2, 2023 by rocket21
Spring Snow, Spring Snow
Nov. 23, 2023 by brianna
Variable Conditions, Variable Conditions
Nov. 23, 2023 by rocket21
Variable Conditions, Frozen Granular
Nov. 23, 2023 by nordicgal
Frozen Granular, Variable Conditions
Dec. 9, 2022 by nordicgal
Loose Granular, Frozen Granular

Stratton Mountain Resort on NewEnglandSkiConditions.com
NewEnglandSkiIndustry.com News
Recent Articles
Two New Chairlifts Open in Southern Vermont - Jan. 5, 2019
Leitner-Poma Completes First Brand New Lift of Season - Dec. 11, 2018
State Permitting Hampers Vermont Projects - Aug. 20, 2018
Initial Lift Construction Continues in Two States - May. 18, 2018
Magic to Install Quad Chairlift - May. 9, 2018
Stratton Moving Forward with Snow Bowl Lift Replacement - Mar. 11, 2018
Stratton Sold to Owners of Aspen, Squaw Valley - Apr. 10, 2017
Rumors Continue to Swirl Around Stratton - Mar. 24, 2017
Stowe Sets New England Record with $124 Lift Ticket - Oct. 1, 2016
Vermont Construction Projects in Full Gear - Aug. 9, 2015
Stratton Mountain Resort NewEnglandSkiIndustry.com News Page
Expansion History
Image Gallery
Lifts
Click on lift name for information and photos
Maps
Year by Year History
Adult Weekend Full Day Lift Ticket; Adult Full Price Unlimited Season Pass

2020s
Ticket Price
Season Pass Price

Pass Payback

Opening Day

Closing Day

Skier Visits

2023-24
$203.30
November 22
2022-23
$202.23
$1229.00
6.1 days
November 25
April 16
2021-22
$180.83
$1149.00
6.4 days
November 27
April 17
2020-21
$148.73
$1149.00
7.7 days
December 10
April 11
2019-20
$139.10
$1099.00
7.9 days
November 23
March 14
2010s
Ticket Price
Season Pass Price

Pass Payback

Opening Day

Closing Day

Skier Visits

2018-19
$129.00
$1049.00
8.1 days
November 21
April 14
2017-18
$115.00
$1099.00
9.6 days
November 22
April 15
2016-17
$105.00
$1199.00
11.4 days
November 25
April 9
2015-16
$105.00
$1119.00
10.7 days
November 28
April 10
2014-15
$98.00
November 26
April 12
2013-14
$92.00
$999.00
10.9 days
November 23
April 13
2012-13
$87.00
$1229.00
14.1 days
November 21
April 14
2011-12
$87.00
$1229.00
14.1 days
December 4
March 25
2010-11
$84.00
$1159.00
13.8 days
November 27
2009-10
$82.00
$1139.00
13.9 days
December 8
April 11
2000s
Ticket Price
Season Pass Price

Pass Payback

Opening Day

Closing Day

Skier Visits

2008-09
$79.00
$1109.00
14.0 days
April 12
2007-08
$78.00
$1059.00
13.6 days
April 20
2006-07
$75.00
$1059.00
14.1 days
April 8
2005-06
$72.00
$999.00
13.9 days
November 23
April 9
390,000
2004-05
$72.00
April 10
400,000
2003-04
$72.00
$1479.00
20.5 days
April 11
368,000
2002-03
$72.00
$1449.00
20.1 days
November 23
417,000
2001-02
$62.00
$1379.00
22.2 days
387,000
2000-01
$60.00
$1260.00
21.0 days
1999-00
$59.00
$1200.00
20.3 days
April 9
1990s
Ticket Price
Season Pass Price

Pass Payback

Opening Day

Closing Day

Skier Visits

1998-99
April 11
1997-98
$50.00
$1150.00
23.0 days
November 15
1996-97
$49.00
1995-96
November 15
1994-95
$43.00
November 24
April 16
1993-94
$41.00
1992-93
$39.00
1991-92
$39.00
November 9
1990-91
$38.00
1989-90
$36.00
1980s
Ticket Price
Season Pass Price

Pass Payback

Opening Day

Closing Day

Skier Visits

1988-89
$35.00
November 23
April 16
1987-88
$34.00
1986-87
$27.00
1984-85
$25.00
$725.00
29.0 days
November 22
April 26
1983-84
$25.00
$725.00
29.0 days
1982-83
$24.00
$520.00
21.7 days
1981-82
$23.00
November 25
350,000
1980-81
$20.00
310,000
1979-80
$18.00
$475.00
26.4 days
1970s
Ticket Price
Season Pass Price

Pass Payback

Opening Day

Closing Day

Skier Visits

1978-79
$16.00
November 24
1977-78
$15.00
November 26
April 9
1976-77
$14.00
$385.00
27.5 days
November 25
1975-76
$12.00
$350.00
29.2 days
November 27
1974-75
$12.00
1973-74
$11.00
1972-73
$11.00
1971-72
$10.00
$250.00
25.0 days
1970-71
$10.00
1969-70
$10.00
1960s
Ticket Price
Season Pass Price

Pass Payback

Opening Day

Closing Day

Skier Visits

1968-69
$9.00
November 16
1967-68
$8.00
December 1
1966-67
$8.00
April 10
1965-66
$8.00
1963-64
$7.00
December 7
1962-63
$6.50
December 8
1961-62
$6.50
December 23
April 10
Visitor Memories
"I remember the beginning. Our family property was one of the first purchased for the access road. I remember the trucks hauling dirt and gravel up and down the road. I finally got to ski the mountain in the early 1970s,all day lift ticket $12.00!"
Bruce Frazer, Mar. 6, 2021
"I am the daughter of Robert Wright I remember the 3 D ski mountain in our dinning room when I was about 2 yo when he was designing Stratton. I loved skiing there as a young child. "
Valerie Brock, May. 12, 2019
"I remember trips up and down the unsaved access road in our Jeep with trash can tied to the back, to carry all the skis....amongst so many other memories!"
Bubsy Tuttle, Jan. 26, 2019
"I began skiing at Stratton in the mid 60s. At age 13, my parents gave me a special gift of spending a week on my own skiing. I took lessons from Emo's terrific staff of instructors and stayed in the bunk room of Birkenhaus. I met many families who invited me to join them for meals. These memories are still vivid 50 years later. I am grateful to my parents for giving me this unique opportunity. "
Jerry Lucas, Jul. 30, 2017
"I was a supervisor in the ski school for a number of years, late 70's early 80's. Those years were spent with folks both co-workers and paying skiers,from the 4 corners of the globe, some of the greatest people I've known in my life. Most fun, morning demo's and doing sync skiing with Hansi B and Alois on N American"
Jon Person, Jul. 14, 2015
"Every year I go with my friend Revel, and we always have the greatest time! I remember when I graduated ski school it was one of the proudest moments of my life! I recommend this to ANYONE! See you on the slopes!"
Augustus Stimpson, Jan. 29, 2015
"I remember going to Stratton for a grooming trade show. I was a groomer at nearby MT Snow at the time. We were able to hop into any machine that was on the snow and running to operate it and get a feel for it. Others would have an operator take you for a ride. The Hagglund was most impressive and fast. I believe this was 1990. Also fond memories of ski trips from school."
Jim Hall, Feb. 21, 2013
---
External Links
Stratton Mountain - official site
Stratton Mountain - FranklinSites.com
Last updated: January 26, 2019