Thorn Mountain
Jackson, New Hampshire
Status:
Lost/Defunct
First Season:
1947-48
Last Season:
1956-57
Vertical Drop:
1100 feet
Standing Lifts:
Past Lifts:
2 singles, surface lifts
Left: The Otter Slope circa the late 1940s or early 1950s
Recent NewEnglandSkiIndustry.com News:
Located across the valley from Black Mountain and adjacent to the defunct Tyrol ski area, Thorn Mountain was briefly one of New England's largest ski areas.



Early Years

Skiing activities on Thorn Mountain date back to the early 1920s, when multiple winter carnivals in the Jackson area made regional headlines. One such event took place in January 1923, when "with snow falling heavily, most of the amateur snowshoers hesitated to attempt the hike of two miles and a quarter over deep snow to Thorn Mountain, where the semiprofessional ski jumping was due to take place, and there was no other way to get there."

A lift served development was started at Moody's Inn (later known as Whitney's) for the 1935-36 season, quickly becoming a popular destination complete with night skiing. As skiing grew in popularity in the 1930s, the Town of Jackson allocated $2,000 to develop ski slopes on Thorn Mountain, Black Mountain, and Iron Mountain in advance of the 1937-38 season.

By the 1939-40 season, Thorn Mountain was hosting collegiate events, including Harvard's "informal downhill slalom" as it pushed to make skiing an official school-sanctioned sport.

The "tricky" Thorn Mountain slope was renovated for the 1941-42 season, while the Langlauf Trail had to be relocated due to logging.



Construction of Thorn Mountain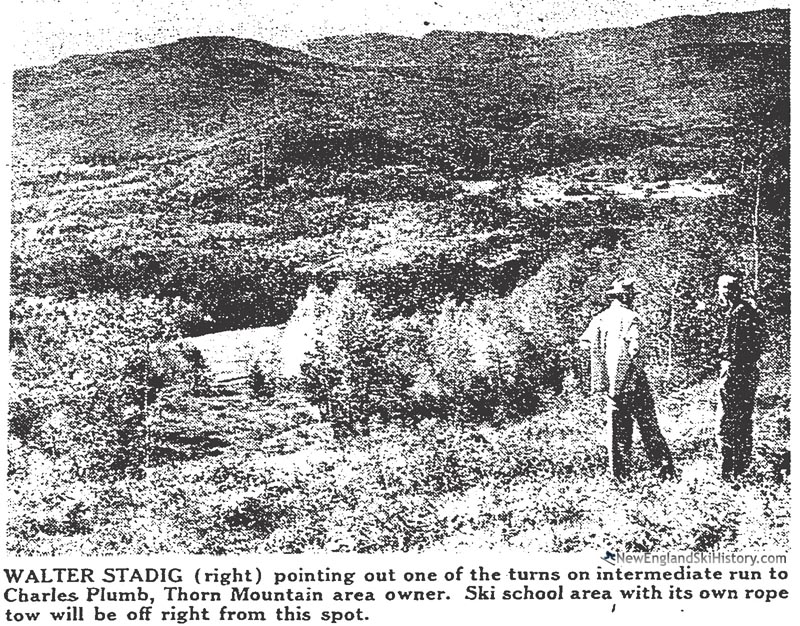 Construction of Thorn Mountain in 1948

Following World War II, as large lift served developments began to emerge across New England, Jackson was a prime location for investment. While a chairlift was proposed to take Whitney's to the next level, an even bigger development was taking shape closer to town.

Attorney C. Bird Keach and highway engineer Charles Plumb, both non-skiers from Rhode Island, acquired 1,100 acres in Jackson and planned to open a major ski area on Thorn Mountain for the 1947-48 season. Initial plans called for a railroad-cable-car type lift that would climb 750 vertical feet from downtown Jackson to the base of Middle Mountain. Above there, rope tows would serve upper elevation skiing. Early reporting claimed 600 acres of ski slopes would be developed.

Though January 1948 was announced as the planned opening date, ownership blamed delays on a trucking strike. With the Jackson Ski Carnival planned for mid-February, a new plan was put into place to install three rope tows to serve the races. Meanwhile, Thorn Mountain Slopes, Inc. was incorporated in March, with Charles Plumb later being listed as sole owner.

As the 1948-49 season approached, the hype around Thorn grew. Walter Stadig of Soldier Pond, Maine designed the main lifts, tandem wooden single chairlifts, scuttling the railroad plans. To boost capacity, a T-Bar was attached to each chair. 400 acres of slopes were advertised. Three trails were cut from the top of the lifts, dropping some 1,100 vertical feet. In addition, a large novice slope was cut on Middle Mountain, while a future expansion to the top of Thorn Mountain proper was promoted. Warming huts were constructed at the base, mid-station, and summit of the ski area. Rink Earle was named Ski School Director and Dick Barrows Ski Patrol Director.



The Multi-Chairlift Area Opens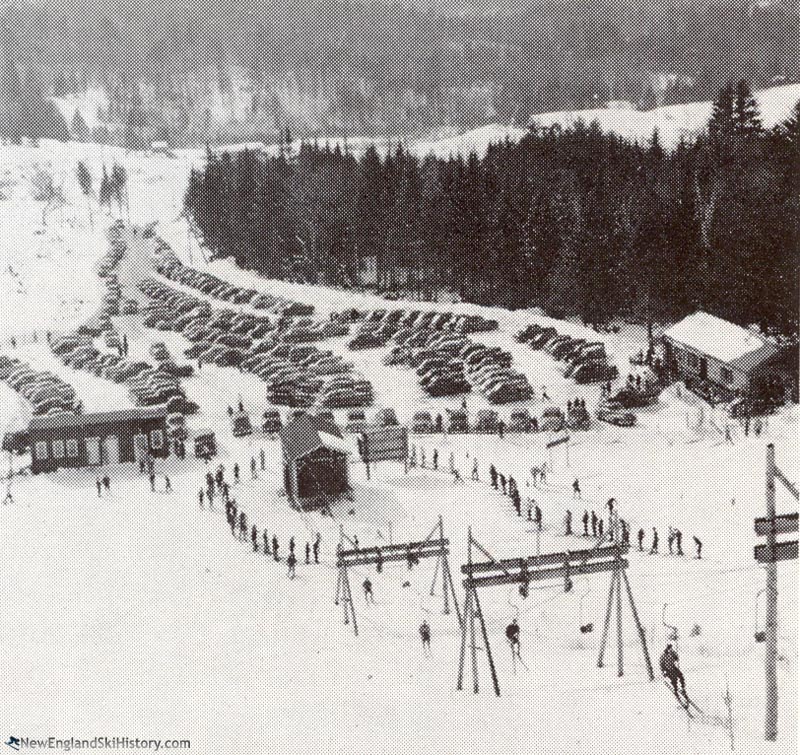 The base area and Lower Chairlift circa the 1940s or early 1950s

The lower lift reportedly opened to the public on December 26, 1948. Early reports stated that crowds were large and evenly split between skiers and sightseers. College races again made headlines in March 1949, as the Bob Goodman Trophy was awarded to Boston College for a giant slalom race held on the Bobcat and Birch trails.

Nearly half a century later, former marketing director Dick May told Ski magazine, "Thorn Mountain was the kind of place that could never happen today. We had chairs that slipped back on the cable, chairs that bounced people over stumps. But we also had some pretty good skiers and a very steep lower slope. We had a patrol shack at the bottom, which was fortunate, because a lot of skiers darn near had to go through it to stop."

Olympian Paula Kann was named Ski School Director in November 1949. Assistants ran the Ski School when Kann departed for FIS training in January. New to the ski area was the Cozy Canyon novice slope and rope tow.

Though the 1949-50 season started in early December, 1949-50 and 1950-51 were not without their struggles, as uncooperative weather often resulted in bare ground and firm conditions. The Bob Goodman trophy was won by Northeastern University in 1950. The 1950-51 season did manage to extend into April.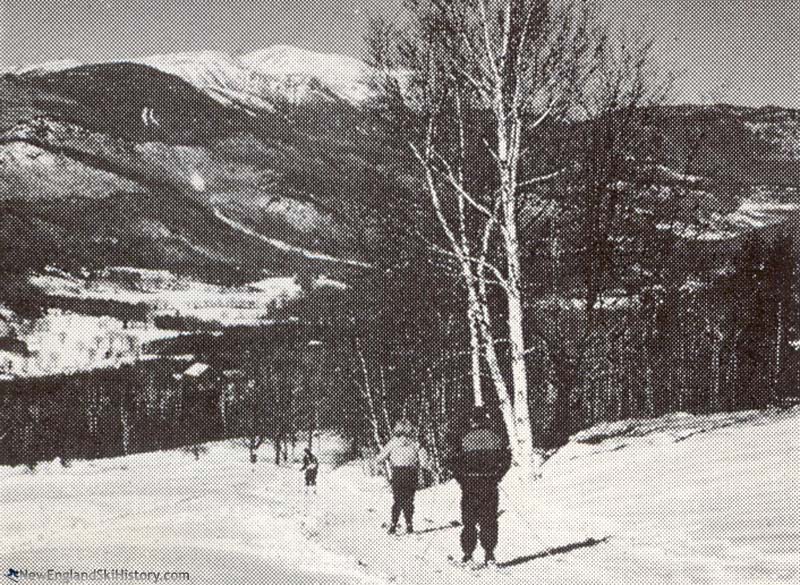 The QB trail circa the late 1940s or early 1950s

The 1951-52 season got off to a good start, as Pinkham Notch recorded its snowiest December since 1938. According to owner Charlie Plumb, it was the first time Thorn had good enough conditions to have large crowds over the Christmas vacation week. The Boston Globe reported that "this area proved it can handle a large crowd with its tentacle-like network of all types of trails and slopes." Unfortunately a New Year's rain put a damper on the holiday period. Nevertheless, more snow fell and Thorn recorded an excellent Washington's Birthday Weekend.

The 1953-54 season got off to a bad start, in what the Boston Globe compared to "one of New England's occasional snowless winters." 10th Mountain Division veteran John MacDonald was Thorn Mountain's Ski School Director by this time. Fortunately for Thorn Mountain, Washington's birthday weekend reportedly had record crowds. With poor weather late in the winter, skiers were advised to ride the lower chairlift access better conditions on the upper mountain.

Washington's birthday weekend was again a success in 1955, though skiers once again favored the upper mountain terrain. Unfortunately, as quickly as a snowstorm ushered in the big weekend, warm temperatures arrived at the end of it.



Closure

Thorn Mountain continued to operate through the 1956-57 season. According to the New England Lost Ski Areas Project, the chairlifts were reportedly considered unsafe around the time of closing. Though the area was still listed in some publications for the 1957-58 season, it likely did not operate. Meanwhile, some Thorn skiers and employees headed up the highway to a new ski area on Wildcat Mountain.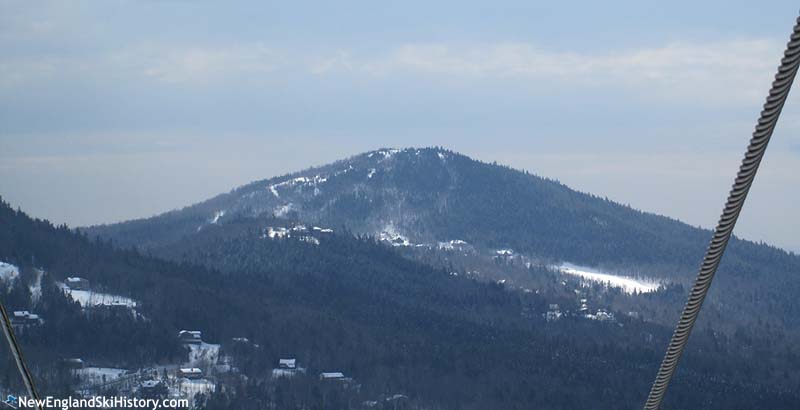 Tyrol/Thorn Mountain (background) and Middle Mountain as seen from Black Mountain (2014)

In the spring of 1963, Leeland Realty of Lexington, Massachusetts purchased 1,000 acres of land in Jackson, including the former Thorn Mountain ski area. An "Alpine-like village" was proposed, as well as a new ski area to be called Tyrol. Since then, many homes have been developed across the former Thorn Mountain ski area. While Jackson was once home to many downhill ski areas and tows, only Black Mountain remains in operation.



Expansion History

Project

Season

Thorn Mountain
Cancelled

1940s
Lifts
Click on lift name for information and photos
Maps
Year by Year History
Adult Weekend Full Day Lift Ticket; Adult Full Price Unlimited Season Pass

1950s
Ticket Price
Season Pass Price

Pass Payback

Opening Day

Closing Day

Skier Visits

1949-50
December 10
1940s
Ticket Price
Season Pass Price

Pass Payback

Opening Day

Closing Day

Skier Visits

1948-49
December 26
Visitor Memories
---
External Links
Thorn Mountain Ski Area - New England Lost Ski Areas Project
Last updated: May 15, 2019