Tyrol Ski Area
Jackson, New Hampshire
Status:
Lost/Defunct
First Season:
1964-65
Last Season:
1980-81
Vertical Drop:
1000 feet
Standing Lifts:
Past Lifts:
1 double, surface lifts
Left: Tyrol as seen from North Doublehead (2010)
Recent NewEnglandSkiIndustry.com News:
Located across the valley from Black Mountain and adjacent to the defunct Thorn Mountain ski area, Tyrol was a mid sized ski area that operated in Jackson for about two decades.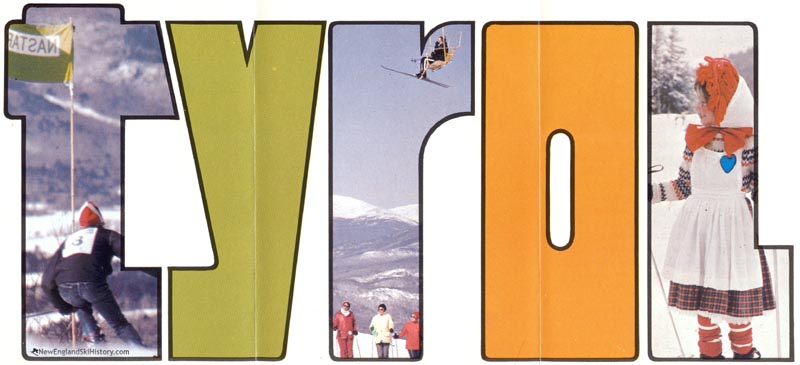 Tyrol circa the 1970s

Surface Lift Years

Dating back to at least the 1920s, the small mountain town of Jackson, New Hampshire had been a winter destination. One of the first lift-served ski areas in New England opened in the mid 1930s at what would become Black Mountain. In the late 1940s, two of the earliest chairlifts were installed on Thorn Mountain. Though the ski area was popular, it shut down after less than a decade of operation.

In the spring of 1963, Leeland Realty of Lexington, Massachusetts purchased 1,000 acres of land in Jackson, including the former Thorn Mountain ski area. Leeland Realty's partners included Murray Dearborn, Myron Ferrin, and Leeland McConchie. An "Alpine-like village" was proposed, as well as a new ski area to be called Tyrol. Whereas the Thorn Mountain ski area was located on the west side of the ridge, Tyrol would be located on the north and northeast slopes. One tagline read, "How would you like to own your own chalet in an Alpine-like village?"

A 2,200 foot longer Mueller T-Bar was installed in late 1964, serving about 500 vertical feet. With established areas such as Black, Cranmore, and Wildcat, as well as the new Attitash development, Tyrol was one of the smallest areas in the Eastern Slope region at this time. The area officially opened on January 23, 1965, with Department of Resources and Economic Development Commissioner John Rowe presiding.

A large swimming pool and related recreational facilities were planned for construction following the debut season, as the developers continued to sub-divide and sell home sites. Deck House, Inc. of Wayland, Massachusetts offered pre-manufactured chalets.

A Poma lift was added adjacent to the T-Bar for the 1965-66 season, providing novice skiers with an easier uphill option. In addition, trails rushed for 1964-65 were smoothed and seeded. Operating into mid-April, business doubled as compared to the freshman season. Business increased an additional 30% with the 1966-67 season.


Chairlift Years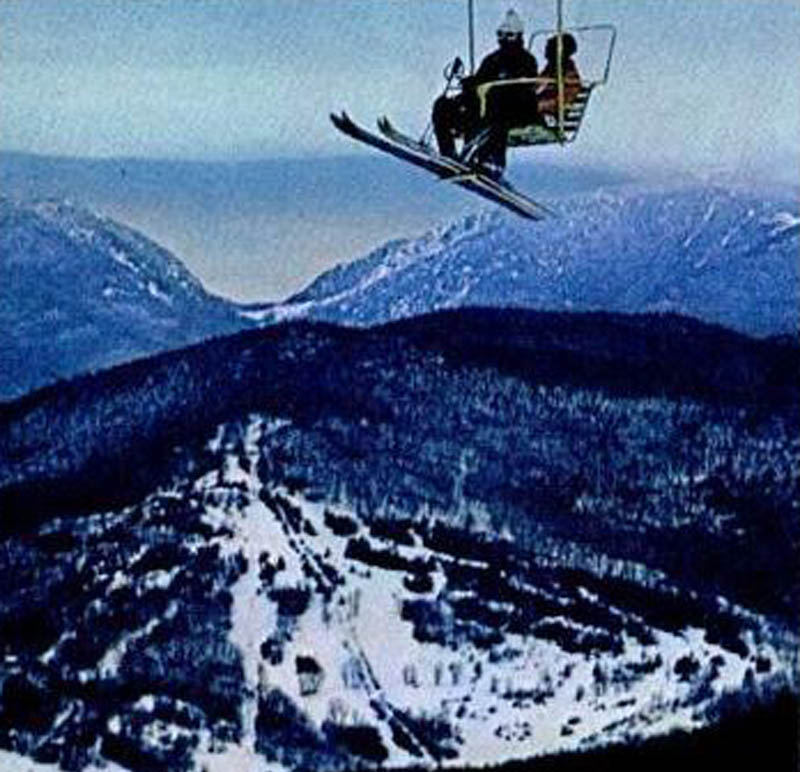 The double chairlift in 1969 or 1970 with Black Mountain in the background

The area was greatly expanded with the installation of a double chairlift for 1968-69, increasing the advertised vertical drop to 1,000 feet when the lift debuted later in the season. While Tyrol now had big skiing, it did not have snowmaking or an easy access road. Don Patch served as mountain manager, while Bill Patch was ski school director. Banding together with Attitash, Black, Cranmore, and Wildcat, Tyrol and its fellow Eastern Slope areas offered an interchangeable weekday lift ticket package called The Big One.

The 1969-70 season reportedly saw three new trails and lodging improvements. Uel Gardner managed the ski area and ski school.

Though a future plan called for a gondola to Jackson, the proposal never came to fruition.

Tyrol made regional headlines in 1970-71 when owner Murray Dearborn offered free midweek skiing to Vietnam veterans. The area also experimented with hourly rates.

Unfortunately, financial woes were building. The area was foreclosed on in late 1971. Murray Dearborn shifted his focus toward West Virginia, taking over Canaan Valley Resort for a decade starting in 1971-72, with Uel Gardner eventually joining him. Dearborn also operated Snowshoe for a period during the 1970s. He and his children later established Davis/High Valley Realty, Inc. West Virginia in 2004.

Meanwhile, Tyrol went through ownership changes and general struggles in the 1970s, getting hit particularly hard during snow droughts.

Tim and Ginny Bailey purchased Tyrol prior to the 1977-78 season, investing in an expanded base lodge and ski shop. A Navy veteran, Bailey had been in the restaurant industry in Upstate New York prior to moving to Jackson.


Closure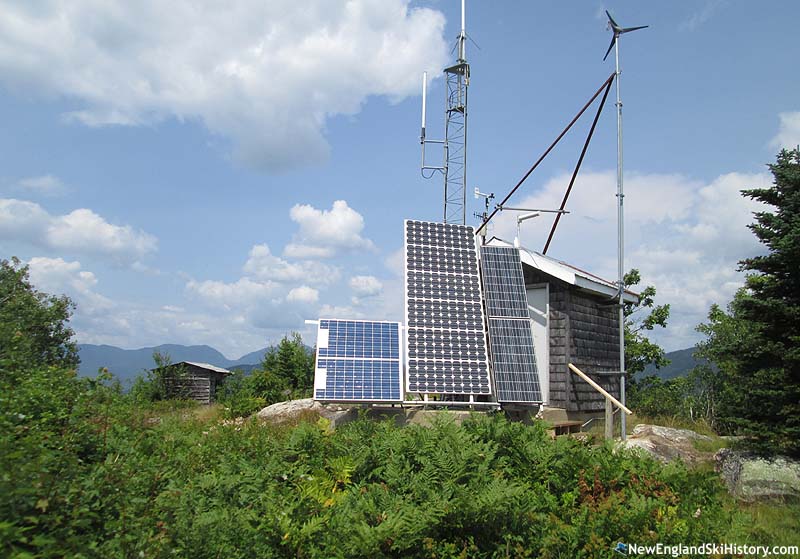 The summit (2014)

The area likely closed following the winter of 1980-81. By the end of the decade, the T-Bar and chairlift had been removed. Former owner Ginny Bailey passed away in 1987.


Drug Empire

Tyrol made regional headlines again in 1988, when then-owner Walter Preble III was arrested for importing over 12.5 tons of Jamaican, Colombian, and South Carolinian marijuana into New Hampshire, following a two year investigation kicked off by Barlett police chief Robert Snow. According to press accounts, Prebe bragged to associates that he had purchased the ski area with gains from his drug business.

Later that year, Prebe plead guilty and was sentenced to prison. Ckristopher Wallenstein Auctionworld Inc. was commissioned by the State of New Hampshire to sell the 220 acre former ski area. Retired real estate developer James Progin purchased Tyrol at the December 10, 1988 auction and announced he had no commercial intentions for the property.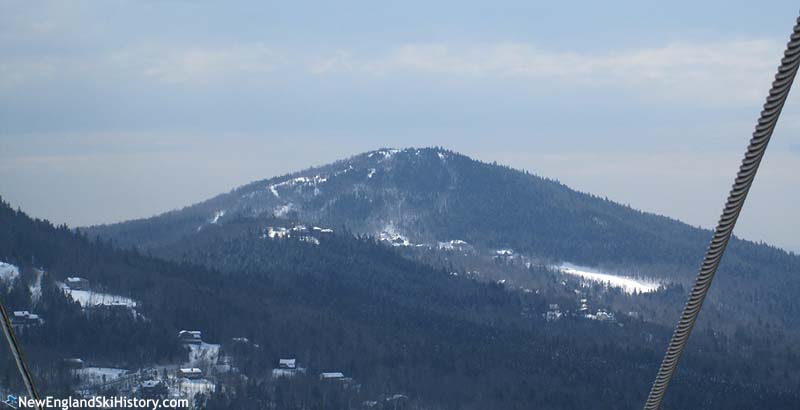 Tyrol as seen from Black Mountain (2014)

Former general manager Uel Gardner passed away on November 12, 2008 at the age of 75. Founder Murray Dearborn passed away in 2016 at the age of 89. Former owner Tim Bailey passed away on December 17, 2019 at the age of 82.

The trail network has become largely overgrown in subsequent decades, while the base area was posted No Trespassing. It is unlikely that Tyrol will ever reopen.



Expansion History





Image Gallery





Lifts
Click on lift name for information and photos




Maps


Year by Year History
Adult Weekend Full Day Lift Ticket; Adult Full Price Unlimited Season Pass

1970s
Ticket Price
Season Pass Price

Pass Payback

Opening Day

Closing Day

Skier Visits

1978-79
$9.00
1977-78
$9.00
December 17
1976-77
$9.00
$150.00
16.7 days
1975-76
$9.00
1974-75
$8.00
1973-74
$8.00
1971-72
$7.00
December 18
1970-71
$7.00
1969-70
$7.00
1960s
Ticket Price
Season Pass Price

Pass Payback

Opening Day

Closing Day

Skier Visits

1968-69
$6.00
1965-66
December 11
April 18
1964-65
January 23
Visitor Memories
"My uncle KIERAN LOUGHMAN WAS A PART OWNER BACK IN THE 70S. WHEN I LEARNED TO SKI.HE OWNED AN A FRAME HOUSE UP ON TOP OF THE MT. WERE AS KIDS WE WOULD WALK TO THE SLOPES AND SLED AND SKI BACK DOWN. "
Eric Bjorkback, Apr. 11, 2023
"A gang of us from the Boston area rented an octagonal cottage for two seasons. Tyrol was one of our favorites. A ticket cost $6.00 in 1964. We would divide the ticket cost by how many runs we made and it would come out to about .50 cents. I also took lessons from Bill Patch. Charlie Frasier hung around with us and was the best bartender up there. He ran ski patrol for Mt. Cranmore."
Joe Coviello, Oct. 12, 2022
"I also worked at Tyrol the winter of 77-78 No snow making needed. That winter was the best the valley had seen in years. I received my advanced first aid certification at Black Mtn By a German man that was the head of the ski patrol Sorry I don't remember his name. While taking the course at night I cut trails at Tyrol and started in December as a first year ski patrol. I worked with Rob Walker ( ski school) Bruce Campbell Ski Rentals) I went on to Ski Patrol for 5 years at Mt. Sunapee in Sunapee NH The Baileys were great to me and Im still in touch with Bruce and his wife Scamp Oh I can't leave out Dan the bartender at the Red Parker Some of the best times of my life. Steve Fay "
Steve Fay, Aug. 20, 2022
"I ran the bar there from 1972 to 1974 and would love to hear from Charlie and any other friends from that era. Tyrol had the most challenging trails in the Valley.. Jackson Falls and Frosty were narrow and Very steep. Great memories from my youth. ."
Dan Jones, Jun. 23, 2022
"In the winter of 1973-74, during my early years moonlighting as a musician, I worked out an arrangement to do a solo gig in the lounge. Tony Ferruolo was area manager, Dan Jones was the lounge manager and Rosie was the waitress. The pay wasn't great but I got some free skiing out of it and had a great time talking with the regulars. A couple summers later I was looking for a rental and one of the folks I met there rented me their chalet on Middle Mountain Trail with a view out the living room window of Mt. Washington. Tony went on to be longtime part owner of the Red Parka Pub. Dan still works in real estate in the Valley. "
Charlie Maddaus, Dec. 6, 2021
"My family had a chalet there from 1965 to 1972. We drove up from Concord every Friday night for the weekend. At 10 years old, this was paradise. Learned how to ski there and my dad signed me up in the racing program run by Bill Patch. I can see him ski on those Hart Javelins like it was yesterday. An after dark hike to the summit for untracked pow under the t bar and skiing home on top of the mountain rd snow banks got me into major trouble with my parents. Summers were fun too. I would meet up with other Tyrolian's and hike all over the mountain finding old unlocked buildings and retreats. It was a magical time! "
Chris Ober, Oct. 2, 2015
"Worked at Tyrol ski area during the 1970 1971 season myself and John Sullivan split one job at the mountain so that we could ski and party (we were 21 years old??)what a great time. My wife and I were in Jackson recently and drove up the mountain found the sign for Tyrol stating it was closed and no trespassing brought back a lot of great memories."
Jim Kelly, Sep. 30, 2015
"Tons of great memories. Our place was down below in Jackson and when Wildcat was crowded this was a cozy uncrowded place to be. Great views especially of Mt Washington. During spring skiing, bales of hay were spread out on the summit for all to lounge around on drinking wine and getting to know girls. The slope side bar was a great place for cold brews or a rum & coke served up by bartender Bob Young and to watch World Wide of Sports at 4:00 pm on Saturdays and had great Après Ski & live music on Sunday evenings after the crowd hit the highway. The pool was great in summer and we attended barbecues up there, some sponsored by the Jackson volunteer fire department. I can almost taste the grilled chicken. If only I had a time machine. "
Rob , Feb. 14, 2015
---
External Links
Tyrol Ski Area - New England Lost Ski Areas Project
Last updated: September 16, 2020