| | |
| --- | --- |
| | |
Located in Jackson, Black Mountain is the oldest lift served ski area in New Hampshire.



CCC Days

Modern skiing on Black Mountain dates back to at least 1934, when the Civilian Conservation Corps cut the Black Mountain Ski Trail on the middle peak of the ridge. The trail and its cabin remain in use today, unconnected to the lift served alpine ski area.


Moody's and Whitney's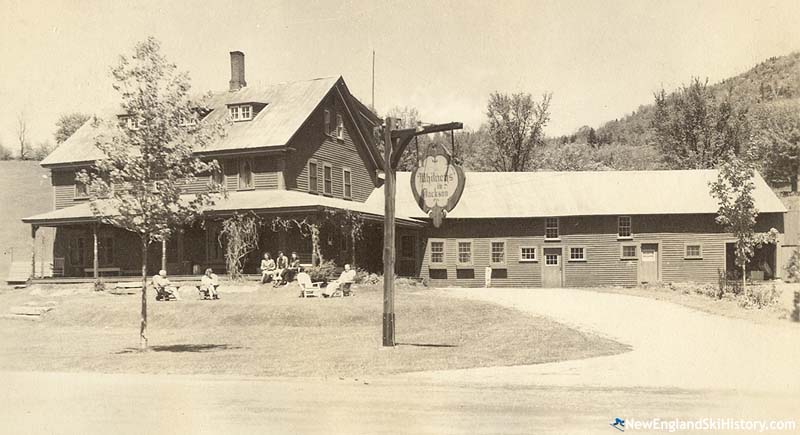 Whitney's

From a lift served skiing perspective, Black Mountain likely first opened in either December 1935 or early 1936 as a small rope tow area designed to bring more people to Moody's Inn. According to future owner Betty Whitney, the lift, constructed by George Morton, had hanging ropes and vertical bullwheels.

Mechanical engineer H. Holland "Bill" Whitney and his wife Helen "Betty" Whitney entered into an agreement to purchase Moody's circa September 1936, leveraging an inheritance. The couple subsequently renamed the inn "Whitney's." According to a letter decades later, Betty Whitney reported that they bought the ski lift from George Morton for $230. Meanwhile, the Jackson Ski Association was formed to promote skiing in the town. Carroll Reed, head of Eastern Slope Ski School, served as an advisor to the organization. Reed hired Benno Rybizka from Hannes Schneider's ski school in Austria to be the Eastern Slope Ski School's head instructor, basing the operation in Jackson.

In early December, Betty Whitney was nearly killed in an automobile collision near Rochester, New Hampshire. Whitney reportedly suffered a fractured skull and permanent damage to her vision.

The earliest known reference to skiing on Whitney's during the rainy 1936-37 season was late January, when Rybizka conducted lessons in his "typical Tyrolean hat, all decked out with fascinating silver ornaments and tipped in cavalier fashion at a most becoming angle to shade that already well-tanned face of his," according to the Boston Globe. The ski tow was reported to be "a popular affair." The slope was also reportedly lighted for night skiing and became known by some as Whitneys' Side Hill.

The Whitneys likely formally acquired the property from Ed Moody in May 1937. The tract reportedly spanned 100 acres.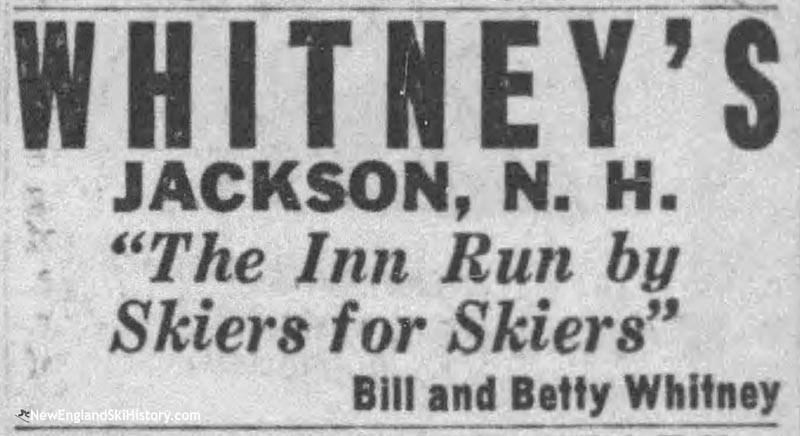 A 1938 Whitney's advertisement

New dorm-style rooms were added to the operation for the 1937-38 season. It is not known when the ski season started (snow was reportedly lacking around Christmas), but the lift was advertised as in operation before the end of December.

At some point in the late 1930s, perhaps for the 1937-38 season, Whitney reengineered the tow by changing the bullwheels from a vertical to horizontal orientation, and replacing the hanging ropes with dozens of Sears Roebuck & Co. shovel handles for easier riding and more reliable operation. By the time the 1938-39 season rolled around, the Eastern Slope Ski School had a staff of 21 Austrian and American instructors and was operating at Whitney's, Cranmore, and Russell's. In February, Hannes Schneider arrived at Cranmore and became head of the Eastern Slope Ski School.

Franz Koessler was named director of the Jackson branch of the Eastern Slope Ski School for the 1939-40 season, with Arthur Doucette serving as one of his instructors. A native of Austria, Koessler was known to exclaim, "Jeepers creepers!" to struggling beginners.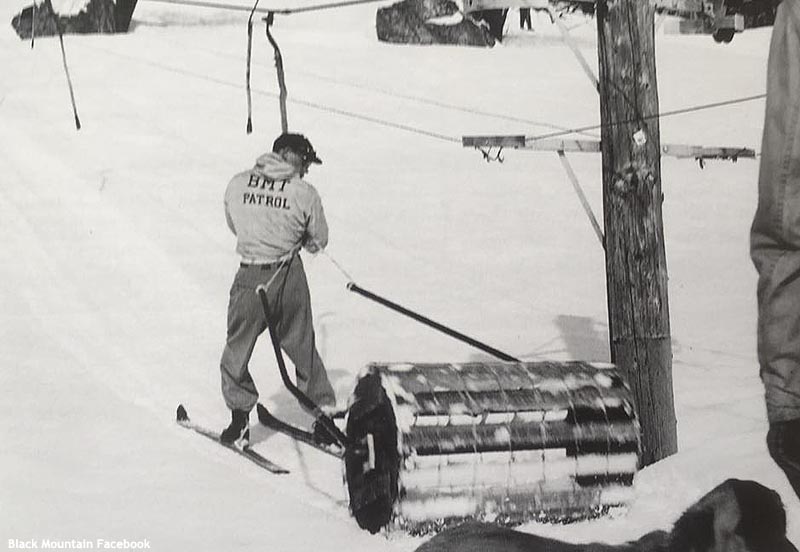 Early grooming at Black

A new expert trail was added for the 1940-41 season. The Portsmouth Herald described it as "especially fast and steep." The season likely kicked off in late November or early December. Conditions were reported as poor over the holiday period, though business was reported as strong. A "new tow" was reported as going into operation just before Christmas, though subsequent accounts only alluded to one lift at the area.

Improvements for the 1941-42 season included smoothing of the main slope and adding the "Sugar Orchard Schuss." Just weeks after the bombing of Pearl Harbor, Whitney's reported record business over Christmas weekend. Some even hit the slopes as a last furlough before shipping out to serve.

Bill Whitney shipped out to Europe to operate a servicemen's club for the Red Cross, leaving Betty to operate the inn and ski area for the 1942-43 season. According to Nicholas Howe, on February 22, 1943, only three cars showed up, causing Betty to shut down the business and join the Red Cross effort. The area likely did not operate during the winter of 1943-44.

While serving in the Army in 1944, Franz Koessler was killed in a training accident at Camp Croft in South Carolina. Honoring a request made by Koessler, Bill Whitney installed a memorial plaque on the slope in December 1946.

Whitney's was back in operation in December 1944, advertising "The best of Skiing as usual."

Following World War II, Whitney's enjoyed a 200-skier day just after Christmas 1945. Arthur Doucette was named Ski School Director, a position he would hold for the next quarter of a century.



Black Mountain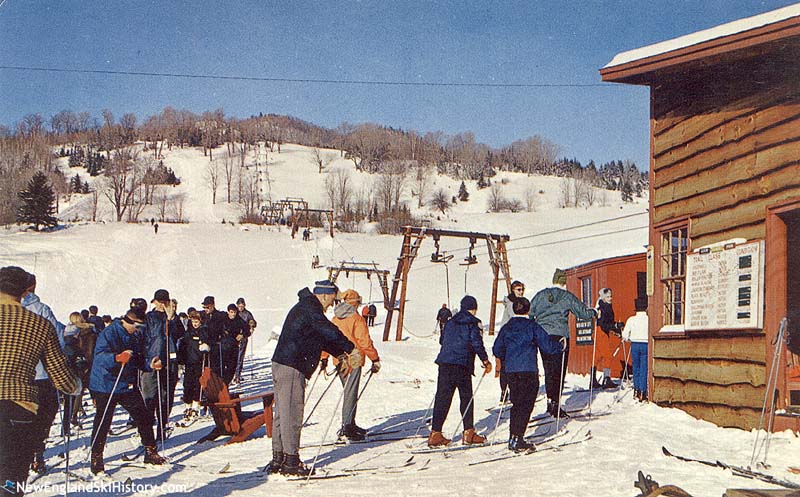 The Knoll T-Bar

After World War II, Whitney's was in danger of being left behind by developments with much longer lifts than Whitney's relatively short surface lift. With the top to bottom Skimobile service in place at nearby Cranmore and a large development being planned down the road at Thorn Mountain, Bill Whitney began to plan a chairlift development in 1947. Brothers Halsey and Stanton Davis were brought in as partners on construction of the mile long lift. The project was either overhyped or scaled down, as the result was a new 3,500 foot long Constam T-Bar that could be converted to a scenic chairlift for off season use. The base terminal of the lift was reportedly located adjacent to an old schoolhouse. Nevertheless, the new lift vastly improved the offerings at the ski area for the 1948-49 season, climbing some 700 vertical feet up Black Mountain Knoll. New trails included the Whitney Trail, the Davis Trail, the Hardscrabble Trail, and the Maple Trail. To help rebrand the larger new area, Whitney's was renamed Black Mountain.

Spruce Run was added for the 1949-50 season, while Runaway was cut soon thereafter. The Speedwell Trail debuted in early 1953, as well as a new grooming contraption described by the Boston Globe as "a tractor with an endless belt of slats turning on its tractor treads." The handle lift was upgraded to a J-Bar circa 1954.

Meanwhile, Cranmore, Black Mountain, and Jackson Senator Winifred Wild unsuccessfully tried to stop the state funded Peabody base area development at Cannon Mountain, fearing the expansion would harm Eastern Slope Region business. Struggles did ensue, in large part due to winters with poor snowfall. Betty Whitney later reflected told the Mountain Ear, "during the late forties and early fifties, literally five years in 10 were poor snow years. Local businesses simply had to suffer through it." While Thorn Mountain likely folded following the 1956-57 season, Black Mountain decided to push forward and invest in snowmaking and a new restaurant for the 1957-58 season.

Multiple improvements were made for the 1959-60 season, including new night skiing lights on Whitneys' Hill, a skating rink, and a new base building near the T-Bar.

A 1,150 foot long Mueller T-Bar was added for the 1960-61 season, serving novice terrain.


The Chairlift Age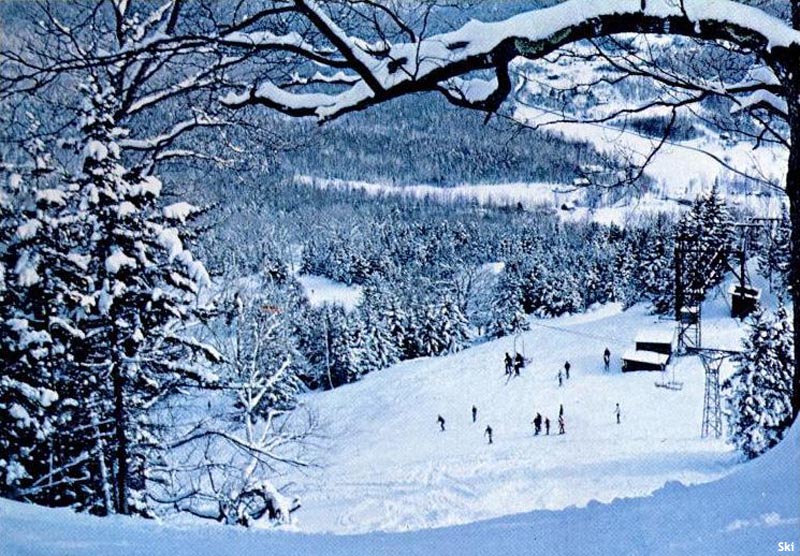 The Knoll T-Bar and Summit Double circa 1970

Once again finding itself dealing with new competition, including Attitash and Tyrol, Black Mountain made plans to expand the ski area. The Upper Mountain was opened for the 1965-66 season, served by Black's first chairlift. Increasing the vertical drop by 400 feet to 1,100 feet, the new chairlift was described by the Portsmouth Herald as "pretentious." The lift was dedicated by Governor John King on December 18, 1965, though it reportedly did not open to the public until later in the season.

Following a successful 1968-69 season in which business was up 30%, Bill and Betty Whitney retired to a home above Whitney's Slope, handing over the reins to former ski patrol director Don Murray and his wife Kathy. While Black was able to stay open through the tough years in the 1970s, there was not much growth. Sadly, shortly after celebrating his 40th wedding anniversary with Betty, Bill Whitney suffered a fatal heart attack while hiking a ski trail in October of 1976.


Financial Trouble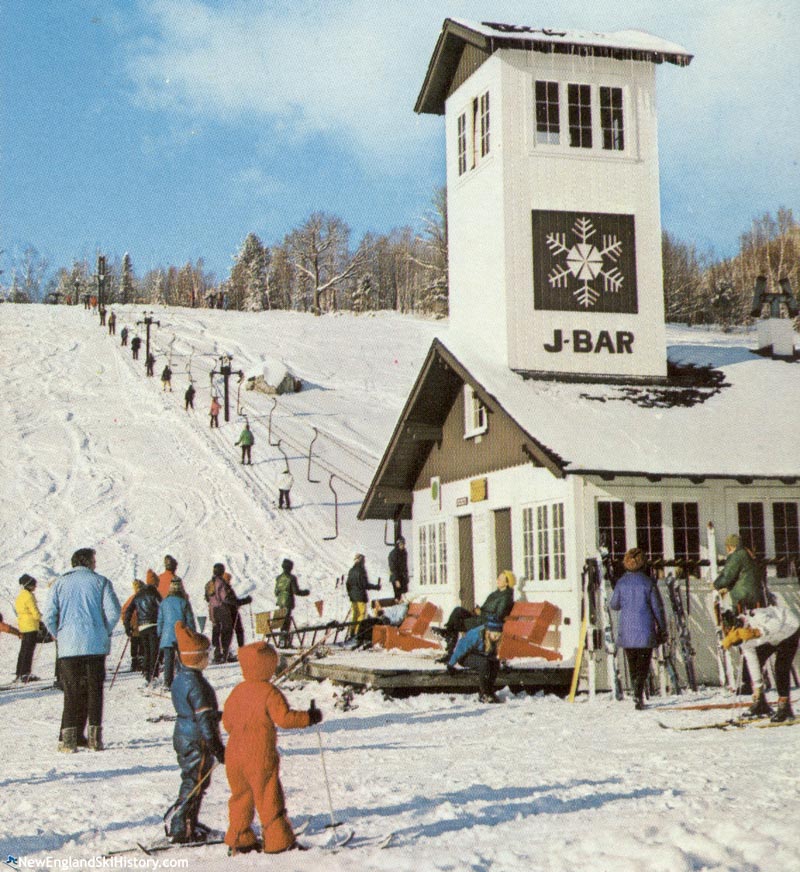 The Whitney Slope and J-Bar

After a few tough seasons in the early 1980s (including a two-day 1979-80 season), a group of local businessmen took over Black Mountain and started a five year investment plan. For the 1982-83 season, the base lodge was expanded by 10,000 square feet.

Black Mountain Resort, Inc. sold the property to Black Mountain Development Corporation in September 1984. Led by Earle Wason, the new ownership hit the ground running, installing top to bottom snowmaking and a new triple chairlift. Circa 1985, retired General Electric employee Bill Lynn took over as General Manager and then president. Soon thereafter, George Fairbanks took over as president.

In July 1986, Ski Black, Inc. was formed, with both Lynn and Fairbanks as officers. The company leased the ski area from Black Mountain Development Corporation starting in July 1987, as the owners worked on real estate development. The ski area reported back to back record seasons in 1988-89 and 1989-90.

Paul Lodi succeeded Chip Taylor as General Manager of the ski area circa the 1990-91 season. Betty Whitney remained involved as a stockholder. The 1990-91 season also saw the construction of a glass walkway between the lodge and restrooms.



Fichera Takes Over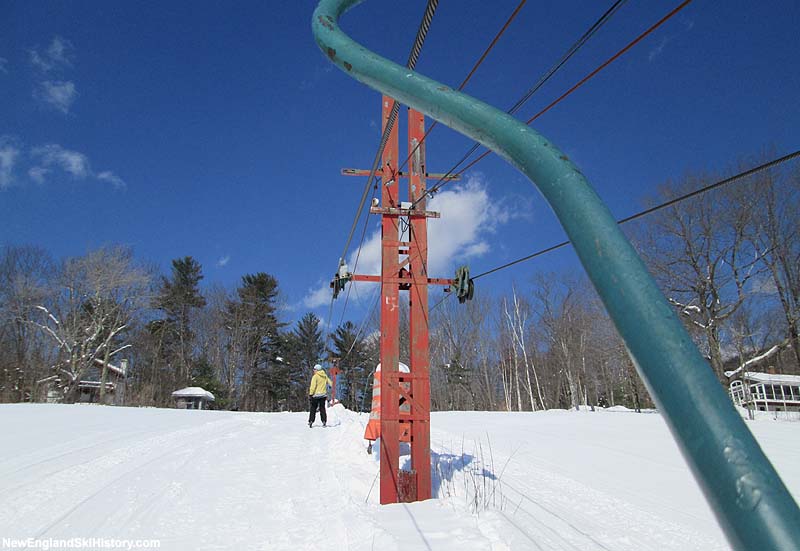 The J-Bar in 2014

As the early 1990s progressed, loans began to pile up for Black Mountain Development Corp. On March 3, 1995, the company filed for bankruptcy. As part of the reorganization agreement, John Fichera and Northern Mountain Trust were selected to operate and acquire the ski area. In March of 1996, John and Andrew Fichera formed Alpine Resources Corporation as the owning organization of Black Mountain.

Snow tubing was offered starting with the 1995-96 season.

New glades were added for the 1997-98 season.

Betty Whitney passed away in February 2005 at the age of 102.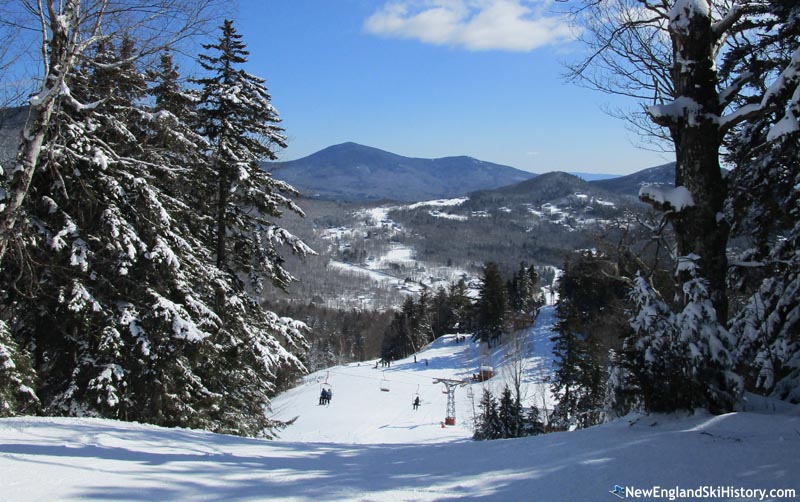 Upper Maple Slalom in 2020

Despite waves of corporate sales at other ski areas in the region, Fichera has retained the independent feel at Black, keeping the ski area in operation whilst steadily improving snowmaking capabilities.



NewEnglandSkiConditions.com Reports

Month
Average Percent of Terrain Open
December
25% (2 reports)
January
25% (3 reports)
February
77% (8 reports)
March
82% (12 reports)

-- start conditions table -->

Recent Conditions Reports

Mar. 25, 2023 by nordicgal
Loose Granular, Frozen Granular
Mar. 12, 2023 by skiit
Loose Granular, Spring Snow
Mar. 5, 2023 by alpinevillagepres
Powder, Packed Powder
Feb. 12, 2023 by rocket21
Spring Snow, Variable Conditions
Mar. 13, 2022 by alpinevillagepres
Powder, Packed Powder

Black Mountain Resort on NewEnglandSkiConditions.com
NewEnglandSkiIndustry.com News
CCC Trails
Expansion History
Image Gallery
Lifts
Click on lift name for information and photos
Maps
Year by Year History
Adult Weekend Full Day Lift Ticket; Adult Full Price Unlimited Season Pass

2020s
Ticket Price
Season Pass Price

Pass Payback

Opening Day

Closing Day

Skier Visits

2022-23
$85.00
$649.00
7.6 days
December 27
March 26
2021-22
$72.00
December 26
March 18
2020-21
$62.00
$599.00
9.7 days
December 19
March 20
2019-20
$62.00
$599.00
9.7 days
December 20
March 15
2010s
Ticket Price
Season Pass Price

Pass Payback

Opening Day

Closing Day

Skier Visits

2018-19
$59.00
$599.00
10.2 days
November 30
April 14
2017-18
$59.00
$599.00
10.2 days
December 2
March 31
2016-17
$55.00
$700.00
12.7 days
December 3
April 15
2015-16
$55.00
$700.00
12.7 days
January 1
March 9
2014-15
$55.00
$700.00
12.7 days
December 13
March 28
2013-14
$49.00
$600.00
12.2 days
December 16
March 29
2012-13
$49.00
$575.00
11.7 days
December 15
March 24
2011-12
$45.00
$469.00
10.4 days
March 18
31,700
2010-11
$45.00
$469.00
10.4 days
44,900
2009-10
$39.00
$499.00
12.8 days
December 18
March 27
2000s
Ticket Price
Season Pass Price

Pass Payback

Opening Day

Closing Day

Skier Visits

2008-09
$39.00
December 12
March 28
2007-08
$39.00
$499.00
12.8 days
December 14
March 30
2006-07
$32.00
$499.00
15.6 days
December 23
2005-06
$32.00
$499.00
15.6 days
December 22
March 19
25,000
2004-05
$32.00
$499.00
15.6 days
December 17
March 27
25,000
2003-04
$32.00
December 12
2002-03
$32.00
$499.00
15.6 days
December 14
2001-02
$32.00
December 26
2000-01
$32.00
December 16
1999-00
$32.00
March 26
1990s
Ticket Price
Season Pass Price

Pass Payback

Opening Day

Closing Day

Skier Visits

1997-98
$32.00
December 12
1996-97
$32.00
March 30
30,000
1994-95
December 16
1992-93
$29.50
1991-92
$29.00
1990-91
$28.00
March 17
1989-90
$28.00
November 24
1980s
Ticket Price
Season Pass Price

Pass Payback

Opening Day

Closing Day

Skier Visits

1988-89
$25.00
December 10
1987-88
$24.00
1986-87
$20.00
1985-86
December 14
1984-85
$18.00
$350.00
19.4 days
1980-81
$11.00
1979-80
$10.00
1970s
Ticket Price
Season Pass Price

Pass Payback

Opening Day

Closing Day

Skier Visits

1978-79
$9.00
1977-78
$8.00
December 17
1976-77
$8.00
1975-76
$8.00
1974-75
$8.00
1973-74
$8.00
1971-72
$7.00
1970-71
$7.00
1969-70
$7.00
1960s
Ticket Price
Season Pass Price

Pass Payback

Opening Day

Closing Day

Skier Visits

1968-69
$6.00
1967-68
$6.00
1964-65
$4.50
1963-64
$4.50
December 7
1962-63
$4.50
1961-62
December 15
April 2
1959-60
$4.00
1950s
Ticket Price
Season Pass Price

Pass Payback

Opening Day

Closing Day

Skier Visits

1958-59
$4.00
1957-58
April 6
1955-56
December 10
1953-54
$3.50
1952-53
$3.50
1949-50
$3.00
December 10
1940s
Ticket Price
Season Pass Price

Pass Payback

Opening Day

Closing Day

Skier Visits

1946-47
November 28
1945-46
December 7
1942-43
February 22
Visitor Memories
"nobody mentioned the Sugaring Off Race and events. ????? Lots of Fun. "
steve colby, Mar. 9, 2019
"My father was in charge of the training, certification and record keeping for the ski patrol as well as maintaining all the equipment for the ski patrol. I grew up spending time around Black Mtn as a kid until the fire of the summit double brought in the Fichera era. I spent time in the off season helping around the base lodge as well being used during ski patrol refresher training and lift evacuation drills. I can't tell you how many times I was strapped to a back board and flipped upside down or stood on my head because the adults thought it was funny. We still have an old center post chair from the double and I remember when the new chairs were installed. The old thiokol groomer caught fire and burned up and our new LMC groomer suffered a catastrophic failure. It was dragged off the mountain never to be seen again as LMC had gone out of business and there was nobody to honor the warranty. "
Jon Blake, Dec. 22, 2015
---
External Links
Black Mountain Resort - official site
Black Mountain - FranklinSites.com Hiking Guide
Last updated: October 24, 2023