Mad River Glen
Waitsfield, Vermont
Status:
Open
First Season:
1948-49
Vertical Drop:
2037 feet
Standing Lifts:
3 doubles, 1 single, surface lift
Past Lifts:
Surface lifts
Left: The single chair (2015)
Recent NewEnglandSkiIndustry.com News:
3/17/2023: Betsy Pratt Passes Away
11/10/2017: Ski Areas Open in 4 States This Weekend
Located on the eastern face of General Stark Mountain, Mad River Glen is a well-known "old school" ski area, famous for its unique terrain, single chairlift, and snowboarding ban.


The Antithesis of Stowe

While serving in World War II, Roland Palmedo started thinking about developing a new ski area. Palmedo, a naval aviator, airline executive, and banker, had been instrumental in the growth of skiing, as he was involved in the founding of the Williams Outing Club, the US women's ski team, the National Ski Patrol, and Stowe's Mt. Mansfield Lift company. As the decade progressed, Palmedo was becoming frustrated with issues surrounding the ownership and direction of the increasingly glitzy ski area, feeling it was not capturing the essence he wanted. According to a biography written by his son Philip Palmedo, Roland "was chagrinned at how quickly success was spoiling the rural character of Stowe."


Development and Delays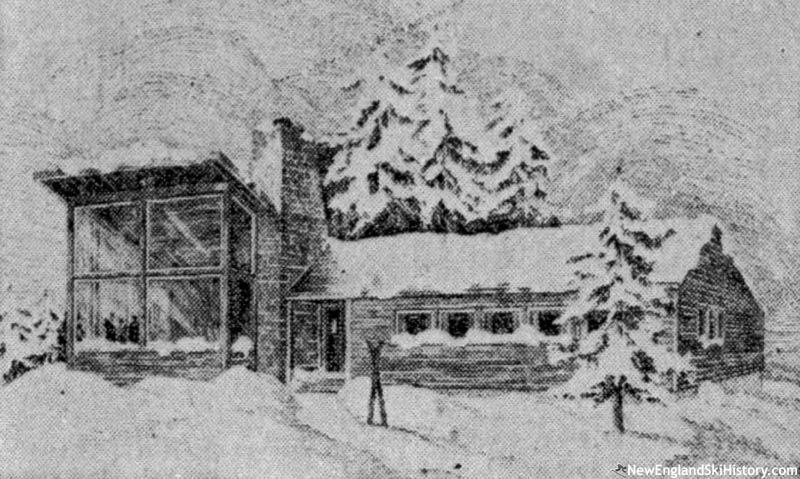 1947 rendering of the Basebox

Scouring maps, Palmedo's Mt. Mansfield Lift company colleagues James Negley Cooke, Nancy Reynolds Cooke (United States Womens Ski Champion), and Charles "Charlie" Lord made site visits in his absence. Twenty-eight potential sites were studied over a three-year period. Palmedo strongly considered developing a ski area on Mt. Abraham before discovering the characteristics of General Stark Mountain. Not only did the mountain have excellent snow-retention features, but the land was not encumbered by state ownership.

In November 1946, Palmedo's group formed what would become the Mad River Corporation and acquired options on the land owned by Parker Young Lumber Company and Ward Lumber Company. Initially known as the Catamount Corporation, the company flew under the radar until amendment carrying Palmedo's signature in early January resulted in press stories about "what may be the next addition to Vermont's thriving ski industry - and perhaps the largest one." Weeks later, J. Negley Cooke was named executive vice president of the company. Cooke was also reportedly executive vice president of Mt. Mansfield and a director at Hogback.

In early spring, the Mad River Corporation announced it had completed lift line surveying and had ordered an aerial chairlift from the American Steel and Wire Company, designed by Gordon Bannerman with Claire Beatty serving as construction engineer. Trail surveying continued in April with Cooke, Olympian Robert Schwarzenbach, and Charlie Lord (who had overseen trail development at Mt. Mansfield).

In June 1947, details emerged about the proposed development, such as a planned 2,000 vertical drop served by a "chair lift of the latest type," and Lowell Thomas, Mrs. W. Douglas Burden (later of High Pond), and two members of the Rockefeller family being on the Board of Directors. Charlie Lord was named manager. The development was expected to "complement" Mt. Mansfield and make the region the most extensive and attractive for skiing in the east. Clearing was already underway at this point and a large hotel was planned near the base area. Meanwhile, the state was set to spend $75,000 on improving the McCullough Mountain Turnpike from the south to the ski area, with Mad River kicking in $2,000 for a 150-vehicle parking lot.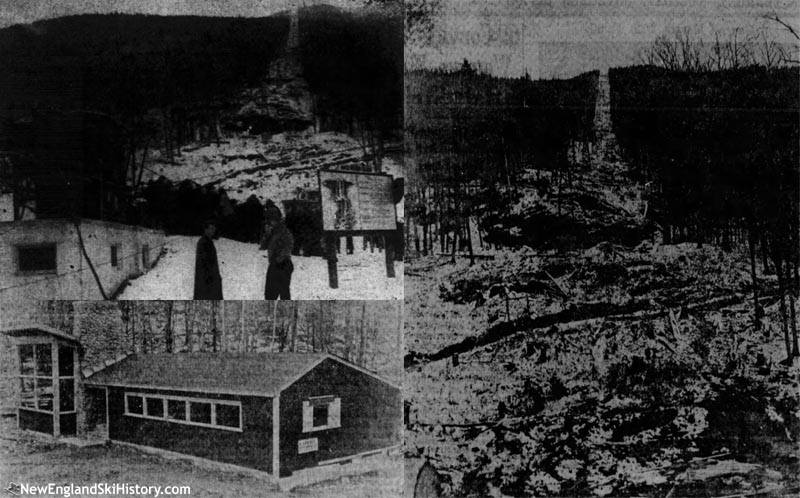 Construction of Mad River Glen

In August, the Mad River Corporation announced R. J. Pierce would be constructing the base shelter. Designed by Delano & Aldrich of New York (possibly by architect Alexander McIlvaine), the plans included a huge stone fireplace, "thermopane" picture windows, modern restrooms, a ski shop, a first aid room, employee living quarters, and a 100-person cafeteria. Later that month, the corporation filed that it had received nearly $200,000 in stock sales.

On November 23, 1947, Mad River Glen picked up nearly a foot and a half of snow, making it difficult for lift installers to work. Following a two-day meeting of the Mad River Corporation and American Steel and Wire, the ski area announced it would have to postpone its debut until the 1948-49 season. At this point, the Basebox shelter was largely complete, most of the lift footings had been poured, and 14 towers were reportedly standing.

Work continued in 1948 with sixty-eight chairs being installed on the 140 horsepower chairlift, as well as a mid-station. The summit featured the Stark's Nest shelter, while the Basebox shelter included a Sig Buchmayr ski shop. Trails cut for the debut season included Catamount, Chute, and Fall-line from the top, and Grand Cabyon and Porcupine below the mid-station. By this point, the total project cost was reported as $400,000.



Mad River Glen Opens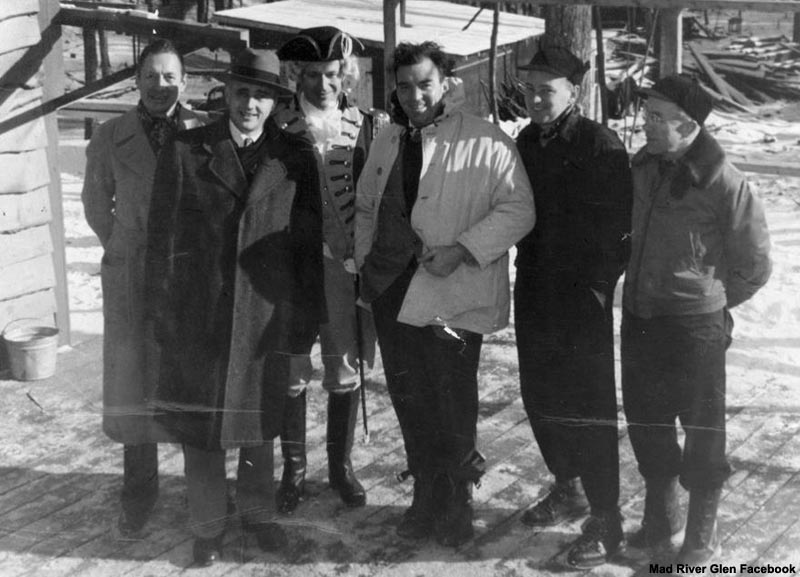 The Single Chair dedication (left to right, Roland Palmedo, Governor Ernest Gibson, Sandy McIlaine (General Stark), Howard Moody, J. Negley Cook, Charlie Lord

In November, Mad River Glen announced a December 11, 1948 dedication with Lowell Thomas serving as master of ceremonies and Governor Ernest W. Gibson as the guest of honor. The grand plans fizzled, as a lack of snow prevented skiing, Lowell Thomas was unable to attend due to illness, and Governor Gibson was late due to a trip out of state. Nevertheless, a crowd of 500 to 800 attended, including young Olympic skier Andrea Mead and Miss Vermont Jean Peatman (who cut the ribbon for the new lift). Chairman of the Vermont Development Commission Sam Ogden took the first ride on the lift.

Mad River Glen finally opened to skiers the day after Christmas likely on the lower mountain only, though "the skiing left something to be desired." The lift closed soon thereafter after "Tropical breezes from the south have moved in." The Burlington Free Press declared, "The New Year's skiing weekend has been killed."

The Mad River Ski Club was started in January 1949 with the purpose of developing recreational and competitive skiing at the area.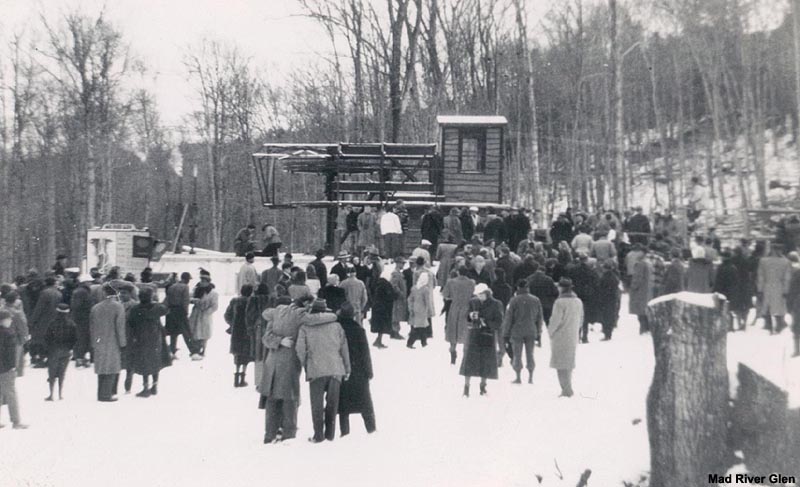 The Single Chair dedication

Lift served skiing likely resumed in mid-January with poor to fair conditions before being halted yet again. By this point, Mad River Glen had lost an estimated $40,000 and had laid off 30 employees. Skiing resumed on the lower mountain at the end of the month, with top to bottom skiing kicking off the start of February. By mid-February, Mad River was reporting two to three feet of base until a rain storm hit.

According to the Boston Globe at the time, "the trail layout on the mountain is unique in that all start from the top and then regroup at the mid-station, where they again diverge and use different types of terrain to the bottom."

In February, Mad River Glen and Mt. Mansfield ski area management expressed interest in developing the Long Trail for "high mountain ski touring." Meanwhile, the Tucker Hill ski area opened nearby, providing five slopes served by a rope tow and featuring night skiing.

A snowstorm brought roughly a foot of snow for the second weekend in March, providing "the best skiing of the year." Skiers reportedly fled the long lines at Mt. Mansfield for Mad River Glen, where the wait for the single chair was only ten minutes. Days later, Mad River Glen hosted its first sanctioned race, the United States Eastern Veteran's Championship and the Eastern Father and Son Championship. The season likely came to a close at the start of April.

The Mad River Glen chairlift debuted for scenic rides on July 2, 1949, operating on weekends and holidays that summer and fall.



The 1950s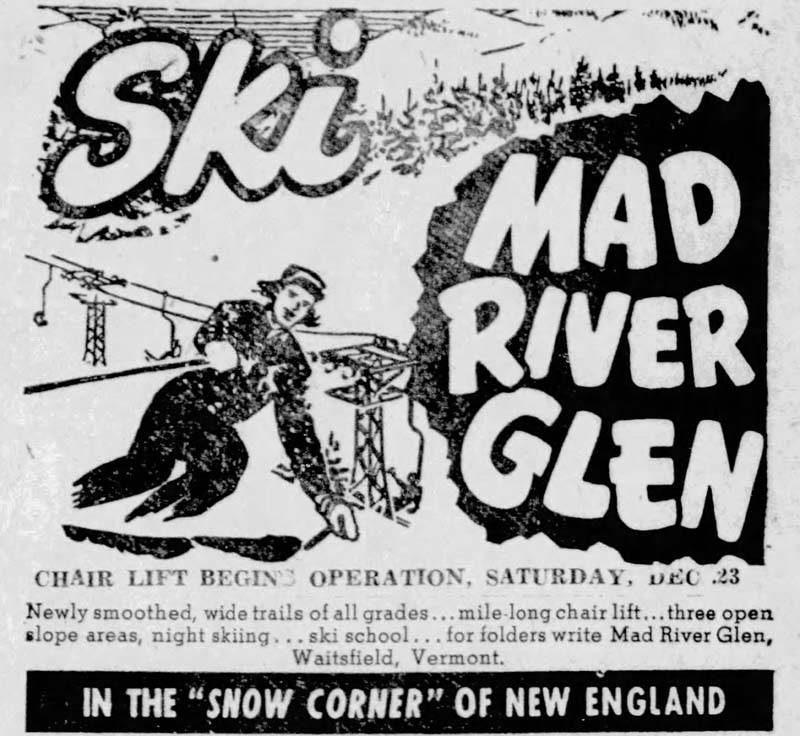 A 1950 Mad River Glen advertisement

Improvements for the 1949-50 season included the Foot-o-Mount open slope, complemented by a 1,200 foot rope tow and night lighting, and the novice Snail trail, the lower part likely incorporating an unplowed stretch of McCullough Mountain Turnpike. In addition, Stark Mountain Road was widened to become the 19th Hole Trail.

Though the 1949-50 season saw early snowfall, "Disappearing snow and tropical downpours" left the lifts idle until the end of December, when the upper mountain likely opened with poor conditions. Rain shut down the ski area a few days later. The chairlift likely did not reopen until late January due to lack of snow. By the end of the month, Mad River Glen had not had a single good day, accumulating a loss of $65,000 ($25,000 worse than January 1949).

The snow drought continued into mid-February, when about a foot of powder finally reopened the mountain top-to-bottom. Mad River Glen sent out a release declaring, "Mad River Glen takes pleasure in announcing the arrival of lots of snow." By the end of February, Mad River Glen had all trails open with a base of one to three feet. The season extended to mid-April. Mad River Glen notched 59 days of operation during the 1949-50 season, posting only 40% of its expected revenue.

As a result of the continued poor winters, 1950 improvements were limited. The Porcupine trail was bulldozed and seeded to allow for skiing with minimal snowpack. The chairlift operated that off-season on Saturdays, Sundays, and holidays.

Mad River Glen's trend of little to no early season operations continued with its third year, as there was inadequate snow for skiing until just before New Year's. Rain returned a few days later, shutting down operations until mid-January.

Mad River Glen was supposed to host the Eastern Senior Giant Slalom championship in early February 1951, however inadequate snow resulted the postponement of the race until March. Poor skiing persisted until the middle of the month, when a foot of powder briefly provided good conditions. Snowpack finally started to accumulate in March, just in time for the rescheduled race. Days later, Mad River Glen hosted the Interscholastic Giant Slalom, featuring high school teams from across New England. Ski school director Bud Phillips set the course.

Though it seemed like the 1951-52 season was coming to a close in early April, snow hung on in the upper elevations. As a result, the chairlift remained in operation through the last weekend of the month for upper mountain skiing only.

Particularly with its first three seasons being skewed toward spring skiing, Mad River Glen was struggling with road access. The five mile stretch from Route 100 was still dirt and was often a mess during mud season. Legislative attempts to pave the road had stalled, resulting in a group of 350 college students sending a petition to the state in May 1951. Points made by the group included that Mad River Glen was the only major ski area in the east that couldn't be reached on a paved road, and that five mufflers were lost in the mud in just one day. A resolution was passed by the House, however it was struck down by the Senate. In July, Howard Moody and a group of representatives and senators visited Governor Lee Emerson and made their case. One month later, the State Highway Board added the road to its federal aid secondary highway system, making it possible to receive federal funding. Though the project was not advanced for the 1951-52 ski season, transportation was buoyed by the addition of Pullman cars to Central Vermont Railway trains from New York City and Boston.

Improvements for the 1951-52 season included cutting the Glade, which was described by the Burlington Daily News as "60 to 100 feet wide with trees interspersed in various sections of the trail to form an open glade. This type of trail construction provides interesting skiing and holds snow longest on a northern exposure." The Practice Slope was bulldozed and augmented with a new rope tow. In addition, a new runout was cut at the bottom of Porcupine.

The 1951-52 season had a much more favorable start, as Mad River Glen picked up one to three feet of snow prior to opening weekend. Wet weather just before Christmas may have dampened opening enthusiasm, keeping some trails closed. Nevertheless, the weekend between Christmas and New Year's saw booked rooms across the region and strong business at the ski area before New Year's rain shut down most trails. Early January snow provided a slight rebound, with snowpack returning to pre-Christmas levels in mid-February. Mad River Glen set an all-time record over Washington's Birthday weekend, seeing 2,500 skiers over the three-day period. With decent snowpack in March, Mad River Glen hosted a variety of ski races, including the Edson Memorial Giant Slalom Championships, the Interscholastic Giant Slalom, and the Family Giant Slalom Tournament. The season likely lasted into mid to late April.

One year after the access road drama, the Vermont Highway Department announced it would be paving the first mile of road to the ski area. It was later revealed that the project was made possible when Mad River Association president Henry Perkins mortgaged his home to provide the local funding needed to obtain the matching state and federal funding. Construction was completed in early November. A celebration was held in honor of Perkins at the Base Box in early December, where friends nicknamed the road "Perkins Partial Parkway."



Jack Murphy Arrives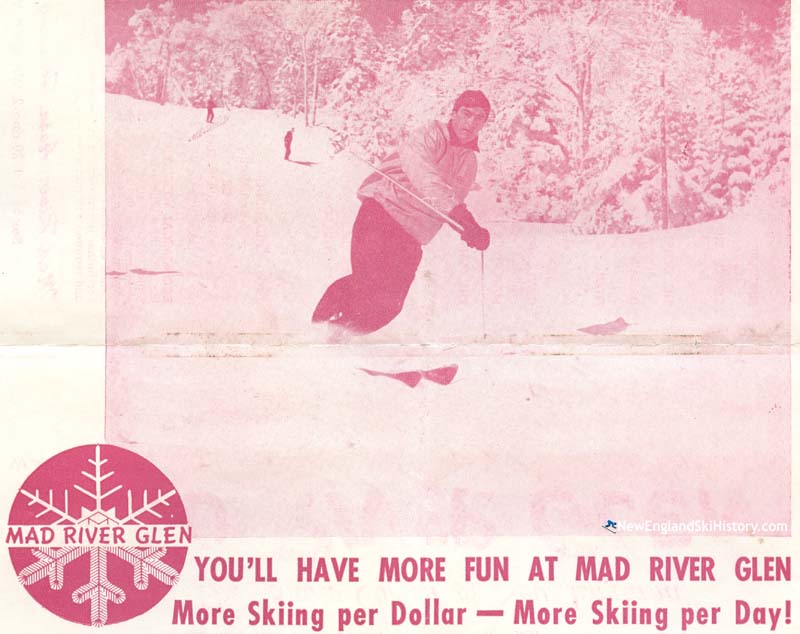 A 1950s Mad River Glen advertisement

In September 1952, Mad River Glen announced that Howard Moody had resigned as manager (taking a job as a salesman with Union Hardware Company). 10th Mountain Division veteran Jack Murphy, who most recently ran Mont du Lac ski area in Wisconsin, was hired as manager. Allen Clark served as assistant manager, while Murphy recruited Ken Quackenbush, former manager of North Creek, New York, to be his lift manager.

Off-season work included smoothing and widening trails to make them skiable with less snow and overhauling the rope tow.

The 1952-53 season kicked off on December 20th, a few days after the area picked up nearly one to three feet of snow. Newspaper advertisements proclaimed it was the "best snow coverage yet for opening day." Nearly every room between the ski area in Burlington was booked for the Christmas holiday period. Good conditions continued through the New Year's weekend, shattering attendance records and resulting in the area running out of food. Jack Murphy reflected at the end of the weekend, "The people are weary. We're glad it's over for the time being."

Meanwhile, in December 1952, Luther Damon Gadd and Sara Gadd purchased the Ulla Lodge (later known as the Hyde Away Inn). The couple would later develop Sugarbush with Jack Murphy.

In 1953, Connecticut resident Betsy Stratton met a banker friend of Roland Palmedo while skiing at Mad River Glen. She and Truxton Pratt married in 1954 and celebrated their honeymoon at the ski area.

A new trail was reportedly cut during the 1952-53 season, connecting Fall Line to Grand Canyon in preparation for the United States Eastern Amateur Ski Association Women's Championship race, which served as a national qualifier. The race was won by Anne Jones, who was described by the Burlington Free Press as a "small housewife." Her husband, Joe Jones, set the course with Bud Phillips. Future Olympic silver medalist Betsy Snite, then 14 and "showing ability beyond her years" according to the Rutland Daily Herald, came in second in the slalom.

Despite the strong Christmas to New Year's holiday period, the 1952-53 season was inconsistent, as conditions deteriorated during the second half of January. The season may have come to a close in late March.

A fluke early October 1953 storm resulted in employees hitting the slopes on October 8, skiing Porcupine on 4 to 12 inches of snow.

Improvements for the 1953-54 season included dynamiting and widening Catamount (described as "lifting the face" of the Catamount) and the addition of another trail (possibly a precursor to Chipmunk). Meanwhile, another mile of the access road was paved.

The 1953-54 season was initially scheduled to kick off in mid-December, however with only a few inches of snow, Jack Murphy decided "it would make better skiing later on if we nailed this snow down for a good solid base before we opened to the public." Mad River Glen opened on Christmas Eve, but suffered through generally "poor to fair" conditions for the rest of the month. A surprise New Year's storm allowed the upper mountain to open for the first time that season. February was stronger, with the area reporting record crowds of over 4,000 during Washington's Birthday weekend. To lessen the impact of long lift lines, Mad River Glen implemented a "Time-Ticket Plan," which allowed skiers to hold their place in the single chair lift line while going to the Base Box and/or using the practice slope.

Spring was ushered in with additional snowfall, allowing for the season to extend to Easter. The season concluded with various Easter festivities, including a sunrise service atop the Catamount trail. Business reportedly increased by 42% over the previous season, boosted by 113 days of operation.

With Stowe constructing a double chairlift, the major project for the 1954 off-season at Mad River Glen was upgrading the uphill capacity of the single chairlift from 220 to 440 people per hour. To achieve this, 69 chairs were added to the line, a new diesel engine installed, sheave trains expanded, and the top counterweight increased from 29,000 to 41,000 pounds. In addition to the chairlift project, the Chipmunk trail was opened.

Access to the resort from New York was improved with the "Skier's Special" flight on Northeast Airlines to Montpelier, as well as new train packages with the Central Vermont Railway. In addition, Mad River Glen offered a special "Skiers' Mass" each Sunday morning at the Base Box to make weekend skiing more accessible to Catholics.

Ski school director Bud Phillips introduced short skis for the 1954-55 season, noting that "pupils make much faster progress in learning to ski properly on short skis than they do on skis of normal length."

Thanks to plentiful early season snowfall, Mad River Glen enjoyed its earliest opening day to-date, firing up the lifts on December 11. Good skiing was enjoyed through Christmas, however a thaw threatened New Year's business. Subsequent snow arrived just in time to fill up area lodging facilities.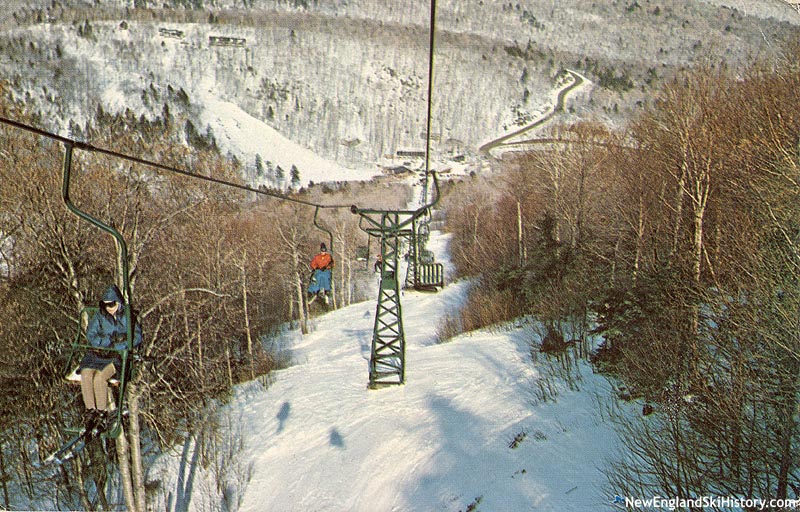 The Single Chair

Circa 1957 Quackenbush took over as General Manager when Jack Murphy left to develop a new ski area down the road. Sugarbush opened for the 1958-59 season, while Mad River Glen installed a T-Bar on the Practice Slope.

As the ski industry went into its major growth period, Mad River Glen did too. The Sunnyside complex opened for the 1961-62 season, giving Mad River Glen its second top to bottom lift, as well as some non-expert terrain.

The Birdland complex, featuring novice and intermediate terrain, debuted for the 1966-67 season.


Pratt Ownership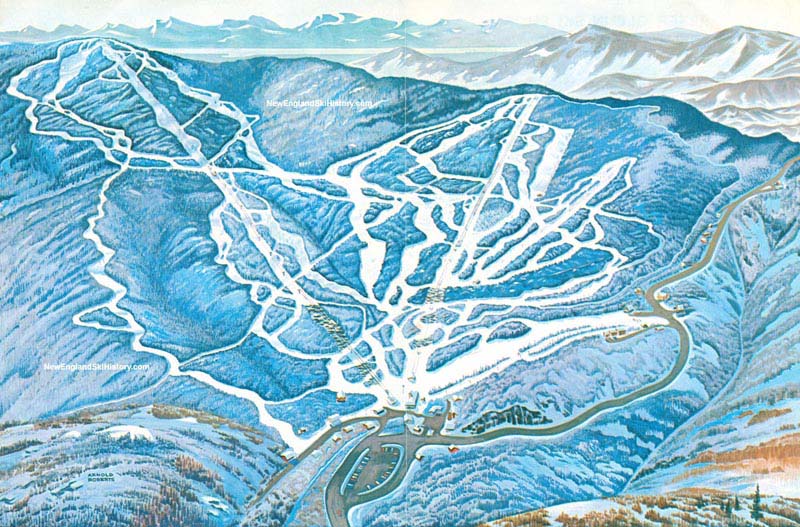 Mad River Glen in the 1970s

In early 1972, real estate developer Bradford Swett and Truxton Pratt formed McCullough Corp. Circa early March, the company purchased 92% of Mad River Corp., making Swett President, Pratt Chairman of the Board, and General Manager Ken Quackenbush Vice President.

For the 1972-73 season, the Practice Slope Chair was installed, replacing a T-Bar. To date, this is the last net new chairlift installation at Mad River Glen.

Snowmaking made its debut at Mad River Glen for the 1975-76 season, covering the Practice Slope.

The mid 1970s proved to be a sad time at Mad River Glen, starting off with an accident on the single chairlift in February 1975. In July of that year, Truxton Pratt passed away at the young age of 49 after a long fight with cancer. Founder Roland Palmedo passed away in March of 1977, followed by J. Negley Cooke in 1978.

Following her husband's death, Betsy Pratt took control of the ski area, eventually acquiring a principle stake. Reflecting years later, Pratt said, "I consider ownership to be stewardship."

In 1984, Mad River Glen introduced its now famous 'Ski It If You Can' bumper sticker, emphasizing the character of the terrain, as well as the lack of snowmaking/grooming.

Though snowboarding was allowed at Mad River Glen starting with the 1986-87 season, snowboarders were banned from the single chairlift due to deropements. After a confrontation between young snowboarders upset about the partial ban and Betsy Pratt, snowboarders were banned from the entire area starting in 1991-92.

Meanwhile, circa the 1990-91 season, Pratt made known her intentions to sell the area, as well as her desire to keep it from being purchased by a corporate entity seeking to make it a destination resort. With Sugarbush bouncing from one corporate owner to another, the contrast was stark.


Mad River Glen Cooperative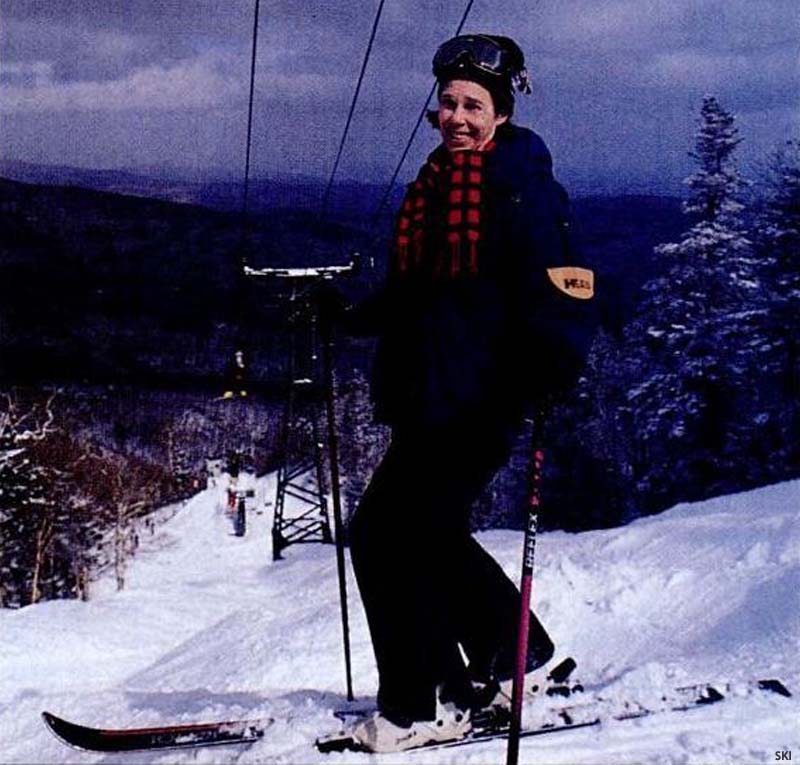 Former owner Betsy Pratt

On September 27, 1994, the Mad River Glen Cooperative was registered as an entity in the State of Vermont. After nearly a quarter of a century of ownership, Betsy Pratt entered into an agreement to sell the ski area to the cooperative in December of 1995, even buying a few shares herself and providing startup funds. Planning immediately began for long term improvements while retaining the character of the ski area, as snowmaking was prohibited above 2,300 feet in elevation. One core value was clear - snowboarding would not be allowed.

In April of 1998, the coop sold its 1,667th share, raising enough money to own the ski area outright. Much needed lift improvements were about to begin.

The Sunnyside chairlift was rebuilt for the 1998-99 season, dramatically extending its useful life. After the season, Robert Mazza stepped down as General Manager. Bob Ackland took over as General Manager for two seasons before departing to join a new ownership group at Sugarbush in 2001. His assistant Jamey Wimble took over as the next Mad River Glen General Manager.

In April of 2007, the single chairlift carried its last skiers before shutting down for an unprecedented construction project. That off season, Doppelmayr-CTEC completed a $1.5 million renovation of the lift, including restoring towers and terminals while fabricating replica replacement chairs, sheaves, and bullwheels. The rebuilt lift was completed in the fall of 2007.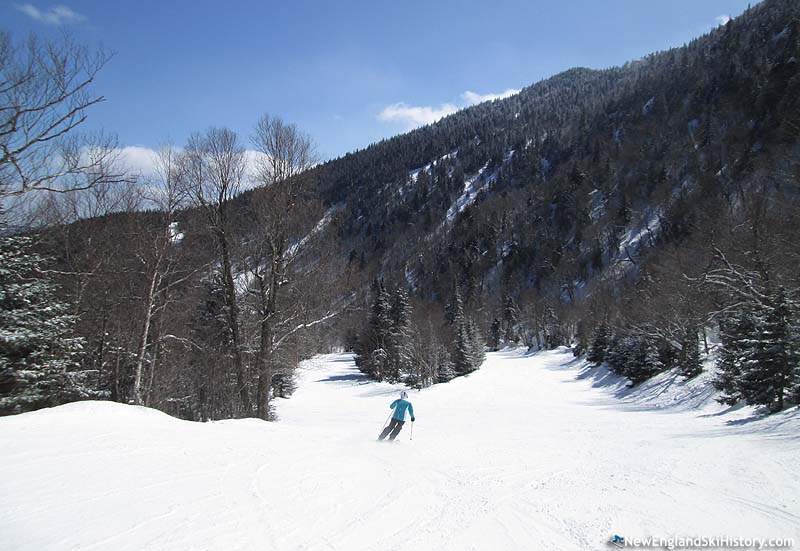 Mad River Glen in 2015

Jamey Wimble stepped down as General Manager in September 2016. Matt Lillard, formerly of Eaglecrest, Magic, and Okemo, took over as General Manager in March 2017.

The Mad River Glen Cooperative continues to sell shares to this day in lump sum and payment plan options, with well over 2,000 (of up to 3,000 allowed) sold to date. Concern about not operating during periods of poor snowfall has once again raised the question of whether or not to install a larger snowmaking system. For now, a meager snowmaking set up covers a small portion of the ski area, as Mad River Glen decidedly remains a natural snow skier's destination.



NewEnglandSkiConditions.com Reports





NewEnglandSkiIndustry.com News





Expansion History





Image Gallery





Lifts
Click on lift name for information and photos




Maps


Year by Year History
Adult Weekend Full Day Lift Ticket; Adult Full Price Unlimited Season Pass

2020s
Ticket Price
Season Pass Price

Pass Payback

Opening Day

Closing Day

Skier Visits

2023-24
$110.00
$1090.74
9.9 days
2022-23
$99.00
$1058.94
10.7 days
December 17
April 15
2021-22
$97.00
$1058.94
10.9 days
December 11
March 27
2020-21
$92.00
$1037.74
11.3 days
December 12
March 27
2019-20
$92.00
$1037.74
11.3 days
December 7
March 15
2010s
Ticket Price
Season Pass Price

Pass Payback

Opening Day

Closing Day

Skier Visits

2018-19
$89.00
$1022.90
11.5 days
November 24
April 20
2017-18
$89.00
$992.00
11.1 days
December 15
April 8
61,397
2016-17
$79.00
$992.00
12.6 days
December 10
April 9
62,150
2015-16
$79.00
$992.00
12.6 days
January 9
March 13
51,285
2014-15
$75.00
$963.00
12.8 days
December 12
April 19
2013-14
$71.00
$963.00
13.6 days
December 15
April 12
64,527
2012-13
$69.00
$963.00
14.0 days
December 24
April 7
65,038
2011-12
$66.00
$963.00
14.6 days
December 30
March 18
62,725
2010-11
$65.00
$944.00
14.5 days
December 24
April 10
75,829
2009-10
$62.00
$944.00
15.2 days
December 12
April 3
74,658
2000s
Ticket Price
Season Pass Price

Pass Payback

Opening Day

Closing Day

Skier Visits

2008-09
$60.00
$944.00
15.7 days
December 13
March 31
77,283
2007-08
$54.00
$899.00
16.6 days
December 6
2006-07
$54.00
$780.00
14.4 days
December 30
April 8
60,000
2005-06
$50.00
$780.00
15.6 days
December 17
April 1
69,000
2004-05
$50.00
$780.00
15.6 days
December 16
April 10
75,212
2003-04
$45.00
$740.00
16.4 days
December 7
April 3
84,091
2002-03
$42.00
$650.00
15.5 days
April 6
85,964
2001-02
$40.00
$650.00
16.3 days
April 7
85,023
2000-01
$40.00
$650.00
16.3 days
April 29
1999-00
$36.00
$650.00
18.1 days
December 23
April 2
1990s
Ticket Price
Season Pass Price

Pass Payback

Opening Day

Closing Day

Skier Visits

1998-99
$36.00
April 4
1997-98
$34.00
$620.00
18.2 days
1996-97
$32.00
$590.00
18.4 days
1992-93
$26.00
1991-92
$26.00
1990-91
$26.00
1989-90
$26.00
December 2
1980s
Ticket Price
Season Pass Price

Pass Payback

Opening Day

Closing Day

Skier Visits

1988-89
$24.00
1987-88
$22.00
1986-87
$22.00
1984-85
$20.00
$265.00
13.3 days
1983-84
$19.00
$440.00
23.2 days
1982-83
$22.00
$440.00
20.0 days
1980-81
$17.50
1979-80
$17.50
April 6
1970s
Ticket Price
Season Pass Price

Pass Payback

Opening Day

Closing Day

Skier Visits

1978-79
$15.00
1977-78
April 17
1976-77
$13.00
1975-76
$11.00
1974-75
$11.00
1973-74
$10.00
1969-70
$8.50
1960s
Ticket Price
Season Pass Price

Pass Payback

Opening Day

Closing Day

Skier Visits

1966-67
$7.00
$115.00
16.4 days
1964-65
$6.00
1963-64
$6.00
1962-63
$6.00
1961-62
$6.00
December 16
April 22
1960-61
$5.75
1959-60
$4.75
1950s
Ticket Price
Season Pass Price

Pass Payback

Opening Day

Closing Day

Skier Visits

1957-58
25,000
1954-55
December 11
1953-54
December 24
April 18
1952-53
December 20
1951-52
December 22
1950-51
December 30
April 29
1949-50
December 30
1940s
Ticket Price
Season Pass Price

Pass Payback

Opening Day

Closing Day

Skier Visits

1948-49
December 26
Visitor Memories
"Spent nearly every Christmas week and winter break week skiing there throughout the 70's. Got real familiar with the 70's new england variety of snow. The kind you need sharp edges to ski on. I recall dad waving to Roland going up the single chair once. I think it was the time the single chair reopened after it slipped the cable that one time. We went up too and got exhausted plowing down the Chute through over a foot of powder that accumulated during that lift outage. Nearly every night after hours, we would sled down the hill on borrowed cafeteria trays and prank the rockefeller tramway and run off. Good times."
David Tiblin, Mar. 13, 2019
"Skied The Glen regularly in the late 50`s for four years. Favorites were the Chute & Fall Line. Yes, 'Ski it if you can' and it was great. I remember skiing with Betsy Pratt in the 60`s. In the late 50s we would regularly leave skis and poles in the out-door rack returning to fetch them and ski the next day. Those were the days. And yes, I was at the bar as Gussie was first opening! Great memories of my favorite, General Stark Mt. and Mad river! Greetings to Betsy and all. Newt"
Newton Pendleton, Feb. 25, 2016
"I used to go to shaker mountain school out of Burlington and starksboro.Thanks to the ownership we were able to get lift tickets to Mad River glen on Thursdays for $1,this was in 77-78.What a good time we all had on the slopes.The climb up the mountain off of RT116 some mornings in those ole late 60s dodge vans was pretty rough.If anyone reading this remembers please write back,Thanks."
Eric Edwards, Dec. 2, 2015
---
External Links
Mad River Glen - official site
Last updated: September 19, 2023