| | |
| --- | --- |
| | |
Located off of Vermont Route 9 on the eastern face of Mt. Olga, Hogback was once a popular regional ski area. After over two decades of closure, Hogback has seen a new life as a backcountry ski area.


Pre-Skiing Years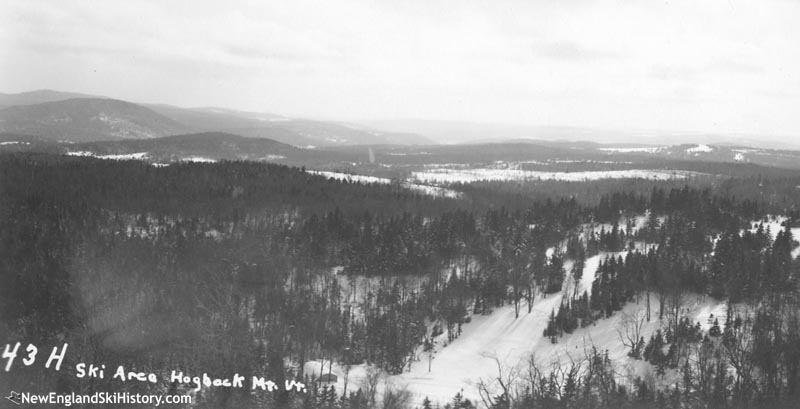 The early years of Hogback Mountain

The groundwork for the Hogback development dates back to the 1920s, when Harold White became interested in area southwest of Hogback Mountain in West Marlboro.

Circa 1930, the Vermont Division of Forestry reportedly constructed a fire tower on the southwest peak of Hogback Mountain, which was dubbed Mt. Olga after a property owner, Olga Haslund.

Plans for a hard surfaced road from Brattleboro to Bennington emerged in the 1930s, roughly following the route Revolutionary War hero John Stark used to transport a captured cannon. Named after Stark's wife, the million dollar Molly Stark Highway was dedicated by Governor Charles Smith on September 7, 1936, with former Governor Stanley Wilson serving as the day's main speaker.

The focal point of the highway was its highpoint, dubbed the Skyline. Two days prior to the highway's dedication, the Marlboro Tavern debuted there, offering rooms and three meals per day. The development eventually grew to include the Skyline Restaurant, Hogback Mountain Gift Shop, and Marlboro Inn, which remained under the ownership and management of Harold White's children for many decades.

Plans for skiing facilities on Mt. Olga emerged during the winter of 1937-38. Open slopes, trails, and a tow were reported as having been developed on Mt. Olga for the 1939-40 season. It is possible that this development was later incorporated into Hogback ski area.


Hogback Opens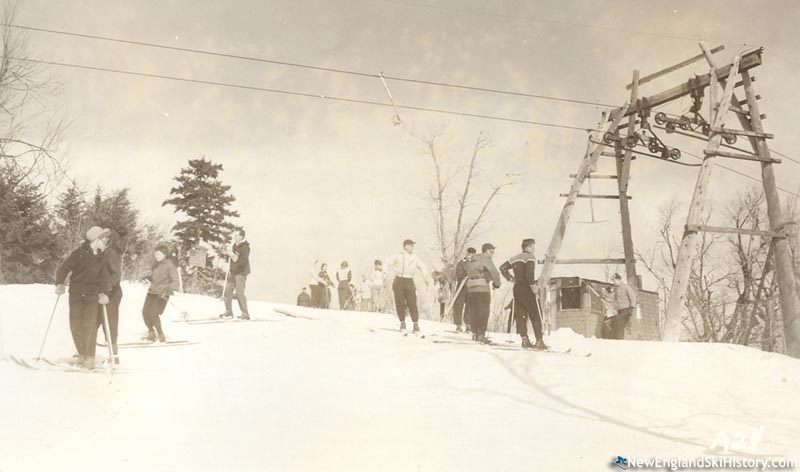 The Sugar T-Bar circa the 1950s

Following World War II, a new ski project was planned on Mt. Olga for the 1946-47 season. A $50,000 T-Bar development was opened by the Hogback Mountain Company, Inc. (or Hogback Mountain Ski Lift, Inc.) on leased from Harold White, dropping from near the top of Mt. Olga to a bowl below Route 9. Brattleboro Outing Club members John Dunham, Floyd Messenger, and Les Billings served as the company's President, Treasurer, and General Manager. In the days prior to snowmaking, the advertised 1,900 foot base elevation was deemed particularly attractive to skiers. Bus service was provided from Brattleboro. The lift likely opened in January of 1947 and was soon advertised as the highest capacity T-Bar in the East.

For Hogback's second season, the rope tow serviced Practice Slope was added on the Route 9 side of the area. In addition, the intermediate Ripperoo trail was cut adjacent to the T-Bar.

The rope tow was extended for the third season, while the Sugar Slope was added. Though there had been talk of expanding onto the South Face, the project never came to fruition. The 1948-49 season ended up being a struggle, as the lack of natural snow postponed lift operations until the end of January.

After half a decade of operation, the ski area reportedly turned its first annual profit with the 1951-52 season. Around this time, a late-season costume party became an annual tradition.


Expansion on the Route 9 Side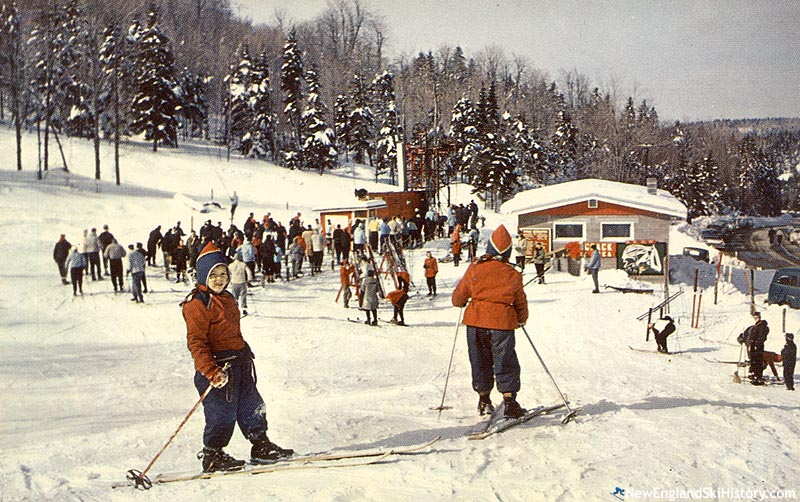 The Whiteway Pomalift

The 1954-55 season was Hogback's most successful to date, as the rope tow started operating in late November. Meanwhile, a new ski area opened nearby at Mt. Snow.

Following the season, Hogback acquired land to the northwest of the existing ski area for an expansion. Workers were hampered by rain as they rushed to cut Great White Way and Molly Stark, resulting in rough skiing until they could finish excavation during the following off-season. The diesel-powered Whiteway Pomalift didn't arrive until later in the fall, which, coupled with poor snowfall, resulted in the lift not opening until early February. Nevertheless, the new trails and lift gave Hogback additional visibility from Route 9 and increased its vertical drop by 50 feet. Even with the late start, the 1955-56 season was one of Hogback's best, as the area operated for 74 days. A thousand skiers would hit the slopes on a good day.

Another attraction was added in 1957, when White acquired taxidermist Luman Nelson's bird museum. The collection became the core of the Nelson Museum of New England Wildlife, which reportedly featured 500 bird and animal specimens. The museum was reportedly the third largest of its type in the country.

The adjacent Molly Stark State Park was developed starting in 1959, when Governor Robert Stafford approved $146,200 for the construction of an access road for a campground development.


The Roaring Sixties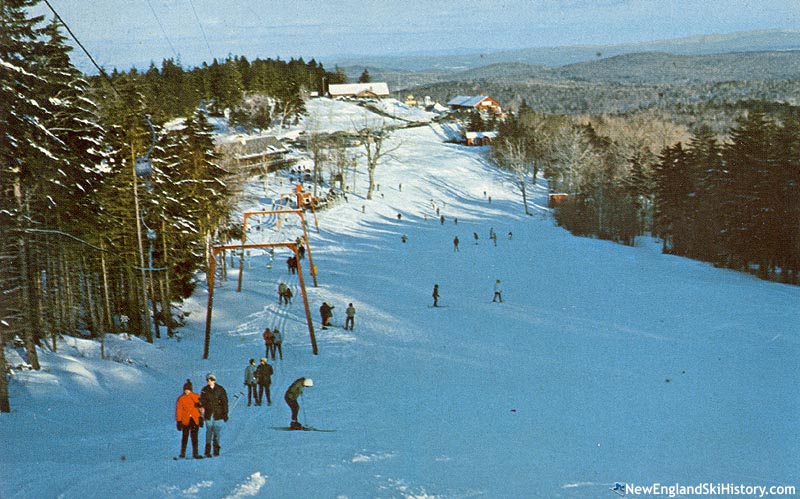 Looking down the Practice Slope circa the 1960s

After years of having skiers cross the highway to get food, work commenced on a new lodge in 1960. Named the Alpenglo Lodge, the new structure was completed for the 1961-62 season. Located at the base of the Practice Slope, the facility had a cafeteria, restrooms, and a large fireplace.

1961 also marked the release of "Instant Skiing on Short, Short Skis" by Hogback ski instructor and 10th Mountain Division veteran Clifton Taylor. Featuring a foreword by Lowell Thomas, the book helped to create national exposure for the innovative skis and instruction developed at Hogback. The concept became known as the Graduated Length Method and led to Clif Taylor being elected to the Ski Hall of Fame.

After experiencing mechanical issues during the 1961-62 season, the original T-Bar was improved for the 1962-63 season, as the 75 HP diesel motor was replaced with a new 100 HP unit.

The practice slope tow was rebuilt with a new diesel engine and rope for the 1963-64 season. The Alpenglo Lodge was also expanded, as it was advertised as "a sensational hit with skiers" including "snow bunnies, novices, and racers alike." A skating rink was constructed adjacent to the lodge.

Hogback's next significant expansion took place for 1964-65, when two electric T-Bars were installed. A twin T-Bar was added to the original part of the ski area, taking some stress off the aging Constam T-Bar. The Alpenglo T-Bar was constructed between the original ski area and the Poma lift served complex, replacing the recently rebuilt rope tow (which in turn replaced the rope tow near the Pomalift) near the newly renovated Skyline Restaurant. A new intermediate trail named Olga was cleared beyond Molly Stark. For the sixth time in the past ten seasons, Hogback turned a profit. A survey of ski areas through 1965 indicated that Hogback had a higher profit margin than Killington, Stowe, Stratton, and Sugarbush during this multi-year period.

Luman Nelson passed away in November 1966 at the age of 92.

Further lift maintenance took place for the 1967-68 season, as some of the original wooden T-Bar towers were replaced and the Pomalift upgraded. As a sign of the times, a Hogback newsletter noted, "It makes us feel kind of old when we look around us and see what's happening on the ski scene." Skiers were happy to see the same staff year after year, including manager Holland Douglas and ski school director Jim Howard.

The Whiteway Poma was replaced with a new T-Bar for the 1969-70 season, further increasing uphill capacity on that side of the mountain. Fully built out, Hogback sported 50 acres of skiable terrain.

On the evening of December 29, 1970, the base terminal of the original Sugar T-Bar caught fire, resulting in a total loss. Firefighters were able to prevent the fire from engulfing the nearby Meadow T-Bar. Though the electric distribution lines were also damaged, the Meadow T-Bar was back in operation later in the week, restoring access to the main mountain.

The charred Sugar T-Bar base terminal was replaced with a new Doppelmayr drive for the 1971-72 season. With large areas such as Mount Snow and Stratton rapidly growing, Hogback attempted to differentiate itself by using the slogan the "biggest little area in New England."

Hogback reportedly came under new ownership and management for the 1976-77 season.

In the fall of 1978, the sale of Hogback to Texas attorney Thomas Barlow was announced. Plans were announced to install a large snowmaking system for the following season, however the project and sale did not come to fruition. Arnold White remained on board as General Manager.



The 1980s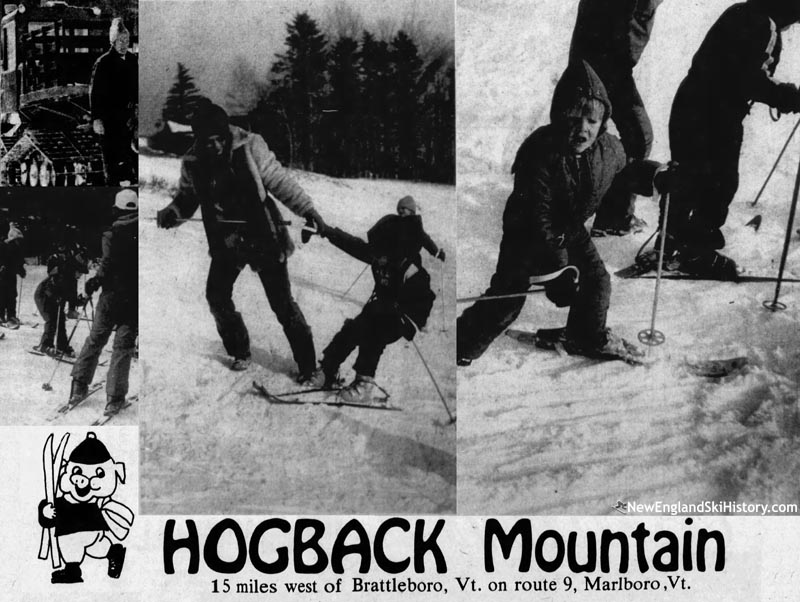 The early 1980s at Hogback

The rising cost of insurance was cited as the reason for price increases for the 1979-80 season. A lack of natural snow likely limited operations to just a few days between January and March.

Hogback was able to open before Christmas for the 1980-81 season, but quickly saw the emergence of bare spots during the holiday week. Despite lackluster snowfall, Hogback managed to operate until late March. Nevertheless, Arnold White told the Brattleboro Reformer that the season was "disastrous" and that the Skyline Restaurant and gift shop were the main businesses at this point. With nearby areas such as Haystack, Maple Valley, and Timber Ridge on the verge of failure, there were rumors that Hogback would shut down if the next winter was also poor.

Multiple modest early December snowfalls allowed Hogback to start the 1981-82 season in the middle of the month, leading Arnold white to declare, "I've been praying for this. You don't know what this means to a small operation." The Christmas to New Year's holiday week was the largest in Hogback's history, leaving Arnold to proclaim, "We've never seen anything like it."

Meanwhile, the Hogback Mountain Ski School put on a number of special events, including a Valentine's Day Fun Race, in which couples were required to ski "hand-in-hand through a gentle slalom course" with "your finale kiss rated on a scale of 1 to 10" and a grand prize of dinner at the Skyline Restaurant. Two weeks later, Hogback hosed a "Waiter, Waitress & Bartender's Race" in which the contestants had to prepare a drink or bowl of soup halfway down the slalom course, then ski it down to the bottom and serve it to a judge as quickly and steadily as possible.

In March 1982, Arnold White announced the 560-acre ski area and tourist attraction was on the market for $2.7 million. At the time, the 59-year-old White and his wife Ruth reportedly owned the area with White's sisters and their husbands, Joyce and Richard Hamilton and Betsy and Brandon Douglas.

In May, Hogback made the papers as the unwitting backdrop for a Ku Klux Klan appearance. A group of Klansmen from Connecticut stopped at the ski area, posed for photos, and drew some shouts in protest from passersby.

The 1982-83 season was yet another slow start at Hogback, missing Christmas due to warm weather. Arnold White told the Brattleboro Reformer, "There's not enough snow to make a snowball - it's a bummer." Measurable snow finally fell in mid-January. Heavy rains in early March likely resulted in the season coming to an end before the arrival of spring.

In October, scenic foliage helicopter rides were offered starting at the Hogback parking lot, boosting traffic to the various attractions.

Part-owner Brandon Douglas passed away on December 13, 1983 at the age of 69.

The 1983-84 season started the day after Christmas, but snowfall was not initially plentiful. Local ski coaches complained about not being able to have quality practices due to the lack of snowmaking, resulting in their racers not skiing gates until their first meets at other areas; Brattleboro's teams would move to Mt. Snow one year later. A mid-January storm improved base depths.

To try to attract midweek business during the 1983-84 season, Hogback offered a $10 lift ticket with breakfast from the Skyline Restaurant.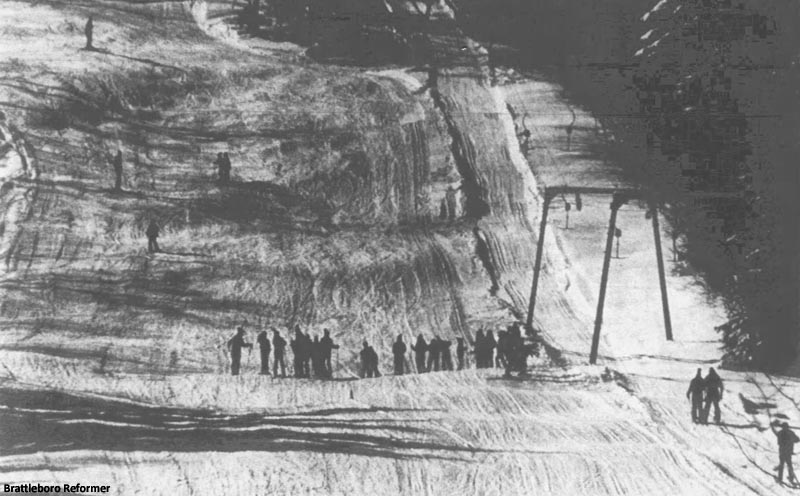 The Practice Slope in January 1984

February 1984 was not kind to Hogback, as warm, wet weather shut down the ski area during Washington's Birthday week. Arnold White told the Brattleboro Reformer that he needed to either install snowmaking or get out of the ski business, adding, "It will be a sad day when the moderate income families have to give up the sport because they can't afford the $70 to $100 a day that the bigger mountains charge."

A six-inch storm reopened the area at the start of March. A larger storm in the middle of the month extended the season through the last weekend of March. That month, Bruce Cole wrote a letter on behalf of Marlboro School, thanking Dick Hamilton and Arnold White for free skiing at Hogback, telling Brattleboro Reformer readers, "Marlboro School may not have a gym but we certainly have a unique experience for eight Monday afternoons every winter at no cost to any of the participants."

The 1984-85 season started just after Christmas, but shut down before the holiday weekend due to record high temperatures and rain. The area likely missed the entire month of January due to lack of snow. The season likely came to a close after the second weekend in March.



The final January of skiing at Hogback (1986)

The 1985-86 season started before Christmas and reportedly had a good holiday week. The season reportedly chugged along well until a January thaw suspended operations late in the month until the start of February. The season likely came to an end after the first weekend of calendar spring.

Off-season maintenance took place in 1986, but a crisis was brewing. In June, Hogback was notified that its insurance premium would more than double. Hogback attempted to contact Governor Madeleine Kunin's assistance hotline to sound the alarm, but soon hit a dead-end with the Department of Banking and Insurance.



Closure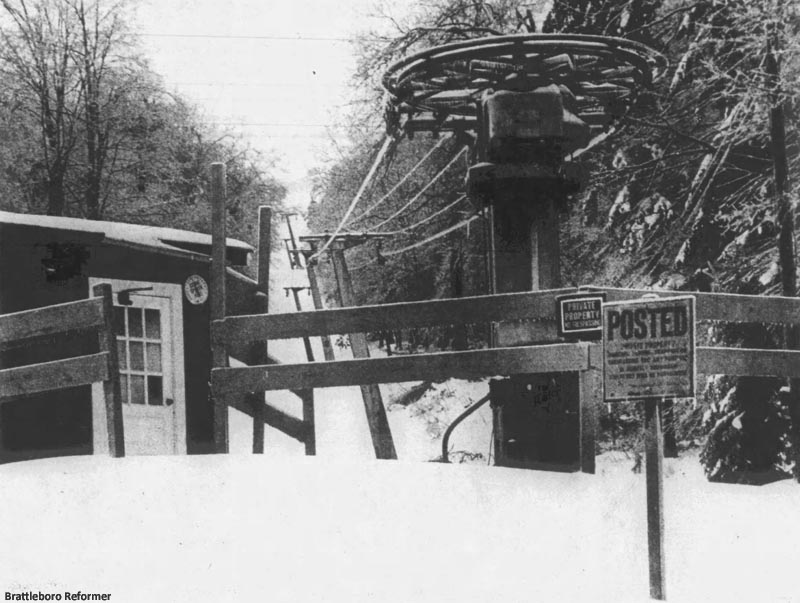 An idle Hogback (November 1986)

In October 1986, Hogback announced it would not be opening due to insurance costs. The restaurant and gift shop would remain open. Hogback's accountant told the Rutland Herald that the ski insurance was quoted at $50,000, as compared to 1985-86 total revenue of $70,000 (the area lost $40,000) . Arnold White made the decision that he could not risk paying the $50,000 premium if there was no natural snow, as "We could take an awful financial beating." White blamed the state government for the woes, stating, "The deadbeat Legislature has got to do something about it. We need to get rid of the lawyers and get pro-business people and farmers who are conservative and smart monetarily. This is just a big game for the insurance people and lawyers."

The ski area and related properties remained for sale, with an asking price of $3 million for the 720 acre complex. White may have acquired additional acreage around this time. A few days after the closure announcement, an insurance company in Rhode Island made headlines when it said it would offer Hogback a lower premium. However, the company never provided a formal offer, resulting in Hogback formally pulling the plug at the end of October. Rental shop inventory was subsequently placed on the market.

Hogback was not the only local area hurt by the cost of insurance. Brattleboro's Living Memorial Park also shut down during the winter of 1986-87 due to the spiraling expense.

With the ski area now posted with No Trespassing signs, the slopes sat idle as natural snow accumulated during the winter of 1986-87. The ski lodge hosted church services on Sunday mornings.

In July 1987, Clayton Wetmore and his sons Andrew and Paul of Wetmore Associates in Massachusetts presented plans to the Marlboro Planning Commission to develop a four-season resort at Hogback. The group, which had obtained an option on the Hogback property in the spring of 1987, planned to construct a chairlift, snowmaking equipment, a golf course, an equestrian center, a three-story hotel and convention center, and 200 to 450 housing units over 15 years. Clayton told the commission that he had owned an international chemical and manufacturing company and that, though the family had never developed property before, it owned a condominium at Mt. Snow. Cavendish Partnership of Ludlow was hired as a land use planner. Clayton Wetmore's brother Claude moved into a cabin on the property to be involved with day-to-day activities.

A planning commission meeting in late July 1987 saw local pushback to the plans. Arnold White addressed the crowd briefly, stating, "The only reason we came here to Marlboro, was I thought we were doing the right thing...I expect to live here the rest of my life, God willing...We want to see it done right. It's something we wanted to do ourselves, but we're at that age of retirement and all I can say is we thought we were doing it right by bringing it here before the town. But the next time it may get sold. We won't be back. It'll be gone."

Soon after the local opposition emerged, Wetmore Associates listed Hogback for sale for $3.5 million, much to the surprise of the Hamilton and White families. Andrew Wetmore told the Brattleboro Reformer that the advertisement was placed to gather feedback on the value of the property and to seek potential investors.

Claude Wetmore died away suddenly, putting further pressure on the project. In November 1987, Arnold White announced Hogback would be closed during the winter of 1987-88, regardless of whether or not the Wetmores exercised their option. Wetmore Associates quietly dropped their Hogback plans.

In the spring of 1989, there was an effort underway in Marlboro to obtain a grant to purchase Hogback. Various local conservation efforts continued into the 1990s.

Hogback Ski Area, Inc. was formally dissolved in 1992.



Hogback Heads to the Block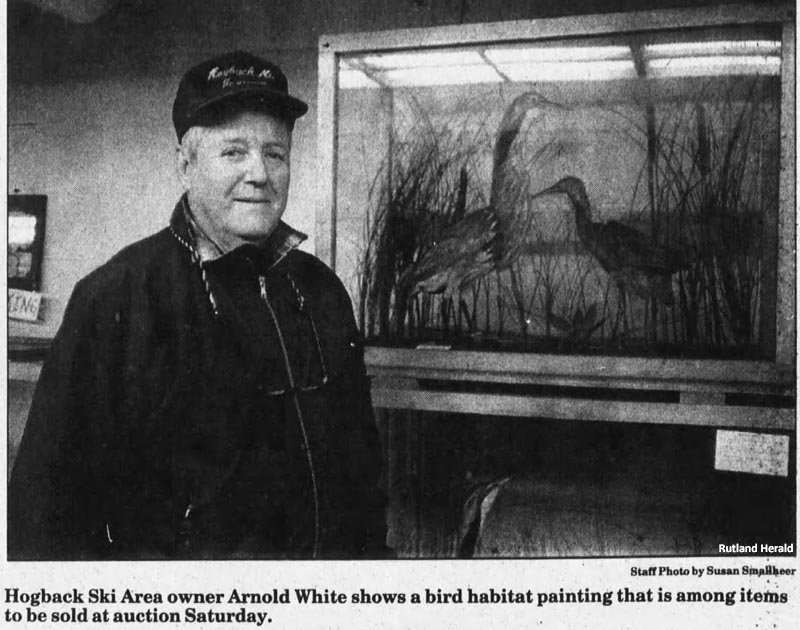 Owner Arnold White on the eve of the auction (October 1993)

While the Hamilton and White families had kept the Skyline Restaurant and Hogback Mountain Gift Shop in operation since the closing of the ski area, they were ready to retire. An auction was announced in September 1993. Richard Hamilton told the Brattleboro Reformer, "This has turned out to be our life's work, and my age now is 71. We have had the place for sale for a number of years, and it's come to this."

Hogback headed to the block on October 23, 1993, conducted by Deppoliti's Northeast Auction & Realty. Dan Purjes, CEO of brokerage firm Josephthal, Lyon, and Ross, placed the winning bid of $1,870,540 for the 802-acre property (except for the Luman Ranger Nelson Museum collection, which was retained by the Hamilton and White families). Purjes told the Rutland Herald, "I love Vermont. I tried to buy this 21 years ago. I didn't even know I would be in Vermont this weekend, and I haven't even told my wife."

Former ski school director Jim Howard passed away at the age of 78 on the day of the auction.

Two years prior to the acquisition, Purjes had acquired Coombs Maple Products. Following the Hogback acquisition, the Skyline Restaurant and Hogback Mountain Gift Shop were initially managed by Arnold Coombs.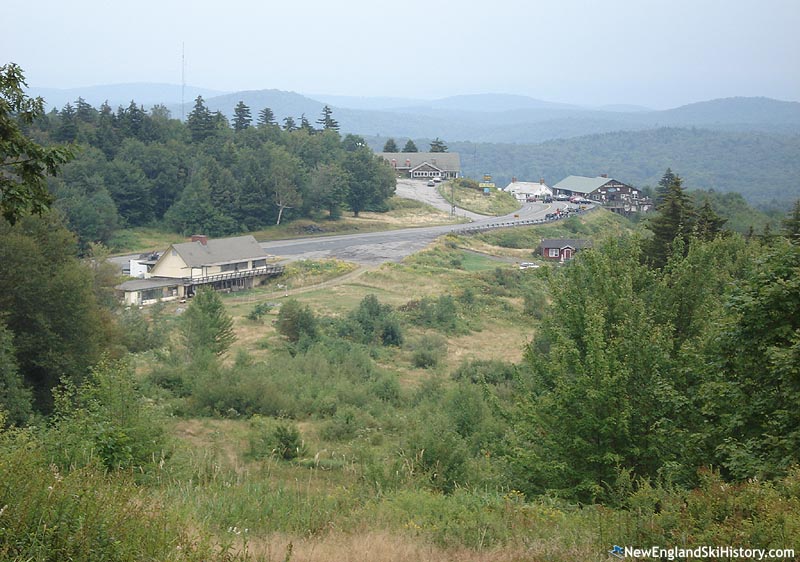 Looking down the Practice Slope in 2006

The Living History Museum opened in the former ski lodge in July 1995, featuring items from the Revolutionary War through World War II. In addition to operating the museum, the Living History Association also conducted reenactments on the property.

In the late 1990s, the then-owners of Ascutney attempted to form a corporation that would have reopened Hogback, however the planned IPO was unsuccessful.


Hogback Mountain Conservation Area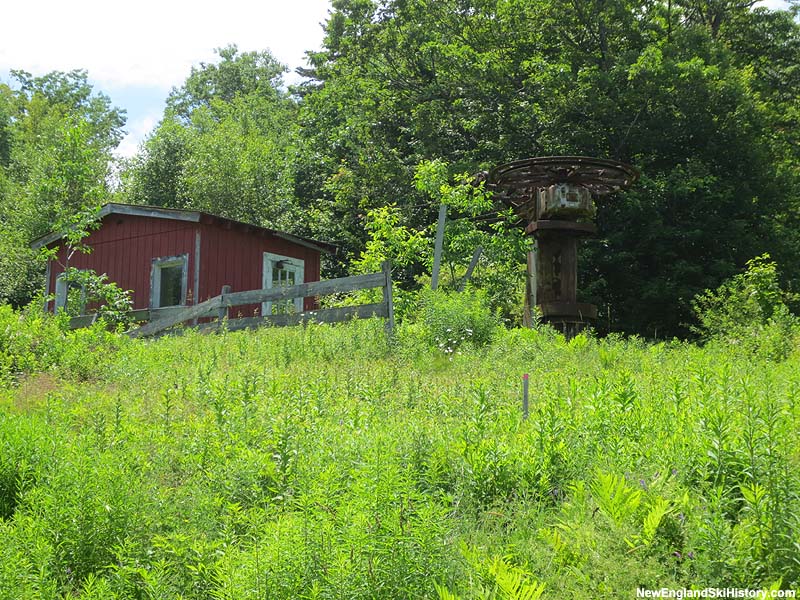 The Whiteway T-Bar (2013)

In 2006, the Hogback Mountain Conservation Association was formed by local citizens with the intention of saving the land from development. After a multi-year fundraising effort, much of the land was handed over to the Vermont Land Trust, Vermont Housing and Conservation Board, and the Town of Marlboro in 2010. Some trails are now maintained for hiking and backcountry skiing, as well as access to the nearby Mt. Olga fire tower in Molly Stark State Park. The Hogback Mountain Gift Shop remains open, while the Marlboro Inn is now home to the Luman Nelson collection at the Southern Vermont Natural History Museum.



NewEnglandSkiIndustry.com News





Expansion History

Project

Season

Whiteway
Abandoned

1955-56

South Face
Cancelled

1940s
Image Gallery
Lifts
Click on lift name for information and photos
Maps
Year by Year History
Adult Weekend Full Day Lift Ticket; Adult Full Price Unlimited Season Pass

1980s
Ticket Price
Season Pass Price

Pass Payback

Opening Day

Closing Day

Skier Visits

1985-86
December 20
March 23
1984-85
$15.00
$165.00
11.0 days
1983-84
$14.00
$165.00
11.8 days
December 26
1982-83
$14.00
$165.00
11.8 days
January 17
March 20
1981-82
$150.00
December 17
April 4
1980-81
$10.00
$135.00
13.5 days
December 20
1979-80
$9.75
$125.00
12.8 days
1970s
Ticket Price
Season Pass Price

Pass Payback

Opening Day

Closing Day

Skier Visits

1978-79
$7.95
1977-78
$7.50
$100.00
13.3 days
December 10
1976-77
$7.00
January 8
1975-76
$7.00
1974-75
$7.00
$90.00
12.9 days
1973-74
$7.00
1972-73
$6.00
December 2
1971-72
$6.00
$75.00
12.5 days
December 4
1970-71
$6.00
$75.00
12.5 days
December 17
1969-70
$6.00
$75.00
12.5 days
1960s
Ticket Price
Season Pass Price

Pass Payback

Opening Day

Closing Day

Skier Visits

1968-69
$5.00
$65.00
13.0 days
November 10
April 9
1967-68
$5.00
$60.00
12.0 days
1966-67
$5.00
$60.00
12.0 days
April 2
1965-66
$4.00
1964-65
$4.00
$40.00
10.0 days
April 11
1963-64
$4.00
April 5
1962-63
$4.00
December 15
1961-62
$4.00
December 22
April 8
1960-61
$4.00
December 17
April 2
1959-60
$3.00
1950s
Ticket Price
Season Pass Price

Pass Payback

Opening Day

Closing Day

Skier Visits

1958-59
$4.00
December 6
1957-58
January 9
April 20
1956-57
December 15
1955-56
$3.50
January 5
April 15
11,646
1954-55
November 28
April 10
1951-52
12,683
1940s
Ticket Price
Season Pass Price

Pass Payback

Opening Day

Closing Day

Skier Visits

1948-49
January 29
Visitor Memories
"grew up skiing at Hogback. Great memories. Still dream about it now and then. All the family areas are now history."
Bob Bennert, Oct. 13, 2023
"Skied there in mid 60's a two hour drive from Haverhill, Ma Skied ine day in the fog and mist with a plastic trash bag cut out for head and hands... supplied by the mountain"
hal Curette, Dec. 26, 2021
"My dad was on the ski patrol there for years. Skied there from the early 60's til its closing. Even loaded t bars 1 season. Lot's of great times!"
J P Switzer, Jun. 18, 2021
"Stonington Ct Community Center had a ski club from 1964 to 68. Our ski trips were always to Hogback where we all stayed at the Marlborough Inn and ate at the Skyline Restaurant. What fun we had. It was safe and perfect for a group of kids. "
CHRISTINE LOPEZ, Jan. 4, 2021
"i worked at haystack mtn and dated a guy who was the son of the owner and ski instructor beautiful memories indeed sandra"
Sandra williams, Jul. 10, 2020
"I skied Hogback every Friday for free as a kid in Marlboro Elementary School. The way I remember it Arnold White gave us all free passes (2nd half of the day), free equipment, and a free hot chocolate every Friday. What an amazing gift! I don't remember if it was the whole school or just certain grades. The Riperoo, Great White Way, Meadow...I had so much fun there, thanks Arnold!"
Carl Gay, Jun. 30, 2020
"Unfortunately I never had the chance to ski here when it was operational, and only discovered this area by accident on a trip down Rt 9 back in 1999 or 2000 which is probably how I discovered NELSAP too! Finally had the chance to explore it on Tuesday 5/26/20. Pretty much was able to hike and explore most of the area in about an hour. What a time capsule! Beautiful area and its a shame it closed because I can tell it had some very fun skiable terrain. Trails still seem pretty clear for XC and backcountry skiing. I'll have to give backcountry a try at this area next season. "
Geoff Prusak, May. 28, 2020
"Racing SL in the Buuddy Warner League on Olga...1984, i still have my medals! I did tuck the Sugar, and i did get stuck in "the hole" after last run, as my sister Noelle mentioned. Some of the best memories of my life are on those 12 trails. Thank you Arnold White, and Mom and dad Jim and Paulette Hart. "
Rich Hart, Apr. 12, 2020
"in my 20s i had one day of skiing with two friends. it was a frigid day i never forgot. at the end of the day 0 degree temp and 5 inches of fluffy snow to my shock i had a flat tire on my 1963 cadillac . hogback mountain if on my bucket list now just to walk the trail and see what i did 50 years ago. my two friends now dead. bob walton and steve irving/ "
donald thiederman, Nov. 20, 2019
"I learned many life lessons at Hogback. I worked there many years in the gift shop and the ski shop. Summers I'd ride my horse up the ski trails. Was the best place to grow up. Sure miss it there. "
Christina Havreluk Worker, Apr. 29, 2018
"I loved skiing at Hogback as a kid!! West Halifax used to have a ski day every week at the mountain. Living on Shearer Hill Rd, my parents would drop us off on Grant Rd and we'd have to ski in thru the woods. I remember some amazing skiing on Razorback after a big snow storm! Great memories on that mountain! "
Bill Pusey, Oct. 4, 2016
"Skiied Hogback as a child! Loved every minute! From buddy warner, to cutting way out and having lunch off Meadow run, my brother missing last T out of "the hole" having to hike out! Such great childhood memories. Went back around 1994. Some dam kids had been partying and throwing T-bars thru some of the old posters and decore, shame. So glad to hear it is getting the respect it deserves! It is hard for many kids to say we skied down hill and up!"
noelle hart, wainright , Oct. 2, 2016
"I grew up skiing and working at Hogback. I worked in the ski shop and the gift shop. My mom was the bookkeeper for Arnold. Was a great place! "
Lori Havreluk Longo, Oct. 2, 2016
"We skied at Hogback a few times in the mid-late 60s. Most of our Vermont skiing was a Maple Valley, Haystack, Mt. Snow and Okemo. Hogback was a good beginner area. I remember taking my cousins there when they were just learning. It was a novelty to have the base at the summit. I think the last time I skied there was 1969 with a high school ski club outing. Good little area! "
Doug Finck, Oct. 2, 2016
"I skied at Hogback in the late 50's the 60's. Took the BOC Bus on Saturday from the Paramount Theater. I was also on ski patrol at Hogback in the 60's. Lots of great memories."
Terry Amidon, Jan. 26, 2016
"I skied there a few memorable times my Mom and Dad were great friends with the Whites. I love small ski areas and wish they could continue."
Jan Sherman , Jan. 25, 2016
"I skied Hogback all through the 1950's and into the 1960's. Every Saturday and sometimes Sunday's there was a Brattleboro Outing Club free bus that took all of us kids up the mountain for a day of "free" skiing. We had to pack the slopes when we got there if there had been snow, but oh the fun! The Rip and the Sugar were favorite trails, but they were all fun with friends and even girl friends later on. At the end of the day we climbed the slopes and came down on 'jackjumpers' with the crews. Best skiing of my life!"
Dave Hopkins, Mar. 2, 2014
"I skied at Hogback from '72 until '80 (I was age 8-16). It was a wonderful place for my family to go to and we would visit it 3-4 times a year from Philadelphia. Thurs/Fri and Mondays, we would ski Mt. Snow or Stratton, but on the weekends it was Hogback. In the picture looking down the practice slope, you can see a small reddish cabin in the right center of the photo. That is where our family used to stay as we were friends with the family that rented it for years. Such very fond memories of skiing there. Favorite trail without a doubt-- Ripperoo!"
Glenn Barrie, Feb. 21, 2014
---
External Links
Hogback Mountain - New England Lost Ski Areas Project
Mt. Olga - FranklinSites.com Hiking Guide
Last updated: November 28, 2023