Tate Mountain Ski Area
Sandgate, Vermont
Proposed in the 1960s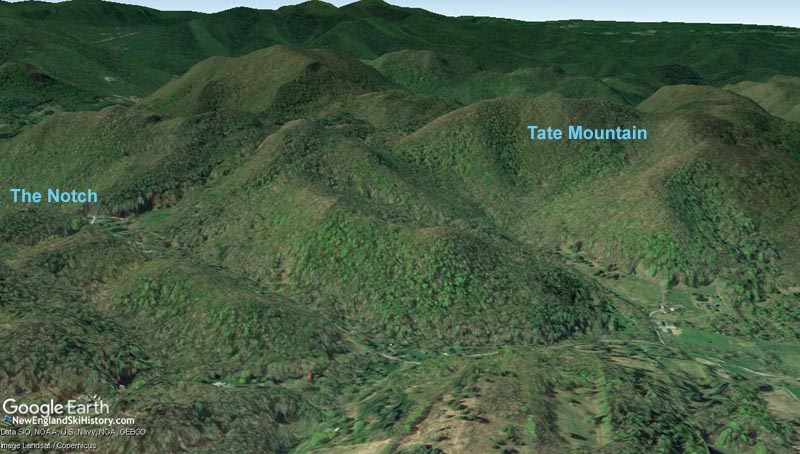 Overview
Located southwest of Manchester, Sandgate is a small border town. In the mid-1960s, a second-home resort was proposed in the town, including a ski area on Tate Mountain.

Circa 1963, Marvin and Ruth Ann Slutsky acquired the Watergate house in Sandgate. The couple reportedly felt the area was perfect for city residents to retreat to, so they hired the Dufresne-Henry civil engineering firm to do a feasibility study.

In the summer of 1964, the Slutskys announced their plans for a major development on their 800 plus acre tract. Emphasizing the development would be for second home owners, as to note place a burden on local schools, the Slutskys planned to offer amenities such as a golf course, a heated pool, tennis courts, walking trails, fishing ponds, an airport, and "practice ski slopes."

The first phase of the project was set for Whiskey Hollow," at the junction of West Sandgate Road and Tate Hill Road. Construction started in advance of the announcement, as a pond was constructed in early 1964. A model house was prepared for the fall of 1964, designed by Sue Burton Tener. By this point, the Slutskys had formed Stateline Properties as a New York corporation.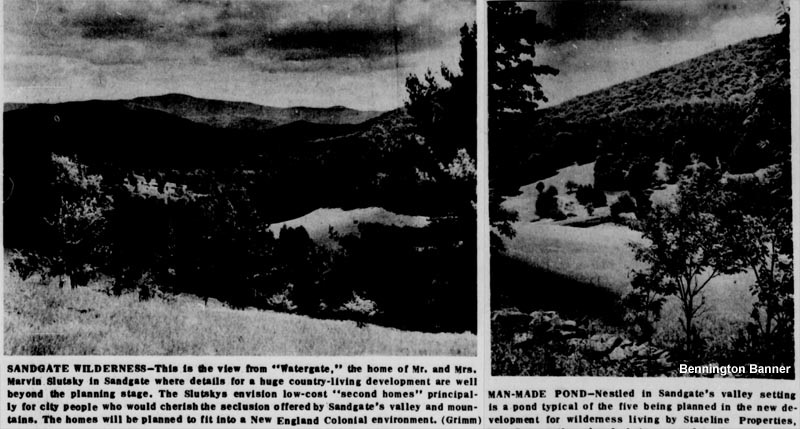 1964 photos of the Tate Mountain area


In July 1965, a group from New Jersey known as Ski Hollow Corp. announced plans to purchase 178 acres of land from the Slutskys to construct a ski area on Tate Mountain. Ski Hollow's officers included James Meyer as president, Robert Manrell as vice president, Frank Sirianni as secretary, and Norman Malmberg as treasurer.

Located southwest of the notch, Tate Mountain has a summit elevation of about 1,770 feet, dropping some 900 vertical feet to West Sandgate.

It is not known what happened to the deal, but the Slutskys ended up selling their home and property to Lytton and Dorothy Scott later in 1965. Lytton Scott passed away in 1974 at the age of 71. Two years later, his widow donated much of the property to the New England Forestry Foundation to become the S. Lytton Scott Memorial Forest.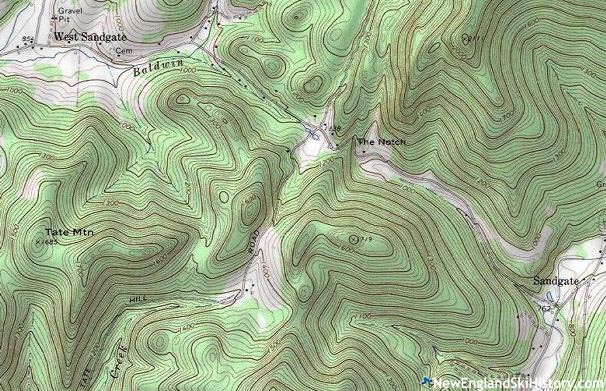 USGS map of Tate Mountain



Today
There are no known remains of the Tate Mountain ski area proposal.

Last updated: June 24, 2020