Eastover Resort
Lenox, Massachusetts
Status:
Lost/Defunct
First Season:
1954-55
Last Season:
1990s
Vertical Drop:
165 feet
Standing Lifts:
Past Lifts:
1 double, surface lifts
Left: Skiing at Eastover Resort in the 1960s
Recent NewEnglandSkiIndustry.com News:
Located in Lenox in the Berkshires of Massachusetts, the Eastover Resort was once home to an alpine ski area.


Fahnestock Mansion

A second-generation banker with First National City Bank (which eventually became Citibank), Harris Fahnestock began acquiring farms off East Street in Lenox during the winter of 1908-09. By 1909, a Francis V.L. Hoppin designed brick mansion was being constructed on the 400-acre property as a summer home for Fahnestock. Once completed, Fahnestock became known for driving his collection of horse carriages around town.

Fahnestock passed away on October 11, 1939 at the age of 70. In September 1941, the estate was sold to Eben and Henry Kimball. In July 1943, the Kimballs sold the estate to Bene Virgilio. Meanwhile, the Stonehurst in Great Barrington, site of the Duncan School, was sold, forcing the educational institution to find a new location for the 1944-45 academic year.



Duncan School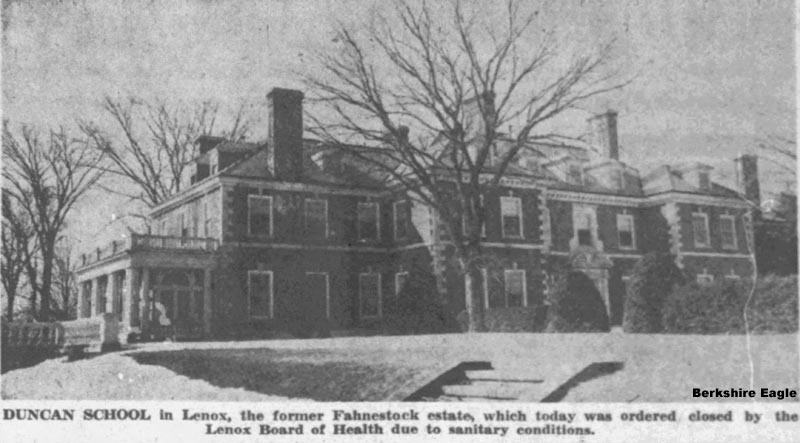 Duncan School

In April of 1944, school president William C. Duncan announced it had entered into an agreement to relocate to Eastover. Three months later, Duncan was jailed for using bad checks in Georgia. Shortly after classes started at the new Fahnestock mansion location, Duncan was arrested on federal mail fraud charges.

In January of 1945, the Duncan School made international headlines when the Lenox Board of Health closed the school "due to sanitary conditions." Twenty-two students, include some from England, were found in the building amongst frigid temperatures and frozen pipes, while Duncan had travelled out of state. The school did not reopen, and the furniture was later sold at auction. Duncan later faced larceny charges and jumped bail before finally pleading guilty and serving more than a year in jail.


Eastover Resort Opens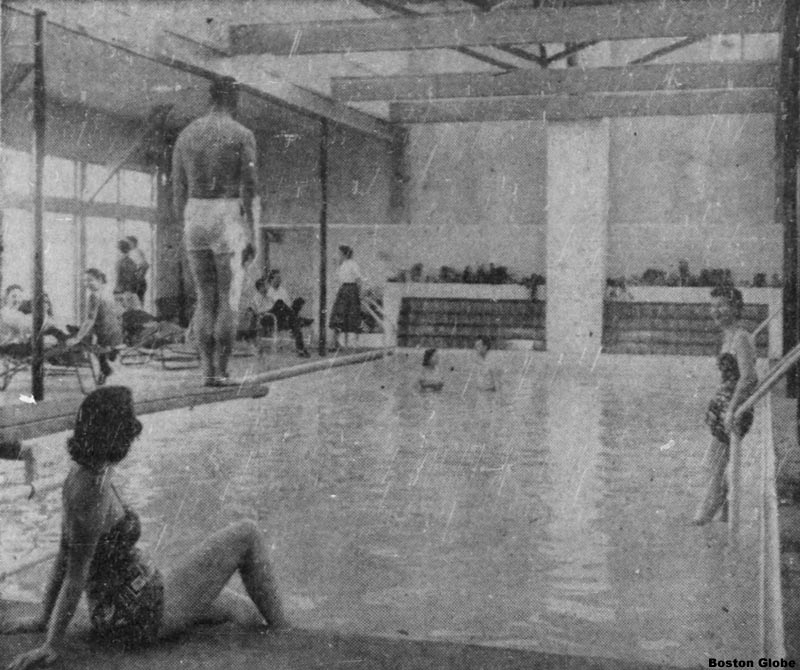 Eastover Resort's new indoor pool (1955)

Eastover next hosted a summer camp, while Virgilio sought a new buyer. In June 1946, Virgilio established an agreement to sell the property to George J. Bisacca, Paul J. Bisacca, and Fred M. Noble of Connecticut for a reported $41,500. A native of Torino, Italy, George Bisacca's family immigrated to the United States when he was a child, settling in Connecticut. Orphaned at the age of 10, Bisacca worked various jobs as a teenager, including in a factory, as a streetcar motorman, and circus roustabout. He later returned to Connecticut, where he sold tires and developed 27 service stations. While traveling on business, he visited Ted Hilton's Resort in East Haddam, Connecticut, and decided he wanted to embark on a new venture in that industry. George and his wife Ruth eventually found the Eastover property.

After months of work, Bisacca opened Eastover on May 27, 1947, initially as a "recreation center for young people" with accommodations for up to 250 guests. Amenities included tennis courts, horseback riding, dancing, and a new swimming pool with underwater illumination for nighttime use. Bisacca also acquired two bison, Sitting Bull and Chinook, from the federal government and relocated them to Eastover. Former owner Eben Kimball was involved with some of the new resort's horseback activities.

In November 1948, Bisacca announced Eastover would debut winter activities, including tobogganing, skating, sleigh rides, and skiing. The ski area would be served by two rope tows. A 600 foot rope tow opened to the public starting in January 1949 and operated during the winter of 1949-50. Possibly due to a string of poor winters, it is not known if the ski area operated during the early 1950s.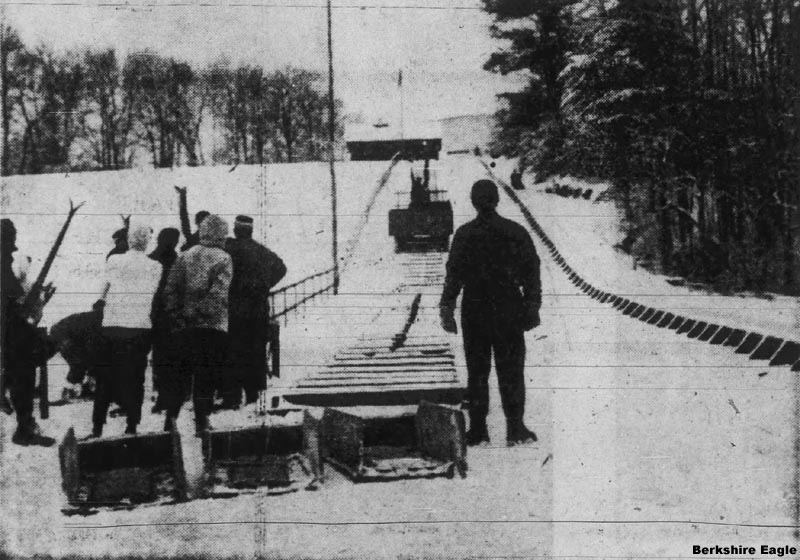 A unique skiing/tobogganing lift (late 1950s)

Major improvements were made in 1954, as Eastover started construction on a $115,000 heated indoor pool (connected to the mansion by a tunnel), built a canal from the Yokun Brook to feed a new man-made pond (for boating and skating), and created a new novice to intermediate ski slope near the pond. By adding the amenities, Bisacca declared, "people won't have to ski" as "we'll have an extensive social and recreational program for everyone." The new ski and tobogganing development debuted when natural snow finally arrived in mid-January 1955, while the pool likely debuted later in 1955. By the time the 1955-56 season arrived, Eastover's guest capacity had increased to 380.

In addition to its recreational offerings, Eastover was becoming known for its collection of military history and staging Civil War re-enactments, for which George Bisacca was an active participant. Guests could even target practice with "authentic Civil War weapons."


Eastover Improves Skiing

By the time 1956-57 rolled around, Eastover featured two rope tows and had a small snowmaking system debuting on its beginner slope. Dealing with yet another tough winter, the snowmaking system allowed Eastover stay open, even resulting in the resort turning away hundreds of snow-seekers in February 1957.

The snowmaking system was expanded for the 1957-58 season, covering more of the beginner slope. In addition, the intermediate slope was widened. With the Massachusetts Turnpike recently completed, Eastover saw a sharp increase in Boston-area visitors, resulting in a strong winter. Toward the end of the season, Eastover made regional headlines when three Boston men attempted to rob the resort by hijacking a company station wagon during its normal deposit run. Unfortunately for the robbers, the car only contained postal mail. Their plans were foiled when their getaway car got stuck in a snowbank.

A 700 foot toboggan chute was added for the 1959-60 season, served by a unique flatcar track to carry riders back to the top. Skiers could also use the new lift.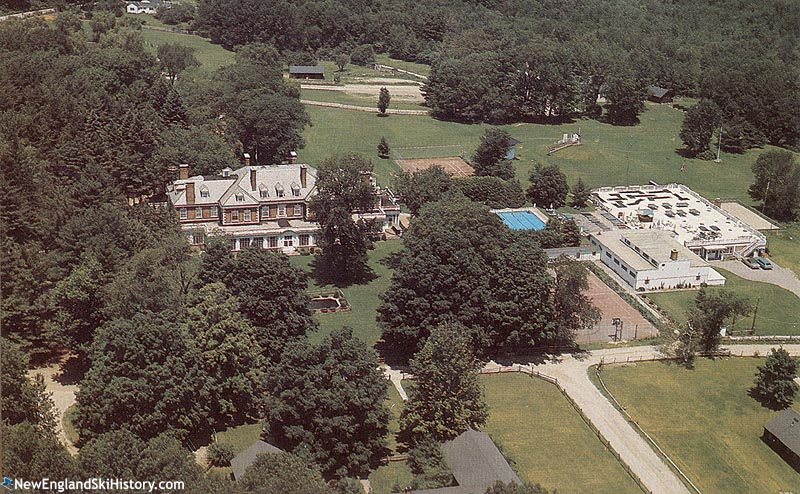 An aerial view of Eastover (ski area to the upper right)

As 1960 came to a close, Eastover was fast at work constructing a new building to hold a six-lane bowling alley, along with a rooftop skating rink. Though Bisacca had acquired bowling equipment from a defunct North Adams facility, he changed his plans and opted to instead use the space for an American Heritage Room museum, complete with Civil War memorabilia. Much of the construction for the Robert Deloye-designed building was executed by Eastover staff, with Ralph McDermott (father of Bousquet ski school director Court McDermott) supervising.

A major expansion took place in 1964, when Bisacca decided to step up Eastover's skiing operation. 14,000 cubic yards of fill were hauled in, resulting in the development of the Shenandoah and Tally-Ho trails. The American Heritage Room served as the lodge. Serving the expanded area was a new 1,500 foot Hall double chairlift, as well as the 700 foot rope tow. In explaining his choice of lift manufacturer, Bisacca told the Berkshire Eagle, "We couldn't use a foreign-made lift with all this American atmosphere." The lift also served an improved toboggan run, which at 2,000 feet was advertised as the longest at any resort in the country.

The 1964-65 season was a struggle due to mild weather. In late December, Bisacca purchased hundreds of blocks of ice to enable operation of the toboggan chute. In January, water was pumped out of the swimming pool for snowmaking on the beginner slope; the chairlift slopes did not have coverage.

While other resorts had expanded their demographics, Eastover continued to cater to single people in the 1960s. As a result, there was little repeat business, as Bisacca told the Berkshire Eagle, "we get a whole new wave each season."

In late 1969, the Johnny Cash made-for-television movie "Trail of Tears" was filmed at Brodie and Eastover. The production manager of the film was a former Pittsfield resident named Michael Haley.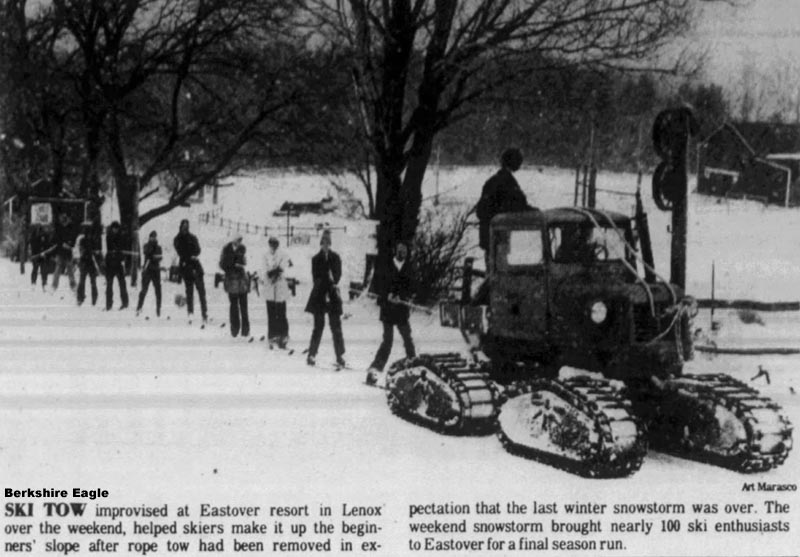 Improvised late-season ski operations in 1975

In 1977, the Pittsfield Permanent Firemen's Association discontinued its Pittsfield Fourth of July parade. Spending thousands of dollars, George Bisacca organized an elaborate Lenox Fourth of July parade, culminating in a Civil War shoot out at Eastover complete with his cannons. The festivities became a popular annual tradition, eventually merging with Pittsfield's event.

Even in the late 1970s, Eastover was still catering to singles and group outings. In one Boston Globe article, Bisacca was quoted as saying, "You bring your liquor, we provide the set-up. We try to keep the men/women ratio at 50/50." Nevertheless, there was concern about the future of the business, as Bisacca took out full-page advertisements warning about frivolous lawsuits and the disappearance of resorts.

Circa the early 1980s, Eastover became the headquarters for the Massachusetts Winter Special Olympics, hosting numerous events alongside Butternut Basin.


The End of an Era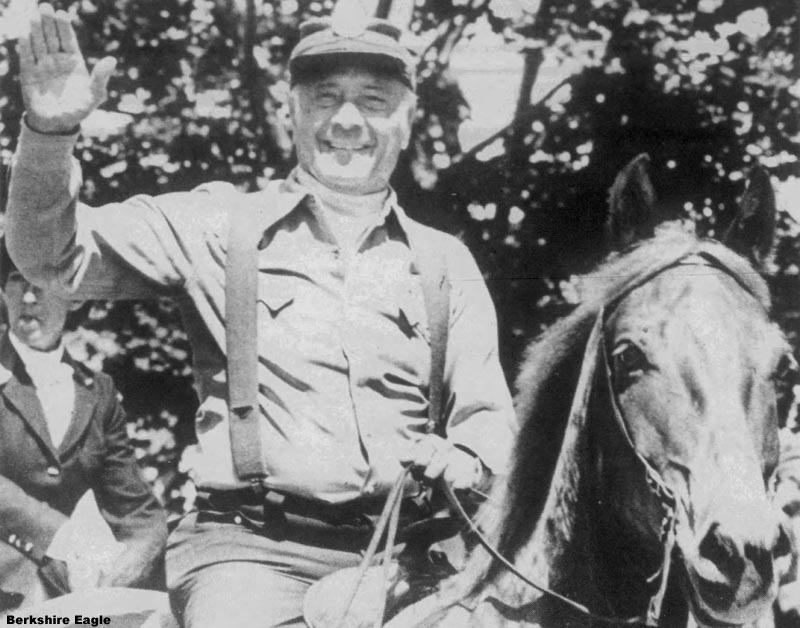 George Bisacca

George Bisacca passed away from a heart attack on October 30, 1983, one day before his 81st birthday. An estimated 500 people gathered for his funeral service, which included 2.4 mile procession through Lenox, complete with horses and cannons. Congressman Silvio O. Conte paid tribute to Bisacca in the Congressional Record, stating, "George was one of those rare individuals whose abundant love for life actually meant love for people."

Bisacca left Eastover to his daughters, Susan McNinch and Dorothy "Ticki" Winsor, who had been active at the resort with their husbands Robert McNinch and Robert Winsor for a number of years. At the time of Bisacca's passing, Eastover had $2.2 million of annual revenue with a staff of about 50 full-time and 50 part-time employees.

In 1985, Eastover found itself in a battle with the Michael Dukakis administration's Department of Revenue. The department informed Eastover that it owed at least $114,854 in back taxes, claiming the resort owed a facilities tax, despite a letter to the contrary dating back to the Ed King administration. Eastover paid the taxes, but fought for years. State Senator Peter Webber noted that the Dukakis administration's taxation had entered "a real gray area" and that it was "crossing over into the area of harassment." In 1989, an appellate tax board ruled in Eastover's favor, ordering the state to return the payment to the resort, plus interest.



The End of Skiing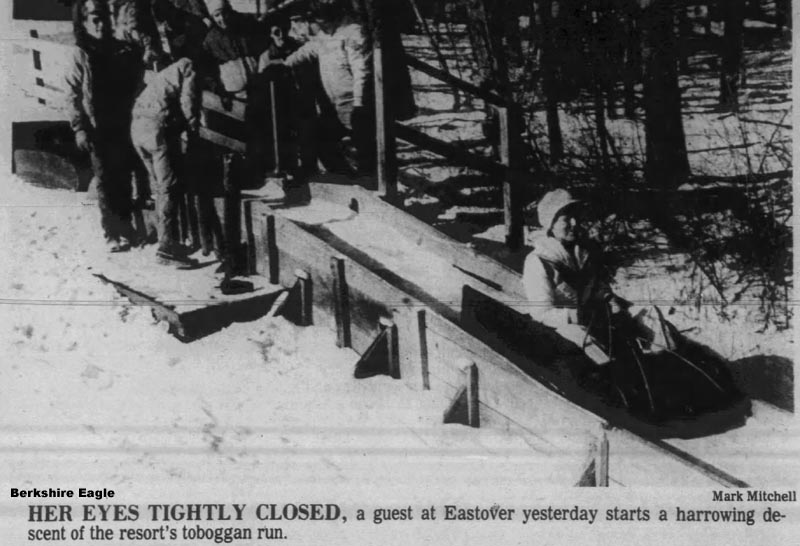 Tobogganing in 1985

Heading into the early 1990s, revenue was starting to decline and the number of employees decreased. The ski area remained in operation at least though the 1994-95 season, though operations were likely scaled back. In order to open for that season, a snow gun was borrowed from Bousquet. While the chairlift was still advertised as late as 1998-99, it may have ceased operating as early as 1995-96.

Circa 2002, the double chairlift was sold to nearby Bousquet. Bousquet also offered free skiing for Eastover guests for a few seasons. Susan and Robert McNinch retired from the resort in 2003.

An in-depth New York Times review of the resort in 2002 noted that Eastover "looks worn and in need of some touching up, but it is clean and inviting. In many ways it is just like home, and while that can be disappointing at times, it is also Eastover's charm. I arrived expecting a Resort, but instead got a resort, circa 1965." After praising the plentiful food offerings and supervised activities catering to children, the reviewer noted that, "Mr. Bisacca is gone, but it's as if he just stepped out for a bit, his shoes still under the bed."

In March of 2004, Ticki and her daughters bought out her sister's share and continued to operate the resort. After five years of ownership, economic problems, as well as an unsuccessful search for a buyer, resulted in the family announcing the resort would close on November 1, 2009. In a letter to employees and guests, Winsor wrote, "this difficult economy has hit our small, family-owned business hard," adding that "increasing operational costs as well as local and state regulations have made it impossible for Eastover to continue the long-standing tradition of excellence it has become known for."

The Civil War collection, considered one of the largest in the world, was sold at auction in the summer of 2009. Other items were donated to the Berkshire Museum. Meanwhile, the bison were transferred to a preserve in New Hampshire.

Eastover did not stay closed for long. In March 2010, the H.G. October Mountain Group, owned by Yingxing Wang and her husband Gudjon Hermansson, purchased the property for $5.4 million, reopening the resort later that year. Eastover is now marketed as a holistic retreat center

There are no known plans to redevelop the Eastover Resort ski area.



Lifts
Click on lift name for information and photos




Year by Year History
Adult Weekend Full Day Lift Ticket; Adult Full Price Unlimited Season Pass

1970s
Ticket Price
Season Pass Price

Pass Payback

Opening Day

Closing Day

Skier Visits

1970-71
April 10
1960s
Ticket Price
Season Pass Price

Pass Payback

Opening Day

Closing Day

Skier Visits

1966-67
March 26
1950s
Ticket Price
Season Pass Price

Pass Payback

Opening Day

Closing Day

Skier Visits

1957-58
December 14
1940s
Ticket Price
Season Pass Price

Pass Payback

Opening Day

Closing Day

Skier Visits

1948-49
$1.00
Visitor Memories
"I was involved in the 4th of july shooting demonstrations in the early 80s . i appeared with Tom Campbell doing trick shooting and displays of the gattling gun at eastover. i am searching for any video of the amazing shows we put on back then."
howard hayes, Aug. 9, 2023
"I loved every minute of every day I spent at Eastover! Everyone was so great and the overall atmosphere was always fun. So many planned activities led by staff and they were all so fun. I was there visiting the McNinch and Winsor families who are all such wonderful people. I hate that things took a bad turn and they had to close cause I know how much they loved Eastover, but I'm sure they're happy to be able to relax and not have to worry it anymore. The square dances in the barn were always a good time. "
Keegan Donegan, Mar. 30, 2023
"My mom and dad met at Eastover in 1960 and were married the following year. My dad was one of the few people who had an 8mm silent movie camera at the time, so we have some very treasured vintage footage of both of them having a great time with friends at the resort - swimming, golfing, dancing. It was quite the get away for so many young adult singles in the early 60s. A bygone era."
Liz Wynne, May. 31, 2022
"My husband Lenny (Leonard W Caddell) were married May 23, 1959 We arrive at Eastover on May 24, 1959 We stayed in one of the cottages it was a unforgettable experience for both of us and wonderful way to start off our marriage of many years . Unfortunately my dearest Lenny was called by God and moved to heaven in April 2015. Eastover was a very special place to start our married life and our many adventures together "
Serena Caddell, May. 15, 2022
"My father organized all the trips and social events for the Riverhead Fire Dept on Long Island. The guys called him "Julie from the Love Boat". He would bring 40 to 50 people. Everyone loved it. The group gave my father a plaque with their group photo and a plaque thanking him for organizing the trip. Great times they had at Eastover"
Joaeph Kaelin Jr, Jan. 15, 2022
"I can't even tell you how many memories I have of Eastover. Wow the music, dancing, eating and drinking! Me and my friends loved Eastover. I wish my nieces and nephews could have had a place like Eastover!!! Miss it terribly!"
Kerry Montgomery, Nov. 13, 2021
"First went to Eastover on my senior class trip (1962).Later, after getting married, we returned with several friends for weekend getaways for several years, renting a van to get us there. Good thing, because not to many of us could not walk to well when we arrived. What great times we had.thanks for the memories. "
Jim Johnson, Aug. 7, 2021
"My Dad worked there when he retired from the Mass state police. He was close with George and lived on site in the cabin at the bottom of small ski slope with Loring. I remember the toboggan run with the right hand turn (before they straighten it out). The faculty softball game. Tally Ho with revolving stage. I remember they bought a bunch of school buses and built a train for the parade every year in Lenox. It was a great place for me to visit with my Dad. I actually spent time with the McNinch family across the street. I believe Bob married one of the daughters. We would swim in the pond at the house. I loved the civil war museum and the "tunnel" loaded with memorabilia. Eastover will never be the same. It was a BLAST!!!! "
Michael Boutiette, May. 9, 2021
"Went there in the 60's with a large from Philadelphia,Pa. and what a fantastic time we all had. Wish I could hear from other folks who were there when we were there. What great memories I have of Eastover."
Al Moschella , Feb. 23, 2021
"A true holiday find. That I haven't come across since. Any senior East overs I should. Or would like to know about,,,,,,,,,,"
Mary Mylett, Jan. 12, 2021
"I was introduced to Eastover on the weekend of July 4th 1979. It was nothing but food and fun and partying all weekend and going to the Tally Ho Barn to listen to the bands on the revolving stage from 8pm-3am ..... GREAT MEMORIES."
Peter Mucci, Oct. 15, 2020
"I had great times at the resort from 1967 to 1971. Dancing with live music Horse barn was converted to a huge dance hall Horseback riding golf walking trails water sports swimming pool. Group meals. The Calvary charge by the confederates. Two nites with room and meals $28. Plus drove past Norman Rockwell's studio every weekend for 5 years and never stopped to buy a $10 painting now worth in the millions😀"
Gene Fontanella, Aug. 22, 2020
"I worked there from 1952 until 1956. Worked in the kitchen under Chef Harry Sharpin for two summers, then was a waiter for three summers. Best job I ever had. In 2017 I published a book about Eastover titled From May to September See it on Amazon. Wish someone would do a screenplay from it.... "
jim lynch, Aug. 27, 2019
"July 4, 1988 , Came from Boston , to go relax and party there, the staff used to go for beer and booze runs so no one would have to drive, met my wife there who was from neighboring Newton, been 30 years , but memories there , I will never forget, sorry to hear your closing , loved this place THANK YOU "
Paul Curran , Aug. 18, 2019
"Worked there on the grounds crew during the summer of 1957. I was one of those southern college kids that came there for a great summer. Had a great summer and would meet the beer man at the end of work days and get a 6 pack of Reingold beer. He would keep a tab and would collect on paydays. On Saturdays we played bell hop and would meet the train and bring all the good looking northern girls to the mantion. On the evenings we were encouraged to dance with them and entertain them. Sure was fun. We always participated in all the civil war stuff George put on. I stayed in a cabin with 2 fraternity brothers from University of Tennessee. It was a great time. Carl Redmon, 2019. "
Carl Redmon, Apr. 28, 2019
"I learned to ski and ice skate at Eastover. Our family went ever year from 1969-1982. The owners kids became friends and it was a super anticipated trip every year for a reunion with all the same families . Hopefully one day I'll get to come back from the west coast and visit ."
Rob Vuona , Mar. 1, 2019
"I had the biggest crush on Loring! Our group, the Skunks, teased me incessantly about it. My friend and I win a costume contest dressed as "Black and Blue", the theme song. She all in blue and I in black leotards. In the barn was where I first heard the Kingston Trio sing "Svotch and Sida". And remember the alcohol was in the honor system?"
Laureen Campbell, Jul. 28, 2018
"My husband And I were married there in 1995. We went back every year to celebrate our anniversary. We made many friends on our stays at eastover. We were very heartbroken when they decided to close down. "
Nancy Millett , Jul. 3, 2018
"Me and my frends from Brooklyn n.y. went there in the late 60 great memories especially when Loring sang his favorite song also the sing alongs at happy hour the hay rides so many memories met really great friends sorry to see that great things change all the best to everyone who were lucky to go there "
Joseph Caggiano, Jun. 9, 2018
"Worked there while atteding Lenox Memorial High in the mid seventies one of the best times of my life."
Stanley Hayes, Feb. 19, 2018
"first visit was our honeymoon in June, 1949. Met friends then and are still friends though our numbers are dwindling. remember Claude as our waiter. "
bill leonard, Mar. 2, 2017
"I was just cleaning out some old boxes and came across an Eastover brochure from the '70's and decided to "Google" Eastover to see if it was still in operation. My buddies & I from Jersey used to visit Eastover on singles weekends most every winter and always had a blast. The winter sports were fun but the drinking and dancing in the Barn and the folk groups in the Tally Ho building were the best! I still remember singing about "Poor Old Charlie" and the MTA in the converted horse stables. So many great memories. Sad to see it is no longer a ski resort. "
Mike Nicoletti, Dec. 29, 2016
"I remember going to Eastover on a singles w/e. In 1972 or 73 and meeting a young staff member named Caryl not sure of the last name, this was at the Tally-Ho barn. It was a lot of fun, glad to see you are still doing business. Best regards; Rob "
Rob Pitts-Robertsson, Dec. 27, 2016
"I WAS THERE WHEN WE LAND ON THE MOON. WHAT A SPECIAL PLACE TO BE FOR SUCH A HISTORIC EVENT. I ENJOYED JOINING THE POLAR CLUB BEING IN THE OUTSIDE IN THE THE DEAD OF WINTER. EASTER TRULY A PLACE IN PARADISEE"
TOM CAVANAUGH, Dec. 9, 2016
"I have great memories of eastover.in 1988 I met my husband Michael Zorbo he was the landscaper.I also had i great time with all my friends from New Jersey.Michael passed away last September and I miss him every day but I have great memories of him."
Jean Zorbo (frischknecht), Oct. 14, 2016
"In 1960, Eastover was the very first vacation I ever took as a young working woman (pre-college). My best friend and I were 18 and took the train, stayed on the third floor, loved the costume contests...I can't tell you how many bottles of champagne we won. I was Elvis one year and George's wonderful dog was "Hound Dog." I remember the great Red Robinson band and one of their favorite songs, "Black and Blue." Greased watermelons in the pool along with other relays. All the handsome college boys waiting tables for the summer. And, of course, the most fantastic mountain setting. An unforgettable time and place. "
Mary Flynn, Sep. 9, 2016
"Went there in the early60's.What a great place.Would party all weekend."
Arthur Jaskowiak , Aug. 18, 2016
"Eastover brings back soooooooooooo many great memories, especially on the Halloween and St. Patrick's weekends. Would travel there from New Jersey with my friend and meet up with a group of tire salesmen from Connecticut. The staff truly worked hard. Would love to know what that group from Connecticut are doing today. "
Debbie Bellas, Jun. 7, 2016
"Eastover was special to me. I am a graduate of St Joseph High School in Pittsfield and we did our after prom party there. What a great time we had for so many years. "
John Bashara, Mar. 19, 2016
"To those who knew Peps Gugino for the 50 years he went to Eastover I want to let you know that my uncle passed away on Tues Mar 8,2016 at the age of 98 3/4 years old. Eastover was his joy. He made such good life-long friends. To them I want to say thank you for bringing such happiness in his life.Eloise"
Joseph Gugino, Mar. 14, 2016
"I had a marvelous time at Eastover a very long time ago...like around the late 40's, early 50's. All the girls fell in love with George Bisacca, of course, and he and his wife were very indulgent of our crushes! It was a small, intimate group that was there...like family. Nice!"
Thelma Santoro, Dec. 30, 2015
"omg!eastover!!!! hahahaa! 4x with different groups of friends the halloween weekends were by far my favorite memories how the poor staff ever put up with us and many others haha! we always had loads of fun loads of drinks loads of men ! hahaa! to many funny fun memories even skinny dipped! !!! thank you for the fun memories that my kids will never know of !!! ha!"
jean keough, Nov. 25, 2015
"Eastover will always be a special place for me. I was there once with our family of seven in February of 1968. The mansion was cavernous to me and the memories come back after reading what other people have written. I remember the large group meals and having hot chocolate each morning. I can still picture the museum in the basement. I also remember swimming in the indoor pool just off the learning slope. I think there was a window just inside the building which allowed us to look into the pool like an aquarium.(Accurate?) As kids we went to bed early so our parents could go join the adult festivities. Most importantly, I put on skis for the first time at Eastover. My three days on the bunny slope evolved into a lifelong hobby and trips with my own family to ski resorts across New England and Utah. My time there was short but I thank Eastover for the memories."
Jeff Kaplan, Jul. 22, 2015
"We enjoyed Eastover Resort for about 10 years in the 70's. We have many memories about the dancing, partying and just have a great wild time. We came as a group of about 20 from Falmouth MA. Just many great memories we could not forget."
Edward Parfumorse, Jun. 21, 2015
"I spend many winters vacationing a Eastover in the late 70s.As a tween, I found myself playing in the civil war room or sliding down the hill on the old wooden tobogan. I still have picture showing me getting pulled up the rope tow becoming the newest member of the polar bear club - only those who vacationed there would understand. It is and always will be my Grand Budapest. Thank you for the fond memories."
Christopher Casey, Apr. 11, 2015
"I was a guest all year because my father was a very close friend with George Bisacca. I was their almost every weekend either feeding the buffalo or gathering their remains for my fathers garden. George was a great man and taught me how to ride his famous tobaggan run standing up! William Night was the operator of the tram which brought up the hill to a cozy lodge with plenty of hot chocolate. The inside pool & sauna were waiting after. The Civil War museum downstairs was truly an experience in which I will never forget. My High School Prom (St. Joseph High School) was held at Eastover. Thanks to my father who worked at the Berkshire Eagle who annually had their Christmas party held at this resort. I am in my 60's now and nothing but fond and wonderful times & memories that George, family and staff provided me & my family for so many years. It is hard to find such resorts with make you feel at home as The 'Eastover Resort'. William R. Meade"
William Meade, Mar. 29, 2015
"I have fond memories working at Eastover during the summers in the 1960's while in college. I remember Tiki and Susan very well and worked in the kitchen for Mickey. "
Emery Baker, Mar. 10, 2015
"My husband and I met at eastOver in the late 60's. My friends and I have such great memories of so many fun times spent there. Thanks for the memories..."
Phyllis Miedler, Feb. 13, 2015
"Worked there in summers of 57' and 58, was a great time between years in college. Hated to come home at end of summer . Great memories."
Charlie Harris, Oct. 29, 2014
"My family (including aunts,uncles and cousins) went to eastover every Christmas from about 1959 to 1969. Favorite memories include the taboggan run,horseback riding, and swimming. As a young teen we had incredible freedom. We hung out on the Rathskeller, listened to music and stole soda that was always under lock and key also I remember burgers and hot dogs late at night in the barn only great memories"
Phyllis Hoffman, Jul. 6, 2014
"Our family went there for over 30 years total...this included 2 generations of our family ...if I HAD to choose 2 memories....they would be these....we welcomed Y2K there(both generations represented) and helped it go out with a bang at Oktoberfest 2009. My dad Zeke loved the place and when we lost Eastover it was like losing him all over again some 18 years later!"
William Marsden Jr, Jul. 5, 2014
"Where do I begin, so many memories, good times and yes, insanity. It was our weekend of things you never did at home around your kids, it was all the things you told them not to do. So many nights singing, partying, just having unsupervised FUN!!!! We went every year at least one time per year for many years, some of our group are no longer with us, but oh those happy times. Thanks for the memories"
Donna Pugsley, May. 26, 2014
"Eastover was a yearly winter family event when we were kids in the late 60's, early 70's. Our family consisted of tons of cousins, aunts and uncles on my mother's side of the family. These memories are still talked about today. We would go from Monday to Friday and enjoy skiing, horseback riding, ice skating and tobagganing. We also remember sleigh riding down Shenandoah at night in the pitch dark while our parents were inside hanging at the bar. We would come in from the cold and travel through the hall of pictures to find our parents. We also talk about the rooms we stayed in and the free soda. So much fun and so many amazing memories were made!!"
Katherine Russo Kearney, Mar. 12, 2014
"Went on a ski weekend with the company I worked for 'Western Electric'. Was the best time of my life, especially when you are with someone you care about very much. The dancing was great, the music was great, everything was great. I particularly remember the toboggan slide and afterwards trying to get back to the top of the hill, such fun. Just wondering if your archives have group pictures stored away for the following years 1958, 59 and 60. Best time of my life."
Isabella Romeo, Aug. 30, 2013
"My husband & I came with a large group for at least 20 yrs for a winter weekend away--we skied, did tobogganing, swam in the pool, went outside in our bathing suits in January, ate, drank, danced from 4-6 every night, rested & went back for more dancing from 9pm-2am--loved the turning stage with the north & south flags flying from each band, the cannon that Loring & George set off every Saturday night, the laughter, fun, blazing fireplaces, small band in the stables singing songs we all knew in a cozy atmosphere, the pictures, the food eaten with friends, etc etc. We liked it so much we brought our kids up for a summer & a winter weekend together--then when we had 9 grandkids we brought them & their parents to Eastover every year for 8 years till the year our favorite "
Jeanne Thomas, Jul. 20, 2013
---
External Links
Eastover Resort - official site
Eastover Resort - New England Lost Ski Areas Project
Last updated: July 5, 2021