Jug End
South Egremont, Massachusetts
Status:
Lost/Defunct
First Season:
1947-48
Last Season:
1980s
Vertical Drop:
350 feet
Standing Lifts:
Past Lifts:
Surface lifts
Left: The Jug End Barn T-Bar in the early 1960s
Recent NewEnglandSkiIndustry.com News:
Located on the northeastern slope of Sterling Mountain, Jug End Resort is an increasingly distant memory. In the middle of the twentieth century, however, Jug End Barn was a well-known destination resort that comprised 1,600 acres.


Olde Egremont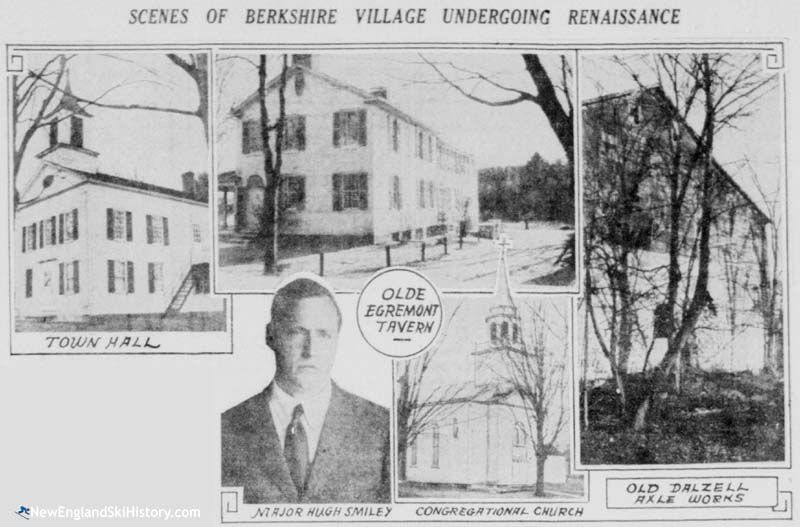 Early 1930s coverage of Major Smiley's development

The history of Jug End Barn dates back to the 1920s, when Hugh Newell Smiley embarked on a resort development campaign in Southwest Massachusetts. Smiley was born into a Quaker family that had developed the massive Mohonk Mountain House resort in New York. Serving in the Army during World War I, Smiley eventually earned the rank of Major before being discharged. Following his service, he and his wife Hester sought out a place to develop their own resort, reportedly discovering South Egremont while touring via automobile circa the fall of 1921. A land grab was soon underway, including acquiring the 700-acre Miller farm and adding 600 acres to it, which likely became known as the Fenton Brook Farm. Located in the Jug End area of town, one unique aspect of the farm was an apple orchard which was reportedly planted by Johnny Appleseed. The unique looking barn was constructed in 1928 at a reported cost of $80,000.

Circa the spring of 1931, Major Smiley purchased the 100-room Berkshire Inn in Great Barrington for a reported $100,000, promptly hiring 38 year-old Robert Wheeler to manage it. Wheeler had been working for his family's Wheeler and Taylor insurance and real estate company since 1913.

That fall, Major Smiley acquired the Mount Everett Inn in South Egremont. In addition, his holdings included the Olde Egremont Tavern Grill, the William Cullen Bryant house, the O'Neil store, and multiple houses in South Egremont. With the growing portfolio, Major Smiley formed the Olde Egremont Association with the goal of creating a colonial village that would be architecturally authentic while also offering a variety of recreational amenities. Circa the summer of 1932, Major Smiley, considered one of the largest landholders in all of the Berkshires, transferred his holdings to Olde Egremont Association, Inc.

In March of 1934, the Guilder Hollow Club was organized and given access to Smiley's 1,500 acre Fenton Brook Farm. Later that spring, the club announced plans for a $5,000 lodge on the property. A "new and speedy" ski run debuted for the 1934-35 ski season, bringing winter guests to the Olde Egremont Tavern. Skiers flocked into the Berkshires that winter on snow trains on the New Haven Railroad.

Following the 1934-35 season, Major Smiley announced plans to convert his dairy farm into a year-round recreational destination under the name of Jug End Barn. Meanwhile, Major Smiley assumed operational control of the Hotel Oakwood in Great Barrington, placing his Olde Egremont Association general manager Robert Wheeler in charge.

The much anticipated Jug End Barn was showcased to journalists and officials of the New Haven Railroad during the first weekend in December 1935. Activities at the barn that winter included skiing, a rifle range, a bowling alley, and an indoor tennis court. In addition to the practice slopes, skiers enjoyed the new Jug End trail. With plentiful natural snow that winter, the 65-person facility enjoyed many sell-out weekends.


Smiley Moves On

Though there were big crowds at times during subsequent years, Major Smiley's massive operation likely succumbed to the 1937-38 recession during the Great Depression when unemployment soared to 19%. Operations were reportedly halted in December 1938. Weeks later, James Joyce's Olde Egremont Corporation acquired Major Smiley's vast holdings, reopening the Berkshire Inn and announcing Jug End Barn would operate that winter. Soon thereafter, Joyce spun off many of the Olde Egremont assets, eventually only retaining the Berkshire Inn. The vast Jug End Barn property was sold to Robert Lexow in January 1939 for a reported $80,000. Meanwhile, Major Smiley and his wife relocated to Henniker, New Hampshire, where he later garnered press for amassing a large antique firearm collection. Major Smiley passed away in 1973 at the age of 87.

A friend of Major Smiley's son, Lexow was in his mid-20s when he acquired the resort in 1939. One year later, President Roosevelt signed Selective Training and Service Act, resulting in Lexow being drafted in the fall of 1940. Expecting to serve one year in the Army, in the spring of 1941 Lexow named Robert Thompson manager of Jug End Barn in his absense. With the extension of tours in the summer of 1941 and subsequent bombing of Pearl Harbor in December, Lexow's time away for Jug End was going to be prolonged. Lexow was promoted to first lieutenant circa early 1943 and to captain that summer. He was later promoted to the rank of major while serving in Europe.

Meanwhile, Jug End Barn remained in operation during the war, often filling to capacity. By the time the 1940-41 season started, the Jug End Trail was descending from Sterling Mountain, while the Skekut and Guilder Hollow Trails provided novices shorter runs nearby. Robert Thompson remained as manager until late 1943, when he was succeeded by Adele Hoppenstedt.

Upon returning from World War II, Lexow married Margaret Jackson Stewart in New York in late 1946. The couple later relocated to the suburbs of New York City.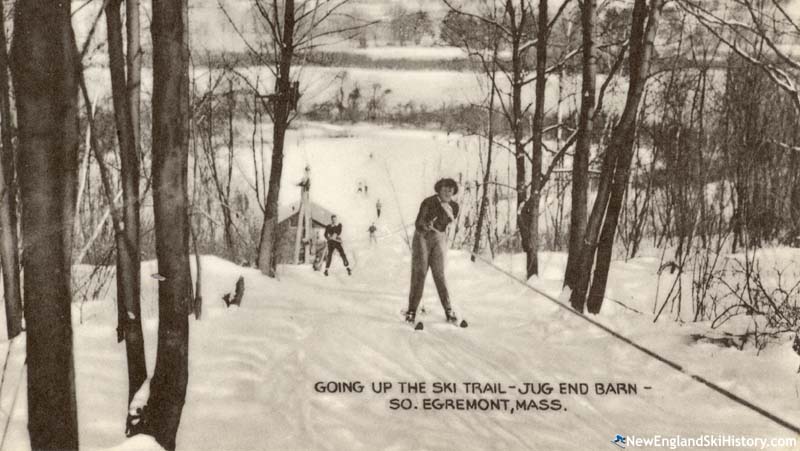 A Jug End rope tow circa the 1940s or 1950s

In the summer of 1947, Jug End Barn, Inc. was formed to take over the resort. Spencer Logan served as chairman, while Major Smiley's former manager Robert Wheeler served as treasurer. Robert Lexow was named as president of the corporation his former manager Robert Thompson was brought back as general manager. The sale was handled by Wheeler's real estate company, Wheeler & Taylor.

Weeks after the sale, the horse stable burned in an early morning fire. The resort continued on, installing its first rope tow for the 1947-48 season. Jug End Barn was booked to capacity during the New Year's holiday, with the rope tow operating daily. With the heavy demand, the rope tow was advertised as being available only to guests of Jug End Barn during the winter of 1948-49.

The Rise of Jug End Barn

One of the slopes in the 1950s or early 1960s

In June 1950, Jug End Barn purchased the popular ski destination G-Bar-S Ranch for a reported $100,000 with the intention of operating the two ski areas and lodging facilities as a combined entity. By the time the 1950-51 season arrived, Jug End sported three rope tows while the larger G-Bar-S had five tows and recently renovated base facilities.

The New Year's holiday was particularly festive at Jug End Barn. The celebration for 1951 included skiing, skating, tobogganing, a movie, a dance, and an orchestra. Later that year, Robert Wheeler hired his nephew Angus "Dick" MacDonald to work at Wheeler & Taylor. A native of California, MacDonald had spent two years in the Merchant Marines before heading east following the death of his father. He soon met Spencer Logan's daughter Mimi, who would eventually become MacDonald's wife of 41 years.

Jug End sold G-Bar-S in 1954 to Francis Maher, after which the area operated for two rough seasons. Business declined sharply at G-Bar-S, in part due to two fires. At one point, G-Bar-S sued Jug End, claiming it had been raiding its guest list since the sale. Following the failure of G-Bar-S, Robert Wheeler purchased the area at auction in 1956 and resold it in 1960. In 1963, G-Bar-S Ranch became Butternut Basin.

Jug End continued to grow during the early to mid-1950s, constructing an addition on the recreation hall and a new snack bar for the 1955-56 season. Dick MacDonald moved over from Wheeler & Taylor to Jug End Barn that winter, initially serving as assistant manager.

In July 1957, MacDonald was promoted to president and general manager of Jug End Barn. Noting an increase of visitors from Eastern Massachusetts via the newly opened Massachusetts Turnpike, resort investments continued, including re-acquiring the adjacent Guilderland estate, which increased Jug End's holdings to 1,550 acres and added capacity to host 35 more guests. Other investments made that year included building a trap shooting range and installing a heating system in the outdoor swimming pool. That fall, Jug End made regional headlines when it installed one of New England's first snowmaking systems. A $15,000 Larchmont installation, the system covered the lower 1,000 foot slope. Unfortunately, a much anticipated "snowopening" event in early December had to be curtailed when temperatures were too warm to allow for snowmaking. Once the season was underway, Jug End allowed the general public to ski on the slope on weekdays, retaining its guests-only policy on weekends. The resort went on to post a record season.

For 1958-59, Jug End finally addressed the long walk guests had to make from the ski slopes to the nearest full facilities. That fall, a new ski lodge was constructed at the base of the ski area, complete with a cafeteria, lounge, ski shop, first aid center, and rest rooms. Blanka Jeschek from Austria was hired to run the ski school. The season was kicked off with a huge party, including towing skiers around via helicopter. Snow was trucked in from the parking lot to help augment the minimal natural and manmade snowpack on the slope.

To bolster its non-winter activities, Jug End opened a 9-hole Alfred Tull designed golf course in 1959 and installed lights on its tennis courts circa 1960. Meanwhile, many of the accommodations were renovated in 1959 and 1960, including a guest suite named in honor of Major Smiley.

Keeping Up With the Pack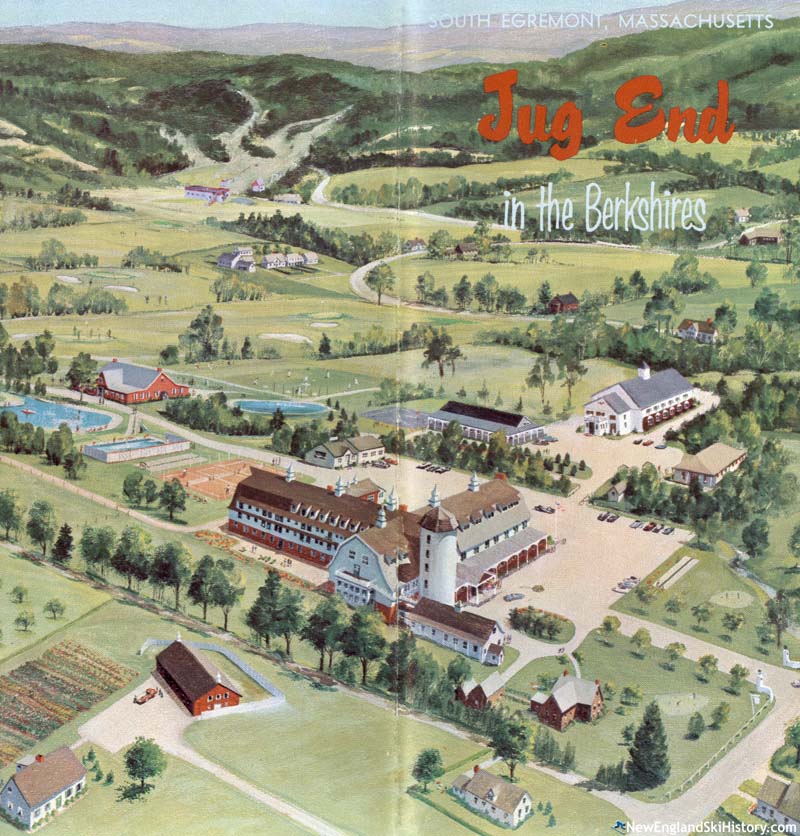 An artist's rendering of the Jug End premises in the late 1960s

While Jug End's ski area was growing, other areas were popping up at a fast rate nearby. Jiminy Peak installed its second T-Bar for 1959-60, while Catamount was on the verge of installing a chairlift. Meanwhile, Jug End was finding it more difficult to attract the unmarried customer base it had been marketing to for decades, as the demographic was apparently travelling further. As a result, Jug End was changing its focus to families, while continuing to maintain its event hosting business. In June 1961, former first lady Eleanor Roosevelt spoke at a American Association for the United Nations event at Jug End Barn.

To keep up with the changing industry, Jug End installed a Mueller T-Bar for the 1961-62 season. The new lift provided a continuous ride up the area's 350 vertical feet (later rounded up to 500 feet), which remained complemented by a series of rope tows. This would be Jug End's last big ski area investment. The resort saw an immediate return on its investment, posting its "best weekend in history" over New Year's 1962.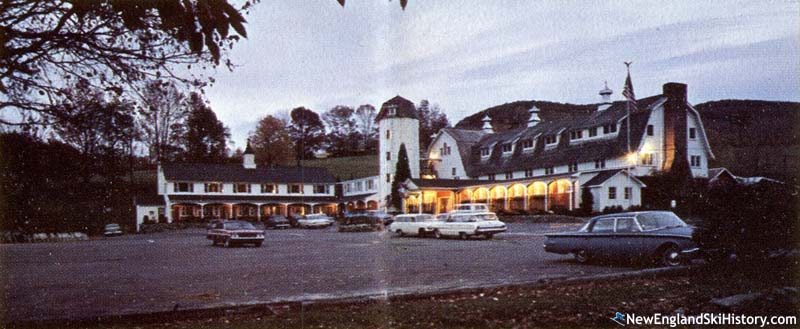 Jug End Barn in the 1960s

In 1963, Robert Wheeler purchased the Berkshire Inn at auction, restoring it to year-round operations and placing it alongside the Red Lion Inn in his lodging portfolio. Meanwhile, Jug End promoted plans to expand to the summit of Mt. Sterling for 1964. Though a trail was cut and a rope tow was installed to serve a short stretch of it above the T-Bar, the grander vision never come to fruition. At this point, Jug End sported five rope tows in addition to the T-Bar.

Investments for 1964 included improved night skiing and the construction of the Heritage House. The $250,000 two-story building included 24 historically themed units designed by Mimi MacDonald, which were described by the Berkshire Eagle as being "as close to a museum as a hotel can be." Rooms were designed and dedicated to figures such as President James Garfield, Norman Rockwell, Susan B. Anthony, Johnny Appleseed, Oliver Wendell Holmes, Josh Billings, Daniel Shays, Herman Melville, Edith Wharton, and Nathaniel Hawthorne. By this point, Jug End was advertising winter accommodations for 330 people.

Circa 1964, Ireland native Dave Scott became ski school director. Though the mild winter of 1964-65 was tough on many ski areas, Jug End fared relatively well. Unable to make enough snow, Jug End borrowed a manure spreader to spread snow on its main slope from drifts on its golf course. Despite the subpar skiing, Jug End posted another record winter, with MacDonald telling the North Adams Transcript that "ski enthusiasts represent only a small portion of the total potential winter vacation market and to offer only skiing to these people is skirting disaster with a lack of snow."

In June 1965 the Berkshire Inn burned. Improvements continued at Jug End for the 1965-66 season with an expansion of the ski lodge and parking lot, and the installation of a plastic ski track under the T-Bar.

Jug End attempted to push forward with snowmaking innovations for the 1966-67 season, when it experimented with a product from the John Swift Chemical Company. A chloride-based powder was spread with a lawn seeder onto snow in warm temperatures with the aim of reducing the melting point. Had the innovation worked out, Jug End would have had exclusive regional distribution rights.

Former owner James Joyce passed away in August 1967 at the age of 65.

Former Otis Ridge ski school director Jim Day was named to the same position at Jug End, as well as nearby Oak n' Spruce for the 1968-69 season. Day told the Berkshire Eagle that "we don't expect to keep them here on this little hill once they have learned to ski. But we hope they will come back and take another lesson later." The ski school ended up doubling its income that winter.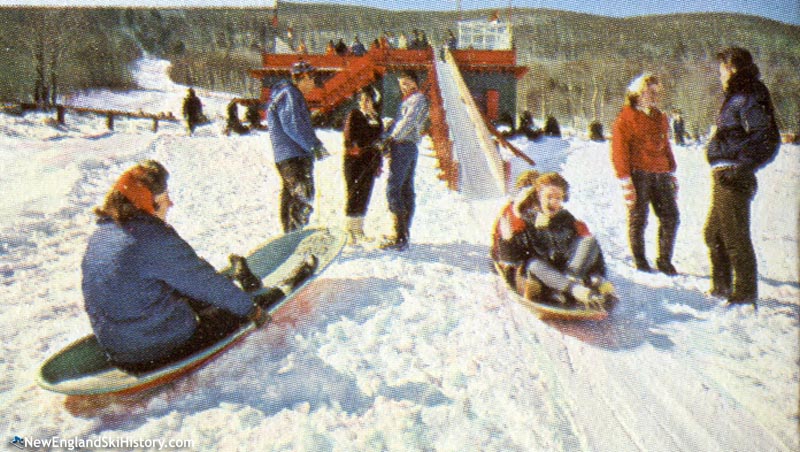 The toboggan slide circa the 1960s

By the late 1960s, Jug End was advertised as a popular year-round resort. Winter activities included the alpine ski area, a toboggan chute (built on the ski lodge), a skating rink with music, and ice fishing.

In early 1971, Jug End revealed it was seeking new investors to fund further expansion. Soon thereafter, plans were revealed to subdivide and sell up to 400 housing lots to fund expansion. Twenty lots were initially made available.

Two new rope tows were installed for the 1971-72 season, as Jug End attempted to appeal to beginners with a one-day-learn-to-ski guarantee. Cross country skiing was also promoted for that winter, with seven miles of trails prepared, as well as rentals and lessons.

Though plans were made to construct a chairlift in 1972, the winter of 1971-72 was a poor one, with the first half seeing a 50% decrease in business despite an increase in expenses. An investment was made in the summer business, however, as the golf course was expanded to 18 holes for 1972.



The End of Jug End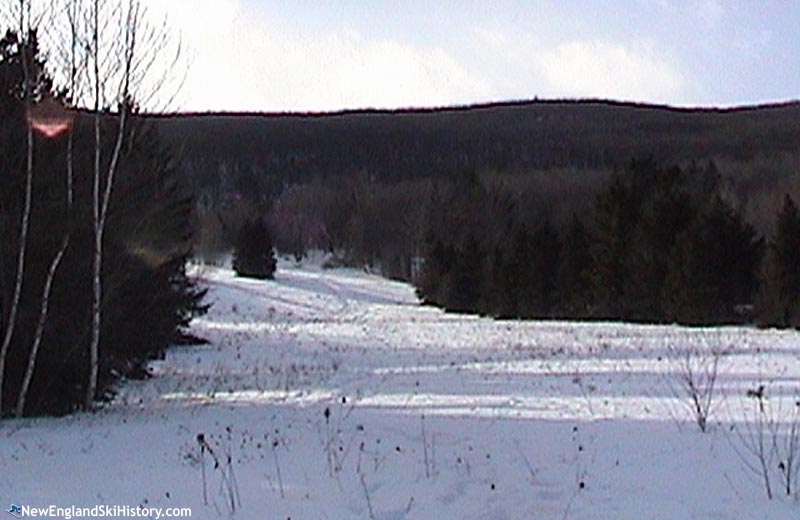 The main slope (2003)

Amidst an energy crisis and a bad winter, Jug End offered weekend guests a free Sunday night's stay so that Sunday gas station closures would not affect their trip. Nevertheless, significant debt was accumulated in the mid-1970s, as multiple mortgages and loans were taken out.

In January 1976, Dick MacDonald took a leave of absence, which was initially announced as "a temporary thing." Yet, in August of 1976 Dick MacDonald and his wife Mimi sold their Jug End stock to Pennsylvania couple Joseph and Kendra Bruno for a reported $325,000. At this point, Jug End Resort included the ski area, bubble covered tennis courts and swimming pool, a golf course, and the famous barn.

Heavily loaded with debt and deferred maintenance, Jug End fell into hard times in the late 1970s. With tens of thousands in back taxes, the resort nearly lost its liquor license in 1977. The swimming pool facility closed in 1979, while the tennis courts closed in 1980. Continuing in this pattern, the resort was closed during the winter of 1981-82.

In the fall of 1982, Kendra Bruno suffered an illness what would keep her out of work until mid-1983. With deficits growing, Jug End filed for Chapter 11 bankruptcy in August of 1983. The resort closed soon thereafter.

A group of investors attempted to build hundreds of houses throughout the property a few years later, however their efforts were halted. The land eventually ended up in the hands of the State of Massachusetts and is today known as the Jug End Reservation.

Former owner Dick MacDonald passed away Sept. 18, 2014 at the age of 88.



Expansion History





Image Gallery





Lifts
Click on lift name for information and photos




Maps


Year by Year History
Adult Weekend Full Day Lift Ticket; Adult Full Price Unlimited Season Pass

1970s
Ticket Price
Season Pass Price

Pass Payback

Opening Day

Closing Day

Skier Visits

1971-72
$5.00
$85.00
17.0 days
1970-71
$4.00
1969-70
$4.00
1960s
Ticket Price
Season Pass Price

Pass Payback

Opening Day

Closing Day

Skier Visits

1968-69
$4.00
1967-68
$4.00
1966-67
$4.00
$50.00
12.5 days
1965-66
$4.00
$50.00
12.5 days
March 20
1964-65
$4.00
1963-64
$4.00
1961-62
$4.00
1960-61
$2.00
1959-60
$2.00
1950s
Ticket Price
Season Pass Price

Pass Payback

Opening Day

Closing Day

Skier Visits

1958-59
December 6
1957-58
December 14
Visitor Memories
"I honestly don't remember that much about Jug End but my grandmother Mrs Strobridge owned the Guilderland Estate for a while in the 50's and I have a lot of fond memories of that place when I used to go there as a child."
Bob Thomas, Mar. 17, 2023
"started as a ski instructer around 1965. became a good friend of Dave Scott who hired me a couple of friends of mine. saw Dave a lot, and he did right by me.loved the jug, taught there about 4 years. until i met my wife there, that was it for me. had a blast there. "
tony paradise, Jan. 13, 2023
"During the winter of 1966, our college (Adelphi) booked a ski week there. We had a lovely time. The school booked a band to come along and play music for us. The band was called the Hassles and their lead singer amazingly was Billy Joel. It was my first skiing experience and will be remembered fondly. It was sad to see it no longer exists."
Richard Werner, Oct. 18, 2022
"I spent a semester fall 1972 doing a Resort Management internship from UMASS. I remember fondly Michael and Eileen Lohan who took me under their wings. It was a beautiful place and holds a special spot in my memory. "
John Manning, Apr. 10, 2022
"My mom worked in the gift shop for Dick & Mimi, while she was in high school till about 1960? Years later she would take us their to see the roaring fire in the lounge of the Main Lodge. My grandparents owned a home on Mt Washington Road. We fished/walked the stream through their fields that eventually led up the hill to the resort (70s). I went to grade school with youngest McDonald girl fond memories of growing up in the Berkshires. "
Lawrence Brittingham, Aug. 31, 2021
"I worked in the kitchen there primarily breakfast and lunch in1975. Shared a room on the 4 th floor where there was a few rooms for employees. I was 17 at the time. My family lived on Bow-wow rd. In Sheffield. Fond memories. Sometimes drove a small catering type truck up a trail to remnants of a long gone cabin along the brook where I'd set up and prepare steaks, eggs and champagne for people to enjoy after riding up on horseback. Sad for me to look at the deserted pictures. Haven't been by there since late 70's. I've been on cape cod since 1979but still have family in the Berkshires. Will have to make a point to stop there when I'm in the area again."
Rob Carter , May. 30, 2021
"My father, Steve Hindman, worked at the Jug End in 1976 or so when the Bruno family owned it. My sister and I visited him, and it was an amazing place. We were horseback riding and a sledder spooked my horse and it bolted. Quite an exhilarating ride for an 8 year old! "
Sven Hindman, Apr. 24, 2021
"My Grandparents, Clarence and Ethel Decker, lived in Dalton and we would visit them and go to Jug End every Easter and Thanksgiving for many years in the 1960s. I recall live chicks and bunnies, the Easter Egg hunt, the big fireplace where you could play scrabble, and one magical year when we got snowed in by a sudden storm, and the hotel threw open its doors to let all of us, who thought we were just coming for lunch, to stay overnight until the storm subsided. There was a screening of Alfred Hitchcocks The Birds that night that I will never forget. I was probably 11 or 12. Between the scariness of the movie and the excitement of being in that legendary hotel, I do not think I slept a wink that night. "
Brian Fitzgerald, Nov. 26, 2020
"I grew up a half mile from Jug end Barn. Would love to hear from anyone who visited or is familiar with the Jug. I spent many happy times there as a child."
Preston Mardenborough, Apr. 13, 2020
"I worked at the Jug from late 1973 -1976 - we ran the Recreation dept. It was a special place and I am happy I was involves during those years. Many houseguests, whether they were families, singles, there for conferences would comment what a good time they had - and that was our job! Angus and Mimi were good to me - I remember them fondly. "
Tim Leary, May. 3, 2019
"I was working in a bank in Boston in the mid 1990's and wound up hiring Dick McDonald, son of Angus and Mimi. As an avid skier and Massachusetts native I was intrigued to learn that he grew up as a family member of Jug End fame. After college, Dick became a coach for the US Ski Team, and a member of the coaching staff for gold medal winner Bill Johnson at the Sarajevo Olympics. "
Bill Flemer, Apr. 3, 2019
"I Designed & Decorated the interior after Joseph Bruno bought it in 1976 while decorating my wife Cotti and I lots of fun "
Delio Mir, Jan. 28, 2019
"My parents were good friends with Angus and Mimi McDonald during the late 50's -60's and beyond. My Dad was also in the hotel business. When my husband and I married in Nov. 1973 the McDonald's could not come to our wedding in the Boston area, but gifted us with a 3 day stay for a mini honeymoon at the Jug End since our planned honeymoon was a ski trip to Austria 2 months later. When we arrived at the Inn the night of our wedding we were offered a late dinner at their home with the most delicious cheesecake which we were taught had to be cut with a string so as not to lose any precious cheesecake on the knife! After dinner Angus insisted we go to the square dance that was being held that night! This Fall we are spending time in the Berkshires during the week of our 45th wedding anniversary and have had fun reminiscing about our stay at the Jug End. Resorts such as the Jug End were a charming part of a bygone era. "
Susie Gravel, Nov. 8, 2018
"I worked there in the main barn in 1979 as the night shift front desk auditor. The grounds were beautiful and I even lived there for a month or so while looking for an apartment. The property was magnificent in the fall with the leaves turning and the winter was grand. Since I worked 11pm-7am I would get off in the mornings and go for a walk on the property. The owner Joe Bruno drank more coffee than any person I have ever met and daily I would take his empty coffee cups from his office and van back to the kitchen in a milk crate. "
Jim Brites, Aug. 2, 2018
"Visited for a week in mid-to-late August 1967 with stepfather and mother, Luke and Mary Esther Sweeney, when I was 11 and remember well the family-style dining plans (sharing tables with other families), the horseback riding, swimming and waterskiing instruction on a nearby lake. I remember the date because of the breaking TV news of the Soviet invasion of Prague, Czechoslovakia. Also visited at least once around the same time during winter and wore out gloves on the tow ropes. Remember a breakfast horseback ride in the snow with adults enjoying mimosas on the mountain before heading back."
Mark Donovan, Jul. 28, 2018
"I proposed to my wife of 53 years in Feb, 1958 sitting in front of the fireplace at Jug End Barn. Best move I ever made. We were married in Nov that year and had a wonderful married life. She passed away six years ago and I often think of that magic night she said yes. I also still have one of those small Little Brown Jugs on my night stand. "
Bill Savage, Jan. 28, 2018
"I have very fond memories of attending 2-3 Junior Achievement Conferences, from CT, in winter of 1978-80 at Jug End Resort. The Conferences were called "SNOJAC". Had a blast there! "
Denise Terry, Jan. 3, 2018
"My mom and dad stayed at jug end barn around 1959 and 1960. They aways went with at least three other couples.i remember they purchased the jug end barn record album with the jug end barn cha cha as one of the songs.i still have the album.they have both passed and I always remember them saying how much they enjoyed their stay. They have been there quite a few times.thank you for giving my parents such a great time. Tom centone junior "
Tom centone, Apr. 19, 2017
"I was a waitress at Jug End the summer of 1965. It was a fabulous summer for a 17 year old. I enjoyed my duties and responsibilities and when off duty got to use all the amenities. I enjoyed horseback riding and waterskiing the most. I lived in the bunkhouse and felt like I was at camp. The older waitresses were so kind and trained me well. I really enjoyed the Jug. "
Susan Jensen, Nov. 5, 2016
"My husband and I spent our honeymoon at Jug end Barn in late June 1964. We were married in New York city but I was working in Hudson Ny and we would stay in Hudson for the summer. Still have the set of glasses gifted to us when we checked in."
Judie Byndas, Oct. 11, 2016
"Hi everyone, I grew up about a half mile from there in the 40 and 50s Used to go skiing there free after school! Was a lot of fun. I would love to hear from anyone who remembers it. Thank you kindly."
Preston Mardenborough, Sep. 17, 2016
"We used to ski at Jug End in the 60's with our neighbors. Loved it there. It was the only place I remember my Mom ever skiing, but she only lasted half the day. It was not a far drive, and never really overcrowded. A little jewel. Great memories of skiing there."
Eileen Finn-LeMatty, Mar. 15, 2016
"Although I never skiied at the Jug, I remember having lunch there with my parents & how impressed we were with the ambiance & food. I didn't realize how many years of gone by- I had heard the Jug had closed. Sad but the Jug's memory lives on!"
richard gross, Jan. 16, 2016
"I remember attending Northeastern University's Senior Week outing at the Jug End Barn in 1965. I have the pottery jug memento that was given to those who attended and am about to gift it to the Northeastern University Libraries Archives."
Peter Manson, Dec. 29, 2015
"My son's father, the late Paul Bischoff, was a member of Pipe and Bowl and always told us how he learned ski at Jug End Barn. hH had happy memories of that place. "
Anita Maier-Bischoff, Sep. 18, 2015
"my family took two winter vacations in the 74 75 or so range . What a wonderous place we towed up three snowmobiles but we made use of the ski slopes the skeet shooting rollerskateing fireplace and much more shure wish I could take my wife there for a long weekind many many fond memories !!! thanx RHH"
rich hochberg, Aug. 30, 2015
"I worked for three weeks Prior to my September 29, 1967 entry into the Navy. I worked 6 am Breakfast, 3 or 4 morning coffee breaks, 11 to 2 Lunch, 3 or 4 afternoon coffee breaks, 4 to 8 dinner. I was one of 30 to 50 staffers that made some of these memories possible. What I remember most is the $300.00 I had in the bank when Uncle Sam called.I had met the owner at a previous job. He remembered me the day I was his waiter. He was vary upset with me that I was going into the Navy. He said he remembered me and told me to come bake after my hitch was up. "
THOMAS STEVENS, Feb. 2, 2015
"We spent our honeymoon at Jug End June 25, 1966. We had 1 night. We were so young and had to go to work on Monday. Everyone knew we were just married. We danced to I Left My Heart In San Francisco and everyone clapped. We were so embarrassed!! "
Deborah Eisel, Aug. 30, 2014
"Beautiful memories of Jug End Barn when I was in my early twenties. Really enjoyed it there so much. Met a lot of nice kids there from New York and other places. I often wonder where they are today. Thanks for the memories. "
Anna McGowan[Aquilino], Aug. 9, 2014
"Myself and my 4 siblings would not be here if it weren't for Jug End Barn! My mom from the Bronx and my dad from Green Point, Brooklyn, met there in 1951-52ish. They were happily married over 50 years before my dad passed. 15 grandchildren, 5 great grandchildren and 2 on the way. We all love hearing about the night they met at Jug End. My parents took us there when we were younger to see it. Maureen Doherty Long Beach, NY"
Maureen Doherty, Jun. 29, 2014
"I am now 80 years old. My high school class of about 25 people stayed at the Jug End Barn for our Senior trip,in 1951. We stayed in the Bull and Cow Pens. Played and snooped. There was an Irish Stable Master with whom we all went on a trail ride. I believe we had the thrill of seeing a Badger. On our downhill return some lead horses ran into wires between posts at the skiing slope,almost invisible. A few were unhorsed! I held on, also clutching the saddle. No one was hurt. The horses were also extra frisky as they had sped up to get back to their barn. That same Irishman had a Pony he showed off as a jumper. Great place , we all had fun and generally all smelled like sweaty horses. I seem to recall the owners had a penchant for making Birch beer."
Wesley Lent, May. 8, 2014
"I was a Queens College student (member of Pipe and Bowl Fraternity) and went to Jug End on two winter break (1958 and 1959) trips organized by Queens College. It was a great place and the trips were a blast. The skiing was fine for beginners but not much of a challenge for an experienced skier - but that didn't stop us all from having memorable times."
Bill Tannler, Jan. 22, 2014
"Jug End Resort was beautiful at entrance gate.Huge weeping willow tree, blue spruce beautiful white fence with huge lantern type light on top and a flag pole in parking lot that was dwarfed by mountain. The pool was fabulous. The people were wonderful including Carol Mathie, Judy Keever, Frankie Gale Palmer vacationing from Connecticut and New York."
Kay Molochko, Jan. 5, 2014
"Jug end has everlasting fond memories for me as the Acreage is still renown for its wildlife and Abundant white tailed deer population . The whit-tailed Deer proliferate in the acorn oak rich Mountainsides. The area is plentiful in which the Mountain Laural Bushes grow a lush protection barrier that is the mainstay for protection for the whitetail deer . As a young Boy I remember first whitetail hunt with my father brother and uncle at age 15 I and i just turned 50 and can honestly say i have not missed a hunting Season at the jug end since that first successful deer hunt 35 years ago. "
Chris DErrico, Dec. 29, 2013
"Every winter, my wife and and I would we look forward to Christmas and to be able to spend Christmas at the Jug Inn...a full day of skiing and then looking forward to a wonderful dinner and retiring to be in front of the that wonderful large fireplace with the logs ablaze where we all had eggnog and welcomed in Christmas with a group of wonderful people who returned it each just to stand or lay in front of the fire and feel the warmth fire and the friendship that reestablished. I am now eighty-three and I still think of great and wonderful times that we spent at the jug Inn at Christmas timeI hope the youth of today, have the same enjoyment that we of the past enjoyed back in those days, we drank of the future, as he listened to the logs slowly blurring signifying the day was done, and there was the next year to look forward to as we did this yearDr. Robert E Nielsen"
robert Nielsen, Dec. 24, 2013
---
External Links
Jug End Barn - New England Lost Ski Areas Project
Jug End Reservation - Massachusetts DCR
Last updated: December 15, 2020