| | |
| --- | --- |
| | |
Located on the northern face of Mt. Fray on the Massachusetts-New York border, Catamount is one of the oldest ski areas in New England.


World War II Era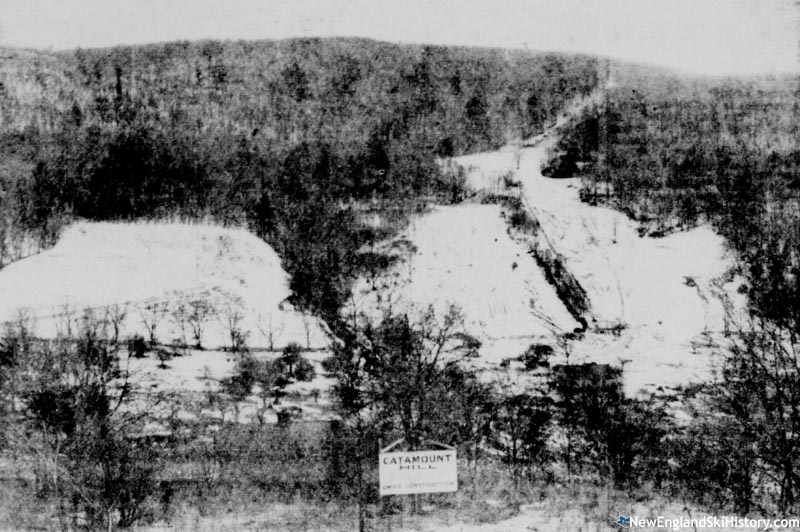 Construction of Catamount in the fall of 1940

Catamount's lift served ski history likely dates back to 1940, when John "Jack" Fisher and George Earling entered into a 10 year lease for 160 acres of farmland on the side of Mt. Fray from H. O. Nicholson. Rather than call the development Fray Mountain, the partners opted to name it Catamount Hill "for color" according to the Berkshire Evening Eagle.

Work accelerated in the fall of 1940, as three slopes of up to 2,500 feet in length were cleared with a vertical drop of 625 feet. Three rope tows were constructed, as well as a 40 by 47 foot lodge with a crushed rock floor and central fireplace.

Catamount likely opened in December 1940, reportedly to great success. In February 1941, Fisher and Earling announced they had taken an option to develop a second ski area on a 100 acre tract in Hillsdale owned by Eusten Betten. It is not known if development of the second ski area made it beyond the initial planning stages, as the growth of the ski industry was about to be stunted by World War II.

Though Catamount likely operated during the winter of 1941-42 and possibly 1942-43, Jack Fisher joined the war effort by serving as a flight instructor in Arizona.

Following the war, Catamount reopened for the 1945-46 season with 3 rope tows, 3 trails, and 2 slopes. Three more rope tows may have been added for 1946-47, resulting in a mile of cumulative lift length. Fisher reportedly opted to have multiple short tows rather than one long tow in order to not wear out riders.

Tentative expansion plans were announced in early 1947 to extend trails to the summit, where a glass-enclosed shelter would be built. It is not known if any work was done on this project, as Fisher's sight may have turned to the north. On July 29, 1947, he co-founded Jiminy Peak, Inc. Fisher lived in a tent at the construction site that summer, pushing for a 1947-48 opening. A delay in a steel shipment resulted in Jiminy Peak's opening being delayed until the 1948-49 season.

Enhancements may have been made at Catamount during the 1947-48, including the installation of a novice rope tow and a cutting edge "phonograph-public address system playing waltzes and other tunes."

By the time the 1948-49 season started, Catamount had a network of nine rope tows, generally operating only on weekends and holidays. One Saturday in February drew a crowd of 850 skiers. Nevertheless, the winter was considered to be subpar due to poor natural snowpack.



1950s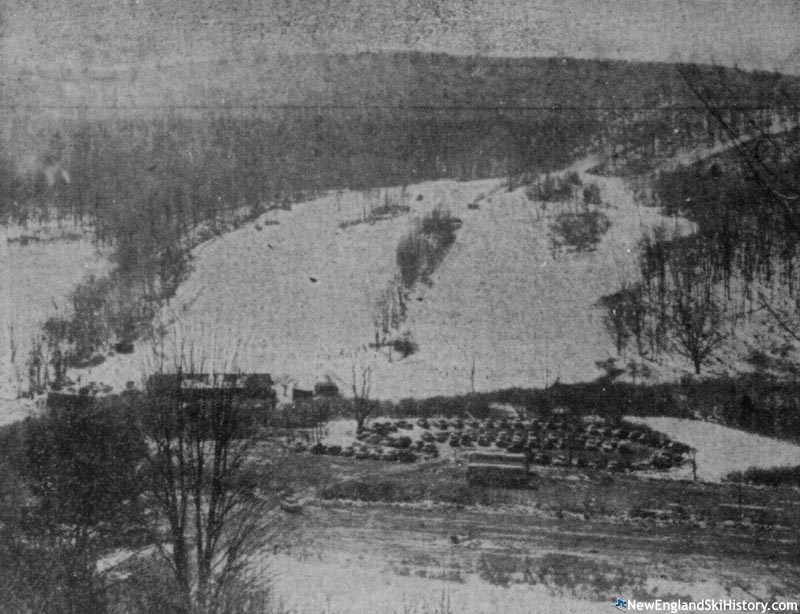 Catamount in February 1955

Two more rope tows were added for 1949-50, giving Catamount the largest lift network in the East. The Little Dipper trail was advertised for novices and intermediates, while Big Dipper was advertised for experts, both of which being reported with a 1,025 foot vertical drop. Though its early December debut was its earliest opening to date, milder weather soon shut down skiing in the region. In mid-January, Catamount spread pulverized ice to provide two 400-foot long runs. 100 tons of ice were reportedly spread over the course of two days, only to be washed out by rain after only two days of limited operation. The season was later described by the Berkshire Eagle as "devastating."

1952-53 marked the formation of the Berkshire Ski School. Led by World War II veterans Jimmy Snell and Win Gutmann, the ski school set up shop at Catamount, Bousquet, and Jiminy Peak, offering standard instruction and lesson books across the three areas. The multi-area organization likely lasted for three seasons. To sweeten its appeal, Catamount offered free instruction to beginner skiers who purchased a lift ticket. Unfortunately, the 1952-53 season started late and ended early, described by the Berkshire Eagle as "almost a complete dud" and "one of the worst on record."

The 1953-54 season was another rough one for skiers, with poor weather delaying opening day until January 9. Following the season, Jack Fisher married Florence Kendall in New York. Spending more time in Manhattan due to the poor ski seasons, Fisher was soon recruited by an advertising agency to become a model. Before long, Fisher was appearing in magazines such as Life as a clothing model.

Continuing to operate as a rope tow only ski area, Catamount's numbers were dwindling in the mid-1950s, with the biggest day in February 1955 only drawing about 250 people. Fisher was said to spend much less time at his ski areas around this time, reportedly preferring to ski at Stowe. Meanwhile, George Kastner purchased a 20-acre mansion estate adjacent to Catamount to establish the White Stallion Ranch. The dude ranch likely operated into the late 1960s, but burned to the ground in 1972 during an attempt to reopening it as the Claremont Inn.

The 1956-57 season was a particularly rough one, as poor snowfall resulted in Catamount operating only 3 days. Reliance on natural snow and rope tows was not a sustainable business model.



Catamount T-Bar (1960s)

With financing provided by locals, Fisher moved forward with a $75,000 investment for the 1957-58 season, installing snowmaking and a modern lift. For a snowmaking water supply, Fisher created a two acre pond by damming a brook in the base area. A 20-nozzle Larchmont system was installed, serving 403 vertical feet of the main slope, as well as beginners slope.

For the lift, Fisher acquired a new Western Manufacturing Company T-Bar, replacing two rope tows. Though the lift was designed to be 1,875 feet long, it was engineered to allow it to be extended another 1,800 feet to the summit of the mountain. It was also reportedly engineered to allow for chairs to be hung for off-season sightseeing operations.

Though a December 20th opening day was planned, the area reportedly did not open until the beginning of January, when it operated on man-made snow served by rope tows. Fisher continued to struggle with the construction of the T-Bar, which did not go into operation until the middle of January. Even then, continued issues with the lift (described as 'testing' and 'final adjustments') resulted in Catamount essentially remaining a rope-tow area until February. The demands of night-time snowmaking and the T-Bar repairs nearly killed Fisher, reportedly landing him in the hospital for over three weeks with a severe pneumonia, a chest operation, and a back injury.

The 1958-59 was much smoother, with well-timed snowfall resulting in "skiers by the thousands in contrast to hundreds last year." Meanwhile, Catamount's second-year ski school directors, Pierre and Lucille Ducis, appeared on the Jack Parr Show.

A second T-Bar was installed on the present day Holiday slope in 1960, serving novice terrain.


Catamount is a Chairlift Area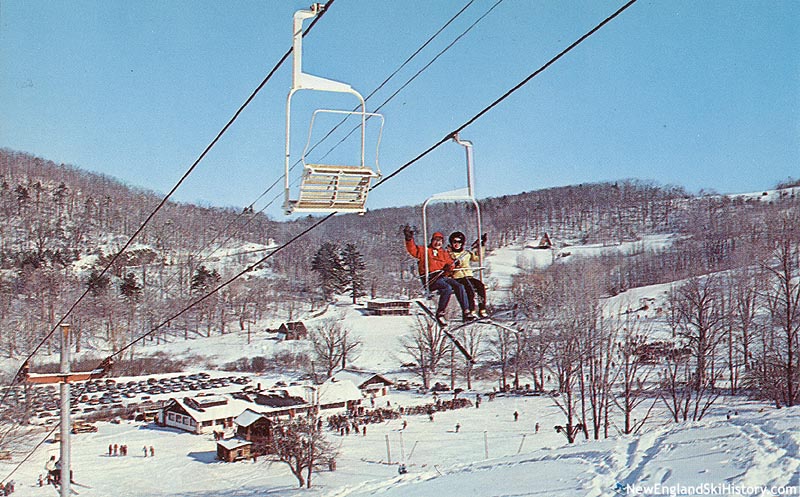 The Ridge Double circa the 1960s

1961-62 was a big year in terms of ski area development in Massachusetts and Catamount. With new chairlift served ski areas popping up, Catamount expanded to keep up with the tide. The novice T-Bar lift installed one year earlier was extended, while a third T-Bar was likely installed serving today's Meadows area. The T-Bars were eclipsed by a new double chairlift, significantly expanding Catamount's vertical drop from 400 to 1,000 feet. Base facilities were also expanded to accommodate the influx of new skiers.

From a personnel perspective, Toni Matt, a well-known name in skiing at the time, took over the Catamount ski school in 1961. The first known person to ski straight over the Mt. Washington Tuckerman Ravine headwall, Matt was a World War II 10th Mountain Division veteran and accomplished racer who had recently returned to skiing following a multi-year recovery from a shattered leg.

Catamount opened what it billed as the steepest trail in the Berkshires for the 1962-63 season, named Steeple. The trail was soon abandoned, presumably due to difficulty in keeping it covered.

Circa 1964, Jack Fisher sold his share in Jiminy Peak and focused on Catamount.

Catamount's next big improvement took place for the 1967-68 season, when the original T-Bar was replaced with an SLI double chairlift, while a new J-Bar served novice area was opened. In addition, snowmaking was expanded to the summit, prompting a "Catamount makes it to the top" advertising campaign. In spite of the modern investments, the base lodge was still a relic of the past, described by the Hartford Courant as leaving skiers "gripped with a pleasant nostalgia on the sight of the pebbled floor and rustic interior" and "void of any modern decor."

The advanced Wax Run trail was revamped for the 1968-69 season, providing a novice-intermediate route from the summit.

Around this time, Catamount was attempting to raise money by seeking $500, 20-year interest free notes from skiers in exchange for free skiing. Plans included relocating the base lodge toward the parking lot to make way for a new structure, as well as a new chairlift.

On the night of July 11, 1969, a Piper airplane crashed into a tree and then a chairlift at Catamount, killing the pilot and passenger. The young pilot had been practicing takeoffs and landings and had become lost.

For the 1971-72 season, a second SLI double chairlift was installed, running adjacent to the summit lift. Following this season, Toni Matt likely headed north to take over the Whiteface ski school. Longtime instructor Louise Kiefer took over the Catamount ski school at this time.


New Ownership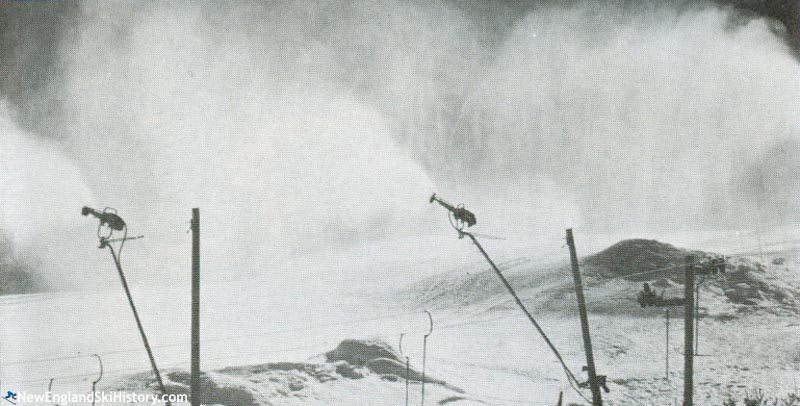 'Airless' snowmaking in the 1970s

While Catamount had modern lifts and snowmaking, the poor 1972-73 season was too much for it to bear. In late January 1973, the stockholders of Catamount voted to file for Chapter 11 bankruptcy, citing $80,000 more in debt than assets. A contributing factor was the $200,000 chairlift installed for the prior season.

Catamount was acquired in the fall of 1973 by Bill Gilbert, Sandy Gilbert, and Don Edwards. The trio had managed Fahnestock ski area and Silvermine ski area and created Sterling Forest ski area. In addition, Gilbert was co-founder of Snow Machines International (which later became SMI). Following the sale, major work was conducted on Catamount's snowmaking system.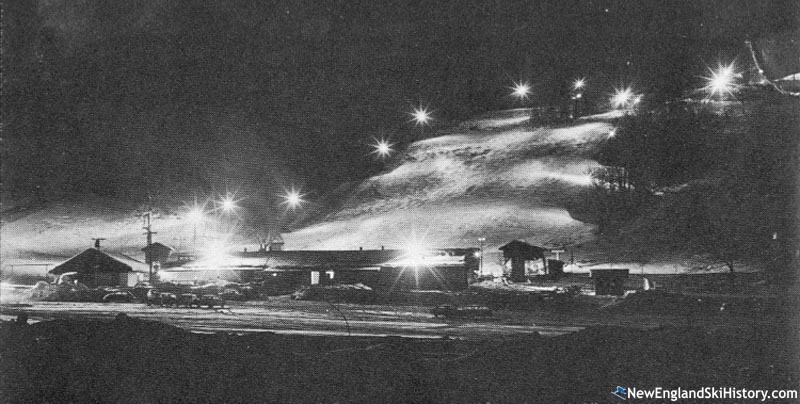 Night skiing in the 1970s

Circa the 1974-75 season, John Cain became manager of the ski area. Fresh off the terrible winter of 1973-74, Cain intended to add off-season fairs and chairlift rides. A mountain coaster was constructed in 1977 to further bolster off-season revenue streams.

For the 1977-78 season, the base lodge was rebuilt and snowmaking improved.

Work on snowmaking and trails continued into the 1980s. Circa 1984-85, a double chairlift was installed in the Meadows area, providing novices and intermediates with open slopes away from the steep expert runs on the main mountain.

Former Ski School Director Toni Matt passed away on May 17, 1989 at the age of 69.

Catamount's legendary double diamond Catapult trail was completed for the 1994-95 season.


The 2000s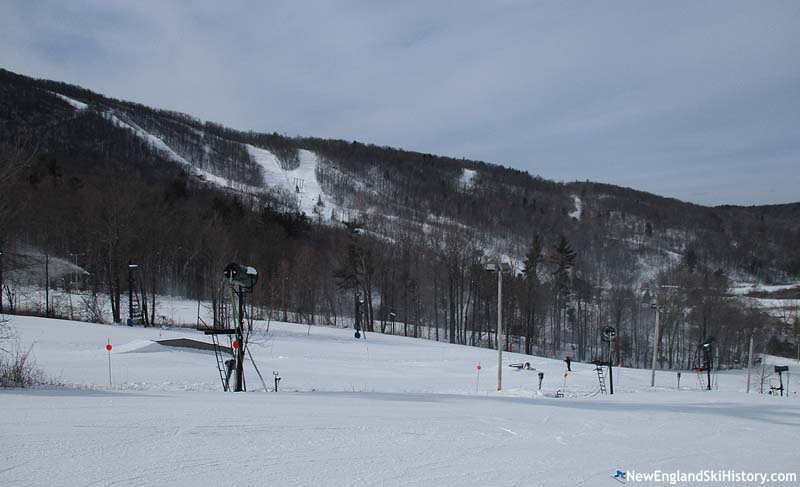 Catamount in 2016

Starting in the 2000s, Catamount began modernizing its lift infrastructure. Initial efforts were geared toward novices, as in 2003 the Pussycat J-Bar was replaced with a Magic Carpet. Two years later, the Mountain View double chairlift was replaced with the Meadows Triple chairlift.

Former Ski School Director Louise (Kiefer) Buyce passed away on May 27, 2003 at the age of 73.

In 2006, the 45 year old summit double chairlift was removed and replaced with a modern fixed grip quad chairlift, purchased from Belleayre ski area.

The Catamount Aerial Adventure Park debuted in 2009, featuring zip lines, bridges, and other canopy features.

Catamount founder Jack Fisher passed away on June 14, 2011 at the age of 97.

A new trail opened in January 2015, located off lower Sidewinder. A former trail name 'Fisher's Fluke' was brought back, honoring the founder and his wife.

Longtime owner Bill Gilbert passed away in January of 2016. While his son, Tom, along with Don Edwards' son Rich, continued to serve as President and Vice President of the ski area, they were unable to obtain capital. As a result, the area was put on the market in 2018.



New Ownership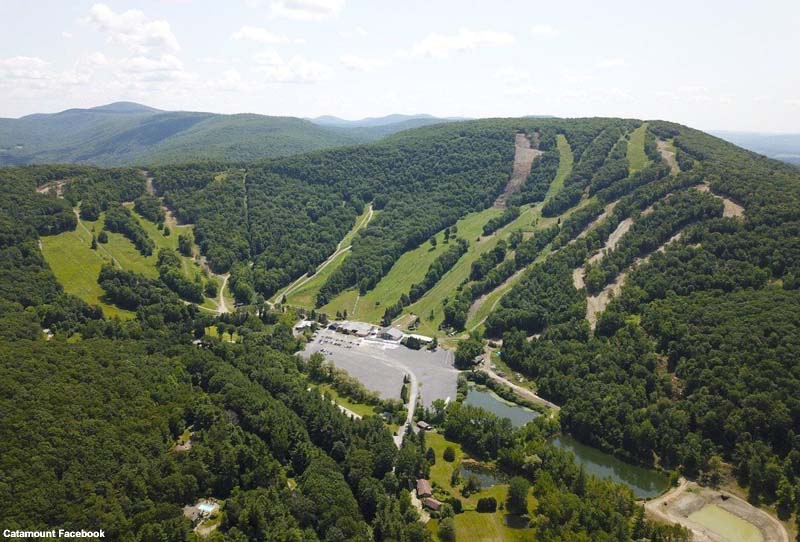 A summer 2019 aerial view of Catamount

In May 2018, the owners of Berkshire East acquired Catamount, retaining its management and workforce. According to Tom Gilbert, "Berkshire East was there with the same vision - and the capital that we didn't have - to bring us forward." The group immediately began a campaign of investment and replication ideas implemented at Berkshire East. For the 2018-19 season, snowmaking was improved, a refurbished triple chairlift installed, and the Berkshire Lodge renovated. The ownership offered a joint season pass a its two areas.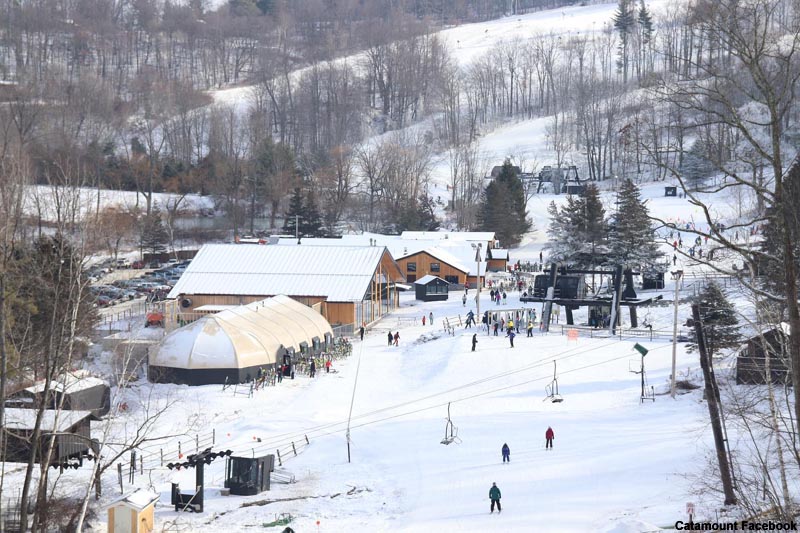 The base area circa 2019-20

Construction projects continued in 2019, as a new lodge was built, zip lines constructed, and new trails cut. One year later, the Glade Double was removed. Meanwhile, with the ownership taking on a management role at Bousquet, the Pittsfield area was added to the Berkshire Summit Pass.

Two new lifts and a tubing park were to be opened for the 2021-22 season. Construction delays prevented the completion of the chairlifts, while a subpar winter resulted in the tubing park not opening. Immediately following the season, snowmaking improvements were commenced. The new chairlifts debuted during the 2022-23 season.



NewEnglandSkiConditions.com Reports

Month
Average Percent of Terrain Open
December
68% (2 reports)
January
65% (3 reports)
February
87% (3 reports)
March
90% (2 reports)

-- start conditions table -->

Recent Conditions Reports

Mar. 11, 2023 by brianna
Variable Conditions, Variable Conditions
Mar. 11, 2023 by rocket21
Variable Conditions, Variable Conditions
Feb. 5, 2023 by indyskier29
Packed Powder, Ice
Jan. 27, 2022 by brianna
Packed Powder, Frozen Granular
Jan. 27, 2022 by rocket21
Loose Granular, Loose Granular

Catamount on NewEnglandSkiConditions.com
NewEnglandSkiIndustry.com News
Recent Articles
Mid-Fall Lift Construction Continues - Nov. 6, 2022
Lift Construction Continues as August Comes to a Close - Aug. 28, 2022
Lift Construction Continues Mid-Season - Jan. 17, 2022
Lift Construction Continues Intra-Season - Dec. 18, 2021
Lift Construction Continues as August Comes to a Close - Aug. 29, 2021
Western Massachusetts Construction Ramps Up - Jul. 28, 2021
Berkshire East and Catamount Announce Major 2021 Expansion - Mar. 10, 2021
Bousquet Mountain Sold - May. 29, 2020
Ski Areas Closing Due to COVID-19 Coronavirus - Mar. 12, 2020
Lodge Construction in Progress Across New England - Oct. 16, 2019
Catamount NewEnglandSkiIndustry.com News Page
Expansion History
Image Gallery
Lifts
Click on lift name for information and photos
Maps
Year by Year History
Adult Weekend Full Day Lift Ticket; Adult Full Price Unlimited Season Pass

2020s
Ticket Price
Season Pass Price

Pass Payback

Opening Day

Closing Day

Skier Visits

2023-24
$110.00
November 30
2022-23
$104.00
$704.00
6.8 days
December 15
April 2
2021-22
$104.00
$679.00
6.5 days
December 22
March 14
2020-21
$87.00
$659.00
7.6 days
December 18
March 23
2019-20
$77.00
$659.00
8.6 days
November 30
March 10
2010s
Ticket Price
Season Pass Price

Pass Payback

Opening Day

Closing Day

Skier Visits

2018-19
$74.00
$550.00
7.4 days
December 8
March 30
2017-18
$68.00
$550.00
8.1 days
December 15
April 1
2016-17
$66.00
$510.00
7.7 days
December 15
April 2
2015-16
$65.00
$495.00
7.6 days
January 3
March 13
2014-15
$63.00
$465.00
7.4 days
December 5
2013-14
$62.00
$429.00
6.9 days
December 7
March 29
2012-13
$61.00
$429.00
7.0 days
December 15
March 30
2011-12
$61.00
$429.00
7.0 days
December 17
March 18
2010-11
$59.00
$419.00
7.1 days
December 11
2009-10
$58.00
March 21
2000s
Ticket Price
Season Pass Price

Pass Payback

Opening Day

Closing Day

Skier Visits

2008-09
$56.00
$399.00
7.1 days
2007-08
$52.00
$379.00
7.3 days
December 7
2006-07
$50.00
$349.00
7.0 days
December 9
110,000
2005-06
$48.00
$349.00
7.3 days
March 26
2004-05
$46.00
$349.00
7.6 days
2003-04
$45.00
$349.00
7.8 days
March 28
2002-03
$44.00
110,000
2001-02
$43.00
90,000
2000-01
$41.00
November 25
April 1
1999-00
$40.00
December 4
1990s
Ticket Price
Season Pass Price

Pass Payback

Opening Day

Closing Day

Skier Visits

1998-99
$39.00
March 28
1997-98
$39.00
$530.00
13.6 days
November 29
1996-97
November 30
1994-95
December 3
March 19
1993-94
$37.00
$490.00
13.2 days
December 17
1992-93
$35.00
1991-92
$33.00
1990-91
$32.00
1989-90
$30.00
December 2
1980s
Ticket Price
Season Pass Price

Pass Payback

Opening Day

Closing Day

Skier Visits

1988-89
$29.00
1987-88
$27.00
December 19
1986-87
$25.00
1985-86
$23.00
90,000
1983-84
90,000
1982-83
$18.00
December 10
1981-82
$17.00
December 11
April 11
1980-81
$15.00
1979-80
$13.00
1970s
Ticket Price
Season Pass Price

Pass Payback

Opening Day

Closing Day

Skier Visits

1978-79
$13.00
1977-78
$12.00
1976-77
$10.00
1975-76
$10.00
1974-75
$10.00
1973-74
$9.00
$140.00
15.6 days
1972-73
$9.00
1971-72
$9.00
1970-71
$8.00
1969-70
$8.00
$105.00
13.1 days
1960s
Ticket Price
Season Pass Price

Pass Payback

Opening Day

Closing Day

Skier Visits

1968-69
$7.00
November 16
1967-68
$7.00
1966-67
$6.00
December 15
1965-66
March 20
1964-65
$6.00
$85.00
14.2 days
1961-62
$6.00
December 23
1960-61
$4.00
1959-60
$4.50
1950s
Ticket Price
Season Pass Price

Pass Payback

Opening Day

Closing Day

Skier Visits

1958-59
$4.00
December 13
1957-58
April 6
8,000
1953-54
January 9
1950-51
December 16
1949-50
December 3
1940s
Ticket Price
Season Pass Price

Pass Payback

Opening Day

Closing Day

Skier Visits

1948-49
December 25
Visitor Memories
"Both my aunt and uncle were ski instructors for years there. they live on the hill inside Catamount. I spent many good years skiing there. I even broke my leg on the holiday hill !"
jeff carpenito, Feb. 8, 2022
---
External Links
Catamount - official site
Last updated: June 27, 2023