| | |
| --- | --- |
| | |
Located east of downtown Bartlett and just minutes from North Conway, Attitash Mountain Resort is a popular destination year round.


A Tale of Two Developments


1964 renderings of Attitash and Big Bear ski areas

While Bartlett had a popular CCC ski trail for many years, it was lacking a major ski area as the 1960s boom emerged.

In the early 1960s, two major ski area proposals surfaced for the Rogers Crossing area just east of downtown Bartlett. Big Bear was proposed for a peak known as Rogers Mountain, while a separate ski area was slated for Little Attitash Mountain. The private property based Big Bear reportedly faced issues acquiring funds, whilst Attitash reportedly faced issues in obtaining agreements to use National Forest land on its upper elevations. Earle Chandler led development of Big Bear, whilst Phil Robertson founded Attitash. Robertson had recently retired after 24 years of service at Cranmore and was a member of the New Hampshire Executive Council and chairman of the New Hampshire Tramway Board.

While trails for both areas were cut, Big Bear never saw the light of day. Some of the people associated with the stalled Big Bear development reportedly moved over to Attitash. Work on Attitash continued into the winter of 1964-65, including the installation of new chairlift towers after Christmas.

The trail network at Attitash was laid out by Thorne and fellow surveyor David Douglass. Thorne, a veteran of World War II and Korea who had served as ski patrol director at Wildcat, was named vice president of the new corporation.


Attitash Opens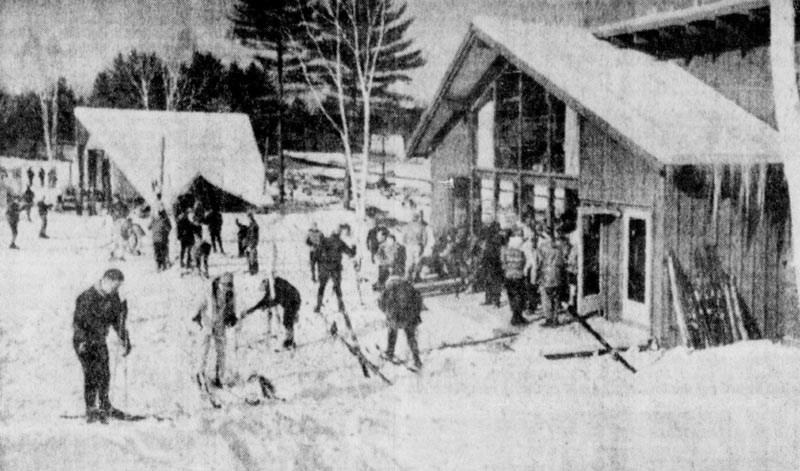 The opening day base area (January 1965)

Reportedly named after an Abenaki Chief, Mt. Attitash opened with free skiing on January 26, 1965 with 41 acres of terrain composed of four trails and two slopes and served by a 900 vertical foot Mueller double chairlift. Known as the "Red Carpet Ski Area," Attitash featured limited lift ticket sales and a base lodge with wall to wall red carpeting. Ticket sales limits were designed to prevent lift lines from eclipsing 3 minutes (450 skiers). Tapping into Robertson's Cranmore association, Attitash included similar wide trails, a Carroll Reed ski shop, and the same restaurant manager.

Additional trails were cut for the sophomore season, including Cathedral.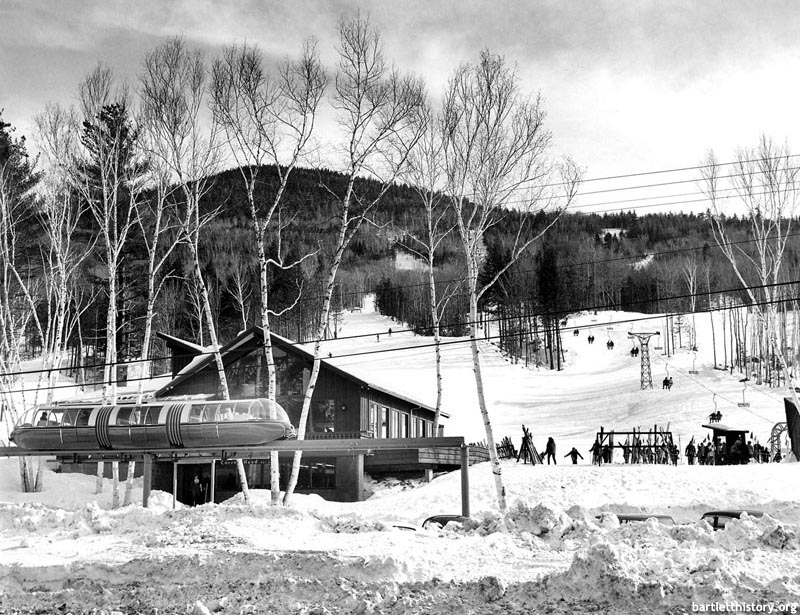 Attitash and the monorail in the 1960s

Playing into the concept of having a unique lift like Cranmore, the original build out of Attitash's upper mountain was to be served via a heated monorail. Universal Design Limited designed the 7,600 foot proposal, which was expected to open in the summer of 1967. A monorail line was cleared and 1,000 feet of track installed for the 1966-67 season for testing purposes. Photos of the train circulated in newspapers across the country in February 1967.

The monorail direction appeared increasingly less feasible when a new 5,000 foot long chairlift opened up the upper mountain in February of 1969. In addition, the base lodge was tripled in size. At this point, the monorail proposal had grown to 4 miles and was to include a sizable housing development. Plans were soon abandoned.

Circa 1971, Thad Thorne became president of Attitash, as Phil Robertson transitioned toward retirement. Commenting on his retirement, Robertson told Ski Magazine, "When you are 70, it's time to go fishing."

Attitash's next sizable expansion took place for the 1973-74 season, when the previously T-Bar serviced west side of the area was improved. As part of the $350,000 project, twin Borvig double chairlifts were installed, about 1,100 and 2,800 feet long. Unfortunately for Attitash and other non-snowmaking areas, the winter of 1973-74 was a disaster, with opening day postponed until mid-January. As a result, Attitash only operated for 47 days.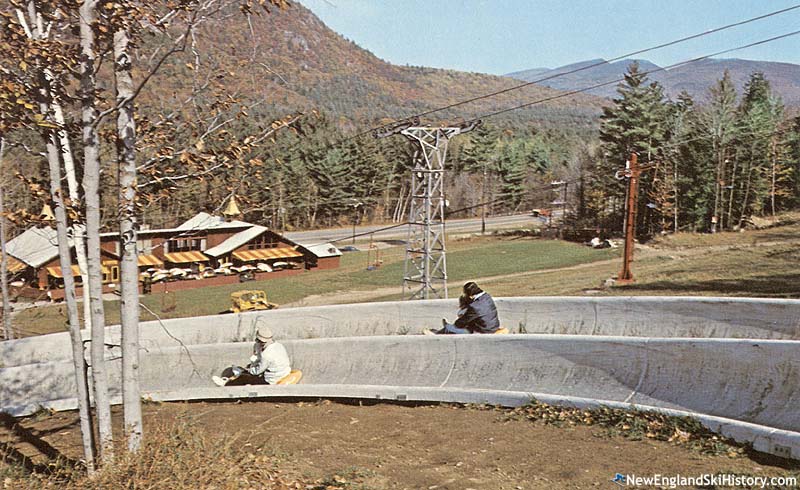 The alpine slide circa the late 1970s or early 1980s

Rather than hedge against bad winters with snowmaking, Attitash opted to expand off season offerings. In the mid 1970s, Thorne and fellow director Jack Middleton visited Europe to look at an up-and-coming mountain attraction. As a result of their trip, Attitash installed the second alpine slide in New England in 1976. Included in the agreement was a clause that ensured Attitash would have the only alpine slide in the region, thereby preventing competitors such as Loon from following suit. The half million dollar investment reportedly resulted in 200,000 tickets sold in its first season.

New beginner and intermediate terrain was added for the 1977 season, increasing its count to 30 trails and 4 slopes.


Snowmaking Begins

The lack of natural snow hit New England ski areas hard at the start of the 1980s, especially those without snowmaking. Attitash was limited to 8 and 32 days of operation during the 1979-80 and 1980-81 seasons. With the business in jeopardy, Attitash manager Thad Thorne decided the only way to continue was to install snowmaking. After pursuing multiple sources of funding, including selling multi-year passes, Attitash became one of the last major areas in New England to install snowmaking when it built out a 110-acre system for the 1981-82 season. The $1.7 million system was installed just in time, as the 1982-83 season once again featured subpar snowfall.

By the time the 1984-85 season arrived, Attitash reportedly had 95% snowmaking capacity. With its modern snowmaking system, Attitash laid claim to New Hampshire's first-to-open, last-to-close honors in 1985-86.

Attitash also ventured into the world of green energy in the early 1980s, as it installed a wind turbine atop the Top Notch Double.

Three million dollars was invested in Attitash for the 1986-87 season, as the area increased its vertical again. A new CTEC triple chairlift was installed, giving Attitash a modern lift and an improved vertical drop of 1,750 feet. In addition, another base lodge was constructed. The expansion paid instant dividends, as Attitash shattered its records during the 1986-87 holiday season.

Novice offerings were once again improved for the 1988-89 season, when a short CTEC triple chairlift was installed adjacent to the double-double lifts.

After two decades in the position, Thad Thorne retired as president following the 1989-90 season, with Jeff Lathrop succeeding him. Lathrop had been working at Attitash for 14 years and had been promoted to general manager in the late 1980s.

Circa the spring of 1992, Phil Gravink was hired as president and CEO. A half million dollar investment was made in electronic ticketing circa the 1992-93 season, as turnstyles were installed to allow skiers to essentially pay per ride.


Attitash Bear Peak Cranmore LBO ASC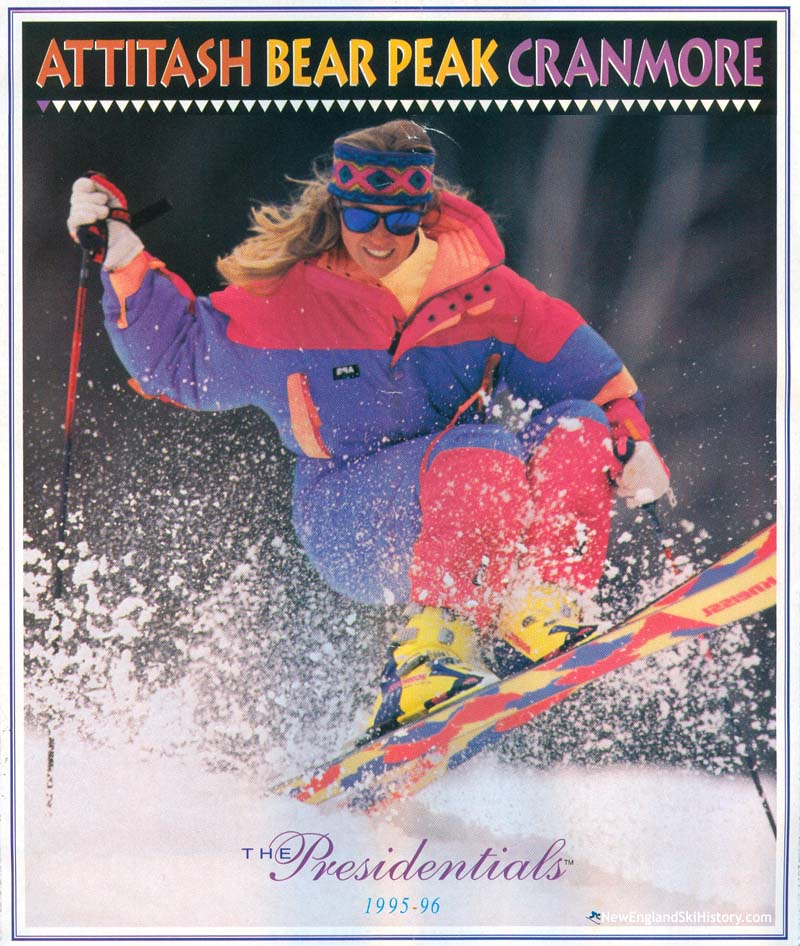 Attitash Bear Peak Cranmore in the mid 1990s

With the rise of mega ski corporations, Attitash became an attractive piece in the New England resort chess game. In the summer of 1993, Attitash and Sunday River announced the areas would be offering a joint ticket deal. In January of 1994, Sunday River's parent company, LBO Resort Enterprises, and the Mt. Attitash Lift Corp. announced a purchase agreement in principal. That July, Attitash was purchased by LBO Resort Enterprises. Thad Thorne reflected to the Nashua Telegraph, "That's life. There have to be some changes. You have to have capital. You can't compete without it. Les has a good history and is able to do one helluva job."

Investments into the area began immediately. Starting that year, the never-completed Big Bear ski area was redeveloped into Bear Peak. Connecting trails were cut and the Abenaki fixed grip quad chairlift installed. Attitash was reborn as Attitash Bear Peak.

Additional terrain on Bear Peak was developed for the 1995-96 season, serviced by Attitash Bear Peak's first high speed detachable quad chairlift, the Flying Bear Express. In addition, LBO Resort Enterprises acquired nearby Cranmore in June of 1995 and marketed the two areas as one.

Otten also had plans to activate the railroad between Attitash and Bear Peak, and up into Crawford Notch. Otten, who had just launched the Sunday River Express between Portland and Bethel in December 1993, told the Nashua Telegraph, "I own a railroad train that would love to have a place to hang around in the summer time."

Otten joined forces with the owner of Storyland to make a bid on the proposed tourist railroad into Crawford Notch, which he had hoped would ease traffic congestion. There were also plans to extend the service into Maine. Though group's bid garnered serious consideration, the rights were eventually awarded to the Conway Scenic Railroad.

Following the 1995-96 season, Attitash Bear Peak was rolled into the American Skiing Company along with its sister LBO Resort Enterprises areas.

Three new trails were added for the 1996-97 season, as the new Grand Summit Hotel neared completion. Early snowmaking allowed for a record November 3 opening day. The Grand Summit Hotel debuted at the end of the spring of 1997.

A refurbished triple chairlift was added for the 1997-98 season, providing novices with a way out of the Bear Peak base area. New glades were also added, allowing Attitash to claim to be the largest ski area in New Hampshire in terms of skiable terrain.

The original Old Reliable double chairlift was finally retired following the 1997-98 season. In its place, the Flying Yankee Express high speed quad was installed. Its relatively short length could be attributed to the private property boundary and thus avoidance of significant National Forest permits and lease fees. Unfortunately, the 1998-99 season was subpar, resulting in furloughs and temporary pay cuts. Attitash president and CEO Phil Gravink announced his retirement that spring, as he departed to take part in an international bicycling charity fundraiser.

With the cracks starting to show in the American Skiing Company empire in the late 1990s, capital investment in Attitash Bear Peak dramatically slowed. The resort was quietly renamed Attitash in 2004.

John Lowell was named Managing Director of Attitash for the 2006-07 season. Previously the general manager of the Attitash Grand Summit Hotel, Lowell would eventually gain the titles of president and general manager at the ski area.


Peak Resorts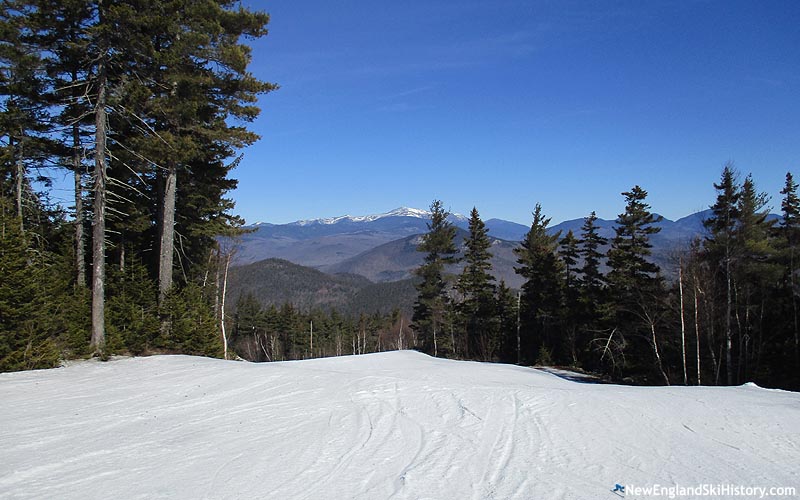 Attitash (2016)

Attitash, along with Mount Snow, were the first two eastern areas sold in the 2007 American Skiing Company mass sell off. On April 5, 2007, Attitash and Mount Snow were sold to Peak Resorts for $73.5 million, plus $2 million of debt assumption. That off season, the Abenaki Quad was expanded downhill to provide access to a new real estate development. In addition, 90 new SMI fan guns were installed throughout the area, improving snowmaking.

In the fall of 2010, Peak Resorts purchased nearby Wildcat and proceeded to combine the sales and marketing campaigns of the two areas.

Longtime Attitash president and general manager Thad Thorne passed away on June 25, 2011 at the age of 87.

New Hampshire's second mountain coaster was installed at Attitash in 2011, providing a modern alternative to the alpine slide. The off season portfolio was further expanded in 2014 when two large ziplines opened.

Attitash came under the ownership of its third ski conglomerate in July 2019, when Peak Resorts was acquired by Vail Resorts.



NewEnglandSkiConditions.com Reports

Month
Average Percent of Terrain Open
December
22% (5 reports)
February
70% (3 reports)
March
86% (7 reports)
April
78% (2 reports)

-- start conditions table -->

Recent Conditions Reports

Feb. 1, 2023 by tuckers
Loose Granular, Frozen Granular
Apr. 3, 2021 by nhalex
Frozen Granular, Spring Snow
Mar. 6, 2021 by nhalex
Loose Granular, Frozen Granular
Dec. 28, 2020 by nhalex
Frozen Granular, Loose Granular
Dec. 27, 2020 by nhalex
Ice, Frozen Granular

Attitash Mountain Resort on NewEnglandSkiConditions.com
NewEnglandSkiIndustry.com News
Recent Articles
Mid-November 2023 Lift Construction Roundup - Nov. 11, 2023
Mid-October 2023 Lift Construction Roundup - Oct. 15, 2023
New Hampshire Lift Construction Makes Progress - Oct. 1, 2022
Lift Construction Continues as August Comes to a Close - Aug. 28, 2022
New Hampshire Lift Construction Projects Progressing - Aug. 16, 2022
New Hampshire Lift Construction Projects Progressing - Jul. 10, 2022
Attitash to Replace Summit Triple - Jun. 10, 2022
New Hampshire Lift Construction Projects Progressing - May. 22, 2022
Lift Construction Already Underway - Apr. 2, 2022
Vail Curtails Crotched Mountain Operations Amidst New Hampshire Struggles - Dec. 30, 2021
Attitash Mountain Resort NewEnglandSkiIndustry.com News Page
Expansion History
Image Gallery
Lifts
Click on lift name for information and photos
Maps
Year by Year History
Adult Weekend Full Day Lift Ticket; Adult Full Price Unlimited Season Pass

2020s
Ticket Price
Season Pass Price

Pass Payback

Opening Day

Closing Day

Skier Visits

2023-24
$129.00
$603.00
4.7 days
December 1
2022-23
$115.00
$557.00
4.8 days
December 2
April 9
2021-22
$99.00
$499.00
5.0 days
December 10
April 3
2020-21
$94.00
$639.00
6.8 days
December 12
April 4
2019-20
$89.00
$739.00
8.3 days
December 6
March 14
2010s
Ticket Price
Season Pass Price

Pass Payback

Opening Day

Closing Day

Skier Visits

2018-19
$89.00
$1129.00
12.7 days
December 8
April 7
2017-18
$85.00
$999.00
11.8 days
December 15
April 8
2016-17
$79.00
$999.00
12.6 days
December 16
April 9
2015-16
$79.00
$859.00
10.9 days
December 26
March 27
112,178
2014-15
$75.00
$829.00
11.1 days
December 6
April 5
165,138
2013-14
$70.00
$799.00
11.4 days
December 7
April 6
172,300
2012-13
$70.00
$799.00
11.4 days
December 7
April 7
171,072
2011-12
$70.00
$799.00
11.4 days
November 25
March 25
141,247
2010-11
$70.00
$799.00
11.4 days
December 11
April 3
142,600
2009-10
$69.00
December 12
March 28
141,300
2000s
Ticket Price
Season Pass Price

Pass Payback

Opening Day

Closing Day

Skier Visits

2008-09
$69.00
$779.00
11.3 days
November 22
April 5
141,542
2007-08
$65.00
$699.00
10.8 days
November 18
April 13
184,237
2006-07
$65.00
$1200.00
18.5 days
December 8
April 1
206,774
2005-06
$59.00
$1300.00
22.0 days
November 26
April 2
187,000
2004-05
$55.00
$1100.00
20.0 days
December 4
April 3
211,000
2003-04
$49.00
$699.00
14.3 days
November 28
April 6
207,000
2002-03
$1249.00
November 29
April 6
196,000
2001-02
$49.00
December 11
April 7
190,000
2000-01
$49.00
November 22
April 15
220,000
1999-00
$48.00
November 18
April 9
194,000
1990s
Ticket Price
Season Pass Price

Pass Payback

Opening Day

Closing Day

Skier Visits

1998-99
$48.00
November 14
April 11
210,000
1997-98
$46.00
November 14
233,000
1996-97
November 3
April 20
204,000
1995-96
208,000
1994-95
November 19
177,300
1993-94
April 17
158,500
1992-93
$35.00
165,000
1991-92
$34.00
November 29
April 18
112,941
1990-91
$33.00
November 17
April 14
121,597
1989-90
$32.00
November 24
April 15
145,050
1980s
Ticket Price
Season Pass Price

Pass Payback

Opening Day

Closing Day

Skier Visits

1988-89
$30.00
April 9
139,541
1987-88
$26.00
157,337
1986-87
$23.00
161,733
1985-86
$22.00
November 23
127,926
1984-85
$20.00
$480.00
24.0 days
November 23
127,927
1983-84
$19.00
$440.00
23.2 days
1982-83
$19.00
$440.00
23.2 days
November 26
April 3
1980-81
$16.00
1979-80
$15.00
$325.00
21.7 days
1970s
Ticket Price
Season Pass Price

Pass Payback

Opening Day

Closing Day

Skier Visits

1978-79
$13.00
1977-78
$12.00
December 17
1976-77
$11.00
$220.00
20.0 days
December 25
1975-76
$11.00
1974-75
$10.00
1973-74
$10.00
1971-72
$9.50
1970-71
$9.50
1969-70
$9.50
1960s
Ticket Price
Season Pass Price

Pass Payback

Opening Day

Closing Day

Skier Visits

1968-69
$8.00
1967-68
$7.50
December 2
1965-66
$7.50
December 3
1964-65
January 26
April 8
Visitor Memories
"Say what you want about Vail, but this year they are opening the "Progression Quad", which had replaced the Doible-Double (Both of them). They also fixed the Kachina Triple and confirmed it's ready and... Pending Final approval from the US Forest service Vail has said THIS IS IT. 2022-2023 will the LAST year for the Summit Triple. If final approval happens...In December 2024 we'll be riding high speed quad to the top, and Attitash will reclaim the title of my FAVORITE mountain. Credit to Vail for bringing snowmaking to Wilfred's though!!! I was shocked that despite it being a terrible year for snow... WILFRED'S WAS OPEN. The Ski Instructor I use every year clarified it had Snowmaking now so...Now ALL THREE trails off the peak will be open, so it's FINALLY TIME for that High-Speed quad. Even so, and even with this past year where the Doubles and Kachina we're shut down, there's no deny VAIL IS TRYING THEIR BEST. Tightrope was open early. As busy as they were, and as bad as the conditions were, TRAILS WERE AT LEAST OPEN. The reality? If Vail succeeds in replacing the Summit Triple with a high-speed quad like Bear Peak and the lower half of Attitash has... Complaints about Attitash are gonna be cut down a lot. Though I WOULD like to see Vail put the "Waterfall Glade" back of the ski map and be less restrictive with the glades here (Like another one of their properties, Sunapee.)"
Brian Jr Spero, Nov. 8, 2022
"My father, Bob Holloran, was one of the original members of the group "Bartlett Recreational Development Corp." They bought the land, and built the Alpine Village that was right where the railroad tracks crossed Rt 16, in front of the Rogers' house. Eventually, they all grouped together to form Attitash Lift Corporation, which went on to build the Attitash Ski Area. I remember when my father's group decided that they'd begin to cut some trails on what was then known as Rogers Mountain, and Wilfred Normand was hired to do the work. That would have been early '60's, and I was probably 15 years old. Wilfred had, as I recall, a Caterpillar D6 or D7 bulldozer, a Bombardier Muskeg tractor, and one horse. One weekend, while visiting the site, I somehow managed to get a ride on the Cat with Wilfred, who immediately headed up the steepest part of the trail. It was probably the most terrifying thing that I had ever done. Wilfred thought it was quite funny. By the time the two separate groups had joined together, and Robertson and Thorne had become the leaders, I was in high school and no longer had much interest in the ski area (unless they were gonna let me run the grooming machines) so I kinda drifted away. All of the men who were partners with my father have now passed on, and I haven't set foot in Bartlett for many years. I'm now nearly 70 myself, so time has indeed marched on!"
Tim Holloran, Apr. 22, 2018
"We were wondering what the history of the name was too and found this: Wilfred's Gawm (Attitash): While excavating a trail, a guy named Wilfred missed the correct route, cutting a new trail. With no way to hide it, management dubbed it Wilfred's Gawm - 'getting away with murder.' Lucky Wilfred."
Erik , May. 28, 2015
"My pepere was Wilfred Normand. I'm interested in finding out the story behind the ski trail named Wilfred's Gwam. I know he cut trails there. "
Roxanne Boucher, Dec. 20, 2014
"My dad, Albert Gagnon along with Wilfred Normand cut and cleared most(I think all) of the trails at Attitash from the beginning until his retirement. I remember working with him, 'twitching' logs on the mountain with a Belgium work horse, when I was 9 years old. Many memories and stories of Phil Robinson, Lewis Mead, Thad Thorn, and 'Chief' (who spoke French to my dad). Working with Ruth Leslie, Peter, Fran, Carla, Kurt and Tim Meade any many more... And of course learning to ski and the mountain. Attitash will always be dear to me."
Roger Gagnon, Dec. 11, 2014
---
External Links
Attitash Mountain Resort - official site
Last updated: December 30, 2019