| | |
| --- | --- |
| | |
Located northwest of Brattleboro, Maple Valley was a mid-sized ski area that operated for nearly 40 years. While there have been attempts to reopen it, the ski area has remained closed since 2000.


Terry Tyler Develops Ski Areas in Dummerston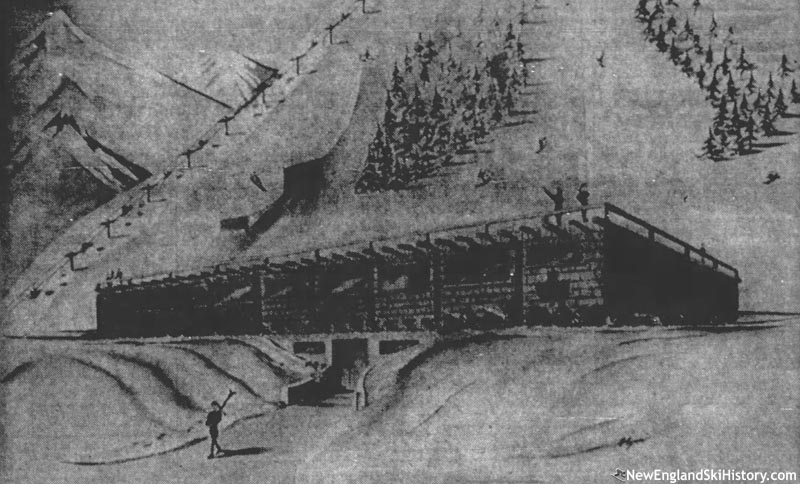 A 1963 conceptual rendering of Maple Valley

Born in White River Junction, Terry Tyler was raised in Dummerston, skied with the Brattleboro Outing Club, and competed regionally in the ski jumping and racing circuit during the 1940s and 1950s

Following his service in the Army, Tyler and Frank Hickin developed Little Prospect Ski Area (not to be confused with Prospect Mountain near Bennington) on Dummerston Center Road for the 1957-58 season. The small weekends-only area featured three trails served by a 1,000 foot rope tow. The area debuted in mid-January 1958.

Tyler also helped with the construction of Black Mountain ski area in Dummerston, which was a project of students and faculty at Windham College. The area debuted in January 1961, featuring three trails served by two rope tows.

In August 1961, North Haven Construction Company was awarded the contract to construct the access road to the new Stratton Mountain ski area. Terry Tyler served as the company's foreman on the project. Soon thereafter, Tyler and Angelo, Joe, and Frank Pirovane of North Haven Construction Company decided to develop their own ski area. Tyler was the only skier in the group.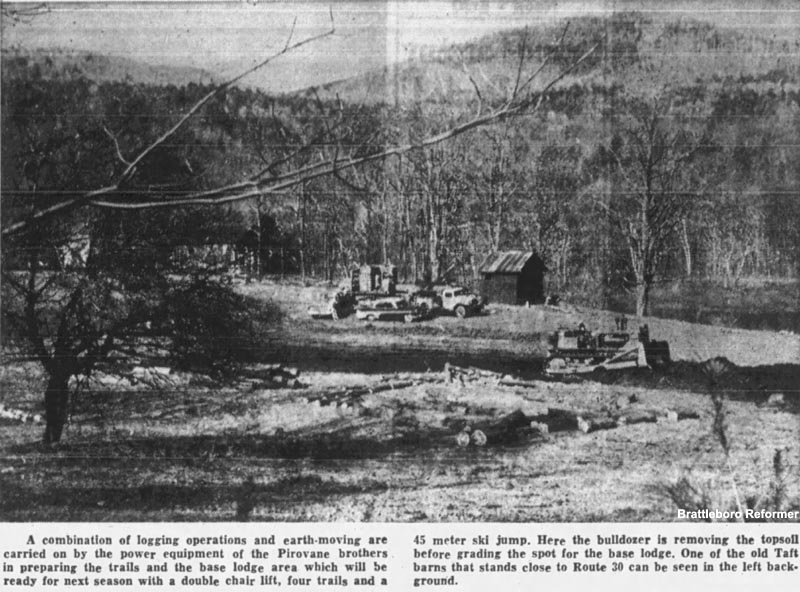 Construction of Maple Valley in the spring of 1963

In February 1962, the former Taft farm on Route 30 in West Dummerston was listed for sale. In May 1963, stories were published that Tyler and the Pirovanes we constructing an unnamed ski area on the 200-acre Taft property and had also leased property above it from Edward and Haven Johnson. By this point, the former Taft house had been torn down, four trails had been cut, and a Hall chairlift had been ordered. Maple Valley Ski Area, Inc. was incorporated later that month.

A two-story, 120 by 35 foot base lodge debuted at the end of August when the Valley Gift Shop opened to the public.

By the end of October 1963, towers for the chairlift and 775 foot T-Bar were standing. Two weeks later, the base lodge hosted a dance for the Windham College Ski Club.



Maple Valley Opens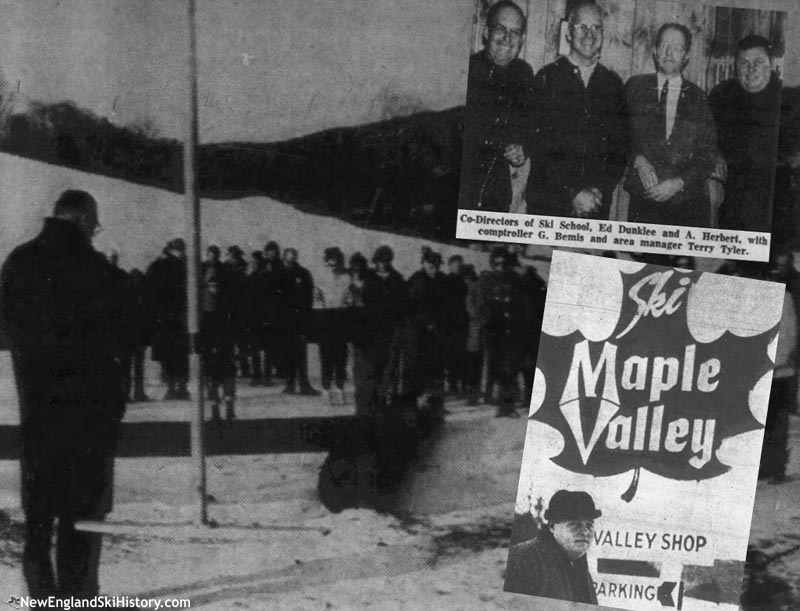 Maple Valley debuts (1963)

Maple Valley was dedicated by Reverend William White before a crowd of 50 people on December 21, 1963. Terry Tyler described the event as "a dream that has come true." Due to a lack of snow, the ski season did not kick off until Christmas day.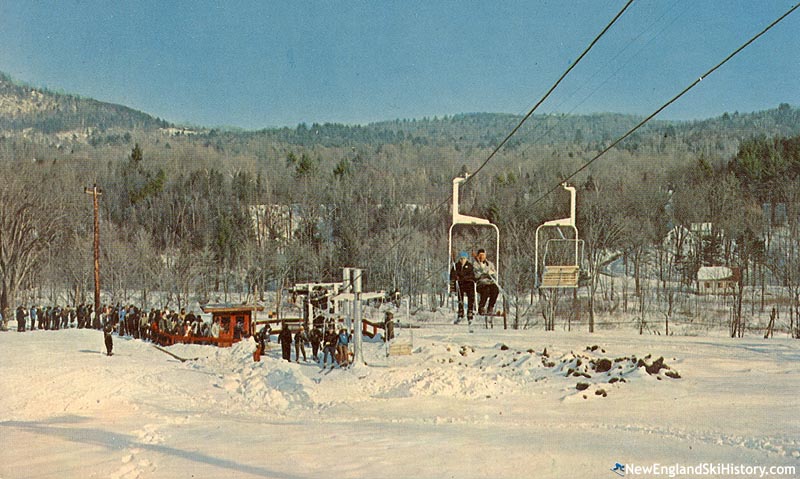 The South Chair circa the 1960s

For its debut season of 1963-64, Maple Valley featured a lift network consisting of a pair of Hall brand installations - a 3,038 foot long double chairlift and a 775 foot long T-Bar. In terms of terrain, the ski area debuted with 5 trails of all abilities. In addition to the downhill facilities, the area also sported 25 and 45 meter ski jumps. Terry Tyler served as general manager for the first few seasons, while Ed Dunklee, son of former Dutch Hill ski school head Alan Dunklee, served as ski school director. Tyler's mother Jean managed the cafeteria. Future plans were announced for a second chairlift, a third story addition to the lodge, construction of a nearby motel, and an underpass to the parking lot after scheduled Route 30 highway improvements.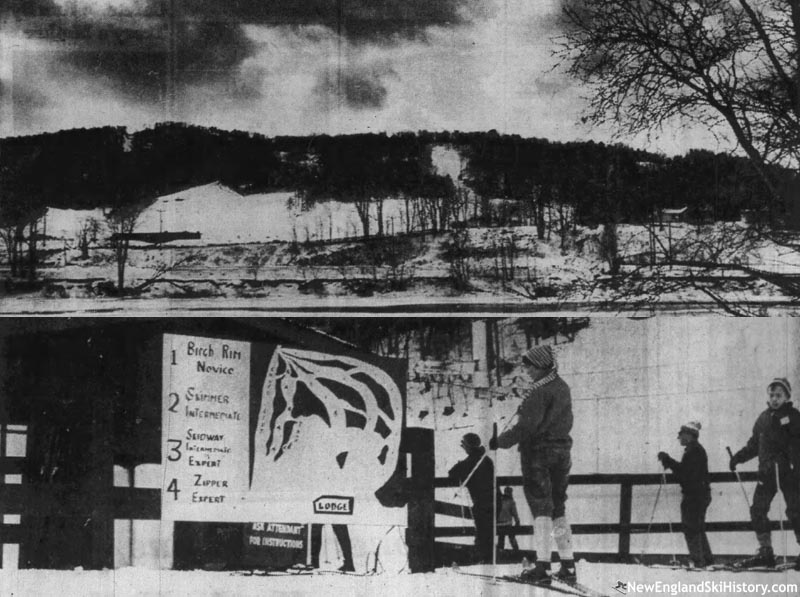 Maple Valley in January 1964

The Brattleboro Reformer noted that initial operations were "smooth as syrup." After navigating the first few weeks without much snow, Maple Valley picked up a foot of powder in mid-January. Warm rain a few weeks later resulted in a multi-day shut down until more snow fell.

Another devastating thaw ushered in March. Snow was harvested from around the mountain to hold the area's first ski jumping competition on March 8, 1964, which was won by Ralph Semb. The season likely came to a close in mid-March.

In addition to operating the restaurant and offering occasional scenic chairlift rides, Maple Valley hosted live music and dances during the 1964 off-season.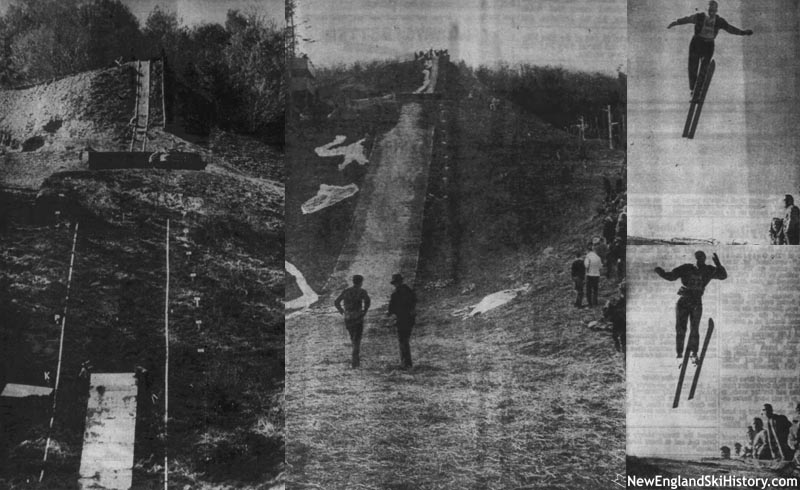 October 1964 ski jumping

Maple Valley hosted a ski jumping competition during Columbus Day weekend in 1964, which was the first use of Summer Snow, Ltd.'s synthetic snow. Governor Phillip Hoff presided over opening ceremonies for the three-day competition, which was won by Olympian John Balfanz. A similar event was held in late November.

1964 off-season projects included installing a chairlift serving novice and intermediate terrain, adding a dining room to the base lodge, and excavating trails to reduce ice-generating springs. Hans Seidl took over as ski school director.

The 1964-65 season may have kicked off briefly with marginal conditions and a few dozen skiers in mid-December, before pausing until December 30th. Maple Valley then limped through early to mid-January with limited skiing off the T-Bar. The new chairlift likely remained idle until the end of the month. In effort to generate more business, Maple Valley started February with reduced lift ticket prices, as well as expanding the junior discount age to 18 years old. Skiing likely melted away in during the first weekend of March before returning briefly in early April.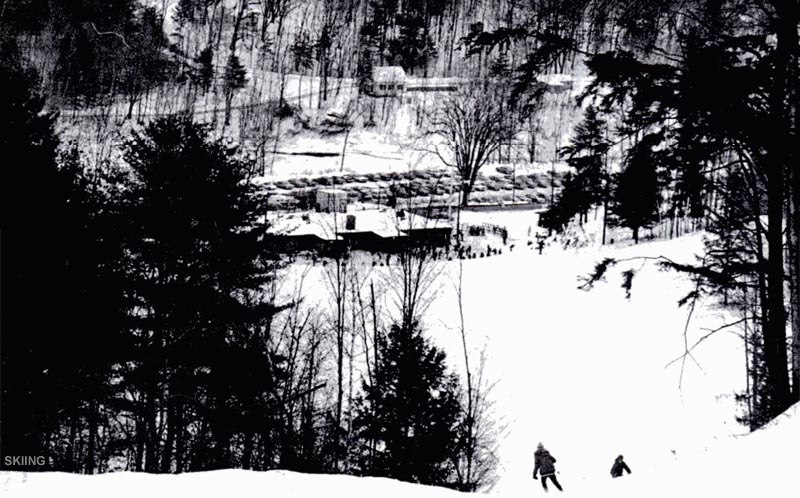 Maple Valley in the 1960s

Maple Valley continued to operate the restaurant during the 1965 off-season, offering free chairlift rides for folks purchasing the Sunday dinner special. Meanwhile, North Haven Construction Company began work on the Enchanted Mountain development in Maine.

The 1965-66 season got off to a rough start, as Maple Valley missed the Christmas to New Year's holiday period due to rain and a lack of snow. Skiing finally kicked off in early January, but was intermittent that month due to lack of snow. The season likely came to a close in early do mid-March.



New Management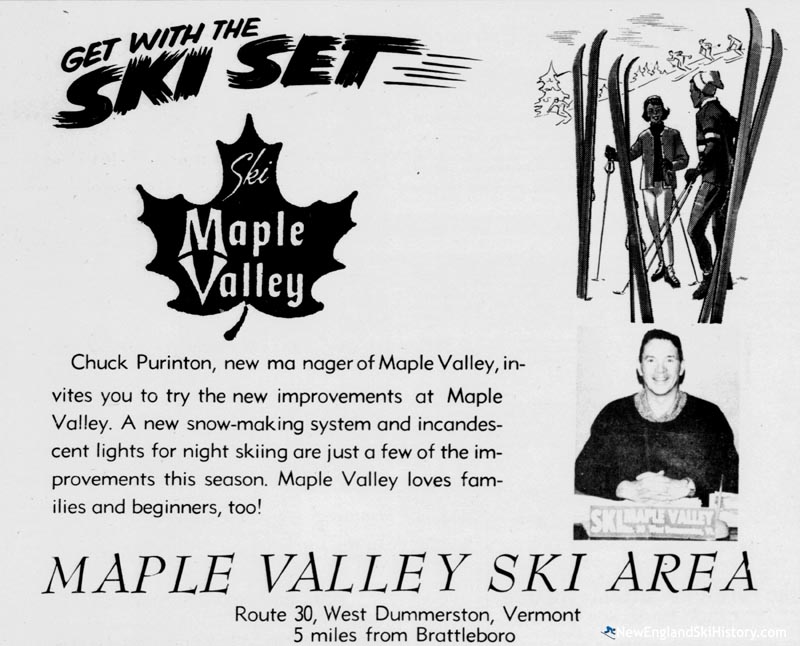 A 1966 Maple Valley advertisement

In May 1966, following the third poor winter in a row, the Pirovane family announced changes at Maple Valley, including naming Connecticut banker Charles "Chuck" Purinton as general manager of the ski area. A veteran of World War II and a graduate of Harvard, the 44-year-old Purinton had risen to the rank of vice president at Colonial Bank & Trust before making the move. Meanwhile, the Pirovanes sued former general manager Terry Tyler for breach of contract, while also taking over operations at Enchanted Mountain.

The lack of natural snowfall was addressed with installation of a Larchmont snowmaking system on the lower mountain. Though the West River (coupled with a low base elevation) created a suboptimal microclimate, it was an excellent source for snowmaking water.

In addition to snowmaking, efforts were made to spread out Maple Valley's revenue generating potential by adding night skiing. A Tucker snow cat was acquired for grooming. Montreal native Daniel Denis was named ski school director.

The 1966-67 season kicked off on a mixture of manmade and natural snow on December 17. Night skiing was likely inaugurated that night with Miss Vermont Karen Tuttle flipping the switch for the lights. The Brattleboro Reformer remarked, "With Memorial Park and Maple Valley catering to the evening skiers this winter there should be a general improvement in the well-being and health of the community - not to mention a number of slimmer waistlines at the end of the season."

The area played host to what was billed as the first night ski jump meet in New England history in February of 1967.

For Purinton's second season, snowmaking was expanded and the jumps improved. The elementary school group program a focus, providing both a community service and keeping the slopes in use on slow weekdays. Reflecting at the time, Purinton stated, "We're not glamorous and we don't even want to be."

Obtaining $125,000 from shareholders, Purinton was able to purchase 75 acres of leased land circa the 1968-69 season, paving the way for future development, including a proposed motel. Corresponding with a real estate development, more changes took place for the 1969-70 season, as an expert trail was added, the main lodge expanded, and other base area buildings constructed. In addition, the ski jumps were removed for that season, making way for a larger practice slope.

For 1972-73, a cross country ski course was added, as was a novice surface lift. Unfortunately for Maple Valley and the rest of New England, the following season was terrible weather-wise, resulting in the worst financial results in years. Significant lodge improvements were reportedly made for the 1976-77 season, including a new ski shop, gift shop, and improved food service. Purinton likely completed his time as manager circa 1978.

Maple Valley made regional headlines in December 1978, when it offered disco nights. Ski instructors were on the slopes offering free lessons to the beat of disco music blasting from loudspeakers.

Former manager Charles Purinton passed away in 1981 at the age of 59.


Financial Woes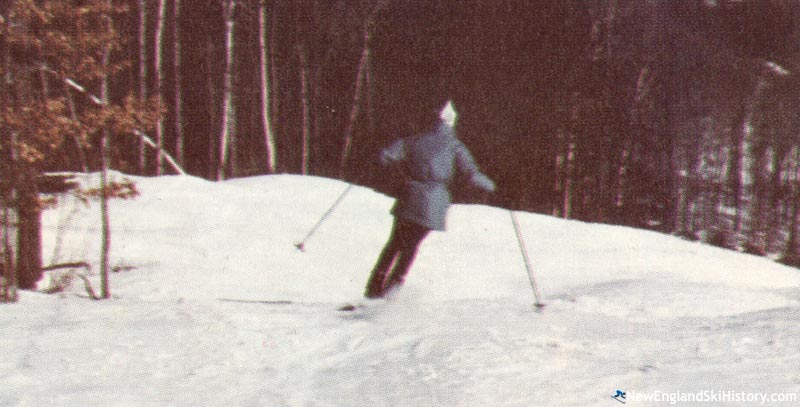 Maple Valley circa the 1960s or early 1970s

While big mountain resorts were growing and Interstate highways were being completed around New England, Maple Valley became somewhat stagnant. Over the next decade and a half, apart from incremental snowmaking and night skiing improvements, the ski facilities neither grew nor were significantly updated. By the end of the 1980s, Maple Valley was on the ropes.

On June 13, 1989, the 370 acre Maple Valley ski area was sold via a satellite auction for $1.2 million. Due to financial issues, much of the area's infrastructure was run off diesel generators.

A new intermediate trail was reportedly added for the 1990 season, which also saw a renovated lodge.

Trying to capitalize on the emerging snowboarding market, Maple Valley advertised a lighted snowboard halfpipe circa the mid 1990s.


Foreclosure and Closure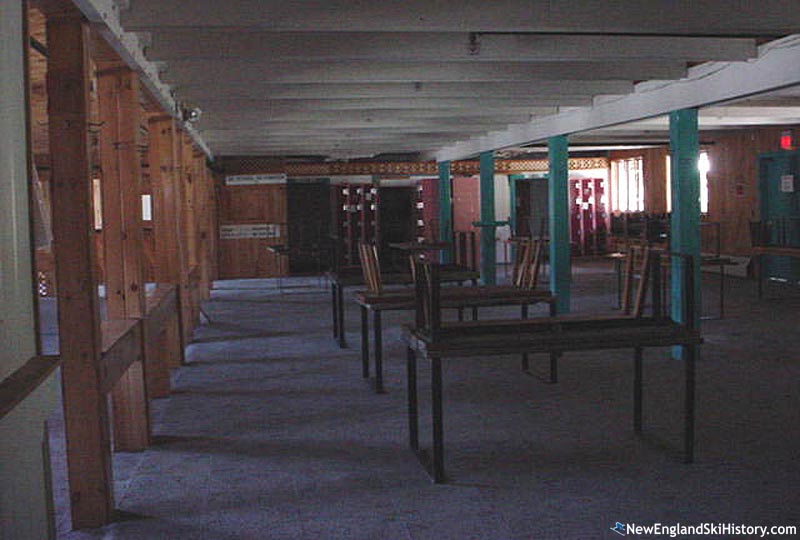 The cafeteria in the shuttered Maple Valley base lodge (2002)

Maple Valley once again found itself on the auction block circa 1995, this time not selling. As a result, the ski area closed following the 1995-96 season.

In February of 1997, Maple Valley was purchased at a foreclosure auction by Winchester Stables, Inc. and Frank Mercede & Sons, Inc. owner Nicholas Mercede.

Maple Valley reopened in early 1999, then operated for skiing and snow tubing on weekends and holidays during the 1999-2000 season. The ski area then ceased operating and was put up for lease or sale.

On December 3, 2010, Maple Valley founder Terry Tyler passed away at the age of 78.


Recent Activity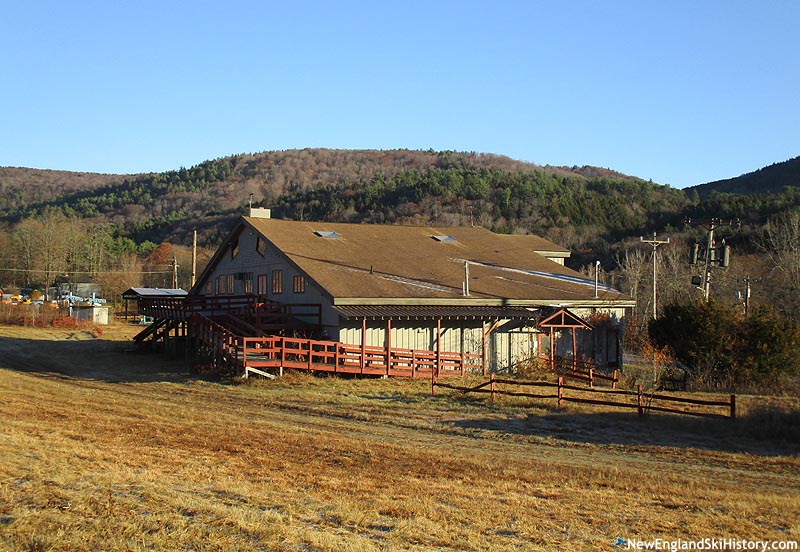 The Maple Valley base lodge in 2015

After sitting idle for a decade, the ski area started to receive some attention in 2010. In June of 2011, the Dummerston Development Review Board reviewed a permit filed by Mercede, proposing possible year round activities, such as mountain biking and music concerts. After complaints about what other activities might occur, as well as concerns about light and noise pollution from skiing and snowmaking, the board requested more information before considering the application.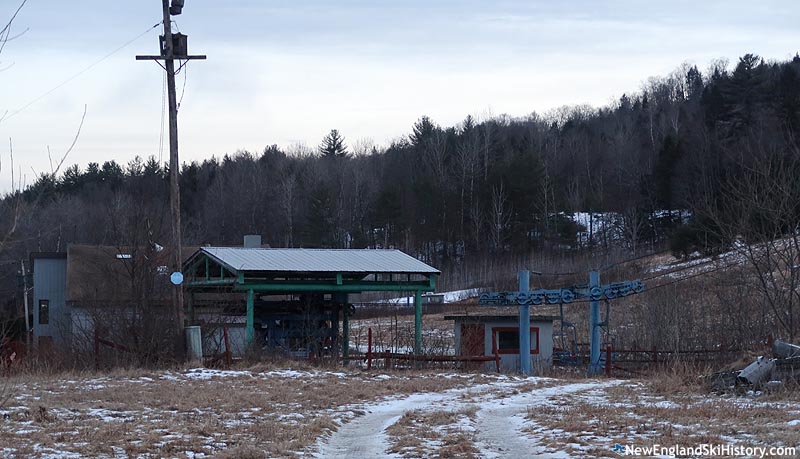 The idle North Chair in January 2019

In December of 2011, Mercede withdrew his permit application. Around this time, lifts were repainted and the base lodge was used for some small functions. Mercede refiled the application in 2013, again without success. He passed way on January 19, 2018 at the age of 90.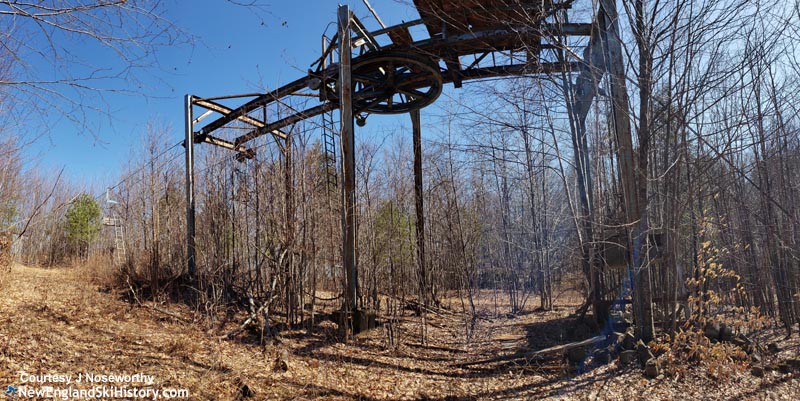 The summit in March 2020

Maple Valley was sold to Sugar Mountain Holdings in the spring of 2018. Though the group's primary focus for the property was to develop a brewery, a long term vision was announced for possibly reopening the ski area.

It is not known if or when Maple Valley ski area will reopen.



NewEnglandSkiIndustry.com News





Image Gallery





Lifts
Click on lift name for information and photos




Maps


Year by Year History
Adult Weekend Full Day Lift Ticket; Adult Full Price Unlimited Season Pass

2000s
Ticket Price
Season Pass Price

Pass Payback

Opening Day

Closing Day

Skier Visits

1999-00
$28.00
1990s
Ticket Price
Season Pass Price

Pass Payback

Opening Day

Closing Day

Skier Visits

1993-94
April 3
1989-90
$25.00
1980s
Ticket Price
Season Pass Price

Pass Payback

Opening Day

Closing Day

Skier Visits

1988-89
$22.00
December 10
1987-88
$19.00
1982-83
January 17
1970s
Ticket Price
Season Pass Price

Pass Payback

Opening Day

Closing Day

Skier Visits

1978-79
$10.00
1977-78
$9.00
December 10
1976-77
$8.00
$90.00
11.3 days
1975-76
$7.50
1974-75
$7.00
1973-74
$7.00
1972-73
$7.00
1971-72
$7.00
1970-71
$7.00
$90.00
12.9 days
1969-70
$7.00
1960s
Ticket Price
Season Pass Price

Pass Payback

Opening Day

Closing Day

Skier Visits

1968-69
$6.00
1967-68
$6.00
1966-67
$6.00
$80.00
13.3 days
December 17
1965-66
$5.00
January 8
1964-65
$6.00
December 13
1963-64
$5.00
$50.00
10.0 days
December 25
Visitor Memories
"My Brother was an advid skier. My Dad worked at Maple Vally we lived on Rt 30 aka west river rd. Wish the state would try to get it reopened "
Terry Westin, Apr. 21, 2023
"I drive by often Maple Valley, on my way to Bromley. I always feel a tinge of sadness, an intact area: lifts, well maintained lodge building. A large trail map on the building, beckoning skiers who will probably never be able to come. "
Richard Payer, Apr. 13, 2023
"I remember night skiing during middle school at Maple Valley 1988-1989. "
J SS, Jan. 27, 2023
"Skied at Maple Valley during my high school day's in the 70's. Several of us drove up from Webster Massachusetts for a fun day of skiing. Little over 2 hours and we were there. Looking back at the pictures posted brings back good memories of happier times!!"
Jim Leonetti, Sep. 8, 2021
"I learned to ski at maple valley around 1966. Came up from NYC w st Bartholomew community club Fell several times, got better, still skiing at 77 Hooked for life. Just wish I had saved those Northland skis and leather boots. Great memories"
Rick Weber, Feb. 10, 2021
"I loved skiing and working at Maple Valley. It was a great family area and the night skiing made it really special. My husband and I were married and had our reception there in September of 1990. There is no doubt that I would ski there again if it reopened!"
Jacki Pinger, Feb. 11, 2020
"My grandparents lived in Townsend VT, which is just north of Maple Valley. I didn't learn to ski at MV but I have great memories of skiing there with my brother. We thought the mountain was huge. My dad would let us ski together all day and we would not stop until the chairs stopped running at the end of the day. We would plan our last few runs to make sure we didn't miss the last chair. Great memories and sad to see that it couldn't stay in operation."
Rob Royce, Dec. 5, 2019
"My parents owned a house in South Newfane, and we used to ski MV ALL the time as an alternative to Haystack/Mt.Snow when we felt too crowded out. I LOVED MV. Bugaroo Bonzi was my FAVRITE black diamond trail, compared to the North Face at Mt. Snow which was ALWAYS overcrowded. We'd often ski Mt. Snow/Haystack by day, and then MV for night skiing, since it was SO CLOSE to the house. Loved MV, and although I live in CA now, and ski in Tahoe mainly, I LOVED MV so much. The last time I skied there must have been about 1997/98 I think, shortly before it closed. Sad, would LOVE to see it reopen. "
Benjamin Schaeffer, Feb. 11, 2019
"I was saddened to learn MV is closed. I learned to ski on wooden skis, strap on bindings which were later changed to cubco bindings. I remember as a child crying because my parents wouldn't allow me on the chairlift (thank God)!! So I sidestepped up the center until I decided to take my very first run. I'll never forget running into a person as I intentionally fell to avoid a full on collision. Fortunately no one was hurt! It was the perfect mountain to begin to learn to ski with beautiful memories. I hope one day it will reopen and help the next generation of skiers learn how to ski. I know reside part-time in Utah and no longer have to ski cement!! Good luck! I also had great fishing memories along the Connecticut River and blueberry maple syrup. Every young generation should be able to create the same memories!!"
Peter Pecholcs , Jan. 9, 2019
"I have so many great memories from Maple Valley. I attended college close to MV in the late 1980's and learned to ski there before venturing out to some of the bigger mountains. We had season passes through the school and would ski on weekends and the days classes ended early during the week. Aside from the fun on the slopes and in the lodge, I enjoyed taking the back roads to the resort. No matter how cold, I would roll the windows down every time I passed by a farm making maple syrup."
Bill Wilson, Apr. 3, 2018
"In the early 70s used to go skiing with college friends at MV. This one time we stayed after skiing a full day and saw the band Boston play in the lounge. A year later they hit it big time."
Bob Forrest, Mar. 7, 2018
"I learned how to ski here.."
J C, Dec. 27, 2016
"Not sure what the years were but my Dad "Pat" Patenaude work with Mr. Tyler getting the cafeteria running in the black. I learned to ski there. My instructor was Mr. Taylor (Shortie Ski, inventor I think). So sad that it has closed. "
Dave Patenaude, Oct. 1, 2016
"Our family traveled to Maple Valley from western MA fairly regularly during the ski seasons (1965-1970). Lots of great family memories. My brother broke his leg there. I snapped a pair of Hart skis...there was a trail that ended with a lot of big, humpback moguls. We used to go for air and I came down off-balance and landed on the tips. It was a great place for intermediates and families!"
Doug Finck, Aug. 10, 2016
"I worked for Steve Miller as a ski instructor ay MV. He gave me my start in that industry."
Tony , Mar. 10, 2016
"I remember when I was in the 7 - 10 year old range sking Maple Valley. That would have ended in the winter of 1967-68. My fathers cousin Charlie Purinton owned Maple Valley at that time. We would go stay with my mothers aunt, whom had a no longer dairy farm in Brattleboro. I have a remembrance of falling off the chair lift while trying to get on with my dad. Another remembrance was an early morning ride up the slope with 'Uncle Charlie' on the Snow Cat to check snow making guns before the sun had come up. It seemed like we were driving straight up. When I saw the pictures of the lodge I thick I remember it. It brings back the memories of clomping down the food line in ski boots and ordering french fries and a hamburger. Back then they were a special treat, but is so common place now.I think our last visit was the weekend of the '68 winter olympics. I remember it being very cold. We could only ski a little bit because of the cold. At Aunt Hilda's house, which if i recall was still heating with fire places we watched the olympics. My mother made me take a bath in which I froze. I remember Aunt Hilda heating my bed with a 'bed warmer' which was a covered pan filled with coals out of the fire place, that had a long handle. That following summer my family moved to Beaufort SC, a town on the salt water.I took up water sking and became a 'river rat' We made family trips winter trips annually to Catalooche Mt, NC but the snow was iffy. I have only been snow skiing twice since graduating college."
Howard Hart, Jan. 12, 2016
"I was the ski school director there for the 89/90 season. It was a great, small mountain that catered to the local kids, especially at night. I drove by there last week and it was sad to see everything growing in on the trails where we had so much fun. Too bad all of these wonderful learning areas are going by the wayside."
John Cossaboom, Nov. 17, 2015
"I tried to hike up the mountain today. At first I tried the main trail in front of the base lodge and got stuck about 300 feet up. Then we tried the trail if you're looking up the mountain to the right, and made it almost to the top but got stuck there too. It's ashamed how such a beautiful mountain could be so overgrown."
Katie S, Sep. 18, 2015
"It so saddens me to read about M/V and its woes. At age 39 I first learned to ski at M/V, placing a pillow inside my snow pants to cushion the falls. Eventually I learned there and will always hold these memories even though we no longer ski. Those first days were in 1964."
Richard Davison, Feb. 8, 2015
"My Father Steve Miller ran Maple Valley when I was a kid, I loved trail 4 and 5 and jumping off the little lift. I had a red ski bike I would take down trail two and three and got yelled at for taking it down that trail and not using trail oneGood days as a kids skiing on that mountain!"
Sheri Miller-Bedau, Jan. 31, 2015
"One of the most memorable visits I had at Maple Valley was the summer Emmy Lou Harris played a most fantastic concert outside with all her faithful followers having a most spiritual experience! Heaven in the Green Mountains! Thank you."
leigh dakin, Oct. 31, 2014
"I actually like this mountain better then Mount Snow or Haystack. The trails like Buggaroo Bonzi and One other black diamond were surprisingly steep and challenging. One also had big bumps in it's steeps section. Comparable to Hayburner and Skidder at Sugarloaf Maine. Then the twisty narrow trail to the far right was classic New England."
Eric Moss, May. 5, 2014
"My father's welding business did a lot of work for Terry Tyler both personally and at Ski Maple Valley. I also worked there during the 99-00 season before it closed. I cleared trails during the fall, helped make snow at night, helped get the bar upstairs up and running,I was the dj on the weekends i designed, built, and painted all the character cutouts for the kids tube lift. I was the very last person to go down the slope right at midnight on new years eve. I went down sitting on a big aluminum shovel. Had a great time working and playing there. I live in PA now but would love if they reopened. I'd be there in a heartbeat. The owners were awesome as well as everyone I worked with. "
Brian Newton, Mar. 28, 2014
"my first ski in vermont. family had a place in east jamaica and we went here as a family for the first vt ski. felt like real skiing, being from ct. been skiing 35 years or so now. wish i could go back, buy it, and make it happen again for other families. just went to berkshire east for the first time. fun ! have a great season. 2/3/2014 bill, stonington ,ct. bye."
william cripps, Feb. 3, 2014
"From 1964 to 1969 Maple Valley was the Cunninghamfamiy (6) mountain destination for Sunday get-aways.We would drive up Fridays (sometimes Thursdays)fromsouthern New York to stay with friends in Brattleboro and ski Magic,Haystack or Mt Snowone or two days and go Maple Valley on our Sunday getway day. A lot fun and memories. "
mack cunningham, Feb. 25, 2013
---
External Links
Last updated: August 8, 2023