| | |
| --- | --- |
| | |
Located east of Manchester, Vermont, 3,263 foot Bromley Mountain has long been a destination for skiers.



Pre-Skiing Years on Bromley Mountain

The name Bromley dates back to the charter of the town Bromley (also spelled Brumley) in 1761. Though the town was renamed Peru circa 1804, the eponymous mountain retained its name.

A significant tract of land on Bromley Mountain eventually came under the ownership of Marshall J. Hapgood. Nicknamed the "Inca of Peru," Hapgood reportedly owned 10,000 acres of timberland, served in the state legislature, and was a friend of President Theodore Roosevelt. He also owned a store, multiple houses, and the Bromley House hotel.

In 1908, Hapgood proposed deeding nearly 1,000 acres of land to the state as a preserve where "none of God's wild animals shall ever be killed" so that it would be a "refuge for these good friends of ours." A path was cut to the summit of the mountain in 1909. In late 1910, Hapgood deeded 106 acres of land on Bromley Mountain to the state with the condition that it should remain forever uncut and undisturbed, except for cutting of paths and construction of an observatory. The no hunting restriction was dropped, as Hapgood had established a fenced preserve elsewhere.

Circa the early 1910s, the new Long Trail was laid out over the summit of Bromley Mountain, using existing woods roads.

In early 1924, Hapgood proposed turning his timberland into a national park, including his prized Clark's Hunting Lodge (where President Roosevelt was planning to visit prior to his death in 1919). Marshall Hapgood passed away on June 17, 1926 at the age of 77, one month after his wife was killed in an automobile accident.

The acquisition of 31,228 acres in Vermont to create a national forest was authorized in 1930, with Hapgood's daughters lobbying for the project. Included in authorization was the eventual purchase of 8,000 acres held by the family, including land that bordered the Bromley tract given to the state.

A cabin was constructed by the Green Mountain Club on the Bromley section of the Long Trail in 1933.

In the mid-1930s, the Green Mountain Parkway was proposed from Massachusetts to near the Canadian border. Had the highway been constructed, it could have crossed over or near the summit of Bromley Mountain.



The Bromley Run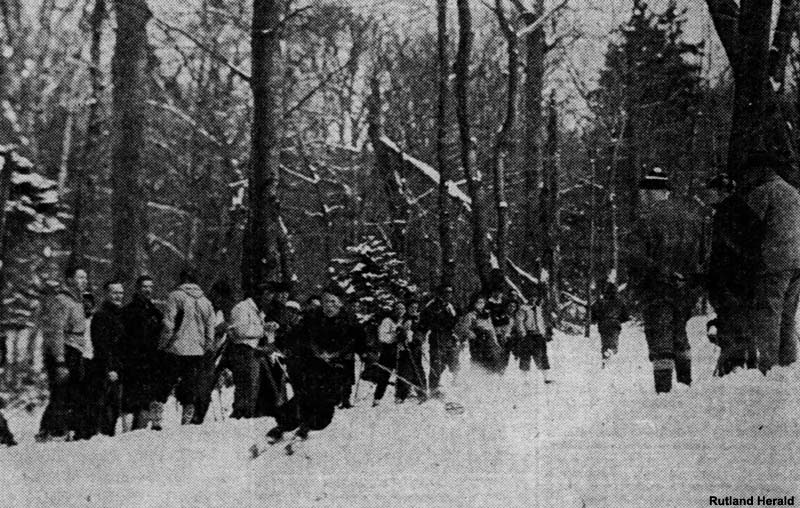 A race on the Bromley Run in 1937

Circa 1935, John Perry, David Parsons, and future Mad River Glen founder Roland Palmedo planned the "Bromley Run" via airplane. Located on the west side of Bromley Mountain, the trail was cut in 1936 by Ralph Hutchinson and the Works Progress Administration (WPA). The Rutland Herald described the trail as having "four units," including a "slightly dangerous" first mile and a quarter, "three-quarters of a mile of flat running," a third unit that is "a racing trail with a drop of 1100 feet in a mile with interesting turns and runs," and the fourth being a drop of 400 feet over a half mile.

Meanwhile, Fred Pabst Jr. of Pabst Blue Ribbon fame constructed a J-Bar on Mt. Aeolus as part of his Ski Tows, Inc. empire. Snow trains were planned to bring skiers from New York City to the Manchester, as area summer businesses made plans to commence winter operations. Unfortunately, a lack of snow delayed the start of winter.

Though portions of the new Bromley Run were skied in late January, other parts remained unskiable due to the lack of snow. A college race was held on part of the trail in late February. Weeks later, there was finally enough snow to open Pabst's Mt. Aeolus area, which debuted on March 20 when it hosted the Amateur Ski Club of New York City's slalom race. The downhill race was held the following day on the Bromley Run.

Widening and smoothing projects, and possibly construction of a new bottom section of trail, took place on the Bromley Run in advance of the 1937-38 season. Meanwhile, a the Battenkill Ski Tow was construced on the fifth fairway of the Equinox Links Club golf course in Manchester. Though there was optimism for the winter, snow was once again an issue. Limited skiing happened over New Year's, followed by the likely cancellation of the first scheduled snow trains. Trains finally arrived in late January, with lower than expected numbers due to "warmer weather and a light rain at times."


Lift Service Starts on Bromley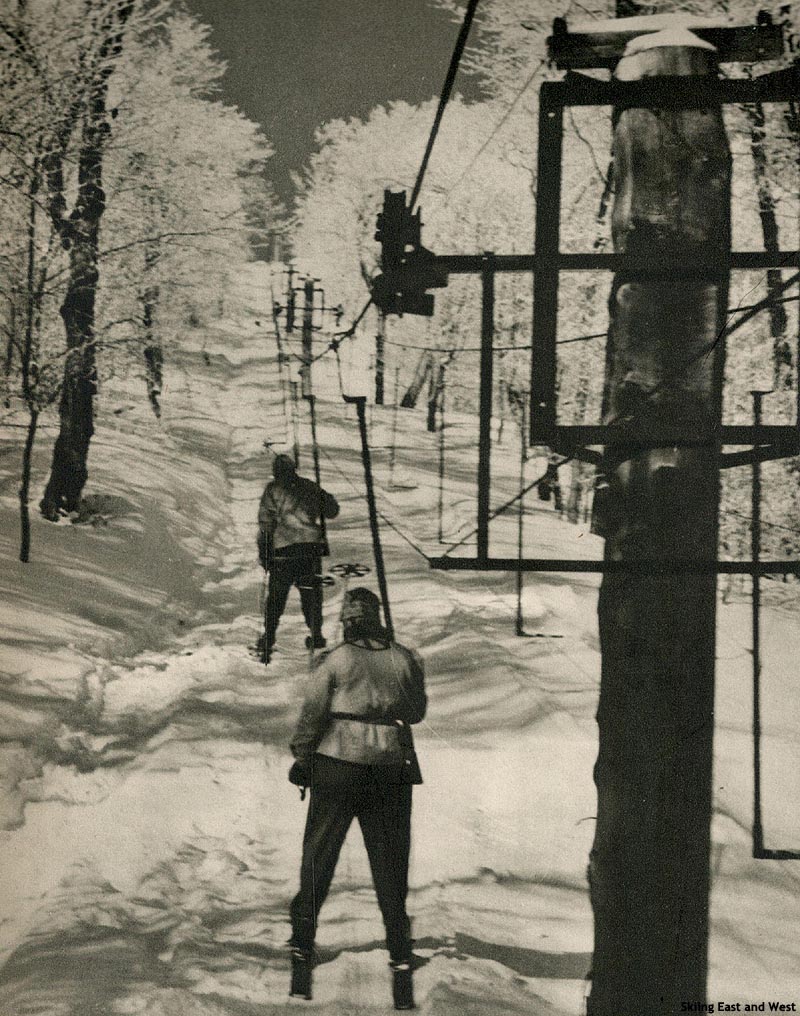 A Bromley J-Bar circa the early to mid 1940s

With natural snow lacking in the Manchester and Dorset areas, Ski Tows, Inc. constructed an 850 foot rope tow on Harry Walker's high elevation land, east of the highway to the south of Bromley Mountain. With a base elevation of just under 1,900 feet, the slope was able to provide much more consistent snow conditions than Manchester over 1,000 feet below. Eventually known as Little Bromley, the rope tow debuted on February 12, 1938, with some 150 skiers "forsaking the snowless valleys," according to the Rutland Herald. Ski pioneer Otto Schniebs visited Bromley in late February and expressed his enthusiasm for the operation, as the Manchester Journal noted "snow conditions have been fair on the slope while there has been little snow in the valley."

For the 1938-39 season, Pabst developed the Bromley Meadows area across Route 11 from Little Bromley. Billed as a "high pasture open slope," the 80-acre area was served by a 2,200 rope tow, which reportedly had a 45 degree turn halfway up. Beyond that, the High Knob and Cut-off ski trails were listed as alternatives to the Bromley Run for the "less experienced enthusiast." Meanwhile, William Parrish incorporated Bromley Mountain Ski Club and renovated the Log Cabin near the slope, renaming it Johnny Seesaw and advertising a 65-person capacity. The nearby Bromley Inn advertised winter operations as well.

The season kicked off in early December with a few hours of operation on the Little Bromley tow before "rain and warm winds" intervened. Weeks later, natural snow resulted in a strong New Year's holiday, with Johnny Seesaw and the Bromley Inn filled to capacity. The area became a hub of activity, hosting numerous races.

Using funds from a "Kurtax" collected by one of the lodging facilities during the 1938-39 season, a trail was cut from the top of the rope tow to the Bromley Run. Future expansion proposed at the time included extending the Meadows to the summit, cutting a slope west of the Meadows, and a trail down the north side.

While some ski areas closed during World War II due to shortage of materials and skiers, Bromley stayed open. In early 1942, it was said that the lower tow at Bromley (possibly the Little Bromley tow) was one of the few open on weekdays. As published in the Hartford Courant, "if you don't see anyone there, give the rope a jerk and Niles Carlson at the little house at the bottom will start it up." Nearby, Snow Valley had just opened a modern T-Bar lift.

A variety of factors lead to significant change in 1942-43. Firstly, other areas with modern lifts were popping up throughout Vermont. Secondly, Pabst's Ski Tows, Inc. was proving to be too spread out and losing too much money. Thirdly, World War II material shortages were making supplies hard to come by. In response, Pabst doubled down on Bromley.

The main portion of Bromley that he wanted to develop was owned by a family that was born in the town of Peru and planned to die there as well. To obtain the Walkers' land, Pabst purchased another plot in Peru and arranged for a landswap.


The J-Bars Come to Bromley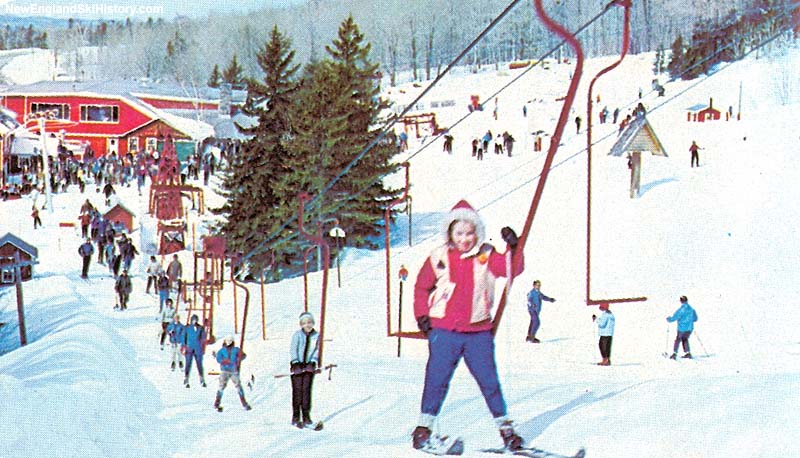 One of Bromley's many J-Bar lifts

In early January of 1943, Pabst opened a 2,800 foot J-Bar between the Twister and East Meadow slopes. Originally from his Mt. Aeolus development in nearby Dorset, the lift was to be complemented with an upper mountain J-Bar from his Lake George development that season, however construction delays likely prevented that from happening until 1943-44. Seven new slopes and four new trails were added as part of the expansion.

Once the two J-Bars were in place, Bromley was able to advertise a mile long tandem lift serving 1,300 vertical feet, making it a major player in the New England ski industry.

Things were not all peachy, however, as the cafeteria at the base of the mountain burned on January 2, 1944. Pabst responded quickly by fixing up the old Walker barn in the interim.

The Snow Bowl J-Bar, originally from Pabst's Plymouth, NH ski area, was likely installed for the 1944-45 season.

The late 40s produced multiple poor winters. Pabst decided to focus on smoothing out his slopes so that they could be skied with as little as 4 inches of snow. Using this technique, Pabst improved the Lord's Prayer slope by planting oats and winter rye, red top and timothy. A J-Bar was installed on the slope for the 1947-48 season, either coming from his former Rib Mountain, WI development or his Intervale, NH ski area.

Two rope tows were installed on East Meadows for the 1949-50 season, providing an alternate way to access the Snow Bowl J-Bar and, from the top of it, the Upper J-Bar.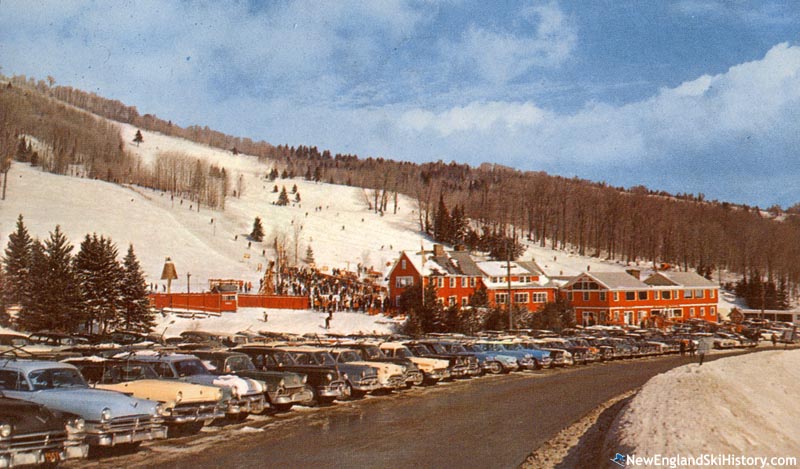 The base area circa the 1950s

For the 1953-54 season, the original Little Bromley area was regraded and improved. Replacing the aging rope tow was yet another J-Bar, Bromley's fifth. The J-Bar either came from Pabst's Rib Mountain development in Wisconsin or his Intervale ski area in New Hampshire.

Around this time, Pabst incorporated Bromley and sold stock, as he planned a new wave of expansion. For the 1955-56 season, Bromley replaced the tandem rope tows on East Meadows with a new Poma lift.


From a J-Bar Area to Chairlift Area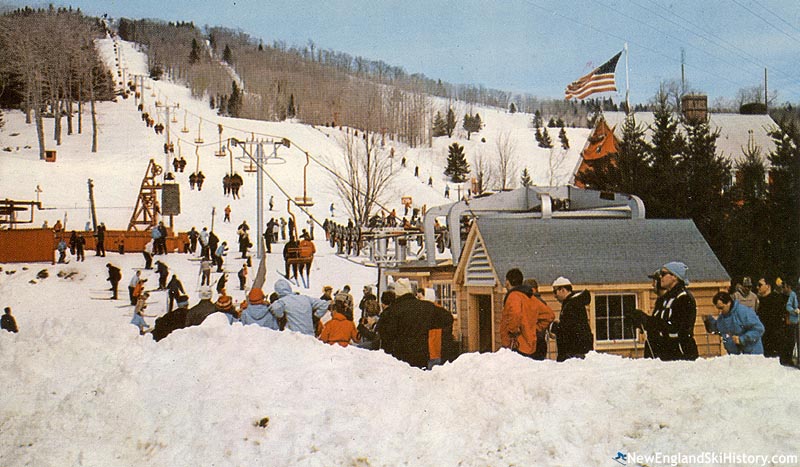 The Number One Chair

For 1958-59, Bromley underwent its biggest transformation yet, when it installed a new 5,700 foot Riblet double chairlift to the summit. With this addition, Bromley became one of only four ski areas in the state with a chairlift. The new installation also meant that the aging Lower and Upper J-Bars were no longer critical components of the ski area.

Additional trails were opened in the 1960s, including Run-Around in 1960-61 and The Glade and Spring Trail for 1962-63.


Snowmaking Arrives

After the rough winter of 1964-65, Pabst doubled down on Bromley by planning a major capital investment for 1965-66.

Perhaps garnering the most press was the installation of a sizable Larchmont snowmaking system. Covering 23 trails, the system was advertised as the world's largest. The advantageous installation faced many initial problems, including construction delays and water quality issues.

In addition to the snowmaking system, two new Riblet chairlifts were to be installed. While the Plaza double chairlift served novice terrain adjacent to the Lord's Prayer slope that season, the larger Stargazer installation was not completed in time. The second lift likely started serving nearly 1,000 vertical feet in the Snow Bowl for the 1966-67 season.


From a J-Bar Area to Chairlift Area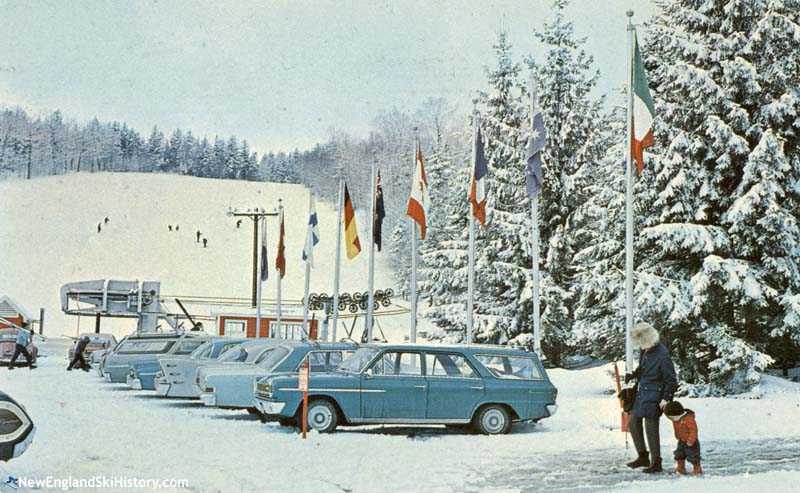 The Number One Chair circa the 1960s

Despite the early headaches, Pabst's investment in snowmaking paid off quickly. While few major areas in New England were open at the start of Christmas week, Bromley opened for Thanksgiving. By the time 1967-68 rolled around, Bromley had more than 50 snowguns, 18 miles of snowmaking pipe, and 9 million gallons of stored water.

Slowed by heart problems, Fred Pabst Jr. stepped down as Bromley president in 1971.

Another large expansion took place for the 1974 season, as $1 million was spent on snowmaking and lift additions. Replacing the lower and upper J-Bars was half of a Hall double-double chairlift, creating a second continuous ride to the summit. Replacing the East Side Pomalift was another Hall double-double chairlift, allowing for an easier ride for beginners. The double-double design of each lift meant that, thanks to the large central towers, a second double chairlift could be installed adjacent to each at a much lower cost.

Bromley took a large step toward becoming a year-round attraction when manager Stig Albertsson installed the famous alpine slide in 1976. Albertsson's Alpine Slide Corp. licensed the concept from Demag Corp. of Germany, which had developed the design in 1972. Careful agreements were put into place to ensure no other nearby ski areas would be able to install one.


Fred Pabst Jr. Passes Away and Bromley is Sold

On March 1, 1977, nearly 40 years after he started the original Bromley development, Fred Pabst Jr. died of a heart attack. A memorial service was held for him on the slopes on March 3.

In subsequent years, Albertsson reportedly attempted to purchase Okemo to employ economies of scale. Unable to acquire Okemo, Albertsson approached the owners of nearby Stratton and negotiated a sale. In 1979, just over two years after Pabst's passing, Bromley was sold to Stratton for a reported $2.5 million. The following spring, Stratton and Bromley were sold to Moore and Munger, Inc.

In 1984, the second half of the Sun double-double chairlift was finally added, when a new Von-Roll double was added to the lower half. The new chairlift provided beginners with another uphill option, while also allowing for another way for intermediate experts to access the Snow Bowl.


Bromley is Sold Again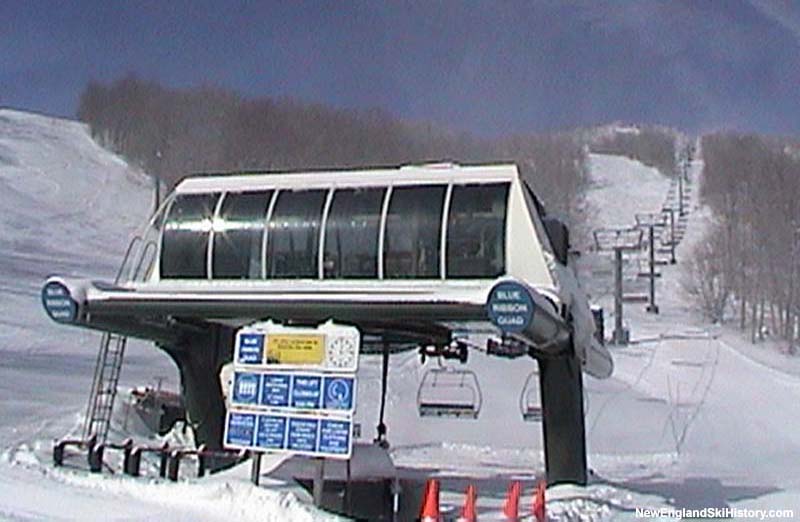 The Blue Ribbon Quad (2013)

In the fall of 1987, Magic Mountain purchased Bromley from Moore and Munger, Inc.. The following year, the new ownership, led by Simon Oren, installed a new Poma fixed grip quad at Bromley. Named after Pabst's famous beer, the Blue Ribbon Quad provided modern, high capacity lift service in the Snow Bowl. Unfortunately, 1988-89 was once again a bad snow year.

By the time 1990 rolled around things were starting to crumble and Oren reportedly sold his stake in the business to Joe O'Donnell and Petros A. "Bob" Palandjian. Following the 1990-91 season, the decision was made to close Magic Mountain. After the 1992-93 season, Magic and Bromley were separated. Magic was put on the auction block, while Bromley was put up for sale, with management citing the prohibitive cost of the environmental review necessary to rebuild the snowmaking at the latter as a reason. Ironically, Guinness was reportedly interested in purchasing Pabst's old ski area.

In the end, O'Donnell remained an owner of Bromley and continued to move it forward. During the 1994-95 season, Bromley signed a marketing agreement with industry giant S-K-I Ltd..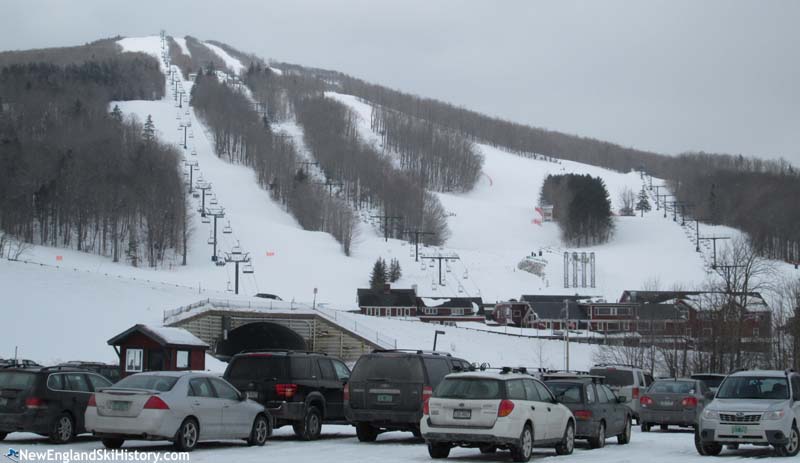 Bromley in 2014

Big changes were in store for the 1997-98 season. As part of a $3 million project, the last of Fred Pabst's J-Bars, was removed, as well Pabst's first chairlift. Replacing the Lord's Prayer J-Bar was a used T-Bar, which was installed as part of a major snowboard park development. The largest part of the season's improvements, however, was the installation of the Sun Mountain Express. A Doppelmayr Detachable Quad chairlift, the Sun Mountain Express cut the summit ride time by more than half.

In June of 2011, Joe O'Donnell's longtime Jiminy Peak partner Brian Fairbank and son Tyler Fairbank took over the management of Bromley.

On the evening of December 16, 2017, Bromley's main pump house was lost to a major fire. Snowmaking operations were halted for a month as a makeshift setup was cobbled together to preserve late season skiing. A new pump house was constructed in 2018.



NewEnglandSkiConditions.com Reports

Month
Average Percent of Terrain Open
December
35% (1 report)
January
61% (4 reports)
March
90% (3 reports)

-- start conditions table -->

Recent Conditions Reports

Jan. 7, 2023 by neskier
Packed Powder, Variable Conditions
Jan. 18, 2022 by bostonbob
Powder, Packed Powder
Dec. 30, 2021 by neskier
Packed Powder, Spring Snow
Jan. 31, 2021 by nhalex
Packed Powder, Frozen Granular
Jan. 13, 2021 by bostonbob
Frozen Granular, Packed Powder

Bromley Mountain Resort on NewEnglandSkiConditions.com
NewEnglandSkiIndustry.com News
CCC Trails
Expansion History
Project

Season

North Side
Cancelled

1940s

Snow Bowl
Open

1944-45
Image Gallery
Lifts
Click on lift name for information and photos
Maps
Year by Year History
Adult Weekend Full Day Lift Ticket; Adult Full Price Unlimited Season Pass

2020s
Ticket Price
Season Pass Price

Pass Payback

Opening Day

Closing Day

Skier Visits

2022-23
$96.00
$1196.74
12.5 days
November 25
April 9
2021-22
$89.00
$1160.70
13.0 days
November 27
April 2
2020-21
$85.00
$1144.80
13.5 days
November 29
March 27
2019-20
$92.00
$1144.80
12.4 days
November 16
March 15
2010s
Ticket Price
Season Pass Price

Pass Payback

Opening Day

Closing Day

Skier Visits

2018-19
$87.00
$1144.80
13.2 days
November 23
April 7
2017-18
$80.00
$1144.80
14.3 days
November 24
April 8
2016-17
$74.00
$1144.80
15.5 days
November 25
April 2
2015-16
$73.00
$1144.80
15.7 days
November 28
March 21
2014-15
$71.00
$1111.94
15.7 days
November 22
April 12
2013-14
$68.00
$1111.94
16.4 days
November 16
April 6
2012-13
$67.00
$1111.94
16.6 days
November 23
April 7
2011-12
$65.00
$1054.70
16.2 days
December 11
March 18
2010-11
$65.00
$1054.70
16.2 days
December 4
April 3
2009-10
$65.00
December 12
April 4
2000s
Ticket Price
Season Pass Price

Pass Payback

Opening Day

Closing Day

Skier Visits

2008-09
$63.00
$1054.70
16.7 days
April 5
2007-08
$63.00
$1054.70
16.7 days
2006-07
$61.00
$1054.70
17.3 days
December 9
2005-06
$59.00
$1033.50
17.5 days
2004-05
$57.00
$1007.00
17.7 days
2003-04
$54.00
$1007.00
18.6 days
April 4
115,000
2002-03
$52.00
$950.00
18.3 days
2001-02
$51.00
$925.00
18.1 days
April 7
2000-01
$49.00
$925.00
18.9 days
1999-00
$47.00
$925.00
19.7 days
April 2
1990s
Ticket Price
Season Pass Price

Pass Payback

Opening Day

Closing Day

Skier Visits

1998-99
$46.00
$925.00
20.1 days
1997-98
$43.00
$890.00
20.7 days
November 21
1996-97
$39.00
$785.00
20.1 days
April 13
1995-96
$39.00
150,000
1994-95
November 26
1993-94
November 27
1992-93
$36.00
1991-92
$36.00
1990-91
$36.00
1989-90
$34.00
1980s
Ticket Price
Season Pass Price

Pass Payback

Opening Day

Closing Day

Skier Visits

1988-89
$32.00
November 23
April 2
1987-88
$29.00
1986-87
$27.00
1984-85
$22.00
$595.00
27.0 days
1983-84
$21.00
$520.00
24.8 days
1982-83
$20.00
$520.00
26.0 days
1981-82
$20.00
1980-81
$17.50
1979-80
$16.00
1970s
Ticket Price
Season Pass Price

Pass Payback

Opening Day

Closing Day

Skier Visits

1978-79
$14.00
November 23
1977-78
$13.00
November 26
1976-77
$13.00
November 23
1975-76
$12.00
$260.00
21.7 days
November 23
March 26
1974-75
$12.00
November 23
April 23
1973-74
$10.00
1972-73
$10.00
1971-72
$10.00
1970-71
$10.00
November 26
1969-70
$9.00
1960s
Ticket Price
Season Pass Price

Pass Payback

Opening Day

Closing Day

Skier Visits

1967-68
$8.00
November 23
1966-67
$7.00
November 24
April 2
1965-66
$7.00
$95.00
13.6 days
December 18
April 10
1963-64
$6.50
1962-63
$6.50
1961-62
$6.50
December 15
1960-61
$6.50
December 17
1959-60
$6.50
1950s
Ticket Price
Season Pass Price

Pass Payback

Opening Day

Closing Day

Skier Visits

1958-59
$5.50
1957-58
December 13
April 20
90,000
1955-56
December 16
1954-55
December 4
1951-52
November 29
1949-50
$4.00
December 9
1940s
Ticket Price
Season Pass Price

Pass Payback

Opening Day

Closing Day

Skier Visits

1944-45
December 16
1930s
Ticket Price
Season Pass Price

Pass Payback

Opening Day

Closing Day

Skier Visits

1937-38
February 12
Visitor Memories
"I remember Bromley vividly as the Sun Mt. I owned and operated the Nordic Inn and Karhu Ski touring Center down Rt 11. I started the first Telemark Ski School in the Eastern USA at Bromley 1980 and was the instructor there as well as doing telemark clinics. Yes, fond memories. TELEMARKFIL"
Filippo Pagano, Aug. 7, 2022
"I first skied Bromley in 1970 and it's still my go-to Mtn for sunshine on cold bitter days "
ned trautman, Jul. 30, 2022
"Very interesting update on the 1930s developments! I wonder if any vestiges of the original Bromley Run remain."
Rick Payer, Jun. 23, 2022
---
External Links
Bromley Mountain Resort - official site
Last updated: June 7, 2022