Mt. Agamenticus
York, Maine
Status:
Lost/Defunct
First Season:
1964-65
Last Season:
1974-75
Vertical Drop:
500 feet
Standing Lifts:
Past Lifts:
1 double, surface lifts
Left: The double chairlift
Recent NewEnglandSkiIndustry.com News:
Located west of oceanside York, Maine, 691 foot Mt. Agamenticus was home to an alpine ski area for about a decade. In recent years, the town has converted the mountain into a four season recreation spot.


Early Years and Ski Development Attempts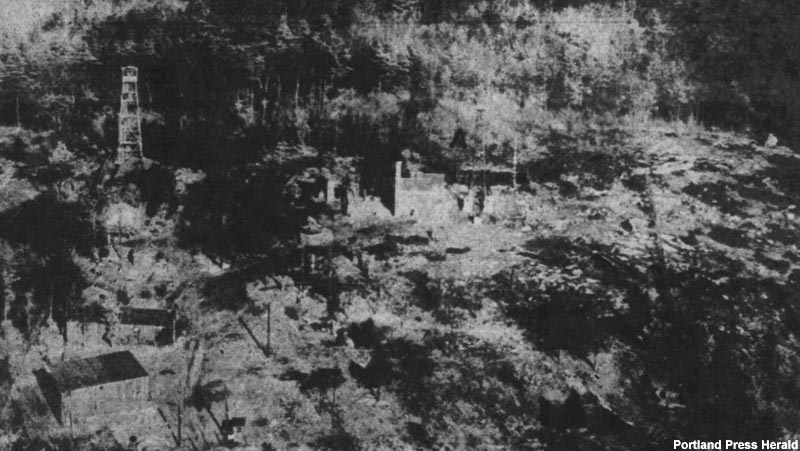 The summit of Mt. Agamenticus circa 1948

The early years of development on Mt. Agamenticus centered around detection. The first Mt. Agamenticus fire tower was constructed in 1918, standing for some two decades. Circa 1940, the mountain was scheduled to be turned into a recreational area, however the onset of World War II resulted in the construction of an army radar installation on the summit.

Leveraging the summit road, buildings, and water and sewer infrastructure constructed by the Army, a $300,000 winter sports development was proposed on Mt. Agamenticus in 1948. A "skimobile" (possibly similar to Cranmore) was reportedly planned for lift service. Sperry H. Locke was initially manager of the development group, which included owners Cato R. Philbrick (a York realtor), Roger Lucas (a York undertaker), James H. Lucas (superintendent of the York Water District), and William Foster (a York florist).

The group announced they had $100,000 of capital in late 1949 and were moving forward with plans to have television communications equipment on the summit. Plans for a ski area remained, though the group had not settled on what type of lift would be installed. Plans reportedly stalled due to poor winters, as the Portsmouth Herald reported "there wasn't enough snow on Agamenticus to follow a cat's track."



Big A Development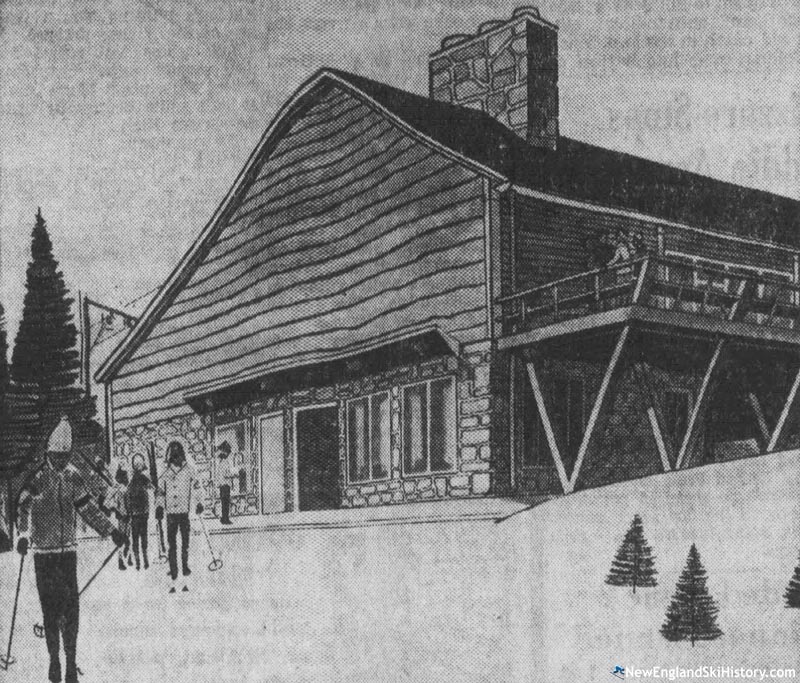 A 1963 rendering of the proposed Mt. Agamenticus lodge

With lift-served skiing exploding in popularity and snowmaking technology advancing as the 1960s arrived, Frederick Wakelin and A. Guilford Tobey (both of Marblehead, Massachusetts) decided to move forward with a development on Mt. Agamenticus. Word emerged in 1962 that a holding corporation was attempting to acquire land on the top and west side of the mountain. Agamenticus Mountain Corporation was formed on January 2, 1963 with Wakelin serving as president. Roger Lucas and William Foster from the previous development group served as directors. The group hired Sel Hannah to design the $250,000 development.

Initial plans called for an upside-down area with a summit lodge and parking area. Proposed lifts included a 2,500 foot long, 500 foot vertical chairlift or T-Bar and a 900 foot long novice T-Bar. Snowmaking equipment was planned, as "heavy snow is not to be expected at this relatively low elevation and proximity to the coast," according to the Sanford Journal Tribune. Off-season sightseeing possibilities were also included in the business model.

Trail clearing likely started in early 1963. In early April, the group reported that it measured 45 inches of snow on the mountain on March 23, which it said was comparable to major areas to the north. In July 1963, the group announced that it had ordered a Mueller chairlift and, if $95,000 could be raised by August 15, the area would open that winter. Meanwhile, the group settled on the nickname "the Big A," after "Mt. Aggie" didn't catch fire in the papers. Unfortunately, not enough funds were raised and construction was halted that fall. At that point, three of the five trails had been cleared.

On early May 1964, "Agamenticus Mountain Day" open house was held, with door prizes and free ski passes offered to attract visitors to the development.

In July the corporation announced that construction had started on the chairlift and that Ralph Amsden had been hired as general manager. A native of Laconia, New Hampshire, Amsden served in the US Navy during World War II before graduating from the University of New Hampshire. Prior to being hired at Agamenticus, Amsden worked at the Carroll Reed Ski Shop in North Conway, Mt. Whittier, and served as area manager at Pats Peak.

In the fall of 1964, Ronald and Beverly McLeod were named ski patrol directors, while Neil Robinson was named ski school director, splitting his time with Glen Ellen.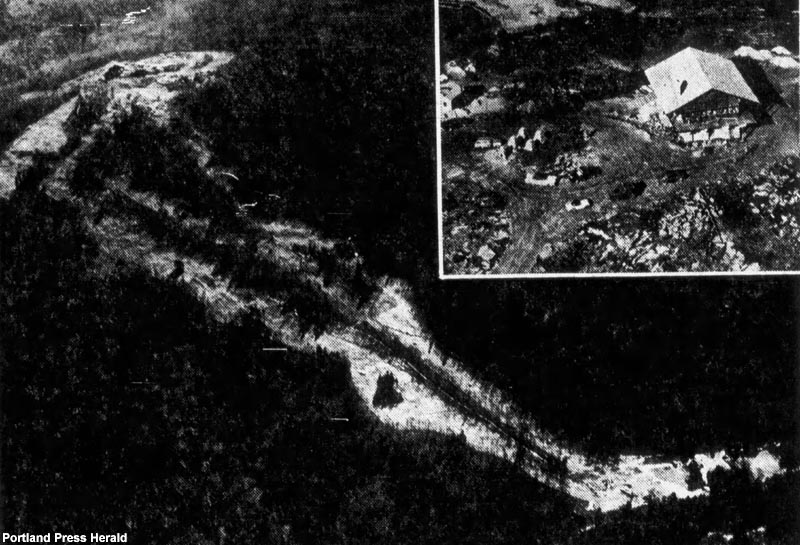 Mt. Agamenticus (December 1964)

Work ramped up as October came to a close. The summit road was resurfaced, while snowmaking pipeline installation was commenced on three trails. Kilgore marsh was dammed to form a snowmaking reservoir, while a second dam was planned. Pumping infrastructure consisted of two Caterpillar D-6 diesels, while three 600-CFM air compressors were planned. Meanwhile, worked continued on the installation of a chairlift, a T-Bar, and a rope tow. Night skiing was also announced.

Tragedy struck on October 29, as Paul Tart was killed when a Bombardier tractor installing a tower on a ski trail flipped. The 22-year-old from Essex, New York left behind his wife, who was expecting their first child.

Further issues were encountered in November, when the chairlift towers were shipped to Haystack instead of Agamenticus. Meanwhile, construction of the lodge continued.



Big A Opens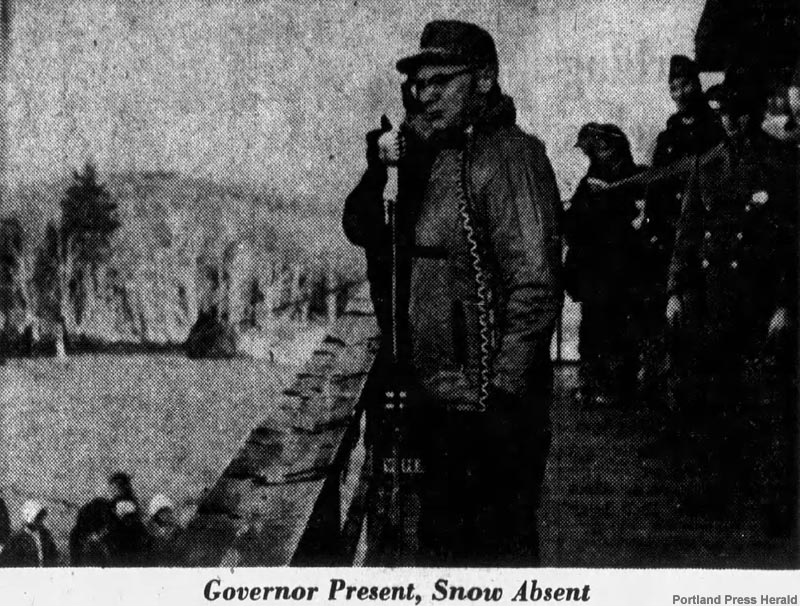 Governor John Reed dedicating Mt. Agamenticus (December 19, 1964)

Though Mt. Agamenticus saw snowfall in early December as its planned grand opening neared, heavy rain and fog zapped the mountain of snow, with the Waterville Morning Sentinel dismissing it as "typical Maine weather." Nevertheless, work continued at a feverish pace in advance of the planned December 19, 1964 grand opening, with Ralph Amsden telling the Portsmouth Herald, "It'll be close, but we'll be ready."

Unfortunately, the snowmaking system malfunctioned, resulting in no skiing for the area's grand opening. Nevertheless, Governor John Reed officially dedicated the area, declaring that it would "take its place among the giants of the ski world." The Portsmouth Herald reported that "The view from the lodge alone is worth the trip up the Mountain Road and the big picture windows give everyone a fine vantage point from the warm confines inside."

Warm, wet weather persisted. After assistance with the troubled snowmaking system was received from Lost Valley and Poland Spring, Big A finally opened with limited surface-lift-served terrain on January 17, 1965. The Portland Press Herald described conditions as "scratchy," but Ralph Amsden noted, "It's a start." Night skiing debuted a few days later, limited to the T-Bar (plans were announced to add lighting to the chairlift for the second season). The chairlift reportedly opened for day skiing before the end of the month.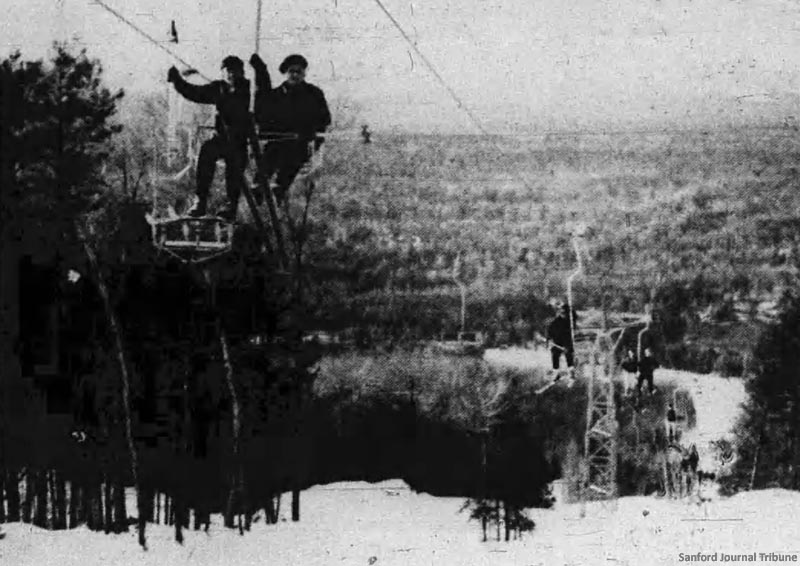 The double chairlift circa early 1965

A core part of Big A's early business was high school groups and racing teams, which arrived by the busload on weekday afternoons. Initially a majority of the high school students at Big A were from New Hampshire, not Maine, leaving Ralph Amsden to surmise, "They're more ski minded in New Hampshire than they are in Maine." At the time, Portsmouth High School had the largest ski program at the area.

Skiing continued into February, though rain disrupted the season before the second weekend. The season likely melted out before the first weekend in March.

The business may have been reorganized in early 1965 pursuant to Small Business Administration funding. Off season events were held in the lodge, such as Easter church services and dance parties with live music.

Improvements for the 1965-66 season included cutting the top-to-bottom intermediate Wampum trail, constructing a 200-car parking lot at the base, and rebuilding the snowmaking system. Patten "Pat" White took over as general manager, as Ralph Amsden departed to become assistant general manager at Crotched Mountain. Ski school director Neil Robinson also departed, filing a lawsuit against Agamenticus Mountain Corporation. John Parkhurst took over as ski school director.

The 1965-66 season likely kicked off a few days before Christmas on manmade snow. Though Big A relied on manmade snow, the season was buoyed by some natural snow mid-winter. March was ushered in with an inch of rain, leaving Big A as the only operating ski area in the state at one point. The season likely lasted until at least mid-March.

Night skiing was expanded to the chairlift and a new ski shop opened for the 1966-67 season. In addition, the Wampum Trail was reworked, as it "never really opened to full-scale operation last year," according to the Portsmouth Herald. The season kicked off on manmade snow in mid-December, making Big A one of the only Maine ski areas to operate before Christmas that season.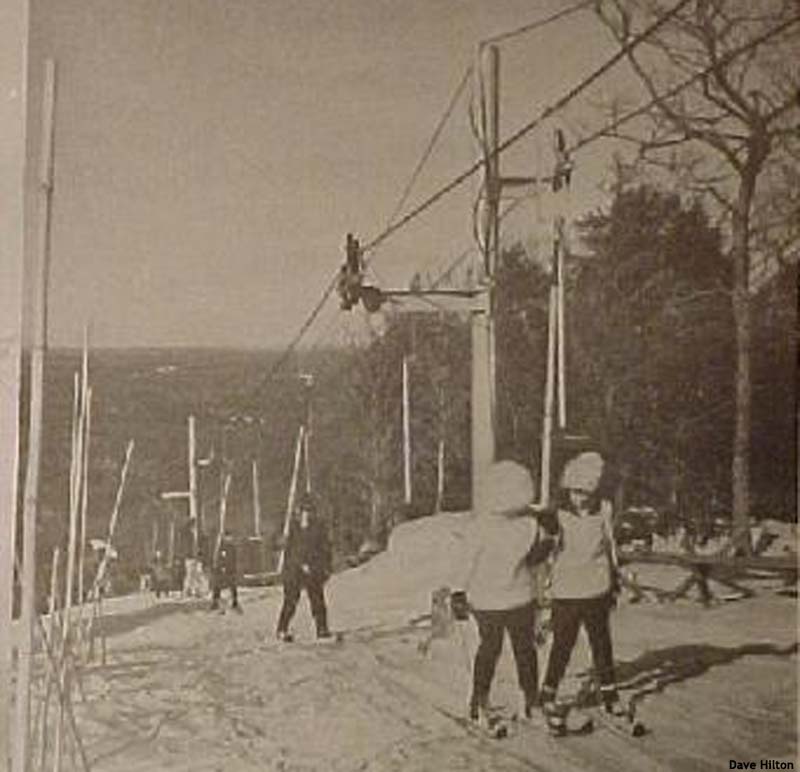 The Big A T-Bar

Tom West was named ski school director at Big A in 1968-69.

Concerned the nickname Big A wasn't distinctive enough, the ski area was renamed to Mt. Agamenticus for the 1971-72 season. While Big A attempted to capture attention in the early 1970s with special learn to ski programs and a freestyle ski school, it found itself in financial trouble.


Expansion Proposed, Area Closed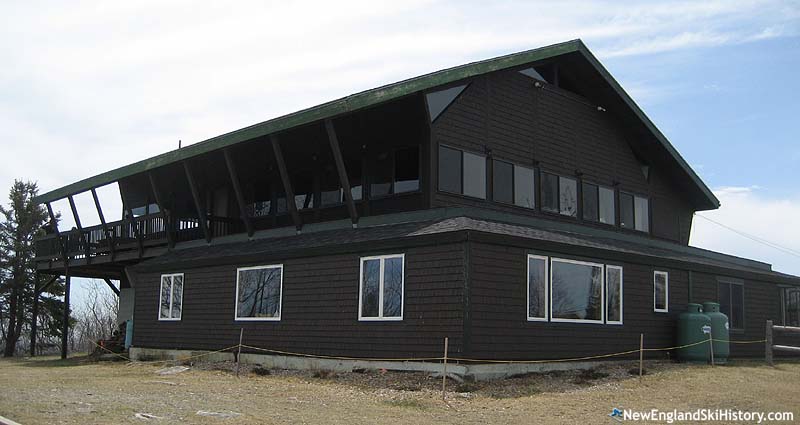 The lodge (2007)

Following the 1974-75 ski season, owner F. Anthony Zahn, an Oklahoma Democrat politician and financier, proposed a massive real estate development on Mt. Agamenticus. By May of 1975, Zahn owned 500 acres and had 3,500 more under contract with hopes of building up to 3,500 homes. As part of a $5 million project, Zahn planned to add more lifts and expand snowmaking at Big A.

After massive local opposition from York and Berwick residents, the development was scrapped, the ski area closed, and the chairlift eventually removed. Following the closure of the ski area, the land was moved into conservation status.

On May 23, 2004, the David N. Hilton Memorial at Mt. Agamenticus was dedicated in honor of the long time firewarden, skier, and historian.

Former manager Pat White passed away on April 15, 2016 at the age of 76.

Today, the 10,000 acre Mount Agamenticus Conservation Region features multi-use trails that weave through the abandoned ski area.





Lifts
Click on lift name for information and photos




Maps


Year by Year History
Adult Weekend Full Day Lift Ticket; Adult Full Price Unlimited Season Pass

1970s
Ticket Price
Season Pass Price

Pass Payback

Opening Day

Closing Day

Skier Visits

1974-75
$6.00
1973-74
$6.00
1972-73
$6.50
1971-72
$6.00
November 27
1970-71
$6.00
1969-70
$5.00
December 20
1960s
Ticket Price
Season Pass Price

Pass Payback

Opening Day

Closing Day

Skier Visits

1968-69
March 30
1966-67
December 17
25,000
1964-65
January 17
March 5
Visitor Memories
"When I was 8 years old in 1965 my mom and I took a winter trip to York Beach and I went skiing for my first time at 'the Big A'. I remember there was a T bar and I tried to sit down on it and fell off. I had lace up boots and the old 'explode-o-mat' bindings. I fell in love with skiing at the Big A and still love it at age 64. Such great memories!"
tracy jones, Feb. 18, 2023
"At fifty my mum and dad took up skiing so that we could have an active, family outing. As Big A was not too far from Peabody, MA, this is where we would often ski. So many wonderful memories of fun times here! Thanks for posting all the historic information! "
Denise Hudnall-Sokolsky, Mar. 20, 2022
"My family skied there, so convenient,...right at the end of our road. Accessing the summit could be a challenge with ice. Dad decided to try backing up the hill, cause he had a brand new front wheel drive car. It worked. Such a fun place to go as kids. "
Melanie Buswell, Jan. 14, 2019
"Our family has passed there for many years. What great fun we had! Night skiing, ski school, it was great. We had some great skiers start there . We all had funny stories to share. Our night time trips down to Flos hotdogs, wed order 50 hot dogs...and Flo would throw us out! I was on the chair lift when it came off the rails and two skiers died. We spent 10-12 hours stuck up there until they got to us to lower us down by ropes! Scary! And yet we returned the next day to ski!! We all loved that mountain!"
Amy Goldman, Jan. 14, 2019
"Our family enjoyed this ski area so much...as a southern gal, I learned to ski there and loved the hot chocolate and fire in the lodge...."
mrs Hal Carney , Jan. 11, 2019
"I remember scoring my 1,000 point (only my sophomore year) and then trucking up to Big A with John Bridges. The double lift was the best, John and I would close our eyes and pretend we were dragons flying abouve the mountain...Also where I fell and got a compound fracture in my tibia and was never able to play hoops again..pretty much ruined my college career..oh Big A..giveth and taketh away!!! "
Jay Moore, Jan. 11, 2019
"our family had passes 197-75. skied every spare minute there,55 days/year. lots of rain and ice, thus i think the 1st snowmaking system in ME; a giant single cannon attached to snow cat, plus a few ground based nozzles. when it dumped, thousands came from boston. lift lines were over an hour long. would love to see a lift there again someday, but seems impossible."
harold birbank, Jan. 10, 2019
"I love this big a part out life I'm a yorky and we ski there much we could friend family it good get together cooking bean in fireplace"
Richard Foster, Jan. 10, 2019
"They had a great toboggan run there in the 60's. My dad would take us skiing there also when we lived in Portsmouth."
Raymond Bates, Mar. 11, 2018
"Many memories for me. I worked there the 10 years it was open (except 68-69 season I was in Vietnam). Was on the ski patrol, lift operator, snow cat driver,and snow making "
John Dennett, Oct. 19, 2017
"I skied The Big A several times as a kid. I remember one trip with my Dad necessitated a trip to a garage in nearby York so we could have chains put on our old 1955 Ford station wagon, enabling us to finally climb the steep access road. Wind at the top could be a problem, but I have great memories of my ski trips there."
Pat Phelan, Sep. 11, 2017
"I skied the Big A when I was a kid. It was fun. We could see it from Annisquam"
Will Bloombergh, May. 1, 2017
"My family, Micum McIntire, held our August family reunions on Mt Agamenticus for several years.. Micum became a land owner in York in 1671. We've been holding our reunions for many,many years. Most recently at the Historial Society in York."
Carole Ranco, Mar. 14, 2017
"I remember my Dad taking us there on Sunday afternoons and sometimes we went for night skiing. We lived in Portsmouth so it was convenient. They had a toboggan run that was really .We really have a lot of enjoyable memories of The Big A."
Raymond Bates, Mar. 12, 2017
"There were a number of New England championship enduros for dirt bikes in the 1970s that created numerous trails. Many are used for hiking and biking today. The last race was an all women event called the Powder Puff enduro."
Peter Anania , Mar. 11, 2017
"Dad was one of the original investors in the Big A. He owned a local market on Organug Road across from the high school. When my brother Frank and I could get away from school and work obligations we skied there often. The snowfalls at that time and the temperatures were great for skiing. I was an original member of the Juinor Ski Patrol. It was a wonderful part of York."
Philip Filosa, Mar. 10, 2017
"I have many pictures of our family traveling there from a Hamilton MA To ski during the late 60s. Loved the novelty of the Inverted hill ."
Kim White, Mar. 9, 2017
"I ski there when I was kid we love it my mom use bring us meal to top and eat in lodge so we could keep skiing a lot friend we're there"
Richard Foster, Mar. 9, 2017
"Skied and had lessons weekly through Portsmouth HS in the mid-60s. Many great times with school friends; I didn't realize it was open for such a short time. I do recall skiing one night when the power went out and stayed off. No problem anywhere else, but the parking lot was atop the mountain by the lodge. Quite a hike up. "
Bob Jarrett, Mar. 8, 2017
"I have fond memories of the lodge and ski area. I knew one of the caretakers after the ski resort was shut down. Spent many an evening looking down the ski slope to York harbor! It was peaceful and beautiful!!!!"
Cinda Roy, Mar. 8, 2017
"I skied the Big A in the 60's and recall great times with my brother, sister and parents who were regulars up in Maine during the summer season. How fun to be up there with waist high snow drifts alongside the roads into which my father fell once, having a hard time getting out! I loved the Big A and the memories of St. Aspinquid who is buried at the top of Mt. Agamenticus."
Edward Suffern, Jan. 17, 2016
"I skied the Big A a couple of times with my family in the late 1960s travelling up from Ipswich, MA. Two unique features, as I remember, were that one parked at the top of the mountain where the main lodge and ticket office were located and you could see the ocean from the top. The Big A was a really fun place particularly after a good snowstorm."
Nibs Nichols, Oct. 16, 2014
"My wife and I visited the Big A today, 8/14/13.....what a beautiful place. Sad to see the old signs of a the old ski area. I grew up in NH and we too had a defunct ski area close. Like the Big A the trails are grown in and some equipment is left. Memories of some good times back in the 60s and 70s."
Ed Murray, Aug. 14, 2013
---
External Links
Last updated: October 31, 2023