Crotched Mountain (East)
Francestown, New Hampshire
Status:
Lost/Defunct
First Season:
1963-64
Last Season:
1989-90
Vertical Drop:
1000 feet
Standing Lifts:
Past Lifts:
1 double, surface lifts
Left: The double chairlift (2002)
Recent NewEnglandSkiIndustry.com News:
Located in Francestown, the original Crotched Mountain operated for a quarter of a century. Also known as Crotched East, the original ski area remained inactive when Crotched West reopened in 2003. There are no plans to reopen Crotched East.


Lead Up to Development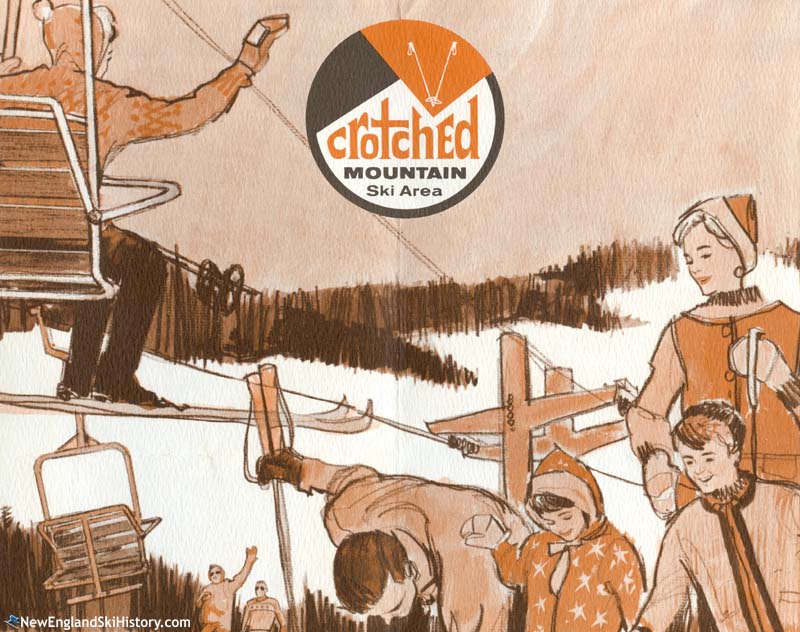 Mid 1960s Crotched Mountain promotional artwork

The original Crotched Mountain ski area was developed to specialize in serving handicapped children and adults - a fitting mission, considering its proximity to the Crotched Mountain Rehabilitation Center. Announced as early as 1961, development didn't commence until 1963. The Eastern Ski Area Operators Association helped to raise funds for the project, including a massive fundraising day at many ski areas on March 17, 1963.
The area was designed by Everett Lord-Wood and cleared by Ray Parker. The $750,000 Crotched Mountain facility debuted on January 4, 1964 with a T-Bar, two open trails, and makeshift base operation. The double chairlift would open later that season.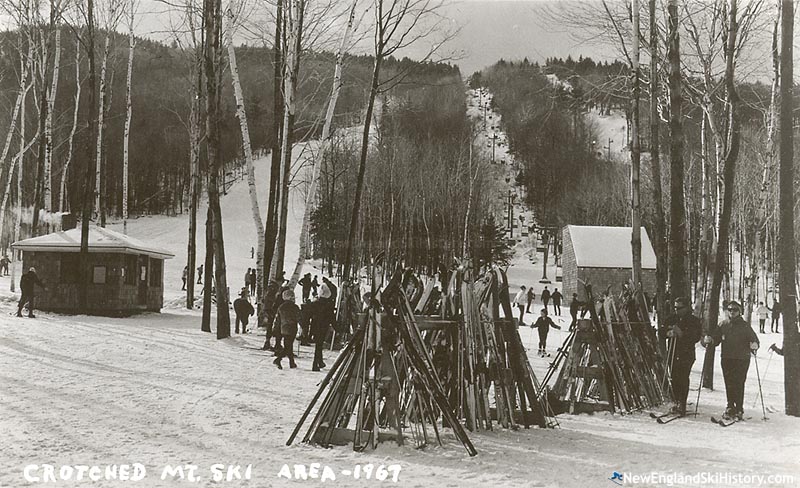 The Crotched East base area in 1967

A new base lodge opened for the 1964-65 season, drawing raved reviews. Equipped with five fireplaces, the facility was "the pride and joy of its owners" according to the Portsmouth Herald. In addition to skiing, the building also hosted off-season events, such as proms. Unfortunately, the new lodge was not enough to lift business for the poor 1964-65 winter, as Crotched's income reportedly dropped by as much as 50%. The 1965-66 season rebounded with a strong February, while the 1966-67 season saw further grow thanks to plentiful snowfall.



Onset Opens

The 1969-70 season was another tough one for Crotched, as revenue declined in large part due to poor weather. In addition, a new area named Onset opened just west of Crotched, featuring a bubble double chairlift, a regular double chairlift, and a T-Bar. As a result of the struggles, Merchants Savings Bank foreclosed on Crotched, putting it on the auction block in November. The New Hampshire Industrial Development Authority acquired it for $350,000 while making it clear the state would not operate the ski area. One week later, the state sold the ski area and related inn to Land/Vest Properties for $486,393, while also providing a $500,000 loan to get the area operational for the season. Founded in Boston in 1968, the company was led by Thomas B. Gannett. Bill Badger served as General Manager of the ski area for the 1970-71 season.

Following its first season of operations, Land/Vest quickly embarked on many projects, including developing condominiums. Snowmaking was improved, while a beginner surface lift was installed on lower Easy Street, called Grandmothers Lift. In addition, the chairlift line may have become an official trail. To attract more skiers, Crotched offered a $5 midweek deal that included a lift ticket, rental equipment, and a lesson.

Real estate development continued in 1972, as Land/Vest sold 73 acres for the development of colonial-styled houses. Special features at Crotched that season included discounted nordic skiing, as well as specialty cheese at the base lodge flown in weekly from France.

Former Benjamin Hill Ski School Director Norman Letarte was named General Manager for the 1973-74 season, which ended up being one of the worst winters in New England ski industry history.

In 1974, Tim Gannett resigned as President of Land/Vest and moved his family from Needham to Crotched. His Gannett Management Company signed a lease purchase agreement for the ski area that year, as plans were made to turn Crotched into a four season resort. Richard Brown was hired as mountain manager, snowmaking was improved, a new trail was cut, and rates were reduced. Soon thereafter, a reciprocal lift ticket between Crotched and Onset was made available. Long term plans called for another double chairlift, a possible connection to Onset, indoor and outdoor tennis courts, and a golf course. The new trail, seen as a first step toward the new chairlift and possibly the connector, was dedicated to Crotched ski patroller Bob Willette, who was killed in an automobile accident the previous fall.


Merger and the Largest Ski Area in Southern New Hampshire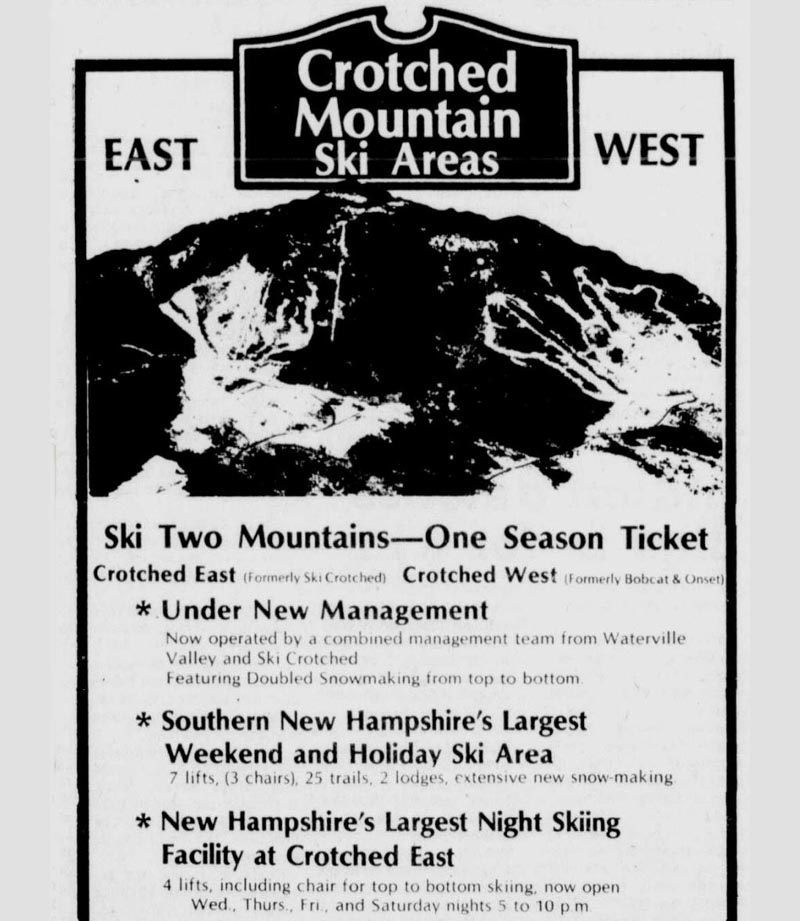 A 1979 advertisement following the Crotched-Bobcat merger

Under new management in 1977, adjacent Onset ski area became Bobcat. Financial woes continued, resulting in Bobcat being sold at auction to group of investors including Waterville Valley's Tom Corcoran and Tory Pines Resort's Jack Sullivan for $222,000 on September 14, 1979. The owners and Tim Gannett then formed a management company to operate both areas as one, initially as separate mountains named Crotched East and Crotched West.

The 1979-80 season was a disaster across New England, as warm temperatures and a lack of natural snow limited skiing. Though Crotched East was able to open before Christmas, its initial manmade snow soon melted out. Limited skiing was restored soon thereafter, while Crotched West likely did not open until mid January.

The areas were joined by two novice connecting trails for the 1980-81 season, giving Crotched the marketing tagline of being Southern New Hampshire's largest ski area.

After multiple poor seasons in the early 1980s, a significant investment was made in Hedco and Snow Machines Inc. snowmaking equipment in 1983. Unfortunately, back taxes and debt were starting to accumulate. Gannett pushed forward with plans for a $5 million condominium development in 1984. To diversify offerings, Crotched co-marketed cross country skiing with Tory Pines starting in 1984-85.

Tom Corcoran and Waterville Valley left the ownership group in the mid 1980s and were replaced by local attorney Gordon Snyder in early 1987. Gannett and Synder's Trailside Development Inc. was run as the ownership company, placing Ski Crotched Inc. in charge of management. A five year master plan was announced, including the construction of 82 condominiums. Doug Wilk was hired as mountain manager. Meanwhile, Boston Concessions began loaning Crotched money following the 1985-86 season.

The new ownership made a series of improvements at Crotched West for the 1987-88 season, including new trails, expanded snowmaking, a new alpine training building, and a new CTEC fixed grip quad chairlift. Financing for the lift was provided by New England Capital Corporation.

Cira the 1988-89 season, Doug Young took over as President and General Manager of Crotched.

Increased debt, the real estate slump, workmanship complaints from condo owners, and poor weather left foreclosure looming during the 1988-89 season. Following the season, Tory Pines Resort developer Frederick Fish signed an agreement to acquire Crotched, announcing plans for a golf course, two new lifts, a dozen new trails, a new lodge, and 1,000 condominiums.

When the proposed sale did not work out, the group attempted to bring in a new management team in August, which looked to obtain financing, restructure debt, and change the ski area's name to Evergreen. Though the name change briefly took effect in the fall of 1989, the debts remained. As a result, Ski Crotched Inc. and Trailside Development Inc. filed for Chapter 11 bankruptcy in October. Combined, the two companies had $13.9 million in debt and liabilities compared to $7.5 million in assets.

Former owner Jack Sullivan was named acting General Manager and partnered with other investors to provide a $250,000 loan to get the area operational for the 1989-90 season. The season started in early December, once again under the name of Crotched Mountain. Meanwhile, on December 1, New England Capital Corporation transferred their Crotched debt to Joe O'Donnell's Boston Concessions. O'Donnell was also part owner of Jiminy Peak, Bromley, Magic Mountain, and Timber Ridge.

In early February, Sullivan told the Nashua Telegraph that a buyer had been located. A friend of one of Crotched's creditors, the unnamed prospective buyer had plans to build a base lodge between Crotched East and West, construct 13 trails, and install two lifts. The deal was never completed.



Closure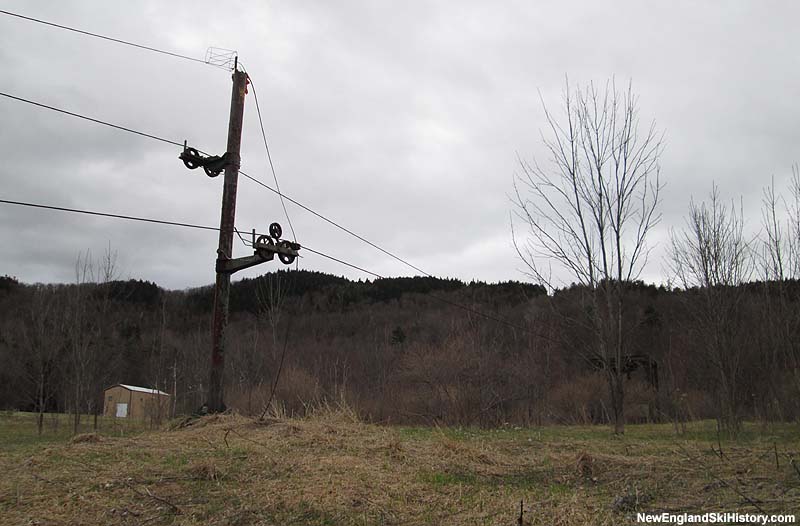 The lower T-Bar (2014)

Following the 1989-90 season, Tory Pines Resort attempted to file for Chapter 11 bankruptcy protection. Multiple filings were unsuccessful, resulting in the cross country ski and golf resort being auctioned that fall. Meanwhile, Crotched Mountain continued some of its normal off season functions, including live music at the lodge and the annual ski sale. While there was some local optimism that the area would reopen, the bankruptcy court wanted it sold. As a result, the area went idle.

The next few years were spent figuring out who owned what. The quad chairlift at Crotched West was one of the first assets to go, as it was installed at Joe O'Donnell's Jiminy Peak ski area in 1992. Due to back taxes, Francestown took possession of Crotched East in February of 1993. Later that year, the town put the property up for auction, but there were no takers. Another auction was held early in the summer of 1994, as a complex set of transactions resulted in 712 acres being turned over to Monadnock Business Ventures, with EaStar Ventures signing an agreement have the area operational by the end of the decade. Dean Lizotte served as manager of the company.

EaStar reportedly tested some lifts and made plans to renovate both lodges and install new lifts and snowmaking. However, plans to reopen for the 1995-96 season were dashed when the ski area financing market became strained following the rough winter of 1994-95. Instead of landing $1.8 million in financing, EaStar was facing town demands for $163,000 in back property taxes. As a result, EaStar terminated its lease agreement.

Einar Ulfsson's New Iceland Ski Corp emerged as a suitor circa 1998, with a plan to reopen Crotched West in 1998-99, invest $1.5 million over three years, and eventually reopen Crotched East. The deal fell through that summer.

Former owner Tom Gannett passed away on November 14, 1998 at the age of 61.

In December 1999, former Bennington Selectman Terry Schnare and Donald Hardwick formed Crotched Mountain Properties, LLC and acquired 317 acres of Crotched East at auction for $123,000. In May 2002, they purchased 106 acres on the Bennington side for $50,000, with a goal to "see what might transpire." Two months later, Peak Resorts announced it had agreed to lease 360 acres on the west side of the mountain from Schnare and Hardwick.

In 2003, Peak Resorts reopened the Onset/Bobcat/Crotched West area, naming it Crotched Mountain. In the meantime, the upper mountain lifts at the original Crotched Mountain were removed. It is unlikely that it will ever reopen.



Image Gallery





Lifts
Click on lift name for information and photos




Maps


Year by Year History
Adult Weekend Full Day Lift Ticket; Adult Full Price Unlimited Season Pass

1980s
Ticket Price
Season Pass Price

Pass Payback

Opening Day

Closing Day

Skier Visits

1988-89
November 25
1987-88
$345.00
117,000
1986-87
$20.00
1985-86
$16.00
1984-85
$18.00
1983-84
$16.00
1981-82
$15.00
1980-81
$13.00
November 22
1979-80
$12.00
$175.00
14.6 days
1970s
Ticket Price
Season Pass Price

Pass Payback

Opening Day

Closing Day

Skier Visits

1978-79
$10.00
1977-78
$10.00
1976-77
$9.00
1975-76
$9.00
1974-75
$9.00
1973-74
$7.00
1972-73
$8.00
November 15
1971-72
$8.00
$125.00
15.6 days
1970-71
$7.00
1969-70
$7.00
1960s
Ticket Price
Season Pass Price

Pass Payback

Opening Day

Closing Day

Skier Visits

1968-69
$6.00
November 16
1967-68
$6.00
1966-67
December 15
1964-65
$5.00
1963-64
January 4
Visitor Memories
"Wow... I skied at Crotched from 1968 or so until the mid eighties, and am filled with a near unbearable nostalgia for that place and time. As a 6 or 7 year old, I was the rent a child for a couple (I think they were a couple) that worked at the area. Chris Anderson ran the ski shop (I would alternatively drool over the blue Head JR70s and sit in Chris' lap) and Rob Roy was an instructor. He must have been pretty damn good too because he left and was a Swiss certified instructor at Zermatt. He also hitchhiked around Europe, bought a triumph motorcycle, and kept in touch with me with postcards. I was completely enthralled with him! I remember Mac McQueeny as a beautiful skier, one whose style I came to emulate. The rash of young death amongst the patrolmen: Zeke Bearnhardt, the hard ass head patrolman, Bob Willette, and my dad (Don Zona). What fiscal mismanagement started to kill, the early effects of climate change finished off..."
Thomas Zona, Oct. 12, 2021
"My Dad was on the Ski Patrol at CME for many years. I learned to ski in 1975 (3 years old) at Crotched east. We were at the mountain just about every weekend every winter until the later 80s. I knew everyone on the staff by first name. I was a proud member of the rat Patrol, this place was like a big family. We owned that mountain. I remember when they first opened the cross trail to the west side, hiking to the tower, meeting Dave Maynard. I remember "Herman the Ermine" that lived in the Ski Patrol shack at the top of the double chair. I remember the first time I solod "Blitz"and getting "slingshots" from the T Bar lift rats, cutting the lines wearing someone elses lifetime passes lol and convincing my sister to take jumps. I will never forget the place as long as I live. I was so lucky to have had the opportunity in the era in which we did. Life just isnt like that anymore. When my Dad passed, quite a few Ski Patrol members came to his service. It was incredible. I will always have love in my heart for CME. "
Peter Marston, Jan. 5, 2021
"I have had several memories of Crotched. I first skied at Crotched East in about '85 or '86. I recall better skiers "going to the West side". Those lifts were high off the mountain surface. I later drove a school bus in Milford to the Rehab Center. Today, I drove up there and hiked along the Gregg Trail. Later, I drove toward the West Side and got on Mountain Road (before West side base), thinking that is where the base of the original Crotched that I skied was. (Ross Budd, is that where the "East side" condos are?)I even drove on Onset Road, where I saw condos. I have seen photos of the chair lifts and T-lifts on that side, but they don't seem visible. I know it's been an eternity. So, I have some questions. 1. Where, if at all, can I get closest access to where the parking lot of the East side was? I know Francestown owns it, but I'd love to see at least roughly where it was. What street would I get on? 2. Does a trail begin there to the Summit? 3. When you're at the end of Gregg Trail, where are you relative to the "East" and "West" sides? 4. Can you see any of this on Google satellite? I appreciate sincerely anyone's help in my trip down Memory Lane."
Michael Lavin , Oct. 12, 2017
"I moved to NH the summer of 82. I remember that first winter skiing at Big Bear, Temple and Crotched. What sticks in memory the most was the Ski lodge at crotched. There was a lot of fun apre ski to be had there. I had a season pass from 82 till they closed in 89. Ironically 28 yrs laters I'm living in a Condo on the East Side of Crotched."
Ross Budd, Mar. 31, 2017
"I won a GS at Crotched Mtn. circa late 60's. I can't remember why we were racing there but I do remember winning the race. I can't imagine that there are any records still around from that far back."
Bowdie Burr, Mar. 29, 2017
"Crotched Mt has a few firsts for me. I learned to ski there when it opened ... how I hated the T-bar and couldn't wait to ski well enough to use the chair! After college it was my first real job eventually managing the inside operations. I remember the blizzard of 78 coming to work and a full parking lot of skiers that didn't want to get trapped under the state of emergency in MA. Also made great friends with the owners of The Inn at Crotched Mountain...John and Rose Perry are great people!"
Ted Kulpinski, Mar. 28, 2017
"I remember attending Sise Cup Masters GS races at Crotched West in the '80's...and have recollection of skiing over to Crotched East and back. Could that have happened in the '87/'88 season? Either way the GS hill was fun, I remember being able to watch the race from the chair on the way to the start."
Derek Griggs, Mar. 26, 2017
"I was hired as the Skier Services Manager for the 88/89 year. The task was to attempt to find a way to stop the bleeding and turn them toward a profit making enterprise. It didn't take long to find that the financial issues were self induced and pushing the legal boundaries. I left that summer. Sad really. It should have been angoing concern as a local feeder ski area."
Michael Hickey, Mar. 26, 2017
---
External Links
Last updated: October 17, 2019