| | |
| --- | --- |
| | |
Located near Interstate 90 in Western Massachusetts, Ski Blandford was one of the longest running ski areas in the country.


Springfield Ski Club's Rope Tow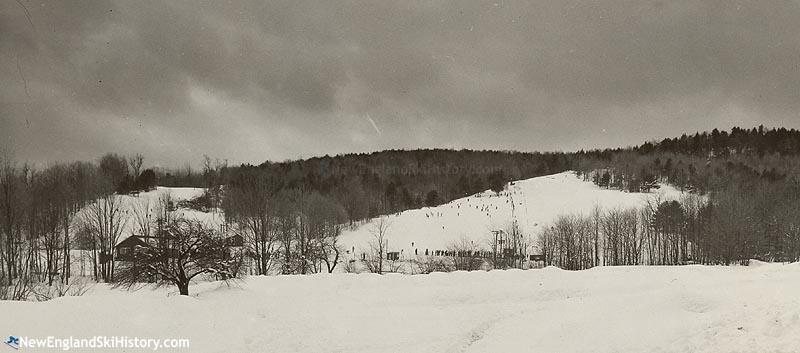 Blandford circa the 1950s

The origins of the Springfield Ski Club date back to 1933, when Ken Cuddeback and Charlie Parker sought folks with similar recreational interests via a newspaper ad. That winter, the group started looking for a place to develop a ski area. While they initially looked into Mt. Toby to the north, their sights eventually were set to the west of the city.

On November 17, 1936, Springfield Ski Club was established as a Massachusetts corporation with Arthur Irving Macdonald as President, Benjamin Prescott Hazeltine III as Vice President, and Heinz John Sherbow as Treasurer. That fall, the club was able to obtain permission to develop a ski slope on Pere Persson's farm. A 1,000 foot long electric rope tow served the slope, while a nearby schoolhouse was used as a warming hut. Non-members were allowed to use the facility for a fee. By this point, the club had reportedly grown to 375 members.

Circa 1941, the club purchased the land from the Persson family, firmly establishing Blandford's future. While additional slopes were added after the initial season, the 1,000 rope tow remained the main lift for quite some time. Blandford and Springfield Ski Club grew in popularity, particularly in the racing world.



World War II

Growth was halted with the onset of World War II. Though the area was slated to operate on Sundays during the 1942-43 season (with skiers arriving in Russell via train due to fuel rationing), an early winter ice storm heavily damaged the area, including knocking out power to the rope tow. As a result, the Springfield Ski Club suspended ski area operations indefinitely. It is not known if the area operated again before the end of the war.

Operations likely resumed for the 1945-46 season. Enthusiasm in the club and ski area continued to grow, with one 1947 pre-season work day drawing 200 volunteers.

Prominent Springfield Ski Club members Stan and Ruth Brown opened Berkshire Snow Basin for the 1949-50 season.

The Massachusetts Turnpike opened to traffic in May 1957, with its westbound lanes passing less than a mile from the top of the ski area. A Howard Johnson's restaurant opened at the rest area near the summit in 1958.

The 1958-59 season started in mid-December, but thawed before Christmas, leaving Blandford with no skiing over the holidays. Apart from a brief respite in mid-January, the area likely remained idle due to lack of snow until mid-March, at which point the season likely resumed until the end of the month.

Blandford grew in popularity in the 1950s and 1960s, eventually expanding to 7 rope tows. A new racing trail may have been cut for the 1952-53 season, hosting college races. By the middle of the decade, some 5,000 folks were members of the club, making it more than triple its 1941 size.



Modernizing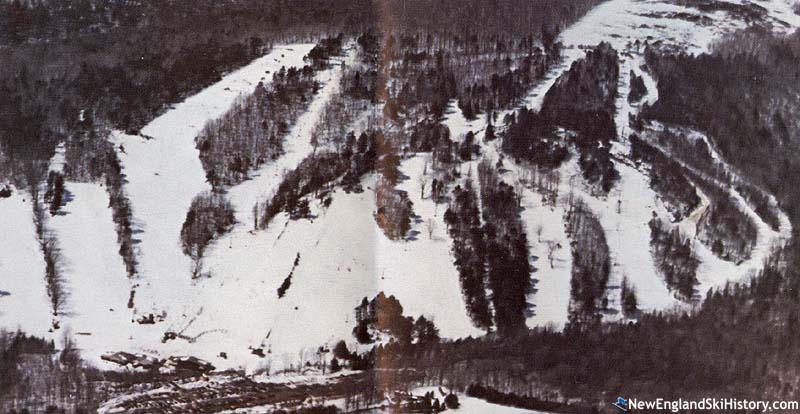 Blandford circa the 1980s

While Blandford was a popular area near a city, things were changing all around it. In addition to the construction of the Massachusetts Turnpike, Interstate 91 was built into the 1960s, providing easy access to ski areas up north. Meanwhile, sizable chairlift served ski areas such as Berkshire East, Brodie, Butternut, Catamount, Jiminy Peak, and Mt. Tom were popping up across Western Massachusetts.

A second base lodge was constructed in the mid-1960s for a reported $85,000.

The Springfield Ski Club's days as one of the top Bousquet rope-tow-gripper customers was about to end, as Blandford installed its first double chairlift for the 1969-70 season. Debuting in late January, the Glade chair provided easy access to 450 vertical feet and Blandford's 13 trails. With a 40% increase in the membership fee resulting from the new lift, the club offered rope-tow-only memberships at the prior year's price.

The building phase continued at Blandford throughout the 1970s. The early 1970s saw the installation of two lifts adjacent to the base area, the Broadway double chairlift and the Broadway T-Bar. To handle the increased traffic, a sun deck was constructed for the 1972-73 season. Around this time, Theodore Hellstein Jr. served as club president, while Bob Savard ran the ski school. The area remained a weekend day skiing area, with limited operations also offered on Wednesdays.

Near the end of the decade, the North double chairlift was added, helping to distribute skier traffic while also catering to experts.

As the 1990s arrived, Blandford had grown to 26 trails with a Friday-Sunday operating schedule. While ski areas across the state started to disappear, Blandford stayed in operation, thanks in large part to the countless hours of volunteer work its members contributed. Though its primary focus was skiing, the Springfield Ski Club also organized off season events at Blandford for its membership.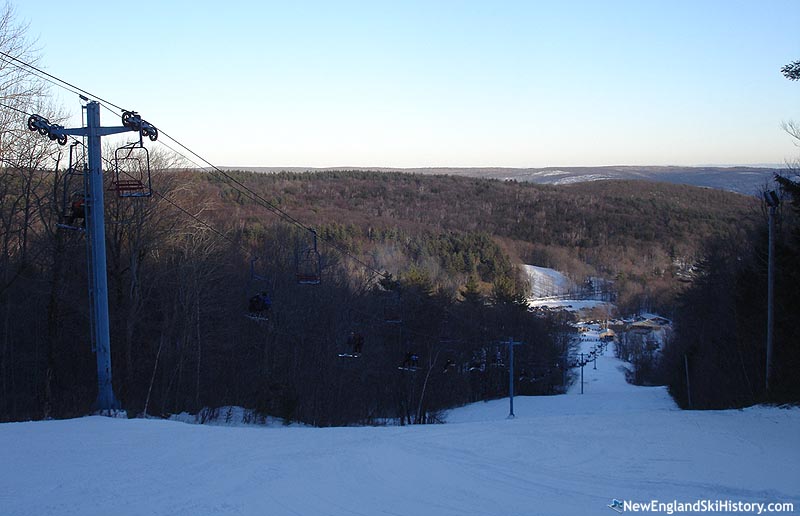 The Broadway double chairlift (2006)

After Mt. Tom closed in 1998, Blandford put lights on the Broadway and Schoolhouse slopes for the 1998-99 season to gauge support in after school programs. The demand was indeed there, resulting in the expansion of night skiing operations thereafter.

Night skiing was expanded for the 2001-02 season, with lights installed on Liftline and the half pipe and new snowguns obtained. Unfortunately, the brook ran dry, forcing the club to hire tanker trucks to provide enough water for snowmaking.


Springfield Ski Club Sells Blandford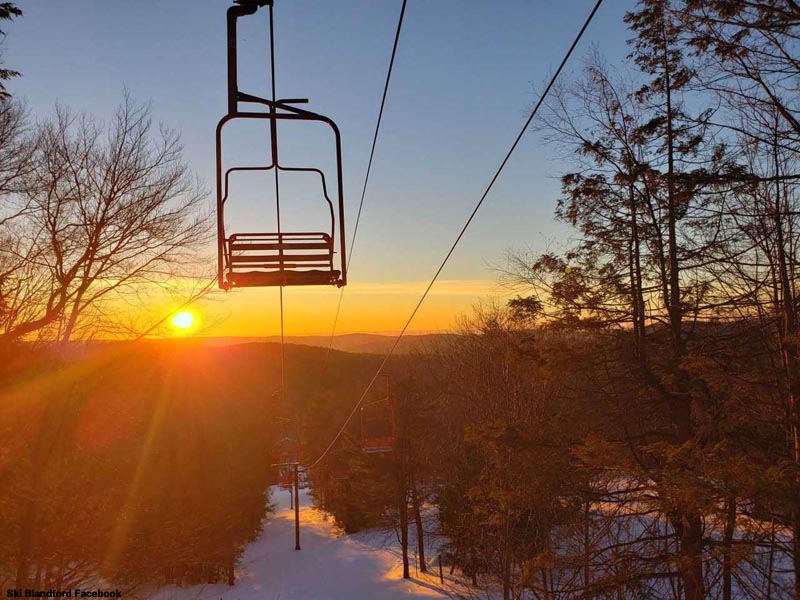 The Glades double chairlift (2019)

As the years passed, infrastructure aged, debt mounted, and membership declined, resulting in financial insolvency in 2017. That spring, the Springfield Ski Club announced Ski Blandford would either close or be sold. The ownership of Ski Butternut came to the rescue, purchasing the ski area in September of 2017.

Though preparations were made to operate during the 2017-18 season, including snowmaking, lift repairs were more cumbersome than expected. As a result, the 2017-18 season was cancelled. Work continued throughout the winter and following off season, allowing for Ski Blandford to reopen on December 15, 2018.


Closure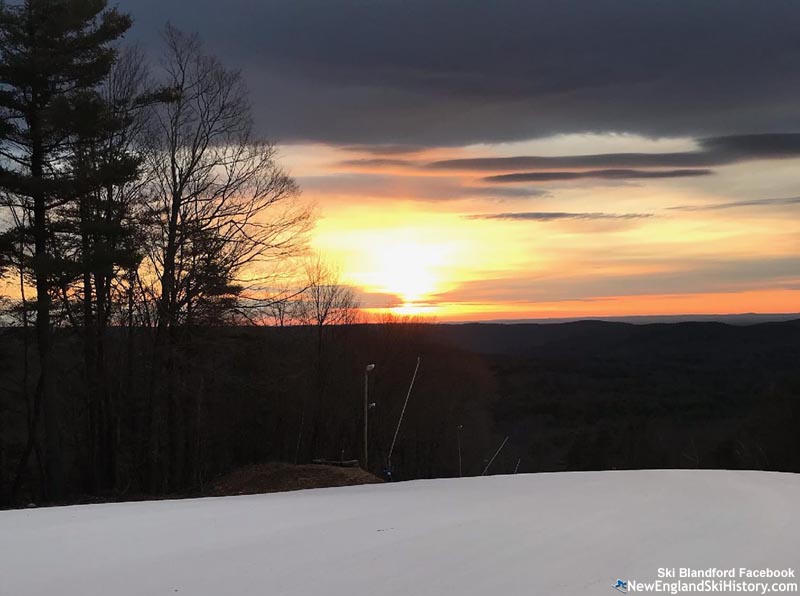 Sunrise under dark skies on Blandford's last day of operation (March 8, 2020)

Operations continued until March 8, 2020. Later that month, the ownership announced that the area was continuing to lose money and that, with the economic uncertainties from the onset of the COVID-19 coronavirus, the area was closing. With the closure, Hampden County lost its last ski area.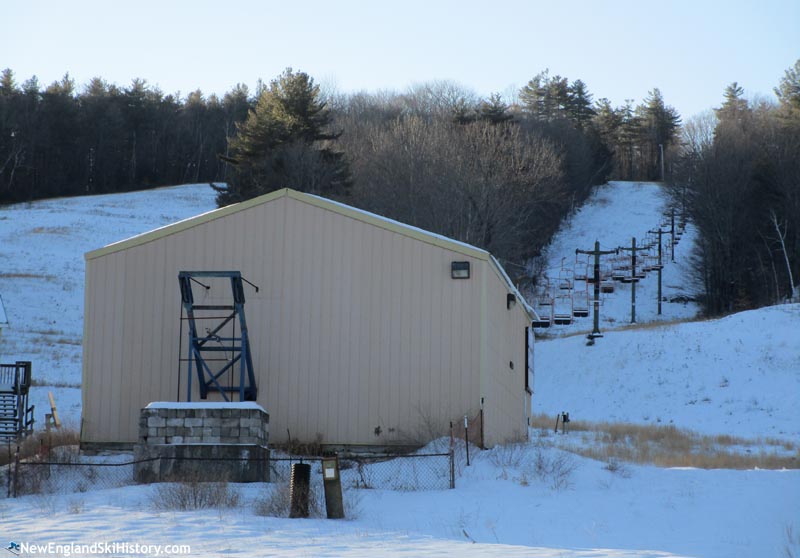 An idle Broadway Chair (January 2022)

There are no known plans to reopen Ski Blandford.



NewEnglandSkiIndustry.com News


Recent Articles
Defunct Since COVID - Jan. 29, 2022
Ski Blandford Closing - Mar. 26, 2020
STUDY: Probability of Lost New England Ski Areas Reopening - Nov. 7, 2018
Ski Blandford Cancels Ski Season - Jan. 26, 2018
Ski Blandford Will Not Operate in January - Jan. 16, 2018
Ski Blandford Opening Day Postponed - Dec. 31, 2017
Ski Butternut Ownership Completes Purchase of Ski Blandford - Oct. 25, 2017
Springfield Ski Club Approves Proposed Sale of Ski Blandford - Jul. 19, 2017
Ski Blandford May Be Sold to Ski Butternut - Jul. 1, 2017
Ski Blandford Financially Insolvent; Could Be Sold or Closed - May. 28, 2017
Ski Blandford NewEnglandSkiIndustry.com News Page




Lifts
Click on lift name for information and photos




Maps


Year by Year History
Adult Weekend Full Day Lift Ticket; Adult Full Price Unlimited Season Pass

2020s
Ticket Price
Season Pass Price

Pass Payback

Opening Day

Closing Day

Skier Visits

2019-20
$45.00
$289.00
6.4 days
December 20
March 8
2010s
Ticket Price
Season Pass Price

Pass Payback

Opening Day

Closing Day

Skier Visits

2018-19
$45.00
$249.00
5.5 days
December 15
March 24
2016-17
$44.00
$369.00
8.4 days
December 26
March 12
2015-16
$44.00
$359.00
8.2 days
January 9
March 9
2014-15
$44.00
$349.00
7.9 days
January 2
March 21
2013-14
$47.00
$349.00
7.4 days
December 26
March 23
2012-13
$47.00
December 26
2011-12
$47.00
$458.00
9.7 days
December 26
March 11
2010-11
$45.00
$448.00
10.0 days
December 11
March 19
2009-10
$45.00
$448.00
10.0 days
December 13
March 13
2000s
Ticket Price
Season Pass Price

Pass Payback

Opening Day

Closing Day

Skier Visits

2008-09
$41.00
$398.00
9.7 days
2007-08
$39.00
$398.00
10.2 days
2006-07
$37.00
$338.00
9.1 days
2005-06
$37.00
$338.00
9.1 days
2004-05
$35.00
$324.00
9.3 days
December 26
2003-04
$33.00
$324.00
9.8 days
2002-03
$28.00
$299.00
10.7 days
December 26
2001-02
$28.00
December 29
2000-01
$26.00
December 23
1999-00
$24.00
December 26
1990s
Ticket Price
Season Pass Price

Pass Payback

Opening Day

Closing Day

Skier Visits

1998-99
$24.00
$199.00
8.3 days
December 26
March 14
1997-98
March 8
1996-97
$20.00
1995-96
$19.00
December 26
March 17
1994-95
December 31
1992-93
$19.00
1991-92
$25.00
$230.00
9.2 days
December 26
1990-91
$25.00
December 28
1989-90
$25.00
1980s
Ticket Price
Season Pass Price

Pass Payback

Opening Day

Closing Day

Skier Visits

1988-89
$24.00
1987-88
$22.00
1982-83
$110.00
1970s
Ticket Price
Season Pass Price

Pass Payback

Opening Day

Closing Day

Skier Visits

1974-75
$6.00
$44.00
7.3 days
1972-73
$35.00
1971-72
$35.00
1970-71
$35.00
1969-70
$35.00
1960s
Ticket Price
Season Pass Price

Pass Payback

Opening Day

Closing Day

Skier Visits

1968-69
$25.00
1950s
Ticket Price
Season Pass Price

Pass Payback

Opening Day

Closing Day

Skier Visits

1958-59
December 20
1957-58
April 6
Visitor Memories
"My grandfather learned to ski here, my dad learned to ski here, and I learned to ski here. Great family mountain to learn on. Blandford made skiing accessible and affordable to my family and the only reason I was able to ski every Sat/Sun growing up. It will be missed and sad that future generations will never be able to experience its charm."
Tim D, Dec. 21, 2022
"Holy Cow - I did not know Blandford closed. Drove past on the pike three weeks ago (Oct 2022) and had this feeling of joy knowing it was nearby. The memories are amazing. I see posts here by people whose parents skied together and then multiple cohorts of siblings skied together. Such a family place. This little mountain turned out some very strong skiers. How many of our ski jumps were torn down by "Lovely Rita, Ski Patrol" (not Lovely Rita Meter Maid, as we often sang) only to be rebuilt shortly after she skied away? "
Tom Goltz, Nov. 9, 2022
"I can remember my dad taking me and my sister to our skiing lessons hear later to inter club races as I got older. I haven't thought about blandford in a while but I can remember watch the sun rise and it peak through the clouds with days just like in the pictures. I took a trip and everything was left exactly the way it and I mean pictures of people I raced with still in the race shack on the wall. It was fun…"
Eddie N. , Apr. 5, 2022
"So sad to read that Blandford has closed. Our family were members in the late 50's and 60's. Wonderful memories, leather boots, breaking wooden skis, fist metal Head skis with yellow bottoms, bringing lunch to save money at the Lodge. Trips wearing out the "shells" on the Chrysler tow. The hills that would build up on the Glades tow, falling off the tow going up the hill and trying to get back on with he rope burning through your gloves. Going to the Whip after skiing with all the other families. Great memories that I will always cherish!!! Long live The Springfield Ski Club."
Mike Macomber, Mar. 13, 2022
"Our family really enjoyed our many ski trips here and our kids developed a real appreciation of skiing because of Blandford. Unlike the corporate-owned larger ski areas up north, Blandford had character and a sense of community, not unlike Mad River Glen. It will surely be missed."
Michael LeBlanc, Feb. 13, 2021
"Was able to go on the last day of night skiing. Pretty cool if you ask me. But this mountain was a fun place to go and it was so close."
Cam Provencher, Jan. 4, 2021
"I loved every little thing about skiing here. Wearing out your mittens on the rope tow. Trying to hold up the glades rope when you were the only one on it. Crashing into the person in front of you on the way up. Crashing at the top because your tow gripper froze onto the rope. Hanging out in the sun at "the log" on Racing Trail. Building jumps only to have ski patrol take them down. The ski club races. and so much more."
Karen Lucier Dalury, Dec. 20, 2020
"I started sking in 1955. I also worked the first aid and the rope toes.many great memories"
Edwin Howe, Aug. 22, 2020
" I started as a member at 2.5 years old in 1967/68 when the name was Springfield Ski Club. For many years I had to have someone in back of me to hold the rope tow on Fanny Hill and Schoolhouse. Those ropes were too heavy for a little kid! Many younger folks will not know what a rope tow is! There was the old lodge and the new lodge, and we always packed a picnic basket for lunch and apres ski. I feel like our group of families was always the last to leave at the end of the day. The adults always had a bottle or two of wine. A treat on the way to the club was stopping at Mrs. Murphy for donuts. I did take lessons, some with Charlotte Tilley and then with Butch and Guy, the dreamboats of the 1970s. I remember skiing down Puts Peril with Butch and Guy and feeling so accomplished. Who remembers Mr. Hart who always wore the red and black wool plaid hat with the ear flaps? So cute. And Hubert? Jubilee weekend was the highlight of the season with obstacle courses for the kids built from hay bales, boxes and poles; pots of warmed glogg wine; and the ski patrol skiing down Broadway at night with lit torches. For many years we would run into Eileen Krol at the Big E - she was a either ski patrol or an instructor and we would reminisce with her. What great times I had there and am thankful for having been a part of the club back then. If I lived closer, I would still be a member. What memories! Forgive the grammar, as I had to remove single quotes and apostrophes in order for the submission to be accepted."
Nancy McHugh, Mar. 9, 2020
"Learned to ski there when I was 11 years old in 1968.Lesson price was $1 for kids,$2 for adults,and most of the instuctors at that time were from Austria. I think a season pass back then was only $20."
Steve Olsen, May. 19, 2019
"My parents were skiing there in the 40's and were part of the Springfield Ski Club when it was run by the members . There were many families from Holyoke who were members around the same years. I started skiing when I was 3 years old and my brother and I raced there for many years. I love Blandford and loved the rope tows. Many found memories of Blandford. "
Jeanne Lippman, Oct. 26, 2017
"1947 in backpack with Mother. Many great winters here."
Jonathan Payne, Oct. 11, 2017
"This was my first 'Big' ski area after learning in Southwick and Pawatuck in the late 60's. I remember seeing the very first of the snow boarders here which was called 'Snurfing' back then. This was the single board with a rope at the tip the rider would hold onto. They were not allowed except for very late in the day on Sunday when most ski traffic was done. Glad to hear it still thrives!"
Al Sandy, May. 12, 2016
"began skiing here as a kid around 1966 or' '67. Many scary belly flops trying to learn to ride a rope tow there and thought all the high school kids with those metal tow clips on their belts were so cool. Never could get close to the big fireplace in original lodge, too crowded. Everyone would take off their boots and line them up by the fire to warm up and dry out - back in the days of lace ups!"
Judy (Lafler) Converse, Feb. 25, 2015
"My family started skiing Blandford in the mid 60's and we would ski with other families in the neighborhood for the next 15 years. I have such fond memories of riding all the rope tows (using row 'grippers') all day long. It was during these years that I became hooked on the skiing lifestyle. I have worked as the director of engineering for Jackson Hole for over 25 years now and have contributed in creating one of the best ski resorts in the world. Thanks Blandford! "
Bill Schreiber, Mar. 9, 2014
"I spent many winter days skiing Blandford from the time I was twelve years old. I learned to ski there, as well as my son and my grandson. It is really a family oriented area. I have many fond memories of the work parties in the fall back in the 60s. We all had fun and we got alot of work done. "
Neil MacKinnon, Nov. 8, 2013
"This was my great grandfather's farm. My Dad learned to ski here and became a member of the National Ski patrol. He's stil alive at 88."
Jean Grant, Mar. 26, 2013
"Love the memories!!!!"
Robert Carey, Jan. 24, 2013
---
External Links
Ski Blandford official site
Last updated: December 27, 2022