Overview
Located just south of Mt. Greylock, 3,238 foot Saddle Ball Mountain is one of the highest peaks in Southern New England. Emerging during the Mt. Greylock ski area proposal, the Saddleball development would have created the largest ski resort in Southern New England. Though never constructed, the Saddleball development helped to set the stage for Greylock Glen in the 1970s.
History
While a Mt. Greylock ski area was the talk of the town for during the 1950s and 1960s, the project could not break free of financial and environmental hurdles. As a compromise, Saddle Ball Mountain was proposed by various figures as a possible location in lieu of Mt. Greylock.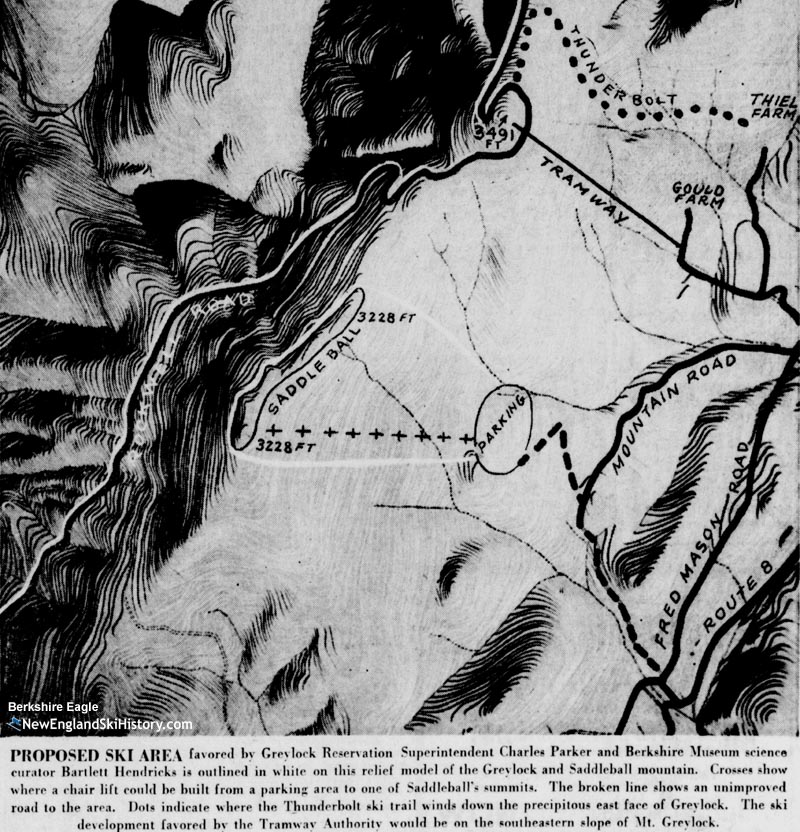 With the Mt. Greylock Tramway proposal still in full swing at the start of the 1960s, Mt. Greylock Reservation Superintendent Charles Parker and Jiminy Peak land owner Bartlett Hendricks advocated for constructing a ski area on Saddle Ball Mountain, citing better terrain. Not only did Saddle Ball offer a better potential base area, but its 1,720 vertical feet were considered more sheltered from the elements and better suited for a variety terrain than Mt. Greylock. In addition, the trails would not be visible from most places in the valley.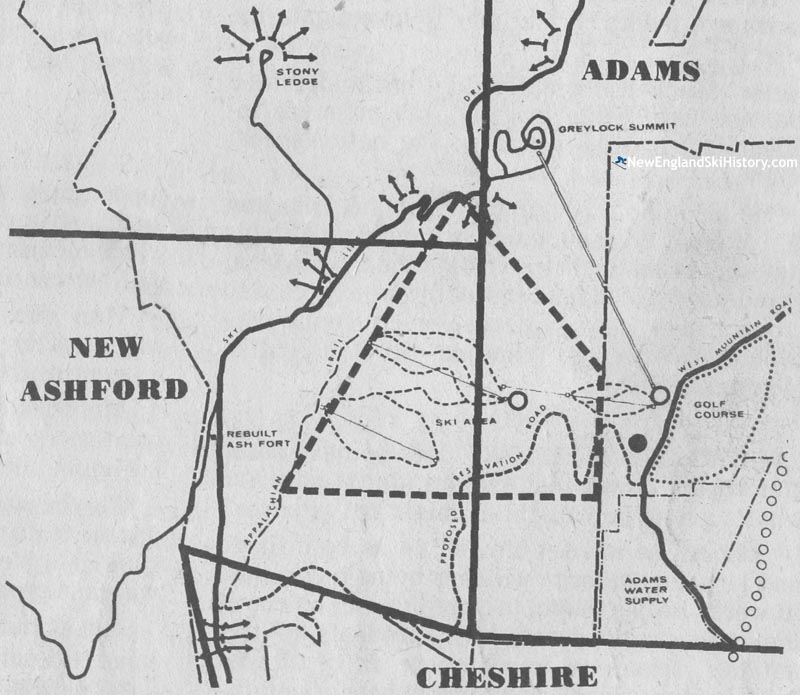 In the early 1960s, the Northern Berkshire Redevelopment Committee obtained a federal grant to conduct a recreational study. Technical Planning Associates (TPA) of New Haven, Connecticut was contracted for the study, bringing on Sel Hannah's Sno-Engineering to look at potential ski area sites. In February 1963, Hannah reported that Saddle Ball Mountain, Brodie Mountain, and Spruce Mountain met his requirements for a successful commercial operation. TPA's full study surfaced during the summer of 1964, calling for a $1.4 million Saddleball ski area, as well as a 125 room motel and a golf course. Senator Ted Kennedy made a splash soon thereafter, reportedly preferring the development of Saddleball to Mt. Greylock.

Late in the summer of 1966, a mock funeral was held atop Mt. Greylock for the tramway proposal, as compromise legislation paved the way for the leasing of Saddle Ball Mountain. That winter, Joseph J. Deliso announced he had applied for the lease of 1,500 acres on the eastern slope of Saddle Ball Mountain with the Department of Natural Resources. Deliso, a New York native and president of Hampden Brass & Aluminum Company of Springfield, had connections to Governor John Volpe and former Mount Greylock Tramway Authority Executive Director Joseph R. Dragone. Prior to making the announcement, Deliso's attorney acquired multiple tracts of land adjacent to the proposed lease area on his behalf.

Though construction was slated to start in the spring of 1967, state approvals dragged on. After gaining initial approval in May, the Department of Natural Resources warned that it could be two to three years before development could take place due to environmental reasons.

Plans for the resort emerged later that month, which called for a three story base lodge and three chairlifts. Two 600 vertical foot chairlifts would start at the lodge, while another chairlift would climb from the top of those to the summit of Saddle Ball Mountain. In addition, a top to bottom gondola was planned for the 1,700 vertical foot area. Snowmaking would also be installed.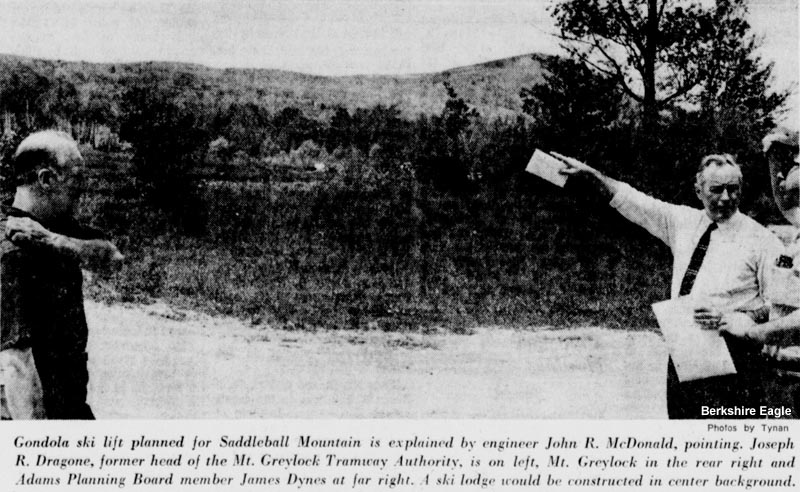 Dragone was formally introduced as a member of the team in June, as Deliso declared he "knows the Saddleball area and its problems relating to development better than any consultant in the field." A December 1968 opening was now planned for the $2 million development, pending state approvals.

In the fall of 1967, Deliso purchased nearby Petersburg Pass ski area. Located off Route 2 on the border of Massachusetts and New York, the five-year-old ski area included a chairlift and a Pomalift. Trails, lifts, and buildings were improved prior to the start of the 1967-68 season. Deliso stated the area was "something we wanted to get into to learn about the ski business."

Later that fall, Deliso was expecting to receive a draft 30 year lease for Saddleball, however he ran into more delays with the state, as the department reportedly claimed scheduling conflicts, car trouble, and the holidays as reasons. When the draft was finally sent to Deliso in January, the provisions were deemed overly restrictive, with the state reportedly trying to restrict development of the private land, only granting a 3 year lease term, and also banning alcoholic beverages and aerial passenger tramways. Deliso predicted "a long, swinging fight." A local selectman accused the Department of Natural Resources of "trying to circumvent the intent of the legislature" with its tactics.

Around this same time, Channing Murdock was dragged into the fray as he attempted to expand Butternut Basin. In order to construct a new lift and trails on state land, Murdock had to significantly increase lease payments and cede control of private property to the Department of Natural Resources, including a ban on alcoholic beverages.

After months of negotiating, Deliso was able to get the Department of Natural Resources to drop its demand of price controls and to allow amusement games like pinball and the sale of alcoholic beverages on private land. Nevertheless, neither could come to an agreement by the fall of 1968.

Meanwhile, the Berkshire County Planning Commission announced plans to look into New England Regional Commission funds to develop a publicly owned ski resort on Saddle Ball Mountain, separate from Deliso. The groups plans called for developing a ski area and a town of low-cost housing. Thoughts of taking Deliso's private land by eminent domain were also floated.



While Deliso has planned to install electricity and snowmaking at Petersburg Pass in 1969, the lodge burned to the ground early on April 10. Though plans were made to build new lodge that summer, they did not come to fruition. Instead, Petersburg Pass entered a multi-year closure.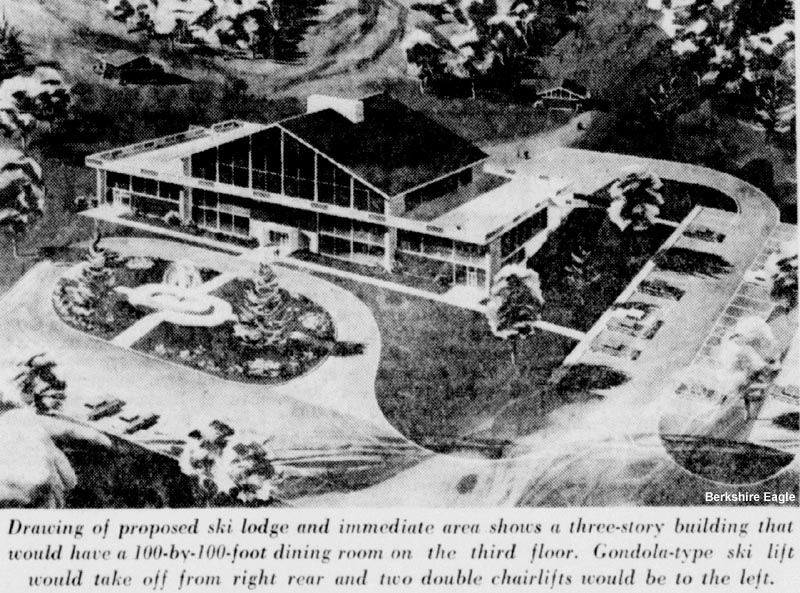 Deliso reportedly submitted a counterproposal to the state in September 1969, however an agreement could not be reached for Saddleball. Feeling that the state would never approve the lease, Deliso reportedly became an investor in Dragone's Evergreen Valley project in 1970. Though Evergreen Valley reached the construction stage that year, the troubled development did not open until 1972.

Deliso floated the idea of reopening Petersburg Pass for the 1971-72 season with a temporary base shelter while working out a sale, however the deal fell through.

A new effort started in 1971 at the Adams town meeting, when a group attempted get thousands of acres on Saddle Ball Mountain handed over to the town to develop. Though a House bill was written that summer, the proposal fizzled out. Meanwhile, Dragone was now working with Springfield-based Elco Resort Developers on trying to construct a convention center at the base of Mt. Greylock.

In early 1972, word emerged of a state proposal to buy out Deliso's Greylock property. The plan quickly drew negative press, as the proposed purchase price of $290,000 was significantly more than the reported cost of $70,000 to Deliso in the 1960s. After extended delays from the state, Deliso withdrew his sale offer in August 1972. That month, he sold Petersburg Pass to Mark Raimer for $225,000.

In the spring of 1973, Elco Resort Developers purchased Deliso's Saddleball holdings for $450,000, as they worked toward their own resort proposal. Though Saddleball was considered as part of it, Elco later focused on developing a smaller area called Greylock Glen.

In the end, Saddle Ball Mountain was never developed, while Greylock Glen stalled during the construction phase.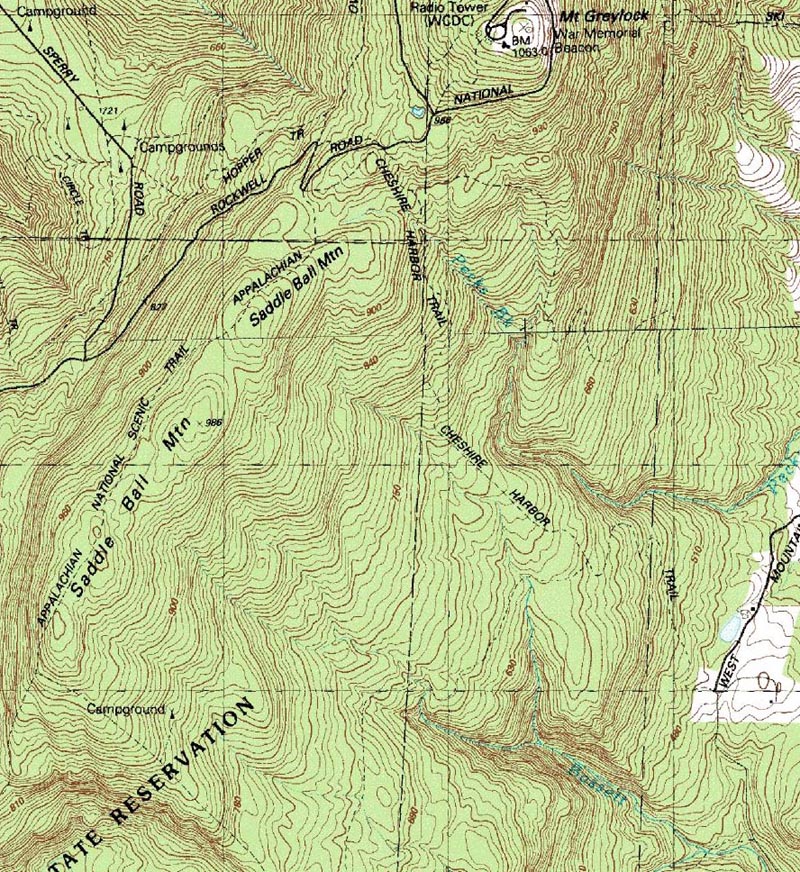 1995 USGS Topographic Map of Saddle Ball Ski Area
Today
While there are no remains of the Saddle Ball Ski Area, much of the subsequent Greylock Glen development remains.



Last updated: August 7, 2020