| | |
| --- | --- |
| | |
Located in the Belknap Mountains south of Lake Winnipesaukee, Gunstock Mountain has a long, rich skiing history. Initially developed in large part by the Federal government, Gunstock is the only county owned and operated ski area in New England.


Early Skiing in the Belknap Mountains

Early downhill skiing trails on Gunstock Mountain were developed by members of the Winnipesaukee Ski Club (now known was the Gunstock Ski Club), which was reportedly established in 1918. Snow trains carried skiers and spectators up from urban areas to the popular town of Laconia, located just west of the Belknaps Mountain Range. While early ski trails were developed on Gunstock Mountain, Belknap Mountain, and Piper Mountain, skiing on Gunstock in particular was popular, as it was the location of many races, including the 1932 United States Eastern Amateur Ski Association championship.

A unique, long rope tow was installed on the west slope of Gunstock Mountain for the winter of 1934-35. Known as the Gunstock Ski Hoist, the lift was one of the first in New England. Initially a popular development, the ski hoist was eventually overshadowed by a nearby government development.

Ski jumping was an increasingly popular winter sport in New England in the 1930s. Using Federal Emergency Relief Administration funds, a ski jump was planned for the northern slope of Mt. Rowe in the spring of 1935. The scope of the project soon grew to become a massive year round recreational facility involving the Works Progress Administration. The initial plans for the $300,000 Belknap Mountains Recreation Area included the 60 meter ski jump, a slalom course, and two new ski trails. The multi-sport facility plan was so large that it was even suggested as a location for the 1940 Winter Olympics.

The Belknap Mountains Recreation Area was officially opened on February 28, 1937 when it hosted the United States Eastern Amateur Ski Association ski jumping event. Due to subpar snowfall, an ice chipping operation was put into place to allow the event to go on as planned. A last minute snowfall helped as well.


Belknap Mountains Recreation Area Chairlift Development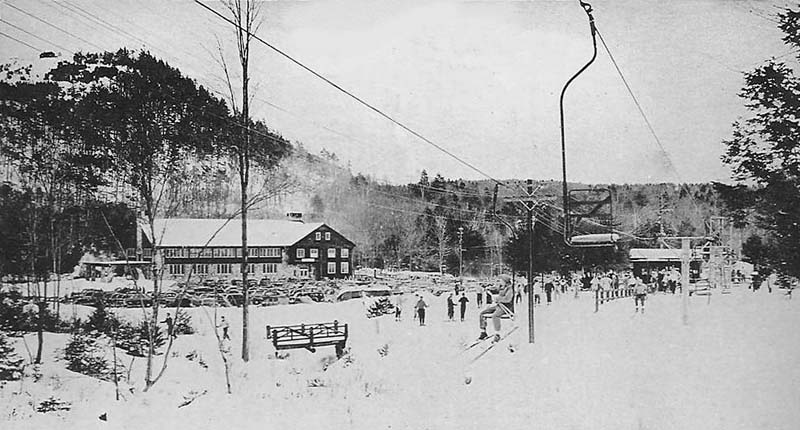 The Mt. Rowe single chairlift

Work on the development continued throughout 1937, with Hussey Manufacturing Company leading the way. A novice slope was cleared on Cobble Mountain while the main work effort was taking place on Mt. Rowe: the installation of the East's first chairlift.

The single chairlift, climbing from Gunstock's present base area to the top of Mt. Rowe, was operational later in the winter of 1937-38. The controversial installation was described by the Lewiston Evening Journal as making the ski area "a rendezvous for lazy skiers." The lazy skiers flocked to the Belknaps and eventually made chairlifts the primary form of uphill travel for alpine skiers.

Belknap's second lift, an 800 foot rope tow serving the Phelps slope, was added for the 1938-39 season.

A 1,750 foot long rope tow was likely installed on Cobble Mountain in either 1939 or 1940, providing a large novice area with a little more challenge than the Phelps slope. The combination of poor snow retention and distance from the main base area put a quick end to this complex in 1941.

Big changes took place for the 1940-41 season at Belknap Mountains Recreation Area. A $100,000 building was opened at the bottom of the chairlift, constructed from local timber, as well as stone quarried from Cobble Mountain. Other projects included trail improvements, as well as the addition of 11 chairs on the Mt. Rowe lift.

For 1941-42, the Cobble Mountain rope tow was relocated to the new Viking slope, thus consolidating all lift operations to the main base area. At this point, the trail network consisted of the Phelps slope, the Viking slope, the Try-Me Trail, the Fletcher Hale Slalom, the Gunstock Trail, the Ridge Trail, and the Stone Bar Trail.

As was the case across the United States, expansion at Belknap Mountain was slowed by World War II. For 1946-47, a novice rope tow was installed.

During the summer of 1949, Belknap made headlines when shaved ice and hay were used to open the 40 meter jump for an August competition. Some 8,000 spectators were on hand for what would become an annual event.


More Than Just A Chairlift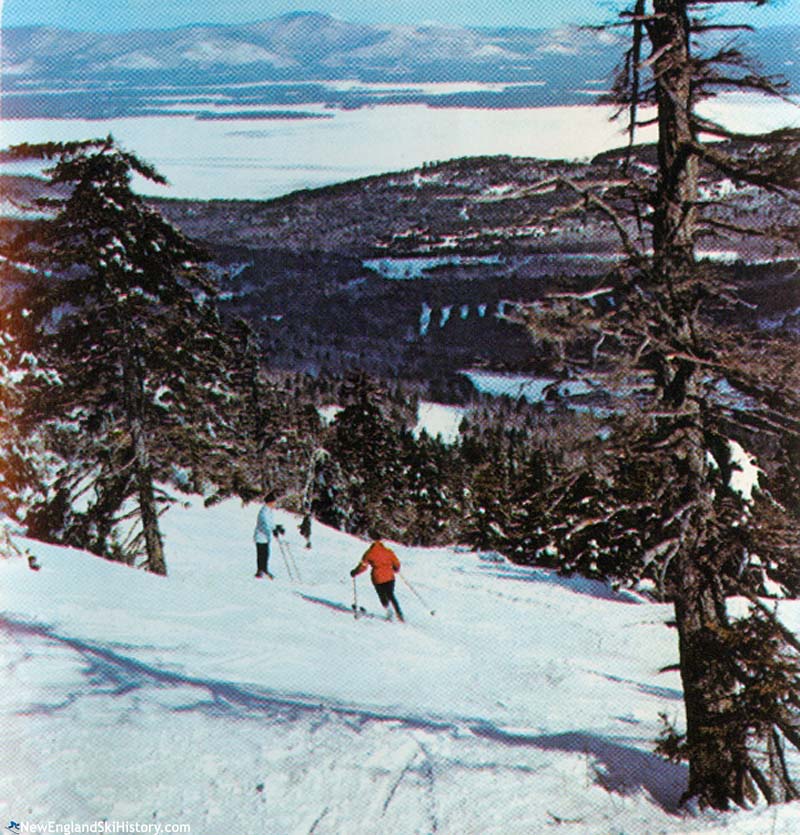 Gunstock in the 1960s

In hopes of reducing skier traffic on the Phelps slope and Try-Me Trail, the Tiger slope was cleared for the 1949-50 season. A rope tow serving the slope was likely added that season. Unfortunately, the single chairlift would not operate.

In April of 1950, Frank "Fritzie" Baer took over as manager, sporting his signature red hat. A Massachusetts native, Baer had quit school in the 8th grade in order to work at a mill. Later becoming an employee for Indian Chief motorcycles, Baer started a club called Fritzie's Roamers. In 1938, he organized a motorcycle rally at the Belknap Mountains Recreation Area, drawing an estimated 10,000 people. The event became an annual tradition which helped to put Laconia Bike Week on the map. Baer's local celebrity status helped him to land the job as manager of the ski area, despite not being a skier.

For his first ski season, Baer oversaw the installation of new chairs plus sheave liners on the single chairlift. In addition, a new beginners area was created adjacent to the chairlift. Dealing with several poor snow years, Baer also oversaw significant reshaping of many of Belknap's trails.

In trying to keep up with other developing areas in the market, Belknap's first T-Bar was installed for the 1954-55 season. The $50,000, 2,300 foot long lift served Tiger and a new trail called Red Hat.

Tragedy struck in July of 1956 when the single chairlift cable snapped, killing one person and injurying many others. As a result of the accident, which was caused by a concealed area of corrosion, the New Hampshire Passenger Tramway Saftey Board was established.

While the late 1950s didn't bring much in way of changes to the ski area, many financial records were broken. As a result, plans were being drawn up to greatly expand the area. Prior to the expansion becoming reality, Fritzie Baer was replaced as General Manager in 1959, as Warren Warner was recruited from Smugglers Notch. The Joe Smith slope would debut that season.

Corresponding with the extension of Interstate 93 up to Northfield, as well as the hiring of hometown hero Penny Pitou and Egon Zimmermann, a second T-Bar was installed for the 1960-61 season, serving the Smith and Phelps slopes. The Olympic ski racing duo was married that February in Gilford.


Belknap Becomes Gunstock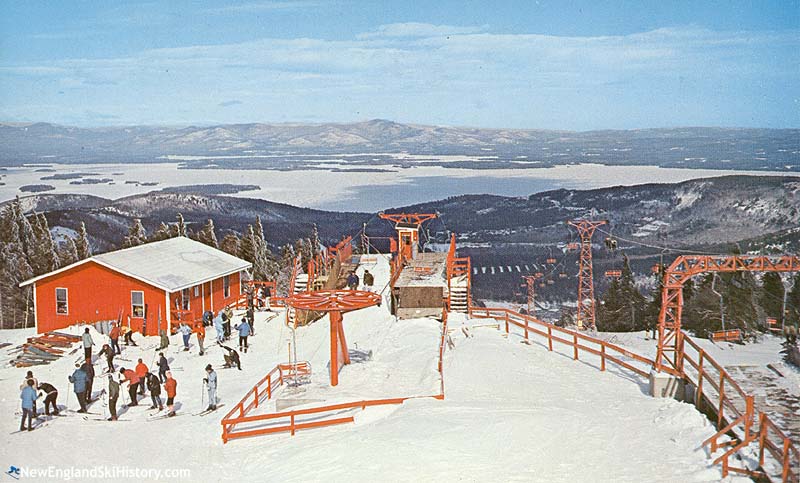 The twin summit double chairlifts (1960s)

The Belknap Mountains area was revolutionized in 1962, a new Mueller double chairlift was built to the summit of Gunstock Mountain. Not only did the expansion significantly increase the operation's vertical drop, but it was meant the renaming of the ski area to coincide with its new mountain. The quarter million dollar project also resulted in four new trails.

The expansion proved to be a great success. Two years later, a second double chairlift was installed as a twin, to help cut down on lines. One year later, a separate ski area opened on Mt. Rowe, which would later become Alpine Ridge.

As the decade came to a close a third T-Bar was installed, serving the Phelps slope. Lacking snowmaking, Gunstock struggled in the fickle winter of 1969-70. A $334,000 federal grant was procured that year, funding the installation of snowmaking on 55 acres of lower mountain terrain, which Gunstock dubbed "space-age snowmaking." In addition, the Pistol complex debuted, featuring four new trails and a new double chairlift.

Ernest Hegi was named General Manager circa 1975. The outdated single chairlift was taken out of service following the 1976-77 season. It was likely fully removed following the 1979-80 season, when the Gunshy platter pull lift was installed near the bottom of the original Mt. Rowe area and around when Dick Tapply became General Manager. Despite the investments, bad seasons continued to take their toll, with skier visits dropping to 34,000 in 1980. By the time the 1981 off season arrived, Gunstock needed $150,000 in bridge loans just to stay in business.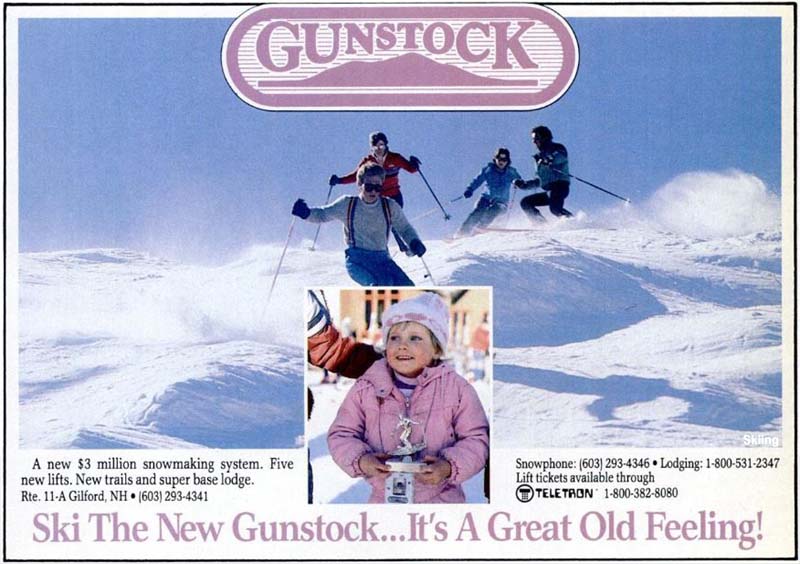 A 1987 Gunstock advertisement

A $10 million modernization effort took place in the mid-1980s, starting with a significant change in the lift network in 1986. The aging twin summit double chairlifts were removed, replaced with a Doppelmayr triple chairlift. The original T-Bar was also replaced with the longer Tiger triple chairlift. Nearby, a double chairlift was installed, serving the Gunshy complex. Sel Hannah also oversaw the widening and reworking of many trails, including Gunsmoke and Recoil.

The rest of the T-Bars were removed from the operation by the time 1988-89 rolled around, as the Ramrod fixed grip quad chairlift was installed on the lower slopes.

John Vorel of Cannon and Mt. Sunapee took over as General Manager in 1991, following the departure of Dick Taply to Sno Engineering. Improvement projects during the 1990s were generally focused around improving snowmaking and night skiing (reintroduced for the 1992-93 season). Tubing was added for the 1997-98 season, Vorel's last as General Manager. Nevertheless, as was the case when it was operating with single and double chairs, Gunstock was finding itself falling behind the pack with its long summit triple chairlift ride.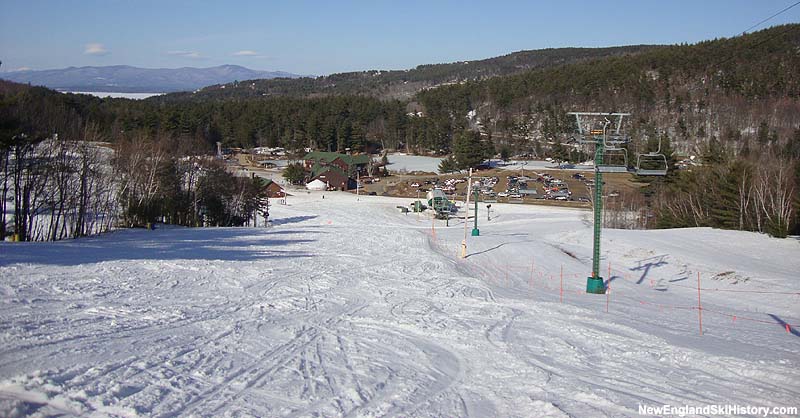 The Panorama Quad (2011)

For the 2003-2004 season, the summit triple chairlift was replaced with a new Doppelmayr CTEC high speed detachable quad. The triple was then reinstalled in the Pistol area, replacing the aging Mueller double chairlift.

The beginner experience was significantly enhanced in 2009, when the Penny Pitou Silver Medal Quad was installed. Located adjacent to the Gunshy double chairlift, the new Doppelmayr CTEC fixed grip quad served an enlarged beginner area. Once night skiing was added to the new terrain the following year, the Gunshy double chairlift was deemed redundant and subsequently removed.


Four Season Activities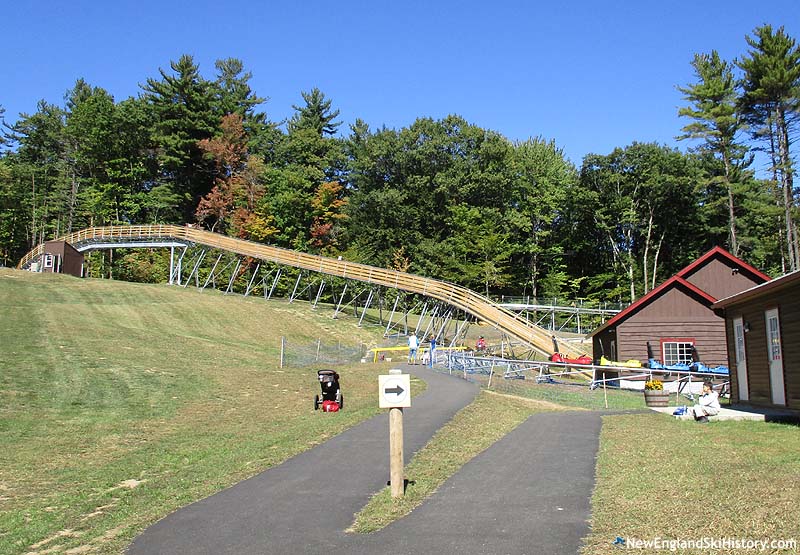 The mountain coaster (2016)

In 2011, Gunstock started a $2.1 million off season activity project that added treetop obstacle course, high speed zip lines, and off-road Segway tours. The three new attractions were all in operation by mid fall 2011.

With four seasons attractions, a lodging facility may be in the works for the future, as well as a corresponding Alpine Ridge expansion.

Gunstock made regional headlines in spring 2014, when the General Manager Greg Goddard told Senator Kelly Ayotte that Gunstock may be forced to scale back both summer and winter operations to 120 days each due to the Affordable Care Act.

Gunstock doubled down on summer operations in 2016, when a $2.6 million mountain coaster was installed on the lower slope of Mt. Rowe. Despite the boost to off season revenue, Gunstock still found itself in perennial debates with the county over annual off season bridge loans.

NewEnglandSkiConditions.com Reports

Month
Average Percent of Terrain Open
December
32% (4 reports)
January
71% (10 reports)
February
90% (5 reports)
March
92% (5 reports)

-- start conditions table -->

Recent Conditions Reports

Jan. 20, 2022 by brianna
Loose Granular, Ice
Jan. 20, 2022 by rocket21
Loose Granular, Frozen Granular
Jan. 15, 2020 by newenglandskier13
Loose Granular, Frozen Granular
Jan. 1, 2020 by nhalex
Packed Powder, Variable Conditions
Dec. 31, 2019 by nhalex
Variable Conditions, Packed Powder

Gunstock Mountain Resort on NewEnglandSkiConditions.com
NewEnglandSkiIndustry.com News
Recent Articles
Gunstock Master Plan Placed On Hold - Mar. 2, 2022
Gunstock Presents $45.5 Million Expansion Proposal - Dec. 4, 2021
Gunstock to Present New Master Plan in December - Oct. 31, 2021
Gunstock Area Commission Discusses New Trails, Auto Road, Hotel - Jul. 31, 2020
Gunstock Area Commission Meetings Reveal COVID-19 Impact - May. 10, 2020
US Department of Labor Inspection of Gunstock Questions Ski Instruction by Teens - Feb. 27, 2020
Management Shake Up at Gunstock - Jan. 18, 2020
Gunstock's General Manager Announces Retirement - Sep. 4, 2019
County Delegation Denies Gunstock Loan Request - Jun. 12, 2018
Belknap County Saddled with Half Million Dollar Loss at Gunstock - Apr. 29, 2018
Gunstock Mountain Resort NewEnglandSkiIndustry.com News Page

Expansion History

Image Gallery

Lifts
Click on lift name for information and photos
Maps

Year by Year History
Adult Weekend Full Day Lift Ticket; Adult Full Price Unlimited Season Pass

2020s
Ticket Price
Season Pass Price

Pass Payback

Opening Day

Closing Day

Skier Visits

2021-22
$96.00
$899.00
9.4 days
December 10
April 3
2020-21
$96.00
$899.00
9.4 days
December 11
April 4
203,000
2019-20
$96.00
$749.00
7.8 days
November 29
March 18
147,747
2010s
Ticket Price
Season Pass Price

Pass Payback

Opening Day

Closing Day

Skier Visits

2018-19
$92.00
$659.00
7.2 days
November 30
April 7
162,339
2017-18
$88.00
$649.00
7.4 days
December 1
April 1
150,320
2016-17
$86.00
$679.00
7.9 days
December 3
April 2
165,575
2015-16
$82.00
$659.00
8.0 days
December 4
March 27
117,648
2014-15
$78.00
$639.00
8.2 days
December 5
April 5
181,090
2013-14
$75.00
$599.00
8.0 days
December 6
April 6
185,000
2012-13
$72.00
$575.00
8.0 days
November 30
April 7
2011-12
$72.00
$579.00
8.0 days
December 18
March 21
125,000
2010-11
$69.00
$539.00
7.8 days
December 10
April 3
188,000
2009-10
$66.00
$519.00
7.9 days
December 11
April 4
2000s
Ticket Price
Season Pass Price

Pass Payback

Opening Day

Closing Day

Skier Visits

2008-09
$64.00
$499.00
7.8 days
December 5
April 5
169,461
2007-08
$59.00
$499.00
8.5 days
179,905
2006-07
$56.00
$549.00
9.8 days
139,612
2005-06
$52.00
$549.00
10.6 days
March 26
151,552
2004-05
April 3
178,261
2003-04
$49.00
$479.00
9.8 days
December 6
165,473
2002-03
$46.00
$449.00
9.8 days
April 6
191,155
2001-02
$45.00
$449.00
10.0 days
153,509
2000-01
$42.00
$399.00
9.5 days
April 8
206,120
1999-00
$42.00
$650.00
15.5 days
April 2
172,306
1990s
Ticket Price
Season Pass Price

Pass Payback

Opening Day

Closing Day

Skier Visits

1998-99
$900.00
April 3
175,863
1997-98
$39.00
$785.00
20.1 days
November 28
1996-97
$39.00
$785.00
20.1 days
April 6
213,286
1995-96
239,000
1994-95
$35.00
202,545
1993-94
April 3
239,000
1992-93
$31.00
204,000
1991-92
$31.00
145,000
1990-91
$31.00
1989-90
$32.00
221,000
1980s
Ticket Price
Season Pass Price

Pass Payback

Opening Day

Closing Day

Skier Visits

1988-89
$30.00
150,000
1987-88
$26.00
December 19
1986-87
$23.00
191,000
1984-85
$18.00
1983-84
$18.00
1982-83
$17.00
1981-82
December 11
1980-81
$17.00
49,000
1979-80
$14.00
34,000
1970s
Ticket Price
Season Pass Price

Pass Payback

Opening Day

Closing Day

Skier Visits

1978-79
$12.00
1977-78
$10.00
1976-77
$10.00
$165.00
16.5 days
1975-76
$10.00
1974-75
$9.00
1973-74
$9.00
1971-72
$8.00
December 4
1970-71
$8.00
1969-70
$8.00
1960s
Ticket Price
Season Pass Price

Pass Payback

Opening Day

Closing Day

Skier Visits

1968-69
$6.00
$80.00
13.3 days
November 16
1967-68
$6.00
November 18
1964-65
$5.50
January 20
1963-64
$5.50
1962-63
$5.50
1961-62
November 24
March 31
1959-60
$4.00
1950s
Ticket Price
Season Pass Price

Pass Payback

Opening Day

Closing Day

Skier Visits

1958-59
$4.00
1952-53
$3.00
December 13
1940s
Ticket Price
Season Pass Price

Pass Payback

Opening Day

Closing Day

Skier Visits

1940-41
28,000
Visitor Memories
"Gunstock Mountain and Fritzi Baer had a huge impact on my life. My father Howard Kiedaisch taught skiing on Gunstock before WWII. After the war he worked in the retail ski shop business and ran the ski school and operations at Frontenac Ski Area in Plymouth. In the early 1950's my father took me skiing at Gunstock. At the end of the day he took me to the second floor of the base lodge to meet Fritzi Baer. His office overlooked the parking lot and the mountain. I though he had the best job in the world and dreamed of one day doing the same. Fritzi gave me one of his signature red hats and I wore it until it was in tatters. Thirty five years later when I was named President and General Manager of Stowe Mtn Resort , my father came to my office with a red hat in his hand and we both cried. Today I'm a Gunstock Area Commissioner paying back and forward for future generations. Thank you Gunstock and Fritzi Baer. My life has been blessed because of your influence. "
Gary Kiedaisch, Jan. 24, 2022
"It's been years since I skied here. When our family did it was very enjoyable. Hope to get back on the slopes again in the future. "
Kathleen Maura Donovan, Sep. 8, 2020
"We moved to Portsmouth in 1960 and my father immediately bought us skis & took us to Gunstock. He started us on the rope tow that was on a little slope to the right of the lodge. The lodge was beautiful! We spent many years there taking lessons and skiing every weekend. I was able to take my husband there in 2003 & he was just as impressed. I certainly have very fond memories of that time. My favorite ski area at the time."
PATTI KARCHER, Mar. 6, 2015
"Our family learned to ski here in the 60's . Then transferred to the west coast and Utah . Learned that if you can ski New England you can ski anywhere and with great form. Thanks"
Phyllis Rogler, Jan. 14, 2014
---
External Links
Last updated: January 10, 2019