King Ridge
New London, New Hampshire
Status:
Lost/Defunct
First Season:
1961-62
Last Season:
1994-95
Vertical Drop:
775 feet
Standing Lifts:
Past Lifts:
2 triples, 1 double, surface lifts
Left: King Ridge as seen from Mt. Kearsarge (2011)
Recent NewEnglandSkiIndustry.com News:
Located just west of Interstate 89 near New London, King Ridge was a popular family area for many decades. A lack of snowmaking for many years, along with accumulated debt, led to its demise in 1995.


New London Outing Club

King Ridge's origins date back to the founding of the New London Outing Club in 1947. A rope tow was installed on the Northeast slope, introducing area children to the sport of alpine skiing.

As the 1960s approached, the club decided it had outgrown the slope. In the spring of 1961, New London Outing Club President Dr. William P. Clough Jr. announced a 400 tract of land in Sutton would be developed for skiing under the name of King Ridge. Realizing it would be too big an entity to handle as part of the Outing Club, the ski area was spun off into a separate company. State Senator, New London Trust Company founder and director, and future United States Representative James Cleveland was also involved in the creation of the ski area, holding an ownership stake into the late 1960s.


King Ridge Opens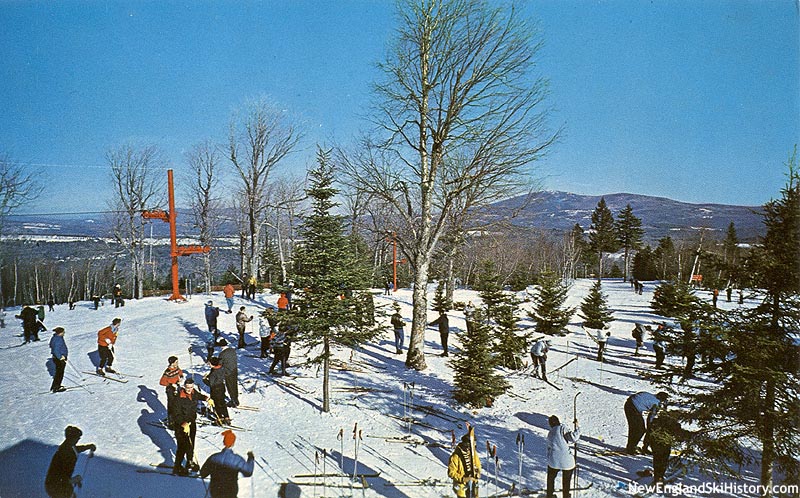 The summit base area circa the 1960s

Development of the area began to make its way into the papers in the spring of 1961. Included in the $200,000 price tag was a $45,000 lodge.

King Ridge opened on December 23, 1961 as a 500 vertical foot ski area. The initial operation included five Alice in Wonderland themed trails served by a T-Bar and a rope tow. Uniquely, the King Ridge was built as an upside-down ski area, as the main lodge and parking lot were both located at the summit of the area. Bill Bardsley, formerly of nearby Mt. Sunapee, was hired as the general manager and was credited with coming up with the Alice in Wonderland naming scheme. Laurids Lauridsen served as ski school director.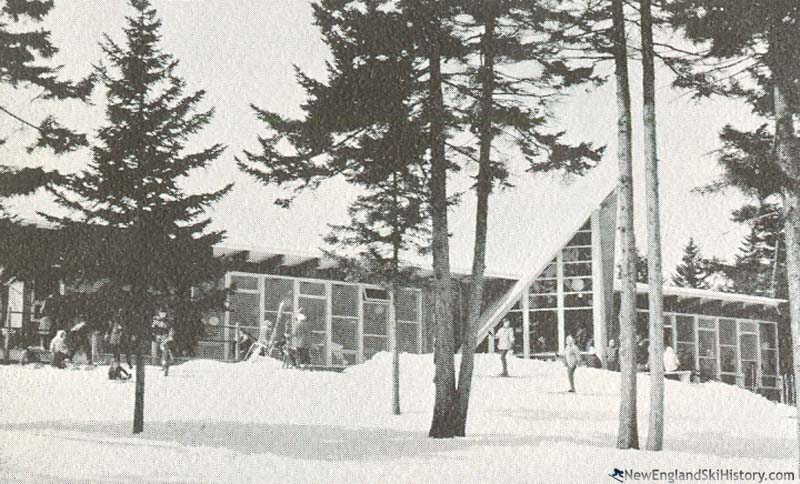 The King Ridge lodge in the late 1960s

After relatively successful 88-day opening season, the Northside complex was developed for 1962-63, serviced by a T-Bar. In addition, the main lodge was doubled in size, capping a $88,000 expansion. 1962-63 was also successful, resulting in a 67% increase in business.

With no snowmaking system in place, King Ridge found itself struggling during fickle season in the mid 1960s. Nevertheless, the area continued on, thanks in part to having a stream of revenue flowing from nearby Colby Junior College students.


Crowds and Expansion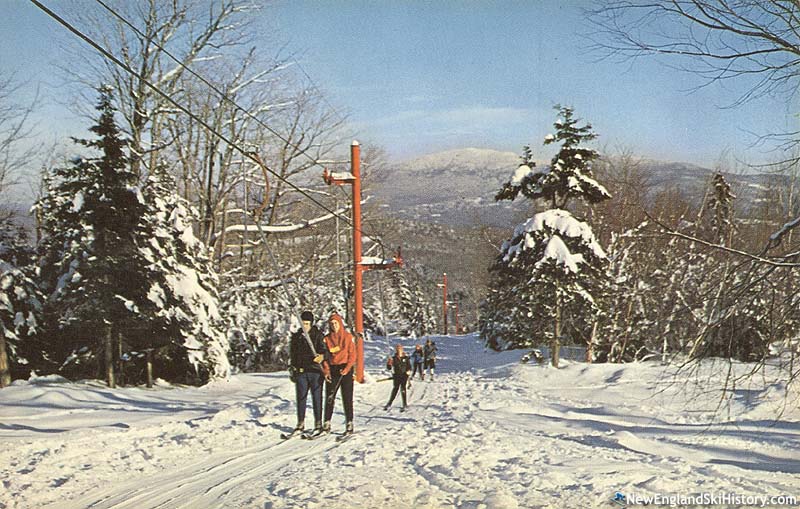 The Eastside T-Bar circa the 1960s

King Ridge expanded significantly for the 1967-68 season when it added the Southside area. A Hall double chairlift and J-Bar served new novice terrain, taking some stress off the heavily used T-Bars. The area made newspapers that winter when Michigan Governor George Romney hit the slopes while campaigning in the New Hampshire Presidential Primary.

An additional J-Bar was installed for the 1968-69 season, as attendance continued to soar. Meanwhile, Interstate 89 construction continued, now extending beyond King Ridge to the Vermont border.

Starting around 1969-70, King Ridge rolled out a unique reservation-only requirement for weekend skiing. Often forced to turn skiers away by 9:30 AM due to overcrowding, the area allowed skiers with a special card to make reservations to claim a lift ticket.

King Ridge marked its 10th anniversary on December 23, 1971 by offering free skiing.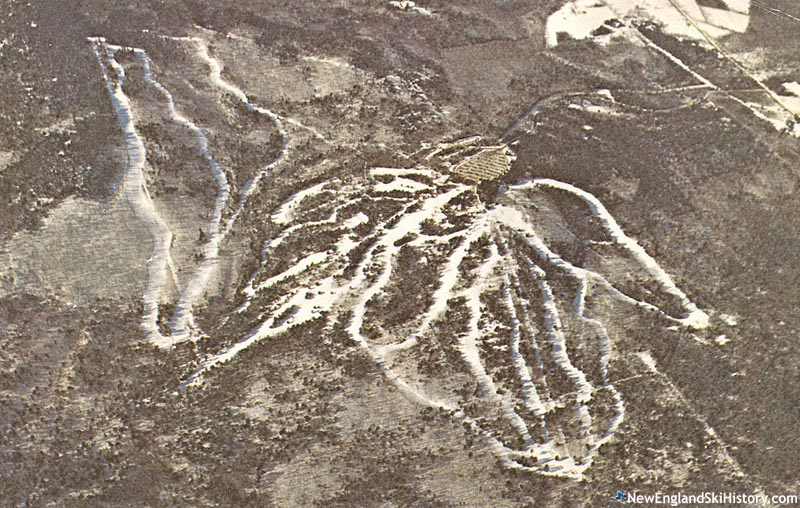 King Ridge after the expansion to King Hill

To help address the weekend crowding, King Ridge installed New Hampshire's first triple chairlift in 1972 in what was billed as the largest expansion project in the state that year. Serving new trails on King Hill, the lift pulled some traffic away from the congested summit area. In addition, a new $300,000 lodge was opened. As a result of the $670,000 expansion, King Ridge increased its weekend day reservation cap from 1,700 to 2,500 skiers and saw revenue initially increase by 15 percent.

Unfortunately for King Ridge, their investment on a lift and a lodge corresponded with bad snow years. Without snowmaking to bridge the gap, the area quickly found itself running out of credit. Nevertheless, the area was able to gain national press with the bad snow years, when General Manager Bill Bardsley famously superstitiously shaved his beard at the end of 1973-74. When 1974-75 saw more snowfall, the feat was considered a success.

Bad snow years hit once again at the turn of the decade, with losses totaling in the hundreds of thousands in 1979-80 and 1980-81. Snowmaking was finally installed for the 1981-82 season, though considered an experimental system. Ironically, there was adequate snowfall that season, which also marked a changing of the guard from long time manager Bill Bardsley to John Vorel.

King Ridge's final big investment came in 1986, when it expanded snowmaking, added three new trails, and replaced the original Eastside T-Bar with a new triple chairlift. Eleven towers were set via helicopter by CTEC in less than two hours. The investment was initially successful, as first half business increased by 50% that season. The area marked its 25th anniversary on December 23 by once again offering free skiing.

General manager John Vorel departed King Ridge following the 1988-89 season to take on the newly created post of Director of State Ski Operations. Richard Whitney eventually became general manager, while Doug Atkins served as assistant general manager.


Bankruptcy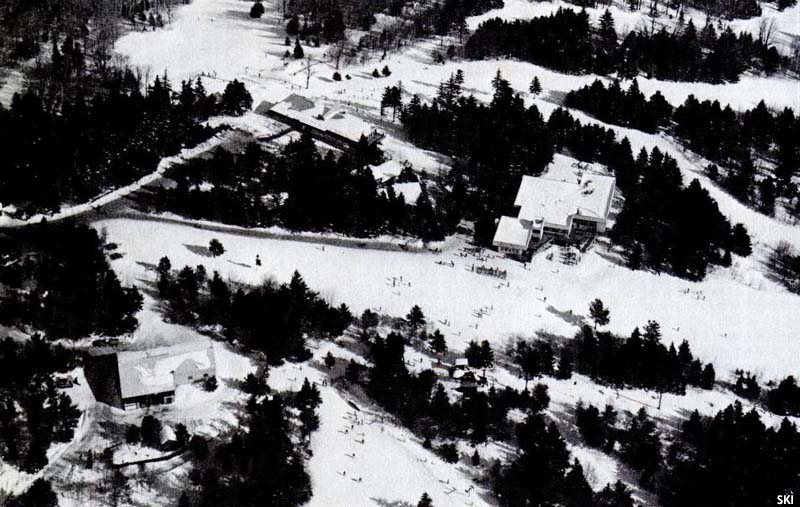 The summit base of operations in the late 1960s or early 1970s

Despite diversifying beyond skiing to offer events such as summer concerts, the meager winters of the early 1990s resulted in millions of dollars of debt. Following the 1992-93 season, New London Trust, Sugar River Savings Bank, and Lake Sunapee Savings Bank decided to foreclose on King Ridge.

The Chapter 11 bankruptcy approval came down to the wire, with a judge deciding against auction on the eve of the 1993-94 ski season. Stuart Collins and Deborah Cryans, both from Bretton Woods, took over as General Manager and Assistant General Manager and put in place a plan forward for King Ridge, which included developing year round activities on the vast 1,140 acre property (of which only 205 acres were in use). Cryans declared, "It's a real Cinderella tale."

As the 1994-95 season started, King Ridge doubled down on attracting the family demographic by marketing its Family Center (consolidated nursery, ski school, and rentals), Business Center (with fax machines and computers to allow parents to keep in contact with their offices), and Sports Center (offering tennis and virtual golf). Alice, White Rabbit, and Mad Hatter mascots would be greeting children. On slope, snowmaking was improved, a glade was cleared, and a terrain park was constructed.

While the new management worked hard to capitalize on the family market, they were unable to overcome a 28 percent decline in business due to a feeble 32 inch seasonal snow accumulation in 1994-95. Cumulative losses in the two seasons totaled $800,000. In April of 1995, King Ridge was handed over to New London Trust.


King Ridge Goes to the Auction Block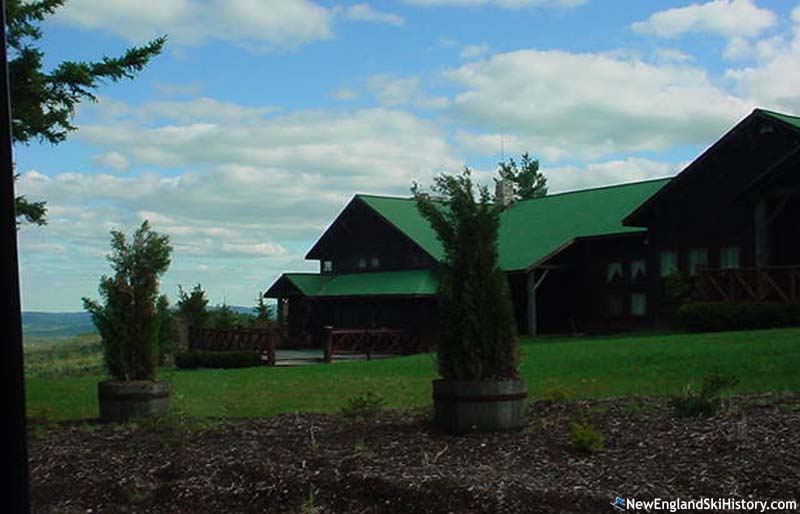 The former lodge (2002)

King Ridge ski area was put on the auction block on June 28, 1995. Though the John Flatley Company, future developers of Gateway Hills ski area, attempted to purchase the ski area for $750,000 with the intention of keeping it open, an unnamed bidder acquired King Ridge for $785,000. The triple chairlifts stayed in New Hampshire, with the King Ridge Triple going to Ragged Mountain and the Eastside Triple going to King Pine.

In March 1996, the King Ridge Community Recreation Association was formed with the intent of reopening King Ridge as a smaller community ski area. The owner of the former ski area pledged to donate 100 acres and an existing ski lodge to the group, provided it could raise the funds necessary to reopen the area. Though plans were made to install a double chairlift and snowmaking, the initiative was unsuccessful. Instead, the main summit area of the ski area was converted into home lots by the Northland Residential Corporation, thus putting an end to King Ridge ski area.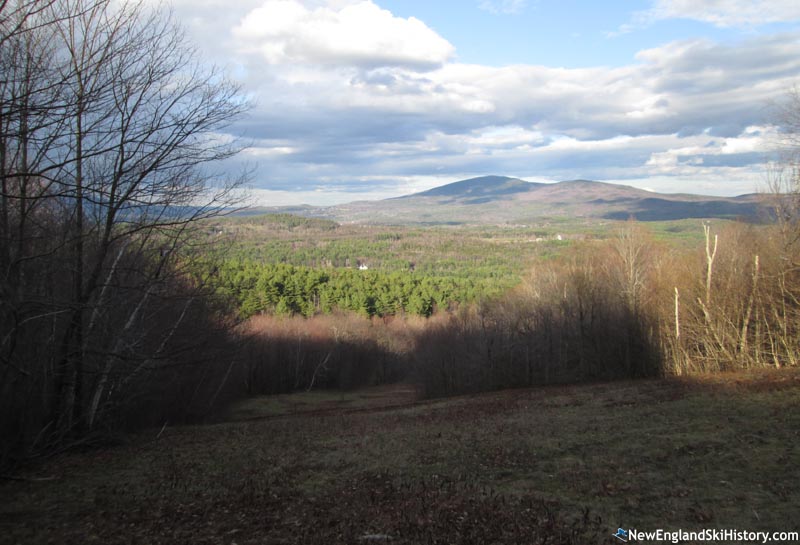 Lobster-Quadrille (2014)

The development company deeded 441 acres to the Town of Sutton, which became the King Hill Reservation. The trails in the reservation remain open to hiking and backcountry skiing.



Expansion History





Image Gallery





Lifts
Click on lift name for information and photos




Maps


Year by Year History
Adult Weekend Full Day Lift Ticket; Adult Full Price Unlimited Season Pass

1990s
Ticket Price
Season Pass Price

Pass Payback

Opening Day

Closing Day

Skier Visits

1994-95
$22.95
December 16
March 12
1993-94
$19.95
December 17
March 27
1992-93
$25.00
December 12
April 4
61,000
1991-92
$25.00
November 30
March 22
1990-91
$25.00
March 17
1989-90
$24.00
December 2
March 11
1980s
Ticket Price
Season Pass Price

Pass Payback

Opening Day

Closing Day

Skier Visits

1988-89
$23.00
December 10
March 16
1987-88
$20.00
1986-87
$19.00
1985-86
$17.00
December 14
80,000
1984-85
$16.00
$185.00
11.6 days
61,000
1983-84
$16.00
December 9
1982-83
$16.00
1981-82
$15.00
December 11
1980-81
$13.00
1979-80
$11.00
1970s
Ticket Price
Season Pass Price

Pass Payback

Opening Day

Closing Day

Skier Visits

1978-79
$10.00
1977-78
$10.00
December 10
1976-77
$9.00
$160.00
17.8 days
1975-76
$9.00
1974-75
$9.00
96,000
1973-74
$9.00
30,700
1972-73
71,000
1971-72
$8.00
November 26
1970-71
$8.00
1969-70
$8.00
1960s
Ticket Price
Season Pass Price

Pass Payback

Opening Day

Closing Day

Skier Visits

1968-69
$5.50
November 16
1967-68
$5.50
1966-67
December 17
1965-66
$4.00
1964-65
$4.00
December 11
1963-64
$4.00
December 7
1962-63
$4.00
$50.00
12.5 days
1961-62
December 23
March 31
Visitor Memories
"We came up to ski King Ridge from Wilton NH where we skied at Twin Tows(Wilton Ski Club). We were sad to see it closed. Glad there is rec access. "
Pauline Chabot, Feb. 8, 2023
"1960 we're at the rope tow on Pleasant Lake's shore with talk of the "new place." 1961-2 the late Charlie Marston (NLHS history teacher / witty sports banquet speaker / later state education big wheel) leads our NLHS ski team clearing some new trails (and getting a season's pass). Our band, The Extremes--Don Sieburg, drums; Bobby Barret, trombone; Rick Newman, bass; I, cornet probably was 1st ever at an evening gig in the lodge. NLHS mates like Bruce Connell, Kenny Welch, Rich Messer, Dave Harris, Andy Wheeler, Bill Kidder--seemed EVERYbody skied. --CH, NLHS '64 "
Chris Haskell, May. 24, 2022
"My dad would drive us up to K.R. on weekends from N.E.Mass.in the early 60's,When I 89 was still under construction.I would like to ride in the back of the station wagon and got butterflys in my stomach as we got near.Cut my teeth skiing there.Still skiing 60 years later and still get butterflys as I near a ski area. Always crane my neck as we go by the exit on 89. Many many memorys from those days."
steve nickerson, Sep. 3, 2021
"King Ridge holds a special place in my nostalgic heart. Our family skied here regularly from 1968-1975. We were members of the Winchester, MA ski club and shared a house in Sutton, NH, which gave us easy access to the ski area. This is where I learned to ski in the Laurits Lauritsen (sic) ski school. There was no "pizza slice" form - it was called "snowplough." There was no "french fries" form - it was called "parallel skiing". My Sears skis had cable bindings, and my lace-up ski boots felt like vice clamps. No boot warmers, no hand warmers. One of my fondest memories is when my parents gave my sister and I real leather mittens with goose down linings. Never felt any cold in my hands after that. I have a vivid memory of the ski lift attendant who would rotate among various lifts - think his name was Bill - always a smile, always helpful to us little kids - slowing down the chair lift as it came around the turn at the bottom, helping us (sometimes lifting us) onto the chair. But before that we had to master the T-bar which is a gymnastic activity in itself, especially if your sister is taller than you - meaning the bar is positioned correctly under her butt, but since you are shorter, it's halfway up you back. And it's all you can do to make it up the hill without slipping backwards and messing up the kids behind you. Does anybody remember the "Tri-L" special? Lift, Lesson and Lunch for $9! Can you believe it? The best memory - since the lodge was at the top of the mountain - getting to take your first run of the day BEFORE you had to go on the lift. But always politeness on the slopes, and in the lift lines, and in the lunch lines. Miss those times. Thankful to King Ridge for giving me the passion to ski!"
Bob McGrail, Jun. 22, 2021
"This place is such an important part of my childhood and teen years. I learned to ski at King Ridge when I was about 8 years old in the early 80s and spent all winter there every winter pretty much until I went to college. Our whole family had season passes. When I got a little older, maybe in like 7th or 8th grade, I remember skiing down the Mad Hatter and riding the T-bar up where all the kids spit out their brightly colored Spree's candy into the snow and zigged and zagged back and forth so much that the lift operator would often have to shut it down and we'd sit there. And sit. (I was more of a Heath bar kid myself). It was a fantastic place to breathe deep the crisp, cold air, enjoy the freedom of daily afternoons at the slopes with your best friends and get major butterflies in your stomach when you'd spot your crush in line for the lift! I remember skiing the big bowl - what was that one called? - The Jabberowcky maybe? Where you'd ski as fast as you could down one side and then your momentum would bring you right back up the other side. So much fun! I would dream all night long I was still skiing. It was magical in so many ways and those were unforgettable years for me at a great place. What a wonderful time to be alive. "
Jessica Gwinn Ciocca, Jan. 24, 2021
" Likely in 1968, as memory serves, a racing club ran a hill climb on what must have been a service road to a top parking lot. We showed up with a road racing Mercury Cougar and were given one run a reduced speed to see the road and then the lot at the top. This was a fast car and normal speed compared to racing speed was much different. Everything went well until I got to the top and saw the lot much reduced in size due to the much higher speed. I remember wondering how to get the car stopped? It all worked out but something must have happened as I think there was only one more run. I decided that hill climbs with large trees near by was more dangerous than circuit racing. We enjoyed many years of motorsports. "
John Taylor, Jun. 7, 2020
"I think my first ski experience was at Whaleback up 89 (south of Lebanon) but King Ridge was my favorite. Brothers and I were dropped off for the day. I will never forget going to mass at Our Lady of Fatima and seeing people walk up the aisle in their ski boots; you could see the mountain outside the window behind the altar. Those were the days."
Jill Sullivan, Mar. 31, 2020
"I remember trips to King Ridge when I was in High School. We would drive up from Massachusetts for the day if we could borrow a car. So much fun and great memories. Very simple times for sure. "
Beth Blouin, Jan. 21, 2020
"King Ridge is where I learned to ski in 1973. With my family I continued skiing here till 1983. It was the best skiing experience I could have asked for at a young age. Some days we would just ski the Northside T-Bar in the afternoon (I think the ticket cost $4.00). I remember how steep the face of the March Hare looked my first time getting the courage to go down it! Other memories include....loved that it was upside down, vacation freestyle camp, hot chocolate in the cafeteria, building jumps on the Mock Turtle, and buying Spree candy in the base lodge and spitting it in the snow and comparing colors with my friends while riding up the Northside T- Bar! Wish King Ridge would come back one day."
David Eldredge, Dec. 9, 2019
"I'LL ALWAYS REMEMBER KING RIDGE AS THE PLACE WHERE I LEARNT HOW TO SKI. I STARTED SKIING LATE IN LIFE (MID 20'S) BUT IMMEDIATELY FELL IN LOVE WITH IT. KING RIDGE WAS THE PERFECT PLACE TO LEARN. NOT TOO LARGE AND LIMITED CROWDS. IT HAD A GREAT FAMILY ATMOSPHERE. IT WILL ALWAYS HAVE A SPECIAL PLACE IN MY HEART."
Ed Tetreault, Jan. 31, 2019
"I began working at King Ridge in 1986. Hired by John Vorel as the assistant rental manager under Ed Ladouceur. Soon after I started working there, I knew that I wanted to be in the ski & snowboard industry. I left to pursue a degree in Ski Area Operations at Colorado Mountain College in Leadville, CO. with John's encouragement, and every intention of returning to NH to launch my career in earnest. It was not to be. I fell in love with Colorado. In those 33 years since I started at King Ridge, I have worked in Vail/Beaver Creek, Mt. Hood Meadows, OR., Crested Butte, and have spent the last nearly 14 years plying my trade in Aspen-Snowmass. I have a great fondness for King Ridge, the people I worked with there, and the journey that started on its' humble slopes. It makes me sad to see it going to weeds."
Steve Hill, Nov. 8, 2018
"One of my earliest memories is my first solo trip on a J-bar on the Tea Party lift in 1968. I was 3. My parents took turns skiing with me and skiing the rest of the mountain. I still remember that my dad sent me up on the j-bar ahead of him and the lift attendant commented that most parents went first to show the kid how to do it. My dad wanted me in front to surprise my mom. And after almost 2 seasons of riding the j-bar between my parents knees, he was pretty sure I knew how it worked. He also wanted to make sure that if I did fall off he could get off too or scoop me up. A few seasons later my first run on a black diamond was on Mad Hatter!"
Ellen La Place, Aug. 31, 2018
"I was a volunteer ski instructor for 3rd grade school students in the 1950's. It was a winter Phys. Ed. program. The bus brought the "kids" to King Ridge about 12:30 PM & we skied until 2:30 PM. It was great fun for all of us! Years later I "ran into" some of my former students at Peter Christians Restaurant. We reminisced & all felt sad about the closing of our favorite winter "home". "
George Green, Jun. 25, 2018
"Born and raised in Plymouth and skied Tenny Mountain since age 5. Then moved to New London in 1972 and continued skiing every winter. Found a couple of my season passes to King Ridge for $ 25.00 to ski anytime in my a shoe box last month. What amazing memories and my love of King Ridge will stay with me. Loved it so much I was married on top of King Ridge in 1985. Thx for posting this history of King Ridge. "
Deb Zampieri Gaskin, Feb. 6, 2018
"So many memories...my mom, Syd, managing the office with Helen Preston, and later Mary Perry (yes, mother of Joe Perry of Aerosmith); my brother, Rich, painting the big Alice in Wonderland murals on the walls of the main lodge; my brother Jeff and I working behind the kitchen counter with Marge and Barb and Mary and Nat, my pal Sue Duford and I working together and taking cigarette breaks (when cigarettes were 25 cents a pack)...costume/funny hat days for the employees; the Lauridsens' ski school, Fred Duford, Stan the carpenter, and of course flying down the slopes with Sue and Terry and Garry during the times we weren't working. Getting up at the crack of dawn to get to work, my brothers going off the back road in the jeep one early morning, working tickets in the underground office under the main lodge later in my life with my roommate and fellow teacher Laura Toohey (on weekends after working at KRHS during the week). Clearly, I could go on and on...all fond memories."
Anne (Badmington) Cass, Jan. 25, 2018
"So sad... I grew up in NH and left as a teen but am now moving back to NH at 46. I have always told stories about Kings Ridge. Our school would bus us up, it was so much fun! Plus, i learned how to ski there and my little brother. I just recently found out it was gone. Kind of devasted... wanted to go back... I guess just have the old memories."
Nicole Long, Dec. 2, 2017
"I just found trail maps in my parents basement from the 1971-1972 and 1972-1973 ski seasons. I learned to ski at King Ridge, miss it tremendously."
Randy Langer, Oct. 15, 2017
"We began skiing at King Ridge in 1975 and continued skiing there until it closed. Rented a locker in the basement of the main lodge where we kept our skii equipment all season. We became very good skiers , some years skiing 25 to 30 days a season. Our three children learned to ski there and have become excellent advanced skiers over the years, now passing their love of skiing to their children . My wife and I are still skiing at 70 and 72!!! Thank you King Ridge we miss you!"
Bob Creeden, Mar. 17, 2017
"I only skied there once, but it was the one time my Dad attempted to ski. They rented him 6 ft long natural wood grain ski's. This was probably the late 60's at this point. I later attended Dartmouth but grew up in Melrose on the rope tow. (also now Long gone). I have passed the exit countless times now that my Daughter also attends Dartmouth and always wondered what happened. Today I finally looked up the history. Conditions have been so much better it seems in the last 15 years. Too bad they closed it for just the extra $15K. Simpler times. Lace up boots. And long ski's. Maybe they could build the lodge at the bottom and re- open? Loved the place. I will always remember it. Thanks so much for providing this great detailed history."
Steve Morris, Jan. 3, 2017
"My sister and brother in law had a house nearby and my wife, kids and I were lucky enough to be invited on many occasions, all the kids started skiing there and my wife and I shared some of our best years there, memories like riding up on the chairlift with my wife and enjoying the view are great memories, we commuted up from Long Island. Oh the homemade donuts. Great family location and wonderful people. as they say often imitated but never duplicated, one of a kind!"
Bill Sloan, Dec. 30, 2016
"I grew up in northeast Mass. In 5th grade, my friend's dad took us to King Ridge ski area. Until then, I had only skiid at the local hill near my house since the age of four. I remember being beside myself with excitement that i was finally going to ski in 'the mountains'. That's what we called them where i grew up. I remember the Lodge at the top, the challenge of the Mad Hatter run which seemed incredibly steep to me at the time, and never wanting to leave at the end of the day. That's the only time i ever skiid there, but it was probably the most important event that inspired me to eventually pursue ski racing thru high school and later division I level racing for New England College in Henniker. I never forgot the King Ridge experience. Amazing. Thank you for this opportunity!"
Rick DeLisle, May. 20, 2016
"I learned how to ski here. This was the best ski area I ever skied at because it was small and family owned and not mobbed like the mega mountains. It's too bad I can't pass it on to my children..."
Dave Wygonowski, Mar. 13, 2016
"My grandparents lived in a nearby town, and my parents, brother, and I skiied at King Ridge pretty much every weekend for many years when I was in middle school and high school. We had such a blast. I made several local friends there and we did the pain-in-the-butt teenager thing a bit. We all loved Ralph the chairlift attendant - I'll never forget him. I also remember Bill Bardsley, manager for part of the time we skiied there. My friends and I did weird stuff like ski on one ski all day (I guess we were a bit before our time re snowboarding), ski backwards, try to go down the mountain on the maximum number of trails, and so on. What fun, and what great family and friend memories. "
Cinny Little, Aug. 15, 2015
"I remember walking the hill the spring before it opened with Dr. John Ohler among others. . .much easier with the lift(s) (I thing a t-bar to start), but special to be among the first"
Sue McAlary (Sawyer), Aug. 14, 2015
"I learned to ski at king ridge in the 80's I still think about it every time I drive past the exit on 89. If it weren't for that mountain I wouldn't have the career I have today! "
Johanna Bjorklund, Aug. 14, 2015
"We commuted from Chelmsford MA to King Ridge starting in the mid-sixties up until it closed, and our four kids all learned to ski there with excellent instruction from the ski school. Everyone loved Ralph, the attendant always on duty at the double lift. My most memorable adventure was a run down Bill the Lizard when a squirrel ran across the trail and got stuck under my ski. I froze, and just skied down with him lying belly-up the rest of the way. At the bottom he scampered away--leaving me with a great story to tell!"
Ann Murray, Apr. 13, 2015
"Absolutely loved this place. Ski'd at KR from 1980 - 85, between ages of 12 - 17, with my dad, uncle, sisters. Mom and Aunt would hang out in lodge, taking care of my baby sister who would often have issues. We all had nicknames based on King Ridge ski experiences and stories, Zoom, Snooks, Grunts, Wonderful memories........"
John Cotter, Mar. 29, 2015
" I loved this place! I have so many fond memories skiing there alone(meeting other skiers) & with friends(where I taught them to ski). I would ski with my face mask in below zero weather and the ski lift people would check your face for frostbite. Good old times."
Joyce Rodrigues, Jan. 30, 2015
"I learned how to ski here in the early 90's when I was about 8 years old. I was only there a few times but it was a great place to learn to ski. R.I.P. King Ridge."
Chris Conant, Jan. 21, 2015
"I cut my teeth skiing at King Ridge. My parents had moved here in the early 70's and with little to do it was a pleasant experience. Well, King Ridge is gone like both my parents and I can only reflect on fond memories."
Gil De Laat, Nov. 20, 2014
"My family grew up skiing King Ridge. I learned to ski there. It was my favorite place ever to ski. The Boston Cream Pie at the lodge has always been my twin brother and I's favorite. We're forever trying to recreate it. We had a condo at Grand Linden in George's Mills. The King Ridge years as they're called in my family are some of our favorite memories. "
Mary Cotton, Jul. 26, 2014
"We grew up in New London leaving school on friday afternoon (if schoolwork was done) on a bus and headed for the king Ridge hill. That place was ours as locals felt. Many great memories. "
mike kirwan, Jul. 1, 2014
"Grew up skiing King Ridge in the late 80,s early 70's. We even had a school ski program where on Friday there was a half day and we would be bused up to the hill for ski lessons. It was our place, King of the Hill. It was unusual for a ski area to have the lodge at the top but we didn't know that. I remember having ski passes and our parents dropping us off in the morning and picking us up at the close of the day. Quieter times. Also remember lace up boots and bindings that went around the back of the boot with the spring clip at the top. In the spring there was a day where they would pour maple syrup on the snow making, what I remember being called 'frogs', a gummy treat. I read the post above. I had been away from skiing also for 20 years and had the same nostalgia being on skis again."
Lenore Wright, Apr. 5, 2014
"I grew up in New London. In middle school (maybe elementary school too, that was a long time ago) there was a winter program where they would bus us to either Norsk or King Ridge every friday. I opted for King Ridge. I learned to ski there and have so many fond memories. The bowl in the walrus, the cross over to the new triple from the white rabbit, the butterflies in my stomach when doing the mad hatter or march hare. My favorite was the old triple, on the rare occasion it was open. After it closed, I pretty much stopped skiing until this year (about 20 years in between). When I finally did hit the slopes, I was overcome with bittersweet nostalgia. I miss this place dearly."
NL Local, Mar. 26, 2014
"I'm not sure why my parents decided to make the relatively long trek to King Ridge so relatively often for day-skiing from Boston, but I'm so grateful they did. Everything about the mountain seemed wonderful, from the J-bar I fell off so many times, to the Alice in Wonderland theme, to the lodge at the top. Every time I drive by the exit, I reminisce."
Roger Travis, Feb. 18, 2014
"As a kid, I loved King Ridge. I loved the Alice in Wonderland theme and the upside down concept. Also, the drive from Massachusetts and anticipating the home made donuts and the donut machine that they had."
Michael Kinsella, Jul. 15, 2013
---
External Links
Last updated: May 7, 2020